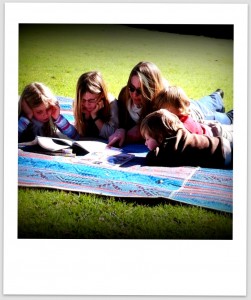 While I don't have every answer to the world of home schooling in South Africa, I know that it is not an easy world to navigate.  Having started down this road myself, 9 years or so ago (6 more formally), I've slowly become better acquainted with the support structures, the legalities, the curricula on offer and more.  This page is aimed at helping new home schoolers navigate their way around our South African home schooling waters on the web.
There is a lot of information on this page.  Scroll down to read about support groups, blogging home schoolers in RSA, FAQs, curricula options, legal matters and more!
Support Groups
Online support groups are just vital for connecting.  But they're not always easy to find!  The Homeschool HUB is my attempt to make networking with home schoolers easier, but until I get an injection of cash and time, it's going to take a while to get it working well.  You are welcome to sign on there in the meantime.  I will let you know when it's ready to fly!  The HUB is currently redirecting to my blog, until I have time to work on it.
Support Groups on Facebook:
Christian Home Schooling in South Africa: for support amongst Christian home schoolers.  This group is a closed group – one needs to request membership before joining.
Homeschool Western Cape: for information, sharing, support, event organisation and more, this group was started in 2010 by me.  Since Facebook changed the group format, I've started a new group in the new, more user friendly format.  So, if you're reading this and you've not migrated to the new group, come join us! Our new group is up to 150 members to date, with families joining almost daily.  If you're an active Facebooker and live in the Western Cape, then this open group is for you.
Homeschooling in South Africa: just like the other groups, this group is for information, sharing, support and more.  Rebekka hosts this group.  It's active and lots of helpful information is shared.  Another group worth joining Facebook for!
Support Groups on Email:
More active support groups include a number of Yahoo Groups.  These groups consist of home schoolers with like minded interests.  These groups are invaluable for keeping one in the loop for what is on offer to home schoolers out there.  We've experienced sports days, cultural activities, outings, information about curricula, handy tips and much more simply by being on what is essentially a glorified mailing list.  It's a bit "old school" but it still functions well and is great for connecting.
Yahoo groups work on an email basis, but one can interact similarly to a forum.  People often send in questions, introduce themselves, share curricula or outing ideas and more.  On joining, you can choose whether you want to receive all emails individually or if you'd prefer a daily or weekly digest of all the mails.  I tend to go for the daily digest. To join a yahoo group, you will need to have a yahoo email address.  It is free, quick and easy to sign up with a yahoo account if you don't already have one.  Here are the steps:
go to this page and fill out the form provided: yahoo sign up
you will reach a page saying "congratulations" and prompting you to experience Yahoo: click that link
You'll be taken to the main yahoo page which looks complicated and full of news.  No worries, just look for the "my yahoo" link in the top left hand corner. Click it.
This will take you to a more personalised page with a list of yahoo services listed on the left.  Click on "groups".  Alternatively, you can skip step 2 and 3 and head to this page: http://groups.yahoo.com/
Once you have a yahoo email address, or if you already have one, click on the links below to join a group.  You can choose to have your emails sent to an email address other than your yahoo account.  I don't use a yahoo account, so I choose to send my emails to my gmail account.  Each of these groups has a specific focus as outlined below and is hosted by a home schooler or a home school organisation:
South African Carnival of Home Schooling Blogs
June 2011 saw the launch of SACHS Blogs.  South African home schooling families and bloggers share their experiences via a twice-monthly carnival.  Topics range from subjects, support group experiences, crafting and more.  Head to the SACHS page to find out more.
FAQs
Home schoolers are often faced with questions about home schooling.  What about socialisation?  How do you do sports?  Can they get a matric qualification?  are just some of these questions.  I've written a few posts aimed at addressing some of these questions.  Linked below are the posts in my Querying Homeschooling Series.
Curricula Options
There are dozens of great curricula out there.  Plus there are the schools of educational thought that require no formal curricula.  You can find out about these and more by heading to Kathy's Homeschooling Info site, specifically her Resources page.  It also helps to talk to people on the yahoo groups about their choices and why.
Personally, I love Sonlight – the curriculum of our choice.  It is a literature-based curriculum which simply means that mostly you get to cuddle with your kids and read the most amazing, rich and interesting books together.  Being a teacher by training has created within me a huge appreciation for the value of learning about life, events and our world through rich stories and great literature.  Sonlight provides this premium learning method.  It also provides all you need for Maths, Sciences (including awesome fun and easy experiments!), Languages, Arts, Geography and History and more.  You can glimpse some of our Sonlight moments by heading to our posts that are related to the things we do with Sonlight.  Click here:  Sonlight in the Hayes House.
If you ever decide to give Sonlight a go, I'd be delighted if you'd use my introduction code: TH20169508.  All you have to do is fill this code in when you sign up for a Sonlight account.  I get some points for introducing you to Sonlight and you get $5 off your first purchase.
And, in case you want to know more … this is what many moms say about Sonlight:
*    My children are getting a great education and loving it … at least most of the time! Sonlight is a literature-based curriculum, so we read tons of great books out loud together. The kids devour plenty of books on their own, too. We stay away from boring textbooks and really engage in what we're learning.

*    That time spent reading together on the couch is creating some great memories–we learn so much about each other as we discuss the events, ideas and characters we discover.

*    With the Instructor's Guides Sonlight provides (http://www.sonlight.com/ig.html), we can just open up the guide and do school every day without me spending much time planning. That gives us even more time to hang out … and keep up with the laundry.

*    Sonlight prepares my kids to engage with the world around them. We study lots of different cultures and don't just focus on US history. My kids know that not everyone is like us, and they're learning to care about those around them with an intelligent and Christ-centered love.

*    Sonlight offers the best risk-free offer of anyone. You can take a whole year to use 18-weeks of a curriculum package or Instructor's Guide. If you don't love it, send it all back (used books and all) and receive a full refund of every penny you paid. Go to http://www.sonlight.com/love.html for more on this stress-free offer.

*    I get all the help I need from Sonlight's online forums, their curriculum advisors (who can help me choose which products will fit my family best) and their customer relations team. Granted, I'd love it if they also sent a personal chef to my house occasionally … but I guess they can't do everything.

*   Check out http://www.sonlight.com/why-sonlight.html for some great articles about Sonlight that may help. I particularly appreciated "27 Reasons NOT to Buy Sonlight," "You can teach your children–with confidence–from your first day" and "How Literature-Rich Homeschooling Awakens Your Child's Natural Passion for Learning."

Legalities
Homeschooling is legal in South Africa. It is not actively encouraged by the Department of Education, however the department does accommodate homeschoolers. The department requires that homeschoolers register with the education department. However, many homeschooling families choose not to register for a number of different reasons. More information about the legalities of homeschooling can be found at The Pestalozzi Trust.
Government Departments:
The South African Government Services has a webpage with quick and easy access to the necessary contact details for every provincial educational department.
The Pestalozzi Trust:
The Pestalozzi Trust offers its members free legal advice and defence in the case of homeschool-related legal action.
Answers to many FAQs regarding the legalities of homeschooling can be found at the Pestalozzi Trust in both English and Afrikaans. For ease of access, direct links are provided below.
A guide to homeschooling for beginners
Legal issues relating to homeschooling
(Afrikaans versions of the above documents are found here)
In time I will add to this page as and when I find more information or come across more FAQs that I can answer generally here.  I hope this has helped in the meantime!