Sometimes the kids can create such beautiful chalkboard drawings, but, because of the nature of chalkboards and dusters, they can never be preserved.  Today, after doing a massive playroom overhaul (okay strictly speaking, just the kids' section; mine is still a disaster), I cleaned the blackboard and the girls had a blast creating beautiful drawings on the invitingly clean board space.  And, today, I decided to capture them on  camera – preserving them in another medium at least.
Here they are, hard at work in their organised playroom (except my space behind them – danger zone!)  We sold our big couch because it was taking up too much space – got a great price for it and was able to buy a much smaller 2-seater sleeper couch that will sit back-to-back with my desk, hiding all that ugly cabling and computer stuff.  And so we'll have another cuddle couch – I reckon one in the playroom is always a good idea.  Our plan is to put up more shelves across the wall under the top cupboards – when we have money again – what with the rising petrol prices, food prices, interest hikes, that may be a while!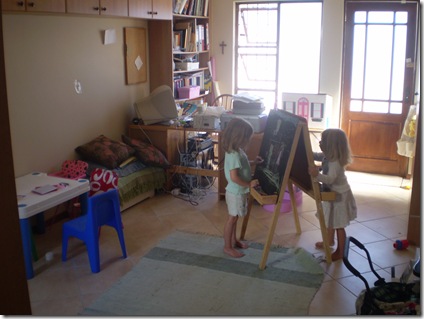 Katie, the artist at work…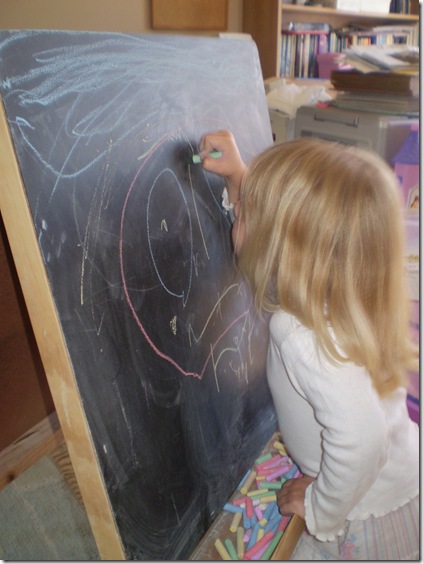 Katie is coming along so nicely in her drawings!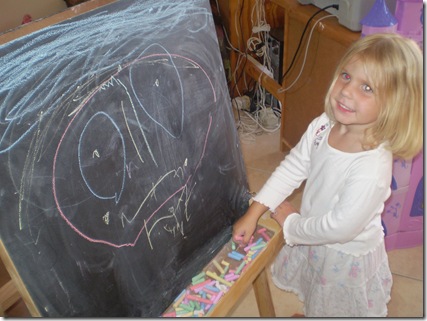 Kiera proudly displaying her masterpiece