aka happy huggers!
Kiera landed up at the physio on Monday (Kath Greathead – highly recommended!) with muscle strain on her shoulders. Most likely from long hours at the computer typing up her story. The treatment included direct heat applied to the sore areas.
'Problem was that I could not find one of our happy huggers in the house at all. You know – those microwavable heat pads made of fabric filled with dried barley? Well, we couldn't find ours. Not even one! I figured, instead of tearing up the house, we could quickly make one. Well one became a few which became one for every family member and, before I knew it, we had personalised bean bags!
The personalised idea was all Katie's. While I was deliberating about which fabric to use, Kates suggested using some of their old t-shirts. She is definitely an out-of-the-box thinker! Of course, I loved the idea of repurposing some of their favourite t-shirts that were no longer fitting them.
So, that's what we did. And, since I remembered some step-by-step photos, here is a mini tutorial for ya!
Microwavable Heat Pads / Bean Bags aka Happy Huggers!
You will need:
old t-shirts
and/or thick, but soft fabric (we used track-suiting fabric)
sewing machine and thread
dry pearl barley
scissors or cutting board and rotary cutter
1. Turn t-shirt inside out. Lay out on the cutting board and measure cutting area, as large as required. I measured 22cm by 24cm for these bean bags (that includes a 1cm seam allowance) – measuring around the front motif of the t-shirt.
2. cut another two pieces of 22cmx24cm fabric for the inner pouch. Sew a 1cm seam all the way around (right sides facing) leaving a 3-5cm gap to turn the pouch right way round.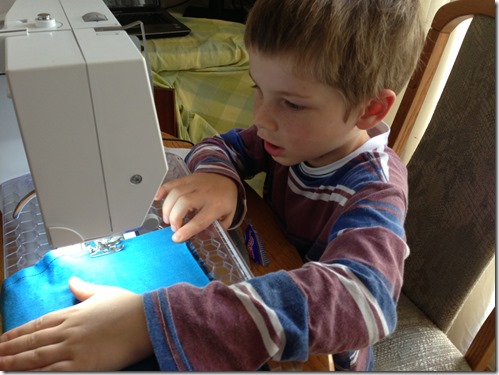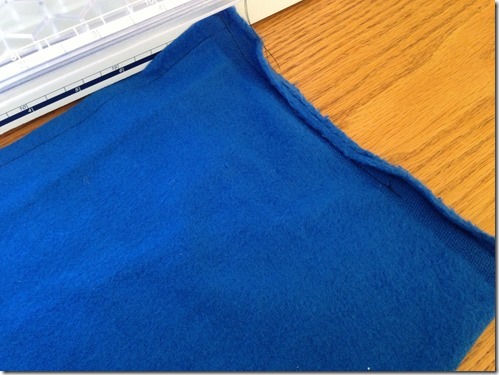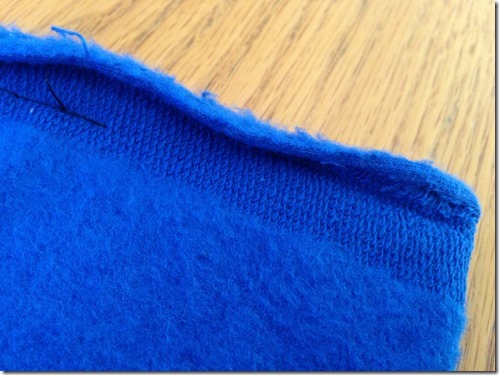 3. When it's the right way around, sew a 1.5cm edging all the way around, except for the opening. Then, using a funnel pour 1 bag of pearl barley into the pouch.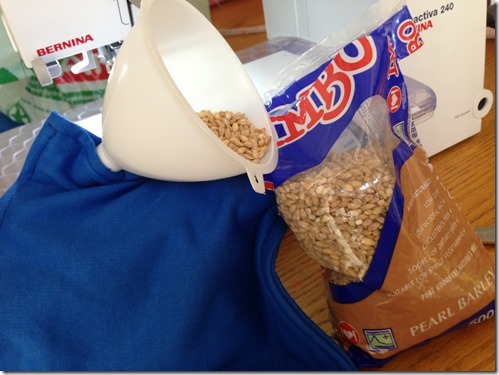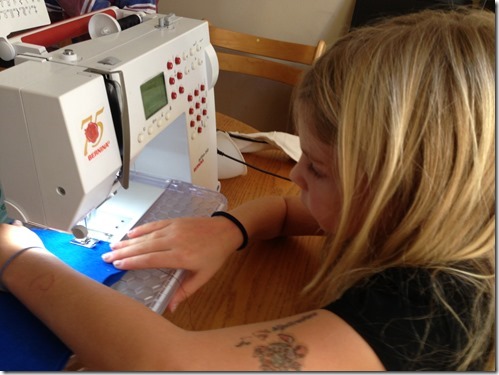 4. sew the inner pouch shut.
5. Sew the outer pouch as per step 2. 1cm seam, leaving a gap open. Stuff the finished beanbag-inner pouch into the outer pouch. Work the edges of the inner bag/pouch so that it meets the corners of the outer pouch. Pin all the way around so that the edges of the inner pouch are well tucked up into the outer pouch.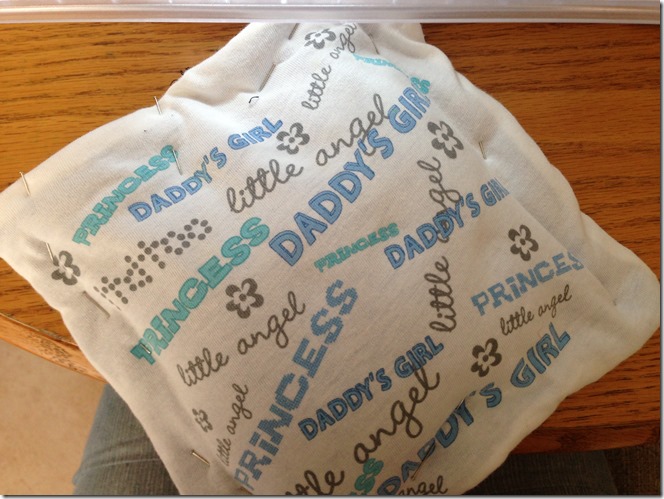 6. Sew a 1cm seam / edge around the entire bag, closing off the opening of the outer pouch/bag. Tada!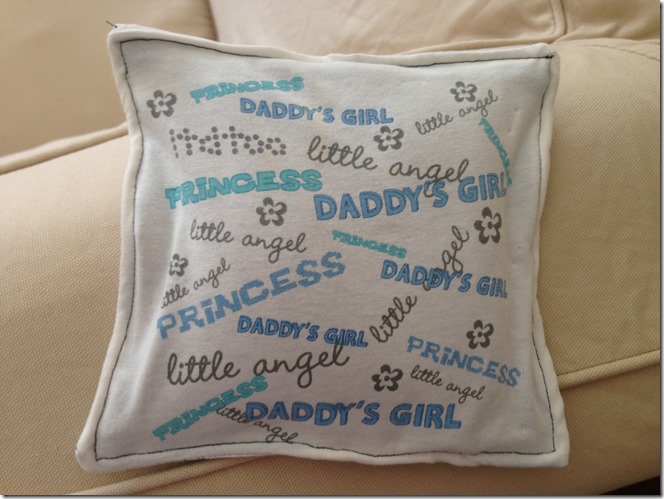 You do not have to double the pouches if you have sturdy fabric to start off with. But, with t-shirt material being so stretchy, I figured it would be better to double up for longer-lasting's sake.
The final products: Katie's (t-shirt was a buy from Craig, I think, and she grew out of it when she was 5!) …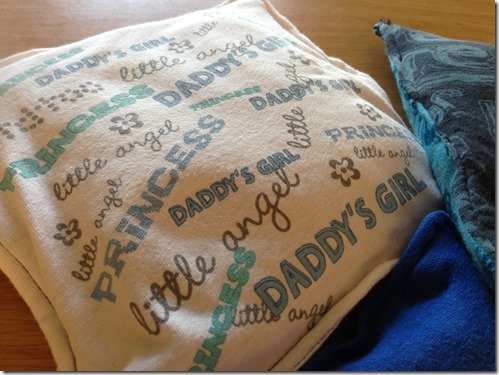 Micah's (he has just grown out of this one from Australia! So glad it gets to live on in this way!) …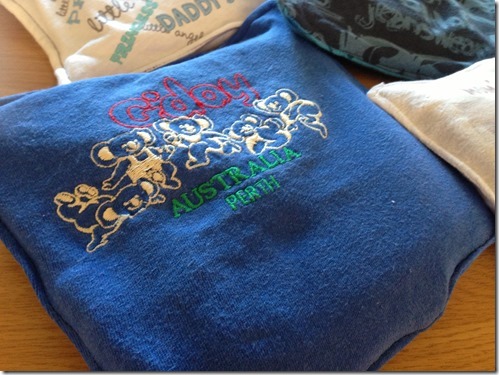 Kiera's (she got this t-shirt from her grandparents one Christmas and wore it to death) …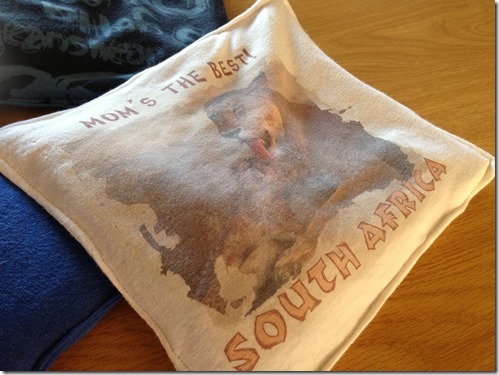 Sam's (poor kid could not find a t-shirt to use, so ended up using a hand-me-down (across?) t-shirt from his friend, Ben. (I hope that's ok!!)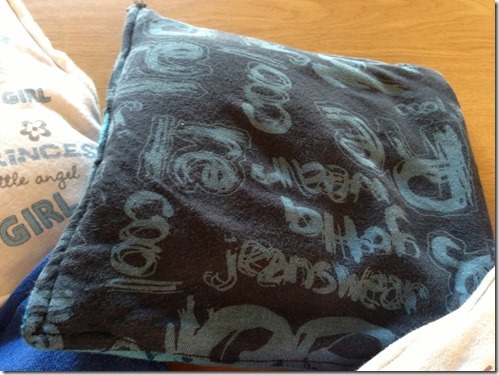 I also made two others – one each for Craig and I – in stripy fabric. And one larger (longer) one in soft muted tartan colours for Johanna our wonderful housekeeper! She has never seen these before, so what a treat it was to give her one to warm her bed at night.
If you're wondering what on earth these things are, then here's the skinny: they are the best alternative to a hot water bottle, if you have a microwave to warm them up. Pop it in the micro for 2-3 minutes and it comes out hot, retaining its heat for hours afterwards. Perfect for soothing a sore tummy, sore ear or aching muscles.
FINALLY:
In retrospect, I would have…
… tried to make the outer covers removable so that they can be washed – the white t-shirts will get grubby quickly and I don't think that the barley washes!
… sewn the white ones with a white edge – the navy didn't work so well on Katie's.
And the disclaimer of the day – in case you're thinking "wow! did those kids all sew their own bean bags??" – the answer is, no!

Katie and Sam were super interested in sewing, while Micah and Kiera weren't at all! So, just Katie and Sam sewed, and then only the straight lines and not the fiddly bits! Sadly, those wonkily-sewn edges are all mine.