I love Mango Groove.  Ever since my brother introduced me to their music back in about 1988, I've loved them.  Their whole kwela-jazzy-swing-band-pop-rock-African-fusion style gets under my skin and makes me want to dance.  Plus I love the penny whistle.  I love the penny whistle.  It is just one of those beautifully rich sounds that stirs up a nostalgia for earthy warm loving Africa – that part of Africa that, despite poverty, despite crime, despite heat, despite unemployment, despite the horrors that can be so much a part of Africa, there is a wonderful connection of hearts and the goodness of humanity.  For those who hate Mango Groove that previous sentence probably sounds seriously sappy.  But, hey!  I love it.  I love it for those reasons.  And, when they came to Cape Town for the first public appearance here in something like 10 years, I was dead keen to go.
But… Craig isn't a fan.  He doesn't love the penny whistle.  He doesn't like the whole swing-band sound.  He just about tolerates the CD in the car.  It was only his sweet graciousness that prompted him to buy me the new Mango Groove album for my birthday last year.  Little did he know that his actions would result in some serious Mango Groove converts – namely 4 little Hayes kids who know virtually all the words to all the songs on the albums we own.  These days it's Micah asking for "Bang drum daddy! Bang drum!" on the car sound system!  If he'd known just how much Mango Groove torture he was inviting upon himself, I doubt he would have given me the CDs! 
So, how did we end up at the Mango Groove concert?  Well, I was dying to go, but… the price.  The price.  It wasn't really steep, but with everything that costs us in December it was an added expense I couldn't justify.  But then: we made it my early birthday present for us to go as a family!  Craig was happy to go, in that context.  And so, at the last minute we packed up a picnic basket of goodies and headed to Kirstenbosch for their Summer Concert series.
It was wonderful!  It was awesome!  I loved it.  The kids had a ball!  And even Craig enjoyed it!  (Although don't expect him to admit it!)
The photos:
Clearly I am not the only one who is a big fan.  The place was packed full of fans.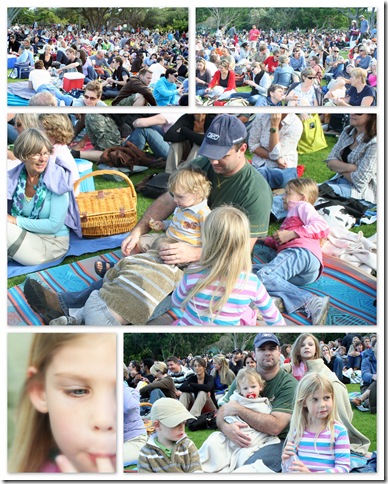 Then I saw on Facebook that Debby and Daniel were going to be there.  Debs and Dan were visiting from Norway and I hadn't had a chance to see them.  Knowing how little time they had here and how much of that time was best spent with family, I didn't want to intrude.  But, if they were going to be at the concert too, then how awesome would it be to hook up?  Especially since Debs is another huge Mango Groove fan! It seemed impossible in all those people.  As corny as it sounds, I prayed and asked the Lord to hook us up.  And guess who we saw in that crowd of tens of thousands of people?!  The Lord is gracious indeed.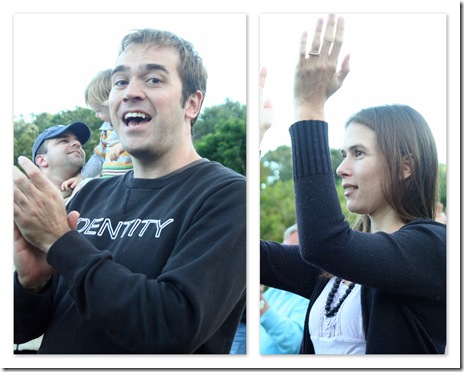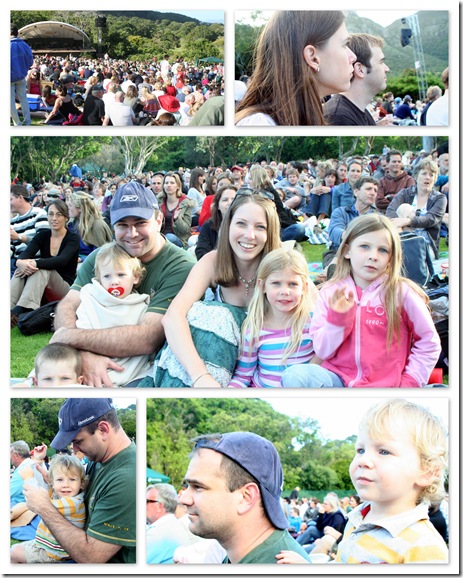 And then – MANGO GROOVE!  They were awesome.  Older by 20 years since I first heard them, but still rocking!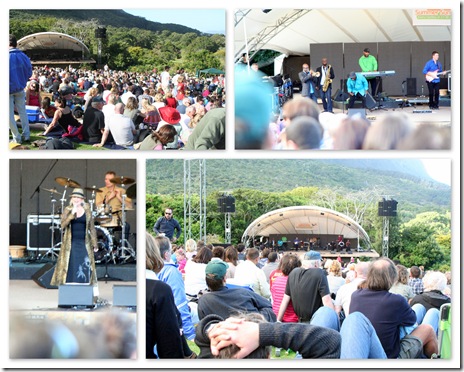 And before long we were all up and dancing.  Yes, even Craig :)  My kids were full of excitement and wanted to dance all the time – mostly up on my shoulders.  I think that my back broke that day!  But, it was oh so worth it.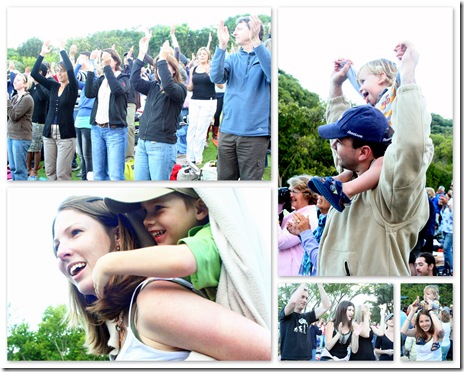 I went home afterwards completely pumped and happy with the most perfect birthday gift!  Thank you Craig! 
(when I get around to it, I will post a video of some of our Mango Groovedness!)