Another busy month has just whizzed by! And what a lot of fun we had with surprises aplenty: like Katie's gymnastics contest where my little girl faced her fears head on and made this mommy heart proud.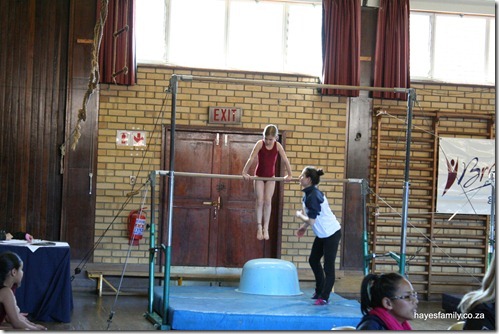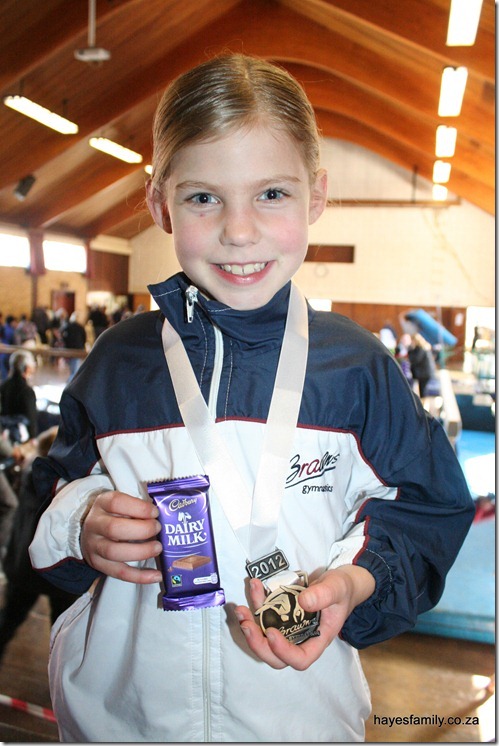 I surprised the kids with some spelling variation one day during the month – our Banagram game came in handy and the kids all enjoyed spelling at the same time but at their own level.
Micah was surprised numerous times on his 4th birthday. First with his pressies…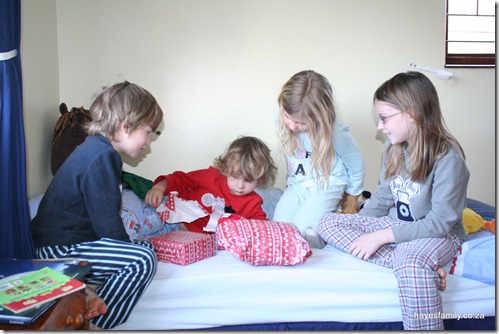 ….and then with all the party goodies including this piñata King Pig from Angry Birds that Kiera and I made from paper mache.
He had a great 4th birthday that we all got to enjoy!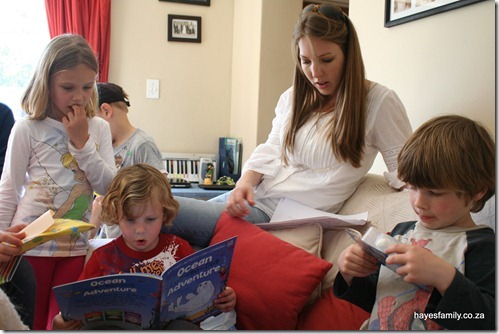 We received our up-coming Give Away copies of Apologia's Exploring Creation with Human Anatomy and Physiology books in the mail – oooh, talk about palpable excitement in this house. Never thought Katie, in particular, would be so excited about a school book that required some kind of writing from her! More on that in the week ahead so keep posted!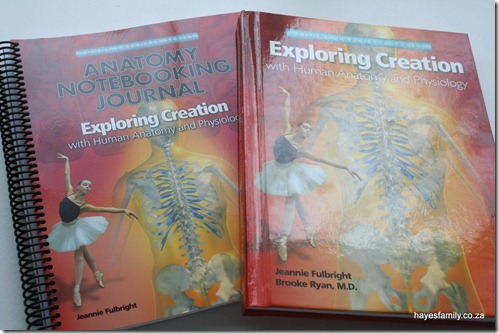 Sam continues to surprise me with his spelling and words. He often dishes out pictures with annotations in his signature style: "Sam To Mom" or "Sam To Dad". But lately he has been trying his hand at other names and words. This picture was for Granny Sally and Grandpa Peter. Love how he spelled their names! In his head, as long as he uses a capital E then it's the long e sound. Too cute! I love this early stage of reading and writing when the words are spelled according to his 5-year old logic and he has no inhibitions about how it all fits together!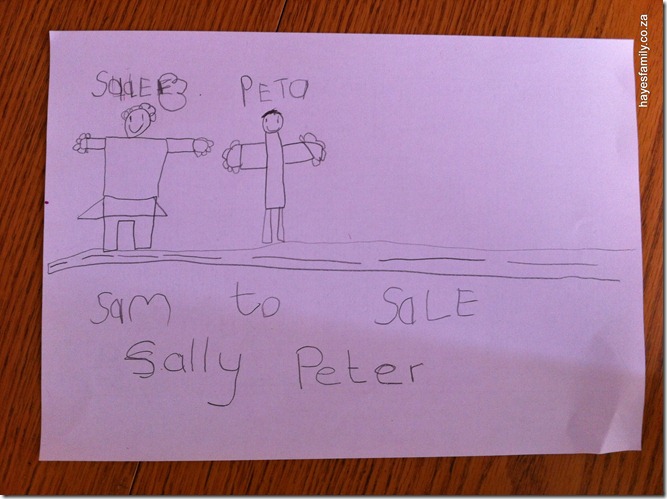 We received our last cultural exchange parcel! More on that soon!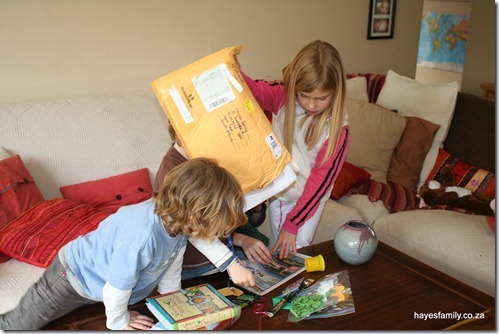 Great excitement about this surprise!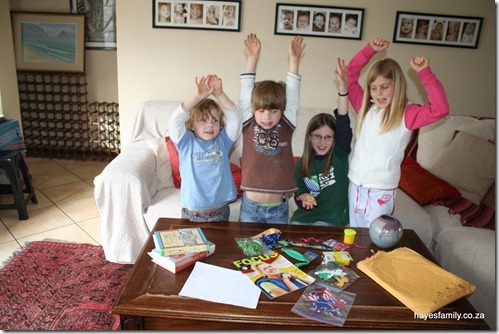 Including the surprise of popping candy! Always a hit with kids (and moms!)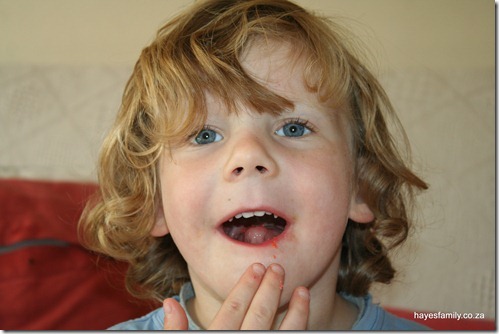 Kiera surprised herself by doing very well at her last gymnastics competition for the year: South Zone Champs. She had been really sick all week and wasn't sure if she'd cope on the day, but cope she did. She scored a gold medal and a 4th place overall out of the 4 provinces competing.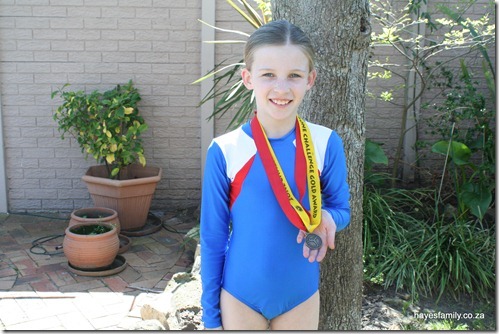 The girls had their drama Showcase performances in the middle of September. Katie's group did a dramatisation of Julia Donaldson's Jack and the Flum Flum Tree.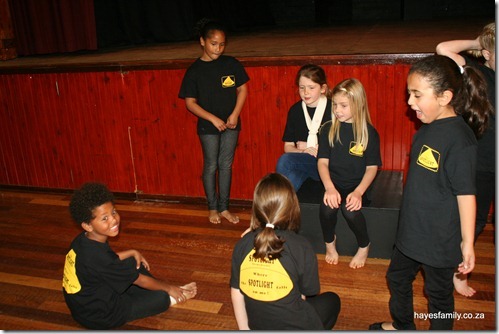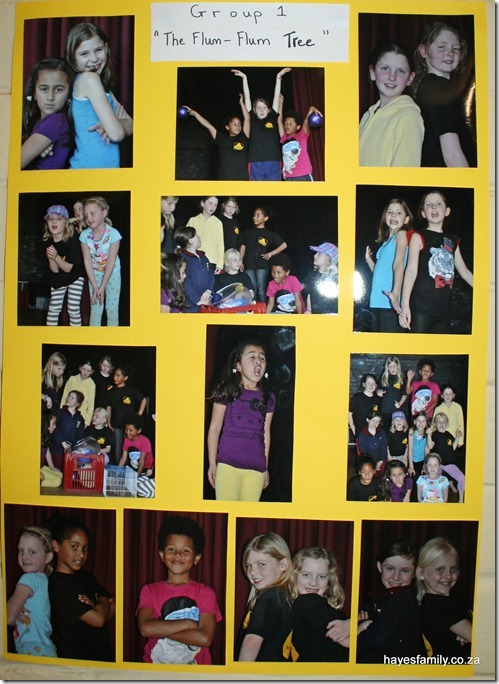 While Kiera's group did an adaption of the book The Boy Who Touched The Moon. Kiera played the lead role and giggled her way through it! She had memorised the entire play and without realising it found herself mouthing the words of all the other parts – we had such a giggle at that! But, overall, they all did so well. I love drama for the confidence it gives kids and all the other skills it teaches them. Debbie, their teacher, is such a gentle and encouraging teacher – she really gets the best from our kids! I highly recommend Debbie's drama school Spotlight.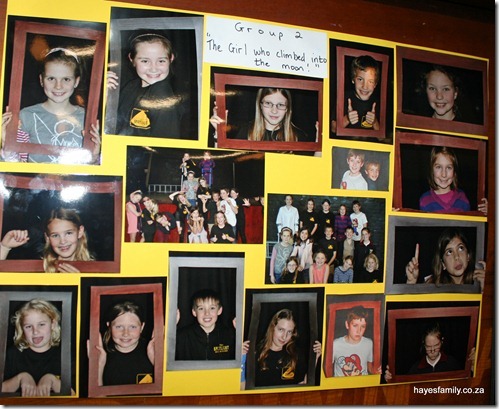 I got a surprise email from a national women's magazine here in South Africa. Liz from the Fair Lady called and… long story short: they're doing a feature article on homeschooling families and wanted to interview us. I didn't realise that it would include a fancy photo shoot with lighting equipment galore and "hair and make up" for me! I don't think I've ever had so much make up on, and that's saying something, since I wear some most days! But, I was assured that the flash and lighting would bleach most of it away. Sam insisted that photos be taken of our family with our own camera – so here is one.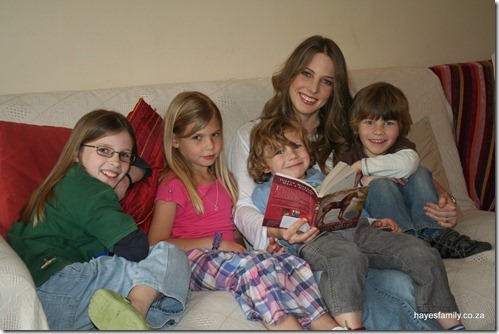 And then Sam took one of our photographer – Anele!
We enjoyed having Anele, Lyndall and Liz in our home for a morning. Liz interviewed me between hair and make up and all the photos. Kiera had made chocolate brownies that morning, so we stuffed our faces with those while chatting about homeschooling. At first, I was a bit reticent to partake in the interview, as most South African articles on homeschooling that I've read have portrayed homeschooling in a negative light, using odd sources and bad examples. But Liz was a breath of fresh air! How wonderful to be interviewed by someone who, although without children of her own, seemed so intuitive about what it must be like to homeschool. She asked insightful questions in her quest for a story of authentic homeschooling. Yay! I look forward to reading the finished article – coming out in the November 2012 issue of Fair Lady.
Next up in September was our Homeschool Market. What a blast! The kids did well with their Tombola game and Jumble Sale + Juice + Milkshake + Ice-cream store!
September ended with Micah's class singing on stage at church for the All Age service – well, this little guy wasn't letting mom out of his sight, so up I went too. For all his insistence that he wanted to go on stage and he wanted to sing, Micah then dissolved in a puddle of embarrassment and spent most of the time on stage clinging to me and staring at the audience. He perked up once when he saw Uncle Frank and said loudly to me (with great excitement) "There's Uncle Frank, mommy!" Thankfully, his words were mostly drowned out by the antics of the other kids, like Sarah R who had taken the mike idols style and belted out the verses loudly, much to the church's delighted laughter!
As I write this, we say goodbye to September and hello to October 2012. This year has sped by so quickly and I feel left behind with a very long to-do list. But, then again, that is always the case with me! October holds 1 more Hayes kid birthday, Gaa's birthday, a few decisions about school and extra murals next year, lots of planning and organisation, a fair bit of maintenance work on our house (urgh) and then the big Welcome Home to my folks and the Tubman family who will be home after their respective trips to Oz! Yay!