This post encompasses a few of my favourite things: 1) decor make overs 2) budget saving ideas and 3) internet tutorials of said budget-beating make overs. Usually, I am on the other side of the computer screen – gathering ideas and filing away options for potential projects. This time I get to give back! Feel free to skip this post if bedroom decor is not your thing! Or keep reading if you're like me and love to share ideas.
Background:
Since I did the girls' room earlier this year, the boys have been begging for some redo action in their own room. I kept putting it off – there is just too much on my plate to get stuck into a bedroom makeover. But, then they begged again on the Easter weekend. That Saturday I spent quite some time sorting through their clothes in their room. Well, needless to say, all that time in said bedroom got the creative juices flowing. And, when that happens I find it extremely hard not to execute The Plan.
The result? A complete-and-long-overdue bedroom makeover.
And so, without further ado, here is my Budget-Beating-Boys'-Bedroom-Makeover Walk-Through. (Photo quality not so hot. Misplacing my SLR camera's battery charger means my iPhone is my sole camera at the moment).
Before:
The boys' room consisted of two broken bedside tables, one chest of drawers and two beds. I had made them pirate bedding about two years ago with the plan of redoing their room entirely. Well, I never quite got that far. But I guess 2 years' late is better than never!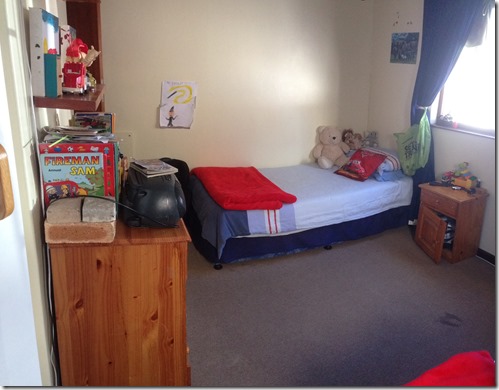 Two lonely shelves didn't manage to hold much other than a couple of lightweight crafts. And brick-bookends were in danger of crushing little toes for the weight of books mashed between them.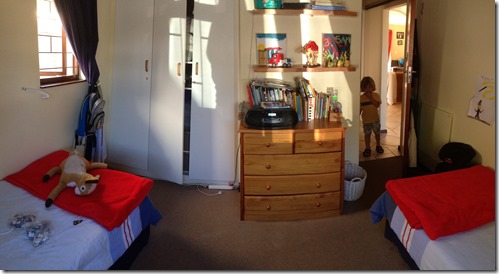 And they had the remnants of mis-matched wall decor stickers peeling off the walls: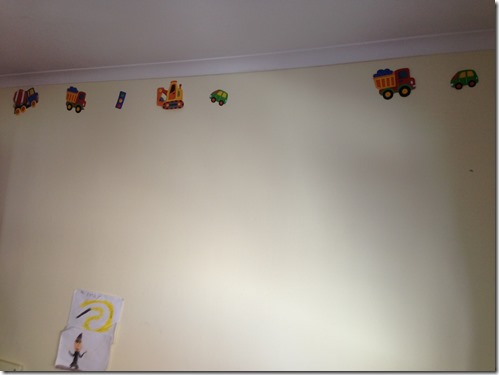 After: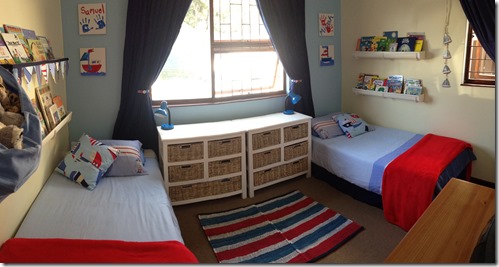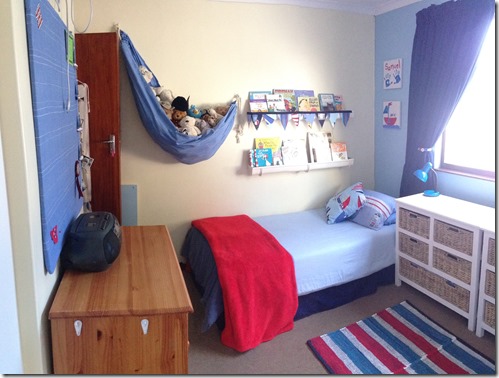 The Redo Walk-Thru
The redo started with the bedside tables. I needed to fix the bedside tables, but I also needed a bookshelf solution. On that Easter Saturday, Craig suggested ditching the bedside tables in favour of the lovely basket chests of drawers that sell on the side of our Cape Town roads. And so the ball got rolling. Perhaps I could get some cheap guttering too? Then we can make gutter bookshelves. And what about the plethora of toys that usually covers Sam's bed, so much so that he can barely find a space to sleep? A toy hammock, perhaps? And artwork? And, that is how the ball picked up speed.
Cushions (R5/60c)
Over the course of the next two weeks, I got sourcing and sewing. I bought some cheap fabric with ships and boats on it, turning them into cushions (R5 / $0.60) each – cushion inner was an old threadbare couch cushion). I kept the frayed selvedge, sewing a kind-of French seam to secure it.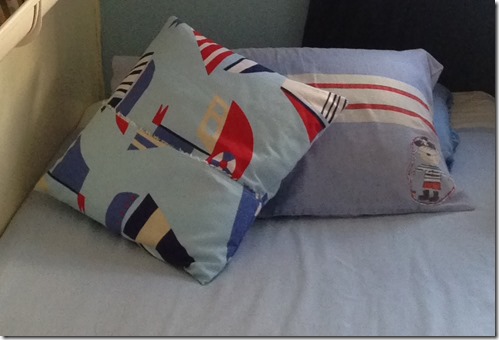 Floor Mat (R100/$11)
The boys' room has a horrible iron burn on the carpet, slap-bang in the middle of the room. It was time to find something to cover it. Mr Price is a wonderful store – full of beautiful decor and, usually reasonable prices. But, the size mat that I wanted was R200, while two smaller mats were R50 each. So, I bought two mats and sewed them onto some red corduroy fabric that I already had. R100 ($11) = new mat.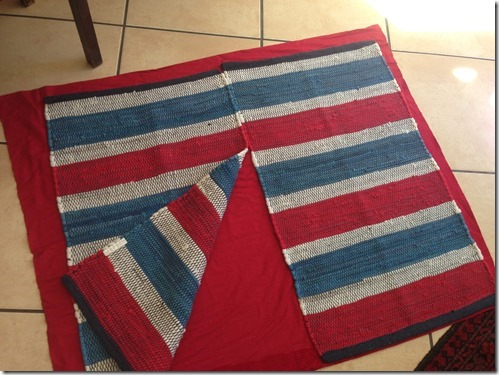 Block Canvas paintings (R40/$4.50)
Four new canvas blocks were a bit pricey at R40 ($4.50) each. But, they were such a joy to paint – the boys' sense of pride in their contribution to their room is priceless! Here they are, hard at work: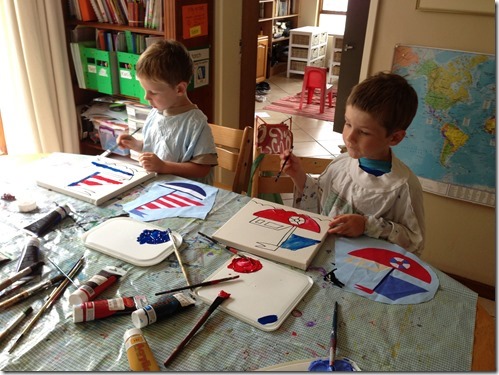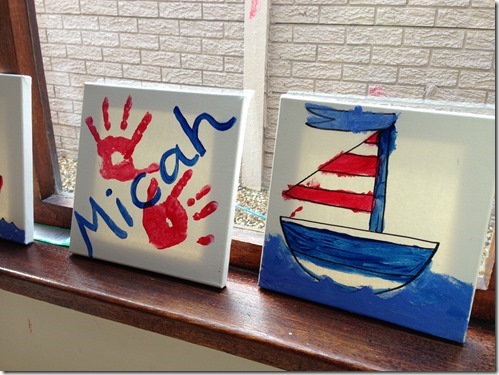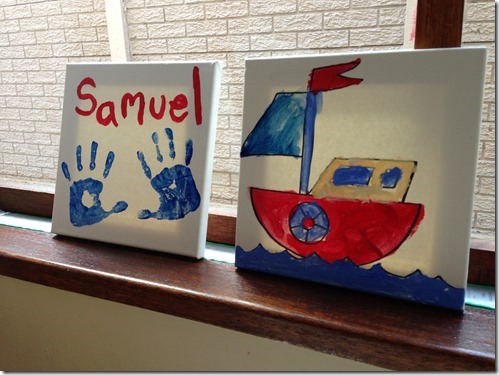 Button Curtain Tie-backs (R0, $0)
The boys' room used to be the girls' room until 2009. So, it still had the metal curtain tie-back hooks. They're great, actually. They are white with a hole at the end, allowing you to add decor to it. The girls used to have big starched pink bows (!!) in the early days. But the boys' have just had bare tiebacks, with nothing to decorate them. Here's a really blurry picture!
After some thought, I remembered the blue, red and white buttons I had from when I made the boys' duvets 2 years ago. The buttons didn't stand the test of time, but I managed to collect (most of) them when they came off the bedding. Some fluffy red pipecleaners from the craft cupboard plus bright buttons = tie-back decor for FREE! Yay!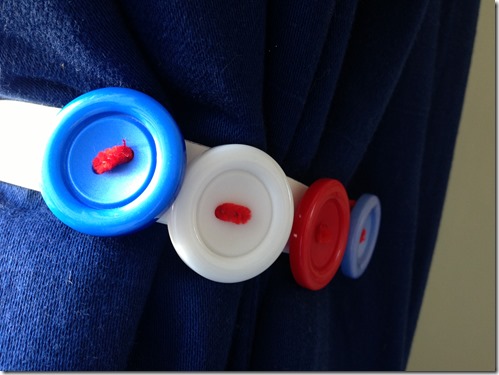 Curtain Block Out Lining (R400 / $45)
The curtains cost quite a bit more than hoped for – and, yes, they are actually the same curtains that were always in the room. But, the lining was shredded. Hey, they are the curtains from Uncle Murray's boyhood room – and he is in his 40s now! Well, block-out lining is not cheap and I needed 5 metres of the stuff! That set me back about R400 or so. ($45)
Gutter-shelving (R160 / $18)
But, where I spent on curtains I saved on shelving. My friend Debbie S introduced me to the ingenious idea of gutter shelving last year. I planned to do something similar. Thankfully, I called her for some advice while in the hardware store (about to buy the stuff!) and she offered me her left-over guttering for free! Thank you, Debbie!
The kids and I spent some time on Thursday morning sanding and re-spraying them a creamy-colour. That's my one big regret. We spent R160 on plastic-specific spray-paint, when actually a good clean would've had those gutters looking just as good. But, it was fun spray-painting and Katie particularly loved the hands-on learning.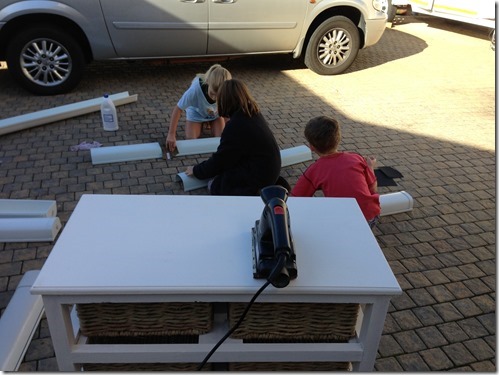 What I love about these shelves it that it allows the books to be cover-facing. It makes choosing books so much more attractive for the kids, plus it decorates the walls beautifully. I love these! We can fit SO many books inside them and with the three brackets, they are sturdy indeed.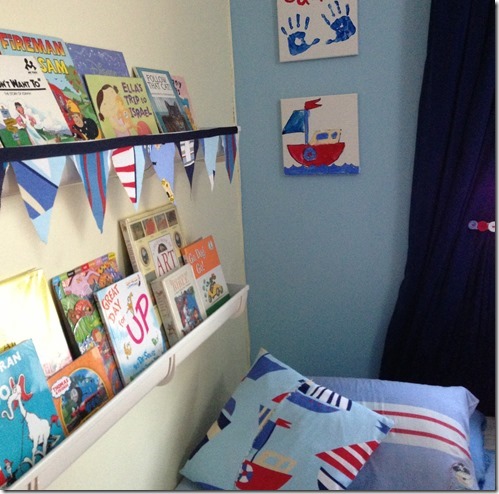 Painted Wall (R120 / $17)
Thursday saw us painting walls too. Truth be told, I had planned for our gardener-handy man to do all the heavy work of sanding and painting. But he missed his lift back to Cape Town and couldn't make it before Sunday. With my parents arriving from Israel on Tuesday and needing the space in the playroom (that the furniture was busy occupying!) I had no choice but to finish the boys' room. It turned out to be a fantastically productive day. The kids got stuck in and thoroughly enjoyed learning about taping off before painting, painting trims and all the other techniques required to paint walls. Once again, my most enthusiastic contributor was my hands-on girl, Katie: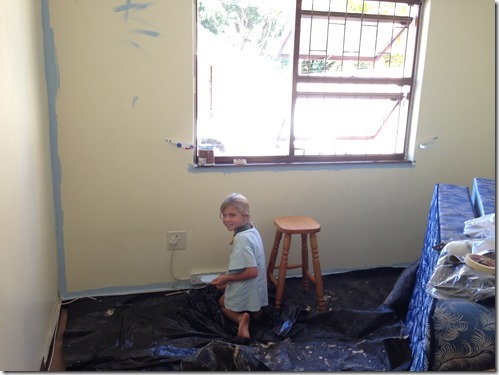 Kiera got happily stuck in too…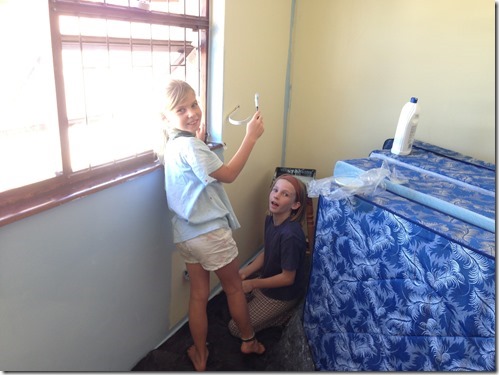 We managed to get away with just 1 litre of paint for the accent wall. R120 ($17).
2 Chests of Drawers plus paint (R1300 / $145)
We have some awesome things selling on the side of some of our main roads here in South Africa. Curios to roll-on lawn to beautiful wicker and wood furniture. I managed to get two discounted to R600 each. (R100 savings) But, the tops were quite rough, so the girls and I used Gaa's sander (which we hadn't yet returned, naughty! Sorry Gaa!) to sand it down and applied a coat of white eggshell enamel (R100).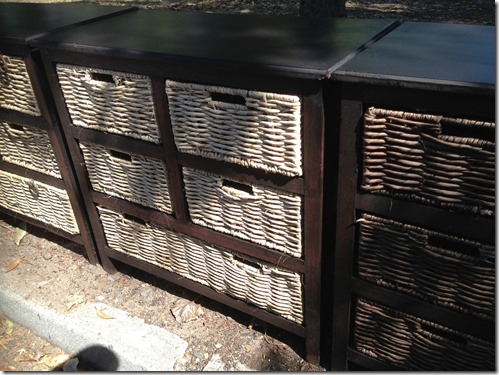 (ours were already white, so we just redid the tops) Those lamps were part of a discontinued line, so we got those at a discount too – R110 ($12).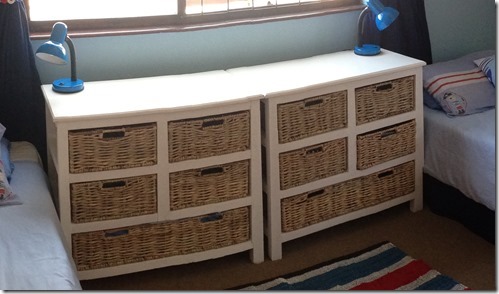 Daddy Drilling and other DIY (PRICELESS!)
On Saturday, when Craig returned from the St James Men's breakaway, he also got stuck into DIY. He drilled and drilled and drilled for about 4 hours straight! What a star!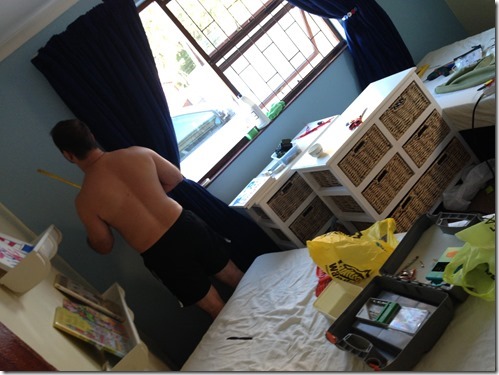 Chinese Lampshade (R30/$3.50)
He also hung the paper lampshade that I picked up at the local Chinese store – Yu Tom. I discovered these lampshades when looking for a cheap idea for a "moon" lampshade for the girls' room. At R17 each, it was a bargain of note. Along with the rose cup fitting, the lampshade cost about R30 total ($3.50). It certainly beats the bare bulb we've had in that room since we bought the house in 2004!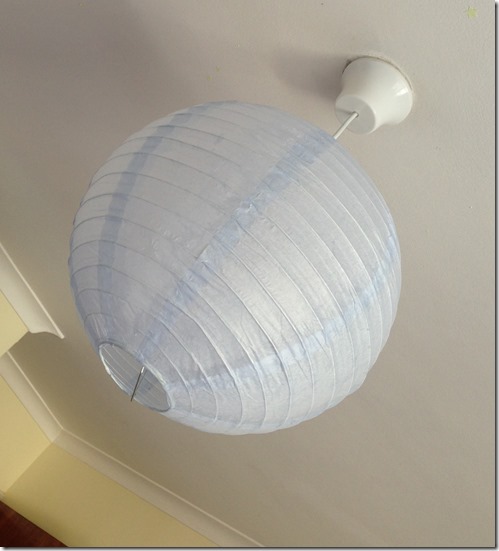 Door Hanging (R0 / $0)
While Craig drilled, I put the finishing touches on the boys' door hanging. Sam had asked sweetly that week if he and Micah would also get a "door thing with our names and pictures" like the girls' room. So, on Friday night I got thinking. The thing is that the boys' door has horrible marks all down the centre from a botched double-sided-tape-removal process. The options were: sand and re-varnish (at the cost of another tin of varnish). Or … make a door hanging big enough to cover it. That option sounded much better and since it cost me nothing aside from time, I was game.
Acrylic paints, plus scrap fabric, thick rope-string, left-over buttons, an old strip of wood, weathered pegs and freshly-delivered photos from an AWESOME photo-shoot we had with Susie Leblond Photography = door hanging.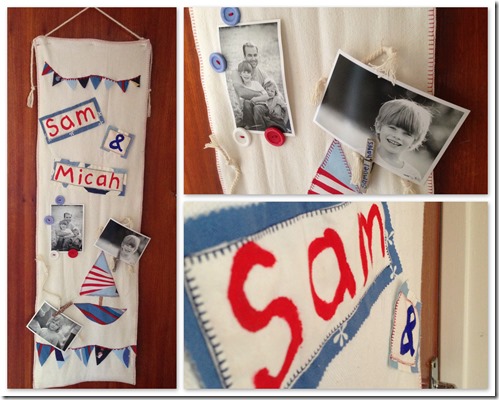 Toy Hammock (R10 / $1)
With Sam's soft toy collection consisting of hand-me-down toys from his sister, numerous claw-machine toys (a la Uncle Cam), and various other bits and bobs collected as gifts and freebie finds over the years, it was a wonder he ever actually managed to climb into bed at night. Usually, he would scoot his toys over just enough to sleep on his side, teetering on the edge of the bed. Well, it was time to change that. But I don't have the heart to cull his toys down to just one or two for his bed. Enter: toy hammock! I have seen these online over the years and always liked the idea. I had an old strip of blue fabric – fabric that I've used for two play mats and various other sewing projects over the years. It just keeps giving and giving – and it was simply a matter of sewing a hem in either side and looping some rope through it. Craig did the job of securing hooks to the wall and voila! Toy Hammock! The R10 cost of the hooks was well worth it. Now Sam and Micah have decided to choose one toy to sleep with each night. Ah, how my mother-meets-control-freak heart sings! It's not often that the two gel so nicely!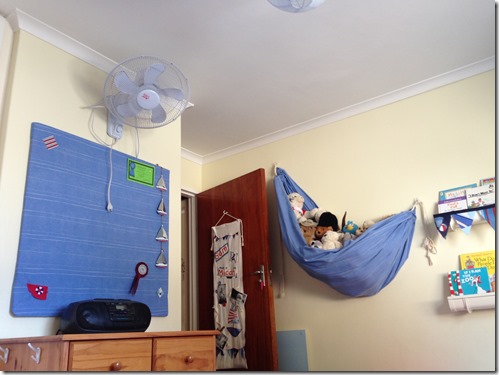 Toy Mat (R0, $0)
One of my bug bears – and most moms' bug bears – is little pieces of Lego All. Over. The. House. They have drawers. But they usually get mixed up with the Duplo and I find Lego in all sorts of crazy places. I decided they'd need to live across the room from the rest of the toys in the boys' room. And a good toy mat may help. Enter this useful tutorial at FabricMill. All the boys' Lego fits into a beautiful draw-string bag that doubles as a playmat. Loosen the string and it becomes a circular play mat. Tighten it and becomes a tote-bag. Lovely!
It was the first thing the boys played with when they entered their room on Sunday morning. And Sam has the hang of packing it away already.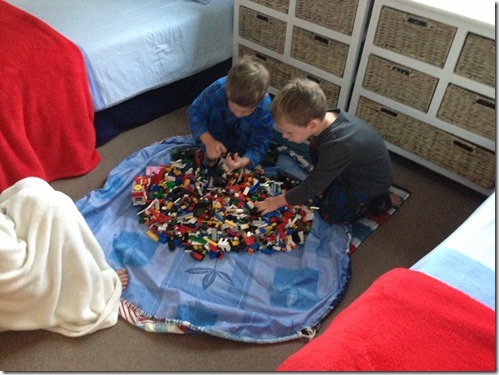 I keep the bag loose in the bottom drawer of Sam's chest of drawers, to make it easier to get in and out. But, if we transport it anywhere else, the tote-bag function will come in handy for sure!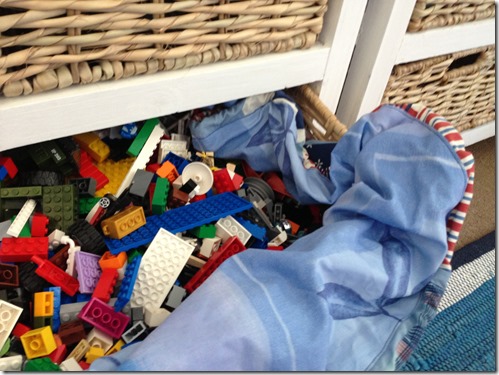 Both lots of fabric consists of stuff I already had. The lovely blue, red and white patchwork fabric I bought about 6 years ago, with my American Memory Picnic Blanket in mind. Well, I guess I'll be sourcing more fabric for that project, because I've all but used it up!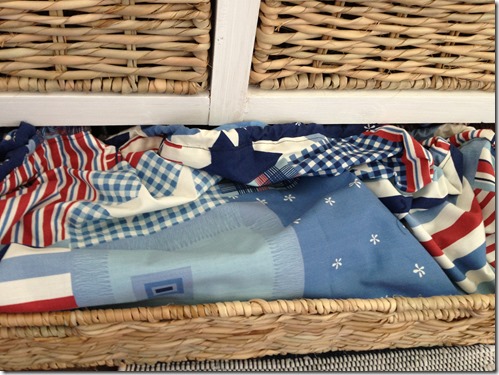 Bunting (R10/ $1.50)
I've been on a bit of a bunting kick lately – I think it's a lovely, striking decor idea that's fun and inexpensive and easy to make. I had all the fabric already, so it was simply the cost of the binding that made this project R10 / $1.50.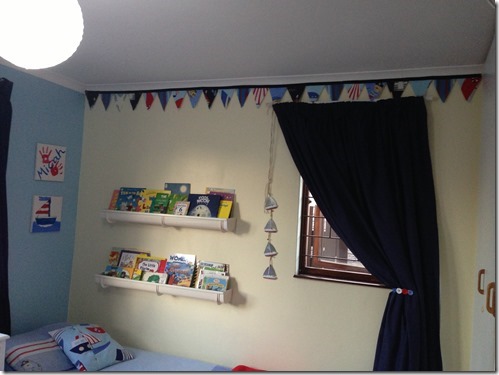 After stringing it along the top of Micah's wall, I had a small piece left over. On a whim, I popped it on Sam's book gutter. I may well move the rest onto the gutters – it looks so sweet!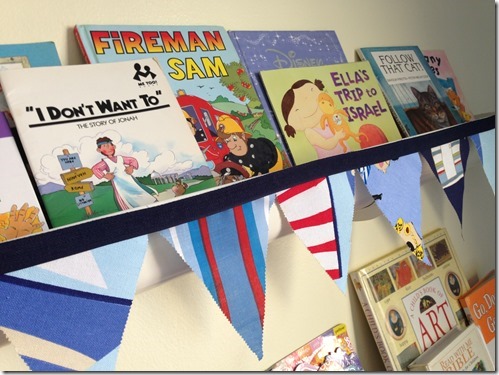 Hanging ships (R100 / $11)
These guys I bought at the beginning of the year, knowing that I would probably stick with a ship theme for the boys' room whenever I finally got around to doing them. They were a total impulse buy which I almost regretted. But, they are so sweet and I'm so glad I did buy The one set hangs from next to Micah's curtain. The other on the pinboard.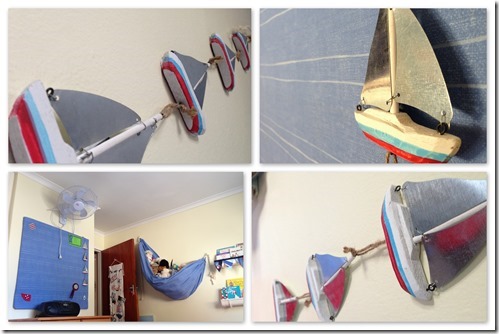 This one covers up a big hole left over from a bad drilling job a few years' ago.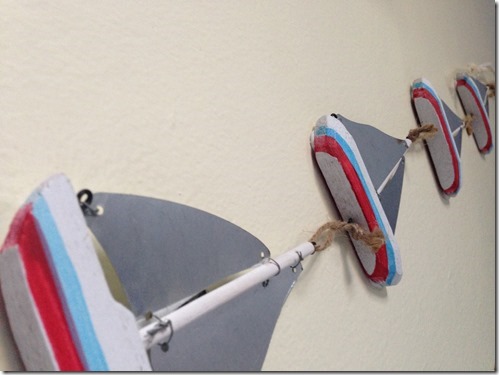 Pinboard (R100 / $11)
That trusty blue fabric I referred to early? I still have some left over, even after covering this pinboard. My friend Charise introduced me to soft wood – perfect for a pinboard. This 900mmx900mm board cost me +- R100. It's a quick job if you have a staple gun and a handy hubby to drill it into the wall. The screws didn't look too beautiful, so the hanging ships cover some, while the pieces of fabric cut-outs cover the others.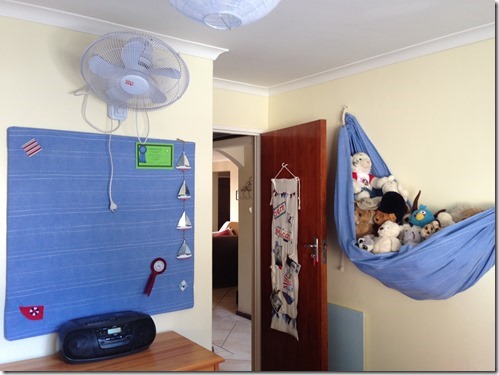 Bedding, blankets etc (R0)
I already had the boys' bedding and I did find some other bedding, but I'm not crazy about it, so it's probably going back to the store. So, for now, bedding is the same stuff and costs us nothing in terms of this bedroom redo.
The best part of the redo is always the Great Reveal. The boys slept in our bed for the past three nights as their room was in the various stages of readiness. When we head to bed, we transfer their lead-weight sleeping bodies to the couch. They woke at the crack of dawn and couldn't wait to see it all. Walking in, this is what they saw…

And these are the faces that I got to see: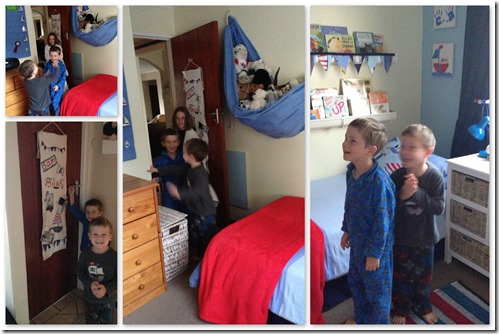 Absolute and utter delight. Micah couldn't stop jumping up and down, clapping his hands. And Sam, with his shy smile of delight – priceless!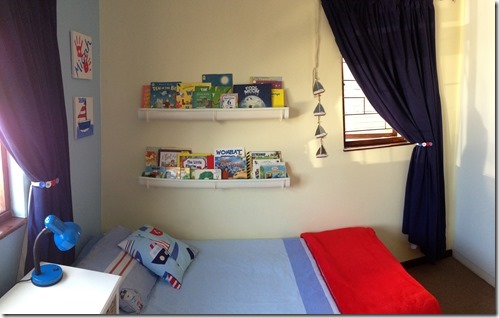 That's it! R2490 total by my count. Add to that the cost of extras like hooks, gutter shelve brackets, light bulbs and such, we probably spent another R200. Making this bedroom redo roughly R2700 / $300! Considering that R1300 of it was bedroom furniture, all the little bits and pieces cost roughly R1400 / $160 in total. Yay for budget-beating stuff!