I've been wanting to do some fun things with our dining room in terms of décor. When we did all the renovations, there were still areas that I wanted to decorate in some way or another. We've added a few wall photos / pictures in the lounge and so on, but nothing too exciting. Mostly, I've wanted to do something with our dining room and the big blank wall in the lounge. Well, the lounge wall is still blank. But at least now I have some ideas ready for the Craig-approval list.

But, finally, I've done some dining room décor – it's still far from finished and I'm not entirely convinced about everything I've done, but here's the progress so far.
I decided to start chalking weekly quotes on our red chalkboard wall. We do Bible verses regularly anyway, so I thought it would be good to introduce some excellent quotes from theologians, historians, philosophers, writers etc that are worth remembering. This week we have Jim Elliot's quote, "He is no fool who gives what he cannot keep to gain what he cannot lose." Last week we had CS Lewis's, "True humility is not thinking less of yourself, but thinking of yourself less."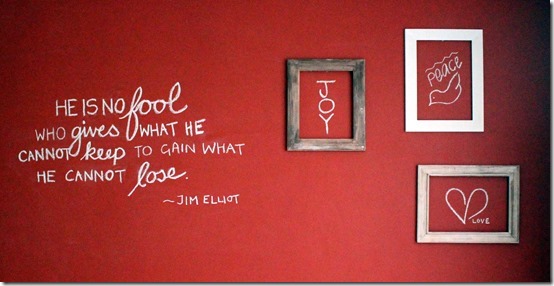 That wall now sports a map, quote and some blank frames in which I've currently done three quick doodles. I have thoughts to put special mementos in each frame. Still thinking through that one. I would like to put a distressed shelving unit up where the map currently is – still thinking through that one too. We may keep the wall map on our dining table under a plastic tablecloth for future – I love maps and I love how many discussions happen around them.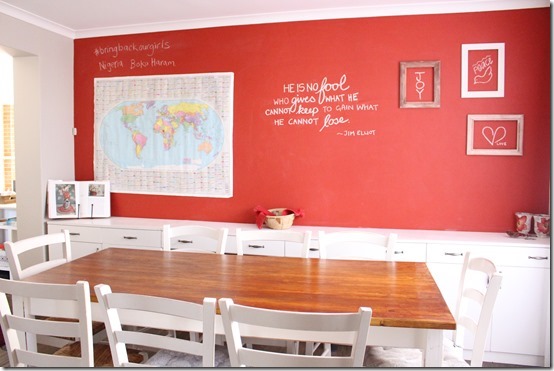 On the adjacent wall, I decided to pop an old book in a frame. That wall is often half covered with a door, so I put the frame up only where the wall is always visible. The old book is a book of poetry that belonged, I think, to my dad at some point. It's falling apart, but it's filled with beautiful Christian poetry. If I am really with it, I will take it out every now and again and change the page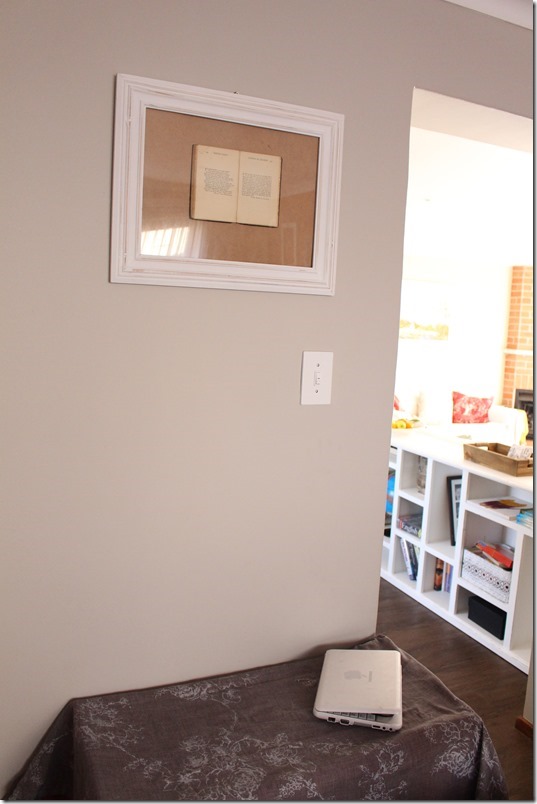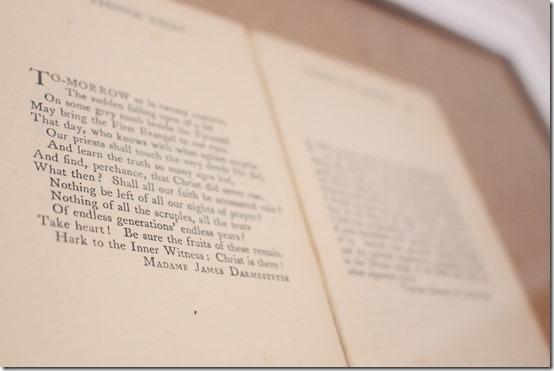 One of my frustrations with the dining room space is balancing practicality with style. I want it to be a beautiful space, but it also has to work for homeschooling. So, eventually, this was born: clipboards that can be functional if necessary, but also decorative. And a pinboard that's beautiful, but practical too.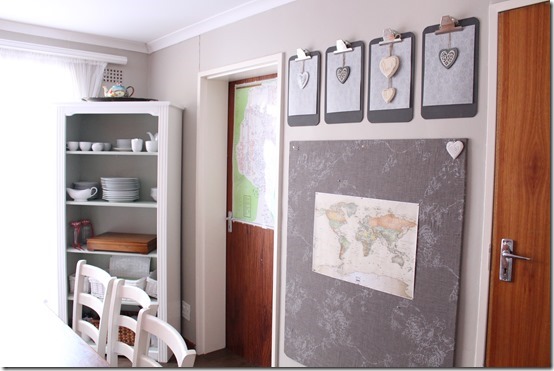 The hearts I've had for a little while – thank you Mr Price. The clipboards were lying around the house. I just painted them with a mixture of blackboard paint and grey cashmere. The result is grey blackboard paint! Voila! Love it. I found this beautiful floral paper – a perfect backdrop for the hearts.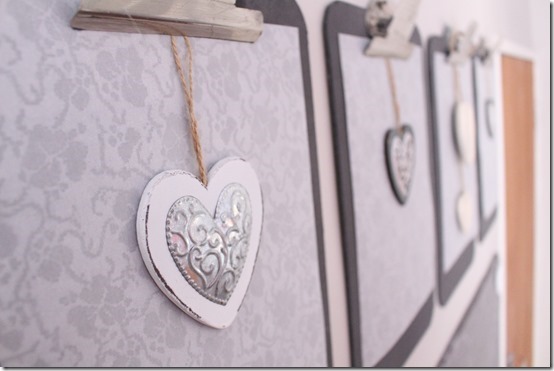 The pinboard is just that soft board one can get at a local hardware store. Mine is 1m x 1.2m and R140 ($14). The fabric is a beautiful soft grey fabric with a light floral pattern that I got for R55/m ($5.50/m). Staplegun, plus fabric, plus soft board = pinboard! Very easy.
The map I found online and printed out at our local copy shop for R30. I will probably get another one made that's laminated too so that we can use it actively.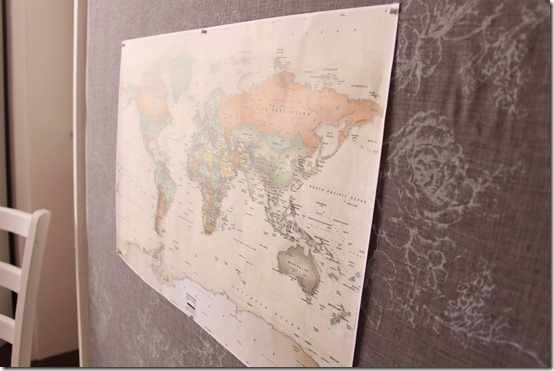 While I had all the paint and stuff out, I painted a few other things with chalkboard paint – like this breadbin (pictured after a light sand).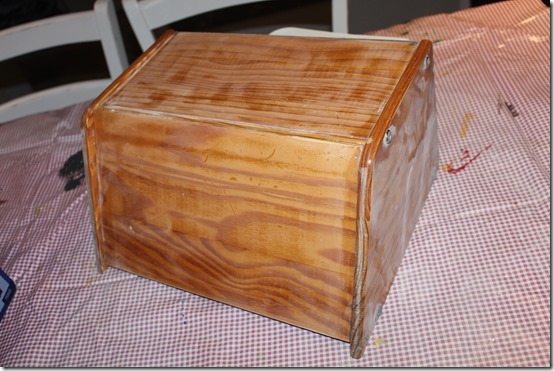 It was a wedding present and served us well as a bread bin, a storage unit and well, a storage unit. Now we need a bread bin again, but it didn't suit our kitchen décor. So, here we go – a new bread bin. Not so sure I like the "bread" writing – I've recently changed it and may change it again. Beauty of chalkboard!
That's it so far – until the next burst of inspiration (and funds)!