I've been praying a lot about patience lately.  I really really struggle to be patient.  Patient with the kids. Patient about money.  Patient with God.  Actually, it's all about being patient with God.  And I'm realising that more and more.  A good thing, because it sends me right to him in prayer. 
Yesterday, I blew it big time.  Impatient?  Try volcanic explosion.  The lava of mom's wrath flowed all over Katie.  She is a very easily distracted individual.  Very. Easily. Distracted.  And this week has been a Very. Trying. Week.  A week of gritting my teeth in an attempt to squelch my desire to spew my wrath.  Well, the volcano erupted on Thursday evening. 
As usual, I felt horrible remorse.  I prayed again.  I asked for forgiveness again.  Katie generously lavished her forgiveness upon me again.  And I felt even worse for having not kept myself under control.  Her forgiveness is so pure and total.  So sweet and without doubt.  Relationship is always 100% restored with her. 
I went to sleep last night, and woke up this morning, with the same prayer on my lips, "Lord, please help me to be patient today.  Please grant me with the emotional steadiness that makes being patient so much easier, too."
And then there was the Great Barley Life Explosion.  It wasn't Katie this time.  Samuel, somehow, decided that shaking his freshly made Barley Life cup all over the kitchen would be a productive thing to do.  And so there were green slashes of colour splashed all over the counter, the walls, the cupboards, the floor … and on just about every available dish cloth known to man.  It was a classic "how to make mom morph into an active volcano" moment.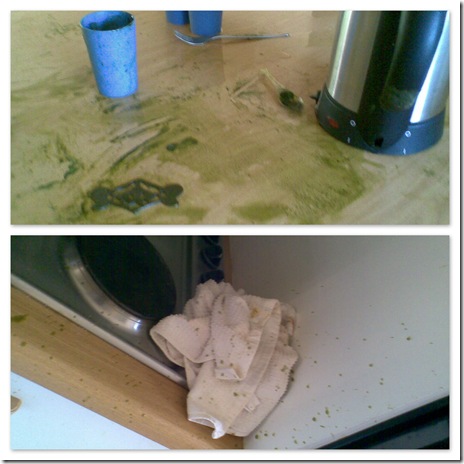 But, the Lord was gracious and gave me complete calm.  I wasn't fazed in the least bit.  Very strange for me.  A blessed feeling indeed!  Cleaning it up was a pain, but, put into perspective, was a blessing too.
Then… Micah was particularly whiny and unhappy.  Too often I feel frustrated and annoyed with him.  Sadly, it's a feeling I often have towards my youngest child these days as he clambers all over me for what feels like every minute of the day! Instead, today, I felt compassion.  Taking him onto my lap and speaking sweetly and gently.  He calmed down quickly and we got to enjoy a warm cuddle while Katie and I began her school work.
School work. I knew that this was bound to be a challenging morning of school.  All week Katie has been fighting school – wanting to play play play.  She has only about 1/2 hour of school work scheduled for the morning.  Sometimes it takes 2 hours to complete.  I second guess myself constantly – should I force the issue?  Should I push her a little?  She's way ahead of her grade level for reading and maths, so it doesn't matter if she misses a morning or two. But, then I'd also like to teach her to persevere.  This parenting and homeschooling thing is wa-ay complicated and fraught with uncertainty!  It's easy to feel frustrated.  And it's too easy to feel impatient.
But, this morning, God's abundant grace was so evident in the Barley episode, the Micah episode and in the Katie episode.  He gave me the patience.  He gave me the calm compassion I long to maintain.  He answered my prayer.  And he blessed me above and beyond simply giving me patience, because:
Sitting with my little girl, knowing that the morning could be rough, I prayed again and simply thanked God for her.  Thanked him for her sweet loving nature.  Thanked him that while she probably would fit into the ADD spectrum, it wasn't a life sentence – it was something we could work with and probably contributed to her creativity.  I decided that we'd do what we could for the morning.  I looked at this precious child of mine and suddenly felt an overwhelming rush of emotion.  Love for this little girl whose actions are so often the trigger for my impatience. 
So, I hugged her.   Then, I held her little face in my hands and told her, "Katie, God has blessed mommy so much by giving you to me. I love you, so much!"
Her big blue eyes welled up with tears, even as she smiled at me.
"Why are you crying, Kates?"
"I don't know. Happy tears, I think."
"Why?"
"Because you're blessing me.  Blessing me with love!  And it makes me happy."
This precious child that you've entrusted to me, Lord!  May you keep me aware of her needs.  May moments like these be imprinted in my memory. May I never forget how blessed we have both felt in this moment.  And may you always prompt me towards patience and gentleness.  Thank you for reminding me today of the virtue and blessing of patience.