A few weeks back, our curriculum provider, Sonlight, sent out an intriguing email about getting involved in raising support for children in India.

Every year, Sonlight creates an opportunity for Sonlighters to be involved in supporting mission work in some part of the world.
We've been very slack in getting involved in the past few years, but last year we supported the Far East Broadcasting Company as they sought to raise funds for more gospel radios to reach remote areas in the Far East.  The kids thoroughly enjoyed being involved in that, especially since it involved following 'Phoenix Phaxx' the homeschooled boy around the world.
So when the opportunity came up again to raise support in this way, the kids were really keen – especially since it involved video footage!
But, Lost in India is so much more than video footage of a great cause.  Within the first few minutes my kids were 100% committed to being a part of this global project.  Their young hearts were touched.  Before we even had a chance to look at some of the extras, they were ready to dash out the room and sell half their belongings in order to raise funds.  That in itself is enough for me – my kids have moments of great urgency for the gospel, but like most Western kids (and adults, mom included!), they also have a great love for the things of this world too – a love that clouds out the magnitude of The Love. But this project has them thinking and asking questions and excited to share with children halfway across the world who have nothing.
And then we opened the extras and realised that Lost in India is investing not only in the gospel and my kids' heart for the gospel (that alone is the best!) but the programme is also investing in my kids' education.
It started off with receiving these goodies in the mail yesterday: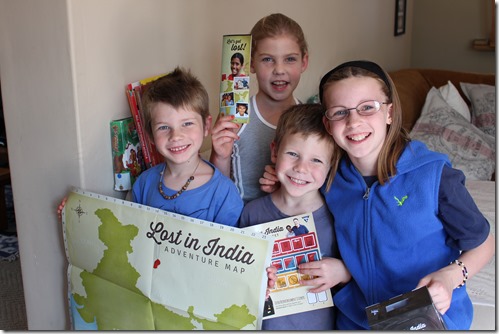 A map, stickers and other info plus a cardboard backpack money box to collect their donations.  We get to follow Chris and Justin's journey on the map – hands-on visual learning!
Each of the 8 video episodes in this month-long series includes 9 extra things the kids can do, watch, read and share: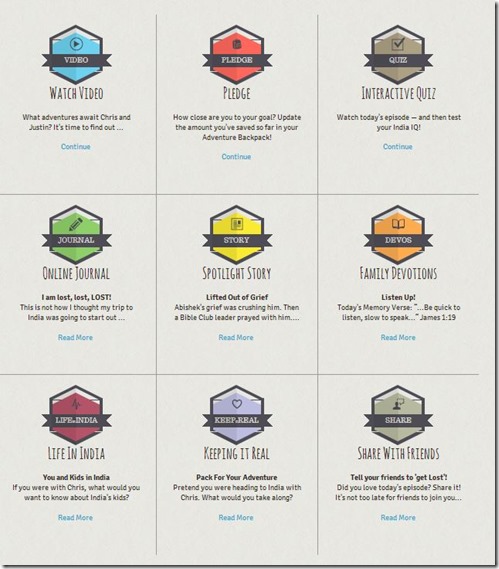 Like this slideshow that shows and explains about the different clothing items children and people in India wear: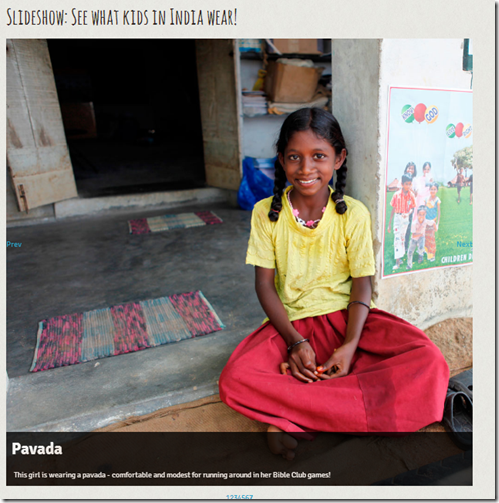 And these phrases explained to kids: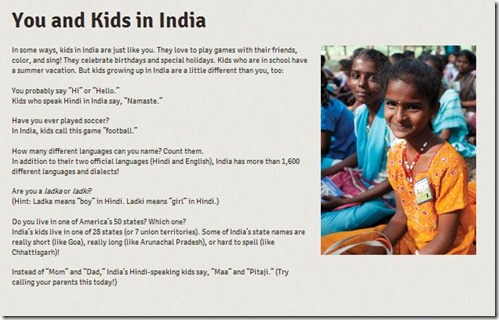 After reading the section above, Katie pulled out her little netbook and wrote this email to her dad, which Craig promptly responded to: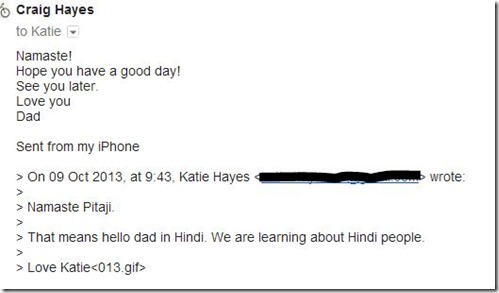 The kids get to write their own journal too, alongside Chris's "lost in India" journal.  My kids dictated their journal pieces to me while I typed it in: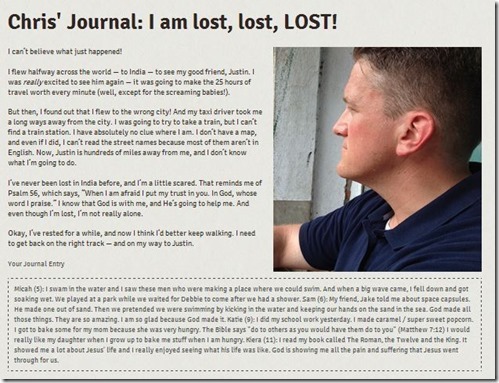 And stories about the children that are benefitting from the Mission India Children's Bible Club feature too:

The second episode was released today.  Wow.  It was powerful.  How lost our world is.  How much we need Jesus.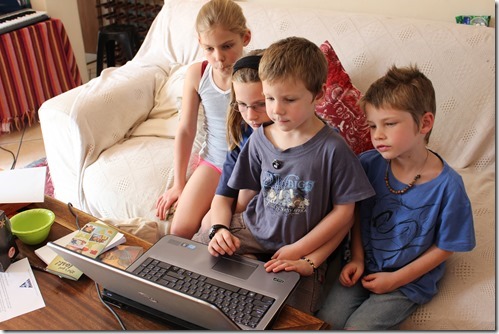 Lost in India is aiming to raise $350 000 dollars in support of Mission India's children bible clubs.  Sonlight Curriculum is partnering with Mission India in this endeavour by matching every dollar raised by others.  When you read the stories of how these clubs have impacted the lives of Indian children and how the gospel has set families free, it's hard not to want to dive straight in and help in whichever way we can!
The video episodes in the "Lost in India" story are released each week on a Tuesday and Thursday.  You can watch them at any time and if you want to do the activities, they can be done as and when your family has time.  It's not too late to sign up and join the experience.
So come with us and Get Lost in India!