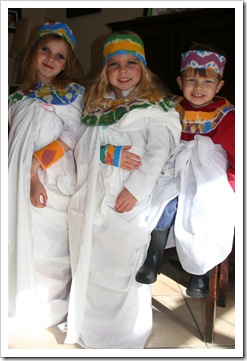 Egypt Day began in our house with three very grumpy children. Because … it was bucketing ice cold rain outside. Not quite what they had envisioned for dry, dusty Egypt day. Somehow, they'd expected summer weather in winter! But, once they got dressed up in their home made Egyptian outfits and ready, their excitement returned.
And then it was mom's turn to be grumpy. Because … I burnt our bread! Our contribution to the meal was supposed to be flat bread – I had put yummy Dukkah on it for more authenticity and yumminess. But I never heard the buzzer and then forgot about it in the oven… so the kids had flat toast instead. Ah well.
By the time we all arrived at Sue's house, the grumps had left and we were full of excitement instead. Here are all the Lunch Bunchers in the Egyptian gear – from mummies to present day Egyptians girls and a bunch of ancient Egyptians too….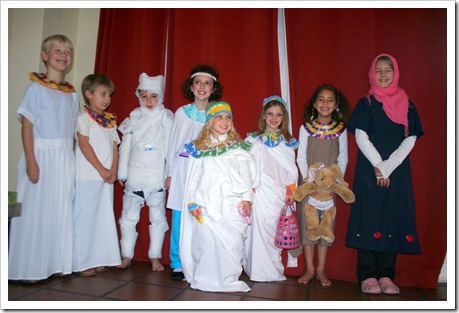 We began with a fun music lesson with Aunty Kate and Aunty Sue introduced the kids to a judicial concept after lunch involving weighing a heart and feather.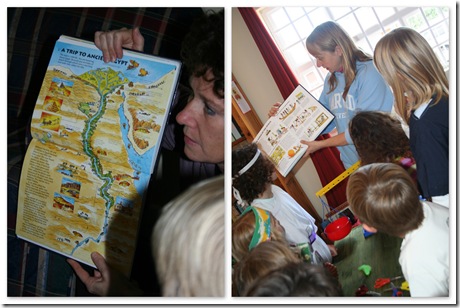 Lunch was typical Egyptian fair: nuts, raisins, dates, flat bread (toast!), figs, salad greens, apples, meatballs and chicken and beef kebabs.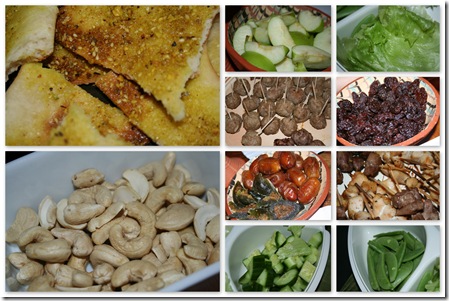 The kids built their own step pyramids out of lego and then made another pyramid out of paper…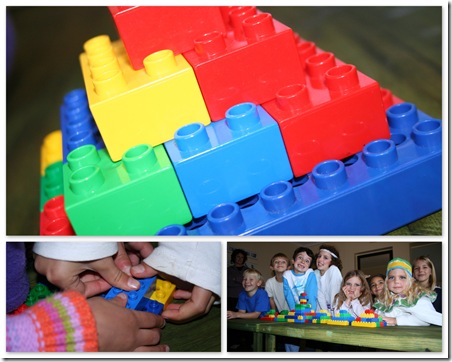 …then they hunted for hieroglyphics keys to decipher the hieroglyphic code on their cards. The results were bible names of characters who were associated with Egypt in one way or another.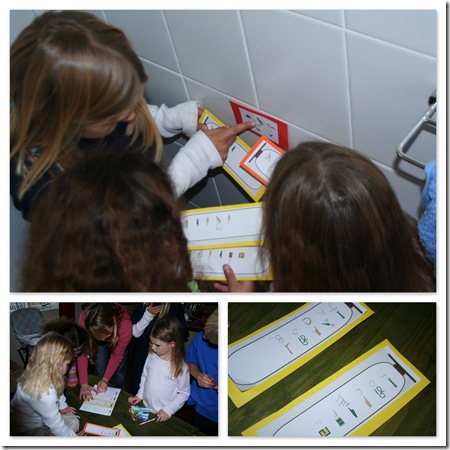 After that they wrote their own names on "papyrus" with ink in hieroglyphics. Sadly, I have no photos of that one, because I was busy cleaning up a little boy who had decided that playtime was more important than telling mom he needed to make a poo…. Lovely. Here is the cherub pre-poo…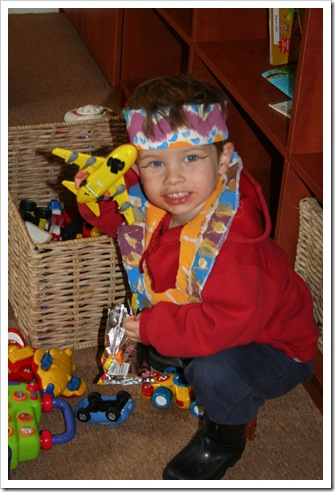 Lastly, the kids had a brief art lesson from our Sonlight Art book – Art Pursuit and then got down to some tomb/pyramid wall decor of their own: they got to draw all the things they wanted to be buried with on the walls of their tomb. What fun!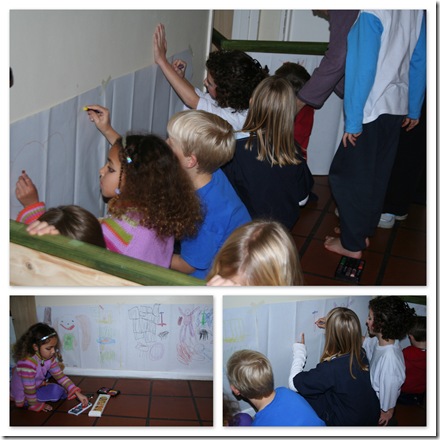 Before we knew it, it was time for our Egyptian kids to head to Xhosa. And for the Hayes Egyptians, a brief pop in at Gran-gran's 89th birthday tea and then the mad dash home for supper, bath and bed, so that mom could get ready for Cam's 40th birthday dinner. No guessing how exhausted I was when we got home that evening!
Thanks again Sue for organising such a great day! You are a STAR of note. How many people do I know who has the day-load that you have, plus a tiny baby and all the stresses and strains that go with family life and yet STILL manages to be so creative and pull off such a fun day for the kids with such grace? Not many!