Yup – so the rest of the Western Cape started school around TWO weeks ago, here in the Hayes family we started today.  Mostly because Box Day was only last Wednesday.   So, we all had a good break between returning from our holiday in Lesotho and getting back into LIFE.  All good.  Besides, the girls are only 3 and 5 and are certainly only going to benefit from an extra 2 weeks of climbing the jungle gym, swimming and playing make-believe.  That's what I tell myself, anyway!  (and I have it on good authority that it is actually true). 
Anyway, today we started.  I don't mind telling you that I have had a couple of pretty bad nights leading up to this big day of First Day of School.  I've had one night in particular of almost uninterrupted dreams of instructor's guides, readers, lesson plans, activity sheets and somehow never getting anything done.  Urgh.  This morning I woke earlier than normal with the same sort of nerves I used to feel starting school as a kid (okay, and as a new teacher!).  These are my own kids, for goodness sake!  And it's only Grade R, for crying out loud!  And… well, it's really not that big a deal. 
And, that's just it.  It actually wasn't a big deal at all.  We got through everything we planned for the morning (except one worksheet which we'll do later today).  The girls had fun.  We even read past our allocated chapter of The Boxcar Children  'cos Kiera was hooked from word one.   Kiera's reading skills have really improved since we stopped school last year, despite no formal instruction from me.  She's already whizzed through the first weeks' reading.  And her comprehension is excellent (she remembers stuff I didn't even remember!).  So, so far so good.  Even Sam was mostly good, playing contently around us and then went off to "help" Johanna pack the clothes.  Long may this continue!
These are the books we worked with today:
Maths: Horizons – starting with counting; Science: Everyday Things – looking at rain cycles and rainbows; Literature: – the Box Car Children; History: Hero Tales: Martin Luther almost being struck by lightening! Reading: – I can read it, Book 1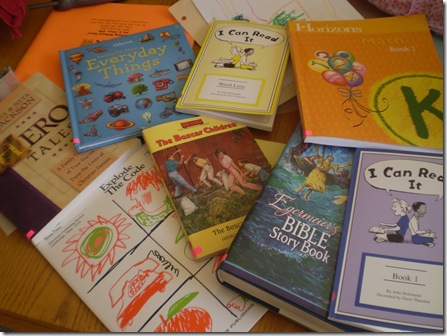 Kiera's writing skills are definitely going to be worked on this year!  But she has also vastly improved in the last 3 months, just from doing her own thing over the holidays.  #4 is "Sam is cute." and #5 is "Bambi is a deer." – She came up with those all on her own.  I helped with spelling, though. We're working on correct spacing between words and not mixing upper and lower case letters, hence the crossed out letters here and there.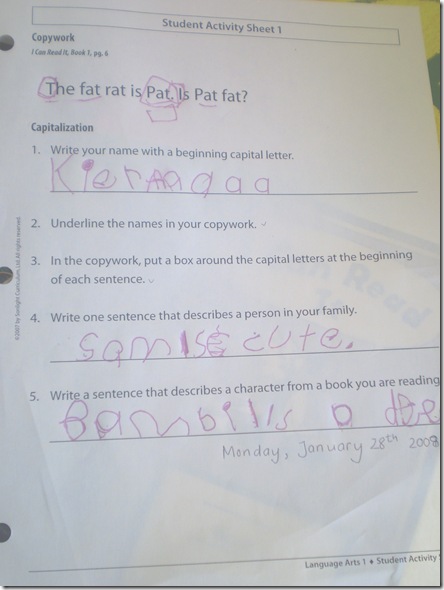 After we read all about how rainbows are formed, we did a fun experiment with light bending through a glass forming a rainbow on a white sheet of paper.  I learnt something new today… the colours are formed because they each bend at a different angle so when white light passes through water it changes into the 7 colours that make up white light – always in the same order: red, orange, yellow, green, blue, indigo, violet.  And it looks pretty!