School holidays greeted us at the beginning of April. This year, the kids were keen to head to the St Stephen's holiday club. Well, Katie and Sam were keen. Kiera wasn't doing too well at the beginning of the week, but when she was feeling better, she headed to a soccer clinic for a morning.
St Stephen's holiday club was a huge hit with my kids and they got 100% into the challenge to dress up each day. Here Katie is a prairie girl and Sam, a pirate. It was a delight for me to wake up each morning to see what they had planned for themselves for the day! We also had cowboy and rapper girl and various other attires. Really sweet!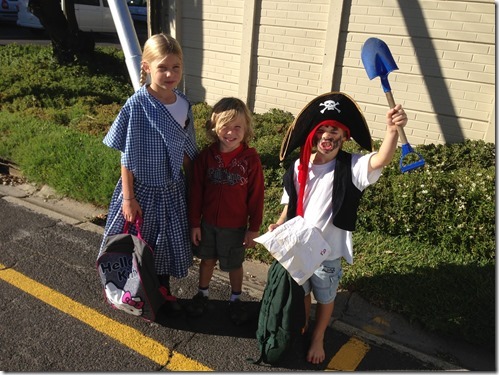 I took some time in the holidays to work on some room changes for the boys. Micah and Sam had worked on me quite well – and eventually I relented. Wa-ay overdue makeover… The before pic: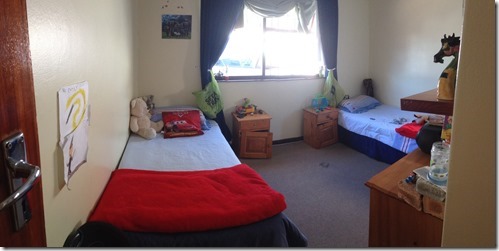 And After… which is a horrid photo! You can see better photos here: Boys Room Makeover…

The girls helped out with the room transformation – painting walls and sanding gutter shelving. Loads of fun!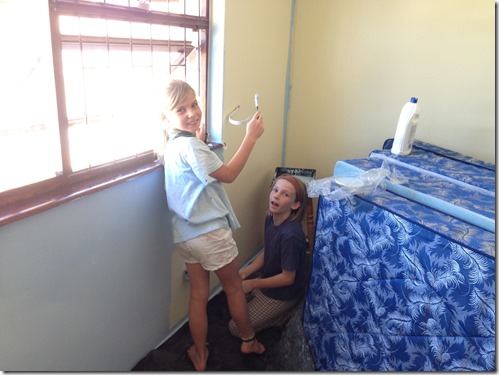 We also had the awesome privilege this April of hanging out with the Poole family. Graham Poole came to South Africa wa-ay back in 1996. Chance meetings led him to stay at my folks' home in Cape Town where we built some awesome memories of his time here. Here Graham poses with a photo of Craig and Kerry – we were all round bummed that they weren't here to enjoy the reunion.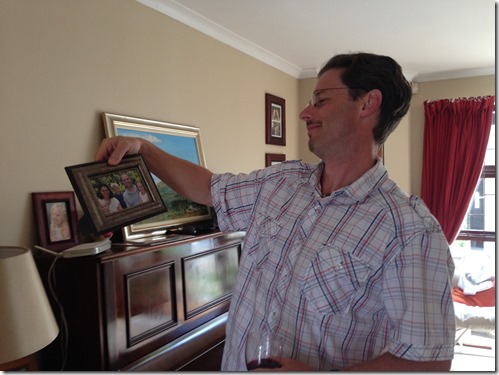 Graham is also the reason that our good friends, Scott and Hayley met and married. Graham is Australian and through him and an awesome chain of events, Scott ended up coming to Cape Town to study theology at George Whitefield College. He met Hayley and well, the picture below is the (first) product of their union!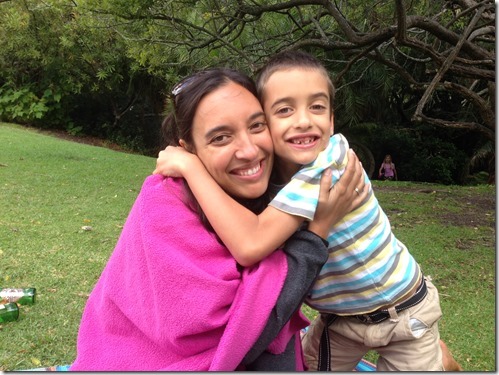 The weather didn't always play ball for us, but we did get to enjoy loads of great chat time (for the parents) and play time (for the kids) and now they all want to write to each other. Sweet!
Craig and Graham enjoying deep convo in Kirstenbosch, under the majestic Table Mountain.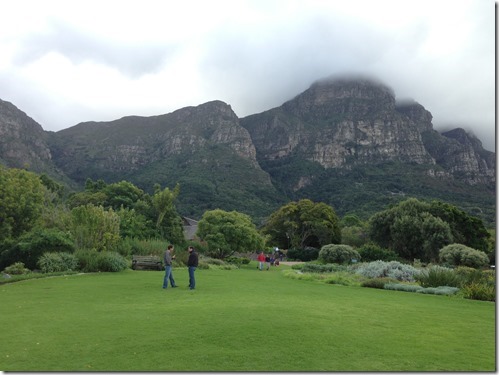 Braai at our house and all the kids. Crazy bunch together.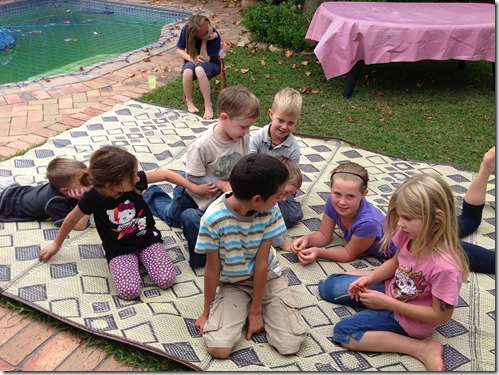 My parents arrived home from Israel just in time to catch a morning together with the Pooles. Blessed memories.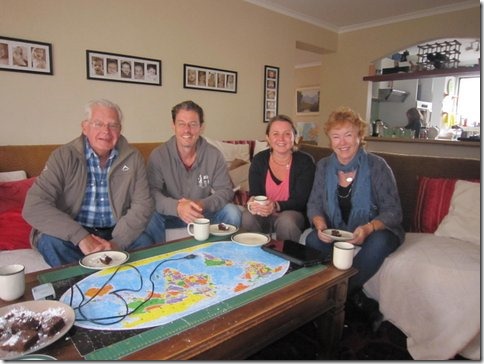 We got to enjoy a really awesome photo shoot with Susie LeBlond in the middle of April. It was kind of an impromptu thing. I saw loads and loads of her photos come through my newsfeed on Facebook. Loved them – so very much my style. But, I've never considered doing the family photoshoot thing before (aside from one freebie studio gig I got thanks to my neighbours!) – budget, budget, budget. But, her photos were well-timed with my need for some author shots for the upcoming book. It was a bit of a whirlwind – only after did I remember my own (many times removed) cousin is a great professional photographer too. Hadn't even crossed my mind to ask him! That's how out of the photoshoot thing my frame of reference is. Sorry, Gavin!!!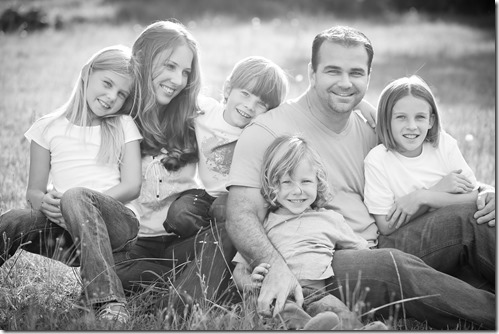 The day after the shoot, the boys went through a major change – aka HAIRCUT. Why would I want to cut off those gorgeous locks, you ask? Well, the full story is here: boys' haircut.
We spent some holiday (well, back to school in a relaxed fashion, really) time with our friends down the road, while their parents were enjoying a 10-year anniversary holiday in Mauritius (awesome!). The rain came down and so out came this previously-neglected puzzle. What a lot of fun it ended up being! I blogged all about it here: Sonlight Global Puzzle Fun.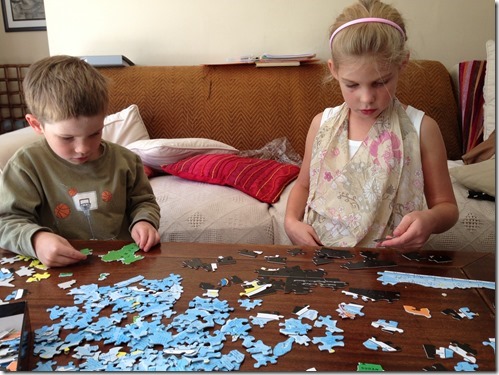 Before puzzle time, the kids spent a fair bit of time making duplo creations and coming to show them off to me…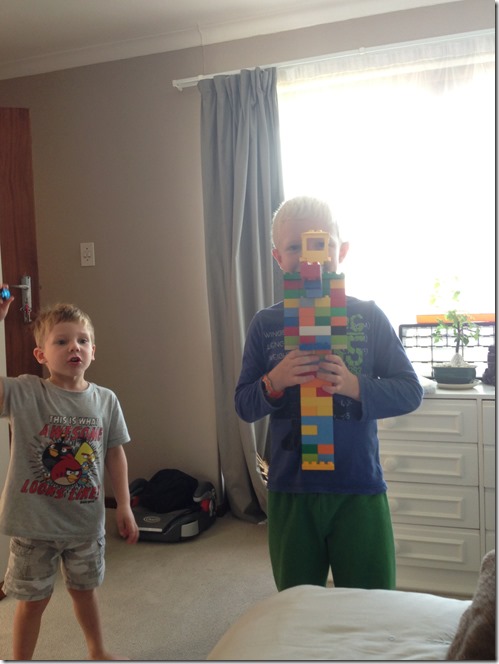 … or called me to come see what they were doing. Here's Jakey and Katie with the tallest tower…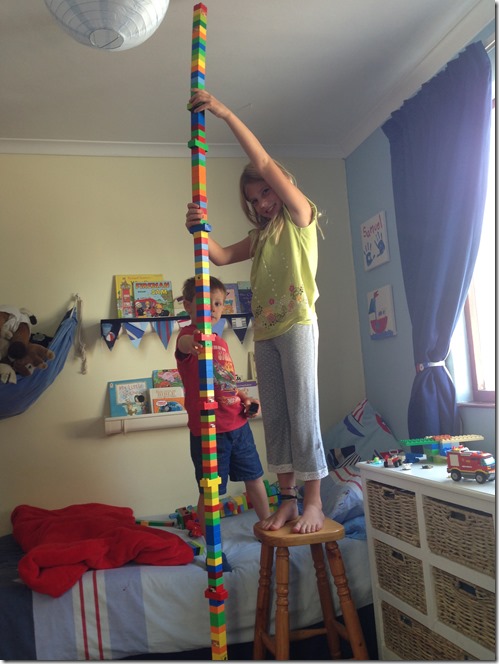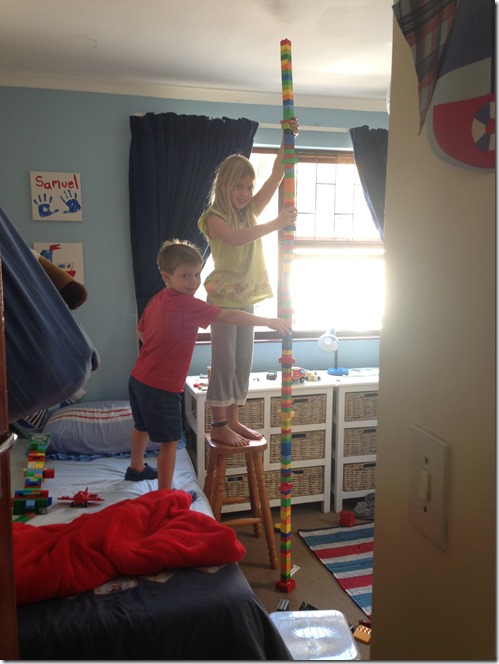 Lunch Bunch is, as always, lots of fun. The kids are really getting along beautifully and it's such a joy to watch how they are growing and adapting. Here the littlies watch some of the biggies music lesson – they're doing a stint of musicals at the moment, and the movie of that day was My Fair Lady.
Cape Explorers continues to be a highlight of our week. Here are some shots from our recent visit to the Shark Centre in Kalk Bay…
And to the Het Poshuys – museum home of the Battle of Muizenberg.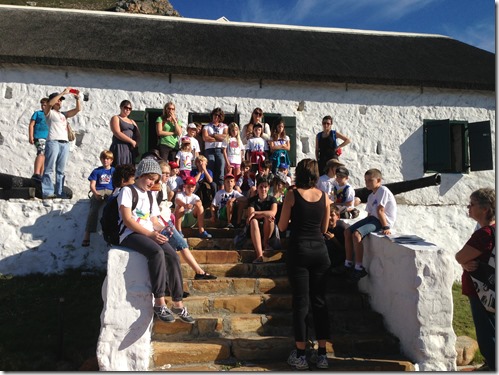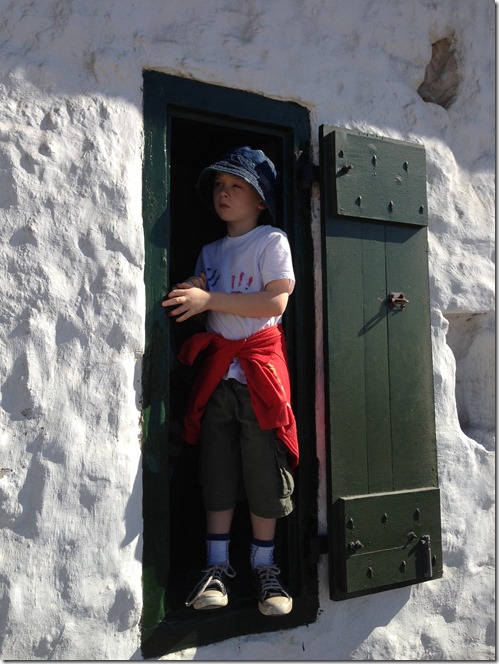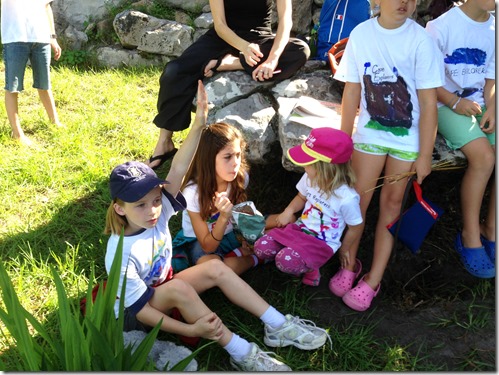 This month I finally got to hold Seekers of the Lost Boy in my hands. Barely containing my excitement here in this picture: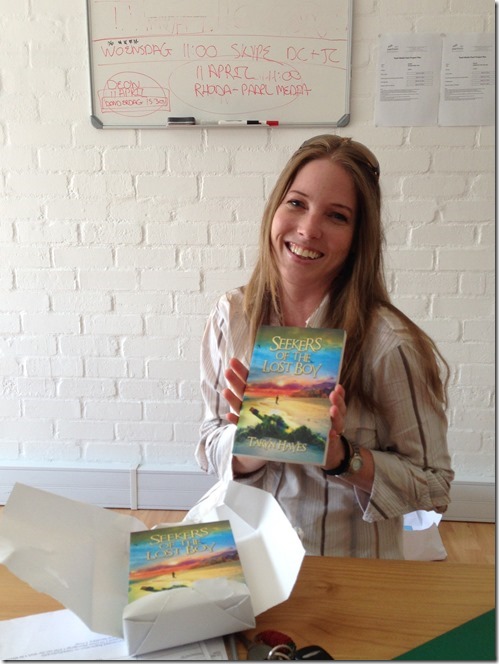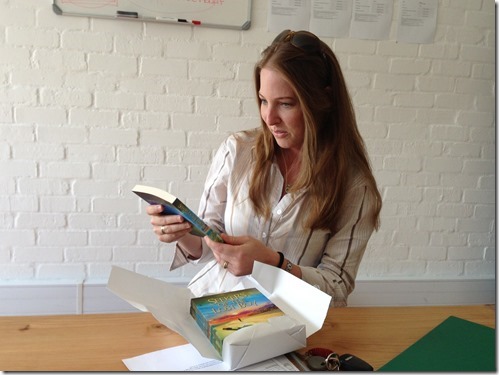 The rest of the week was very much Seekers-focused. Dinner out with family to celebrate that first night: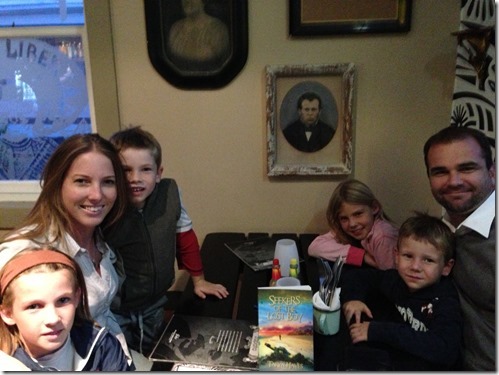 Kiera made a cake…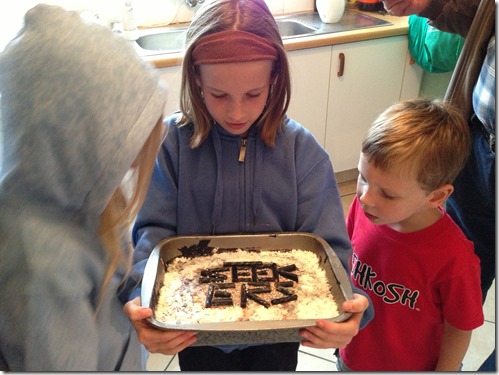 Which we shared at Lunch Bunch with the originals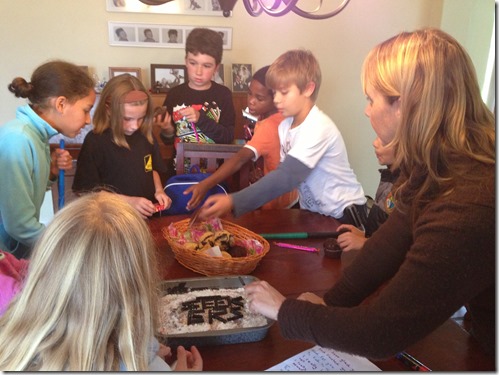 And Sam took this blurry shot of two very special people who have been instrumental in getting this book to the public.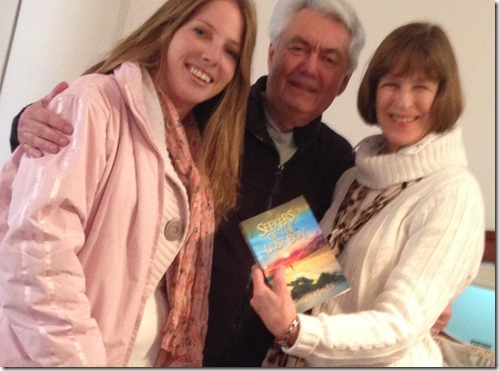 My folks returned from Israel and Kiera insisted on bringing Seekers with - the book has been a regular photo-bomb lately, mostly due to Kiera's actions.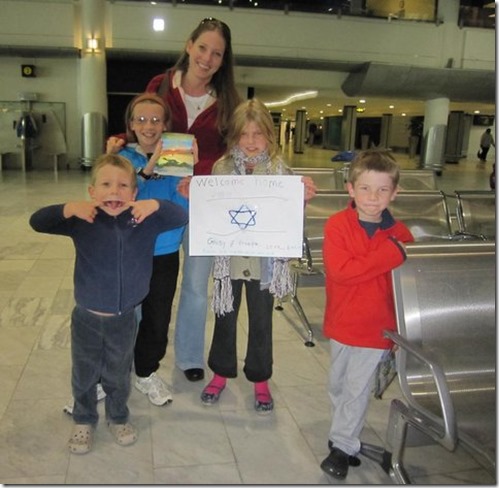 With Granny and Grandpa's return came some gifts, including these t-shirts – boys loved modelling them!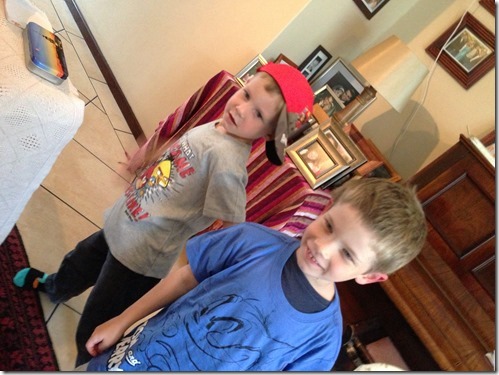 Love this photo – the kids helping me make supper for Granny and Grandpa. Too sweet!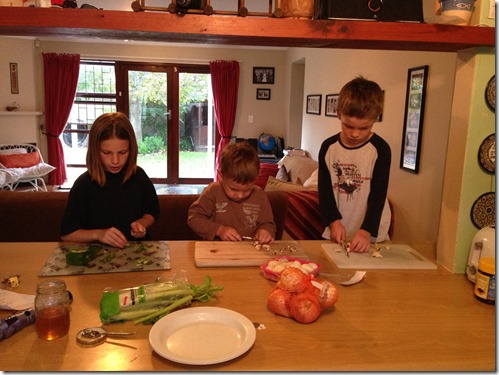 Sam has been dwelling in super-cuteville lately. This is a note he wrote for me in the car the other day. "Mom I love you that's why I love you." I love that – it's totally the truth and echoes Jesus – He loves us. Why? Because He loves us. Nothing we can do or say can change that. Nothing we do or say can win His love.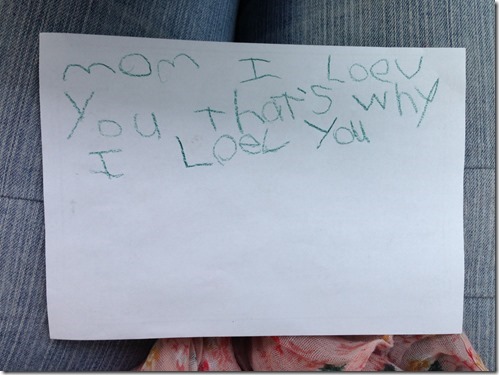 And here is Sam wanting me to send a photo to Cubby his Aussie-Sudanese friend, showing off the necklace that Cubby (Caleb) made for him.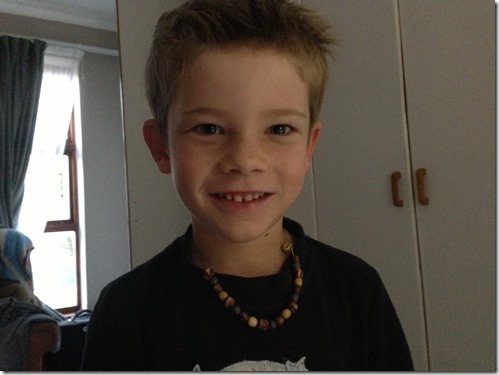 April has seen us get back into some mountain walks.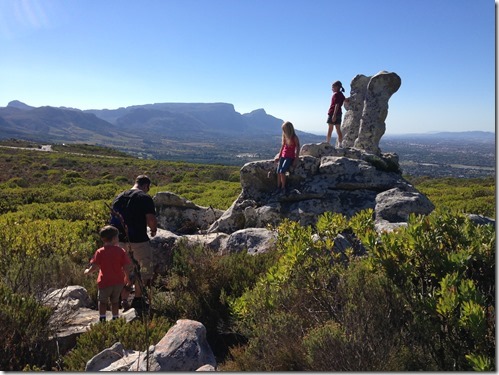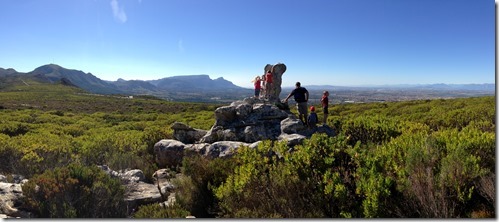 We also had a huge privilege of going to a nearby stud farm. Vanessa invited Kiera and the rest of the kids for a visit, thanks to Kiera's horsey-fixation.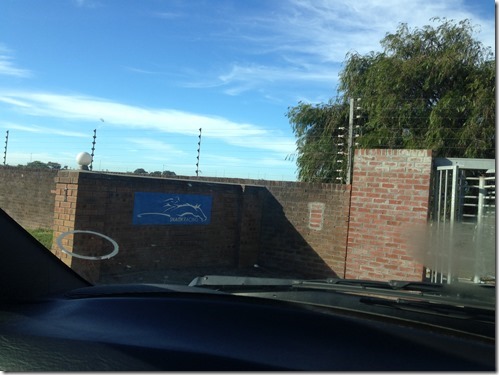 What a jol! The children loved every minute of it. I took hundreds of photos. But I'll only subject you to a few…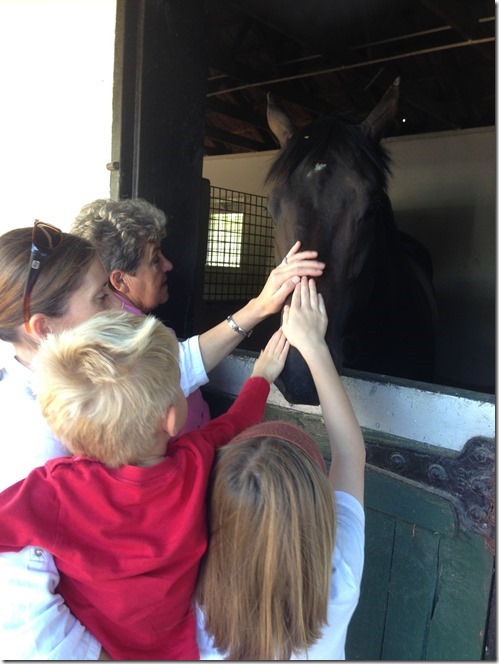 Like this beauty with the heart-shaped star: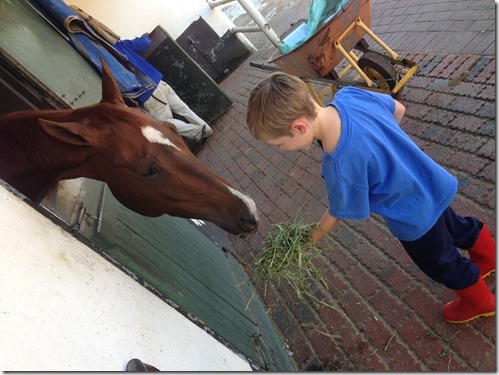 This birdy couldn't fly anymore. But the kids felt strongly that he needed saving, which constituted of carrying him all over the farm. Vanessa's young boy was the sweetest – carrying him around, then setting him down, walking a little while and then, with great concern, racing back to comfort and care for the little guy. The pigeon ended up being carried, set down, and then gently picked up again, only to be carried to the next spot. So sweet!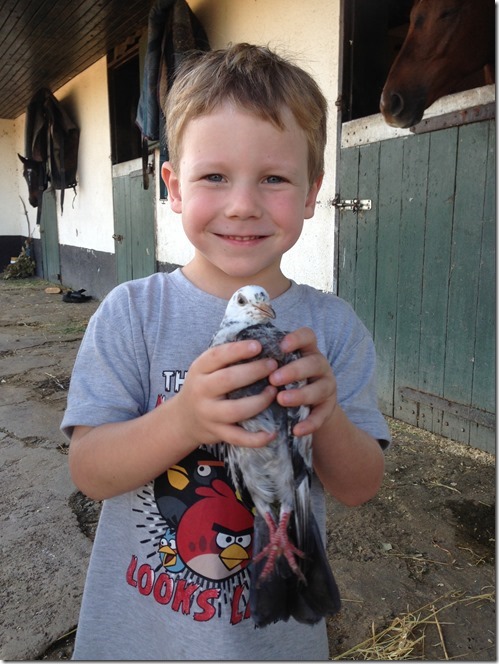 The kids got to see reindeer from afar – yes, reindeer! They do exist. And in Cape Town, nogal! One guy with impressive antlers was standing outside of the group. Turns out that he's an old guy and his lack of fertility during mating season means that he is excluded from the group until the season is over! The poor guy looked rather forlornly at the group.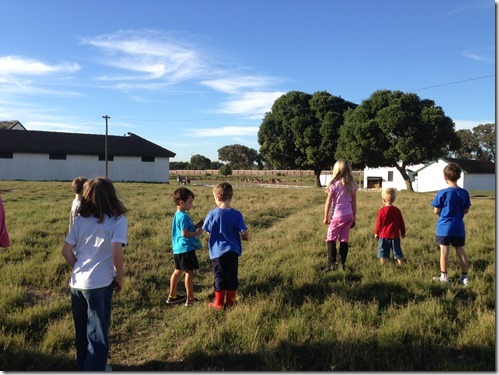 Sam creating grass-angels!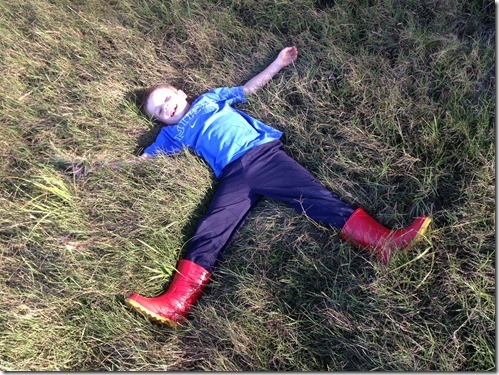 Katie found this part of a springbok skull. Not uncommon on the farm, thanks to the recently deceased resident wolf. Loved kids, but still loved eating reindeer and springbok from time to time.

Despite the crazy interruptions in our life, thanks to all the work around the book, we managed to fit in school work – if not in the same pattern we are used to! Here are some examples:
Katie doing maths on the trampoline after "riding" to "school".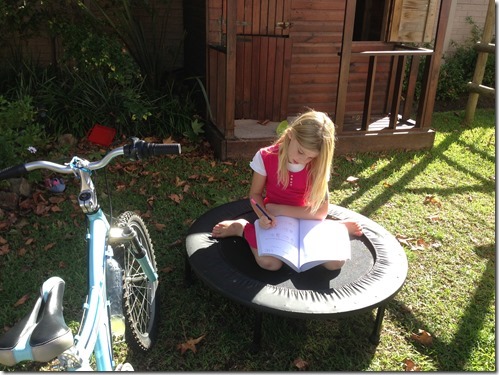 Sam doing his Explode the Code phonics, with his newly-adapted pencil thanks to the peacock feathers we got from the farm.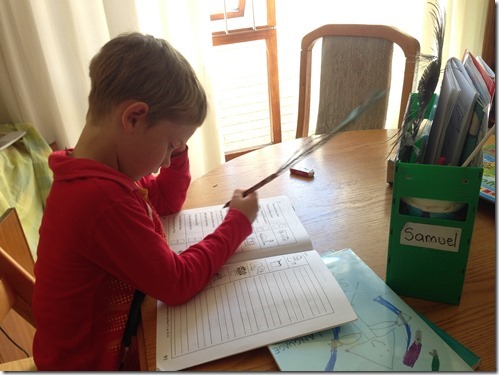 Kiera and Micah hang out by our puzzle map doing school together – Kiera reading to Micah from her language arts work – developing a Tall Tale. She chose to turn this one into a fully illustrated book for her siblings. Too sweet.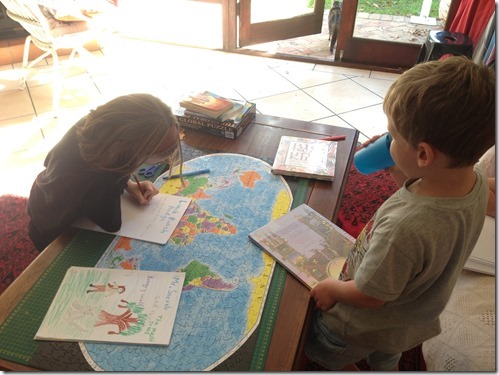 This month at Lunch Bunch, we got to hang out with the people from Talking Hands. They are busy working on a full translation of the Bible into sign language – that means, the Bible by video. Lisa C introduced us to the interpreters and we learnt a thing or two about sign language and the deaf community.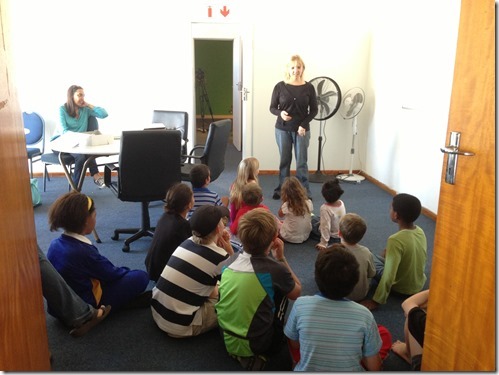 Here the kids are learning some signs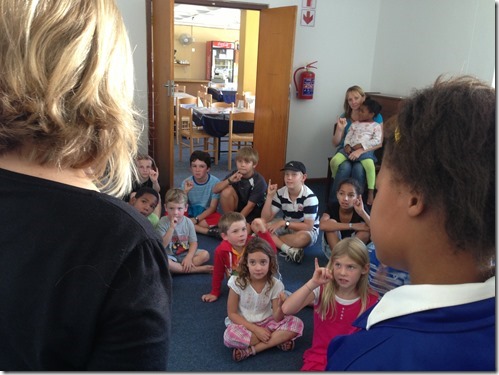 … and watching a recording of a bible passage. Read all about it here: Hands with Words ministry.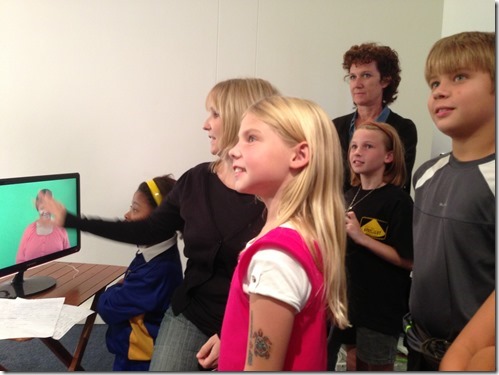 One of the last days in April saw us joining the Tubbies on a mid-week escape to the beach one early evening.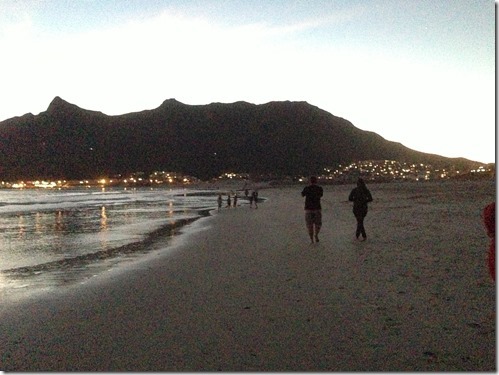 Hout Bay at 7pm – so beautiful!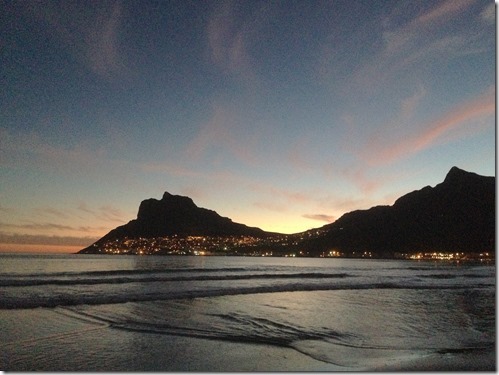 On the very last day of April, Katie put together a special party in honour of fairies' birthdays – or something to that effect. I found her and Micah holding a tea party, along with Smartie the white tiger in party dress.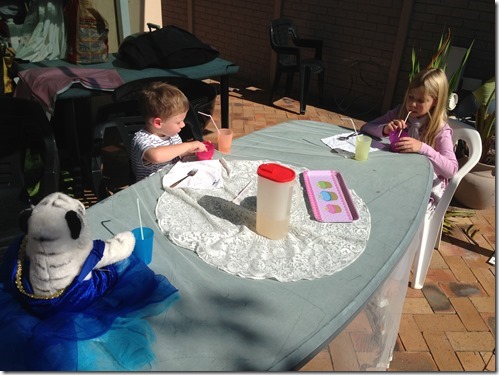 Love them to bits!