With the painting part of the library bags done, it was time to move onto the sewing.  Kiera's bag from the food fair is a simple design made up of strips of material sewn together, with running stitch decorating each strip.  So, no originality on my part here, we just copied it exactly!
First things first, though: cutting the strips.
As mentioned, we have a ton of fabric.  It was fun choosing which materials we wanted and talking about where they all came from.  Sam chose a green theme, and so we ended up with fabric from our original Christmas stockings; granny's old kitchen curtains and the curtaining material from their Onrus house, Skye Cottage.  Kiera chose fabrics that included two of my old dresses.  Katie's included fabric from their bed quilts I made a couple of years ago.  Micah's bag was all blues of various fabrics I've bought over the years.
We began with cutting the fabric into strips.  Not being good about ironing things first, I went ahead and cut them up regardless of how creased the fabric was.  Not a good habit, I know (it's probably the least of my sewing faux pas, but let's not get into that!)  The kids enjoyed helping me cut the material into neat strips using my handy memory board and cutting ruler thingy.  A friend, and sewing extraordinaire, has one of these and since discovering how wonderful they are for cutting fabric straight, I've wanted one.  My folks then gifted me with a set for my birthday last year.  Lovely!  I do need to replace the rotary blade on the ruler, however, as it took quite a few tries for the cutter to get through just a couple layers of fabric.  It didn't faze the kids though – they could've swished that blade back and forth until the cows came home!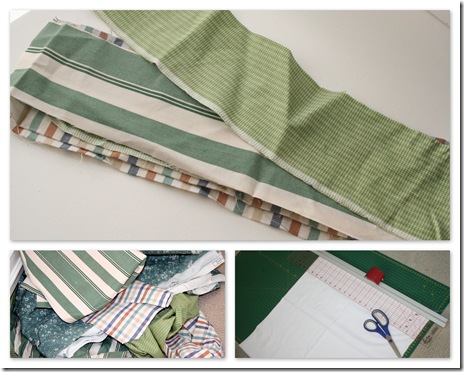 Next step – sewing the strips together. Kiera got so enthusiastic about it that she ended up sewing about 4 strips too many.  She didn't mind, however, when it meant that she could use the extra strips to make a bag for her bear.  All the kids loved the experience of sewing.  Sam sat on my lap and felt like a race car driver controlling the pedal.  Most fascinating stuff watching the needle pop up and down at speed (probably not as fascinating as watching me hurriedly move my fingers out of the needle's way!)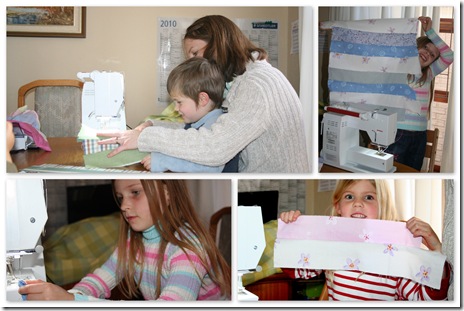 While I was working with each child, much nonsense was happening behind my back.  The girls love taking charge of the camera for these record-keeping sessions – not so much for the keeping-record photos … more for the lets-see-how-many-photos-of-nonsense-we-can-take photos.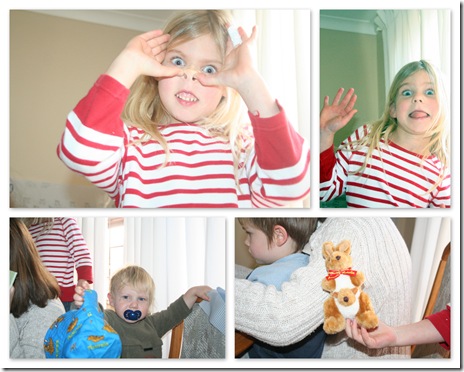 Once all the strips were sewn together, it was time to add some running stitch.  Kiera's sample bag has running stitch for each strip.  It really makes the bag look so beautiful and unique.  Plus, it's a great way to get the kids to practise a basic handstitch that they may use a lot in years to come.  So, I decided to get them to do the same for their bags.  Once I showed them how, Kiera took off like she'd been doing this all her life.  Katie stopped, started, whined, moaned and eventually bargained me into doing half of it for her!  Most cute, however, was little Sam who sewed a whole line of running stitch almost 100% on his own.  I held the material for him while his sweet little stubby fingers poked the needle through the material and pulled it through.  Then I turned the fabric over so he could repeat the process from the underside.  It wasn't too difficult, as I had marked out exactly where the needle had to go, with little pencil dots.  But the look of great concentration and then great excitement at his accomplishment at the end was worth the entire process.  Too sweet!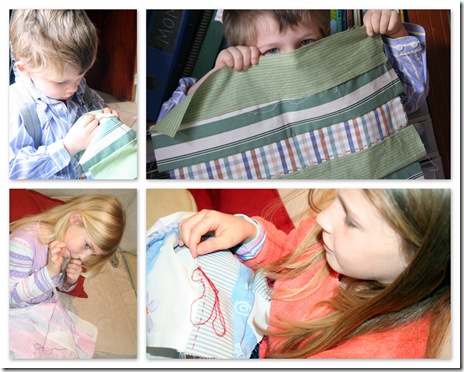 The next step was to sew right side to right side of the bag's outside pieces.  We cut down the sewn strips to the size of the fabric painted piece.  Then, we sewed three sides together (both sides and bottom pieces).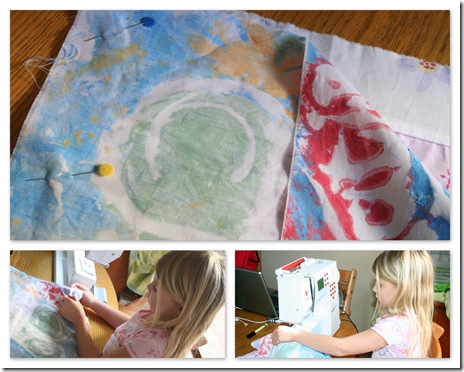 This next photo I've added purely for my own benefit.  I love the crumpled patchwork look of the fabrics in the sunlight.  It has a homely, country feeling that reminds me of huge open pastures of green, farm houses and fresh air.  Mmm!  I love it!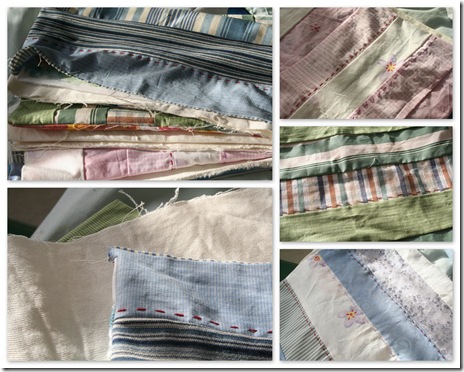 In order to keep the bag tidy, sturdy and easy to see inside, it's necessary to sew an inner bag.  Back to the cutting board where we cut out 8x calico (seed cloth, cut from the girls' old bedroom curtains!) pieces, the same size as our outer bag.  Then, after sewing just the two sides together, it was time to attach it to the main bag.  We kept the bottom of the inner bag open, and then sewed the inner and outer bags together at the top (right side to right side).  Once turned the right way around, it's simply a matter of sewing a quick seam at the bottom of the inner bag.  To make sure that the bag lies flat and smooth, it's also best to sew an anchoring stitch around the top section of the bag, sewing both the inner and the outer bags together.
Finally we were ready for the handles.  But first, back to the cutting board to create 4 strips per bag.  Two in the seed cloth, and two in their chosen patterned fabric.  The kids enjoyed the ironing bit here too.  There is a fair bit of patience needed to be exercised.  My natural inclination is to want to snatch the iron/machine/needle/thread etc away and just do it myself quickly.  I'm afraid that I'm not very good at being patient.  While we had fun doing this project, I cringe at the times I yelled "STOP!" when they raced along on the sewing machine, ending up sewing fresh air or sarcastically muttered, "listen!  don't you understand the word?"  Nothing like creating opportunities for self-discipline and patience!   It was much the same with the ironing as they want very little guidance from me, all the while careening the hot iron over my fingertips!
This time I really couldn't skimp on the ironing, burnt fingertips or no burnt fingertips.  Kiera's bag, the one that we were copying, has lovely handles that are cleverly done – no need to turn anything inside out or right-side-up – a pain to do when sewing skinny bits of fabric together.   But it does require ironing the fabric carefully so that there are no raw edges.  One has to divide the strip lengthwise into four sections (using your eye), folding over 1/4  on either side and then ironing it flat (see pic below).  Do the same for the patterned fabric, making sure that it is about 1/2 cm skinnier than the base fabric strip.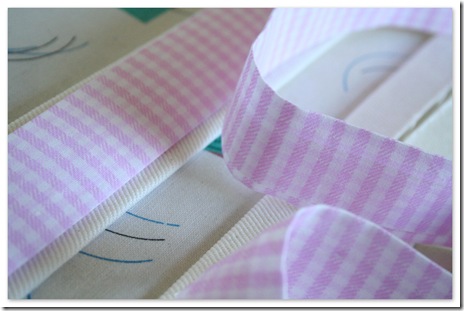 Then, sew the patterned fabric strip onto the base fabric strip, wrong sides together, sewing close to both edges of the patterned fabric.  Finally … attach the handles.  There are all sorts of fancy ways to attach handles to bags.  For greater sturdiness, it is probably wise to run the handles through and under the entire bag, so that the weight of the books is well distributed.  But that was far too finicky a procedure for a kids' project (okay, far to finicky for my aspirations too!) so we decided to copy (again) the bag we were using as a template.
And this is where I took over completely.  Despite being begged by the girls to help finish off the sewing (Sam had lost interest a while back already!), I decided that my thin patience and the desire to see this project finished were never going to see eye to eye.  So, finish it off alone, I did.  And, it's just as well, because working with numerous layers of material is tricky business and sewing diagonals is also tricky business … and snapping needles in the middle of the sewing experience is just plain infuriating business.  But, it got done … a needle or two later.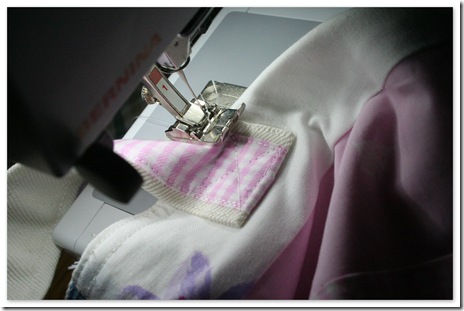 And, 3 1/2 weeks after we first began, we have the final products!  Here are the four happy library bag bearers!  Micah looks completely bewildered, and so he should – his bag was my creation completely!  But, now that he knows that it is his, he runs around with it yelling, "mine! mine!" to all who bother to listen.
Sam dressed up for the occasion of photographing his special library bag: he painstakingly dressed himself in a formal "work shirt", beige pants and a red undershirt.  Aka "going to work" clothes.  Very cute.  Kiera, as usual, has to feature her "daughter", Emmar, in every picture.  But, considering that Emmar has also got a new library bag, courtesy Kiera (and mom for the handles), I guess I can withhold the eyeball rolling this time 🙂  Kelly and Kerry … recognise which strips are my old dress and skirt?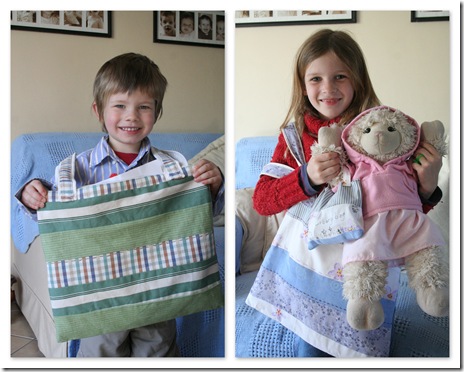 Katie's bag features below (no guessing which of the running stitch lines I ended up doing mostly!), along with Kiera's bear's library (or "libary") bag.   Kiera also got to sew on a button by herself for the first time.  All the while she gave me a running commentary of the numerous ways in which one's finger can be stuck by the needle.  Drawing blood was not so special, she decided.  But, catching a thin layer of skin was okay.  The signs of a true, dedicated to her art, sew-er!  (try writing that word without a hyphen … hence the hyphen!)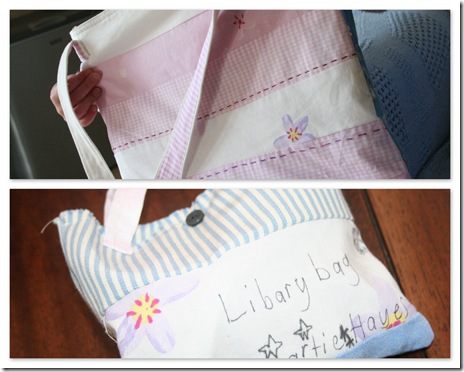 All in all, it turned out to be quite a successful "technology" project, including painting, art, measuring, cutting, ironing, machine sewing and hand sewing!  It took about 3 1/2 weeks to complete, thanks to an enormous go slow due to the flu I had in the middle of it all, but finished it is and happy we are that it turned out as well and as functional as it has.  It will probably be the last sewing project for the year however.  I don't seem to manage more than one sewing project before I'm all sewed out…. My poor USA-Memories picnic blanket is still on my to-do list, even 12 years after I first conjured up the idea.  I've got more mending to do.  And a bunch of other ideas.  But, the machine is packed away and it's time to focus on other things.  Like returning our library books on time and tidying up the wake of sewing scraps!
(This post was linked to se7en's Fabulous Friday Fun)
As always, please let me know if this crafty idea has inspired you to do something similar.  What are your plans?  If you've got a similar project, feel free to link it up here in the comments section – we'd love to share ideas with you!