While we've been in quarantine, thanks to the Whooping Cough Lurgies, we've had some really slooow school days. I was too ill for most of last week to do anything with the kids, but they got on with their independent work without much prompting from me.
But this week, we got back into the swing of things and got to some of the fun things in our first chapter of our new Apologia Exploring Creation science curriculum.
We're doing Anatomy and Physiology for this term and the rest of next year. Chapter 1 is all about the building blocks: cells. I was a little intimidated by the content – the kids would be exposed to terms like 'mitochondria', 'lysosomes' and 'endoplasmic reticulum'. Terms that I barely remember from high school biology. But, true to the reviews, Apologia explains these things in a wonderful narrative way. And with a few fun reinforcing exercises, even my brain remembers them off pat now!
We played a kind of Simon Says game when we first learnt the terms. Each term would be assigned an action. I'd sit on the couch like a lazy lump, shouting names of cell organelles while the kids jumped around energetically, trying to remember the right action for the right organelle. Then, tables were turned and they had fun shouting commands at mom while mom bounced around. Thank goodness we do this in the privacy of our home, and my kids aren't as trigger happy as I am!
This week, in consolation we made a huge poster. Katie heard that we were going to draw it (again) and sighed, "bo-oring". Then she heard that we were making a HUGE poster together and she was suddenly all inspired. Trying to keep tabs on what inspires her is quite a task! Mostly it's just hit and miss. I'm glad this one was a hit!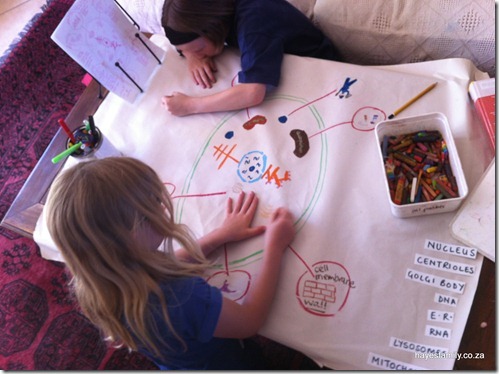 Apologia explains each organelle's job by comparing them to jobs of people within a city. The cell membrane is the city walls, the mitochondria are the power houses, while the lysosomes are the policemen and the endoplasmic reticulum are both the mailmen and the garbage men. The kids stuck with this theme as they labelled their cell. Pencilled in next to each red circle are their notes as to the actual functions of each cell.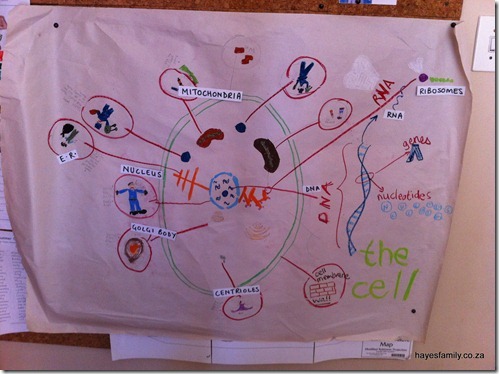 This week we are going to concentrate on finishing the tasks from our Junior and regular Notebooking Journals, so I don't have pics of those yet. But, we did do the fun Edible Cell activity at the end of our cell chapter.
We made a "cell" out of jelly and various sweets, talking about what they were and their role all while doing it.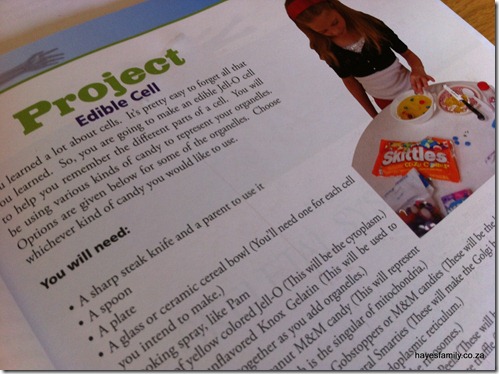 First we made the jelly (jello, for you Americans!) These photos are with my phone, so they're blurry and not great, but you get the idea.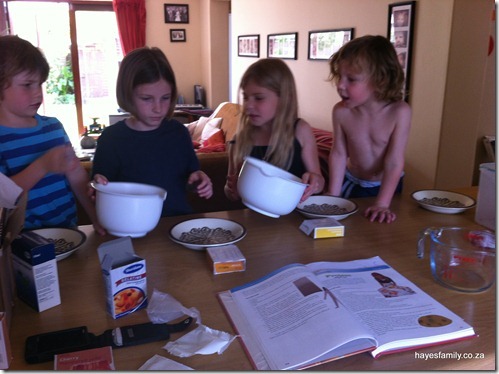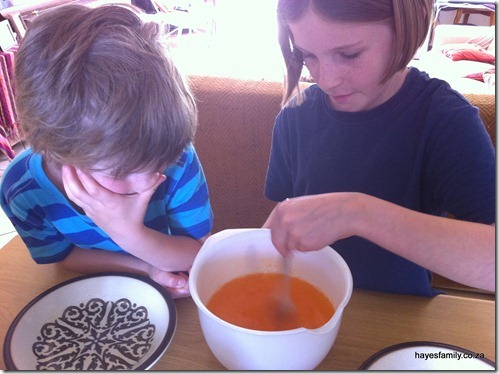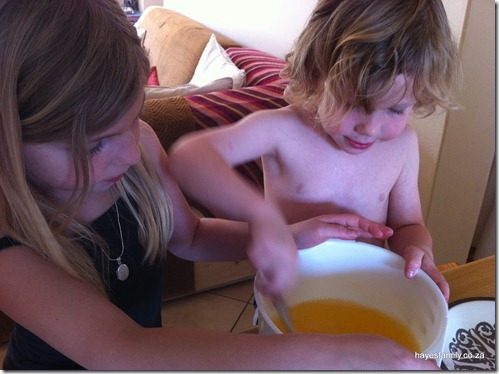 Then we filled our cytoplasm (the jelly like substance inside the cell) with the organelles. Here are the organelles – mints for lysosomes, lollipop sucker head for the nucleus, cherry gum sweets for the E.R. and silver balls for the ribosomes, Sugus sweets for the centrioles and liquorice allsorts for the golgi bodies.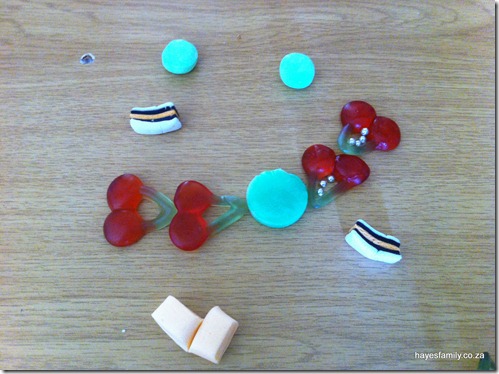 Hard at work making their cells: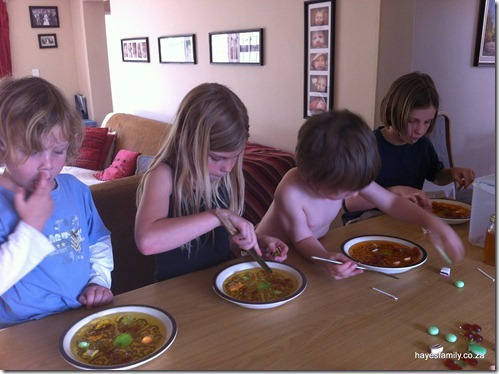 Tada!
Sam's was the only one we managed to decant from the bowl. Here you have it – Sam's Edible Cell!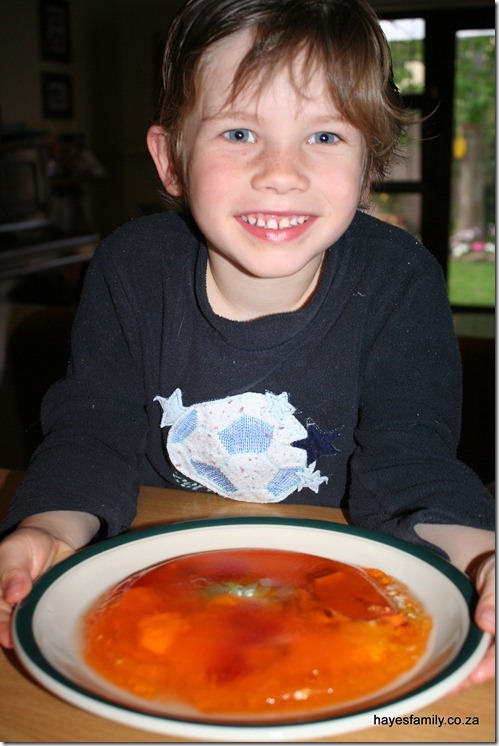 And speaking of Sam – here he is with his second I Can Read It! book certificate from Sonlight.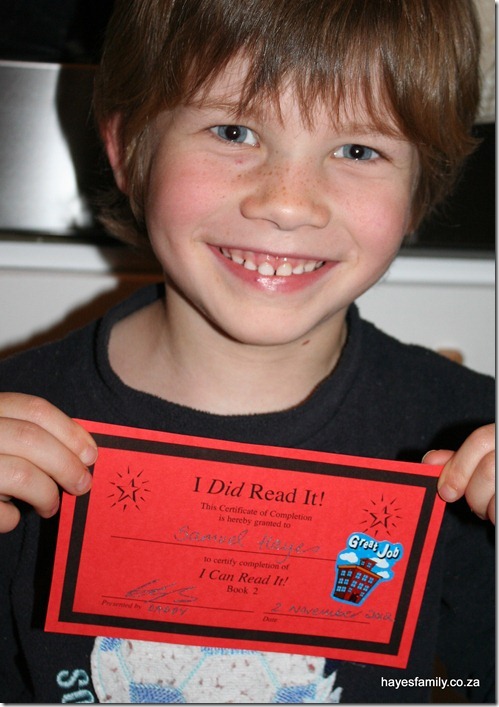 He is loving reading. Sue lent him the first in the All About Reading series of books. It's part of an intensive and excellent reading programme that she uses with Caleb. It's lovely. But we've already got a programme we're happy with, so I'm not changing. But the book Sue lent him has been a wonderful confidence booster for Sam. It is filled with short CVC word sentences that he can easily read. But, it's this thick book, just like his sisters read, and he can read it! He has been walking around the house with it tucked under his arm, reading it at every opportunity. He has even taken it in the car with him and insisted on reading it to me when he woke up this morning. Long may this love affair with reading continue!