This article first appeared in the Cape Home Educators' quarterly magazine,
April 2013
Serving One Another
The Organic Community of Homeschooling Families
by Taryn Hayes
One thing that I deeply love about the homeschooling community is that it is a community. Since I embarked on this journey into homeschooling ten years ago, I've met people from vastly different walks of life. In any other circumstance, I probably wouldn't have met them. Yet with our common goal of homeschooling, it seems it is enough to break down cultural barriers, language difficulties and socio-economic differences. Where barriers could have existed, there is, instead, helping hands. Where needs are mentioned, they are, more often than not, met. When struggles are shared, sympathy and help is extended.
I have the privilege of administrating the Homeschool Western Cape group on Facebook. It's a privilege, because I get to witness the homeschooling community at work, every day, first hand. It makes my heart sing when I open up the Facebook group page and read a request for some curriculum help – and then have to scroll through dozens of helpful answers. When I meet a fellow homeschool mom in the bookstore for the first time (yes, this has happened more than once!) the instant rapport that follows is exhilarating. The intricate workings of the homeschooling community is organic – natural, flowing and inclusive.
Seldom amongst homeschoolers do I hear the word "no". Yes, there are times when families feel the pressures of life and expectations – then "no" is not only natural, it is necessary. But mostly, those in the homeschooling community are "yes" people. Yes, we can help each other figure out which curriculum would suit a particular child. Yes, we can organise an outing and have everyone join. Yes, we will join you. Yes, let's have tea and share our woes and wins. A need is identified and, pretty soon, the solution is provided. No coercion. Just community at work.
Since we began homeschooling, community has been an unexpected benefit. In this past year alone, I've benefited directly from the natural flow of the Homeschool Western Cape community. Last year began with taking part in the Cape Home Educators' arranged Sports Day in Camps Bay. Need identified? Yes, athletics for kids is fun and something the homeschooling community doesn't naturally have. What can we do? Let's create it! And what fun the children have had. Last year my daughter did high-jump for the first time, getting coaching on the spot and ending up exceeding her (and our!) expectations.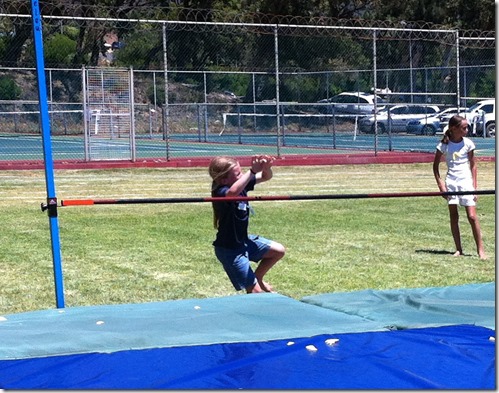 One Zimbabwe-born mom, Karen D, recognised the need to become better acquainted with her surrounding country in order to teach her children about the Cape. She chose not only to meet her own need but also to extend an invitation to others by starting an outing club called Cape Explorers. Karen is particularly gifted in leading large groups of children. In this last year we've visited about a dozen places, developed some solid friendships and enjoyed Karen's wealth of gifts – living letters, administration excellence, brilliant ideas – lavished upon us.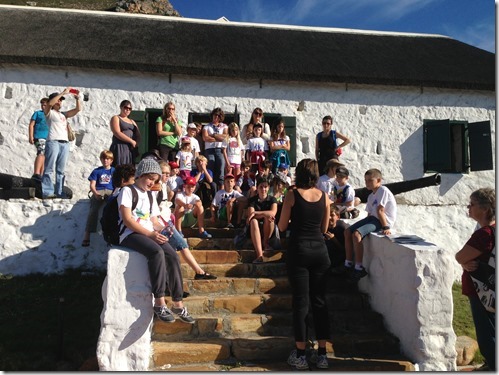 For some years, Wendy Y and other moms ran a wonderful homeschoolers craft market. As seasons pass on, this one came to an end. But a couple of years later, another mom, new to the Cape homeschooling community, started another entrepreneur opportunity for children. Thanks to Yolande T's initiative, my kids got to enjoy running a Tombola store and selling juices, second hand books and sweets.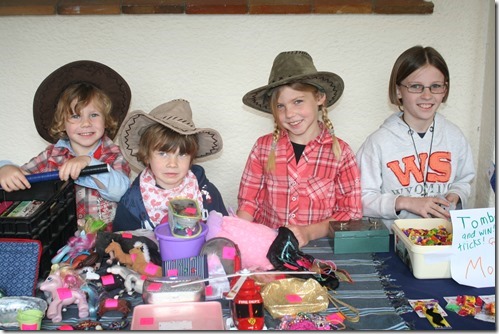 Longstanding traditions in schools mean school-going children often find themselves with wonderful opportunities to participate in Olympiads and Shakespeare festivals. These don't naturally extend to the homeschooling community. But the homeschooling community naturally comes up with a solution. Last year Wendy M's innovative children joined up with a bunch of other teens to take part in the Shakespeare festival. Without the benefit of a drama teacher, the teens directed themselves, rehearsed, costumed and presented their drama case for the 30-minute Shakespeare festival – and quite successfully too.
Dozens of times a week I see community at work. Kirsten R offers a mom's chill out evening every so often – a wonderful time-out for moms to meet and chat. The "Far Southers" (that would be Fishoek and beyond) hold a weekly picnic day on the Noordhoek common. Several young homeschooling families meet up in the Northern Suburbs and the encouraging invitations to newcomers often pop up on the HWC Facebook page. Outings are arranged by various families and, more often than not, the invitation goes out to the HWC group. The more the merrier! It's not uncommon to find a group of homeschooled families – from all different backgrounds, religions and races – visiting a museum, a farm or a factory together.
When I started homeschooling in the early 2000s, I never expected to experience community at this level. But, now, looking back, I'm not surprised. It makes sense that families who choose to swim against the mainstream schooling system would have the tenacity to make community work. And I'm glad. Because it means that my weaknesses are lifted up by the strength of others, and I can offer my strengths in service of our greater community.
Are you a part of a greater homeschooling community? If not, consider plugging into one of these online groups. Real-life contact naturally extends from these online meeting places, and before you know it, you will be warding off strangers' "What about socialisation?" questions with "Goodness! That's the least of our worries!"
Facebook Groups:
· Homeschool Western Cape http://www.facebook.com/groups/homeschoolwesterncape/
· Homeschooling in South Africa http://www.facebook.com/groups/100788473311514/
· Helderberg Homeschool http://www.facebook.com/groups/491935657490037/
· Homeschooling Christians in South Africa (not visible on your non-group friends' newsfeed) http://www.facebook.com/groups/Christianhomeschoolingza/
· Christian Homeschooling in South Africa (visible on your non-group friends' newsfeed) http://www.facebook.com/groups/christianhomeschoolingsa/
· Sonlight Curriculum: South Africa http://www.facebook.com/groups/sonlightsouthafrica/
· Footprints Curriculum support group http://www.facebook.com/groups/footprintsonourland/
· Love 2 Learn Curriculum support group http://www.facebook.com/groups/love2learncurriculum/
Yahoo Eloops (email only groups):