Homeschooling is not necessarily a total DIY educational experience.  It can be.  Most successfully too.  But, it's seldom the case.  Most homeschoolers rely on help.  Help that can take the form of a formal curriculum, computer based programmes, outside tuition, support groups, and extra-curricular activities.
Which is where we find ourselves.  We homeschool with a little bit of an eclectic approach.  Sonlight, our much loved literature-based curriculum for our base, a little of this and that for our extras* and a whole lot of outside help, also known as extra murals.
Since the June SACHS Carnival is soon upon us, talking up this very subject, I thought it would be fun to consolidate our list of extra murals here too.
We've had a little ballet, gym-minis, swimming, horse-riding, cooking, and Jumpstart moms-and-tots type classes come across our schedule since the kids were little, but nothing intense or long-lasting: just whatever happened to come along our way, provided for by the generosity of grannies and grandpa and loved by the kids.  And I'm glad for that.  I know that, had we the money, I would ahve struggled within myself not to provide my kids with every opportunity to learn every available discipline … and burnt the poor kids out.  I would love my kids to learn tennis, hockey, soccer, gymnastics, swimming, horse-riding, drama, art and numerous other languages that I could never teach them.  But, a schedule like that would defeat our vision for our family, run everyone ragged and fragment the family into time-scheduled segments of disconnection.
So, now that we do have some wriggle room in the "schooling" part of our budget, we've kept the formal extra murals to a minimum, hoping to maintain our "hang out and just connect" family time.  So far, it's working.  And as each new year approaches, we will reassess for the coming year: each child's requirements and desires, and how it impacts on the family as a whole.
The extra murals that we do enjoy all have a specific purpose and all complement our learning experiences, both as a family and as individuals.  A comprehensive list follows…
Lunch Bunch – Our Homeschool Co Op Group
I list this group as an extra mural, simply because it happens outside of our home (mostly) and includes other people teaching my kids.  But, the reality is that Lunch Bunch is the most natural extension of our homeschooling lifestyle.  This group meets weekly, from 12:30-3:30.  We read great stories together over lunch, enjoy art projects, music sessions and even a little bit of Xhosa learning too.  The kids get loads of play time with their buddies and the moms enjoy much-needed support and help from like-minded friends who care about each other deeply.
| | |
| --- | --- |
| COST: | Free (occasional materials costs) |
| REASON: | for extended learning and fun with other families; and consolidation of excellent friendships |
| CONTACT: | N/A – a group like this is easy to start!  Gather a few homeschooling friends, or advertise in homeschooling forums and get started! |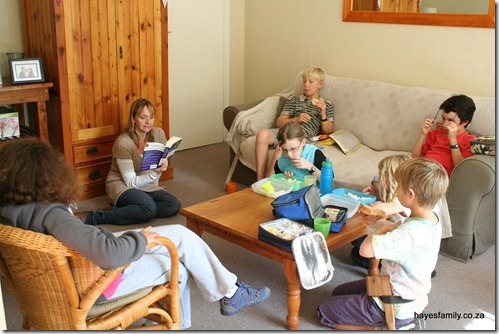 Minichefs
Last year, when we had fewer paid-for extra-murals, Minichefs was a weekly event and we loved it!  This year, we've pared things down a bit and Minichefs doesn't feature the Hayes kids nearly as much.  But we do hope to get more Minichef action in the second semester – we're all missing each other loads!  Minichefs is simply an extension of the Spatula magazine – the brainchild of Yuppiechef – the best online kitchen store ever!
| | |
| --- | --- |
| COST: | Free (occasional materials costs) |
| REASON: | fun kitchen and cooking learning experiences |
| CONTACT: | N/A – again, whether you're working in your own kitchen, or colloborating with other families, this is an activity easily reproduced with no formal help |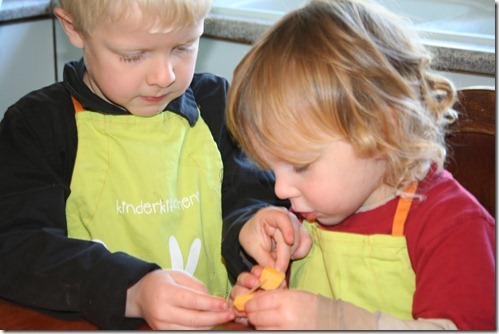 Gymnastics
The girls have been doing gymnastics for three years now, and thoroughly enjoy it.  Sam joined this year and he looks forward to it every week.  He and Katie have classes on a Thursday afternoon and each Friday Sam starts asking when it's gymnastics again!  Kiera joined the competition class this year and has really grown so much in her discipline and commitment to hard work.  We head off to Oudtshoorn next week to the Kaaplands Competition where she will compete at Level 1.  (UPDATE: We're back and I'm very proud of my girl for winning silver in beam and for her excellent comeback after falling off bar in the beginning of her bar routine!  Western Province trials up next!)
| | |
| --- | --- |
| COST: | R400 – R600 / term (more for competition classes) |
| REASON: | exercise, discipline, control, excellent co-ordination and core-strength training. |
| CONTACT: | Brawns Gymnastics, Bergvliet and Wynberg,  |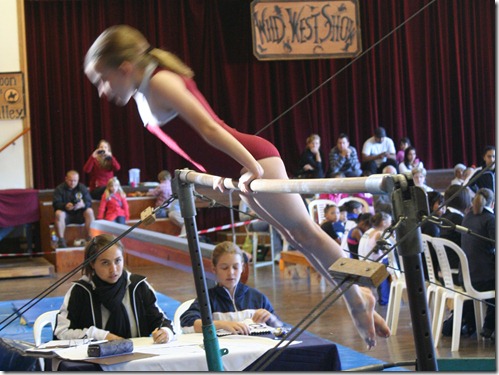 Violin
For years and years the girls have wanted to learn violin.  Ever since seeing André Rieu perform, they've been hooked.  Since they were very little, they've had a lot of exposure to classical music and instruments through the fantastic Classical Kids Collection and other great resources (Story of the Orchestra, Leonard Bernstein's Favourites and more).  Violin was their instrument of choice.  From what I've read, learning an instrument is hugely beneficial for the development of the brain, helping kids with conceptualisation, memory and much more.  Plus, it's one of those skills that translates into relationships – being able to contribute musically to a group is a wonderful skill worth acquiring.
Will they continue?  I don't know.  At this stage both girls have lost their initial infatuation.  The difficulty and discipline required has caught them by surprise.  I'm still trying to decide whether it's one of those things that we should push on through with, or whether I should entertain their desire to switch instruments.  Kiera shows great aptitude for enjoying music – she already has taught herself a few piano songs using Piano Wizard, a fantastic piano computer programme that teaches skills within the context of games.  And she's even figured out how to play a couple of her piano pieces on her violin.  Katie is still very flighty and would probably benefit from a less strenuous requirement.  Or benefit from the steep learning curve in discipline.  I am not sure! What do you think?
| | |
| --- | --- |
| COST: | R400 – R800 / term (depending on instrument and hiring needs) |
| REASON: | brain-development skill that is enormously beneficial to all areas of life; teaches discipline; enjoyment of creating music; joy of sharing in music with others |
| CONTACT: | Beau Soleil Music Centre |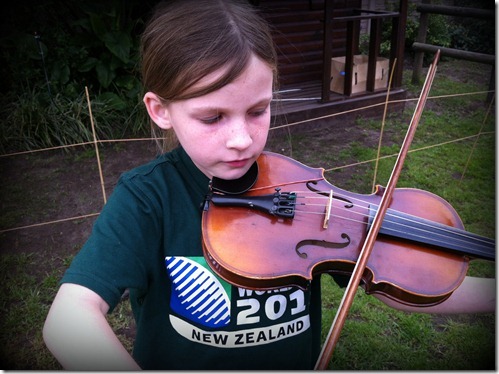 Drama
The girls love drama with a passion second to none.  Honing this craft has been worthwhile as dramatic arts is another wonderful way to impart a message.  These are skills that can be used in later life in all manner of ways.  The friendships developed, the self-assurance, the vocal skills, are all worthy skills.  I also appreciate that Spotlight, their drama group, is run by a fantastic drama teacher who holds moral values quite highly – there is no danger of the children acting out inappropriate scripts or dancing to inappropriate music.  Debbie, their teacher, also enters the children in eisteddfods and the children have opportunities to perform for an audience every year.
| | |
| --- | --- |
| COST: | R380 / term |
| REASON: | enjoyment, speech skills, dramatic expression, exploring themselves within the safety of a character and more, performance opportunities, memory – lines learning |
| CONTACT: | Spotlight Drama: Debbie Gildenhuys |
Swimming
Thanks to granny and gaa's kindness, the girls learned to swim through a professional teacher.  We thought we may be able to teach the boys ourselves, and while that would've worked with Micah, it would've been a long hard road with Sam.  So we took him off to Swim with Tandy and watched our young guy transform from a terrified quivering mass of water-phobic limbs into a confident little swimmer before long.  Tandy has a very gentle approach with the kids that was exactly what Sam needed.  Micah joined this year and both boys look forward to their lessons.  Tandy works in groups of 3-5 kids per half hour session. I prefer this to the 15 minute private sessions, because the kids get more pool time which builds their confidence and their strength.  While Tandy spends a few moments with another child, the others wait their turn while exploring their own swimming abilities within the safety of her pool.  They do so much of their learning while waiting and then Tandy helps them hone specific skills.  It's also a lot cheaper this way!
| | |
| --- | --- |
| COST: | R40/ 1/2 hour lesson |
| REASON: | water safety, swimming skills, enjoyment |
| CONTACT: | Swim with Tandy |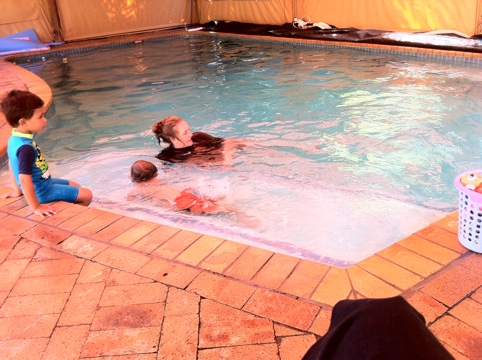 Horse Riding
The kids do not do horse riding as a regular extra mural, but our eldest loves horse riding and horses in the same way as her maternal granny did.  So, when we do have opportunities and money to match, we try to let them have a chance at riding.  This means that some birthdays have included a few lessons for riding and a few holiday opportunities arise too, especially when Granny Sally is involved!  They have stables nearby where they live and Granny treats the kids from time to time with a lesson or two.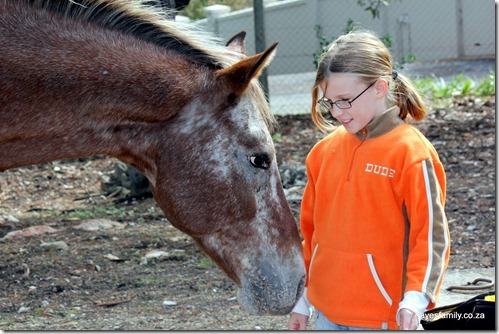 Outings
We enjoy plenty of outings to places near and far.  With our co-op group, with other homeschooling families, with nature club, and with our own family – all these experiences enrich our homeschooling journey!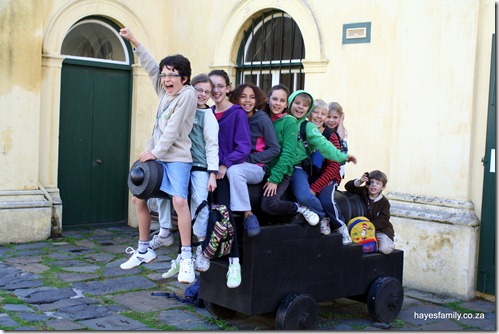 Church activities
As Christians, church life is part of the fabric of our lives.  So much so, that I don't regard our various church activities as "extra murals" – but, for the purpose of this post, I think it's worth mentioning.  Holiday bible club, Friday night kids' club, children's church on Sundays, church camps, braais, family days and even the occasional Sunday night with us in "big church" are all part and parcel of life for the kids.  Here they meet families from all walks of life, all backgrounds, all ethnic groups and even languages.  Our church is a real melting pot of culture, with one thing that unifies us all: Jesus Christ.  I not only love that everything we teach at home is reinforced at our home church, but I also love that our kids have plenty of opportunities to grow in the knowledge and act out their faith even in the 'safety' of a church context.  So, while church life is not strictly an "extra-mural" in the traditional understanding of the word, it is a wonderful extension of our home and teaching that happens outside of our home itself.
That's us, on an extra-mural front, in a nutshell!
________________

This post features on the South African Carnival of Homeschool Bloggers (SACH Bloggers) where South African homeschoolers share experiences, ideas, philosophies and much more.  You can join the carnival too by heading to the South African Carnival of Homeschool Bloggers sign up page. We hope you enjoy the carnival as much as we have!  Read more from this June 2012 Carnival here: Extra Curricular Activities
________________
* A full breakdown of the resources we use in our "homeschool" is as follows:
Language and Literature: Sonlight programmes: Language Arts 1, 2 and D
History and Geography: Sonlight Core D, snippets of Sonlight Prek 3/4 and 4/5
Maths: Math-U-See (recently switched from Singapore Maths)
Afrikaans: Ant Books
Xhosa: Simply Xhosa
Science: Sonlight Science D
Handwriting: HappyHandwriter
Spelling: Sequential Spelling and Spelling Power
Piano: Piano Wizard
Variety of online games to cement basic concepts: Starfall, BBC typing, BBC Bitesize and other games