For ages and ages (read YEARS) I've had it in the back of my mind that it would be a good idea to have my kids' eyes checked.  Double so, since it was about a whole year of not seeing the board properly before I got my eyes checked.  And since these cherubs are homeschooled, there is no relying on a school eye test to give me the heads up.  Eventually, thanks to my trusty friend Sue who has been known to pioneer paths that I tend to follow (!) we made an appointment with an excellent optometrist who happens to specialise in children.  Wayne Hodgekinson is simply brilliant.  What a pleasurable experience – and thorough too!  He had Sam giggling throughout the entire experience and yet managed to get all the info he needed.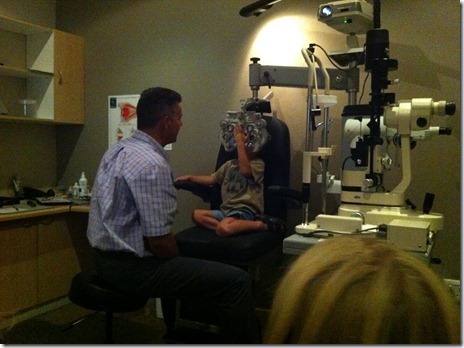 While the girls had their eyes checked, I took the boys on a quick grocery shop.  They were in high spirits – pretty normal for any given day – and so, just as I turned my back to pay for my groceries, they disappeared to the counter behind me and before I knew it were busy ringing up a stranger's shopping with the help of the cashier in charge!  No harm done though.  This is another reason why I enjoy shopping at Woolies – friendly, accommodating staff who go with the flow.  This kind woman, Bernadette, even "signed" the boys blank till slips with a sweet "thank you for helping me" message for each of them.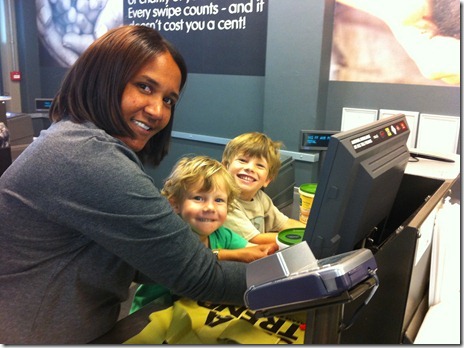 On our return, I got the Great Hayes Kids Vision Feedback.  Katie and Sam have no issues, but Kiera has a lazy eye that needs some serious correction.  Oh dear!  If only I had brought her here earlier!  Thankfully, it's the sort of thing that can be corrected with some eyewear for a year or two.  At worst, her eyes will end up like mine, which, while bad, is not debilitating.
This led to the Great Eye Wear Choice Experience.  Kiera zoned in on one pair that reminded me of my first (and most hated) pair of glasses.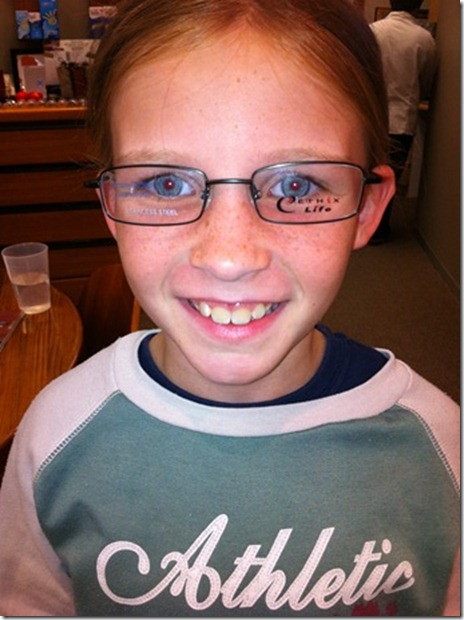 While I preferred these gentler ones…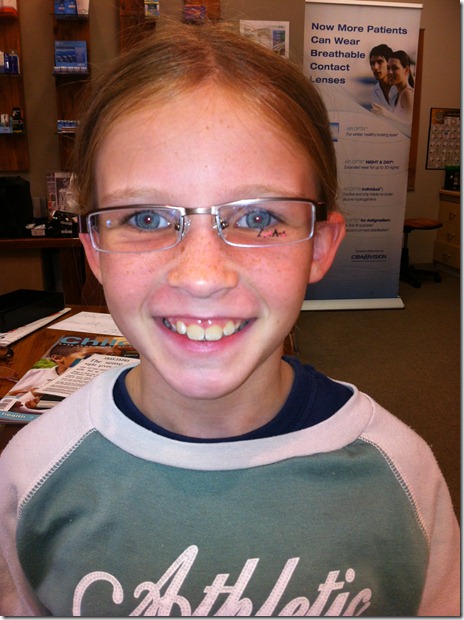 But, alas, this girl's as stubborn as both her parents rolled into one!  So, she settled on her favourite pair.
Along with the new glasses, came a rather dramatic haircut.  She's been desperate to cut her hair short for some years now.  The deal was that when she was 10 she could get it cut short.  But, after a horrible bout of gastro, and an accidental cutting of her sister's hair a little shorter than intended, I felt sorry for her.  So – gasp – I relented and let her have a "compromise cut".  Aka "dramatic cut done by mom" (and aaka "you can wait 'til you're 10 for something a little shorter and styled and professionally done a la not-mommy!") 
Here we have it – before: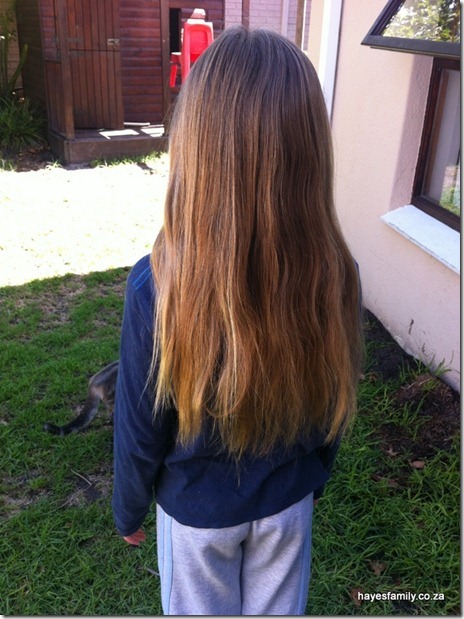 And After – with her new glasses.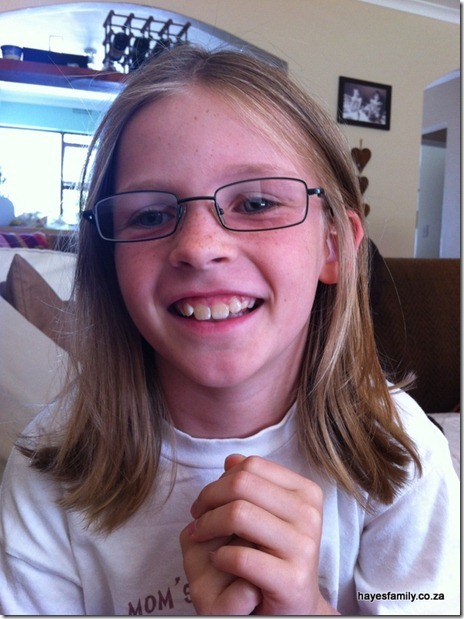 And, since we are focussing on Kiera and all – here is a shot of my brave girl at the nurse's station.  She's been complaining of not being able to stand for long periods of time without feeling like she needs to sit and I've noticed she gets tired quickly when we run – more quickly than she used to.  So, off for some iron tests.  Her finger prick test came back low for haemoglobin.  But these ones showed excellent iron levels, so we've still got to get to the bottom of it all.  Strange thing is that she still has bundles of energy and can happily cope with 2 hours of gymnastics, so I'm not too sure what is up with her.  Ideas anyone?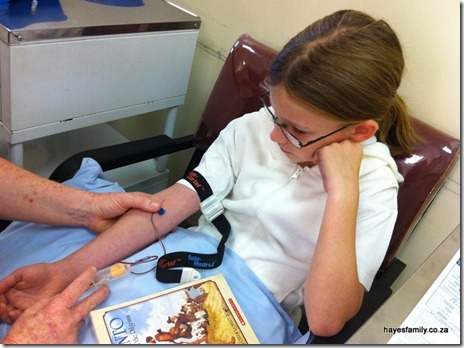 Since the spotlight is on this cherub of mine, let me say that I am very proud of her.  She has put her mind and heart to writing a short story for the Chaeli Campaign Short Story contest.  It's actually for high schoolers and adults, but the organisers have kindly allowed her to enter too, warning that she is up against some heavy competition.  Kiera writes very well, but she does lack the maturity for handling deep subject matter, as most 9-year olds do, which makes it unlikely for her story to beat an adult's creative piece.  But, despite this, she has written a lovely story and is diligently working through the numerous stages of editing that all good stories require.  I am so proud of her for, not only a really well structured story with a sweet plot, but also pushing on through to the end.  It's so easy to start a job of this magnitude, especially when it seems so exciting.  But completing it, and completing it well, is another matter entirely.  It's been an interesting process for me too as I stand waaa-aay back and let her labour through thorough grammar and punctuation checks.  It's been fun playing "editor" in an advisory capacity on something that is bigger than her usual writing assignments – and seeing her spread her wings and take off souring.  She most likely won't win any of the coveted prizes, but she wins first prize in this mom's category for perseverance, hard work, imagination, and creativity