A couple of years ago, we bought this awesome bundle of educational fun called a Global Puzzle as a family Christmas pressie… and then promptly stashed it away in the cupboard – aka shrine of un-used educational material. Do you have one of those, too? Now's a good time to say "yes" to make me feel better about my own laziness.
Anyhow. The shrine was dismantled recently, in order to bring the Global Puzzle to life. It was a rainy afternoon, we had two friends staying for the day. I was desperate. Well, not really, but I was desperate to avoid hours of TV-viewing while I had other chores on the go.
Let's say that I'm so glad that we pulled this one out.
It's not an easy puzzle. We probably needed those extra 2 years in order to give our family some time to grow enough that each member was able to contribute somewhat significantly to its assembly. It consists of 600 oddly-shaped pieces and vast amounts of blue blue sea. It's the type of challenge that can stymy even my most puzzle-avid child.
But, initial enthusiasm is always a great wave to ride, and so the kids surfed the joint activity that first day with gusto.
It helped that we had our friend and puzzle-lover, Jakey Smith visiting. He really helped keep the momentum going.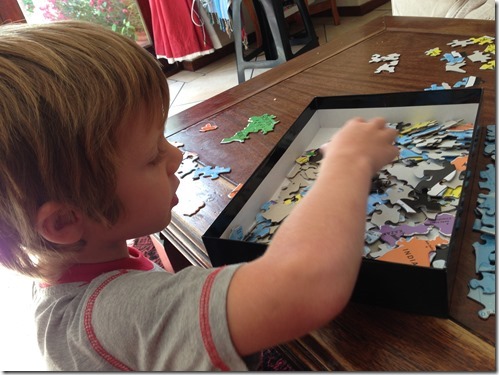 We figured that the traditional approach was probably going to be easiest – that is, start with the straight sides to make the border first.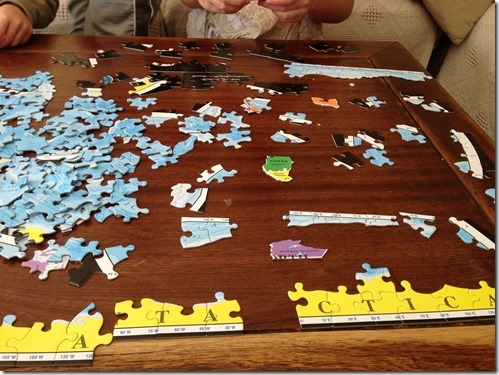 Although, certain young boys figured that building easy countries was far more entertaining – or, at least, satisfied their instant-gratification craving!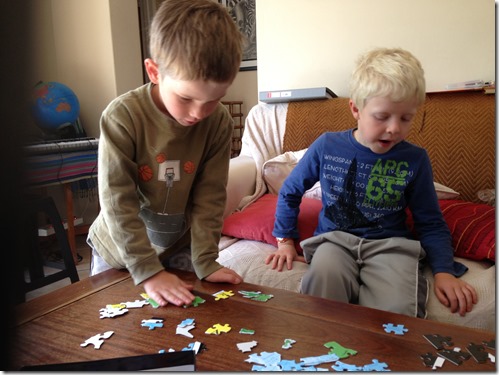 We revived our Geography Songs CD (another Sonlight winner!) while we built the puzzle. We hadn't listened to them in a while, but this session resurrected the kids' enthusiasm, so it's once again blaring from our car speakers.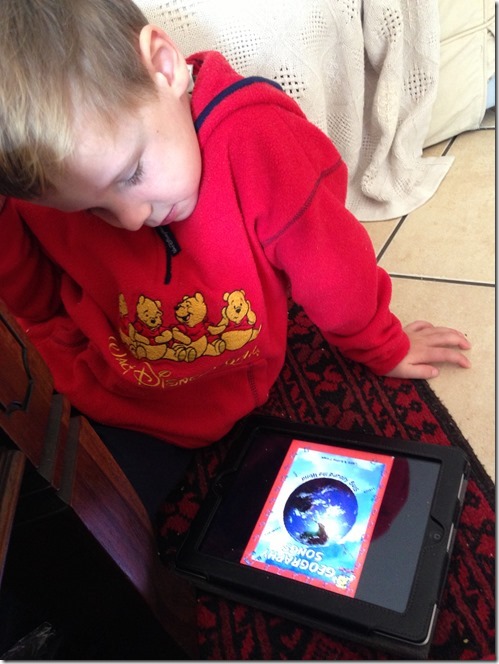 Tada! Border done!
Over the next few days and nights, the kids would wander past the coffee table and place a few extra pieces in their appropriate spots. And, so, over time, our puzzle grew.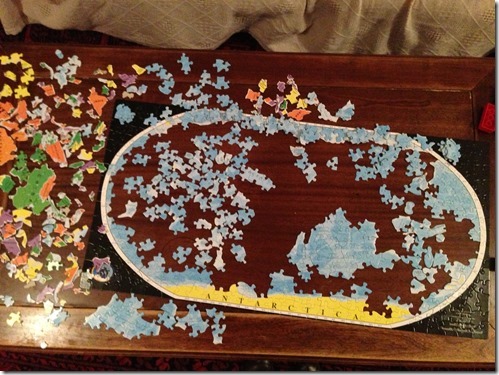 And grew… I had read years ago on the Sonlight forums that it's best to do the sea first, as it "locks" in the countries nicely. The countries don't have interlocking pieces, but rather just line up against each other according to the shape of their borders.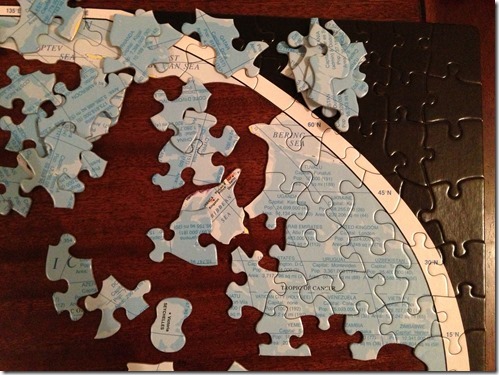 We had a few after-Narnia-reading nights when Craig let the kids stay up a little later for puzzle time. And then, when they were off to bed, Daddy kept plugging away. Yip, another puzzle-fundi in the family.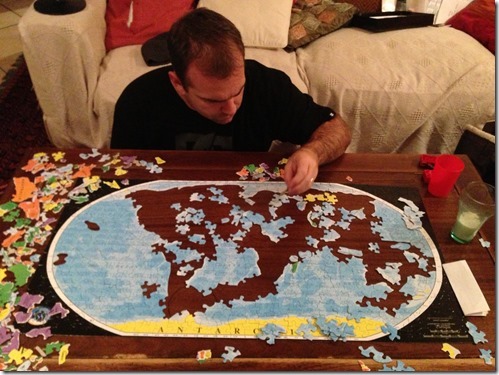 I had a hard time tearing him away!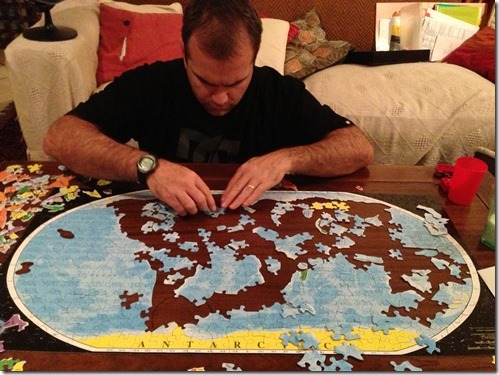 Eventually, all the sea was done and it was just a matter of building the countries and continents…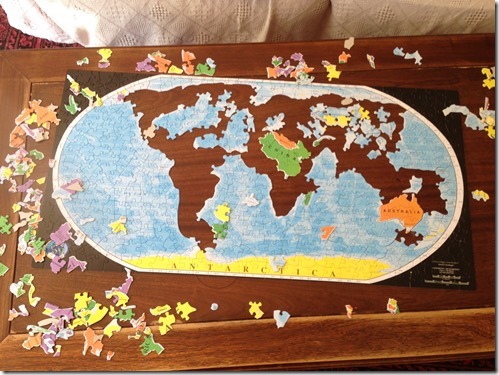 Tada! By this time, I had moved it onto my memory cutting board so we could actually use our coffee table of things like coffee cups and such. But, it soon made it's way back to the table and for the past 3 weeks, that is where it has lived. And it's been the best thing ever!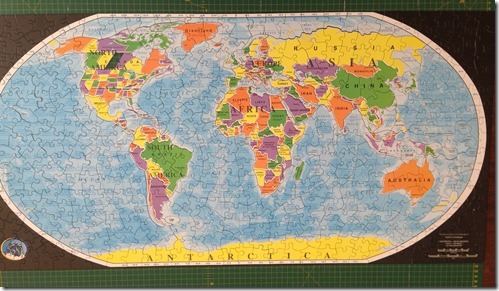 Every time we sit on the couch for read-aloud time, the kids interact with the puzzle. Most afternoons they take apart a section and rebuild it, all while saying things like "where's Afghanistan?" or "I can't find Chile! Where's the piece for Chile?" And, invariably, Sam or the girls will stop our read-alouds mid-sentence and scramble for the map to see the placement of the countries I'm busy reading about. Since we've been doing a lot of early South African history, focusing on Europeans coming to the Cape, they've had loads of fun figuring out the routes one would take. Sam plotted out the French Huguenots trip from France to the Netherlands to South Africa where they finally settled in the Stellenbosch area.
So, what took us two years to get going is now being thoroughly enjoyed by the family. I love it! And I love that the coffee table is working so well for us. It's planted some ideas in my head – one being a permanent map feature for the coffee table top… decoupage anyone?