(ETA: photo quality not so hot!)
It started with a display cabinet. One minute our playroom-cum-schoolroom-cum-storage room looked like this: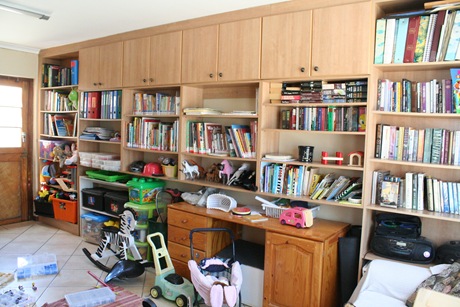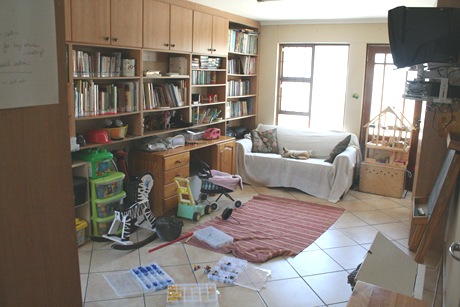 And the next, it looked like this: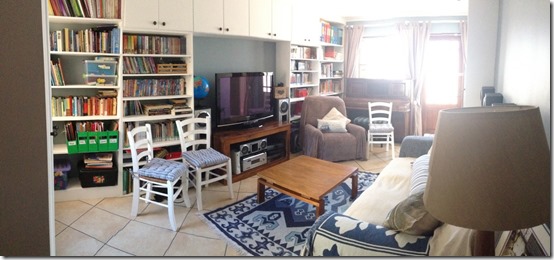 Why? Well, Craig's folks decided to move house. And in their downsizing, they gifted us with a beautiful piece of furniture that holds enormous amount of sentimental value to Craig. In trying to decide where it should go, we realised that we would have to do some serious juggling around of rooms to make it fit. Eventually, we decided to combine the playroom, school supplies and TV room into a proper second reception room. We moved the piano into this room too and painted the shelving white and the walls blue. That then freed up space (where the piano had been) in the main lounge for the display cabinet. It also meant that the girls could finally have their OWN rooms, as the old TV room was freed up for Katie to move into. Of course, there was some juggling around there too. But finally the girls ended up with freshly painted rooms to suit their tastes.
But before we could tackle their rooms, we (I) had the unenviable job of unpacking thousands (literally) of books off the shelves so our painter could prime and paint the shelving…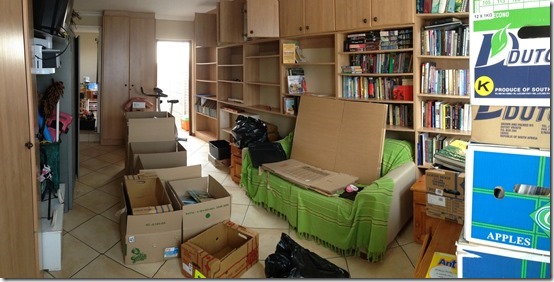 Gavin, the painter, did a superb job of painting and then, after a couple of weeks with a holiday in the middle, it was time for the girls and I to repack everything back onto the shelves…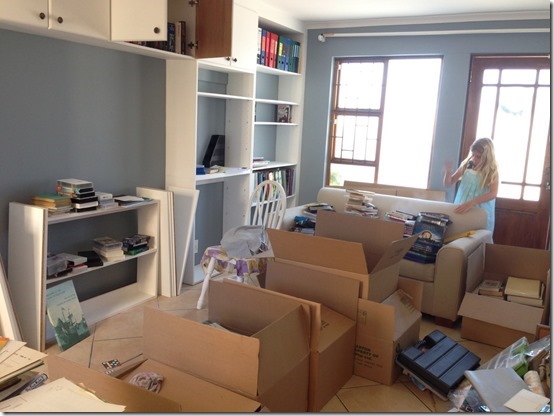 Progress!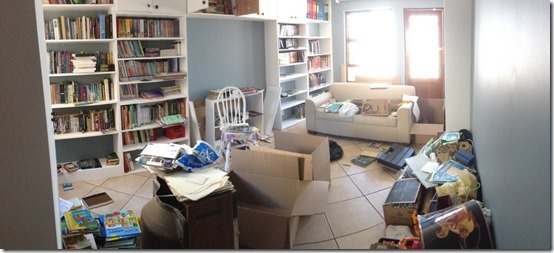 Almost done!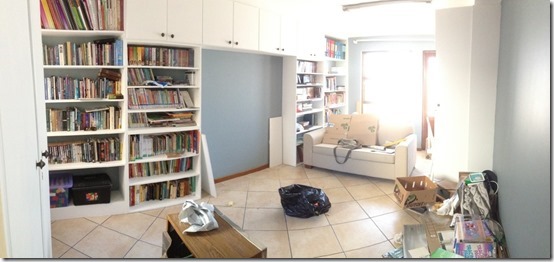 But not before hubby and our awesome friend, Rus, had to move our enormous couch from the TV room…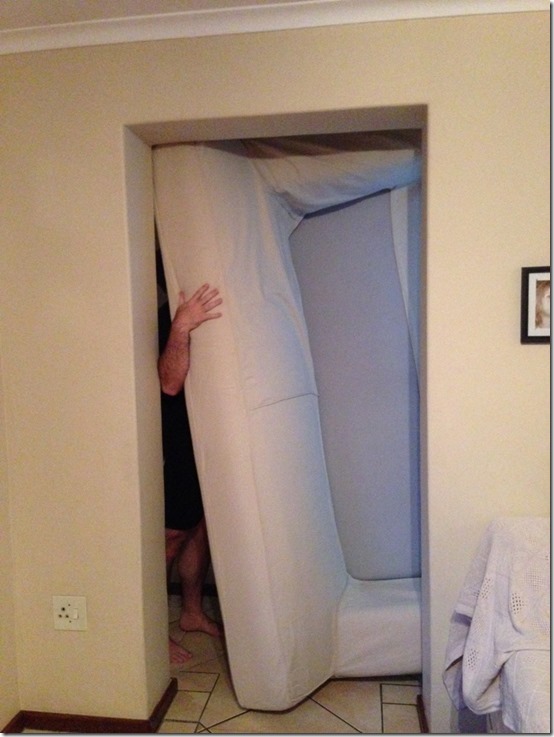 It was not easy!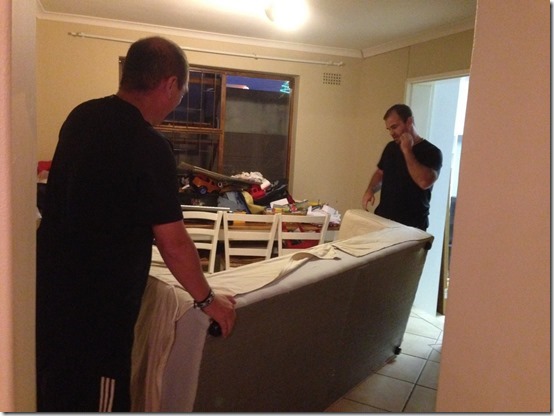 Especially when they had to navigate this:

Our trusty piano – the last time it is to be in this spot. A few days later it too found its way to the new tv/playroom.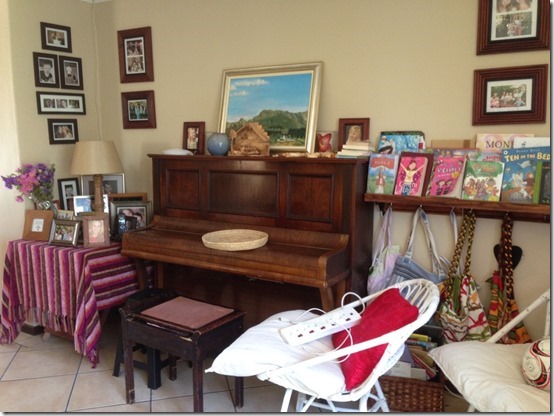 And voila – here we have it. With spill-over chairs from the dining room in the meantime…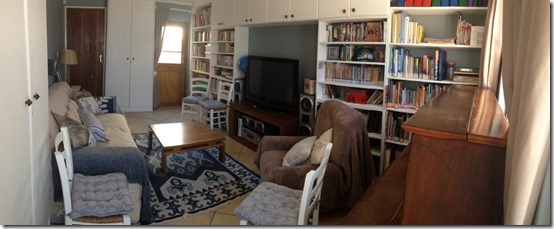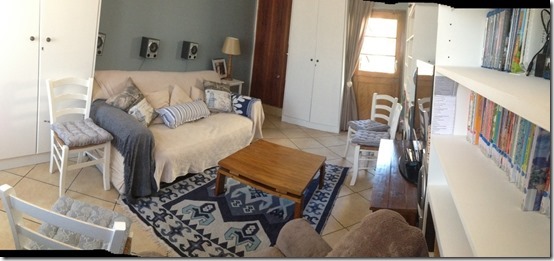 We've rearranged these shelves a few times over and have finally got a good space for all the maths manipulatives, shapes and other goodies essential for our school mornings. But we did replace our green plastic file boxes (see below) with …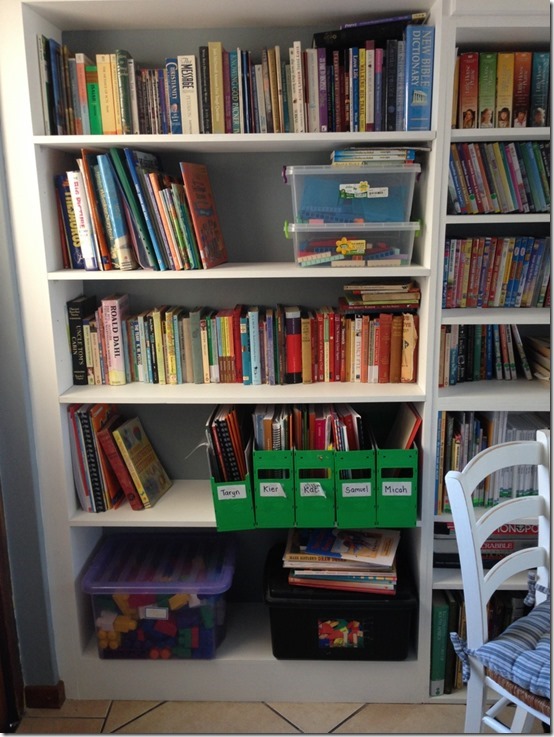 These plastic ones (see below) – they're larger, which I LOVE – the others were threatening to shatter shards of plastic all over the place, so stuffed with books they were. They're also transparent, which makes it a whole lot easier to see the pencil tub and any errant erasers at the bottom of the case. They're also hard-wearing, but lightweight and cheap at only R28 a box!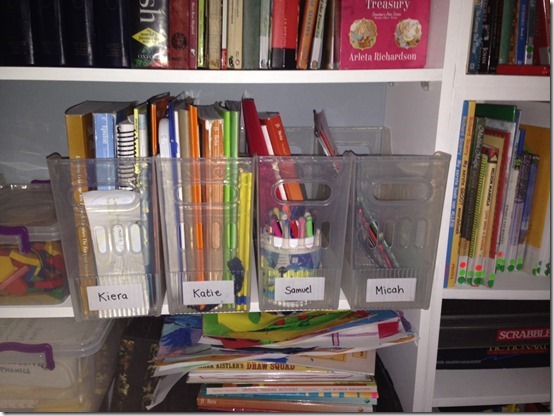 Who would've thought that it would work so well? We are loving having the TV here. We spend far more time in the playroom now. The kids' piano practise doesn't drive me dilly anymore, as it's not reverberating throughout the entire house thanks to the echoey main room it used to reside in. We spend more time doing school things in the playroom now. The TV is so easy to use for Maths DVDs and everything is on hand, whereas before I had things split between TV-room, dining room (where we do most of our seatwork) and playroom. The kids are even reading more, if that is at all possible. The rocking chair and poofy couch make for comfy reading corners and often I find the kids in their absorbed in a book. And, calling them for morning bible time during the week is not nearly as huge a task as it was last year as 9 times out of 10, they're already in there!
Hurray for the Hayes Snrs and the Display Cabinet that got us motivated to do this (at the relatively little expense of some paint, curtains and a fair bit of sweat!)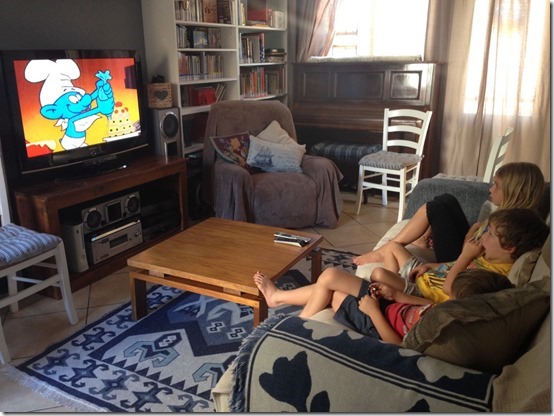 Kiera's Room
The playroom redo meant that Kiera and Katie got to have separate bedrooms. After enduring years of Kiera begging to have it happen, we weren't surprised when the news was well-received! The deal was that, since we were losing the sleeper couch for guests in the playroom, we'd make up for it with a queen bed in Kiera's room. She would have to vacate when visitors came and bunk with Katie. Well, Kiera was keen to agree to just about anything if it meant her own room!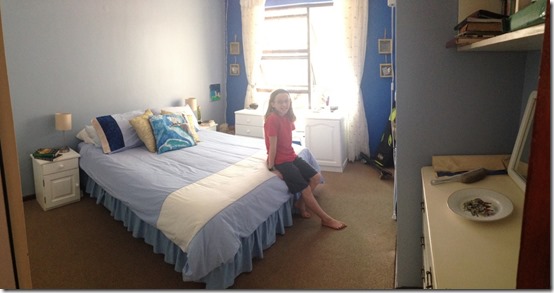 Craig's folks gave us their old queen bed – thanks to their downsizing. Kiera had to keep their old bedding and decor, as per agreement and she got to have some of our old bedding to cover the queen duvet. The only thing new that she got was a fresh coat of paint. Namely, white paint for the furniture that used to live in the playroom (that's my old desk from when I was 10!) and a colour or two of her choice for the walls. Well, let's just say that her room is BLUE … very, very blue. But she is thrilled thrilled thrilled! And that makes it all worth it.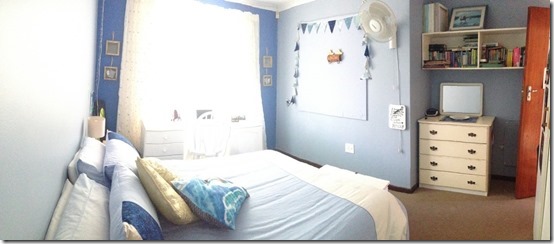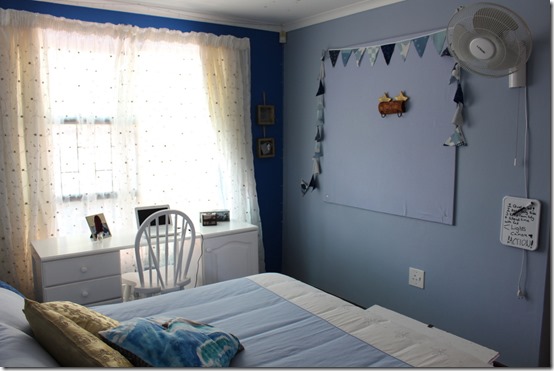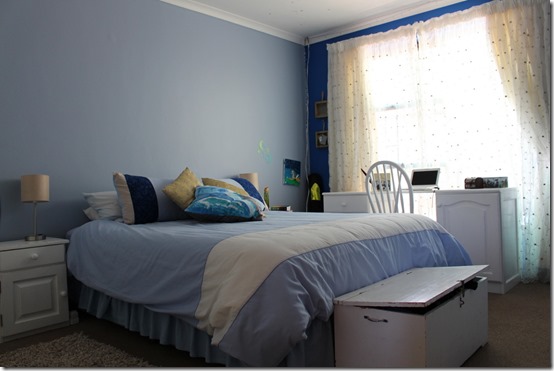 Katie's Room
Katie chose the old TV room so that she could be closer to us. That meant that she got the girls' old bedroom furniture and their twin/bunk beds. We had promised them when we redid their room earlier in 2013 that if they ever got separate rooms, Katie got to have the new bedding as she really wanted pink and since Kiera was having none of that, she got to keep the non-pink stuff.
So, pink shopping it was! We finally found a beautiful pink bedding set that wasn't too little girly for Katie. The catch was that it only came in a queen size set. Turned out that it wasn't a catch at all, as I just had to cut it down the middle and sew two duvet covers from the one, and because it was a queen we scored two pillow cases: perfect for our needs. And it worked out cheaper than two singles. Yay for savings!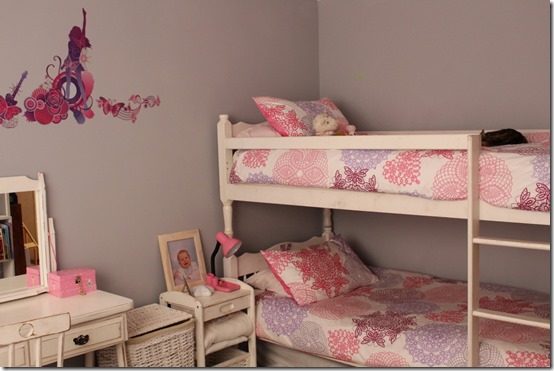 We found awesome curtains at Mr Price, voile with pink embroidered butterflies. We had a double track curtain rail, so the spare set of cream curtains we had went behind with the voile at the front. Beautiful! Gavin painted the walls grey – the grey shade came out a little bluey-purple, but in such a way that it complemented the room perfectly.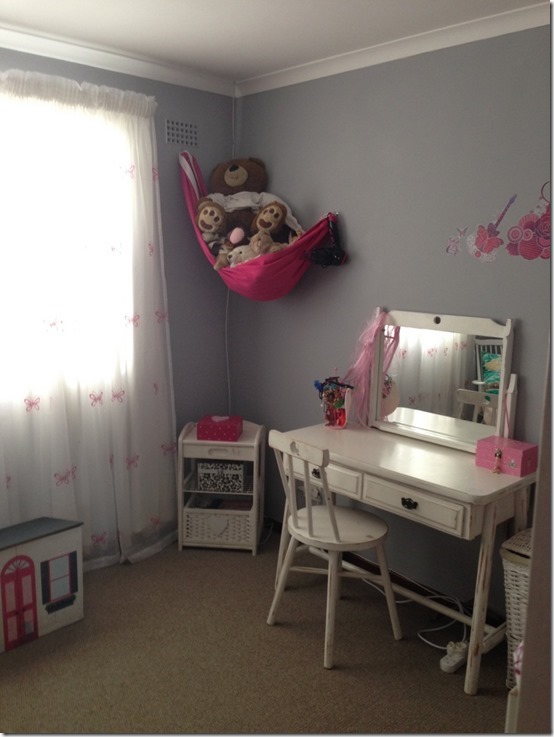 Gracie quickly figured out how to get up to the top bunk and it is now her new favourite sleeping spot in the house.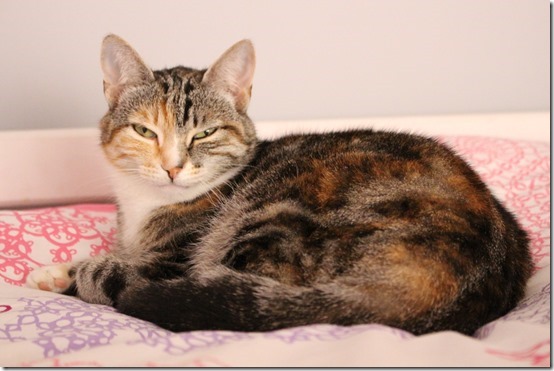 Katie was thrilled with how well her baby photo matched her room: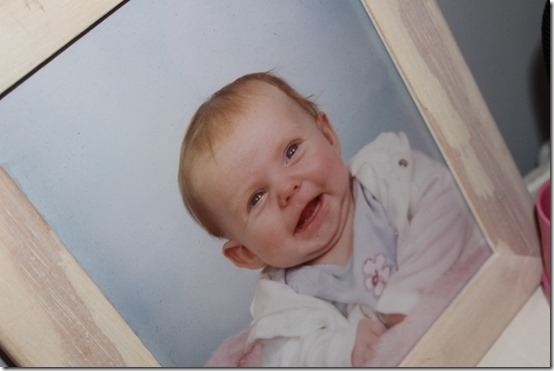 Katie spotted this stick-on wall mural at Builder's Warehouse and begged for it. Since it was just R90 and we had the budget for it, it now graces her wall.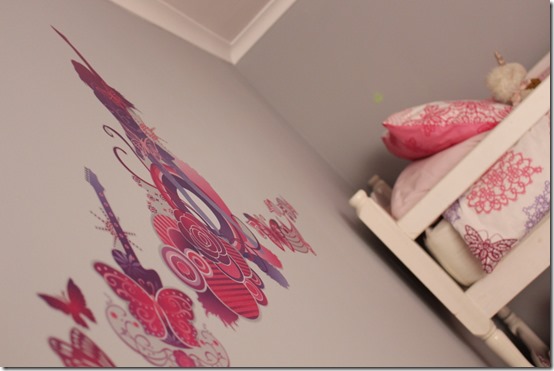 Her teddies are kept safe and neat in a toy hammock just like the boys' one. Since coming across that idea, it's become one of my favourite bedroom organising ideas.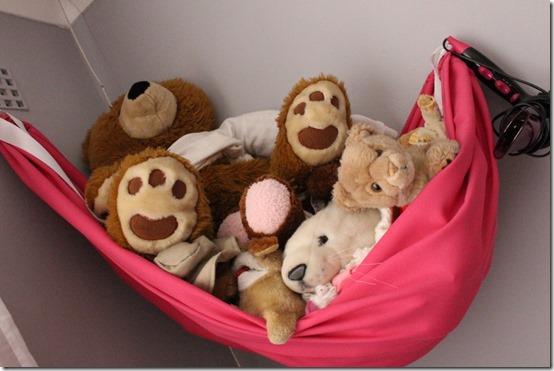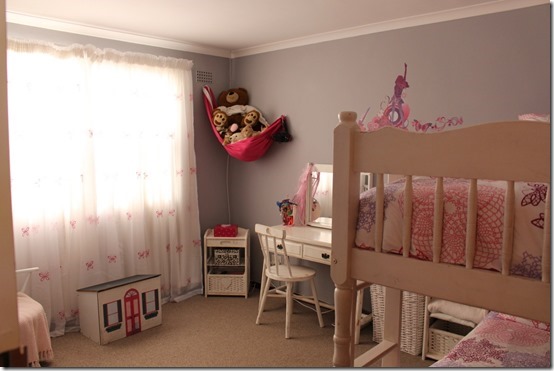 Katie scored herself a pinboard too. The fabric was ridiculously cheap at R18/m.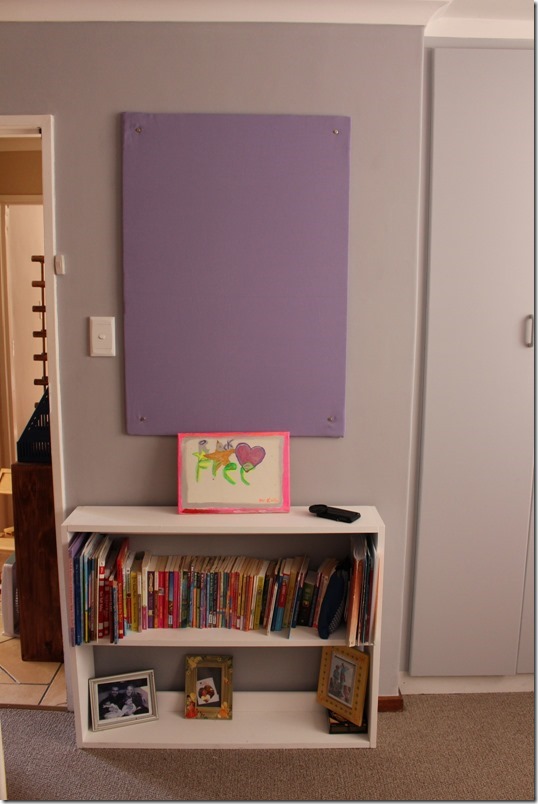 This little box from Mr Price was a Christmas gift from her aunty and uncle. Perfect!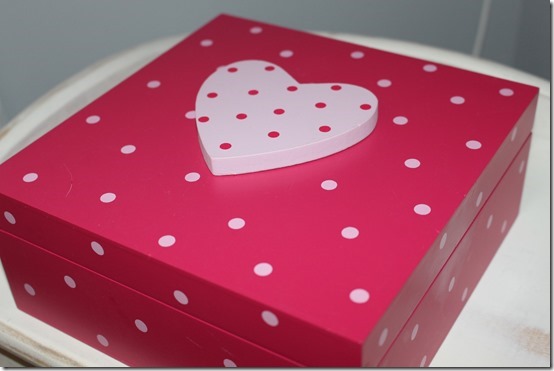 And her trusty hobby horse (tutorial here) looks on rather forlornly from the end of her bed.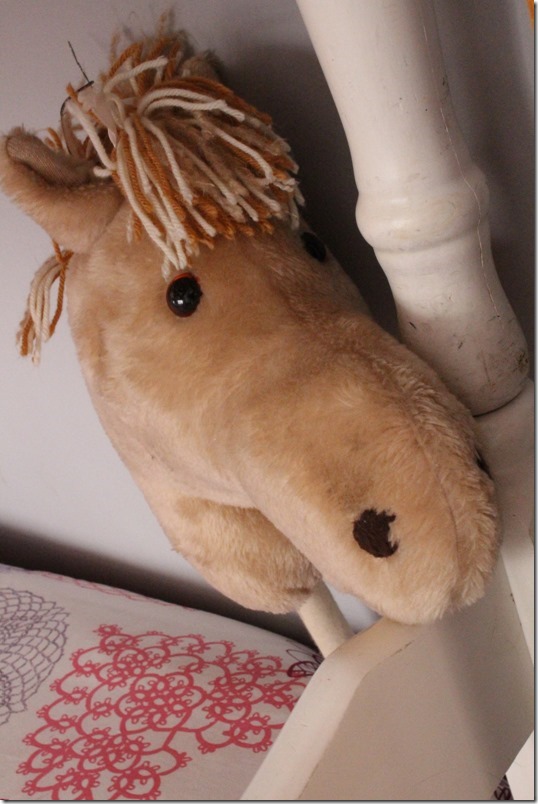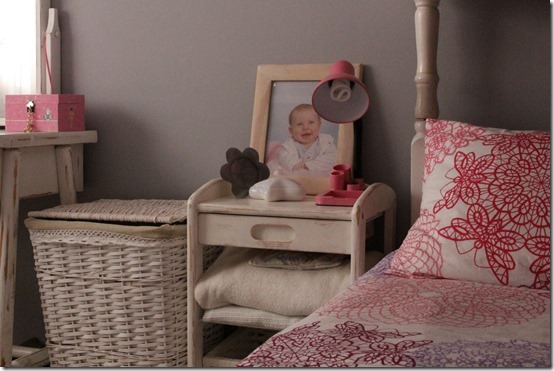 Under her bed for now = blow up mattresses and bedding for certain young cousins who get to share her bedroom in March. We can't wait!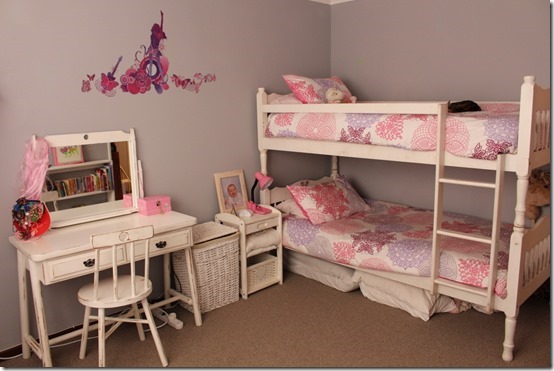 And that ends our big room redos! At the beginning of 2013, we never would've dreamed of all the renovations and redos we've ended up doing to our house, but here we are in the middle of a kitchen renovation and with two bathrooms renovations complete too. More on the "why"s when the kitchen is complete!