Every year the Cape Home Educators hold a sports day event for home educators in the Cape. We've attended on and off over the years and every year the kids have a blast. This year being their best yet. I've found that the littlies in the family take a few years to warm up to participating, but once they're in, they love it.
An event like this is a huge undertaking to organise and not a small feat when the organisers are a small team of dedicated homeschooling parents with a lot on their plate already.
Some changes were made this year that worked well, other changes not so well, but mostly it was a really wonderful time and I love the fact that my kids get an opportunity to experience track and field events and the camaraderie that happens when they meet other homeschoolers for the first time and just get along like a house on fire. That, for me, is the best part – for every year my girls end up hanging out with girls they've never met, but instantly they're chatting, getting to know each other and supporting each other on the sports' field. And some years it's a reunion and in other years it's been girls they know outside of this event too. Blessings!
In the whole month of February, other than building project photos, this event got the main attention from my camera!
So here goes – photos from Sports Day 2014:
Sam racing his little heart out – short legs and no running-speed-genes advantage left him at the back of the pack – but boy he had fun!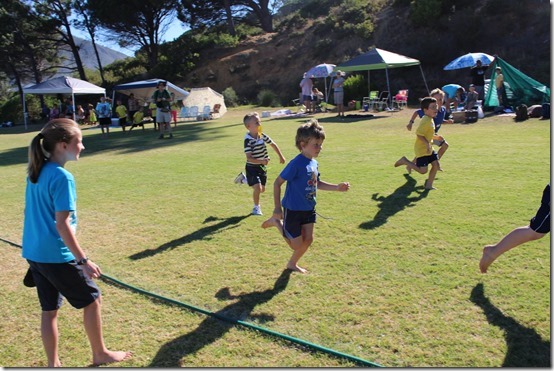 Katie gunning it – I think she came second or third in this race.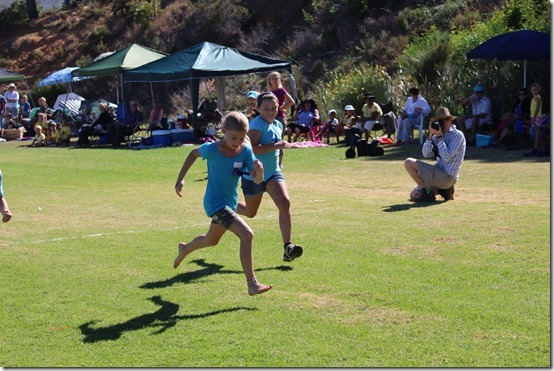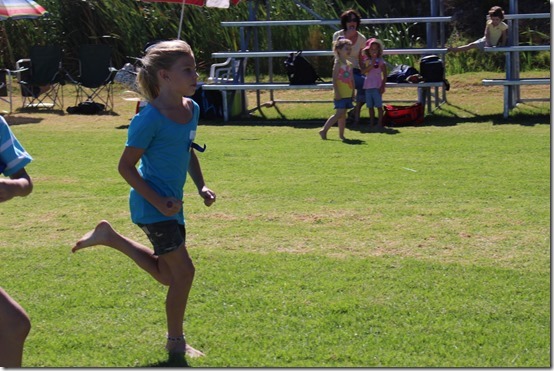 There was an unfortunate incident where a young boy hurt his back in the long jump event. It was the first time in 8 or so years of this event running that an incident that required more than a plaster happened. Big shock, but good news is that he is totally fine!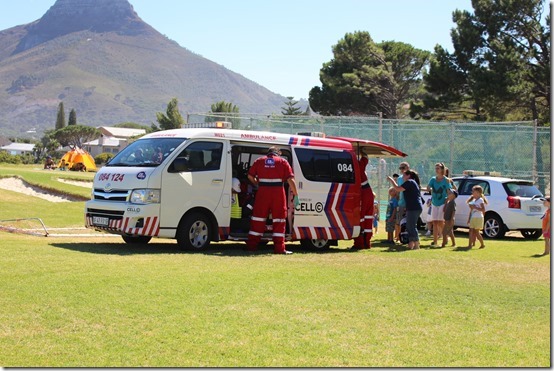 Kiera running her heart out – she came second, if I remember correctly!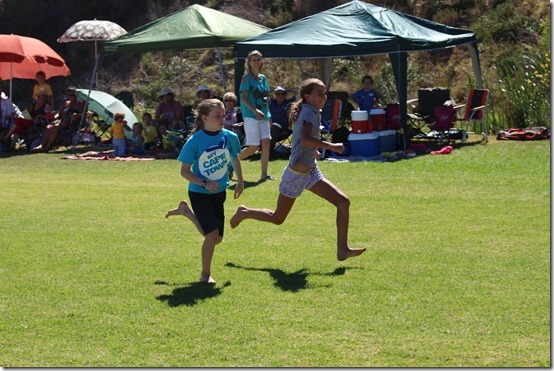 Love the excited brother on the sidelines running her in…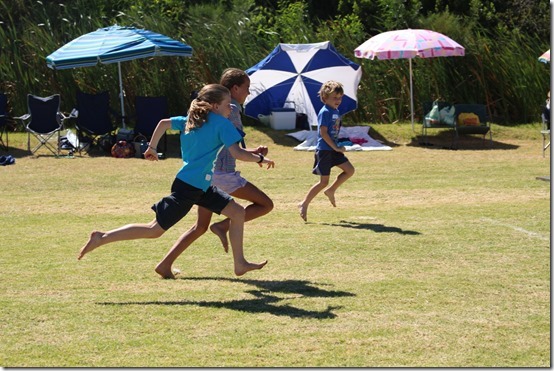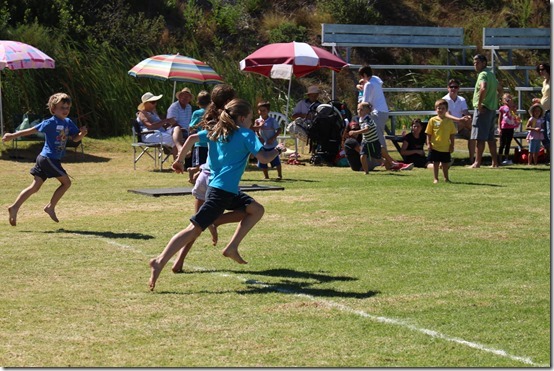 This year some "boeresports" were added – tug of war: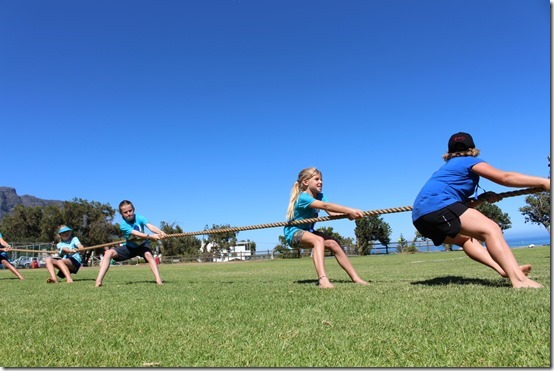 Yellow team won hands down!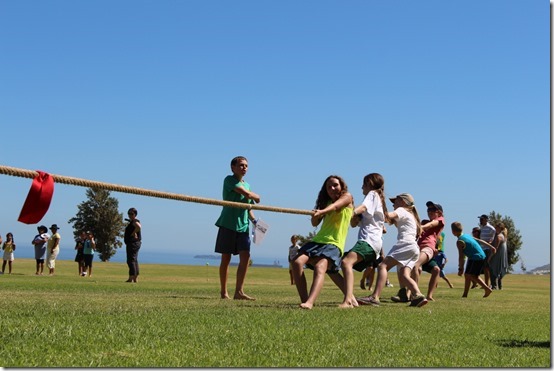 Egg, spoon and sack races too.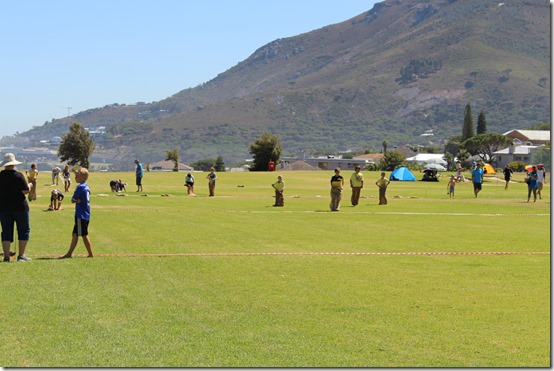 We also had a free demonstration, try out and competition of bow shooting that the kids AND parents enjoyed!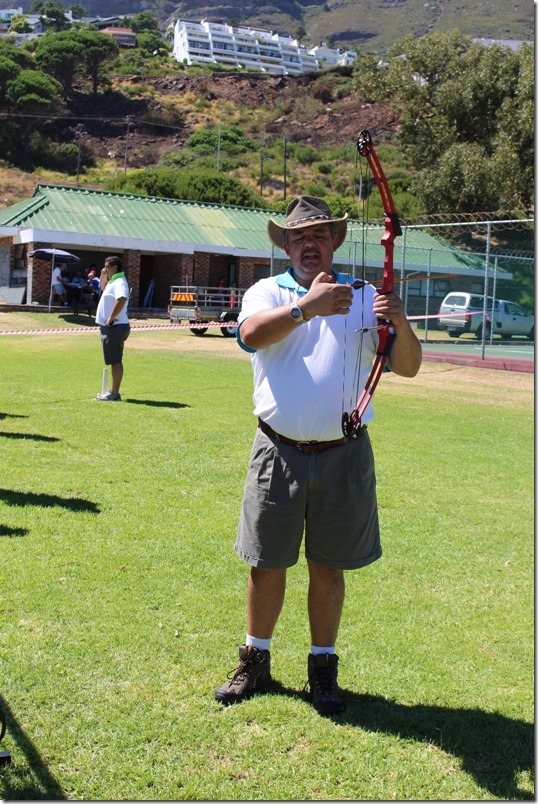 There are two sessions of prize giving – this helps for those families with smaller kids who can't stay until after lunch.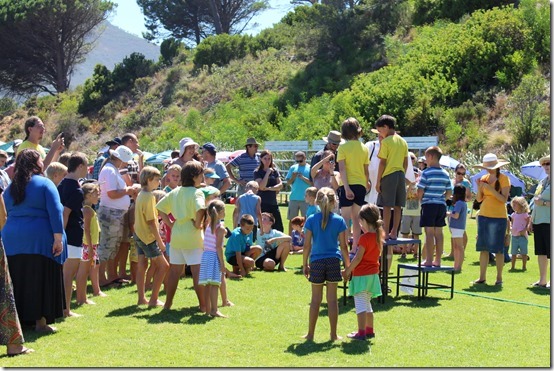 Here, Victor, as chairman of CHE, awards the kids their placement ribbons: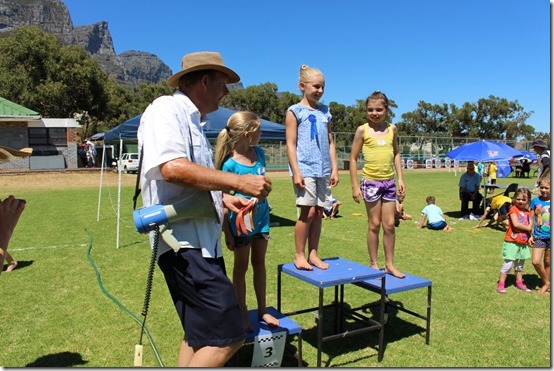 Kiera at the high jump …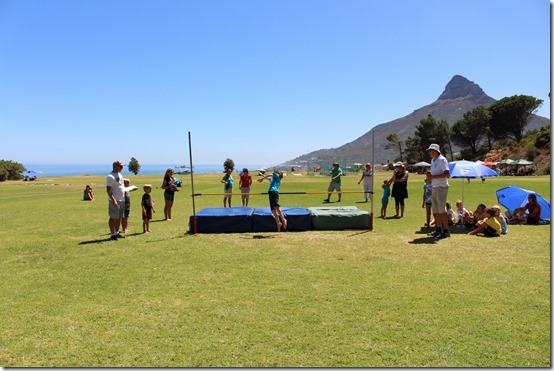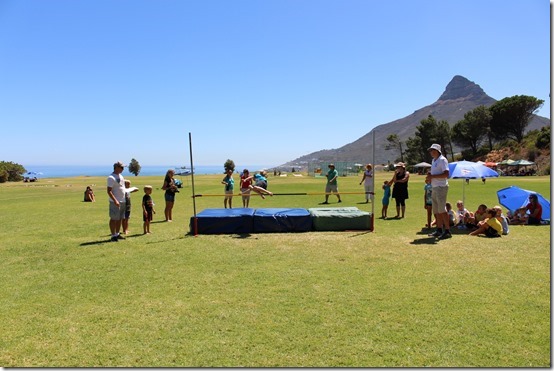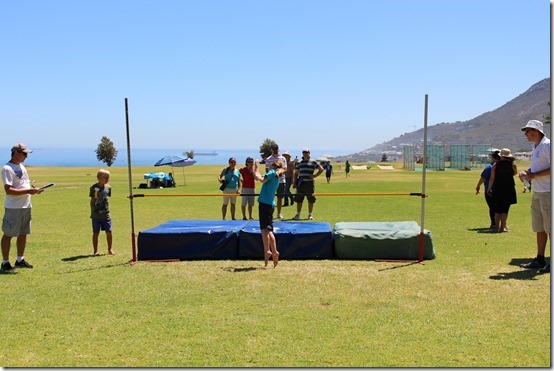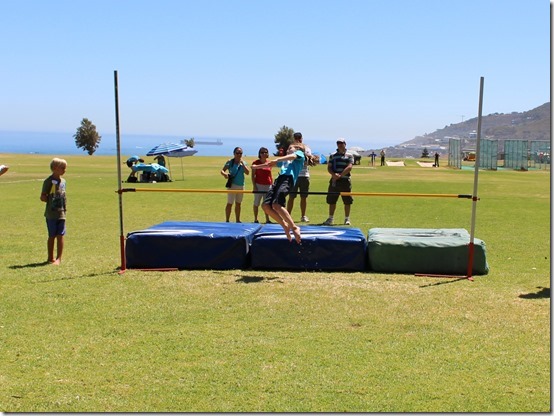 And shot put: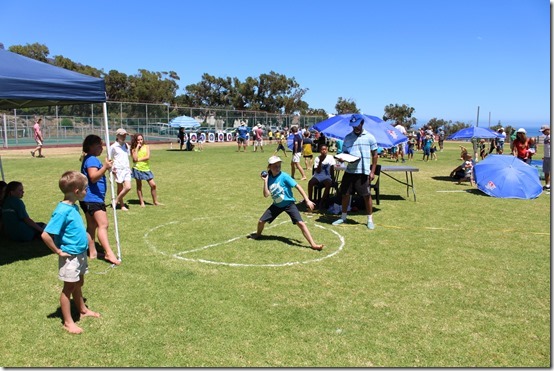 She came first for shot put.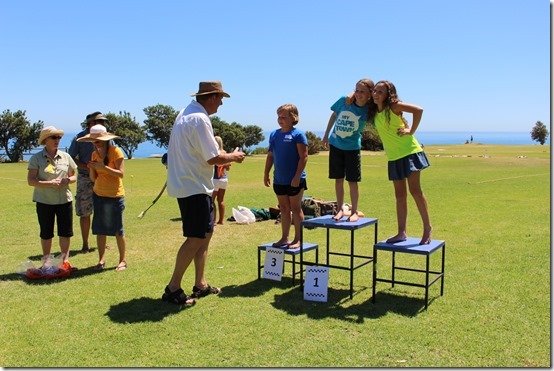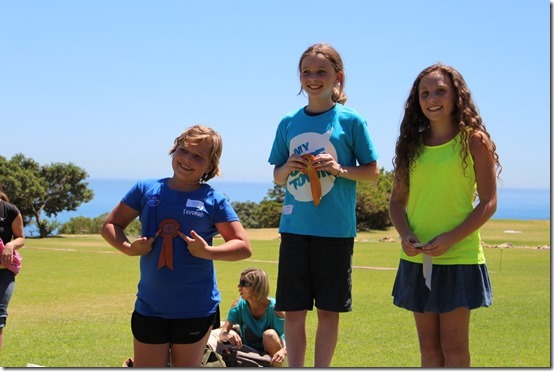 Katie, third for running.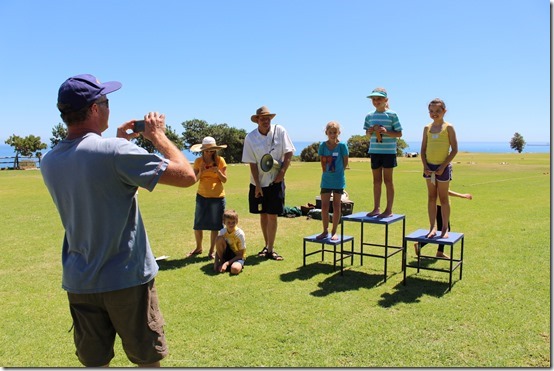 And Kiera, first place tied with two other girls for high jump. A sweet story here: Kiera was awarded first place and the other two second and third. But, at the event itself, because all the girls couldn't get over the next height, they were told that they tied first place. So, Kiera spoke up politely and told Victor that they had been told that the other two were also supposed to get first place. A quick check and sure enough – the two other girls stepped up to the first podium in time for a smile for the camera. I was proud of my girl for speaking up.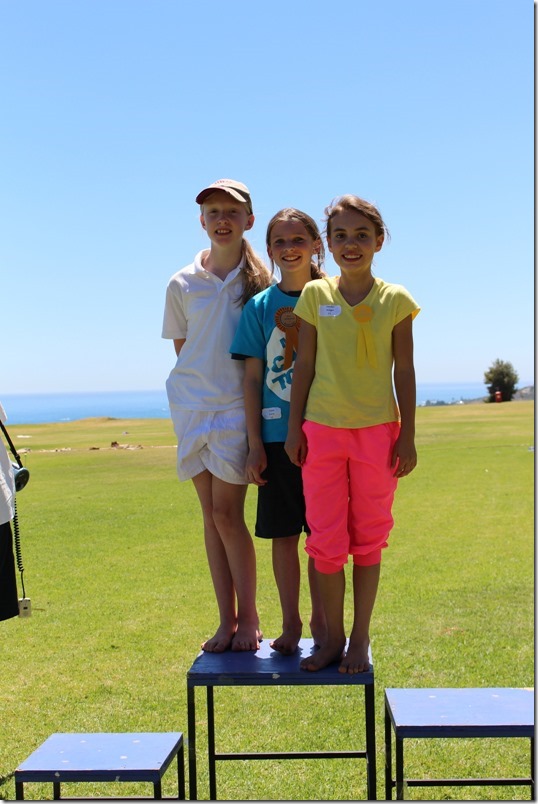 Dads practising target shooting with bows and arrows. Move over Katniss, here comes Craig!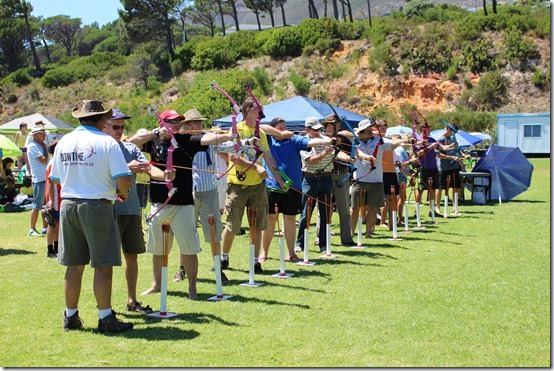 The event ended and then it was off to the next event. Leendert Van Oostrum from the Pestalozzi Trust spoke to all home educating parents who came to attend a special meeting. The meeting was to discuss the home education registration and policy document of the Western Cape and how we as a home education body are to address it. Leendert spoke a little on the history of home ed and also spent some time outlining some of his concerns and fears. The floor was given an opportunity to speak, by which a couple of parents spoke up to question some of Leendert's thoughts. Then, the main purpose of the event happened – to elect a body of home educating parents to serve as a body of home educators whose aim it is to engage government on the issues of policy documentation and how best to work it so that it properly represents the best interests of the children. That resulted in the formation of the CHE's Steering Committee on Education. The team and the purpose and mission is explained further at www.liberty-in-learning.co.za