A couple of years ago, the girls got to enjoy going to and then the experience of running a homeschool market stall for two years running (l2009 and 2010). But, unfortunately, the organisers of that market moved up country and so it was no longer. But, this year, another brave homeschool mom took the job upon herself and started a new homeschool market day for us in Cape Town.
And what a day it was! Despite some organisational hiccups thanks to the original venue providers not playing ball, Yolande still managed to find another great venue and pull off a wonderful market day!
The Hayes kids decided to do a few things for their stall – selling juice, milk shakes, ice-cream sticks, doing a tombola game, and a jumble sale of second hand toys and books. It was a wonder they managed to split themselves between them all. They did so well!
Starting off with designing posters and planning the events: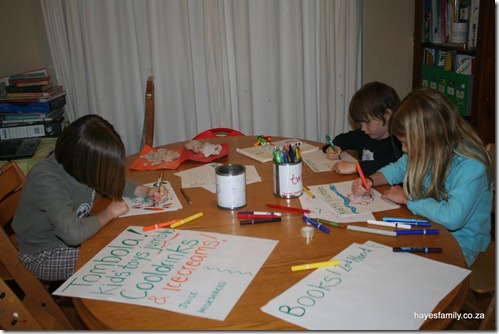 We did a mock run the day before, but still managed to trip over a few obstacles – like a camping fridge that stopped working, an ice-cream shop that was closed and a few other hiccups. But, we arrived the next day and set up in time for things to begin at 9am.
The theme of the market was Country and Western so the kids arrived all dressed up in their Cowboy Gear – Kiera sporting a new hair cut as well.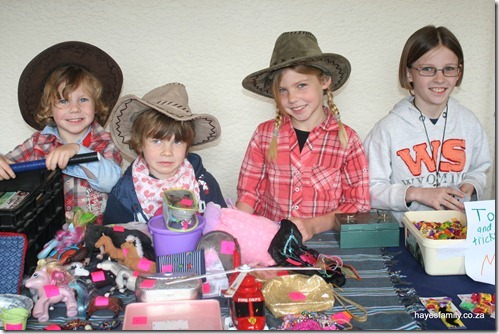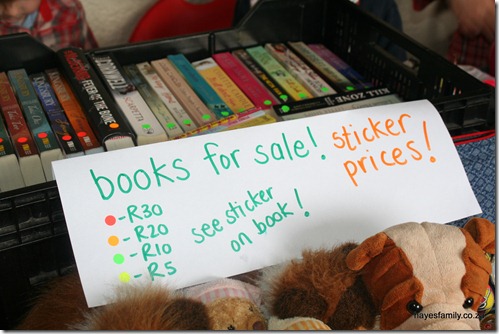 Things moved slowly at first, but soon the kids were coming back time and again to play the Tombola. It's a game that was a big hit at school markets when I was a child. When I told the kids about it, they thought it would be worth a try. But its obscurity in today's society meant that it was in danger of not doing too well. But, word spread and the kids kept coming back to win fun toys and sweets. It turned out to be our best "seller"!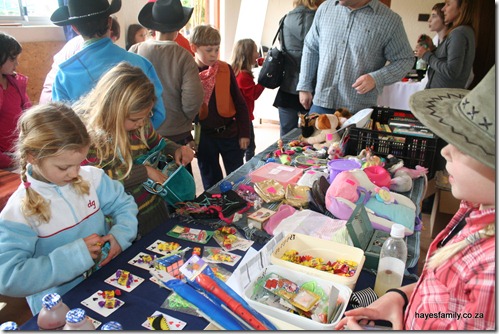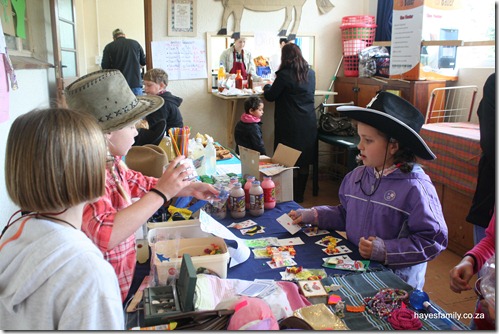 The little money box that granny gave us just a couple of weeks ago came in handy on market day – it certainly worked hard!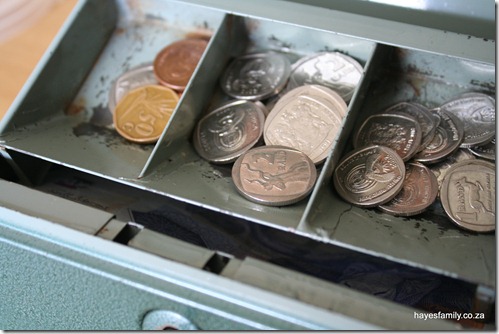 There were roughly 30 families manning stalls – book sellers, home made goodies…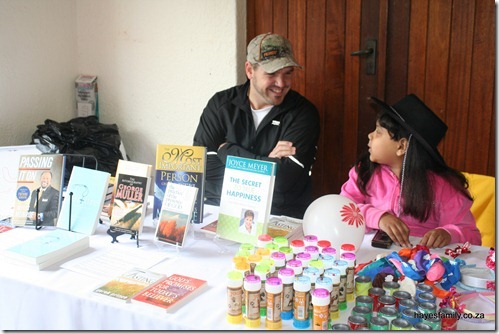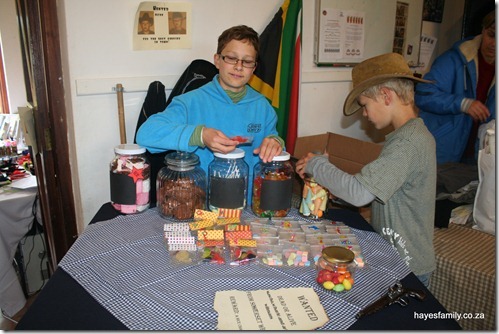 Awesome goody bags from this family!
and beautiful clips too…
Loved the theme of this table – if there were prizes for the best western theme, I think the B family would have been in the top 3 for sure! Love the sign post telling of their wares. Yum yum!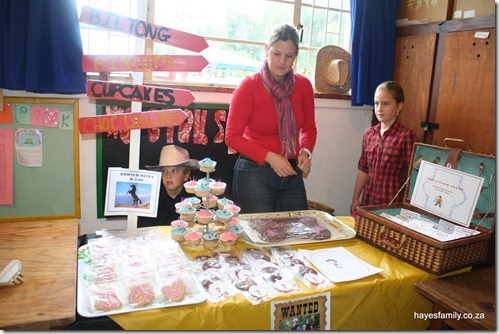 Beautiful jewellery too…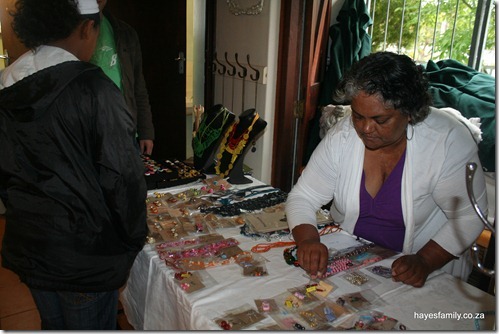 Like these pro-life bracelets – each one has a charm of two baby feet – exactly the same size as a 12-week old fetus. Poignant.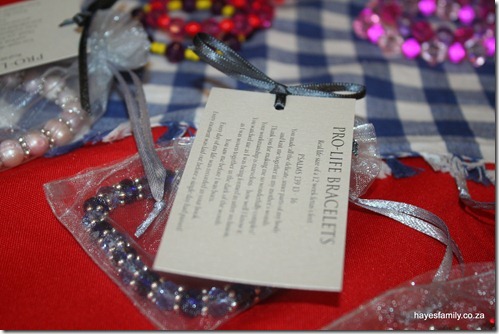 Mosaics anyone? Beautiful work!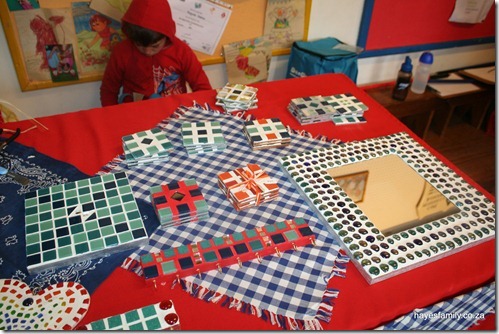 The Lunch Bunchers were well represented at the market – Joel, Jaiden, Tegan and Caleb worked really hard for weeks and weeks. Joel and Tegan, under the instruction of Joel's dad, Will, made the most amazing bird feeders and chocolate brownies. Caleb and Jaiden made much sought after light sabres of the Star Wars variety (or as my boys call them, light savers).
Well done guys!
The kids had fun browsing each other's stalls and before long we had guests and more guests and more still! We were well supported by the homeschooling community and others as well.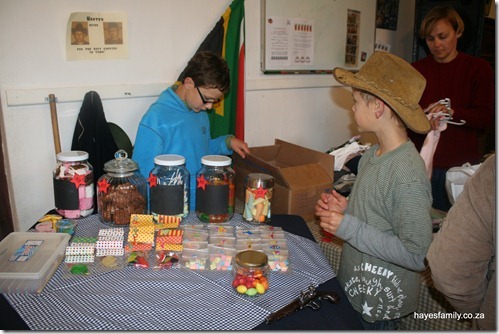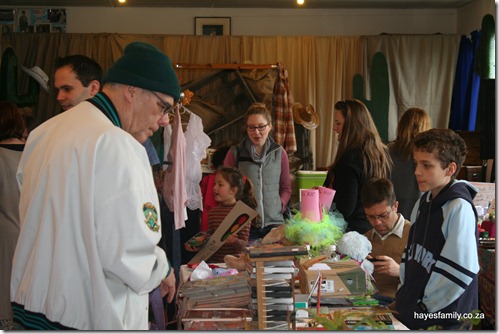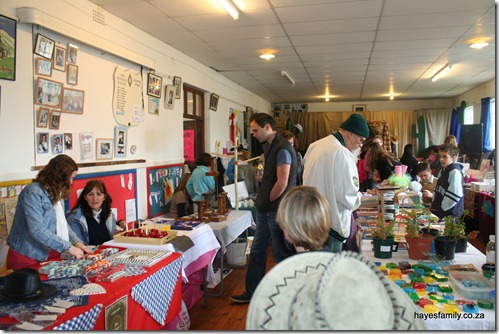 Here's another great stall – well decorated and all!

Delicious home made goodies and ginger beer!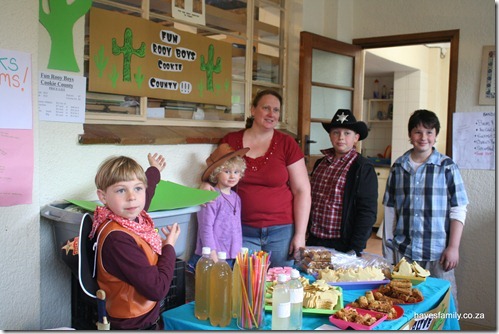 The jumping castle was a great success, as they always are!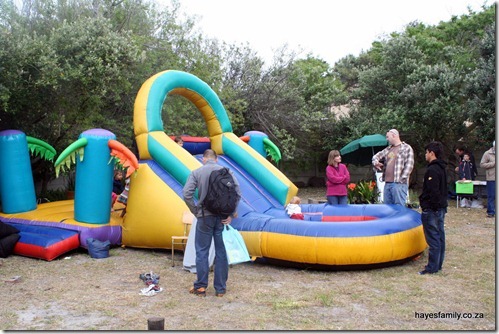 Inside we had delicious egg and bacon combinations, thanks to Cheree and her family. Yum yum. Outside boerewors rolls and other delicious fare was to be had. Plus second hand stores selling goodies, fresh free range chicken and eggs courtesy of young entrepreneur Jonathan Y. More yum yum!
Plus loads of fun carnival style games that the kids tried their hand at: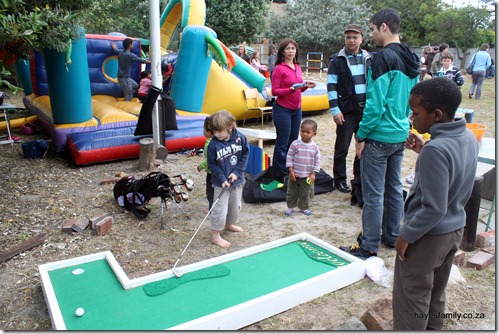 Some of the prizes from our Tombola were these fun moustaches – aren't they cool?!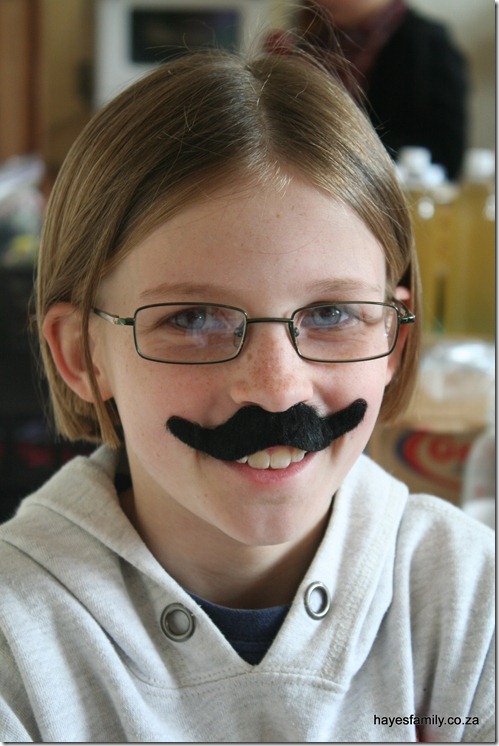 Gotto love this guy – Sheriff Hayes or Lucky Luke?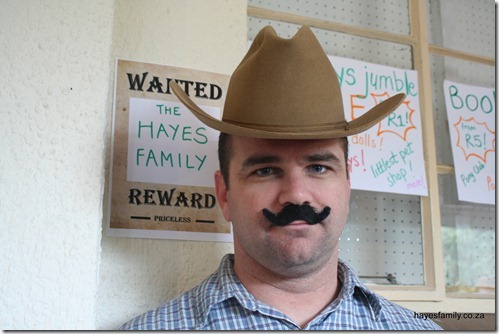 Around 11am the Lakeside Fire Station guys came to give the kids a demonstration and fire safety chat. The kids were thoroughly entertained and learned a whole bunch more.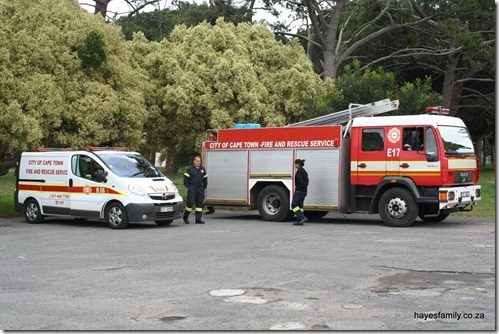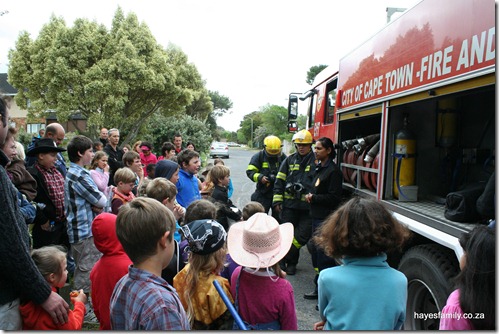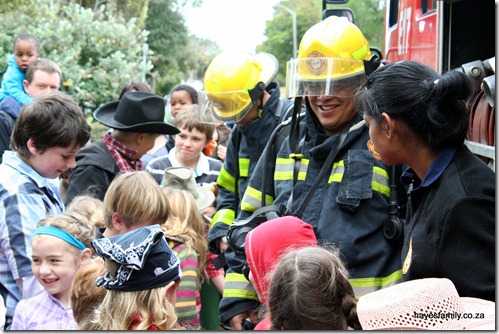 Will is a volunteer fire fighter so he knew the guys and enjoyed catching up…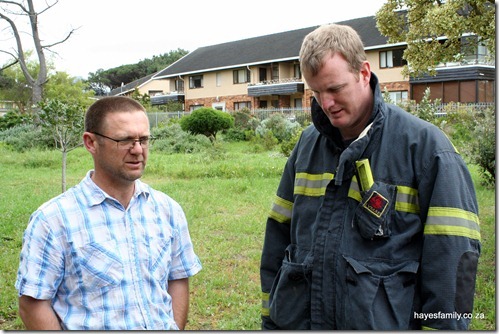 While his family had fun in the open air … Love this photo!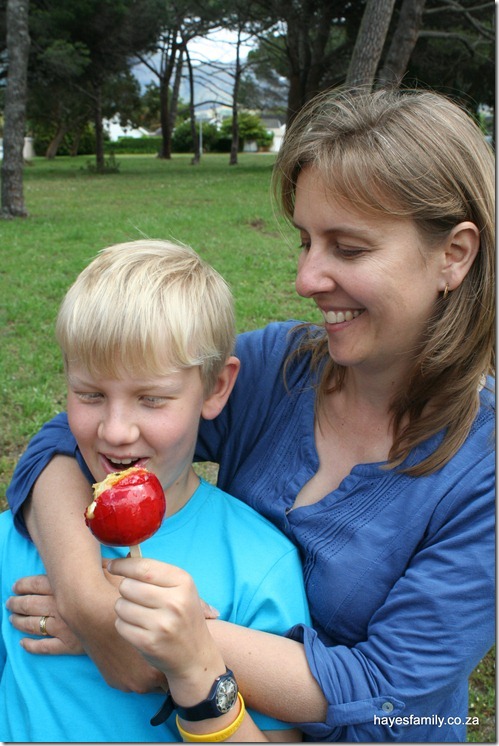 My ragamuffin looking like a street urchin – this guy has insisted that he wants a Fireman Party for his 5th birthday. Actually, he insisted on it for his recent 4th birthday, but since we did a fireman party just the previous year for Sam's 5th, I managed to dissuade him and pushed it on til next year.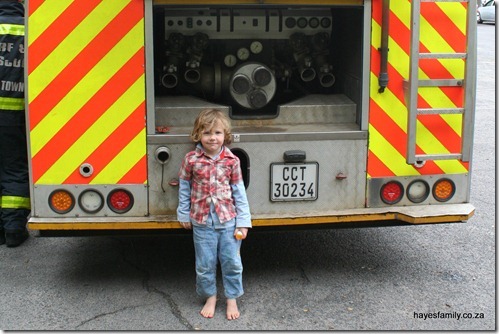 Apparently, this other ragamuffin of mine asked 1001 questions and kept the firemen on their toes!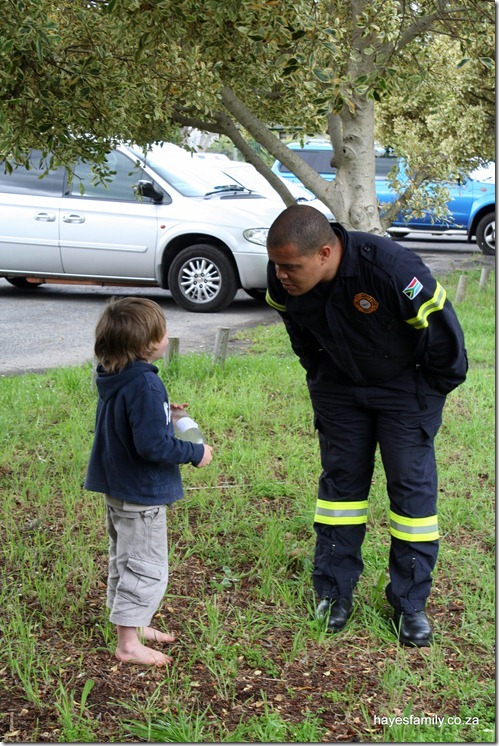 At the end, they brought out the high pressure hose and gave the kids a chance to hold and fire. Pure delight!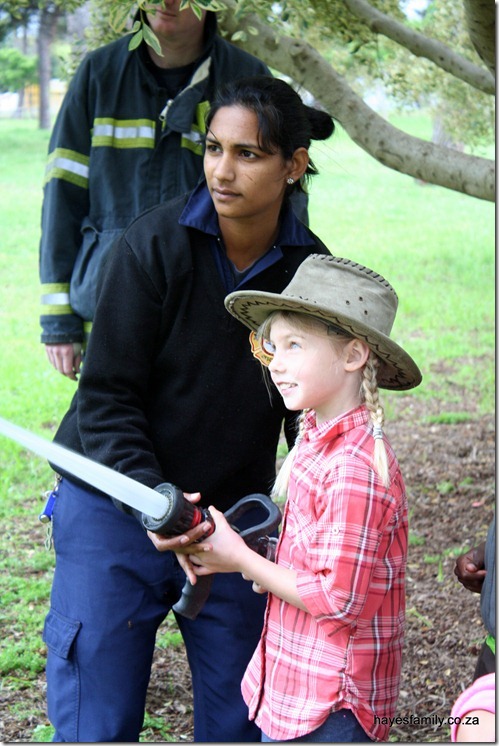 Finally, when all was said and done, it was home time. We managed to pack up just as the rain came! But thankfully without getting too wet. The kids came home to unpack and count their booty!
Some serious calculating happened – here Kiera writes up the costs of what we spent (I only 'charged' them for the items they actually sold, as I'll use the rest for parties and what not).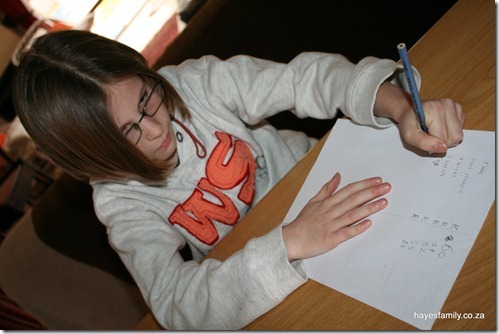 Excluding their straight profits from the jumble sale, they managed to earn a profit of R293! Well done girls!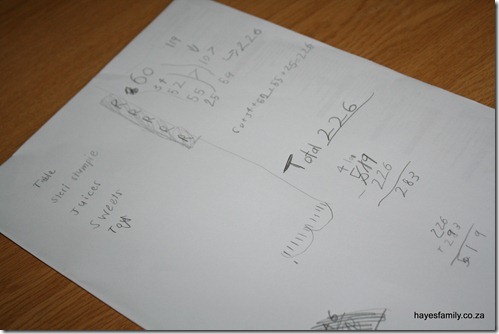 I must say a huge thanks to Yolande T who organised the day. It was a huge undertaking for one person and her family, and yet Yolande did it! I'm amazed. I think I would've had a melt down at some stage or another in the process if it were me. Well done for organising Yolande and a huge thank you!