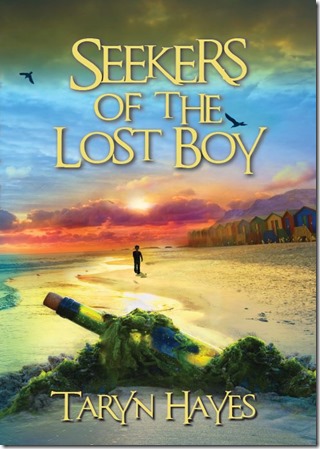 After three months in the publishing works, Seekers of the Lost Boy has gone to print!
Wow! What an experience this has been. I've learned more obscure little details about grammar than I ever learned in my three years as a University English major. I've been amazed by others' superb talents. And I've worked harder on this project in these last three months than I did writing the story. Yup, publishers work their authors hard!
But the result is simply beautiful. I can't wait to share it all with you. But, with a May 2013 release date, I will have to hold my horses.
However…
I can share this beautiful cover created by the talented Johan Koortzen (with some over-extended author opinion included, poor guy!)
Isn't it beautiful? I'm thrilled with his work both on the cover and inside the book. There are a few extra design surprises that have made this book that much more polished, thanks to Johan and his team.
Now, it's a matter of getting this book from print to distribution. I promise to let you know as soon as possible! The first to know are usually those following my Facebook page, so feel free to join up there by 'liking' my Facebook page: http://www.facebook.com/tarynhayesauthor
~~~
In the meantime, please help me get the word out about this book. It's all about a family homeschooling the Sonlight way. The kids find a bottle on the beach one day, never imagining how it will change their lives. They find themselves deep in an investigative adventure that uncovers a family secret, a history they never knew and a question they never thought to ask: Who is God and does he care about me?
There is lots of intrigue, adventure, fun and even an extremely quirky DJ. And there are deeper, more reflective moments too.
One of my personal favourite elements of this book is the melding of two cultures over a broken history. In South Africa, segregation in the form of apartheid forced families apart. As the kids in this story look back over the last 30 years they are confronted with their country's broken past, but they are also given hope for their future. It's District Six meets Meadowridge at Muizenberg Beach. It's bitterness at injustice blossoming into freedom to hope. It's gratitude for Grace.
I hope you find that too!