Our June/July holidays were blessed with an Indian Summer feel.  Hot days, clear skies, lots of sun and loads of time to do all manner of outdoor activities.  Except the day we headed to Rhodes Mem of course.  A bitterly cold wind picked its way under all our layers and rendered this momma c-OLD.  Thankfully, the sun got warmer and the wind went to blow around some other monument in the greater Cape Town area (for we all know that the wind never disappears entirely from Cape Town) and we had a promising morning of fun ahead of us.
Ah-hem.  That is, until we realised what a logistical nightmare Rhodes Memorial is with small, medium and large children!  Well, really mostly with the pint sized versions.  Caren, Di and I decided to spend some time together that particular morning and, since Rhodes Memorial is a place we've not been to in absolutely AGES, I thought it was a great idea to head up there. 
For those in the dark about Rhodes Memorial, it's a huge huge HUGE monument to Cecil John Rhodes, of the diamond mining, colonising, egotistical fame.  The very same guy who had an entire country named after him – Rhodesia, currently known as Zimbabwe.  It's actually a lovely place, overlooking the southern suburbs of Cape Town from the side of Table Mountain.  Fronted by a larger-than-life statue of a rearing horse and rider, it has enormous statues of lions bordering its giant-sized steps, which lead up to a massive bust of the man himself.  I remember singing gospel songs up there at sunrise services when I was little.  I have good memories of playing on the steps and around the tea garden area.
I didn't have memories of death defying acts of cliff hanging, or disappearing from sight and earshot, however.  But now… now, I do.
Within minutes of arriving our 12 kids together scattered like spilled marbles.  Keeping track of who was where at what point in time was an impossible task.  Eventually, I gave up – after remembering why it was that we hadn't visited the place in a while: entirely unfriendly for little kids in terms of safety perhaps? It literally was a case of "freak out" in panic and head home then and there, or relax, ask God to take extra special care of our hooligans and just enjoy the beauty of good conversation with the other moms and the beauty of our surrounding.  So that's what we did. 
And God was very gracious, because my little Micah decided that launching himself over the edge of the rocky ledge of the monument, with a five metre drop below, would be a good idea.  I was at the top of the monument by that stage, and he at the bottom.  I saw his little hands clinging to wall, with his body hanging off the wrong side of it.  It was scary.  I ran down those stairs yelling like a crazy woman, to no avail.  He couldn't hear me.  I then just prayed.  It felt a little like one of those dreams where you run and run and run, but don't really go anywhere.  While I watched the movie of Micah Is About to Fall Off the Mountain play out in front of me, I saw his little 2-year old buddy, who was standing on the correct side of the ledge, casually reach over and pull Micah back over the wall by the seat of his pants.  By the time I reached him, all was fine.  Well, my heart was still racing, but Micah was still grinning.  Yes, STILL grinning.  He had thought the entire episode was a splendid game.  So much so that he repeated his daredevil venture again on a much MUCH more dangerous spot half an hour later.  This time, the Falconer boys rescued him.  But a dad standing nearby got the shock of his life.  And I was the recipient of his outrage shortly thereafter.  The poor man went off at me about my lack of parenting skills and care for my child.  He was completely right.  It would've been much better if I had been a whole lot more vigilant with my monster.  But, given the circumstances, the fact that he was within eye sight was a minor miracle.  That boy is as slippery as all else and a daredevil of note.  In retrospect, perhaps I should've strapped him to my back in the Ergo.  Either way, I just nodded and agreed with him.  He had just got a huge shock after all!
So, I guess you can say that I learnt my lesson.  No – not to rather freak out and go home.  Nor to freak out and hover.  No no – simply not to return to Rhodes Memorial again until all my kids are of a more responsible age! 
We headed home soon after that.  It was a little crazy.  I don't think I'd repeat it, BUT – the kids had an absolute ball  and they'll certainly remember it for all the fun they had.
Snack time on the steps.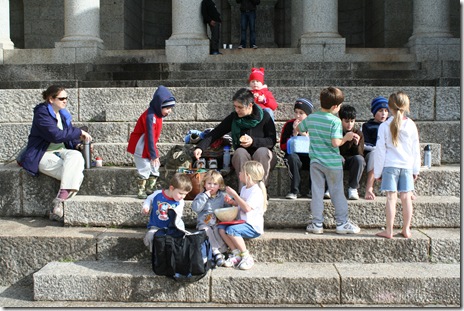 This is Micah taking in the view when we first arrived.  An hour or so later, he was hanging by his fingertips off the ledge, feet dangling off the other side with nothing back a sloping hill of rocky grass five metres below.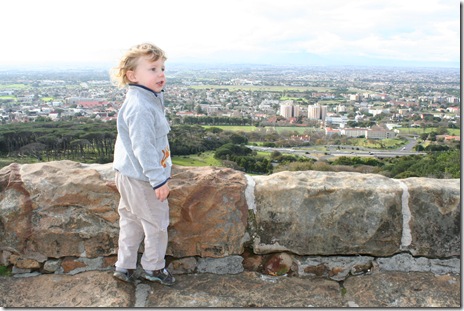 Yes – this ledge.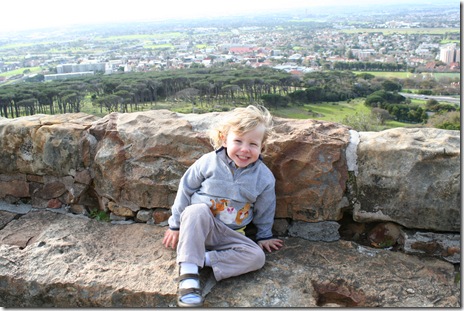 And I ran from those pillars at the very top.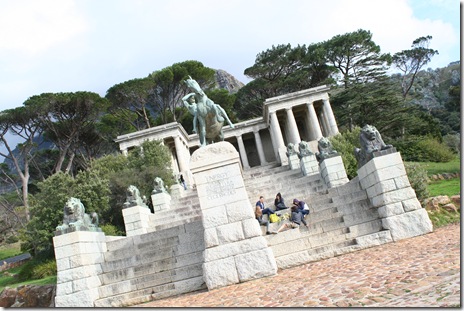 A better moment – Tom, his buddy and Kiera adventuring about…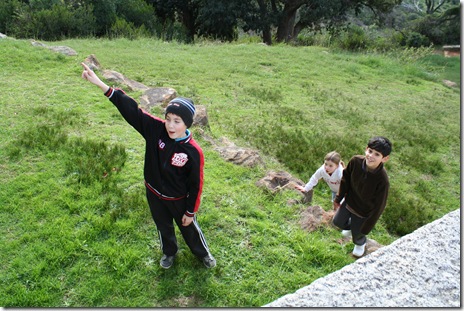 Amy and 1 Samuel 🙂
Kiera loved the lions – recreating some of the memories that I had as a child doing exactly the same thing!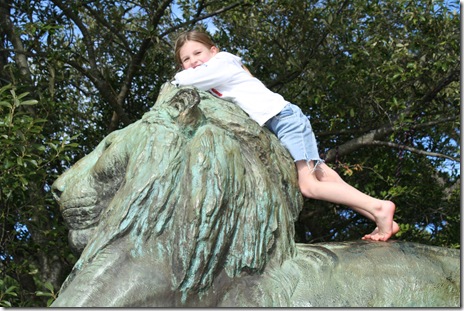 Can you see the ledge waaaay down there – that would be the one Micah jumped off, while I stood next to this lion before I noticed and ran like a banshee all the way down the steps.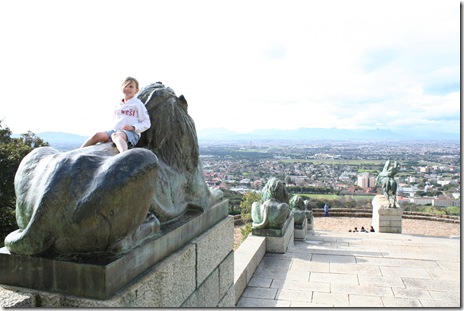 This is my favourite photograph.  All these bright and vibrant ALIVE young kids, sitting in front of the cold, dull, stone DEAD bust of a man long gone.  I love it, because the arrogance of the inscription below the bust is proven untrue simply by the presence of the children sitting on the steps…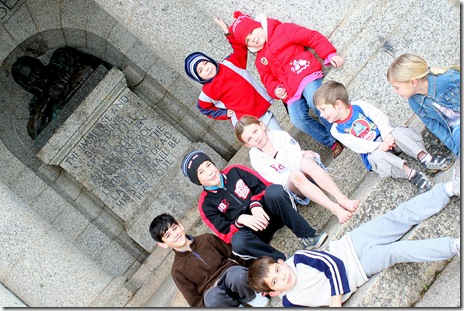 The inscription reads:
The immense and brooding spirit shall still quicken and control. Living he was the land and dead his soul shall be her soul.
The juxtaposition is so obvious.  The inscription is so false.  It reminds me of Isaiah 2:17
The arrogance of man will be brought low and the pride of men will be humbled.  The Lord alone will be exalted on that day.
The fact that we all decay, rot and then die (and rot some more) is proof enough that dear ol' Cecil is not controlling and quickening and embodying the soul of our land.  Those children on the steps prove it too – they are children of a new South Africa where the racial oppression of Cecil's era has passed and the life and soul of our country is governed by the generations that now live.  While it's not perfect by a long shot, it's what we have.  It's alive.  And it's vibrant.  And, one day this generation will have passed too. And the next.  And the next.  Only God continues to quicken and control.  And only He will be exalted on that last day.