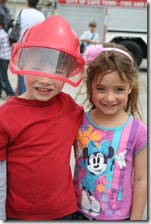 Fireman Sam to the rescue!  All week, Sam had been talking about his Fire fighter party.  And all week, I worried that we wouldn't pull it off.  I had spent the last two weeks trying to secure a visit to the Wynberg Fire Station for a demonstration.  But, even at the last minute, all was fine and they were expecting us when we arrived. 
And what a visit it was! I was very impressed with the friendly firefighters.  They did a great job of entertaining and informing our kids.
We were entertained by Mr Africa, who did a rope trick with the kids and had them laughing and giggling.  What fun!  We all enjoyed his fun-loving personality.  Mr Appel did the presentation for us.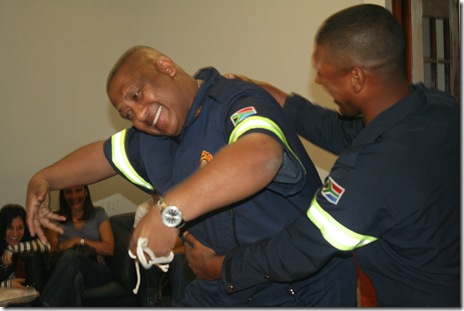 Told us all about our emergency number 107 and a few other important bits of information.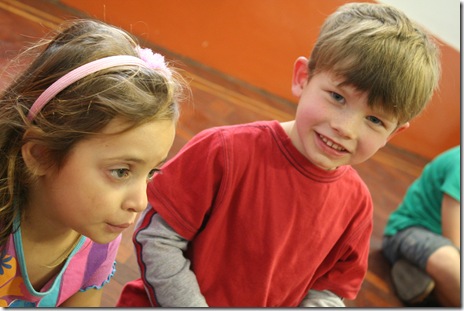 And had the kids rapt attention…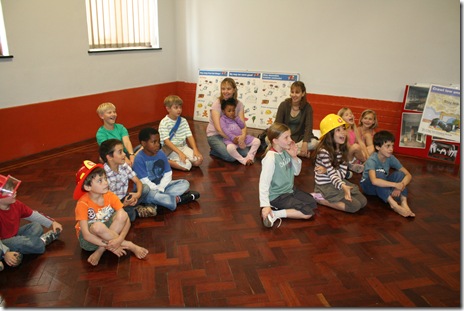 Well, most of them…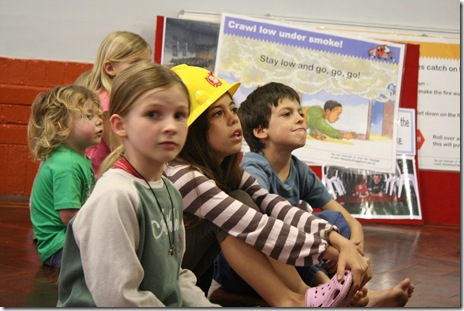 And the moms too…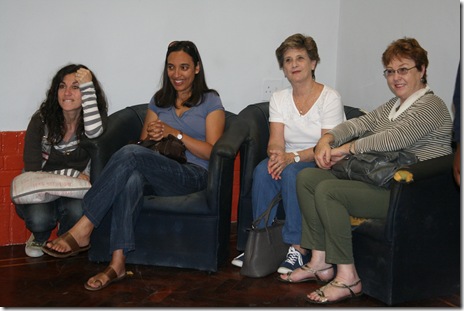 And he even showed us how quickly the firefighters have to dress in their firefighting suit – in under a minute!  He was quick.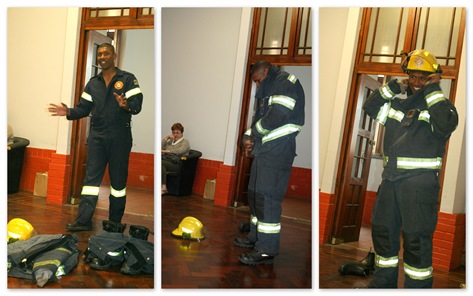 Then he led the kids out of the room under the "blanket of smoke" – they got to practise crawling as if the room was filled with real smoke.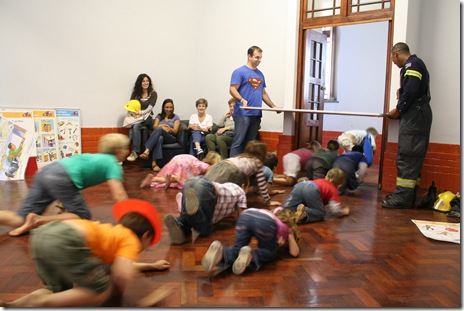 Next up?  A tour of the Fire Station.  The Watch Room …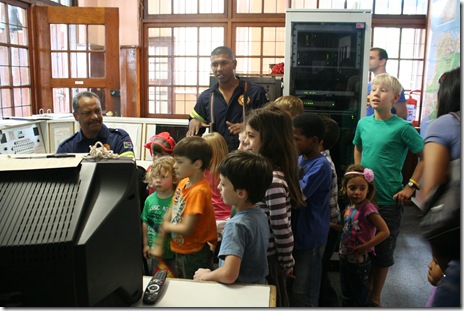 The recreation room…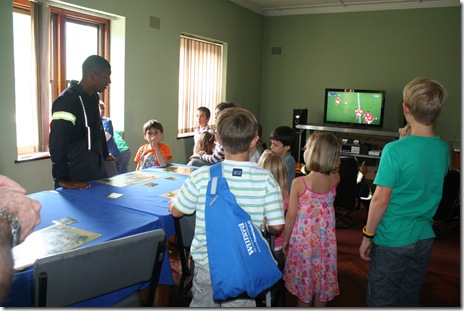 The fireman pole from the top…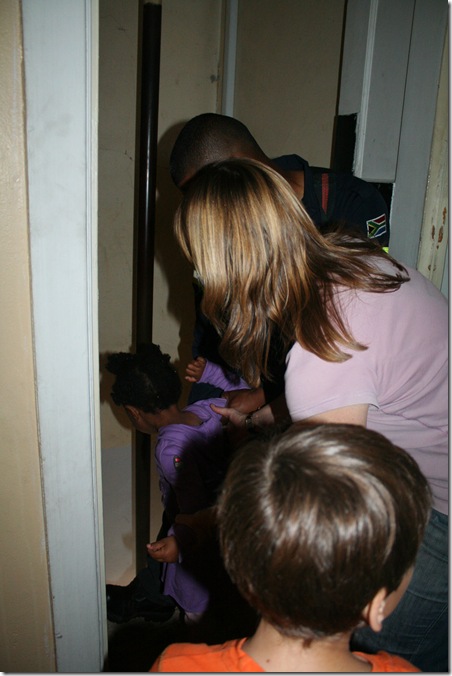 And then outside for a fire truck explanation.  The kids really enjoyed getting to touch some of the equipment and see the hoses…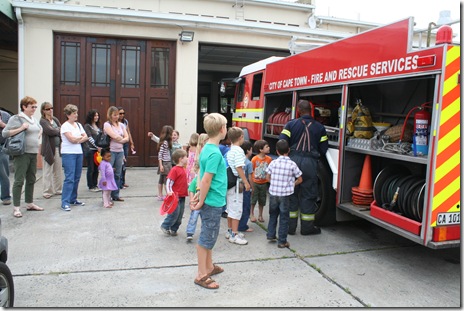 But best of all was the re-enactment of a real fire response… Firefighters came flying down the fire pole!
The truck left with sirens blaring…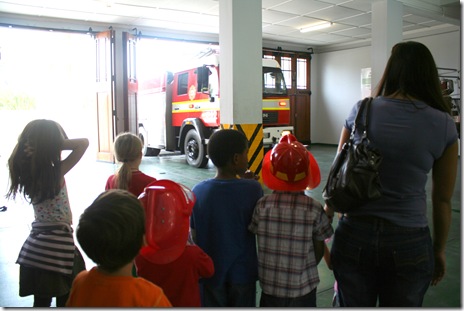 They did a short loop around to the back again.  Out came the hoses and that big tower behind them was just about to be sprayed when … a real fire siren came on.  Really?!  Ah!  We missed the great big water spray.  But the guys had to go and do their job proper.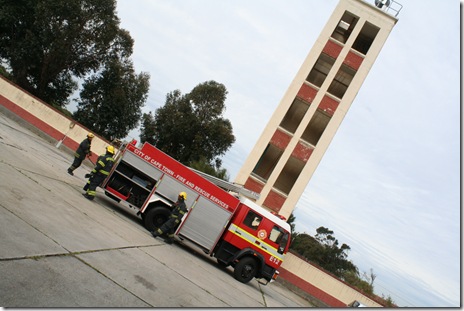 But not before getting a big box of brownies baked by Kiera as a thank you. 
And not before Fireman Appels gave Fireman Sam a firm manly handshake!
Bye bye!  And off they went – sirens blaring.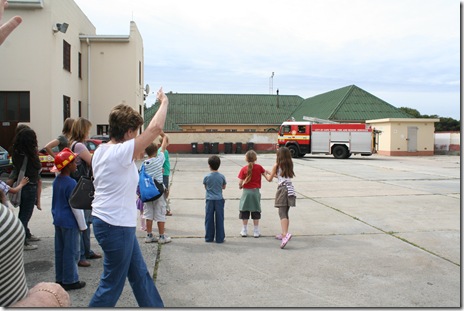 We all headed home after that for some party food and fun.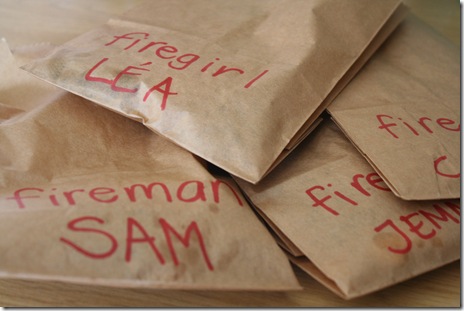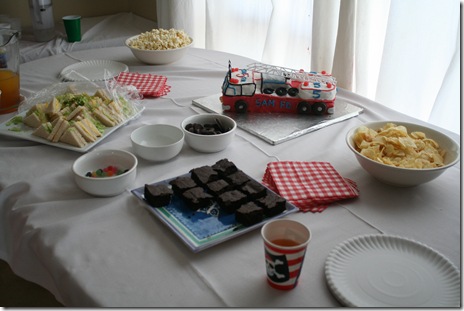 And a game of water balloon fun!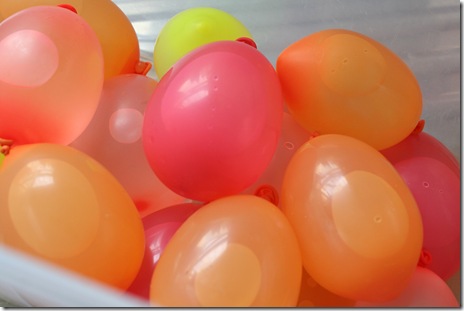 We had to practise passing our "water buckets" in an event of a fire with no hose available.  Lots of fun with bursting water balloons was had…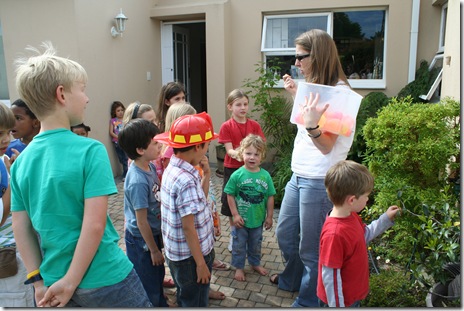 Next up – spray that fire with a hose!  Earlier that day, my 4 kids and I made fire flames out of paper plates.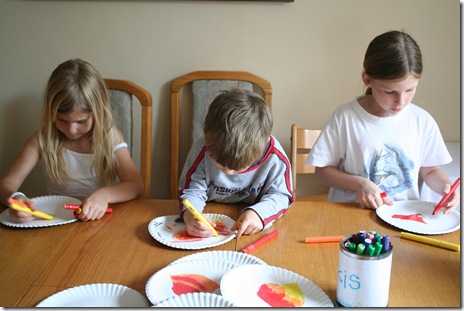 We lined up the fire flames and sprayed them down with the hose.  The aim was to spray the paper plate flames a couple of metres away from us.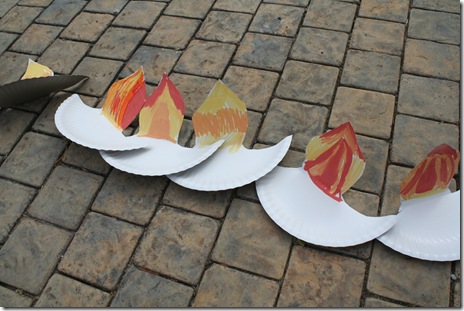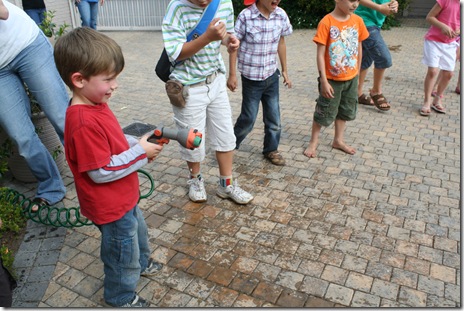 The kids loved that!  Next time (if there is a next time!) I will a) get the kids to colour in with crayon and b) set the flames up one at a time for each child to spray, as after a couple of goes all the flames got wet and soggy – so not all the kids had the chance to spray down a dry flame.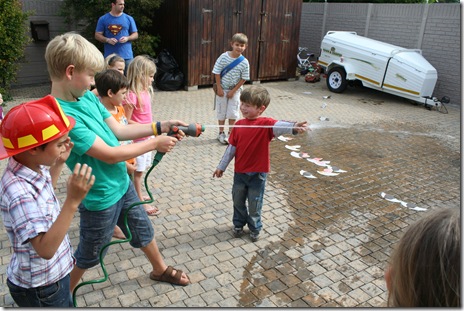 Eventually it was cake time.  Craig had had two awful work weeks of late hours and unexpected flights.  He arrived home on Thursday night straight off a flight from Pretoria and straight to a cake to decorate.  This time I baked the cake and Craig did the decor.  Sam FD – Sam Fire Department.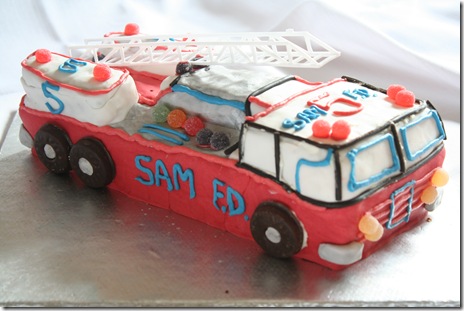 And one excited boy couldn't wait to blow out his 5 candles…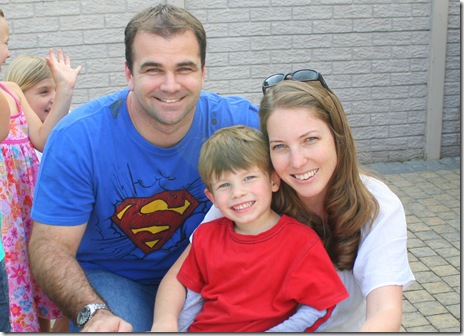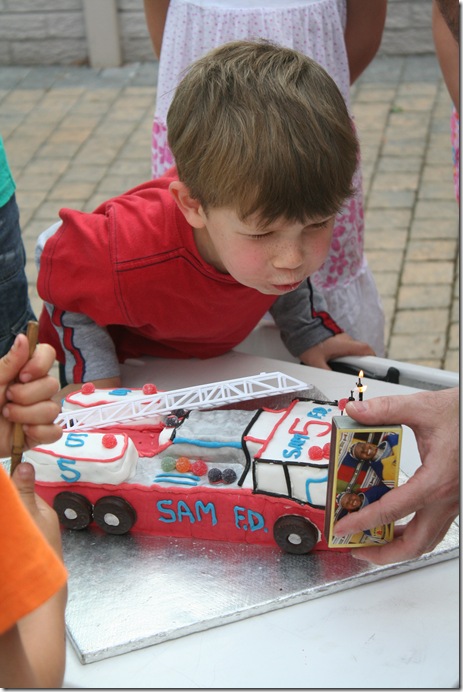 Eventually it was time to unwrap pressies – Sam loved his gifts.  Thank you all!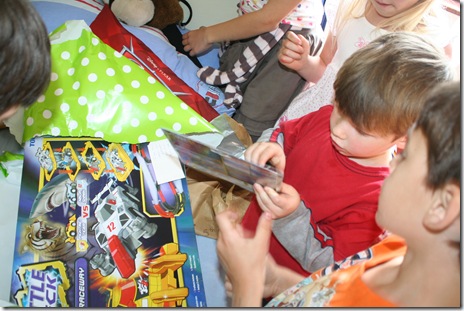 His party was loads of fun and he was so happy.  What a joy to see his smiling little face! Our party ended with a quick tidy, shower and change.  The reigns of childcare were handed over to our very capable sitter Luke as Craig and I headed to a wonderful celebration of my special aunt's birthday and 1 year anniversary of being cancer free.  Praise God!  It was a lovely evening of celebration and joy.