On this blog you'll find all types of posts – snippets from daily life, ponderings, shared blessings, theological thoughts and, yes, the odd unashamed mommy boast.
Today, I write about one of those moments that makes my mommy heart almost burst with great pride. Not in anything I've done, mind you. Oh no. This boast is, I hope at least, something along the lines of Paul's boast when he tells the Thessalonians how he boasts about their perseverance and faith to all the other churches. It has nothing to do with me and everything to do with the growth and maturity of a little girl called Katie.
My Katie is a bit of a conundrum. While she is a spirited child with wide-ranging outbursts of emotions, she is also fairly even-keeled when it comes to the things that typically bother kids. It doesn't bother her a wit that she doesn't achieve in the competitive sense. She isn't fazed by the nitty-gritty problems of friendships and seldom analyses why so-and-so said such-and-such. And, despite suffering from a very real condition called gravitational insecurity since birth, she doesn't get hung up on the fact that it means she is an 8-year old who is terrified of walking up stairs with gaps, going on roller coasters and still struggles to do an independent forward roll over the bar at gymnastics, despite having done them for three years. It simply doesn't bother her. Until last week.
It was their club's competition time for the preparation groups. It's a fun contest to give the non-competitive groups an opportunity to shine and to experience a competition, with all its skill and character-building factors.
The night before, Katie came to my room: her usually bright, uncomplicated smile was nowhere to be seen. Her downcast face; her glistening eyes, pooling over with unshed tears; her anguished expression spoke of her fear. Her concern? She was so terribly nervous that she'd not make it over the bar the next day at the contest. She can do it as long as the teacher touches her, but, if she's on her own, she is just not confident that she can do it. Her fear was palpable and my heart went out to her. We talked, we prayed and off she went to bed, with a little more confidence.
At the contest the next day, I was again amongst the spectators at a gymnastics competition. All the gym contests this year have revolved around our eldest daughter – a competent gymnast who works hard and has enough talent to see her through to the next round. Usually, my eyes are trained on her routine, watching for errors and delighting in her achievements. Usually, my nerves revolve around her performance. Usually, my mommy pride is in her sporting achievement. But, this gym contest was different. At this contest my eyes were trained on my second eldest girl's face. This contest, my nerves fluttered at the thought of her nerves. And this time, my mommy pride burst forth at the look on my daughter's face when she completed her bar routine with a successful forward roll over the bar.
I can't begin to explain my joy that day. Katie had prayed the night before so sweetly and sincerely. She had sought out my face in the crowd just before, remembering my promise to look for me as a reminder that I'd be praying for her too. When her eyes locked on mine, she had beamed with such joy, despite her rampant nerves devouring her tummy. She had held her hands together in the universal sign for prayer,nodding at me with our shared secret. Then it was time to approach the bar. A frown of concentration replaced her smile as she faced her nemesis head on. Within seconds it was all over. She had done it! My gravitationally insecure little girl had conquered her fear! Her joy was as palpable as her fear had been. She raised her fists in triumph, all while grinning from ear to ear.
Our world celebrates achievement and rightly so. It is exceptionally rewarding to see the beauty that talent can produce. But, unfortunately, the achievements we celebrate more readily are those that are produced only by talent. Seldom do we celebrate perseverance, unless it is attached to a gold medal. Seldom do we recognise bravery in the face of fear, unless an exceptional summit is reached. Seldom do we give credence to accomplishments of character, heart or spirit. I am just as guilty of that as the next person. But, on this particular Saturday, my little girl taught me a little something about celebrating accomplishments of character and faith. From afar, I watched her trust Jesus. I watched her take a deep breath and persevere. And I held my own breath as she faced one of her biggest fears: and conquered it.
Her joyful triumphant smile echoed in my heart.
That afternoon, as we all walked back to the car, I marvelled to myself how I felt a similar sense of deep pride after Katie's contest as I have after Kiera's contests – for completely different reasons.
Yet, it is only now, on deeper reflection, that I realise the reasons aren't too dissimilar: my heart overflows with joy for them because they accomplished what they had set out to do. No matter how brilliantly. No matter how hard. No matter the mistakes. At the end of the day, they each get to shake the hands of the judges in acknowledgement of their completion of the task at hand. Yes, some get golds and silvers, but all get to stand up and celebrate their completion.
Completion.
It reminded me of a passage in the Bible: Acts 20:24 However, I consider my life worth nothing to me, if only I may finish the race and complete the task the Lord Jesus has given me–the task of testifying to the gospel of God's grace. And it made me wonder if the Lord feels a similar sense of great joy when His children tackle the things in this world for His glory – whether their God-given talents enable them to shine the gospel brightly as great teachers or preachers, or whether their circumstances cause them to stumble and yet persevere towards the end…. I wondered – perhaps His Great Joy in His children is reflected in some small way in our own joy for our own children. And I rejoiced – so very thankful that He gives us such a blessed common grace of being able to celebrated joyfully in our children's growth. And so very thankful that it causes me to think upon Him and His Great Joy!
Katie's Brawns Club Junior Group Gymnastics Competition:
Katie on beam…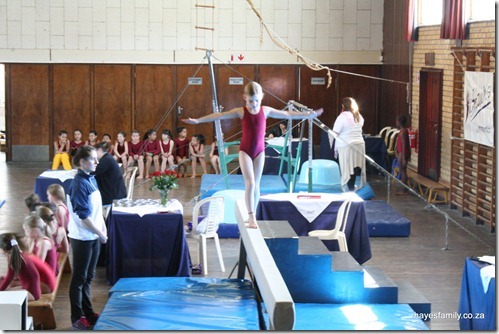 Floor…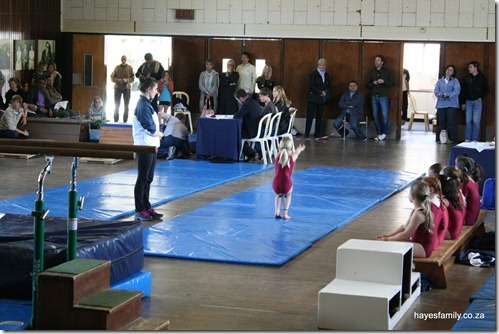 And her great nemesis: bar…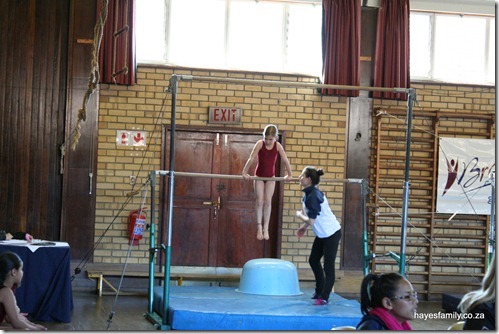 She did it!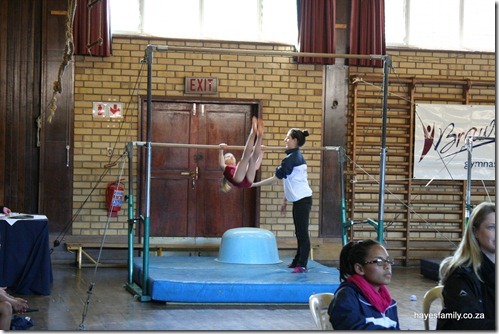 Receiving her medal of participation…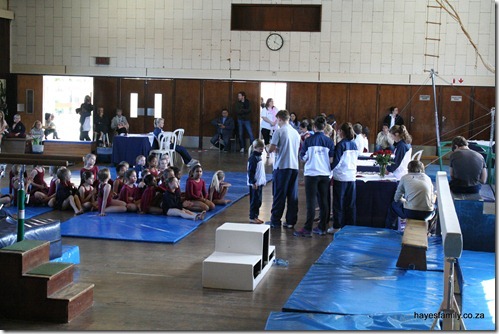 Such joy! This little girl was beside herself with excitement – she sailed home on a great big high for conquering her fear! What joy!