Finally! The month we'd been waiting for since flights were booked in 2013. March! The Ozzie family were coming. Last time we saw them was Christmas/New Year 2011/2012. And, BOY, did we miss them. 2 1/2 years means kids grow a lot and life marches on with birthdays missed and absences-of-the-heart that are sometimes more achingly hard to bear than we'd like to admit.
But, 5 1/2 blessed weeks lay ahead of us and come the last day of February we were more than ready to welcome the Newills home to SA.
Waiting with GREAT anticipation at the airport…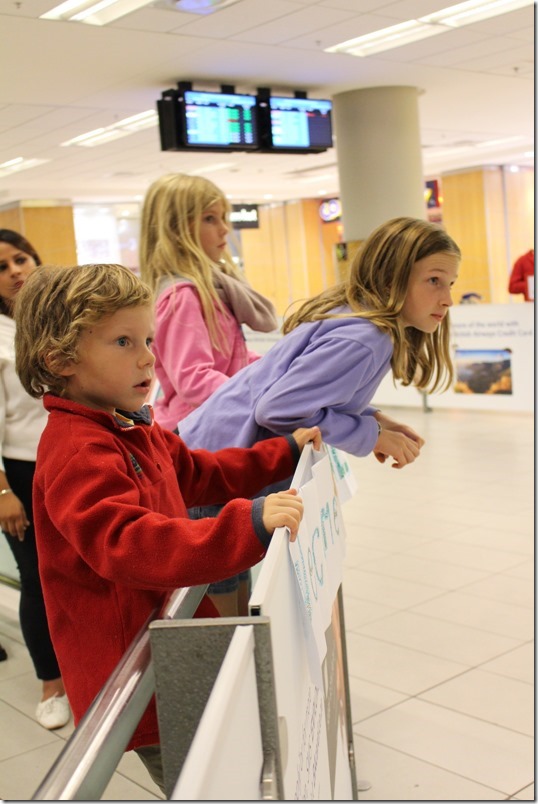 Look! Look! I see them!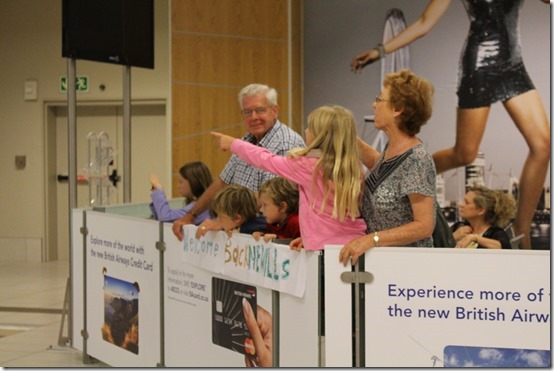 First batch!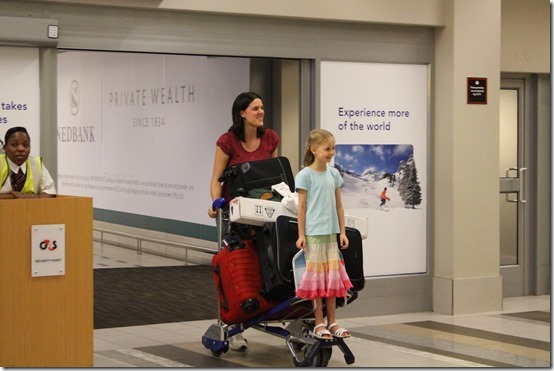 Joy!
Second batch!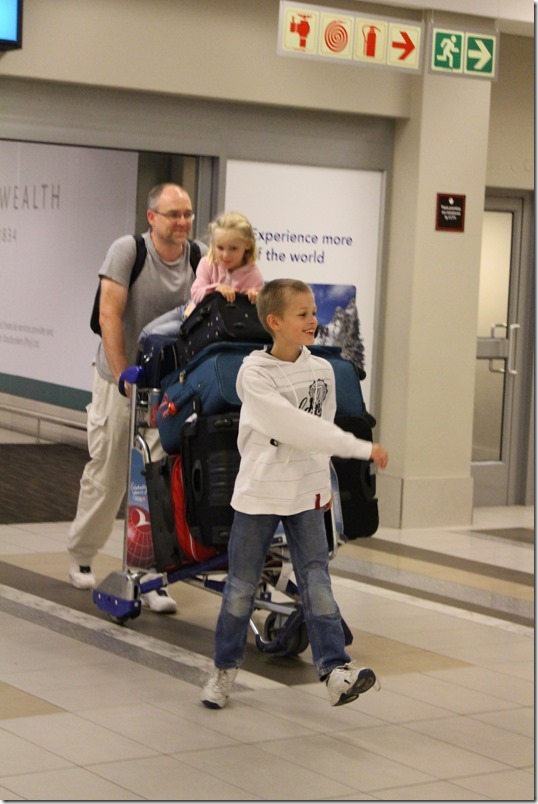 Aw!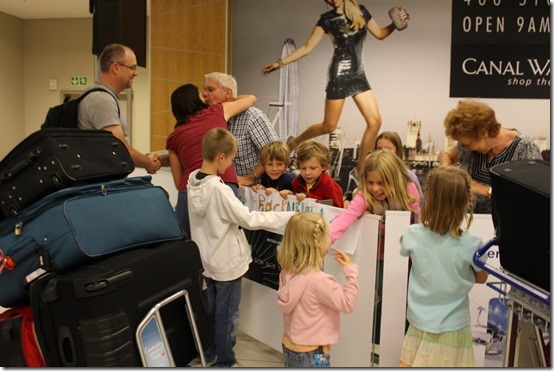 Arriving home and climbing into food. Yum yum!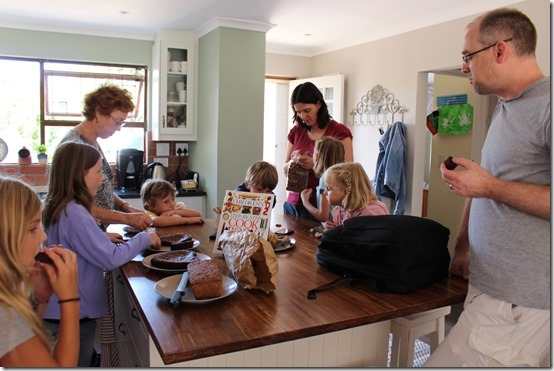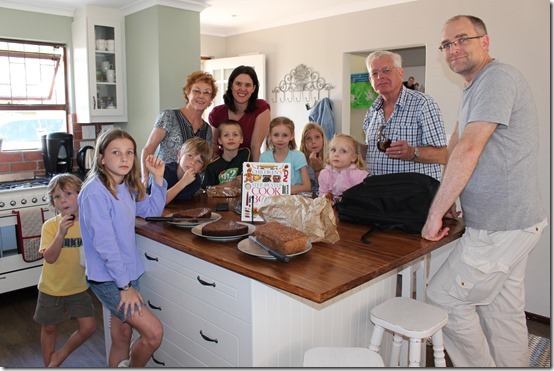 Lunch (would you believe it – Craig and Kerry arrived and then off they went to Coricraft to sort out their couch covers! Yup – vintage Newills straight off the plane and I LOVE it!)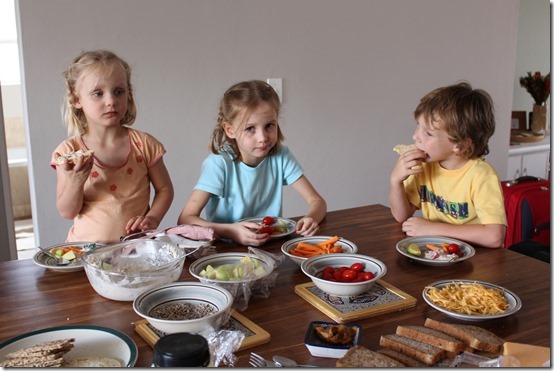 Saturday saw us in one of our favourite places on earth – Skye Cottage, Onrus! Ah! Kerry brought glo-sticks for the kids, so guess what they did that night?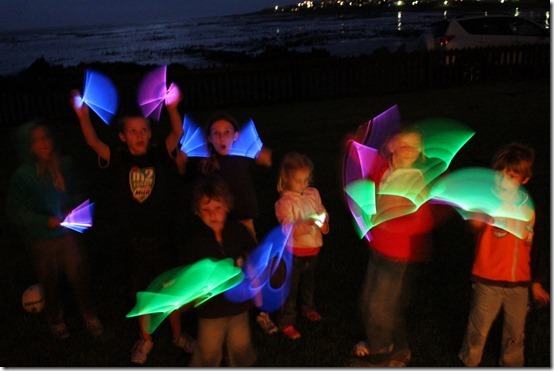 The next day, we were in the pool at H&A..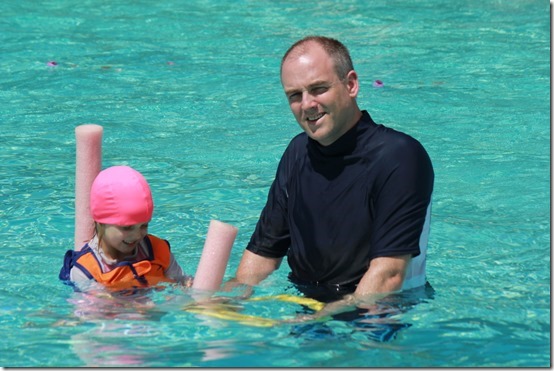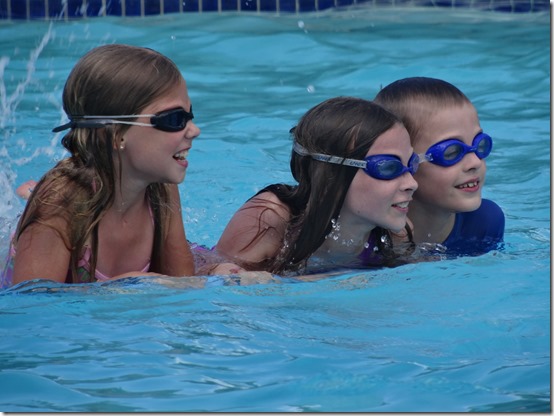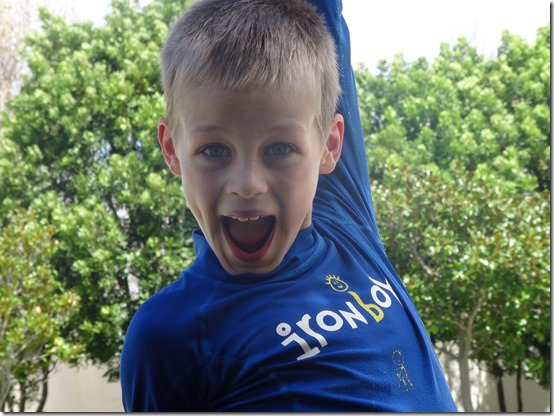 Well, Dads were in the pool and moms were yakking by the poolside.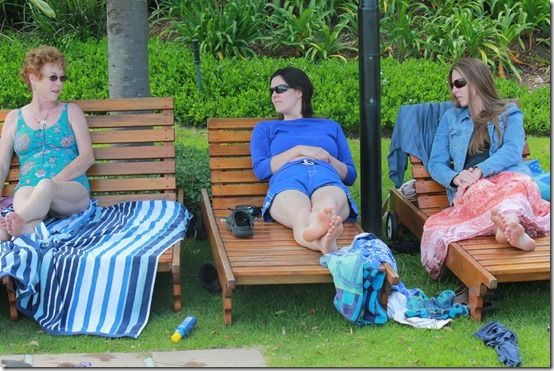 (and a certain dad was teasing a certain daughter…)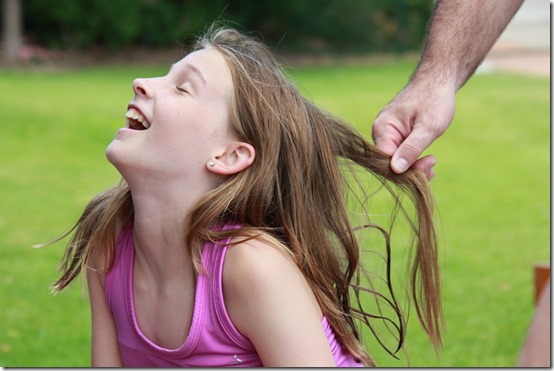 Dinnertime in Onrus – crazy kids!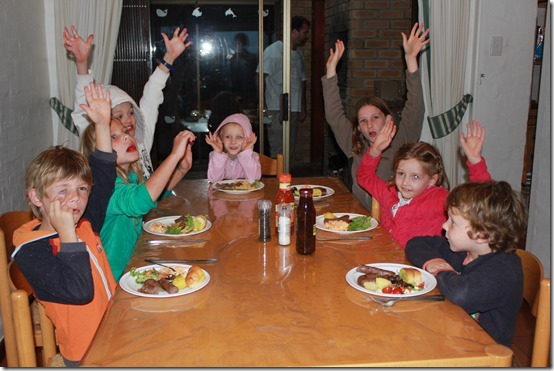 Swimming at Mermaid's Pool – aka Dawie's Pool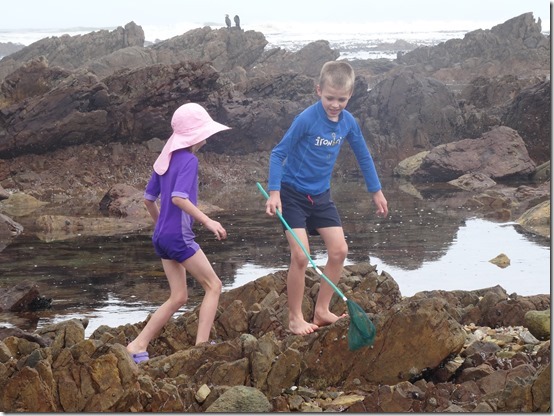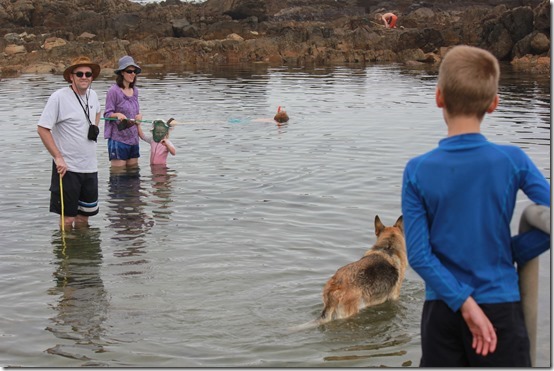 Mesha was VERY perturbed by her human mother swimming with those strange goggles on!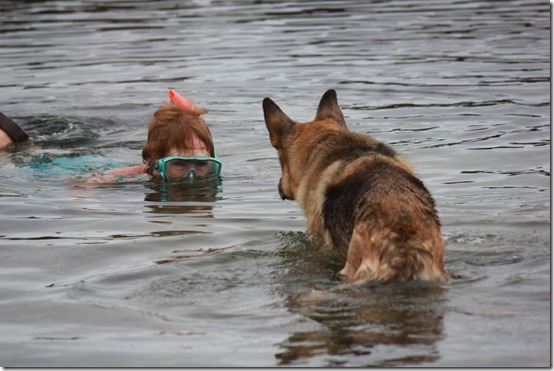 This was one little girl with a very sore foot – she stood on a sea urchin and managed to get about 10 spines embedded deep into her foot. Poor thing!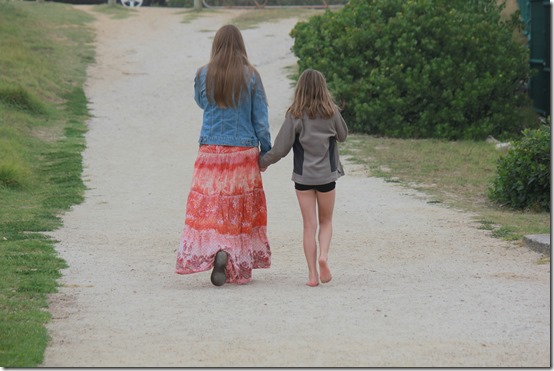 OWW!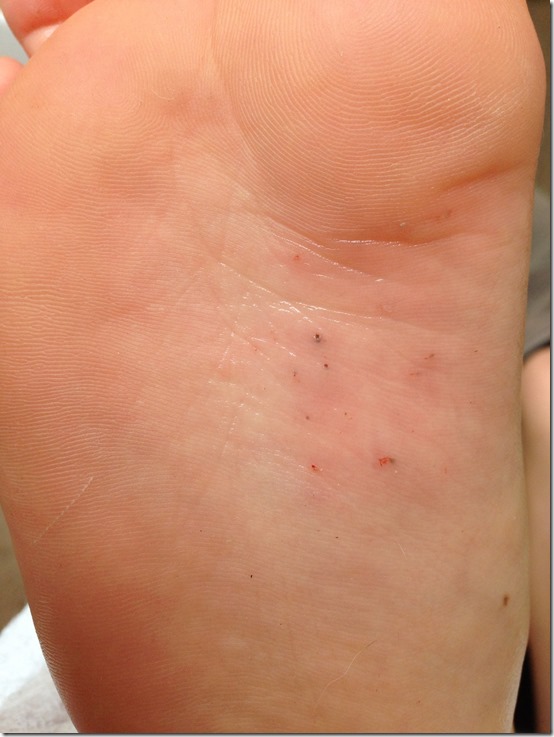 This picture cracks me up – it's another "vintage Newill" shot. My brother teasing me. That smile on his face is all brother-teasing-sister-delight!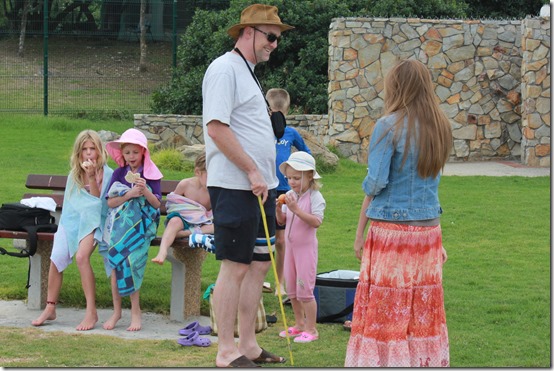 We left Craig, Kerry and the kids in Hermanus for a couple of days alone with Granny and Grandpa. Hard for me to do! I didn't want to share!

But they had a lovely time – riding horses, visiting friends and so on.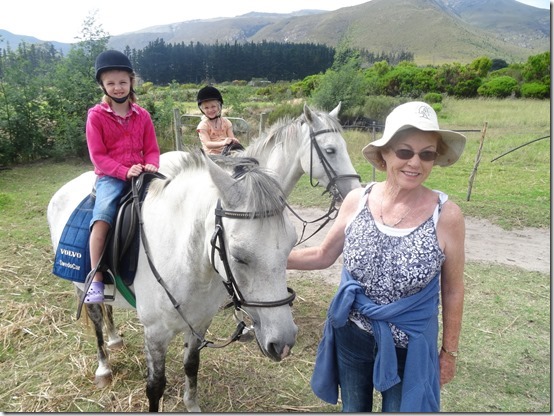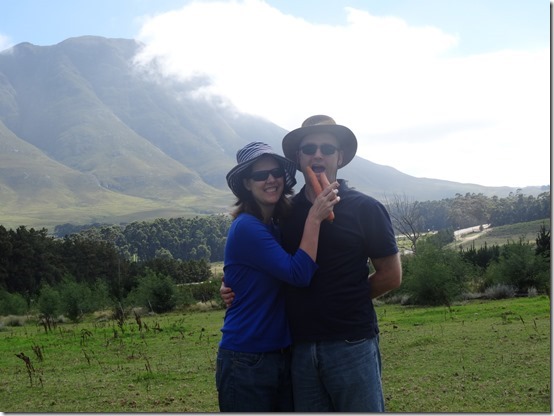 When they returned, they spent time with us, the VBs and then with us again. We were the official train station! Craig and Kerry know just about the entire of Cape Town and so breakfast, lunch and supper dates were par for the course. It meant we got a little more school work done. And sometimes it meant babysitting for us. But, thankfully, it always meant that I got to catch snatches of great conversation with them in the early or very late hours of each day. Blessed conversation. What a blessing it is to have them in my home when I can grab these moments.
Not the most flattering photo on the planet – BUT – a picture of some of the evenings we got to share. Ah! I miss these so much.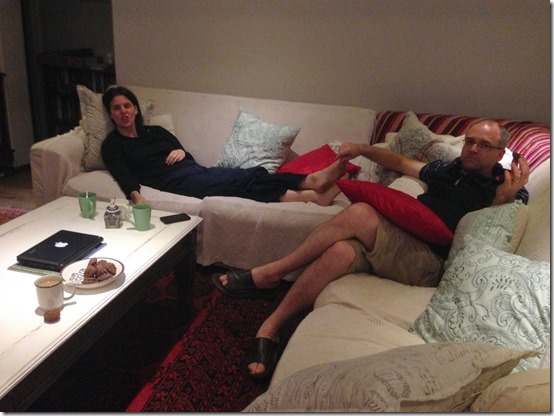 Thankfully, they didn't gallivant every second of every day. We managed to squeeze in a few touristy things with them, too. Like a visit to the Castle of Good Hope: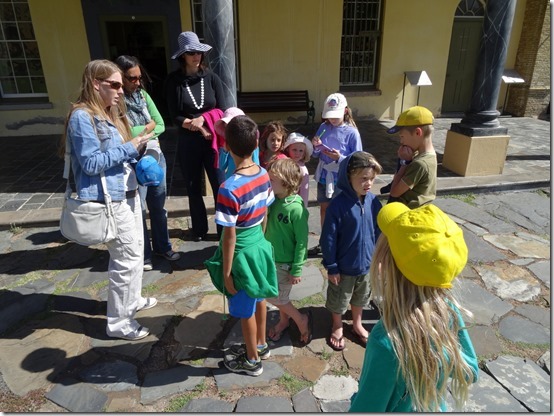 We were supposed to have this guide for our Cape Explorers visit to the Caste last year, but things got confused and so we didn't. So, the fact that we managed to secure him for our impromptu walk-around was awesome. He was great with the kids!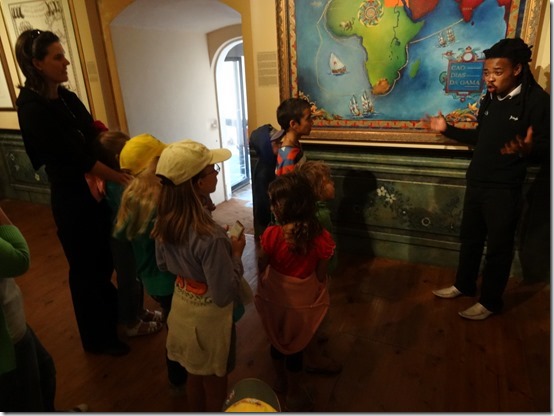 Woah! Big boy!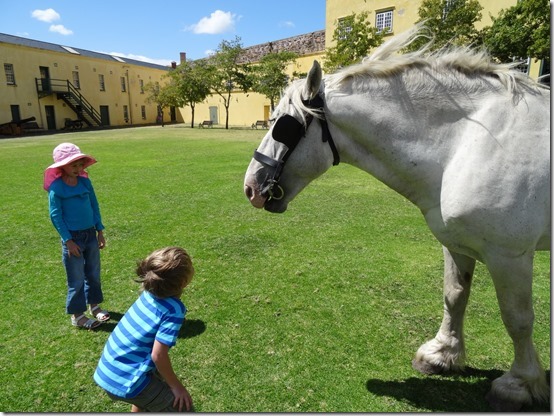 Kids in the dungeon – thanks to flash photography we can actually see them in what was a pitch-black room!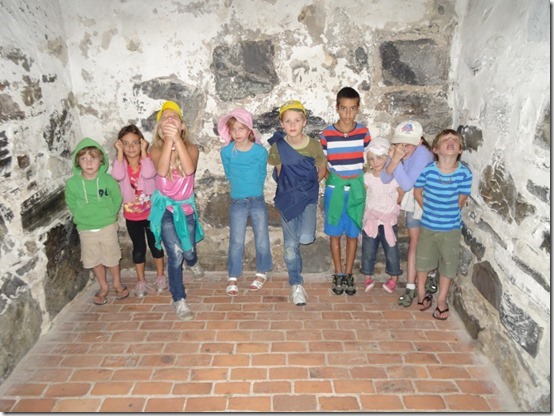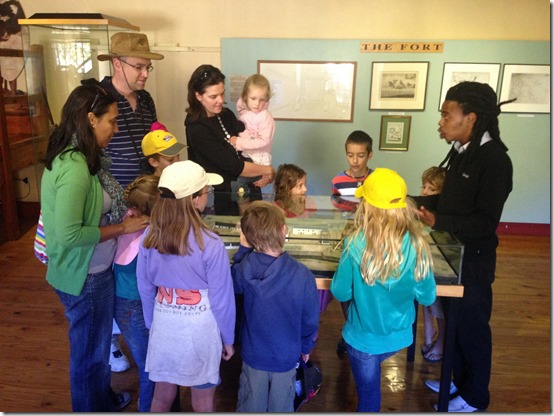 After the castle, we went to the Company Gardens for a picnic. The kids spent a good 1 1/2 hours playing, playing, playing…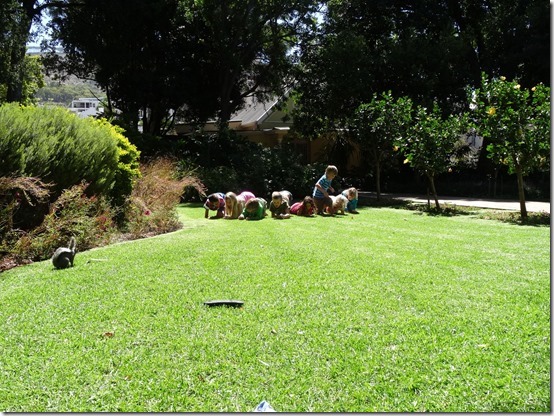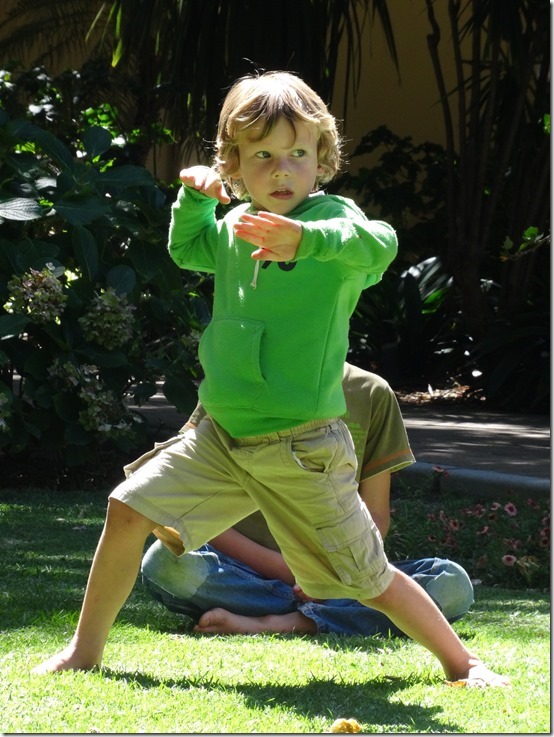 And sometimes being filmed by random Asian tourists – we felt a little like safari animals.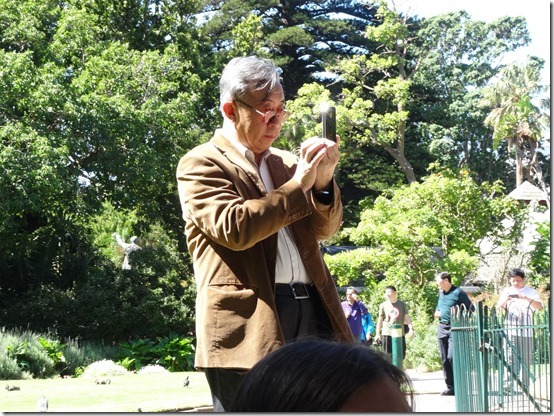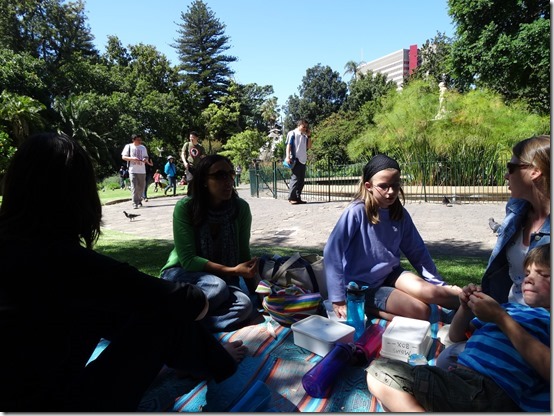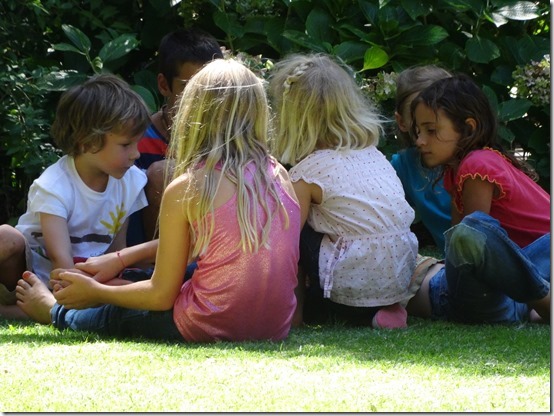 Aw! Love this cousin photo.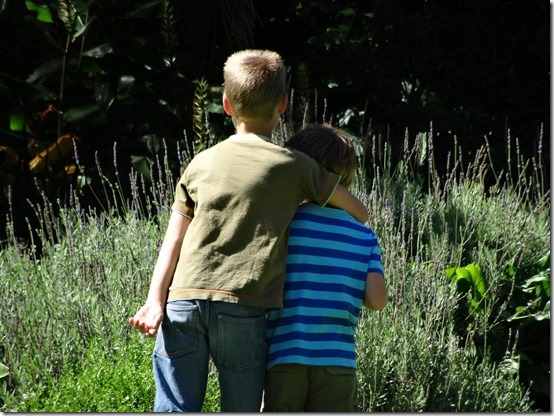 We got to see these theatre students come by – we'd seen them spotted around town, doing mime statue acts.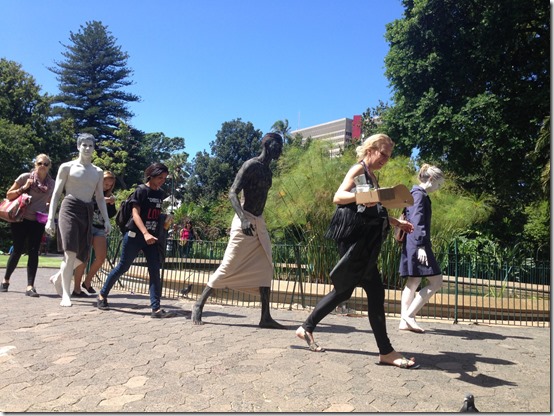 Another day, we went up Table Mountain on the cableway. It's been some years since we last did this – probably a good 4 or 5 years, when Micah was still a baby. What fun they had. Here: a shot of the castle from the Mountain Top.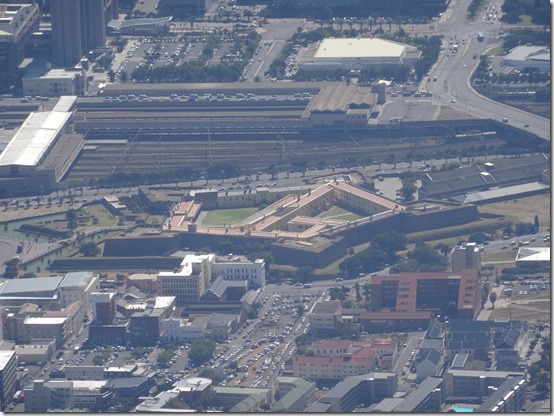 Lion's Head.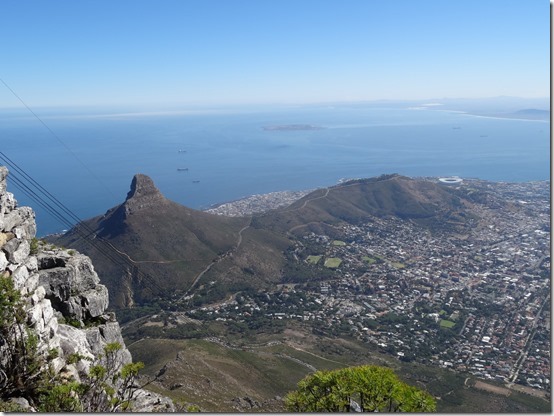 Kerry and the cutest 4 year old in the world – little E-K.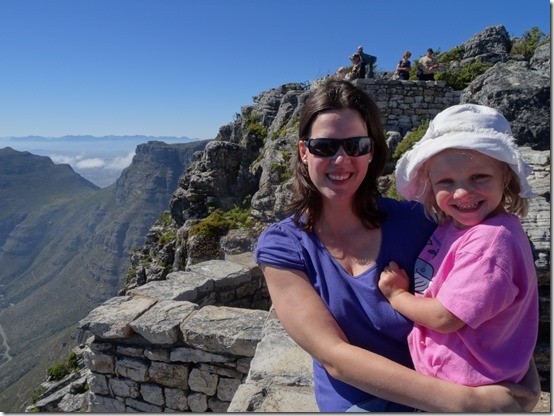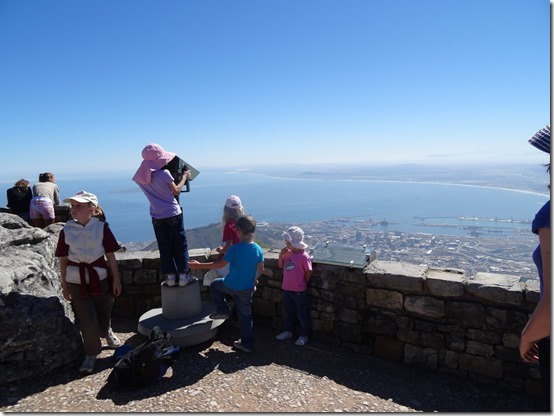 Sam made friends with the rock lizards…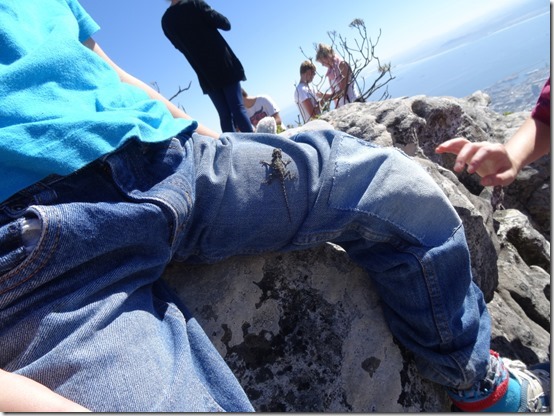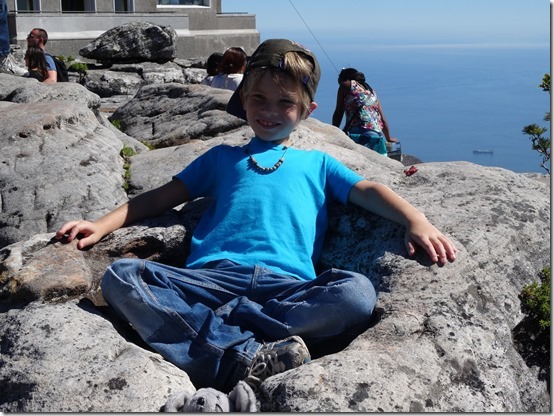 The Cape Town Stadium: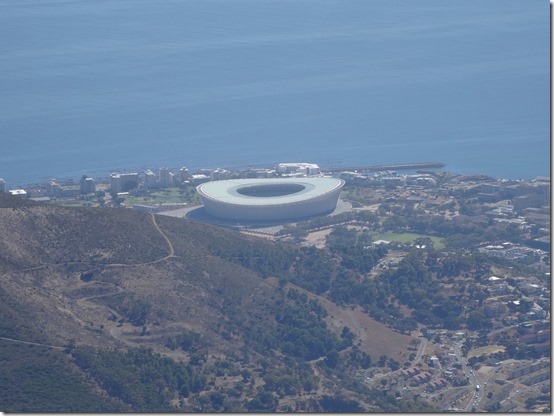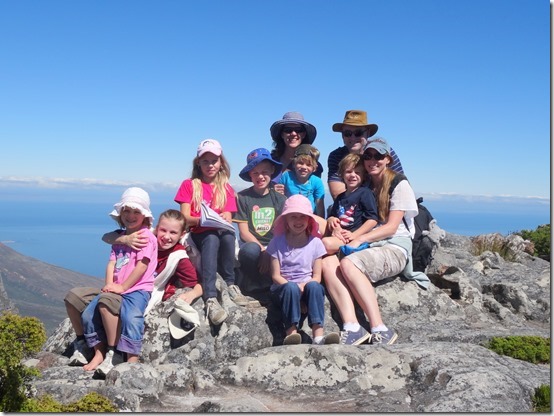 On another sunny day, we headed to Robben Island – Nelson Mandela's former prison, now a museum.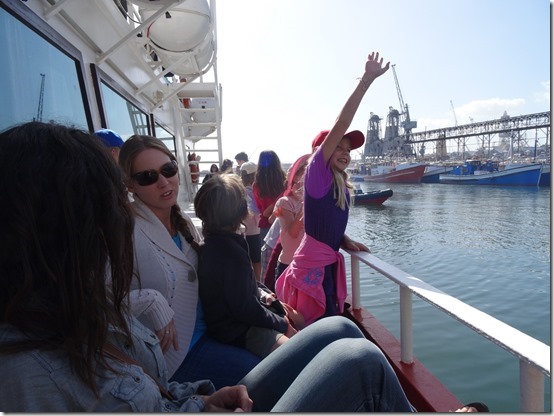 Let's just say that the ride over was not my favourite activity. I can do speed boats crashing through the waves at knots, but not the lilting crawl of a charter boat. Blergh. Apples kept me from hurling over the edge on the way there, and vinegar chips on the way back.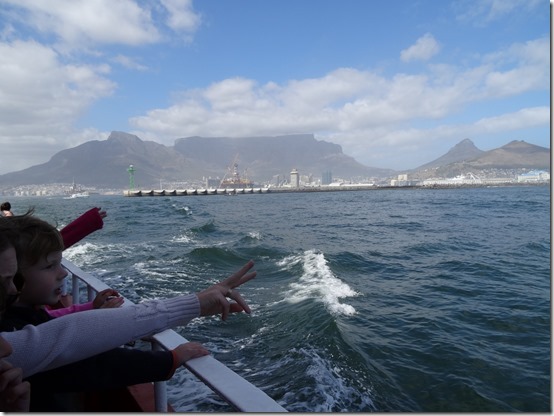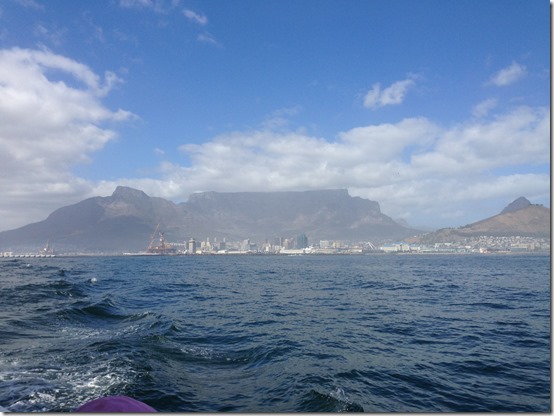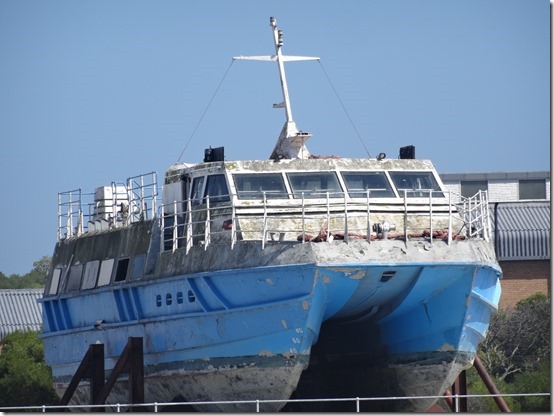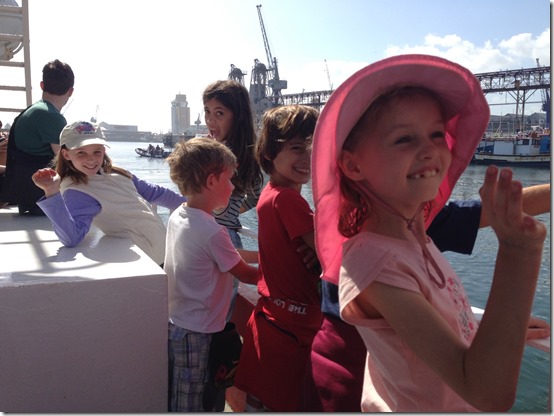 Our tour guide was a former prisoner – imprisoned for organising a government protest at his school.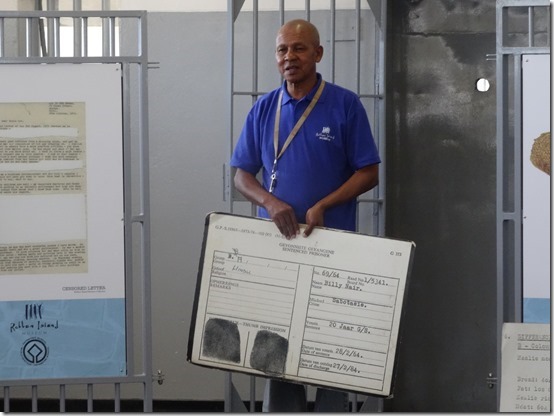 Walking the halls of the prison cells…
Taking photos of Nelson Mandela's cell…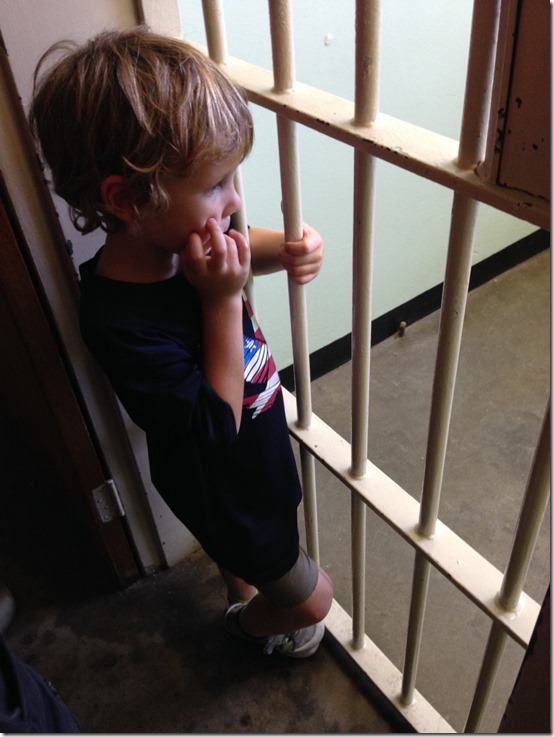 The VBs joined us – and here is a photo of us all taken rather begrudgingly by a fellow tourist. (Spot the sun-safe Aussies in the party!)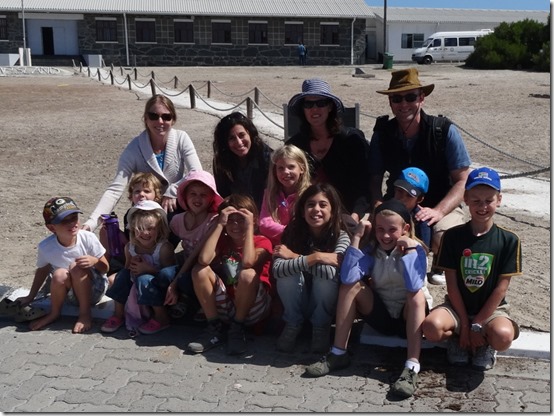 Headin' Home! Oh so glad to be on terra firma, I was!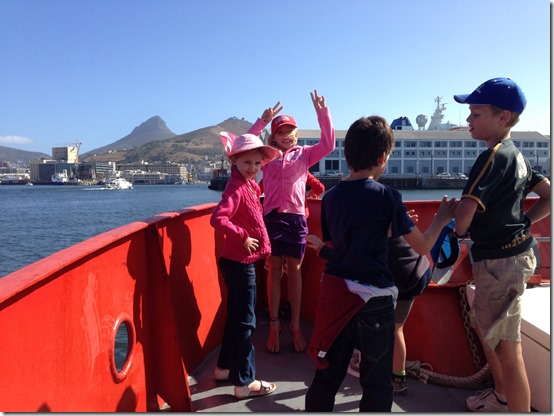 Despite visiting dozens of people in both the Northern and Southern suburbs, there was still a looong list of people they wanted to see. So, Open Day at our house it was! Here are some shots…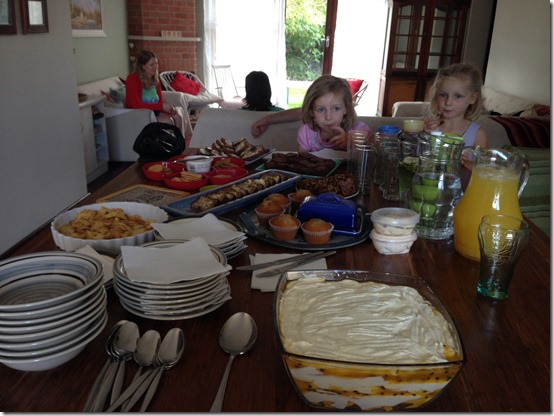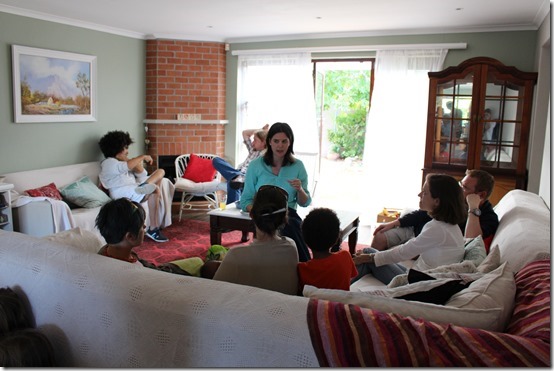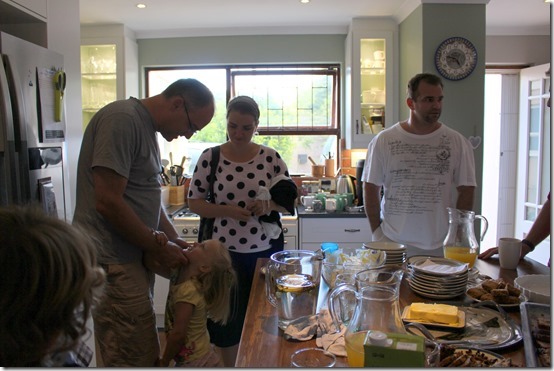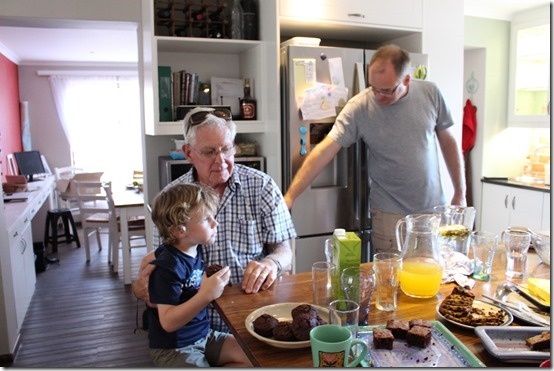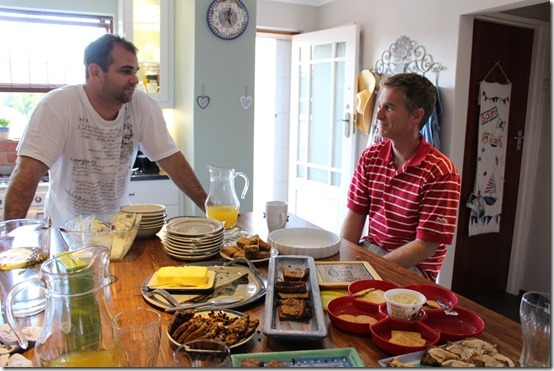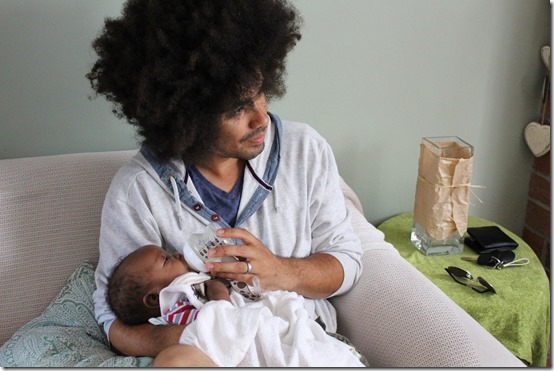 Dinnertime at our house, meant kids in the dining room and parents around the kitchen island. And, boy, it's noisy in that dining room! Can you see the respect on my son's face? And how about Jesse?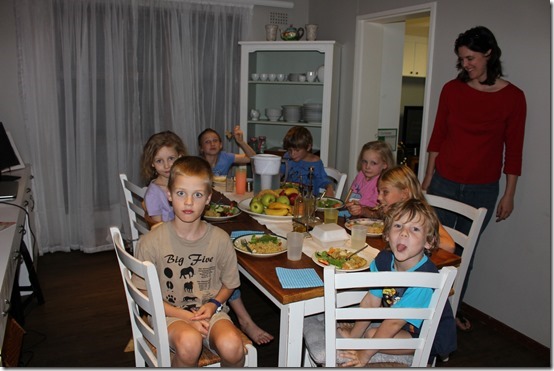 Jesse is clearly a product of his parents!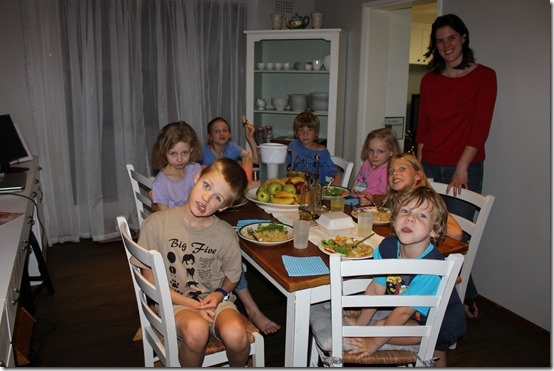 I loved the times the kids had together – so very sweet! They played and played and played. Here Bex is reading in the early morning to her sister and cousin Micah.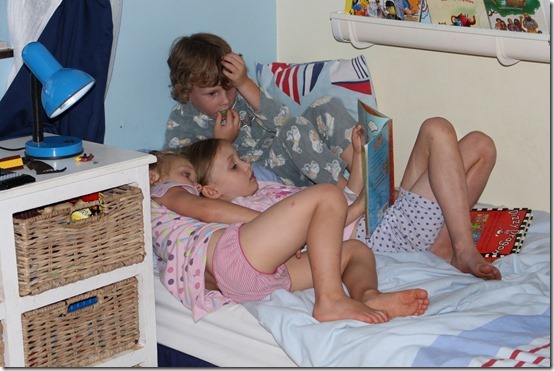 Saying goodbye is always the hardest thing. Last photo of the Newill-Tubmans. Smiles for the photo, tears for the goodbye.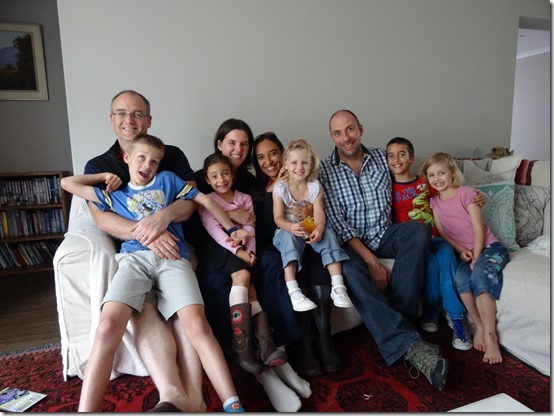 But, between the two – crazy family antics!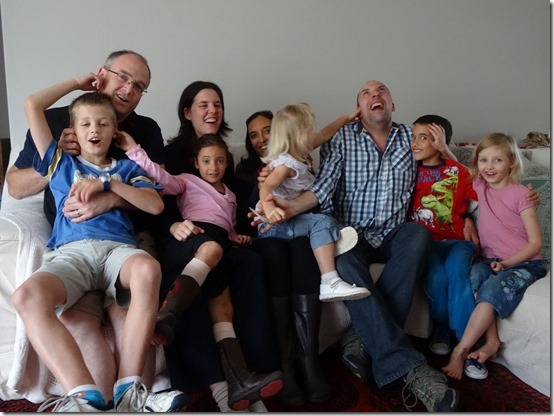 The last Cape Town weekend was choccers – A morning photoshoot for the family (taking Jesse and Katie away from camp to make it happen). Then the afternoon Open Day. Then a Sunday pick up of kids from camp, followed by a wonderful, WONDERFUL theatre experience of The Sound of Music. Ah!
First: photos on the beach. Susie Leblond did another great job!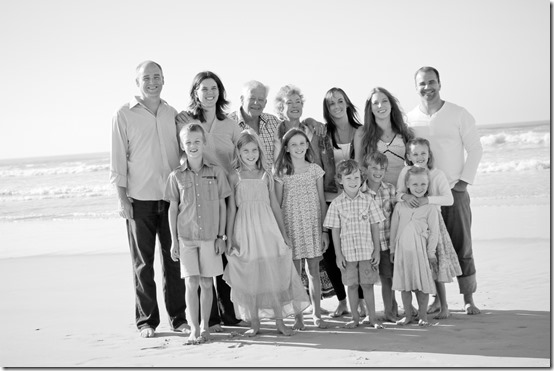 Those photos are just a few I randomly selected from our hundreds! More can be seen at Susie's blog: Hayes-Newill shoot.
After the shoot, my 67-year-old mommy wanted a swim. So, she borrowed my swim dress and off she went. She looked amazing! Seriously hope I look as amazing at 67!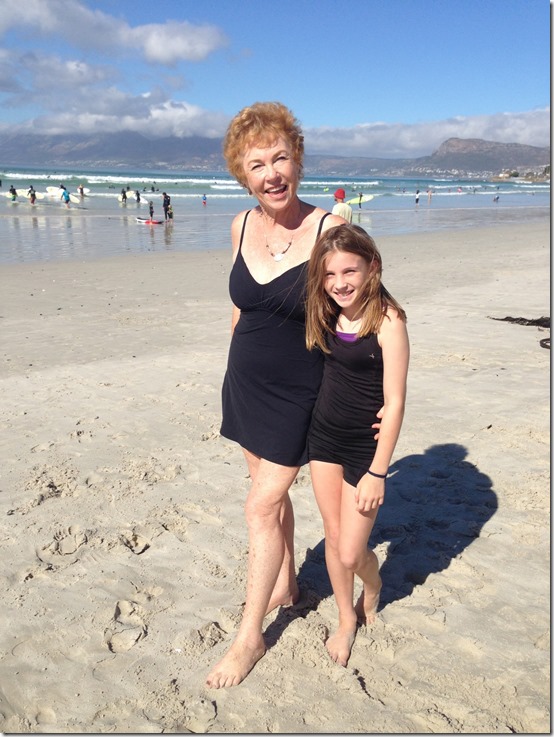 And – evidence! Kerry does iron (if she absolutely has to!) – this was night before the photo-shoot stuff: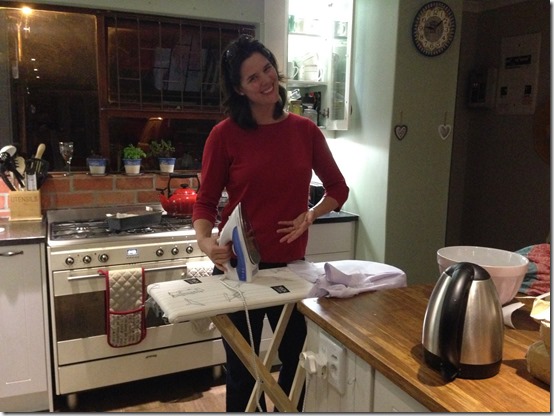 Sunday afternoon's experience of Sound of Music – some very excited kids who couldn't wait to enjoy the show!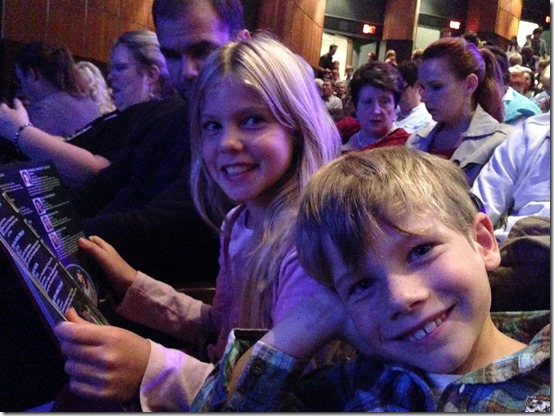 PACKED theatre – fully booked!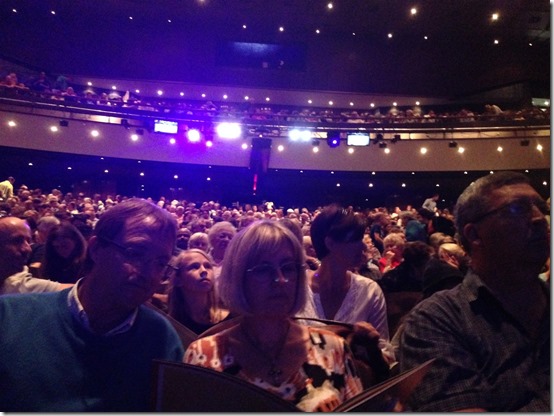 (photo source: artscape)
More random family-around-the-house photos: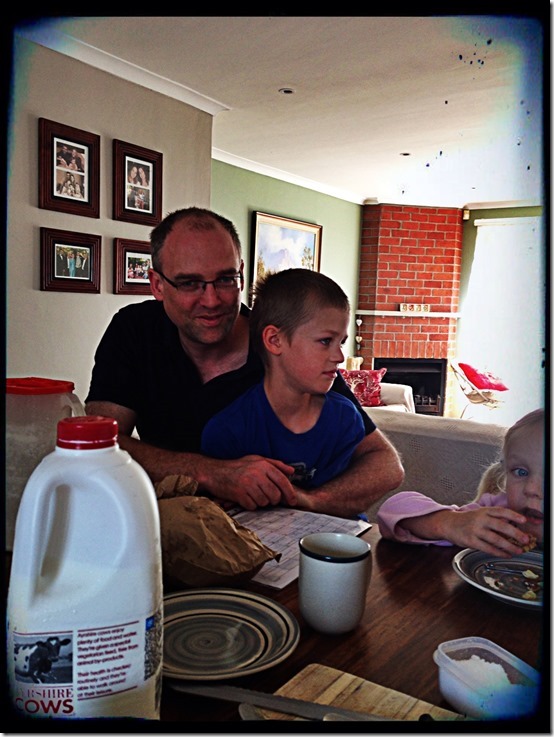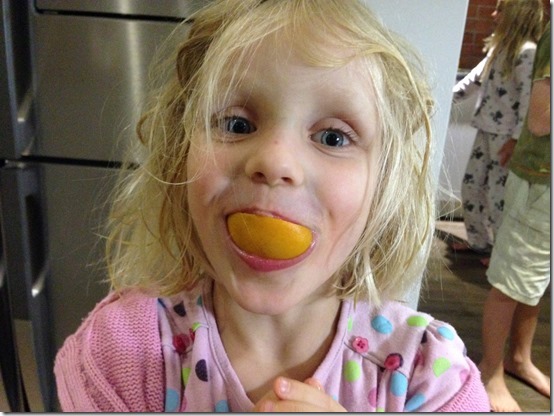 On some of the babysitting nights, Craig spent some time entertaining kids – iPad time…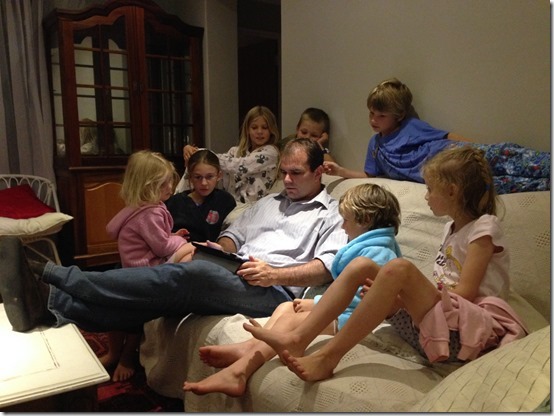 And storytime ….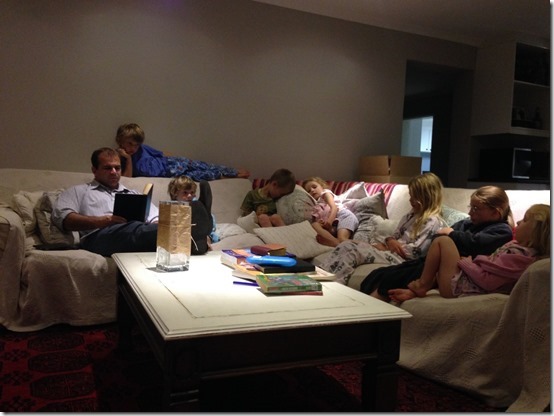 When the Newills weren't with us, we had a fair bit of other-life stuff going one. I ran the GWC Fun(d) Run 10km with Russ and his son Liam. That was lots of fun.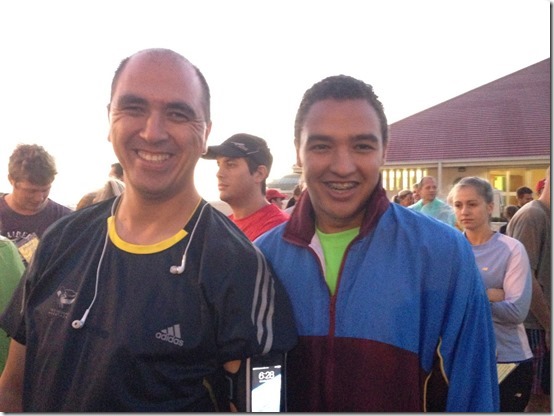 Kiera has been plotting and planning a movie for some months now and saving up her money in order to afford filming it (location, props etc). This was such a woeful expression as she worked on her budget that I snuck a sneaky photo.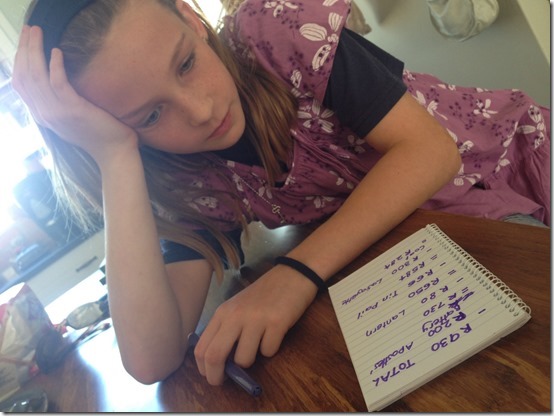 Jesse came to SA along with a recently acquired game. It was a throw-out from a friends' house. And a total trip down memory lane for us oldies. The kids were hooked immediately and soon we were yelling, "switch it off!" for that annoying beep every time the spider ate the flower.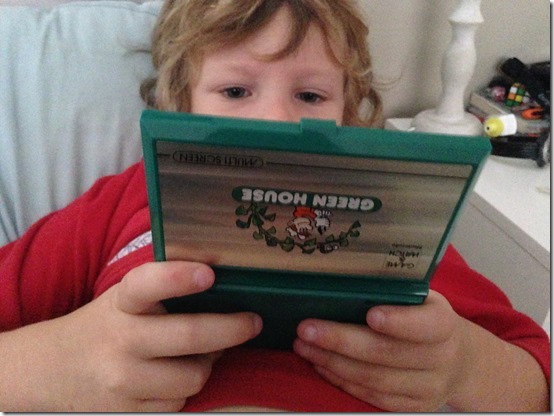 Our tree got a good trim in the time that the Newills were here. It's been needing one for years and I figured that just before it shed all its leaves was as good a time as any. At least that way we can skip an autumn of leaf-raking. Initially, the kids were dismayed. Their climbing tree! But for some reason, it seemed to make it more scalable and just about every kid has made his/her way to the very top. Like Ms Bexter here:
The Newills arranged things well – the last week of their stay in Hermanus with just family. FINALLY, I had them to my selfish self! Well, I did have to share with the rest of the family, but at least we were all in the same place.
My first morning was not so hot tho – this is who I woke up to in the morning: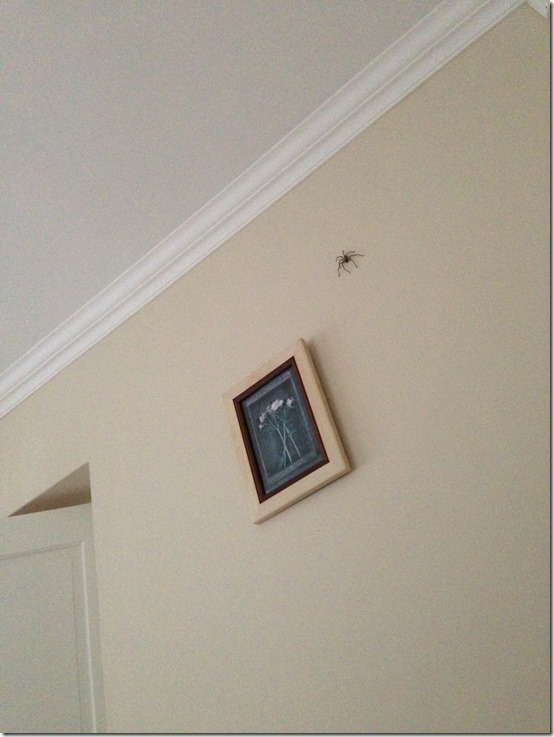 Shudder – I don't do spiders. Even rain spiders.
One evening, the kids put on a dinner theatre show, with programmes and rehearsed acts. Here Sam does a special comedy-cum-lego show.
Too funny.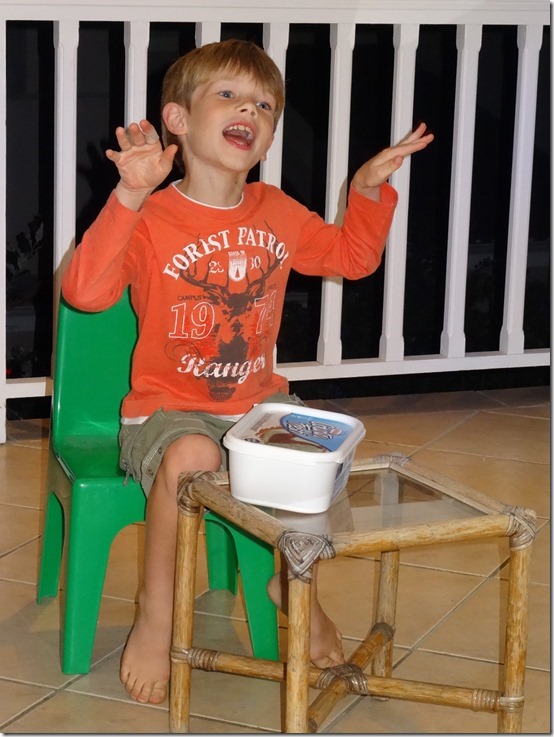 Kiera gave us her much-practised version of Matilda, the Musical's number "Naughty".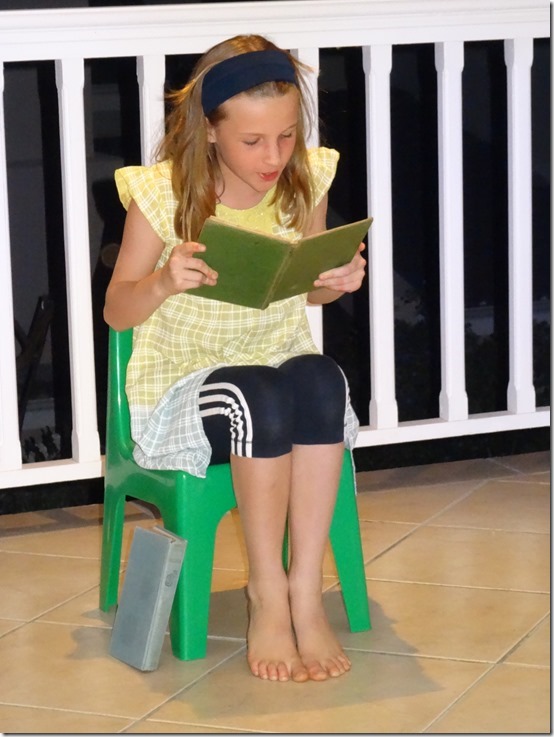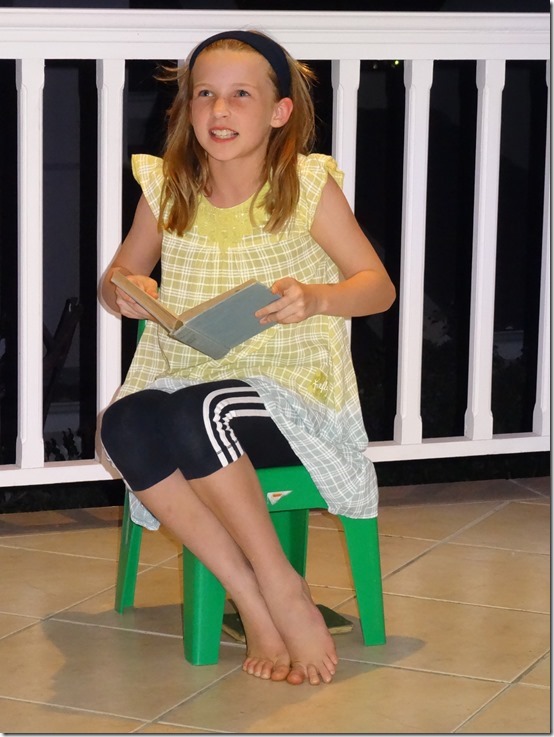 The others also did a few items – Micah and Jesse did a shoot-out scene. Bex did a beautiful dance and Katie and Emma-Kate did a make-up session. Then, Kiera and Jesse entertained us with a rendition of Who Wants To Be a Millionaire?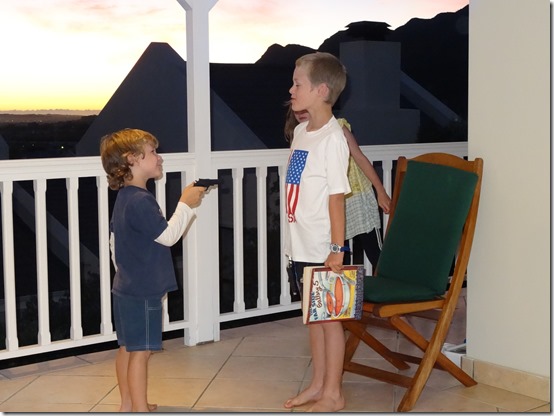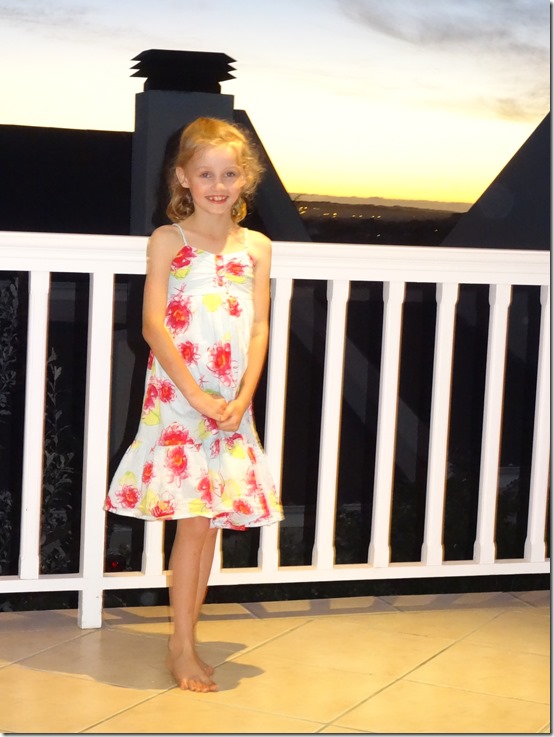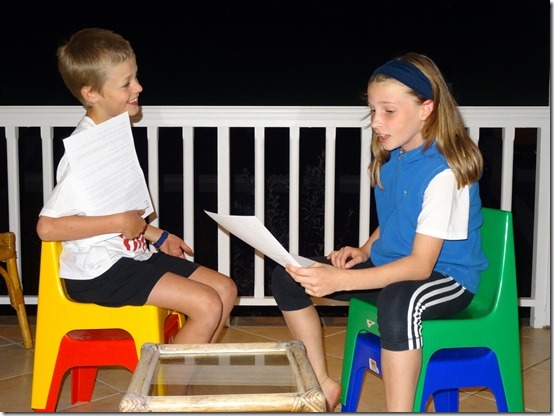 Beautiful sunsets in H&A: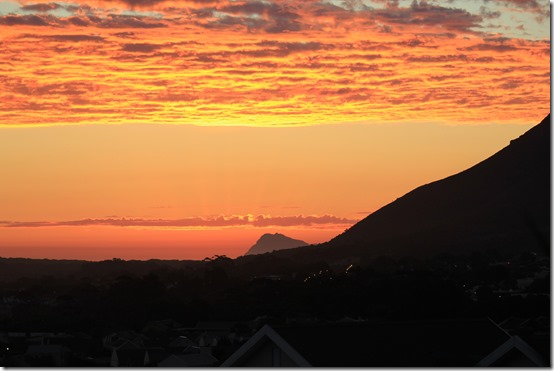 My mom pulled out her old gramophone from when she was a little kid – much to the fascination of the kids and Uncle C. And yes, Jesse is at it again!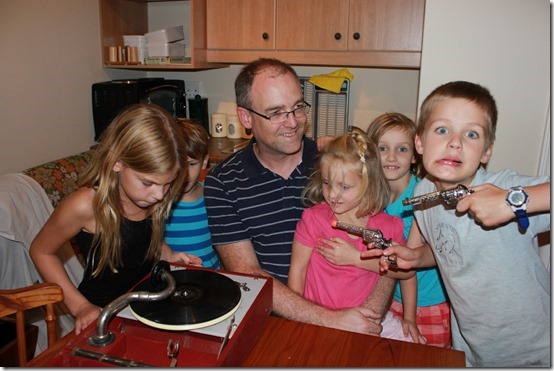 One of the many meals together – corralling this lot is quite an achievement.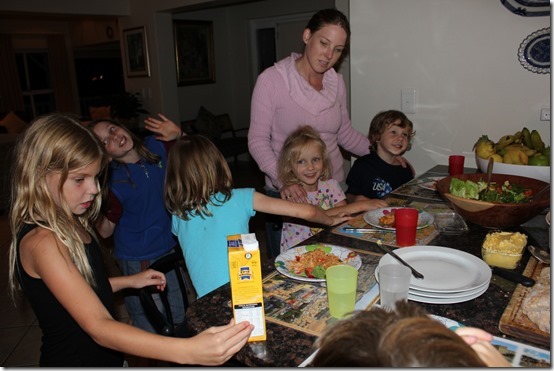 And some court time for the kids…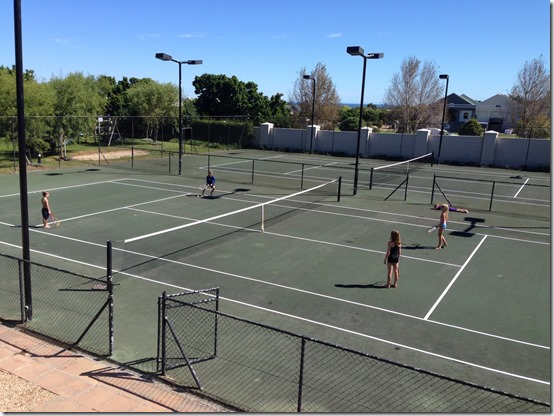 One of the days we all headed out the beach for most of the morning until lunch. The kids had an absolute ball on the beach – absolute!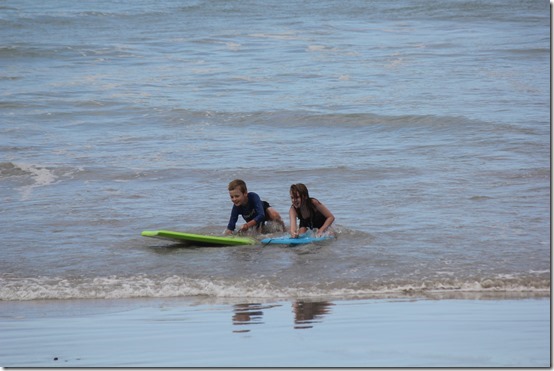 Even Mr "I hate surfing!" got fully into and announced with great delight that "surfing is my favourite thing!"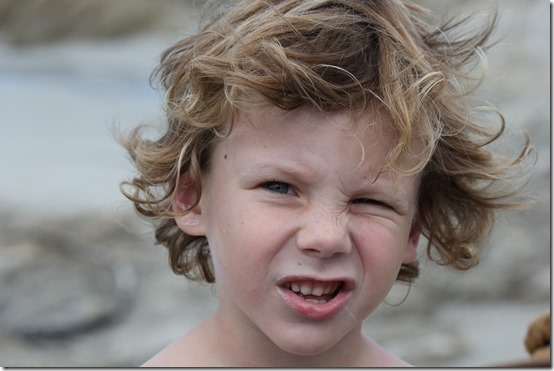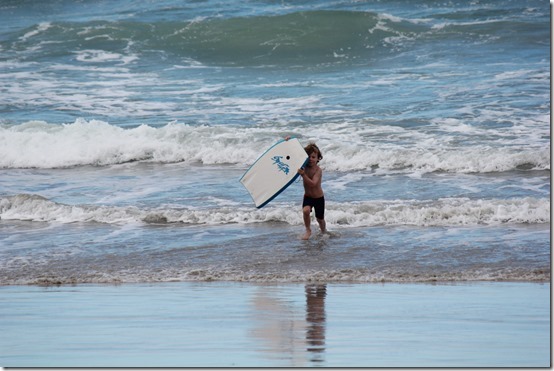 These three little girls had been to the market with granny earlier – scoring these sweet hairdos, courtesy of another homeschool girl's little R10/hairstyle stall.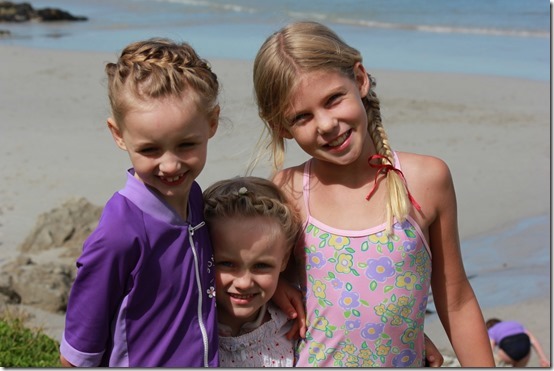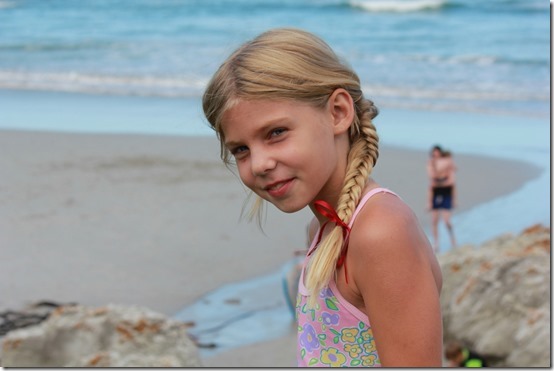 And here's the "I just got dunked by a big wave and I hate surfing again!" photo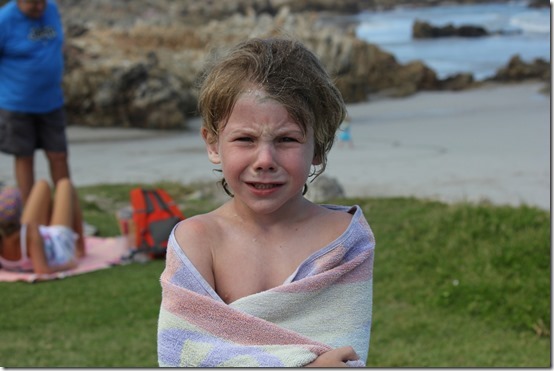 Kirsty came out for the last weekend and brought our dear friend Liesl with her. What a treat for us to have some good long conversations with Liesl. A treasure, indeed! Here she shows off her lego earrings. She really did come wearing lego earrings! And the boys had a ball adding all their lego blocks to her earrings, as evidenced in this photo. All I can say is, "poor earlobes!"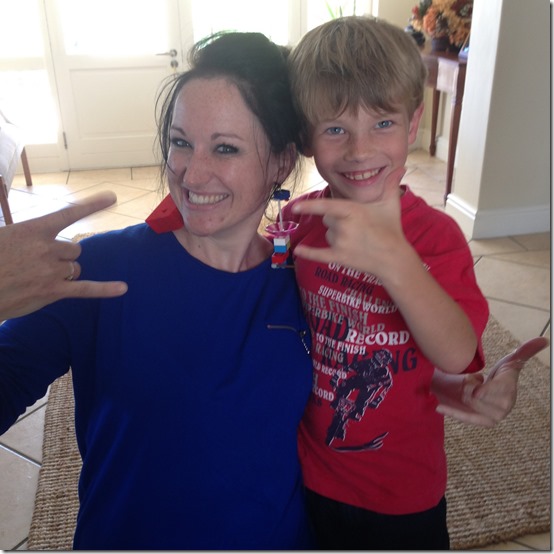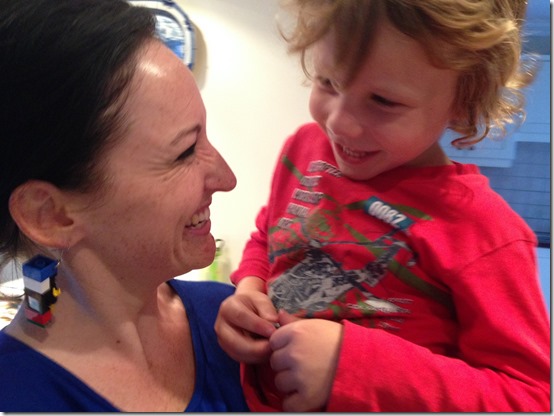 It was also Kelly's birthday that Saturday, so we all got to Skype her via the TV. What a jol! It was noisy and chaotic but so joyous too. This photo does NOTHING to back up my previous statement!

By that time, all our noisy people were standing behind me and all Kelly's noisy people had been banished to another room.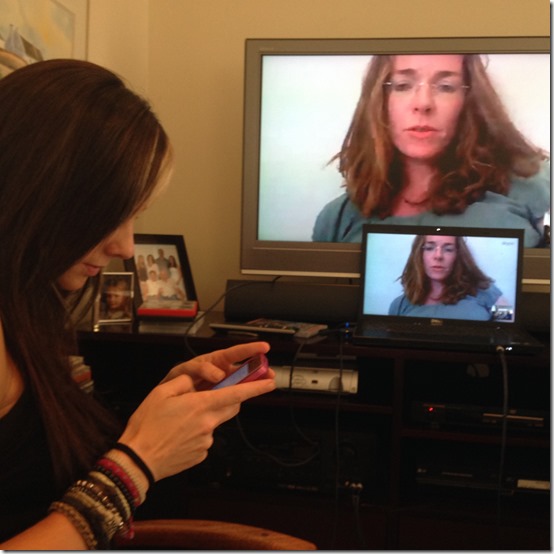 Dinner together. It was really delish, but when two kids woke up simultaneously at midnight and starting puking, with two adults following a couple hours later, well, we began to suspect the chicken kebabs!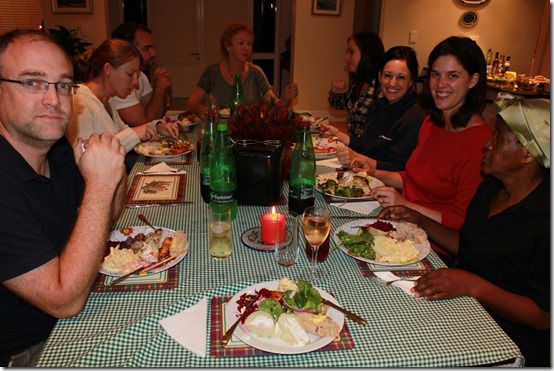 Love it, Kerry! This here is evidence that Kerry actually ate FISH. And she enjoyed it!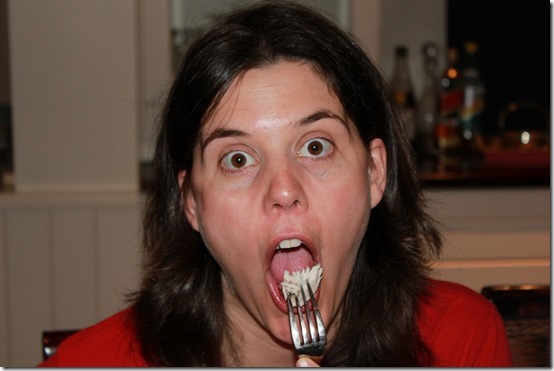 This was a couple of hours before the Big Puke. The girls were booted downstairs to make room for Aunty Kirsty and her friend Liesl. Everyone was super excited about sleeping in the same room. But around 12am Becky awoke with the vomits and Micah did too. It was quite an interesting night for the adults – first, cleaning up puke and then second, me coming down with the bug and granny Sally too. Ew!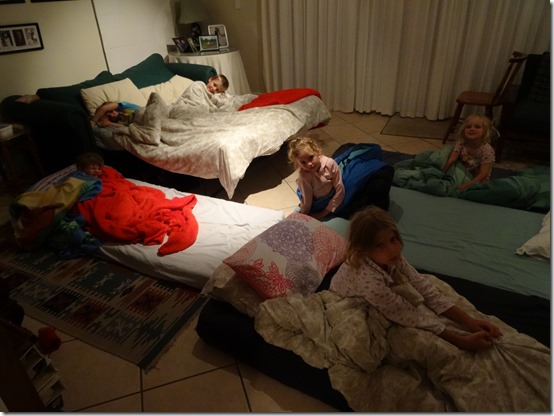 This would be a better night: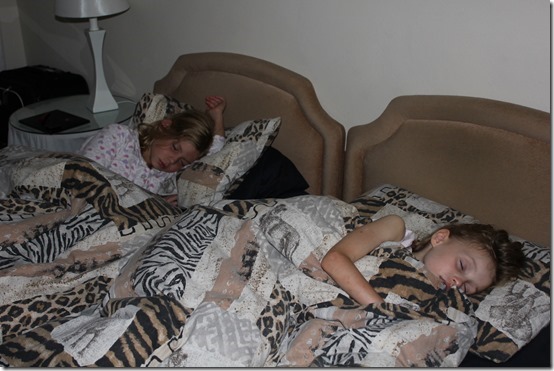 And another better night in terms of health, but maybe not in terms of sleeping space for poor Jess!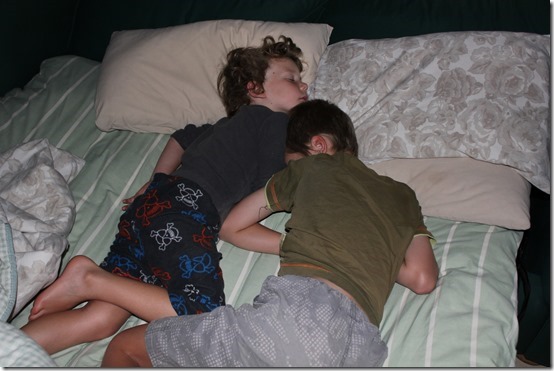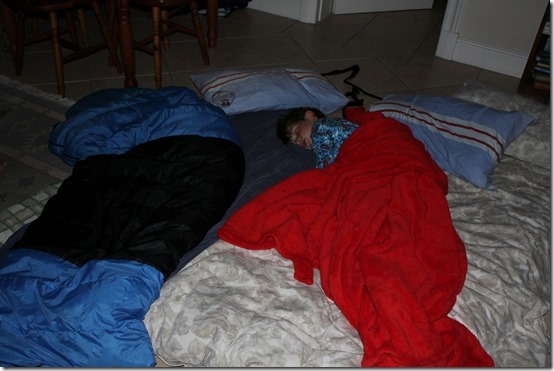 Makhulu and her babies! To think that Veronica has been loving Newill babies since I was 8 years old. Look at all her grandbabies!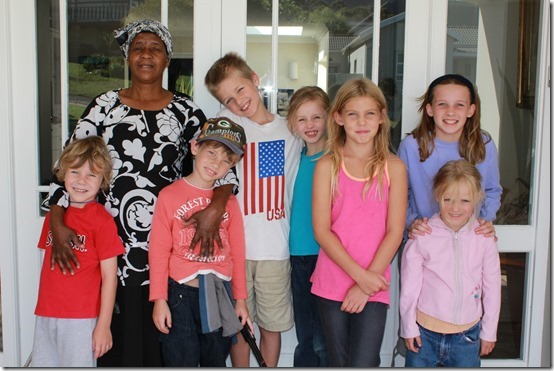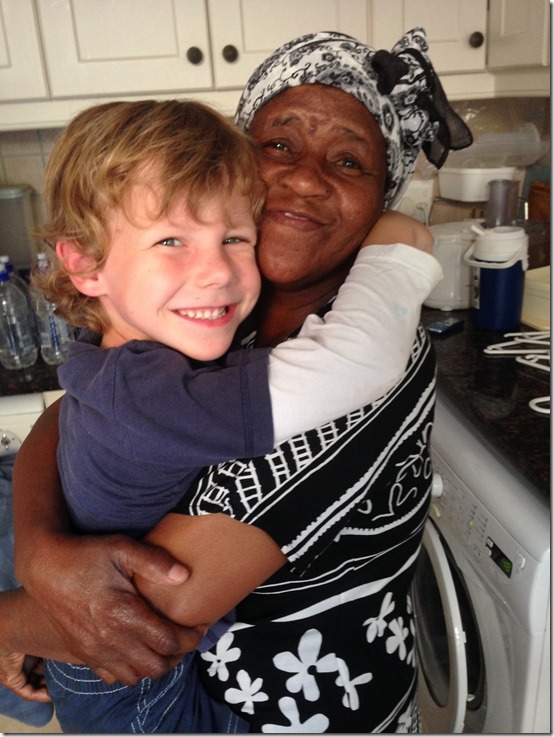 We went driving to De Kelders for some cave-finding one day – we didn't get to the caves but we did get to see LOADS of these guys: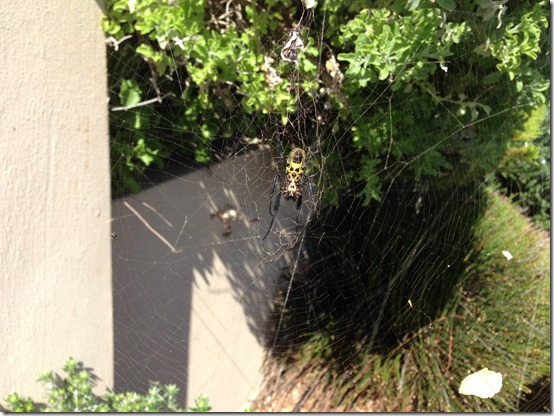 We spent a lot of time by the pool. This was one of those times when Craig and I looked after the 7 kids. The best was telling Kerry that Jesse almost fell off the roof of Craig's car – how the kids were all sitting on top, but Jesse let go of the roof rail and almost slipped off. All the kids lied like experts and Kerry's face was a picture of uncertain disbelief. She handled it with good grace, despite thinking, "What!!?!!?!?!?"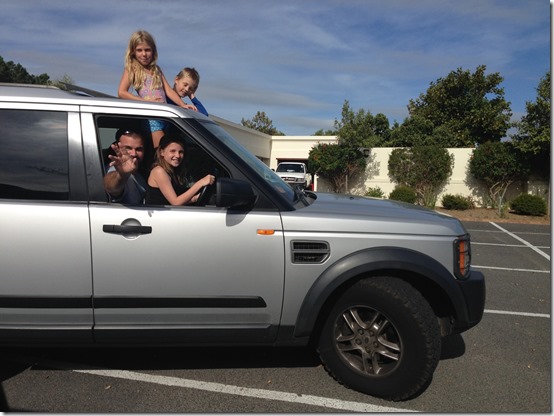 Another sunset – love it!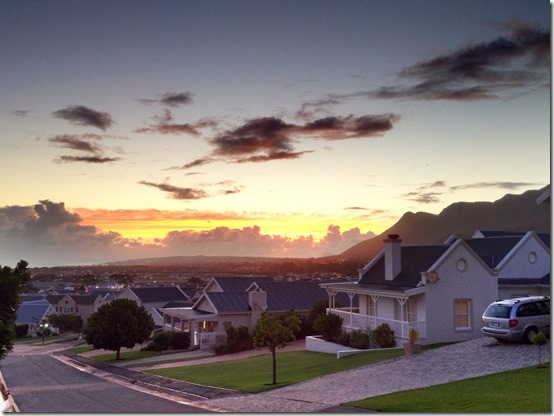 Our very last breakfast together.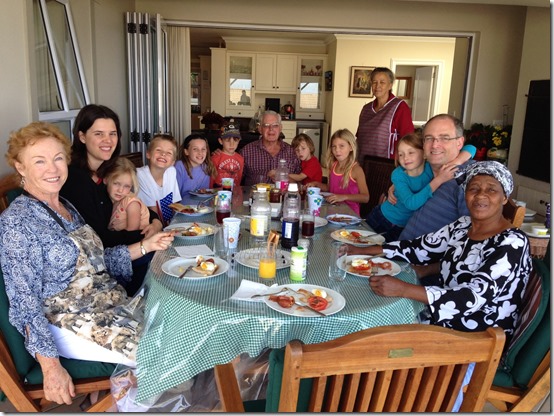 And, always one of the saddest sights: saying goodbye. I hate it. And here they are, heading back to the airport. Back to another continent – 6 hours of time zone and a gazillion miles away.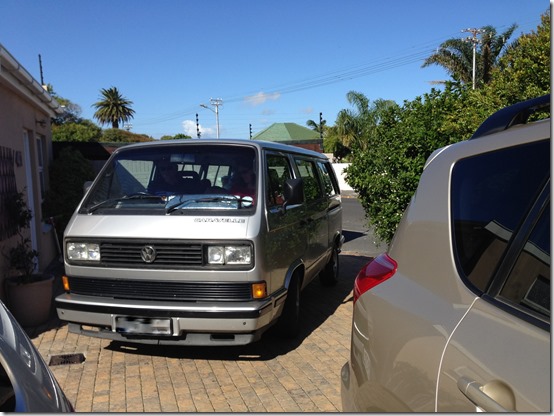 Every time it is hard to say goodbye. But honestly, it really does seem to get harder each time. This time, it took me a good month to start to feel like I could tackle life again. Life outside of my head and heart, that is. In fact, as I write this, there is so much in my heart and mind that I've been pondering on for the last few weeks. So much impacts in so many ways. But, so many of these thoughts are still very muddled and need so much more time to reflect, pray and grow. So, for now, I'm slowly getting back into it all again – "it" being "life". School is picking up in intensity and frequency. Blog posting happening again. Life continues. And I am so very grateful for this visit. This visit and Skype. Very grateful for Skype.