For the last 6 months, I've experienced increasingly strange, frustrating and depressing health problems.  I explained in the previous post (sharing my struggle: a dark valley) about my struggle with underlying depressive episodes amongst other symptoms of ill health, before I eventually consulted various health professionals, landing up with the much respected immunologist, Prof Patrick Bouic.  In short, it was discovered that I have a hectic hormonal imbalance that needs correcting.  I am now on the road to recovery, and, while I am only 3 weeks in, I have not felt as energetic, awake, alive and happy in a very very long time.  Against the dark valley of tired, aching depressive episodes, the brilliant sunshine of improving health, energy and happiness is all the more brighter as it stands in contrast to the darkness beneath it. 
As I stand on this, albeit recent, side of a dark period of my life, I look back and see that even amongst all the darkness there was much to be grateful for, to rejoice about and to cling to. 
So, for this post, in keeping with the theme of the 2012 May SACHS Blog Carnival topic, I would like to share some of the things that helped me to cope through this difficult time and other times too.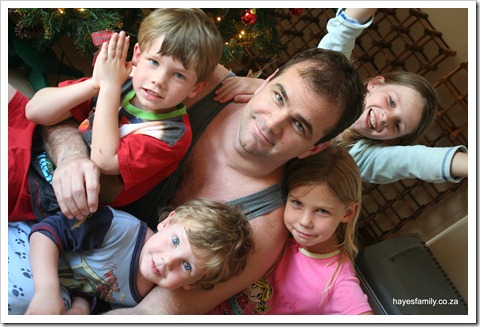 SUPPORT – family
I am blessed to have a husband who is very much hands on in the kitchen.  Weekends are mostly his gig when it comes to cooking and handling breakfasts.  Having him lift that burden from me during the rougher times was truly an enormous blessing!  My in-laws and parents are super duper helpful too.  I tend to be the independent sort – not wanting to rely on others too much.  But, the reality is that both sets of our parents love us and will look after us in ways that they can.  Most recently Craig and I had an entire long weekend of to ourselves, for the first time since in almost ten years, while grandparents whisked all four kids off to Hermanus to holiday with them.  Over and above the practical help they offer, my mom and dad pray with me and for me.  And that really is the best support of any kind.
It really is a great blessing to have close family close by.  I know so many homeschooling mommies whose families are far away.  Many of them have found other support systems, whilst some have adopted other grannies and grandpas!  I think it is well worth getting to know older couples in your church groups, neighbourhood and friendship circles.  The relationships developed benefit everyone in both families and the joy that comes from loving, sharing with and helping one another is priceless.
SUPPORT – housekeeping
I am so ever grateful for Johanna, our housekeeper, prayer warrior and example of godly living.  Without her keeping tabs on the general day-to-day cleaning of our home, I think the last 6 months would have been a thousand times worse.   I realise that not every one can afford the privilege of having someone help with the cleaning of a home, even in South Africa where house help is more common than not and is integral to job creation in our economy.  For years I had Makhulu come in weekly to help with the ironing and basic cleaning.  With tiny tots underfoot, it was a wonder that I managed to keep the house clean on the other 6 days!  Back then, I followed a lot of the FlyLady's ideas for keeping the home running smoothly and effectively.  Planning meals and cooking two or three in advance; building the kids' chore responsibilities; having systems for laundry, packing away, storing etc all really help towards keeping the home in running order.  Honestly, some days when the house needed to be cleaned up and I was feeling exhausted, I was so grateful that the kids knew their specific chores and could get to them with little explanation or supervision. 
SUPPORT – friends
While I was experiencing strange symptoms and increasing periods of depressive episodes, I didn't really talk too much about it.  I was still in denial, perhaps.  Whatever it was, it took me a while to kind of "click" that something odd was going on with me.  It was only after it had crysallised in my brain that I realised that my symptoms could all be related.  Only then did I begin opening up and asking for prayer.  The love and care that I experienced was quite overwhelming.  I've not really been on the receiving end as I've not really had to go through something like this before.  Most of the time I felt mildly horrified that my struggle was causing others so much concern.  To see my friends' eyes well up with tears made me want to cry for them!  But at the same time, I felt enormously privileged to have friends who cared so much.  They really loved and prayed me through a difficult time.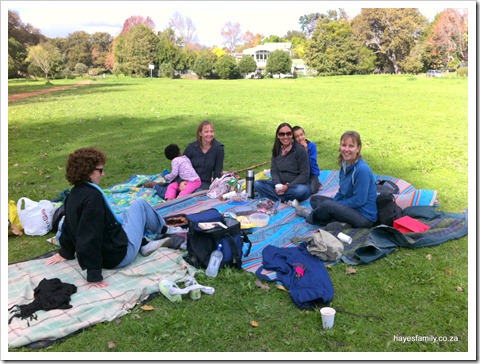 SUPPORT – Co Op
I cannot stress this enough.  Being a part of a homeschooling co-op / support group is worthwhile indeed.  Being a homeschooling parent and being a mommy are often almost indistinguishable one from the other.  Being a part of a group, where other mothers completely identify with where you are at, is more precious than silver.  Over the last 5 years of Lunch Bunch, we have all grown to know and love each other more.   Our weekly meetings are as much for us as it is for our children.  It's a place where we can share our struggles, our doubts, our bad days and our good ones.  It's safe.  In fact, most of my friends who loved me through this tough time are my fellow co-op moms, and I am so very grateful to God for placing them in my life.
STRUCTURES – put in
Despite having had a rough time these past 6 months, we still did school.  Honestly, I don't think I would've coped if I was schooling them entirely on my own, without any curriculum help or guidance.  I know that I sing the praises of Sonlight ad nauseum, but really, it's true!  I never needed to prepare for any school day if I didn't want to.  As it is, any prep that I do is stuff that of the divergent type – like writing letters to pen pals, or outings or creating projects.  Those only happen in the good weeks, however!  So, on those really horrible, drag-myself-out-of-bed days, it was a great relief that we have structures in place and that the kids could get on with independent work happily, and we could cuddle on the couch and read, read, read and learn, learn, learn with little required from me.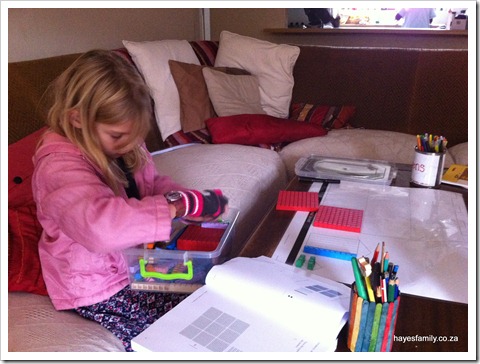 STRUCTURES – toss out
I'm such a box ticker and forward mover, that I often find it extremely difficult to let go of something that is just not working.  Especially if we've paid money for it!  These past six months put paid to that.  I had such a hard year last year trying to motivate my 7-year old to get on with the discipline of seatwork, that this year I couldn't fight against the raging outbursts and unhappiness anymore.  Especially not when I was feeling depleted myself.  So, I tossed our maths curriculum and found another.  I elicited help from a speech therapist who is helping me to help her learn in a fun, games-orientated way.  I let her play more and incorporated some of it into our learning.  Oh we still have plenty of bad days and I still require more seatwork from her than she will ever want to do, but it's so much better!  And concepts that were once as slippery in her mind as butter on her fingers are now, finally, sticking! 
STATE OF HEALTH – build it
Obviously, I've butted heads with ill health and the detrimental effects it has on me and my family.  So many mommies struggle with one kind of illness or another and battle on every day, despite pain, depression and other kids of debilitation.  For some, it's a reality they have to live with.  For others, like me at this stage, it's quite possibly preventable.  In the light of my crazy hormones and weird health experiences, I've realised that I have to, have to, HAVE to keep healthy, especially if I am going to be a pleasant person to be around! 
Here is what I've been doing lately that has improved my health so much.  I'm still on a road to testing, trying, cutting out and adding in, but what I've done so far has made an enormous difference!
I did a liver detox using Milk Thistle tablets (1x400mg per day).  5 days on and 2 days off for two weeks.  During that time and still now I made sure that I:
drank lots and lots of water! 
cut out sugar (aimed for 100%, probably cut it out 95%, thanks to the odd bread or other hidden sugar item I ate)
cut out caffeine
increased my green leafies – I added raw baby spinach to my lunch and supper meals.  Yummy, fresh and good for me!  I also took Spirulina to increase the intake of greens.
continued to take supplements: Barleylife, Omega 3s (REAL brand), and Vit D3 (Solgar brand)
My doc recommended that I went to a clinical nutritionist to determine a good eating regime, but I can't afford her at the moment (medical aid does not cover clinical nutritionists, I'm afraid!).  But, I really do advise going to a nutritionist for sound food for healing advice.  I'm seen so many people healed and/or revitalised by eating correctly for their specific ailments or allergies.  Most recently is my little niece, Becky, who has numerous allergies including salicylates.  She is a completely reformed child!  Her mother says that the pain of making meals specific to her needs is nothing next to the enormous pain, anguish and fear that accompanied Becky's many trips to the hospital and constant ill health. 
I've only been on this way of eating for three weeks, but I feel so incredibly, amazingly healthy!  Aside from a very late night I pulled writing the last blog post (try falling asleep at the laptop around 1:30am) which left me feeling quite tired the next day, I've been feeling alive, awake and energised during the day.  I wake up in the mornings awake and ready to go.  I want to get up and exercise!  While I have managed to keep to some kind of sporadic exercise regime this year, now I feel more enthusiastic and have really been enjoying getting back into it.  It's been simply amazing and such a huge contrast to how I have been feeling for so long.  Best of all, in these past 3 weeks I've had not one episode of depression, neuralgia, double vision or cold sores (which I usually get every month!).  Of course, they could still pop up, as three weeks is a short testing period, but this is the longest time I have gone without having a major emotional dip lasting days and sometimes weeks in over a year.
SAVING GRACE – accepting it
It's fairly common to tag on to the end of a post like this some shout out to God; a platitude of sorts.  But, the truth is that this entire post would not have been written if it were not for the saving grace of Jesus.  Understanding that every single human being is simply not perfect – in fact, far from perfect – and that we are all in desperate need of saving from our own destructive selves, has kept me buoyed throughout my life.  Yes, buoyed.  Because, it is with great relief that I can lay down my futile attempts to be great/perfect/fantastic and know that Jesus stands that gap for me – and then some.   In some ways, going through tough times is the best thing that can happen to a person for it's only then that we really realise how helpless we really are and how much we need Jesus.  When Multiple Schlerosis was a very real possible diagnosis lying before me, and the horror of a worst case scenario washed over me from time to time, I found myself often without breath.  Yet, with every catch of my breath, I also felt an equally powerful balm on my soul, knowing… knowing that God has everything under His control and if this was my path, then He would walk it with me.  I can't begin to explain how greatly comforting that was.  And still is. 
________________________

This post features on the South African Carnival of Homeschool Bloggers where South African home schoolers share experiences, ideas, philosophies and much more. You can join the carnival too by heading to the South African Carnival of Homeschool Bloggers sign up page.