… the parents will sleep in, enjoy midday movies that aren't animated, eat out with no heed to the babysitter's clock and return to a home where everything is exactly where we put it.
Ah! That sounded like a little bit of heaven to me.  When friends of ours enjoyed a weekend at home last year while their kids enjoyed some grandma time at the family holiday house, I realised that that was exactly the sort of break Craig and I needed.  No great expense of travelling to some exclusive getaway.  No planning meals or ideas for the kids back home with the grandparent/s or sitters.  Just… Us. Alone.  At home.  Ah!  Bliss indeed.
Thankfully, my folks were keen to fulfil my little wistful dream.  And before we knew it, our chosen weekend was upon us.  Excited doesn't begin to describe my anticipation of the childless weekend ahead.  Don't get me wrong: I love my kids.   I love being with them.  And besides the typical squabbles and squawks, they're lots of fun to be around too.  Homeschooling this bunch has its trials, but overall this journey has been rewarding and exciting.  But, it's intense.  As parents all over the world can identify, it's a 24-7, round the clock gig that never lets up.  Taking a break for a couple of days to enjoy our roles as husband and wife without having to parent at the same time was just what we needed.  And I was excited indeed!
I waved goodbye late on Thursday afternoon to four excited kiddies, two well prepared and excited grandparents and one favourite makhulu.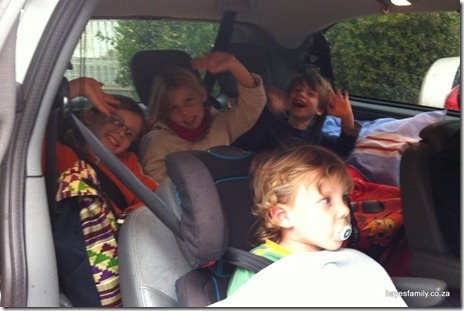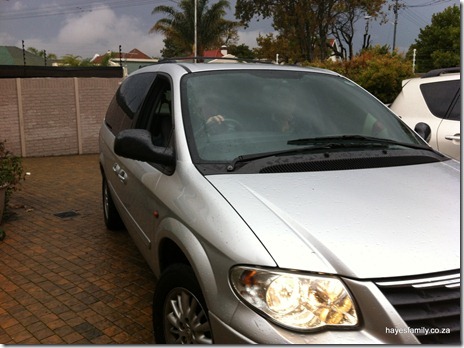 Walking back into the quiet house was quite surreal.  The world was our oyster!  What were we to do?!
That became our refrain for the rest of the weekend, although thanks to a typo on iMessage, we renamed it "the world is our ouster".  And we really enjoyed our ouster!  We saw two great movies and one mediocre one.  We read a book from cover to cover – the same one.  We ate out at various restaurants and had adult conversation, thoroughly enjoying the fact that we didn't have to rush to anyone else's timetable.  We shopped all over Cavendish for boots – using our carefully saved up vouchers for the occasion.  Craig organised a special spa treatment at Mangwenani Spa on Friday evening – giving us both a much appreciated massage experience.  What absolute luxury that was!  We drove there in the early evening and were welcomed by a most beautiful sunset…
And were greeted by a bevy of beautiful women singing with that warm richness that is singularly African.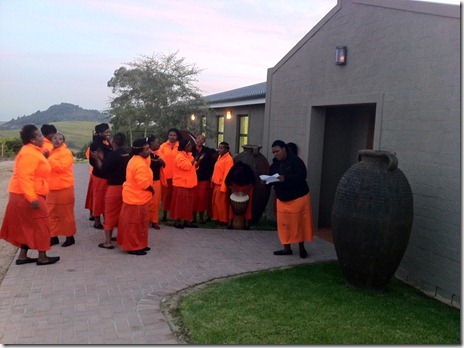 This treatment spa is wholly owned by the employees themselves.  The business model is amazing and the treatment was wonderful after recent illness and the busyness that is life.  From the first note of the joyous music that greeted us at the door, to the welcoming enamel mug of hot chocolate (or sherry), to the meal and treatment we had a really special evening!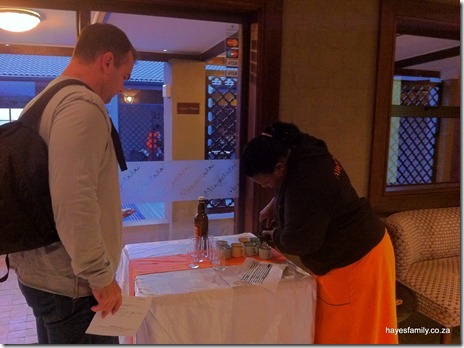 We also enjoyed afternoon naps, late morning risings and breakfasts at leisure.  Best part was heading to the Earth Fair market in Tokai where we could taste things at leisure and enjoy a "hearty" breakfast without worrying about children dashing about here, there and everywhere.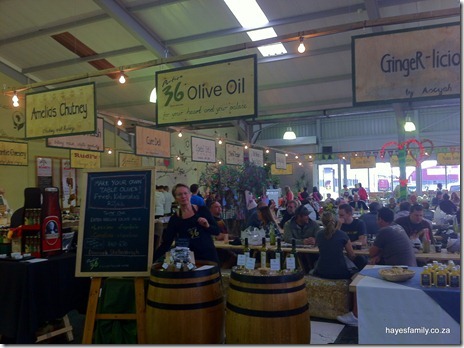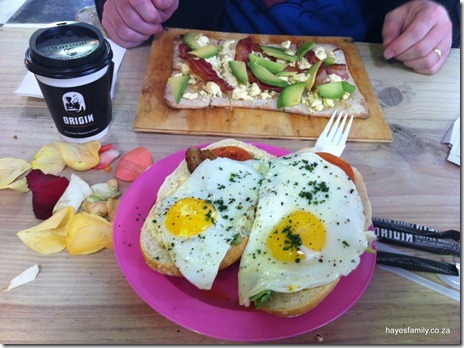 We drove around old neighbourhoods and shared stories of our growing up years.  We visited our friends' church in the morning and enjoyed the evening service of our own church together.  We even managed a visit to Gran gran and Craig's PA's little boy who turned 3 in hospital thanks to a nasty burn accident the day before.  And we didn't miss the kids one bit.
I should feel guilty about that, but I don't!  Is that terrible?  Perhaps.  But given that our break was a delicious time to reconnect with each other as husband and wife, it was just as well that our time wasn't dampened with feelings of split loyalty or constant worry.
And, truth be told, I was glad to see them on Monday when we went to pick them up in Hermanus.  We had enjoyed a couple of phone calls with them over the weekend, and it was clear that they were having as much of a ball as we were.  There was not much missing anyone going on!  But our welcome was enthusiastic and warm.  The kids tumbled out of the house with gleeful shouts.  The girls reached us first with their bowl-you-over hugs and kisses.  And, within seconds I had one Micah wrapped around my torso and one Sam hanging onto my hand, chattering away about all the goings on of the weekend.  
We stayed over that night, hearing all the stories of their fun time.  Their grandparents looked remarkably energetic despite their exhausting weekend!  And the stories they told were simply hilarious – like Micah needing a wee on the way to Hermanus.  Stuck in heavy traffic with no exit in site, Granny Sally improvised and let the little guy relieve himself into a tupperware container that once carried a broken bottle of bubble bath.  She had the privilege of carrying the bubbly warm mixture on her lap until the next stop. 
It's no wonder the kids didn't miss us too much.  We got periodic pictures from Granny of their fun weekend.  Their first morning started on a high note with special activity boxes that granny made up for them.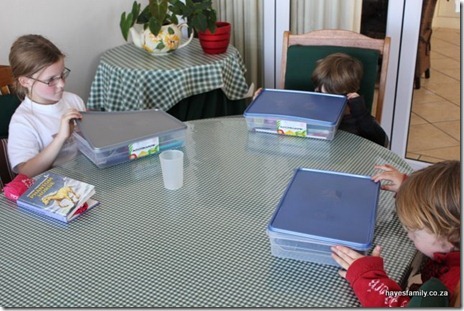 A huge hit!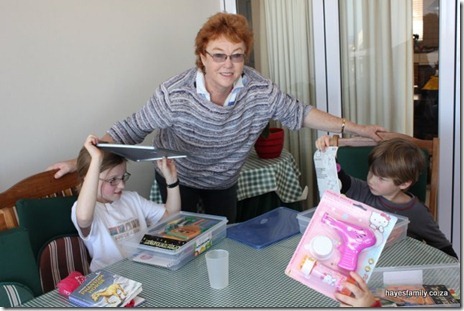 Can you tell how pleased we are with ourselves?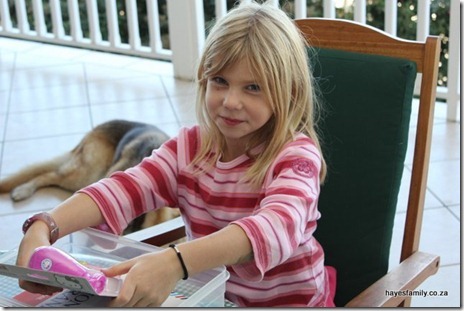 Micah Moo too…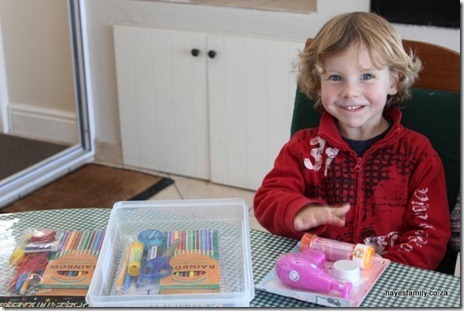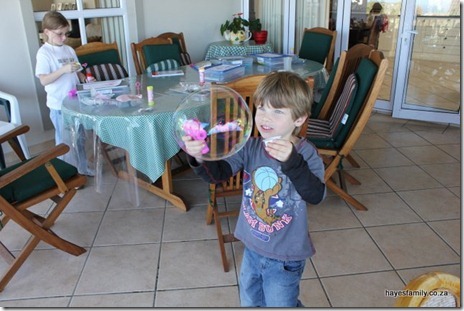 A walk down to the nearby stables was also a big hit – and then an actual riding lesson for the two girls really took the cake!  Kiera was particularly excited as she got to jump for the first time ever.  She did pretty well from what I hear!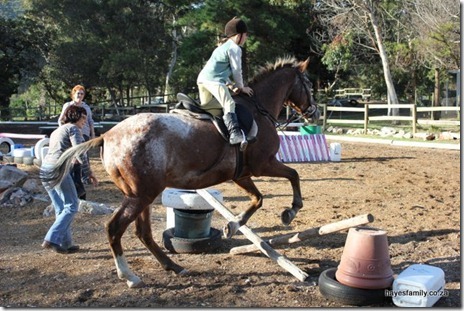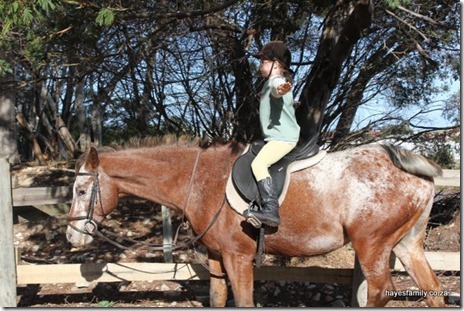 The boys also got a chance to sit on the horses and enjoy a walk about.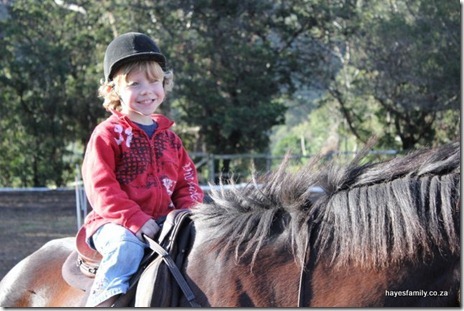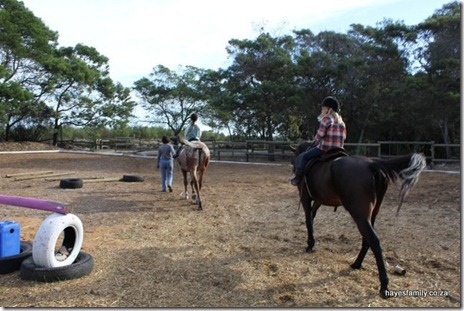 Not every moment was fun and games.  Poor Sam had a headache one day and had a little wobble.  But granny to the rescue!  This photo is of a little boy on wobble number 2 – scared of the curtains, and the potential lurking monsters, in his room that night.  So granny's bed was where he fell asleep before being carried back to his own bed.
Ah!  It was a weekend worth repeating.  I came home feeling really relaxed and since then I have not felt that weighty tiredness that bears down on me from time to time.  That also may have something to do with the fact that I've been eating a whole lot better these past two weeks and detoxing with milk thistle!  Whatever it is, the weekend was a balm to the soul, body and mind!  I highly recommend it!