Archives for children
I've sooo many blog posts waiting to be written – my birthday, mom's birthday, fun with the Hayeses, starting up school and more….  But in keeping with my resolution not to let the computer interrupt more important tasks in the day (a habit I too easily slide into) I've ended up spending very little time at the computer, aside from the essential school stuff and bill payments!  Facebook only gets my attention once in a while, and that's just because I have it on my cell phone.  :) 
However, I will have more time in the evenings this week to dedicate to posting pics :)  It's pretty much the only bonus of not having Craig around in the week.  Craig is off to do his MAP course in Accra, Ghana.  Which means that something is likely to break, explode, infest or get lost in our house.  As things tend to do when he is away.  And it means that I will have to be even stricter on myself about getting to bed on time, since it's all too easy to wile away the time when I'm home alone at night!
But it does mean more blogging – potentially!  So keep an eye out!
In the meantime, enjoy these fun shots I caught of my kids the week before last.  Their latest craze is everything cowboy, thanks to Kiera's obsession.  While I spent the last week of holidays working hard on prepping for the school year, they spent many an hour playing cowboys.
I caught a glimpse of these two through my lounge window and couldn't help but take a photo…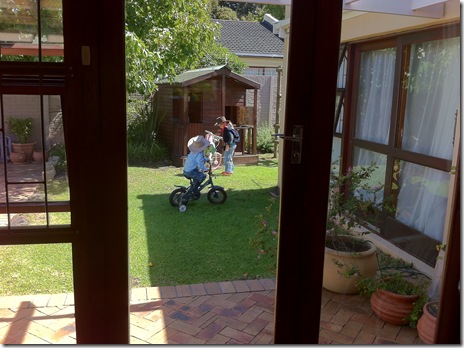 and then another one, when I saw the three stooges together … 🙂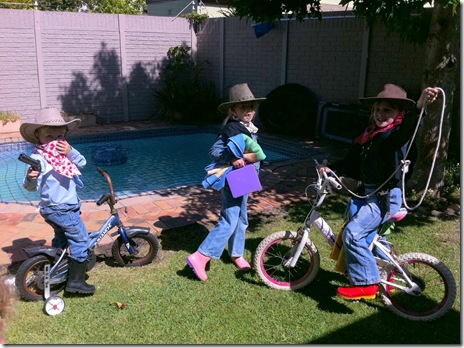 Too cute!