In Mid-March Craig and I decided to take the kids on an educational outing… Since we're doing anatomy for science this year, I figured that the girls would benefit from seeing Body World. Well, Kiera's sensitivities got the better of her a few days before and she forfeited her spot in favour of her cousin, Holly. The boys, we figured, were too young. So off we went, with only 1 of our 4 for our family educational outing!
We couldn't take pictures inside the exhibit, but we were allowed to take this photo…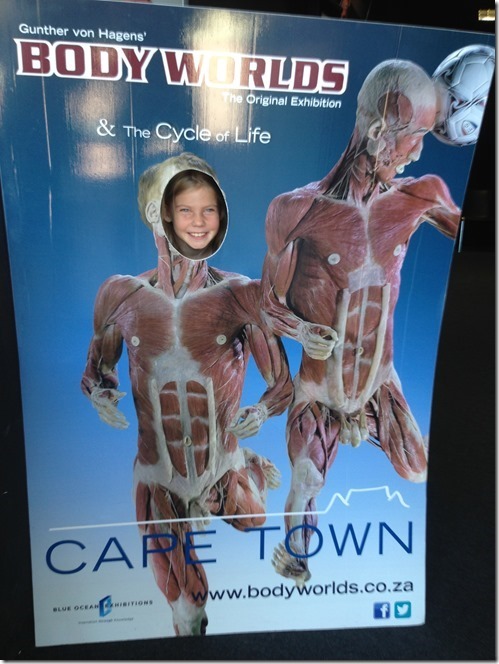 We really enjoyed it – if it is possible to enjoy a 1 1/2 hours of viewing dead bodies!
Katie and Holly had a ball and enjoyed their Kauai date with Craig and I afterwards.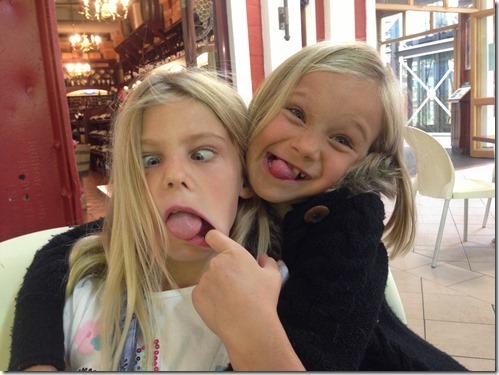 Here they are showing us that even bodies with their skin ON can look pretty gross…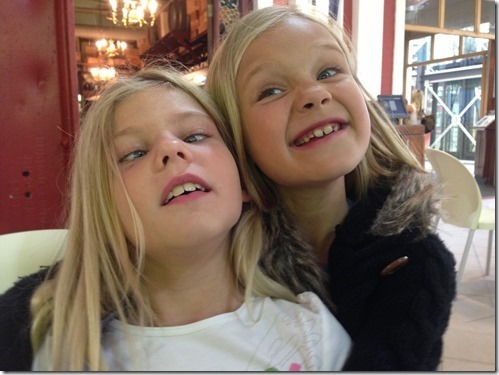 Beautiful.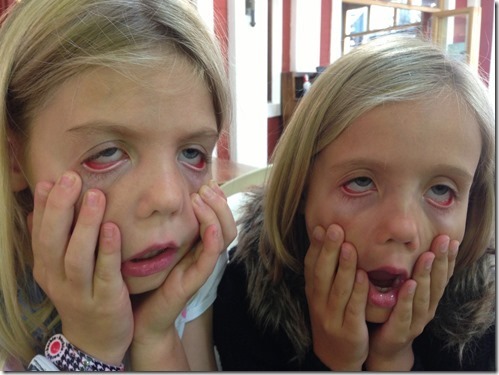 Yum yum.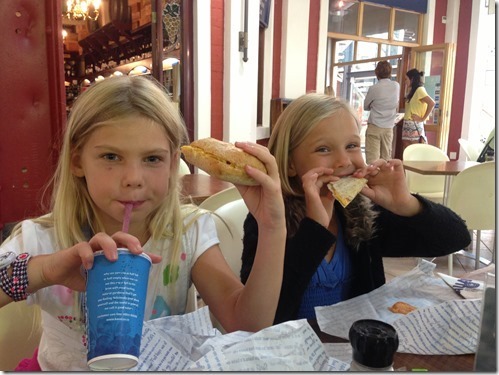 Most poignant for me was the beginning and the middle.
The first exhibit is of the development of life, from the smallest zygote to the newly born baby. Looking at those little exhibits made me realise just how amazingly intricate our creation and development is. Looking at those 'bundles of cells' shouted "I am human!" – not at all what the pro-abortion lobbyists would want you to believe. I walked on from the exhibit being incredibly moved by God's intricate planning in our lives, right from the very beginning.
Interestingly, though, when Craig and I came to a cross-section of a man's head, my feeling was polar opposite. We were face-to-face, quite literally, with a man in his 50s or 60s. Every pore on his skin was scrubbed and clean. There was still stubble on his chin and a place or two where the razor didn't quite reach. His eyes were closed, yet they look like he would, in any moment, 'wake up' – open his eyes and begin a conversation. Except for the fact that half of his head was on the right of the plate and the other half on the left. We were staring at the cross-section of a man's head. His skull and brain cross-sectioned to reveal the intricate convolutions of the brain. He was dead. And his brain was nothing but a meaty mess of channels and vessels. In that moment, our mortality, our finite cellular make-up stared me in the face.
The oxymoron is startling and yet obvious. We are nothing but cells. Yet we are made in God's image. We are all going to die one day, leaving a body of skin, bone, muscle and other mortal fragments. Yet, we are so much more than the body we leave behind. My ironic reaction did not escape me – when staring at a floating blob called a zygote, I felt deeply moved at God's creation of humankind. When staring at a recognisable human being's centre of reason and life, a man's cross-sectioned head, I felt deeply aware of our nothingness – our biology of cells that function until they die. How odd – yet, how significant at the same time. For God's interest in us was way before we were recognisably human. He came to save us long before we were even that floating blob called a zygote. We 'enlightened' humans hold so much more value in the human represented by the man's head on a plate – more than the human represented by the white, floating tissue. Yet, GOD loved us BEFORE…
It makes the whole pro-choice/pro-life argument seem utterly absurd.