Driving to church today, I remarked to Craig that we have such a sense of joyous hope. You know that feeling of anticipation about something you're certain is going to happen? Most of humankind experience that to one degree or another, often numerous times in their lives: looking forward to the first day of school or looking forward to a wedding day or new baby or new car or home or whatever. That sense of joy and anticipation is butterflies in the tummy, it's chest-rising waves of tearful emotion, it's choking elation. Today, I realised, that the anticipation of Jesus' return is the ultimate joyful anticipation.
Because: it's the only event that we can look forward to that lasts beyond this world. Everything else fades. School passes. Marriages end, with death in the best of circumstances. Babies grow, cars break, homes stand empty. But, Jesus is forever. Jesus' promises are forever. And the hope we have in Him, that all-consuming joyous certain hope is forever.
It makes me want to sing from the mountain tops:
There in the ground His body lay
Light of the world by darkness slain:
Then bursting forth in glorious Day
Up from the grave He rose again!
And as He stands in victory
Sin's curse has lost its grip on me,
For I am His and He is mine -
Bought with the precious blood of Christ.
And it's why I made it my Facebook status update this morning along with the rest of the words and the music here: http://www.youtube.com/watch?v=qLy8ksqGf9w
For I am His and He is mine – Bought with the precious blood of Christ.
It was that song we listened to this morning as we read the last Scripture in our selection before we "opened" the tomb from our Resurrection Cookies last night.
Micah, was not impressed. He wanted to eat breakfast and so sat in protest on the other side of the counter, while the others came to break the seal of the tomb.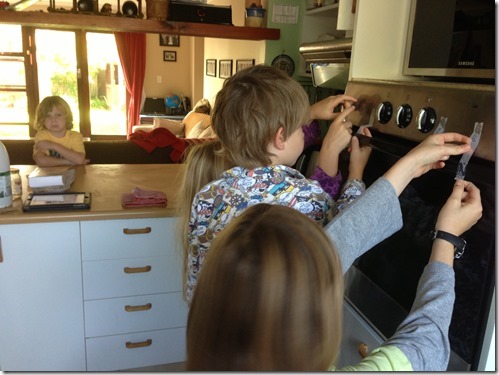 You can see their names now – they insisted I write their names on their tape! Funny kids.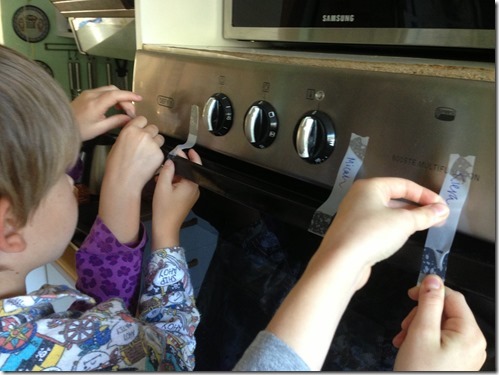 Once Micah realised that he couldn't eat breakfast until the oven was free in order to bake buns for breakfast, he came down and played his part with a better attitude!
Ah! These guys came out beautifully. Cracked, like the rocks of the earthquake that struck the land when Jesus died. Hollow inside, like the empty tomb of Jesus. And full of bits of almond nuts - definitely the best type of nut to include in this recipe. Tasty and yet not overpowering.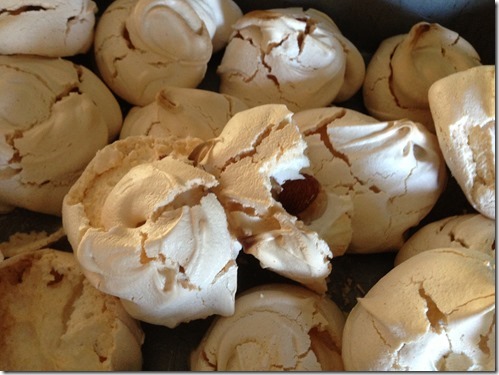 We enjoyed chocolate hot cross buns for breakfast. Unfortunately, they weren't as nice as they looked. Which is really sad, because they looked amazing. They were a bit bitter – milk chocolate would've gone down better with my lot!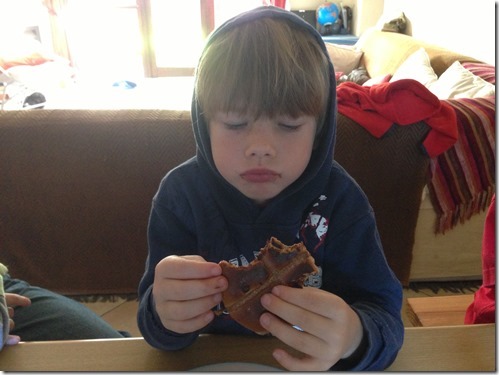 Although, Katie really did enjoy them!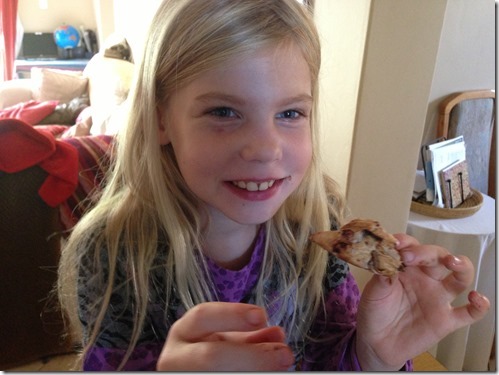 After a beautiful service at St James, we headed to the Hayes Snr's home – Craig's folks. They have the best garden for hiding things. We started with a hunt of the Resurrection Eggs that we've been using for the past few years. The idea is to open one per day for 12 days before Easter. Each egg contains a small symbol that tells a little of the Easter story. For example, the first egg has a little plastic donkey inside – we get to talk about the day that Jesus rode into Jerusalem on a donkey and what this meant. The other symbols are things like a small cup, a piece of linen, a small rock, a small strip of leather as a whip, a small crown of thorns, a nail and more. The last egg is empty – representing the empty tomb of the Risen Lord. This year, like last year, we decided to hide all the eggs and let the kids hunt for them. What fun!
I gave Kiera the opportunity to help hide them, since she is 10 now. She agreed and did a great job of hiding the eggs.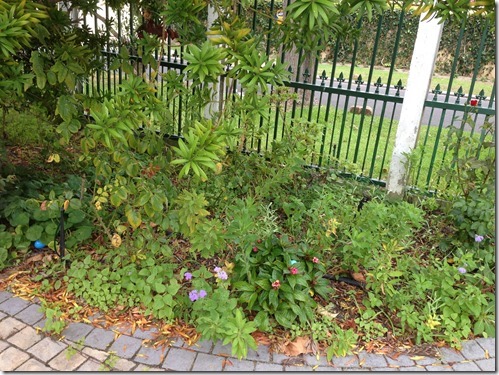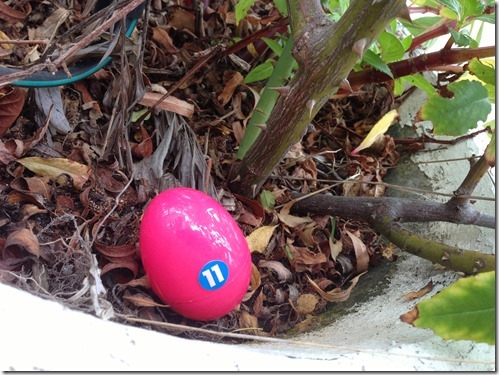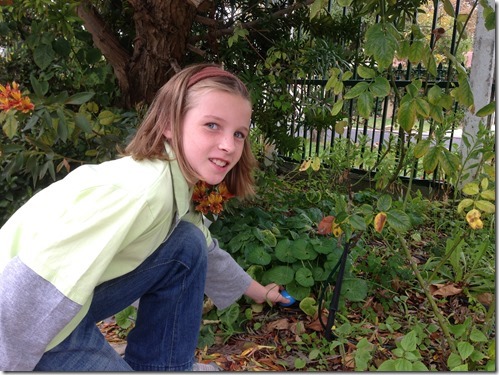 And then the rest of the Hayes kids came to hunt for them. Little Phoebe was delighted with the hunt. Seeing her cute face was such a treat.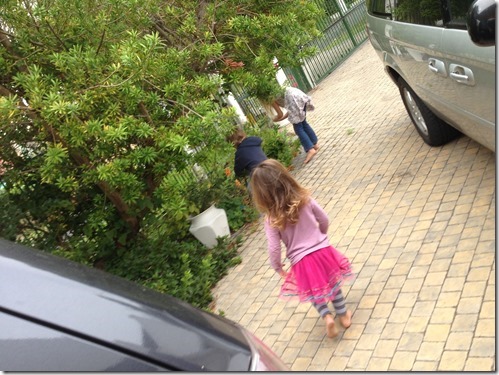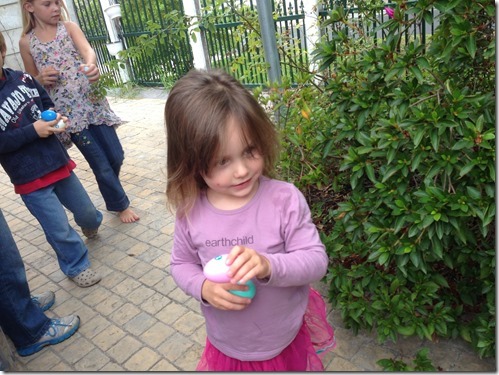 Once they'd gathered all 12 eggs, we talked about what the symbols in each egg meant. They scored a little sweet for every egg they popped into the tray, once we'd finished talking about the symbol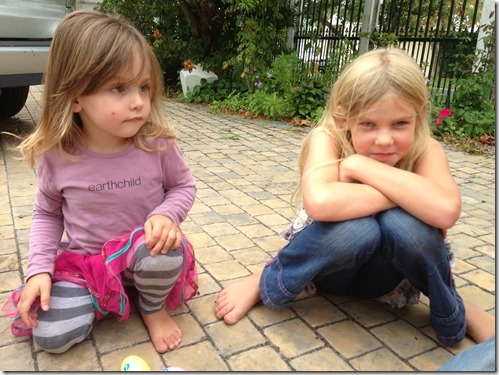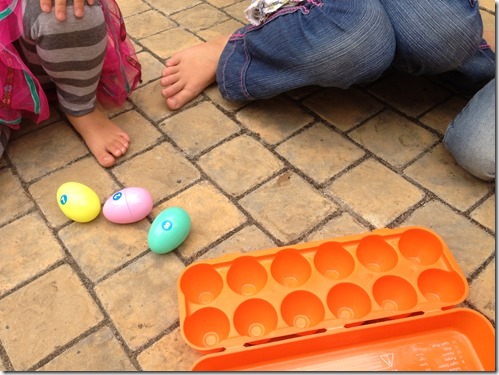 While we were discussing the meaning of the eggs, Craig hid the chocolate versions in the garden, while Granny came bearing Easter gifts. Every year she gives the kids a gift of an item of clothing and a chocolate. Well, the kids were thrilled with their gifts (for the most part!)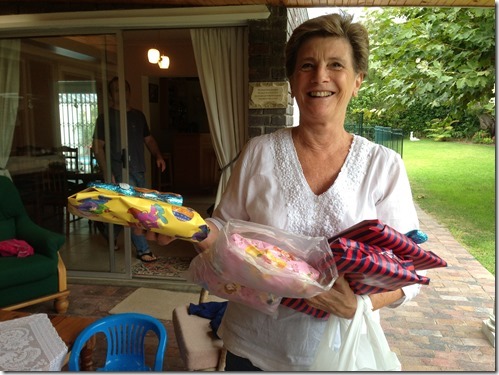 Finally, after a yummy lunch a-la Bev, it was time to hunt for some eggs…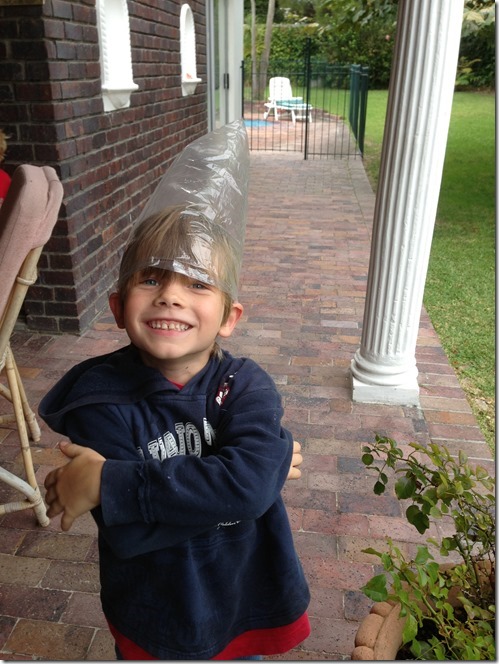 The kids did really well, but they needed some guidance. Like this little series of Micah. Cam pointed him towards the general direction. Can you see the egg? It's that little blueish thing sitting in the leaves to the right of Micah, just below his head level. Well, don't worry if you can't see it, because he couldn't either!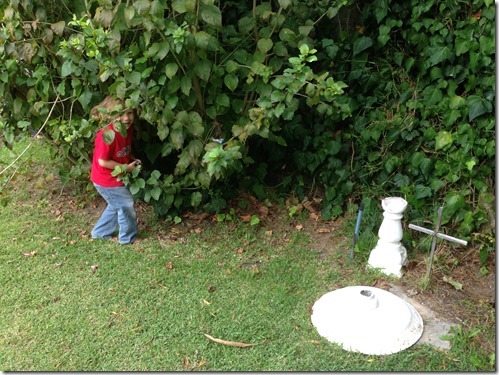 With much pointing, he eventually got it…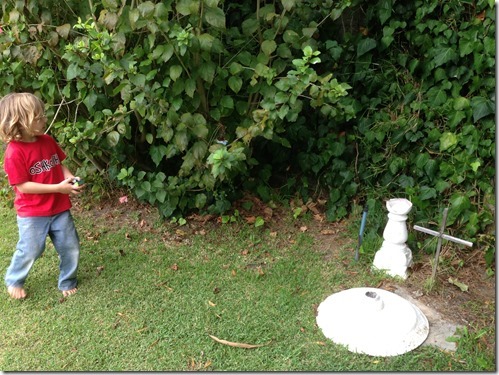 Thanks Uncle Cam for pointing it out to me!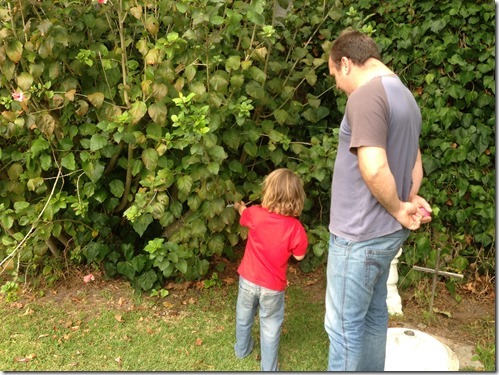 Uncle Cam was totally in his element, pointing out all the goodies to the kiddies.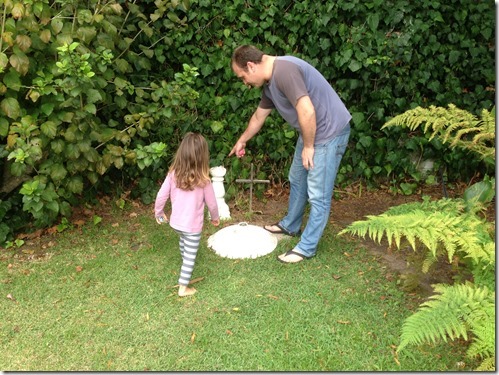 Actually, everyone was in their element.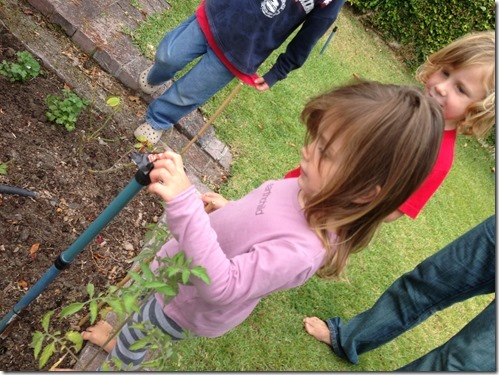 And there were quite a few adult-people scrambling about in the bushes 'helping' the kids too!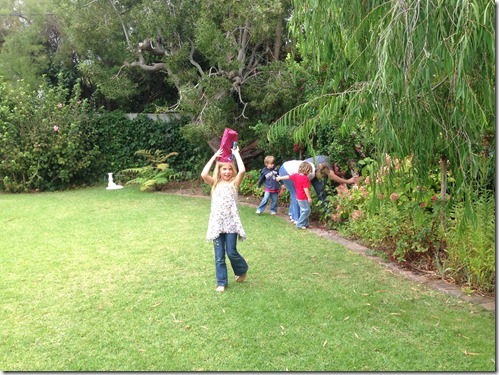 Finally, dessert was in order for the parents. Yum yum. Craig and Cam are tucking into Bev's famous mango pudding. They had only eaten lunch as an obligatory intro to the main course – the mango pudding!
While Katie helped entertain our littlest cousin – Sarah.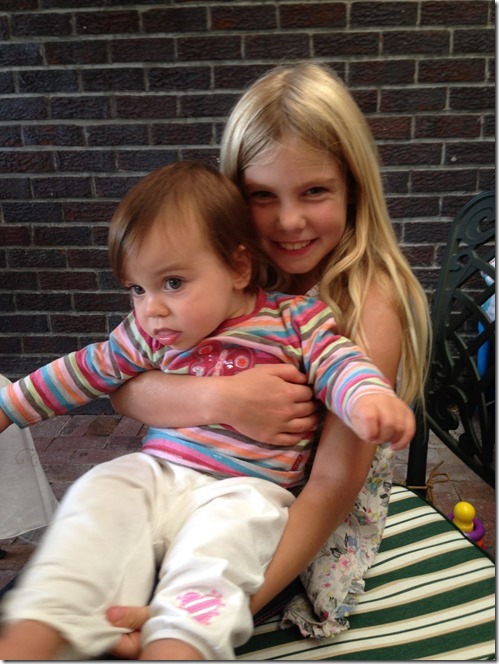 Cam showed Micah how to put his Kinderegg toy together. So sweet watching and listening to these two figure out the engineering required to make it all work.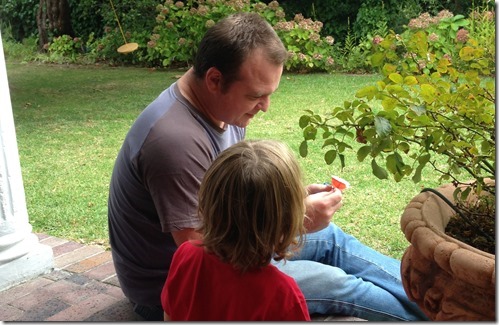 Later that afternoon, the girls got stuck into some Easter crafting.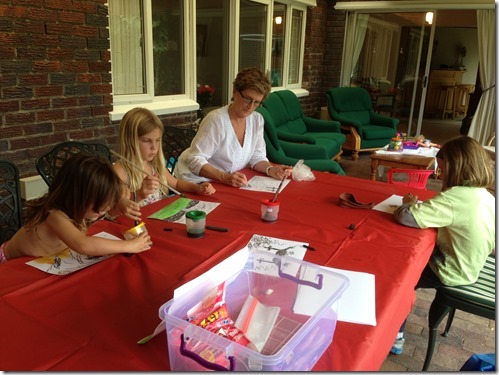 Every year, I try to do an Easter craft to the theme of the Wordless Book. The idea is to incorporate the colours red, white, green, yellow and black. Each colour represents a part of the gospel story. This year, I used a great idea on Shirley Erwee's site that suggested using the tried-and-tested crayon and ink art idea for an Easter scene. Joining that up with the Wordless Book colours, resulted in this: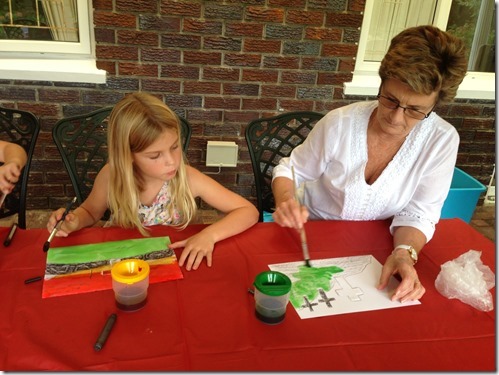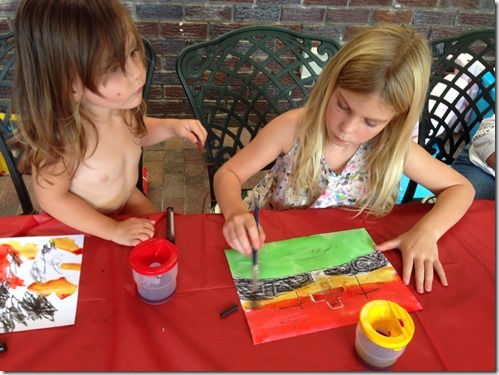 Pictures of the Cross of Jesus in white with the colours of the Wordless Book telling the story of the gospel. I love the vibrancy! What fun the kids had.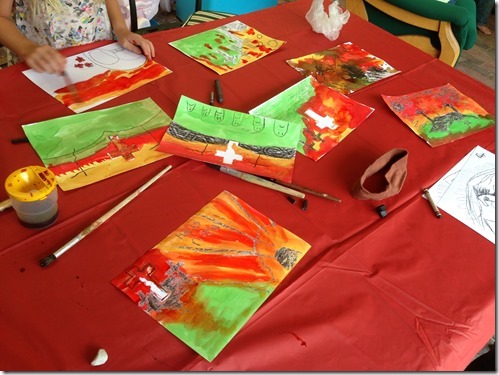 Granny was game and did some beautiful pictures…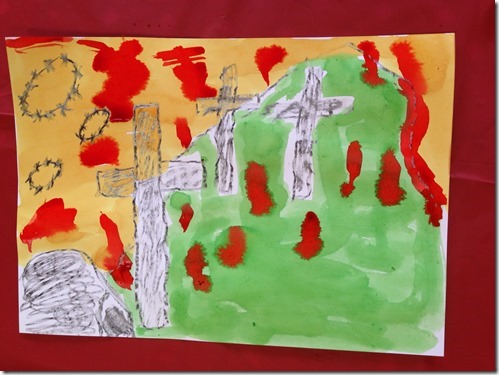 I tried my hand at a couple too…
And here is one of Phoebe's – love it!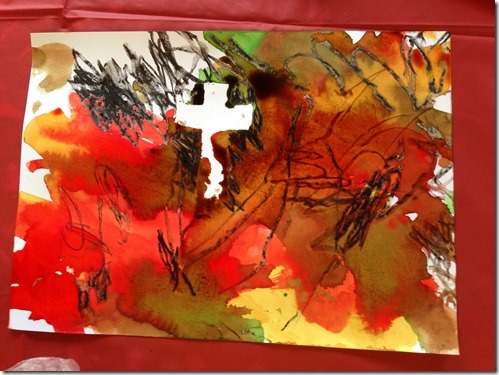 And Katie's…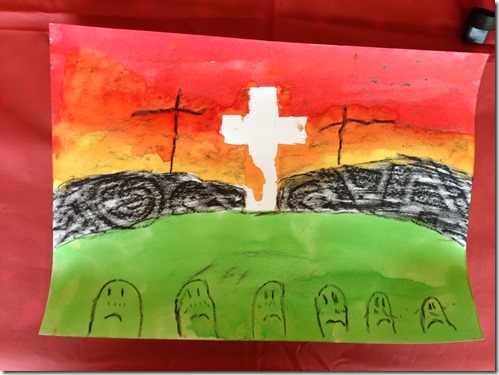 The boys did the same project for Lunch Bunch last week (I was testing it out on them!) so they opted to keep building Lego castles with Dad. Craig had a ball playing with all his old Lego from when he was Sam's age. Fun fun fun!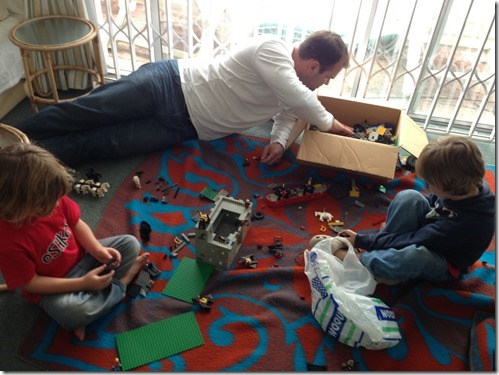 We brought the Resurrection Cookies for the family to share. Yummy, Gaa?
Yummy indeed!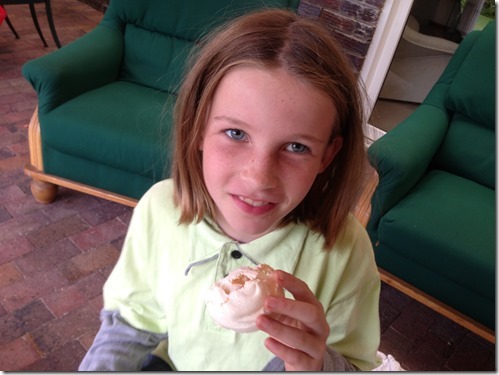 We headed home today around 4pm and did the whole bath, bed routine about an hour and a half early. The kids are bushed! As I write, it's just on 7pm and the kids have all been in bed for an hour already. I could get used to this!
What I hope never to get used to, however, is that awesome sense of joy I referred to at the beginning of this post. What an amazing gift it is to know Jesus and to be called His own. Worthy is the Lamb indeed!