Christmas 2012 had us turn things around a little. Some years back we got into the habit of hosting the Newill gathering at our house on Christmas Eve and heading to the Hayes Snrs for Christmas lunch. But, since my folks are selling their Hermanus home, they asked if we could do Christmas lunch with them, as it would be the first and last Christmas in their home of 5 years. Initially, we didn't have plans for Christmas Eve. I toyed with a few ideas, but life is busy and so the ideas were lost in a sea of busyness. It was only while in Morgan Bay that we consolidated some thoughts – long story short: we swapped! So, Christmas Eve we had the Hayes family around to our home for the usual fun-and-games. The Tubmans were going to join us, until poor Jem landed up in hospital with viral meningitis! She's all good, now, but it was a rough Christmas for them.
This meant, that this year it was all Hayeses who raided the dress-up box and took part in the nativity play. And it was all Hayeses who sang Christmas carols by candlelight. Since it was so impromptu, we settled for a much more low-key dinner: a braai with paper-plates and Christmassy serviettes (napkins, US friends!).
It was a thoroughly enjoyable evening celebrating a wonderful event in our lives!
And here is the evidence:
Bev the Inn Keeper: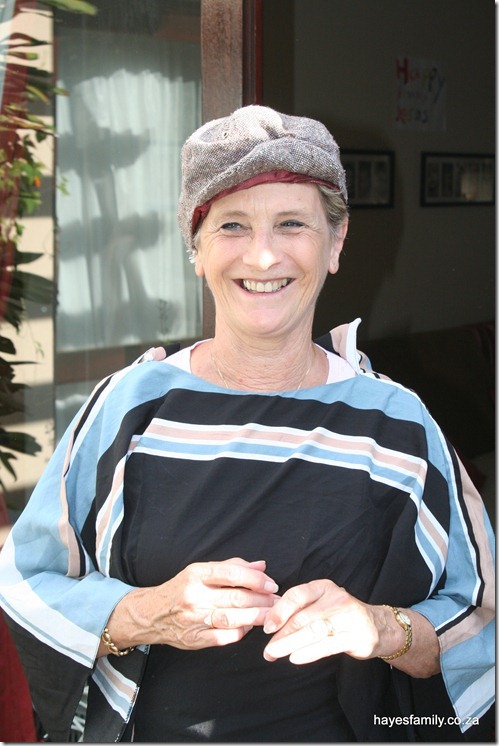 Taryn the Narrator-Dressed-in-Cat-Pee-Smelling-Curtain-Like-Shapeless-Dress-Thing-Masquerading-as-an-Angel.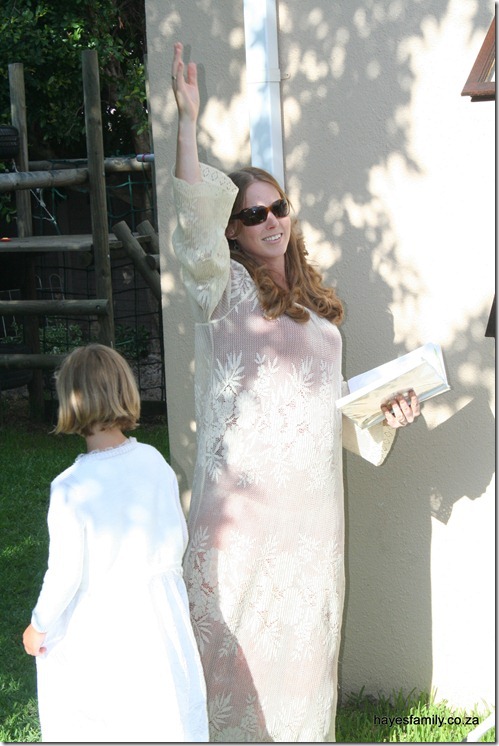 Chris, the King Herod guy!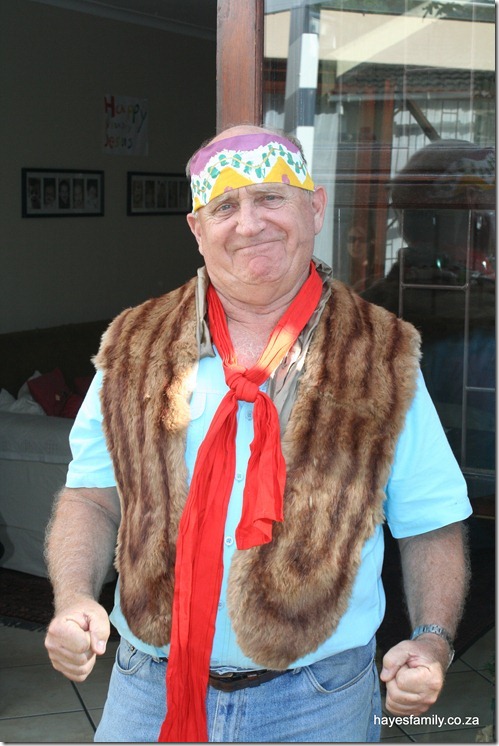 And we begin: Joseph and Mary…
An apologetic Inn Keeper: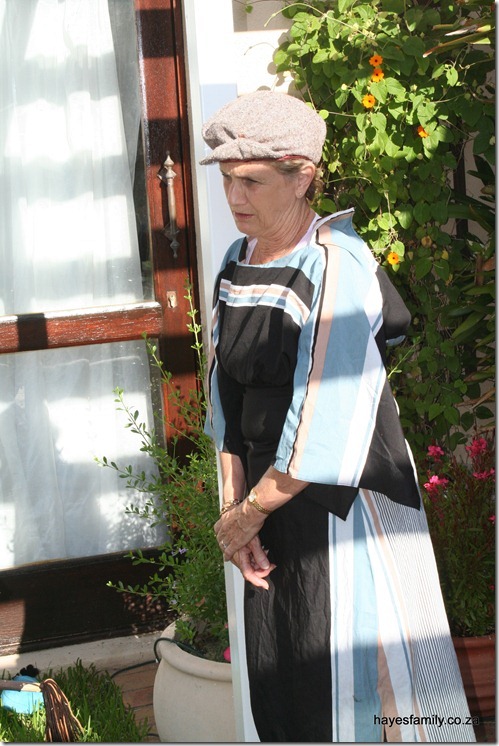 Settling in at the stable… Don't you like all the horses? And Sam's tree – drift wood and recycled plastic (he must be an environmentalist at heart – *sigh* so proud…)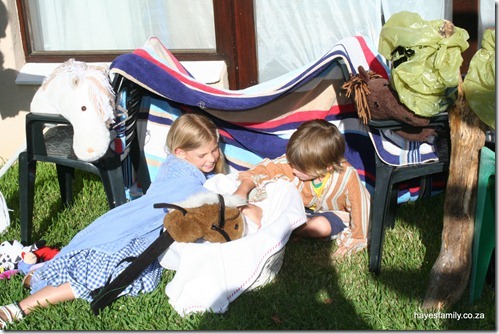 The Angel Gabriel – prettiest one alive, methinks.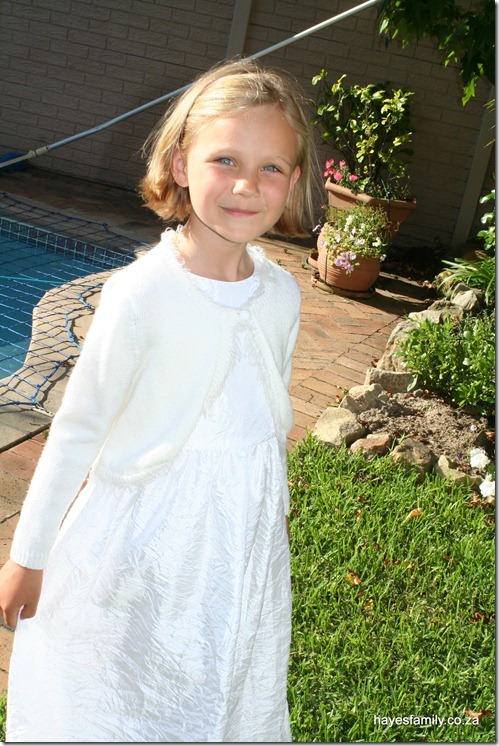 The Shepherds acting in surprise…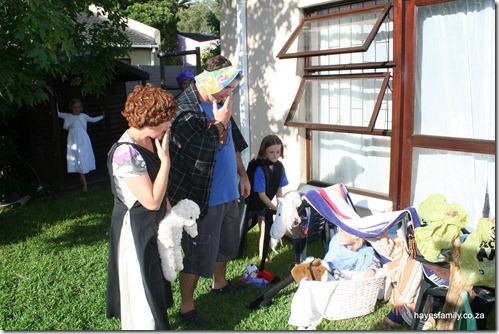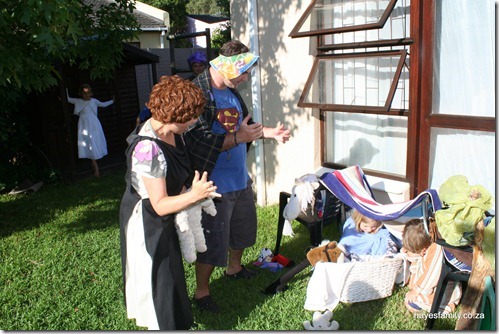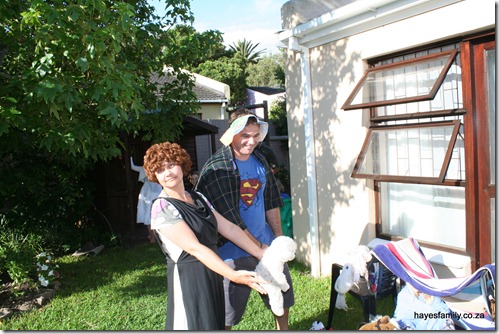 The Wise Men waiting in the wings…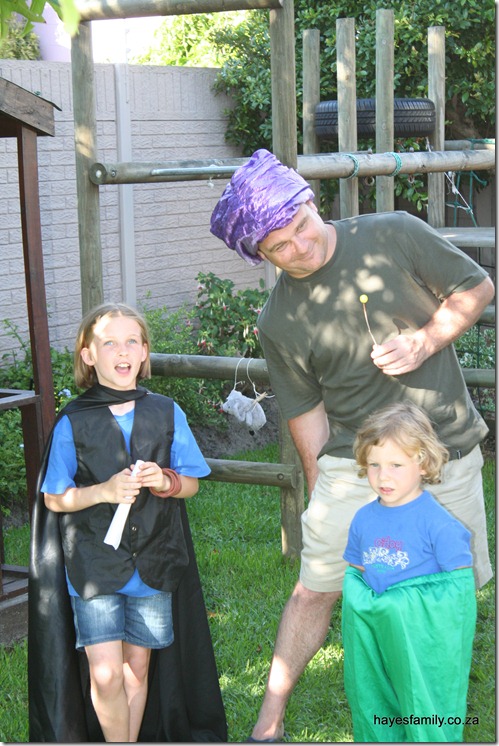 Cheeky thing!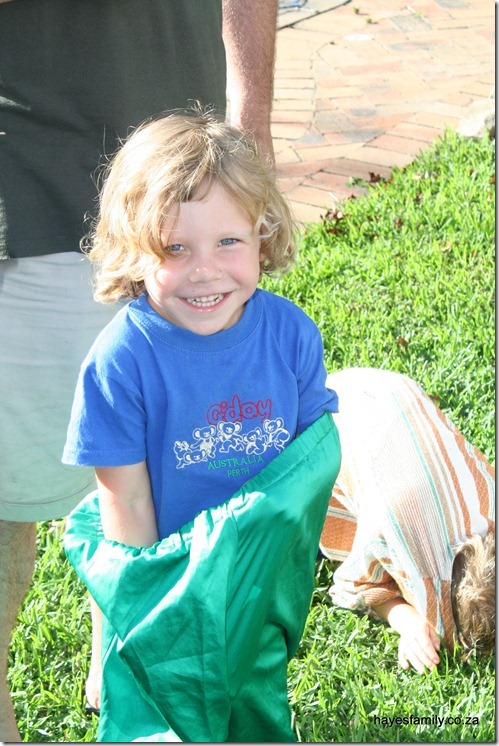 Singing carols! Love love love singing carols by candlelight…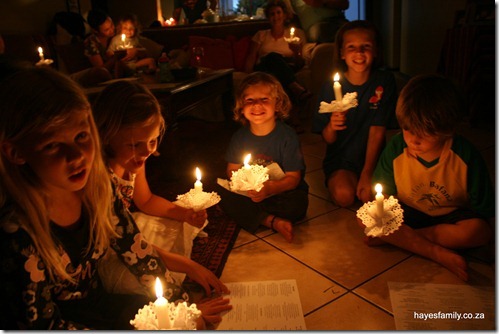 Kids fully into it!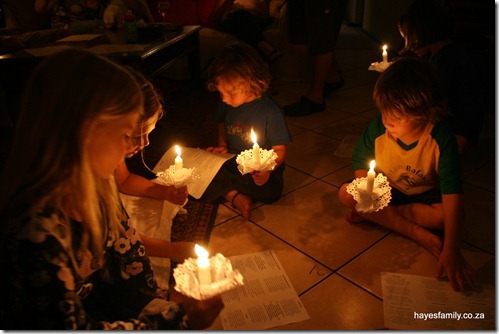 With the flash: Craig got us all on video…
Bev killing herself laughing at Joey – the little guy was hilarious! He thought blowing out the candles was the best event of the evening and could hardly contain his glee with each puff! Too cute!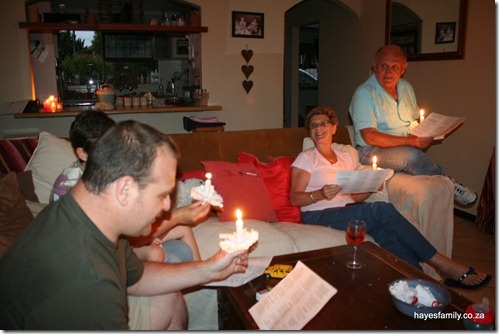 Bronny's candle didn't stay lit longer than a minute…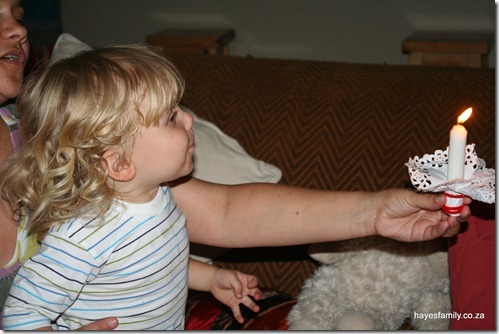 When candles were removed from his reach, Joe-Joe tried blowing out the tree lights!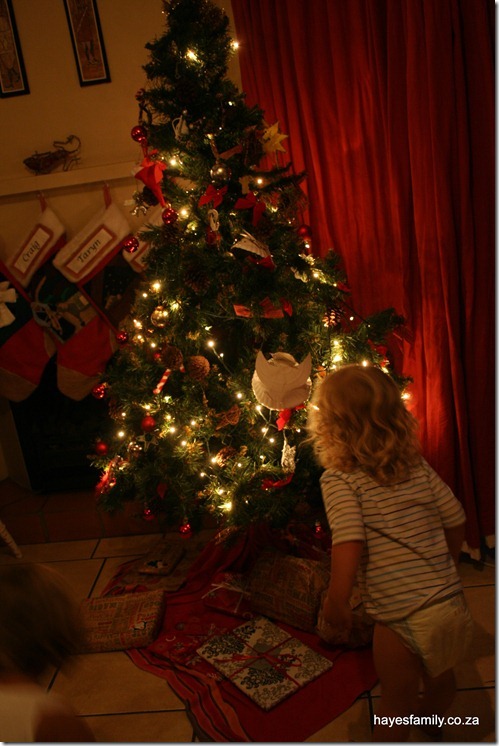 Finally, pressies! We played that Sneaky Santa game – pick a number. #1 chooses a gift first and opens it. #2 gets to choose if they want to take a gift from the pile or "steal" #1′s gift and give him or her the gift they chose from the pile. And so it goes on. With only 6 of us and pretty generic gifts, it wasn't too difficult.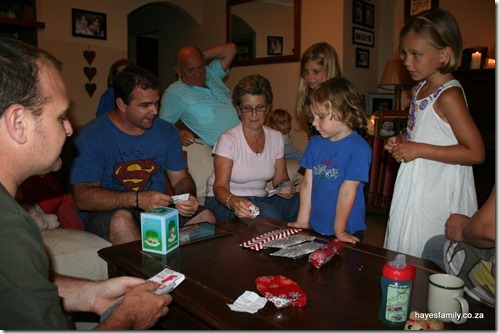 But the best was Cam's choice! And he was stuck with them!

Guess what Bronny got extra in her Christmas stocking?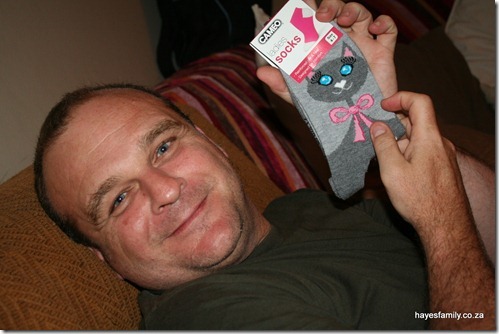 The kids got to open gifts from their cousins – too sweet, I tell you!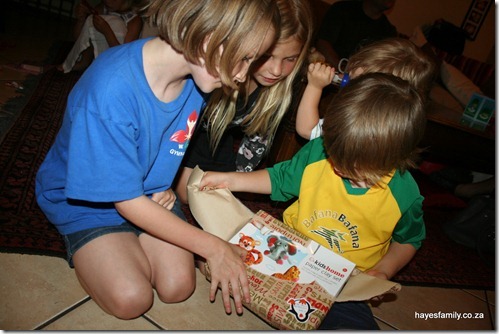 Much joy!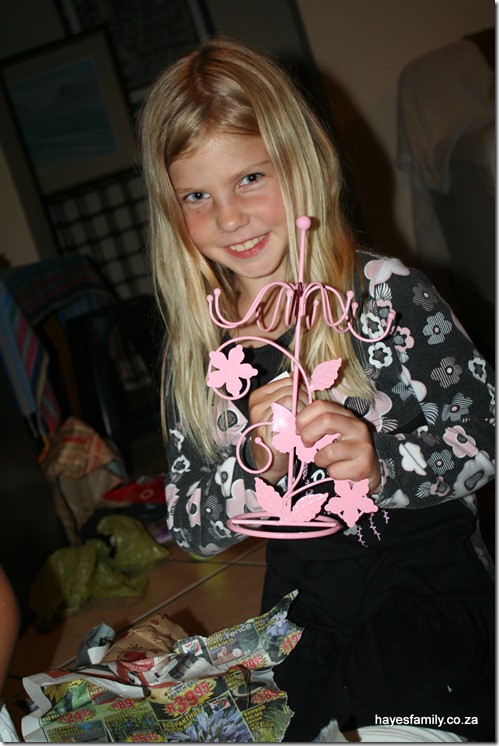 We gave Craig's folks and my folks a photobook of all of our respective families with all the kids and grandkids. I've always wanted to do a photobook, but they're quite pricey. Thanks to Groupon, I managed to get a better price for the book and it turned out beautifully! Bev's tears got my tears going, so there are no photos of the moment! I was too busy sucking it all up unsuccessfully!
The kids headed to bed by 9:30pm that night, but not before sneaking the gifts that they bought into their siblings' stockings. Fun fun fun!
The next morning, I had to drag my sorry body out of bed earlier than normal, for I knew that there were 4 little bodies dutifully confined to their beds – under strict instructions not to leave their beds for anything other than the toilet. I love Christmas morning for 100% prompt, happy obedience in kids – only achievable if gift-opening is the last activity before we head to church

Sure enough, 4 kids were champing at the bit to be let loose to enjoy a bun and orange juice breakfast. Bodies were dressed, rooms were tidied and teeth were brushed in record time. Before I was even done, there were four kids waiting patiently on the couch all ready with their best pleases and thank yous and polite behaviour. Wish I could bottle that!
We finished up our advent calendar first, prayed together and then only hit the stockings: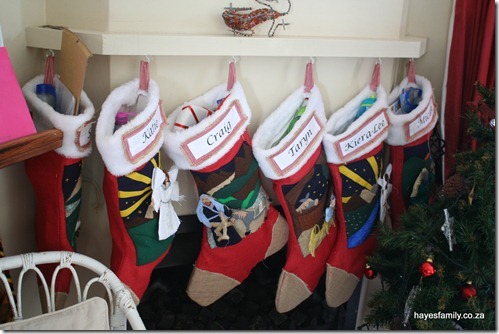 Delight! The children had spent hours painstakingly choosing the Christmas gifts they'd like to give their siblings at the Crazy Store (similar to the Dollar Store in the US). They were all so delighted with the gifts received. But the best was seeing their joy over the gifts given!
The kids get a few gifts in their stockings each year – 1 small gift from their siblings each and a few things from us that are usually essentials for the following year: crayons, kokis, water bottles etc. Then they get one gift under the tree each. These two boys' response was too precious for words. Micah got some Duplo and Sam some Lego – both of them exclaimed with such delight – it was as if they had been given the best present ever. "Oh! Wow! Cool! This is exactly what I wanted!"
Kiera starts guitar next year. Try as I might, I couldn't find a second-hand guitar for her. So, a entry level new one was part Christmas present, part first-guitar-in-the-family instrument.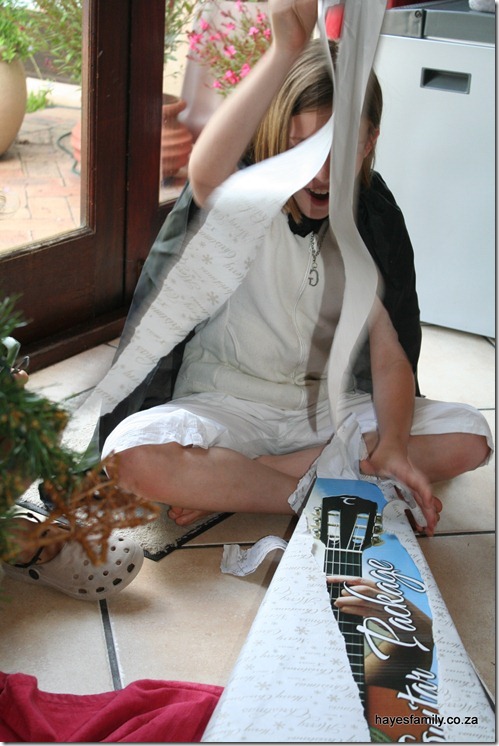 She's not perturbed in the least!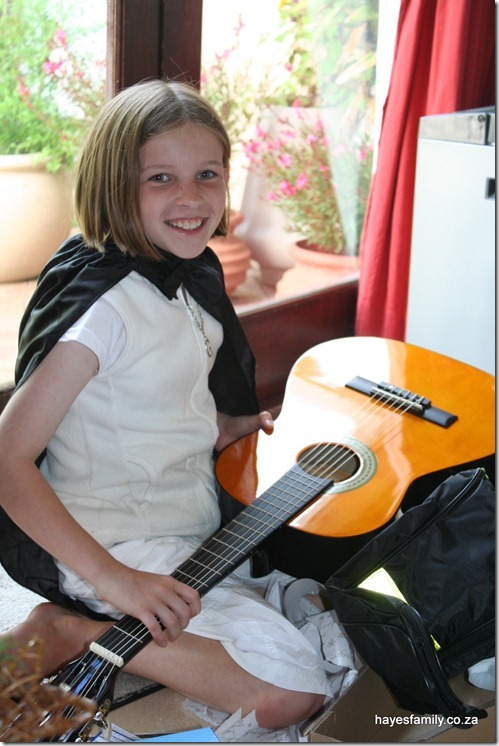 Gracie took to all the activities with a sense of ownership that only a cat can exhibit…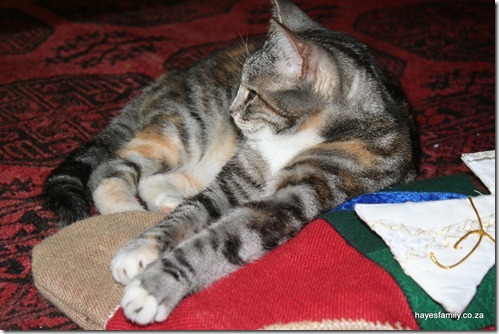 Katie went to find her Christmas pressie – a bicycle we found on Gumtree a few months ago for an excellent price. The previous owner rode it twice, apparently – judging by its sparkling appearance, I'd say that is about right.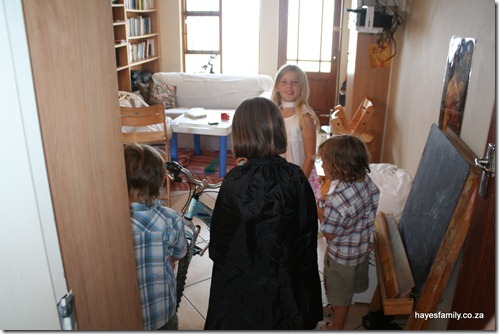 No photos – but we had a really good Christmas service at St James. We got there early for a change! As usual, lots of fun and games and singing for everyone. We enjoyed a fun contest that had our kids running up to do tasks or answer Bible questions. Scott did the sermon, comparing ourselves to a Christmas tree: dying, chopped off from the source of life and trying to bring new life through add-ons – decorating our dying selves with mortal baubles that will, at best, outlive our bodies. He explained beautifully how Jesus's birth is to be celebrated for it marks His entry into our world to save us from death – to "reroot" us, so to speak. It's totally impossible to replant a Christmas tree and hope it survives. But, God is in the business of miracles, to use a tired old phrase that still packs a punch of truth. And his #1 miracle is allowing His son's death on the cross to take our sins away from us and make us new, clean and without sin or blemish so that when our mortal bodies die we can continue to live in perfect relationship with God and each other – with a perfect new Heaven and new Earth to look forward to.
After a wonderful service with our church family at St James, we headed out to Hermanus for Christmas lunch with the Newill grandparents. But not before some Skype time with the Newills Jnr in Oz…! Love technology for keeping families connected! We even got to see the Gliks later that evening.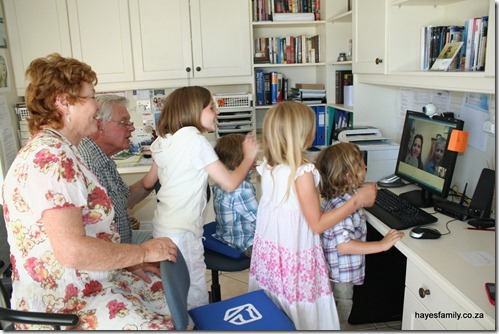 Then, it was food time. I finally got back into food-photo taking (wish I'd taken of the Morgan Bay food – which was JUST delicious!). Mom put on a spread that fed us for two days and had extra for their church share-a-plate outreach.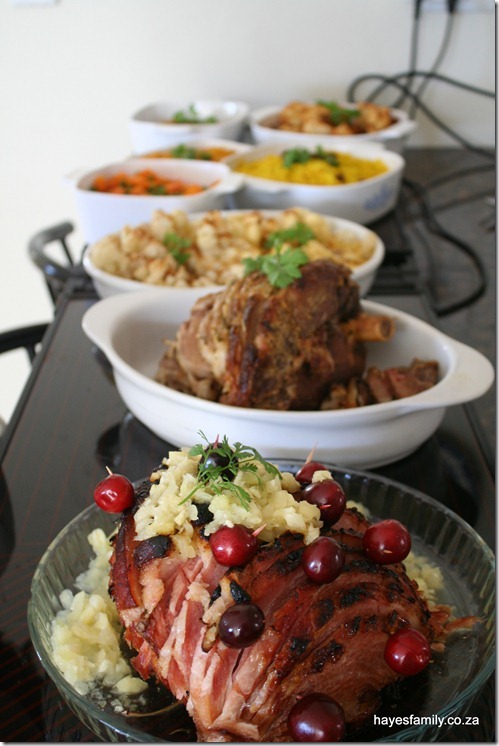 This was the first Christmas in forever that neither Craig nor I had to do a thing in the kitchen. I could get used to that! Here is Chef Sally:
Getting ready at the table…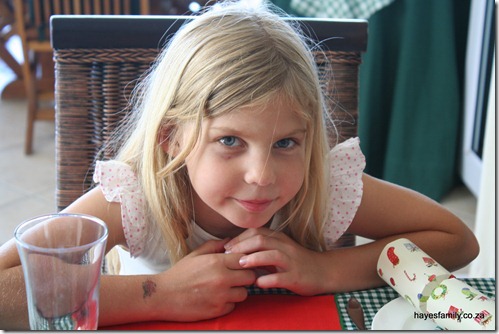 Mom's table…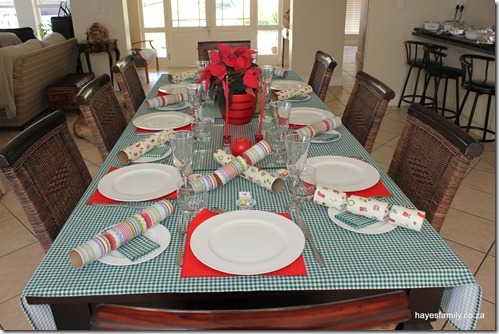 Smile! Traditional Hat and Crackers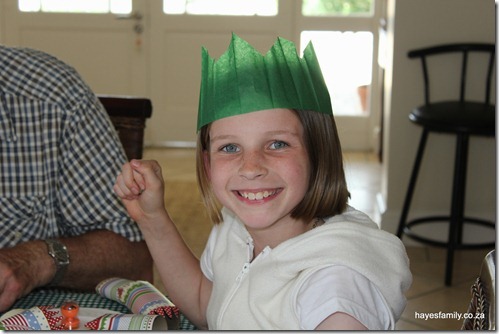 Mr Sam doing his latest photobombing thing… but still managing to look gorgeous despite.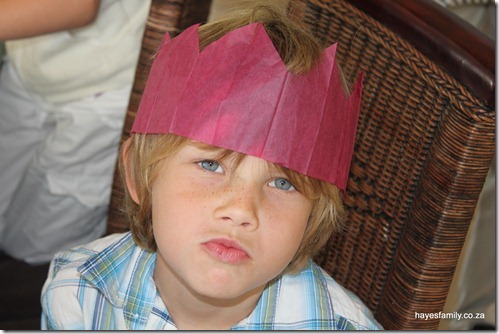 Yes, Grandpa had his camera too, which means that I feature in a few photos for a change!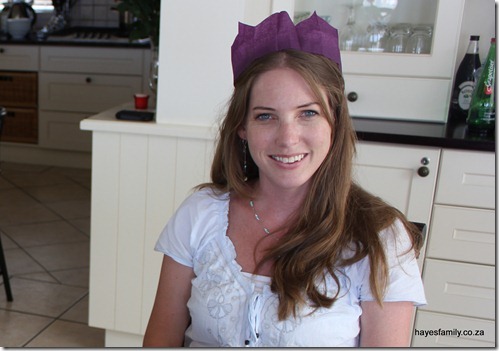 After dinner, Kiera and grandpa tackled the washing up. Love this photo!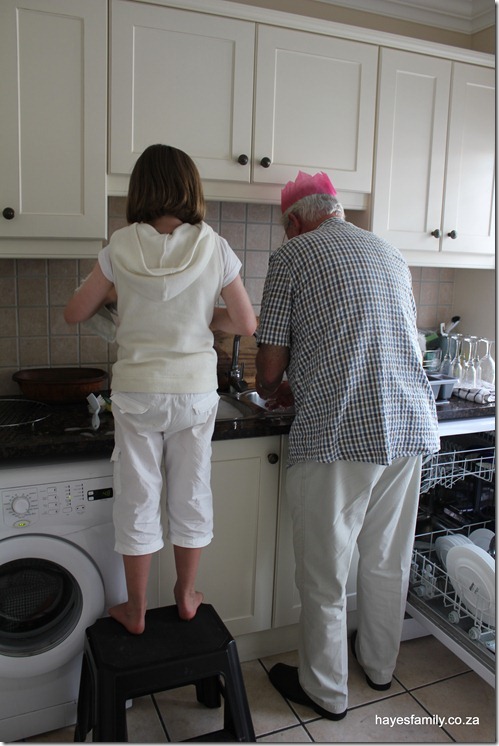 Then it was gift time at the Newills: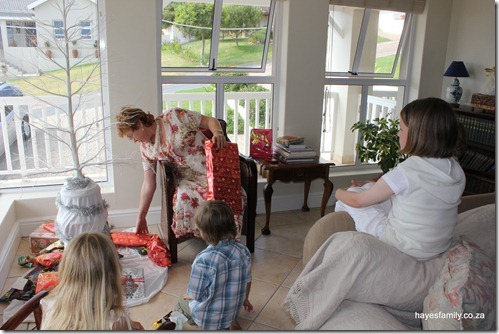 Snorkels and goggles for our blazing summer Christmas by the pool and sea!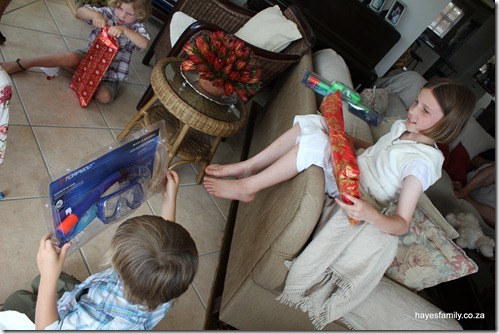 Mom got the kids little toys each, including these puppets. Micah was simply delighted!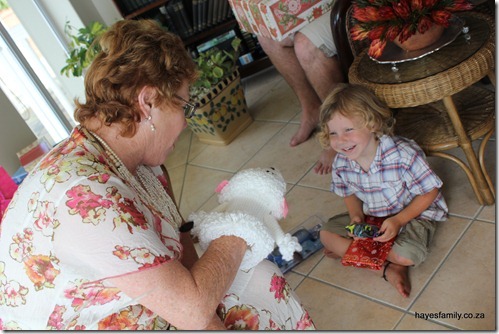 And enthralled at the Newill photo book – another great hit! Yay for a) being organised with Christmas gifts this year and b) Groupon!
The next day we headed out to Mermaid's Pool. Well, it's actually called Davie's Pool out in Vermont/Onrus, but we've called it Mermaid's Pool since before I was born, so it's still Mermaid's Pool to us. Usually there are only about 2 or 3 families there at any one time, but times have clearly changed! We had to wade past the sea of PEOPLE to get into the water, but once in it was deliciously cool and refreshing!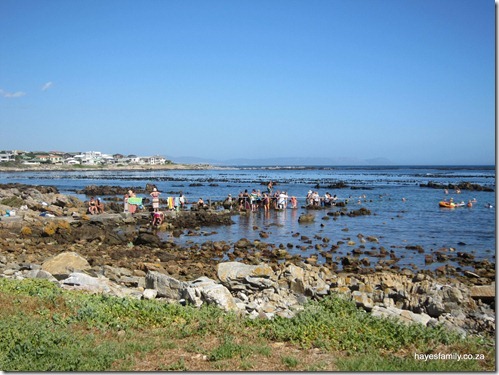 And my children all enjoyed a mince pie treat afterwards. Treat? Honestly, Craig and I have no love for mince pies, so I've never bothered to introduce the kids to them. Well, turns out that all four of the Hayes kids are now firm mince pie fans. Traitors.
And so ends the record of our celebration of Christmas 2012 – a gloriously fun time celebrating the most significant birth in history!