December 2013 was busy busy busy. We still had school to do: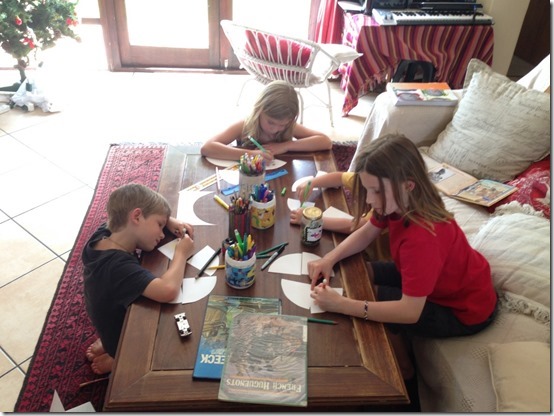 As if we hadn't had enough of renovations, we decided to repaint the playroom, which meant removing all the books off the shelves, priming and painting and then putting everything back.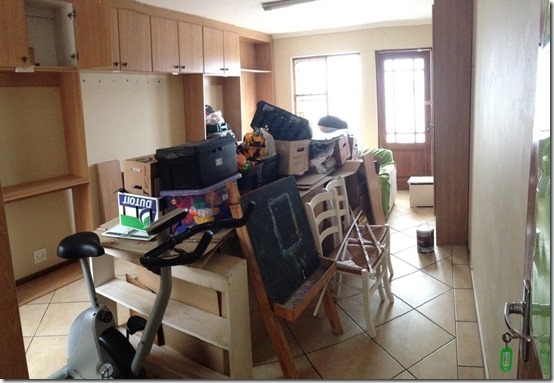 Every surface covered, hence school in the first picture at the coffee table…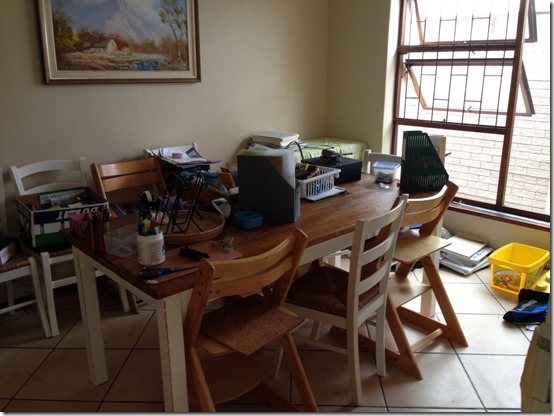 The kids had loads of practices for the St James Church annual Carol service. Finally it was time for the dress rehearsal:
The same weekend saw us enjoying our last (or is it second last?) Postcards from Bethlehem event – a special carol service especially for age 6 and under.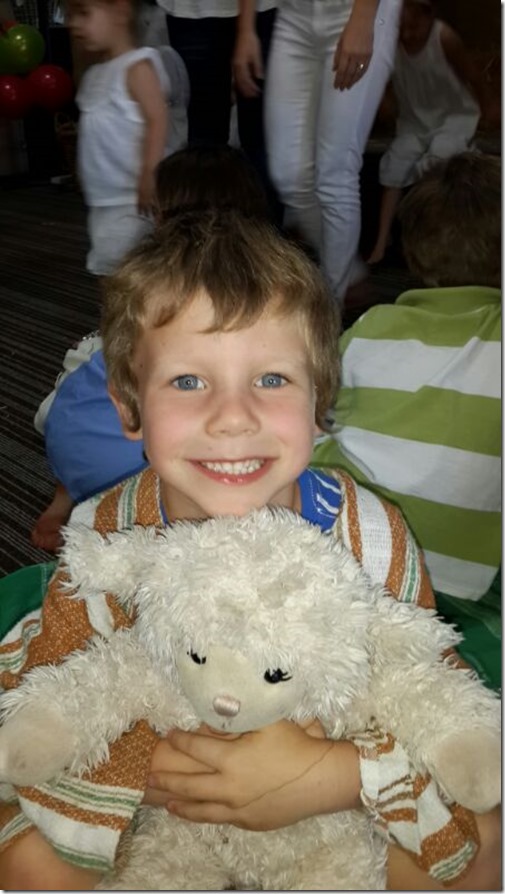 Mr Micah originally refused to be a part of it in any way, but then was the first guy up for the photo!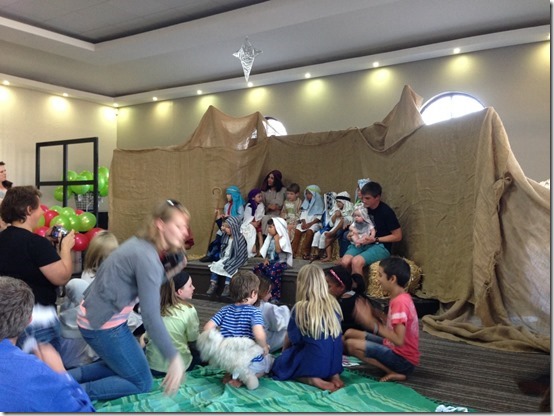 We celebrated my Dad's 71st at Café Roux.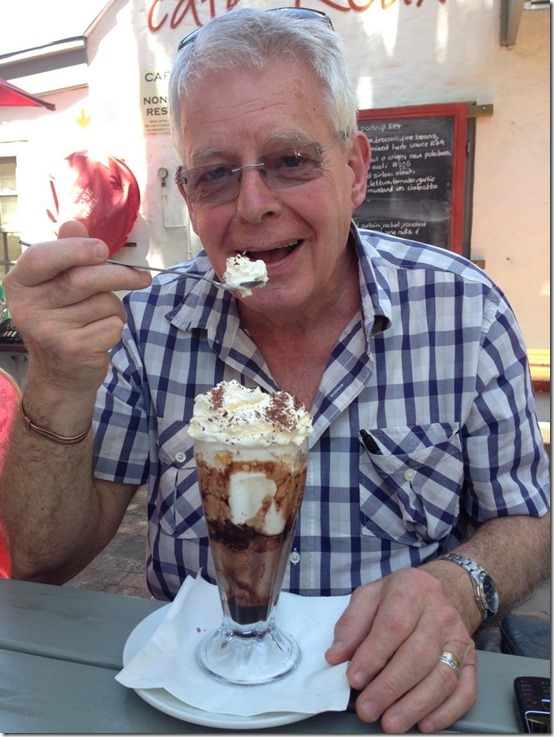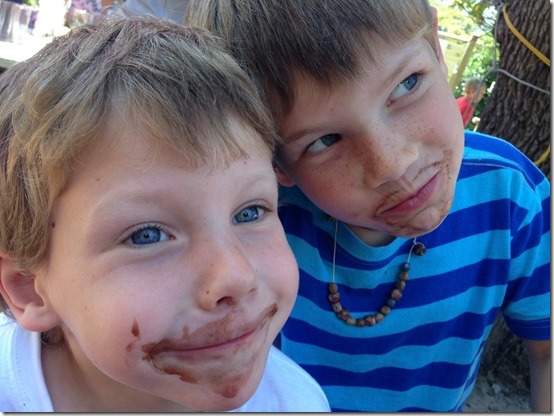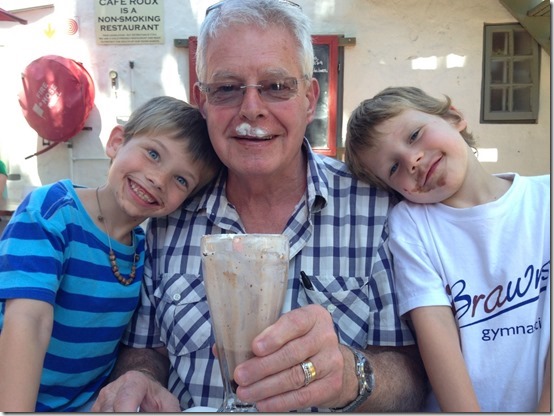 Katie got her special Book Exchange book from Oz. Kiera's never arrived, sadly.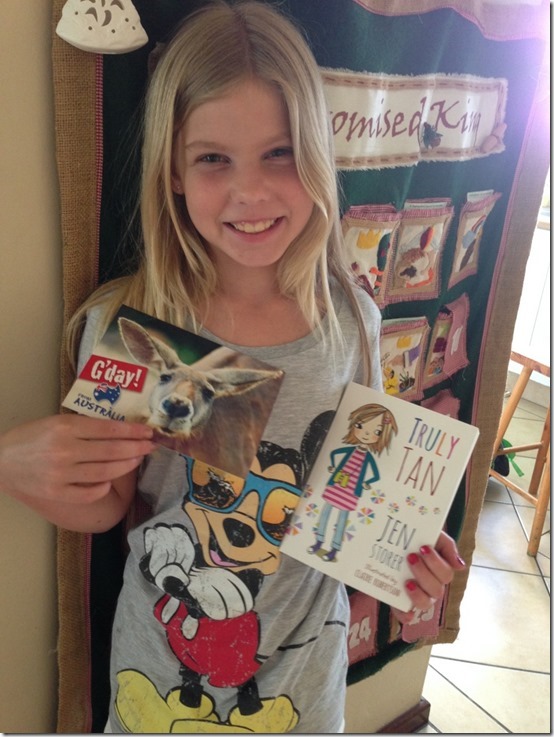 When Nelson Mandela passed away, the country spent a good two weeks in mourning and celebration of his life. Cape Town held a special memorial service – free to anyone who could get to the stadium with free tickets. We took advantage of the free train and bus services and headed off there. We, being me and the kids, along with the VBs. We got a little patriotic …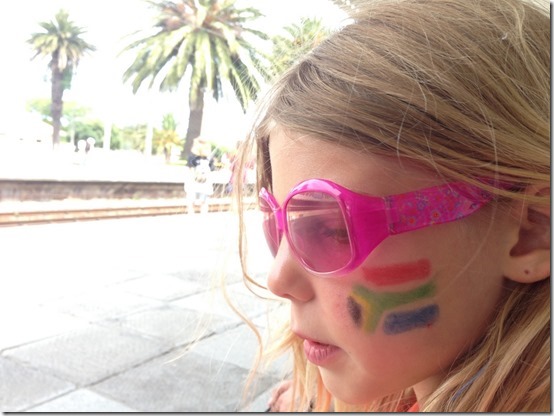 It was a really special time remembering a man who left an indelible print on the lives of all South Africans.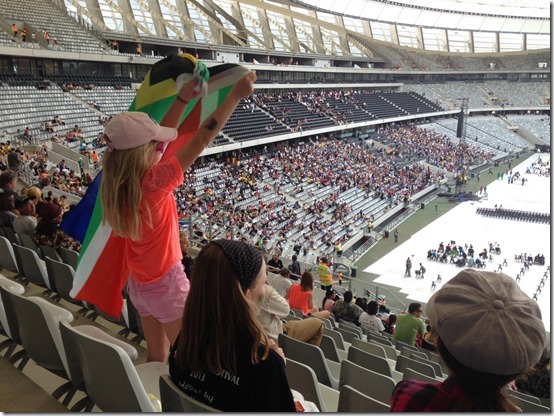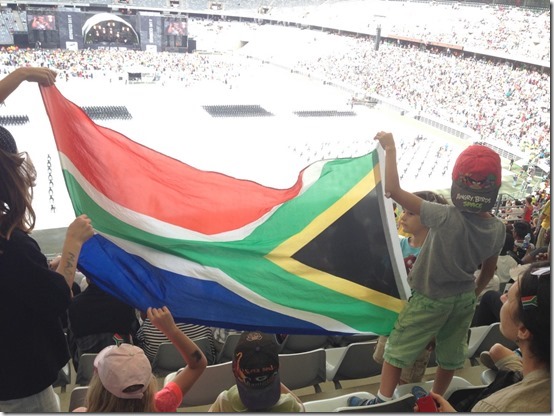 The night sky was stunning and served to remind us that no man is as glorious as God himself.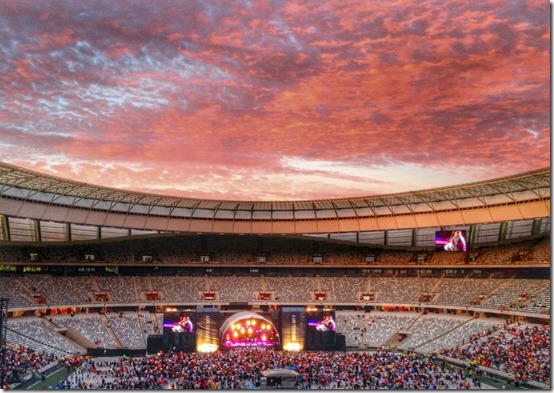 We left around 9pm as young kids needed to head to bed. But there was NO transport home. We didn't realise that the trains weren't running until 12pm again – to take the last people home from the memorial at the Cape Town stadium. So, long story short, we resorted to a rather hair-raising taxi-ride home. The kids were terrified – the loud swear-word-ridden music, the driver who texted while he swerved between cars and overtook on the left, narrowly missing scraping the taxi on the right – these were just a few of the things that had our kids convinced they were going to die. It was quite hilarious, actually. It was one of those situations where you could either freak out or laugh. Ingrid and I chose to laugh at our kids – except in this photo when we decided to imitate them! Ingrid is by far the more dramatic one!

Kiera's face is pretty authentic though. Of course, they LOVE telling this story now. It's one of those "the worst decisions make the best stories" scenarios.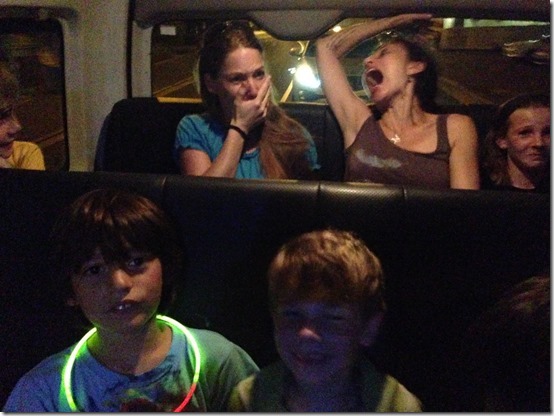 The fact that I am writing this and that two days later, Craig and I got to celebrate our 15th wedding anniversary is testimony to the fact that we survived. Our anniversary began with gifts from the kids: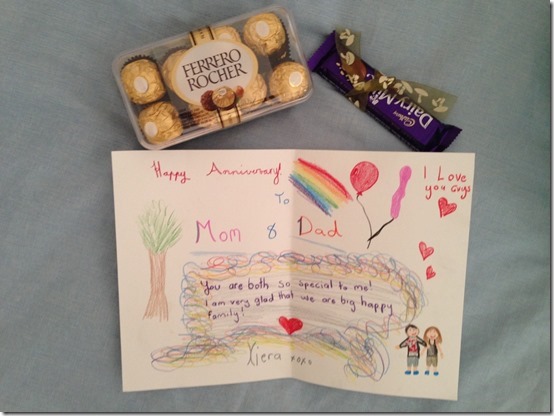 And then a wonderful overnight stay at Monkey Valley, courtesy Craig's organisational skills.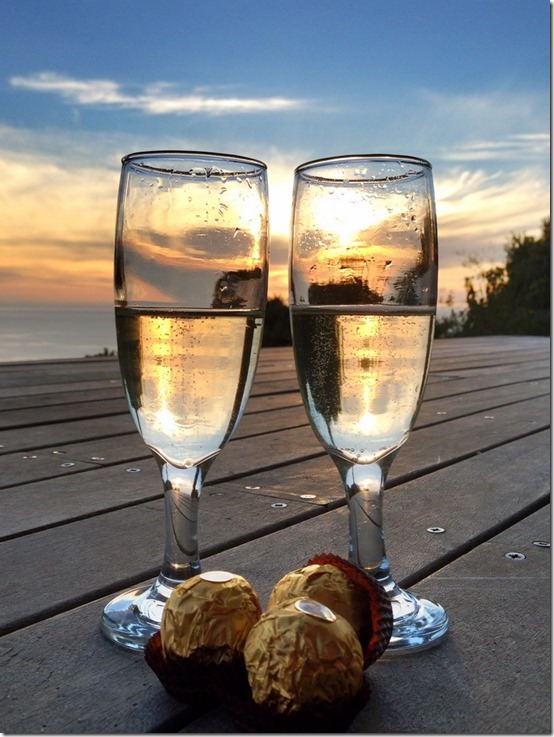 Craig even organised a horse-ride on the beach! Quite something, since he has never wanted to ride a horse since my mom and I giggled when my mom tried to give him some riding tips on Sally the horse at Klondyke Cherry Farm back in 1993. He quite enjoyed the ride on Noordhoek beach. He looks good up there!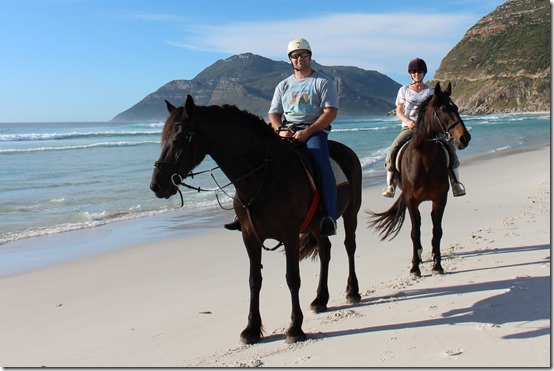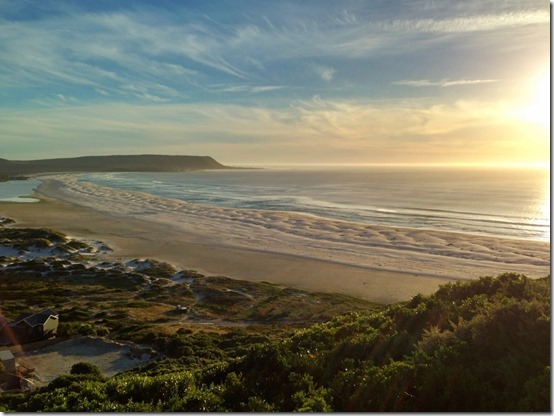 When we got home, we took the kids off to the Grand Parade where the public could leave messages and sign memory books in honour of Nelson Mandela.
With our sign and a sign that Katie picked up.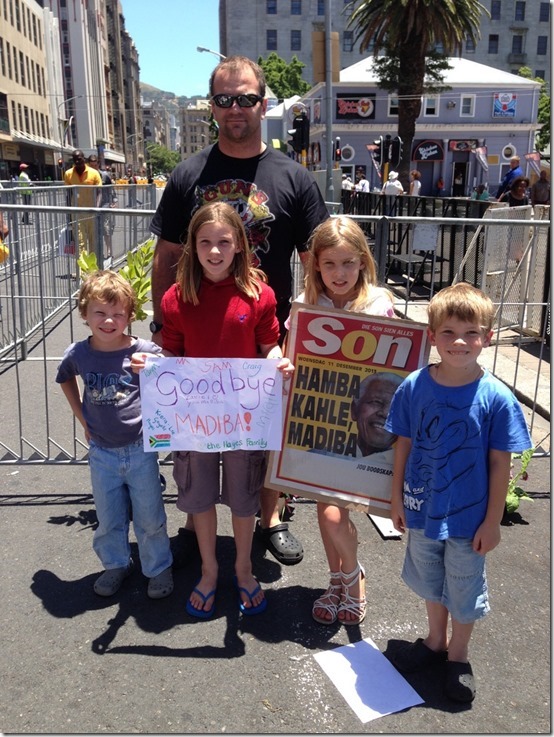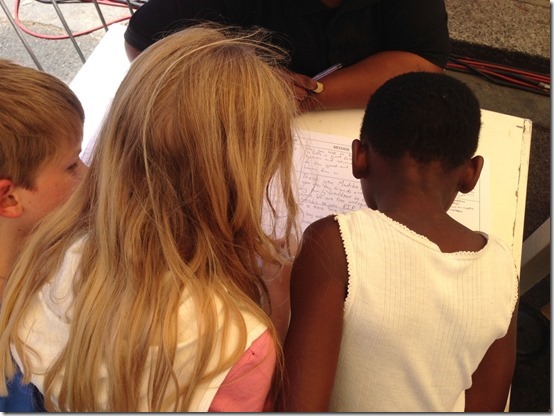 Photographically, not the best photo ever, but symbolically, so special – to think that 20 years ago this was not a common photo at all…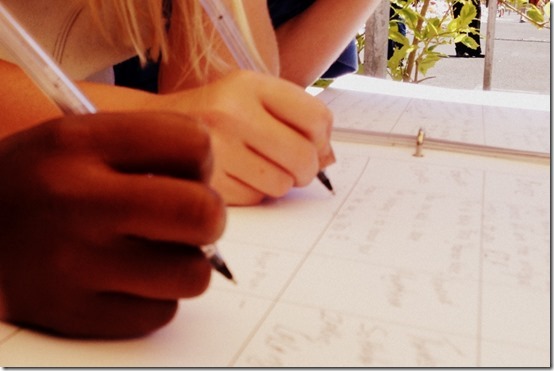 Craig's folks blessed us with a holiday to Sun City in December. It was a lovely time and the kids were super excited – can you tell?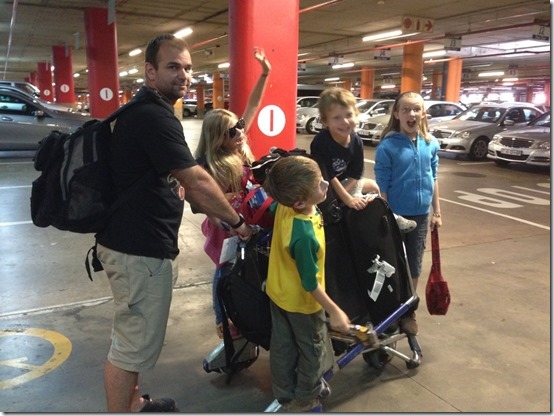 Although, they were oftentimes VERY tired…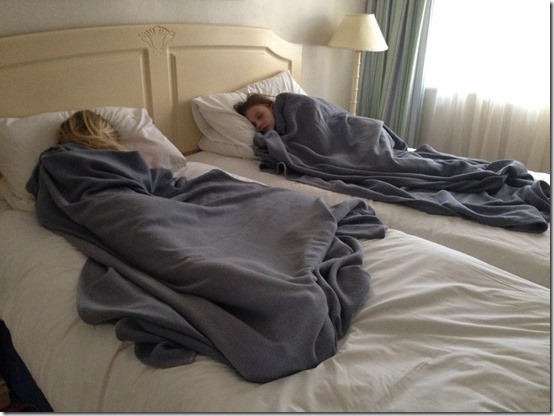 We were visited regularly by the Resident Peacock…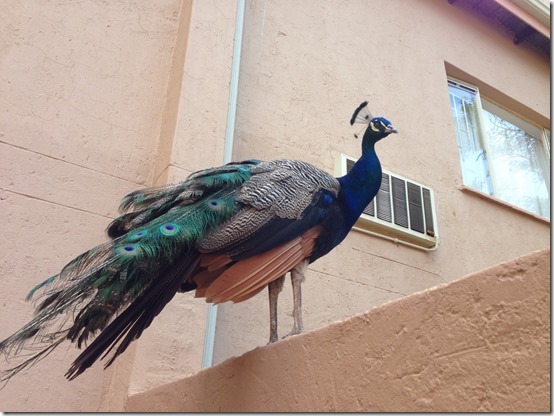 Too Cute Joe-Joe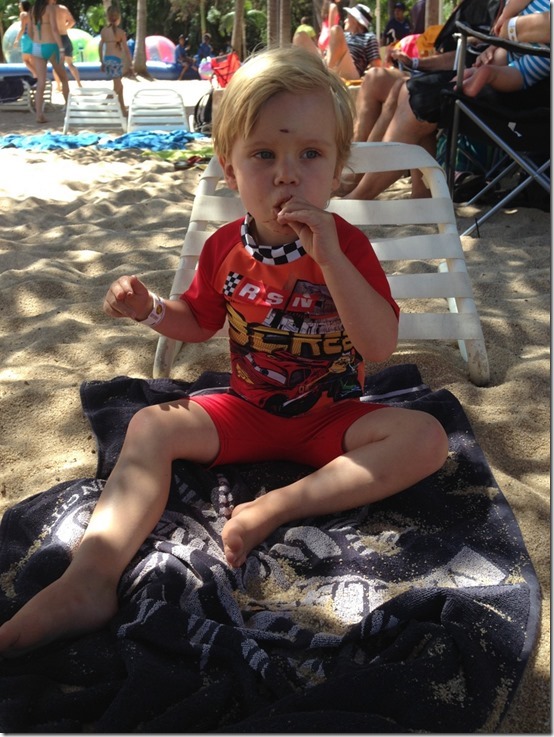 And Mr Micah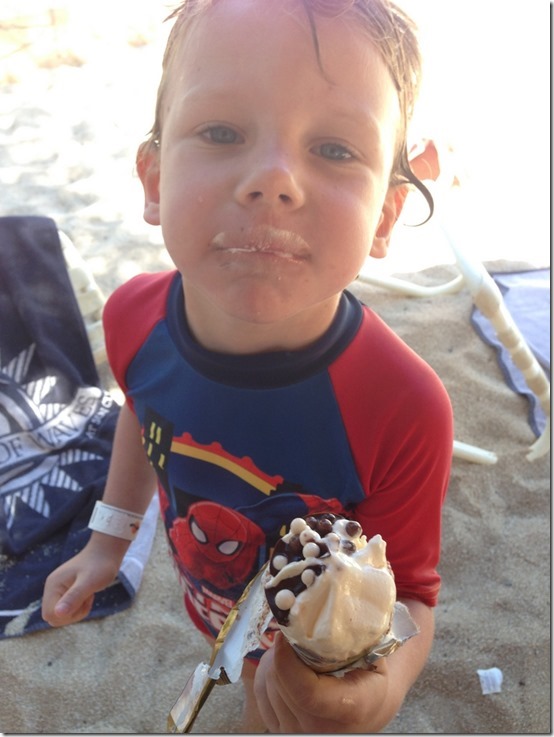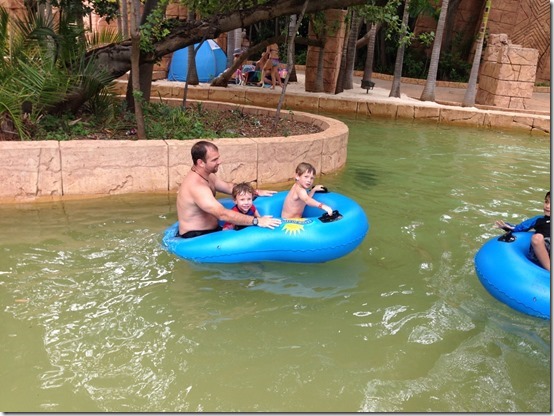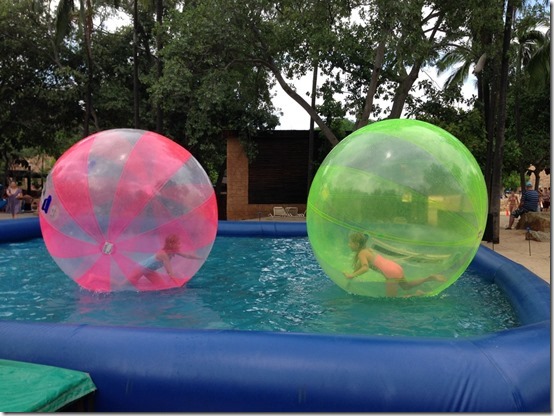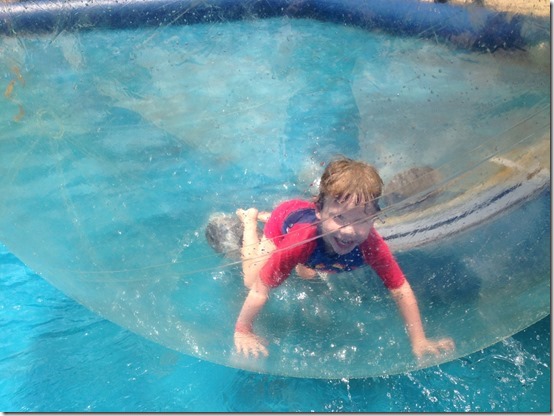 Our flight home was cancelled or delayed or something along those lines – this is when technology is very handy: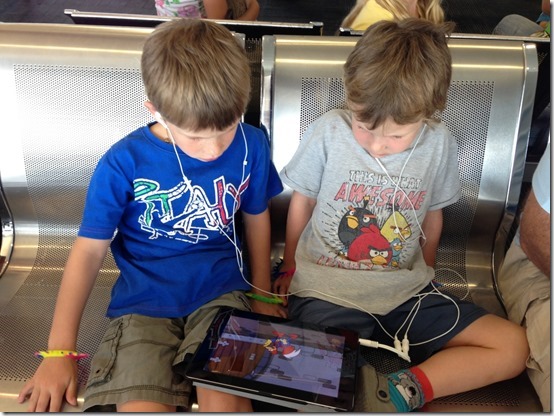 Home again to more work in the playroom. Unpacking!
This involved some heavy lifting for Craig and Russel: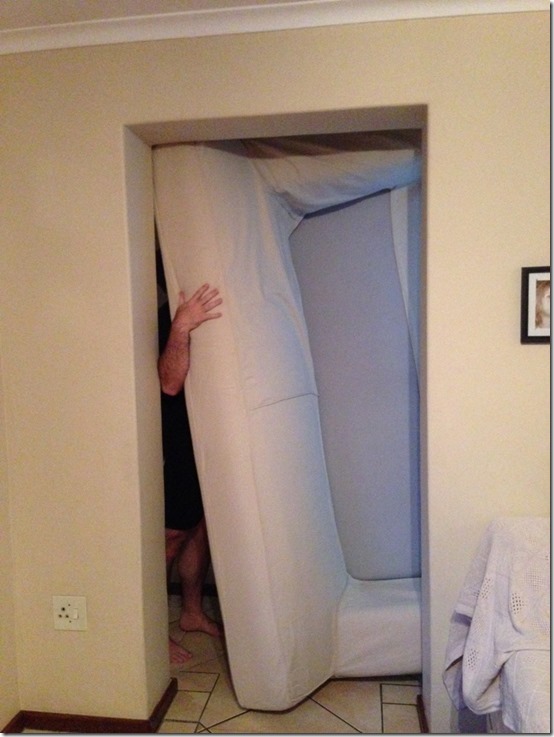 Towards the end of the school year, I was invited to a couple of places to speak about Seekers. One was Cherry's school in Tokai. The kids were really sweet and asked a ton of questions. It was fun chatting with them.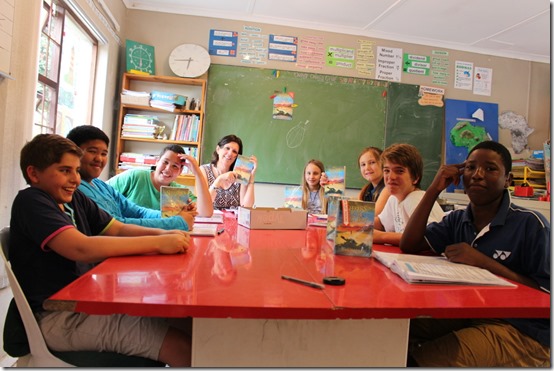 One Sunday, Craig organised Mango Groove tickets to the the Kirstenbosch open air event especially for his Mango Groove-fan family (he, not so much).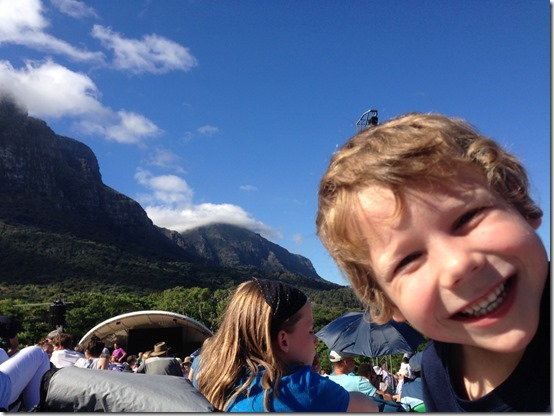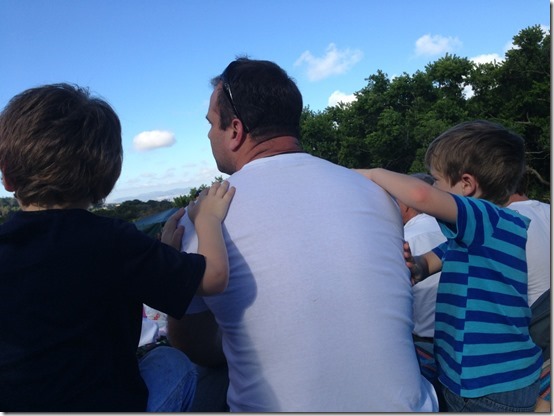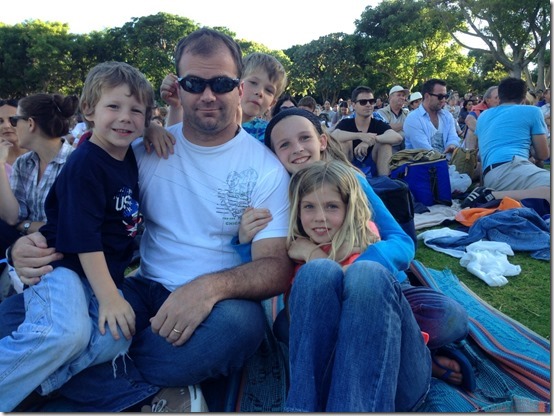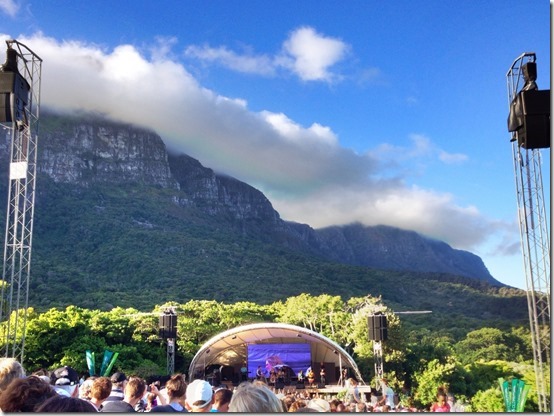 The Joostes joined us…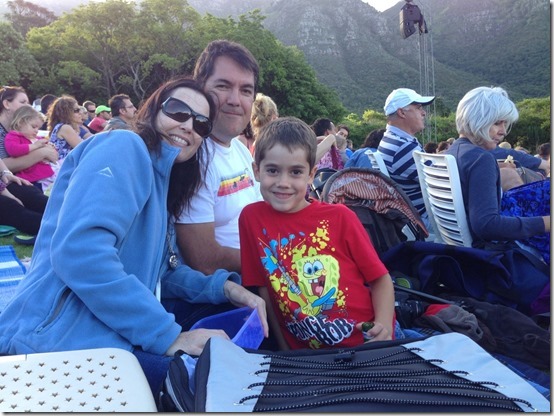 Fun fun fun!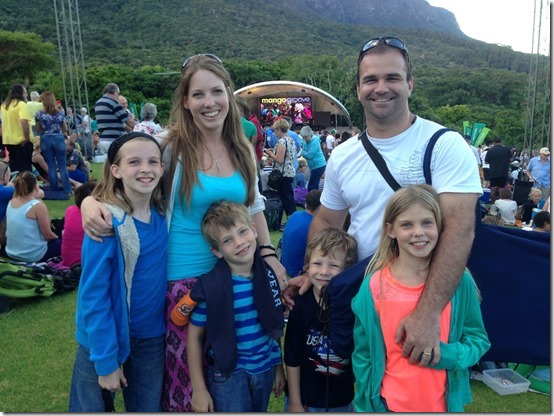 Finally, the playroom was complete: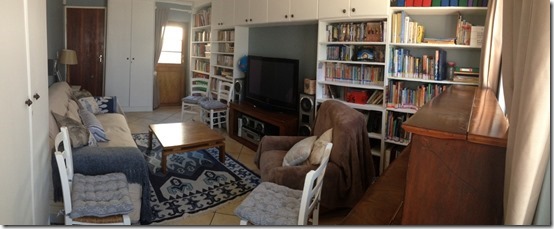 I never receive flowers – well, just about never. I like them but they're not on my love language list. But, in one week, I received three bunches and they were all so beautiful, I took photos (I have a habit of letting flowers die quicker than they should. But these guys all lasted!)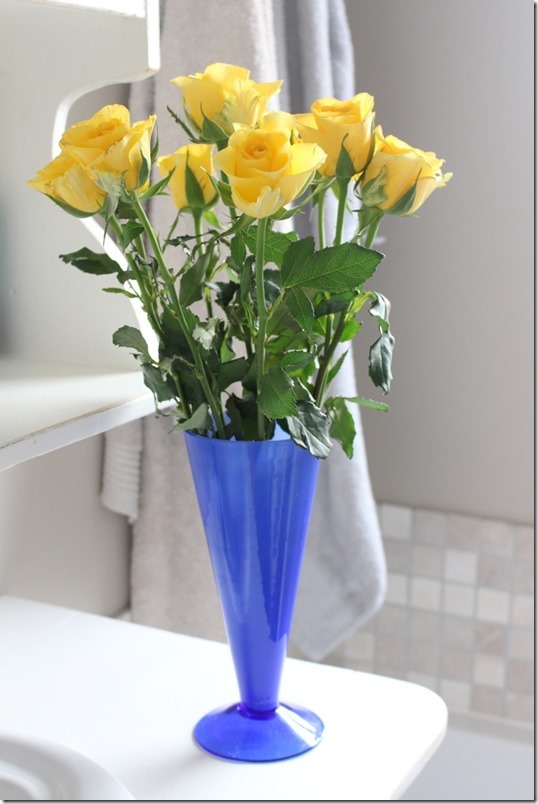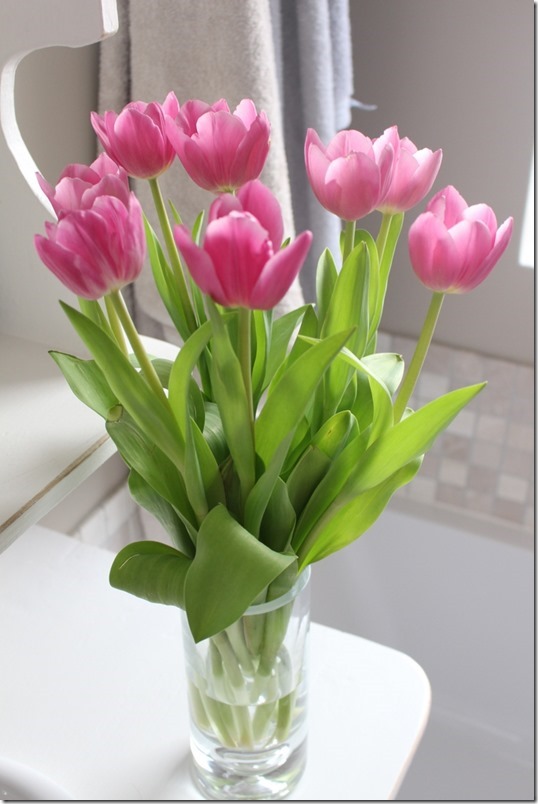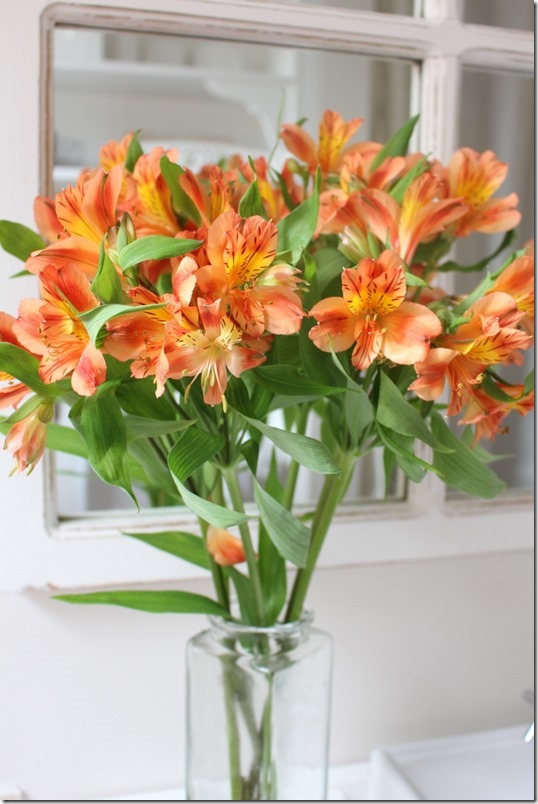 Our Lunch Bunch Year End 2013 event was held at Caren's house. But with the fun of the slip-and-slide: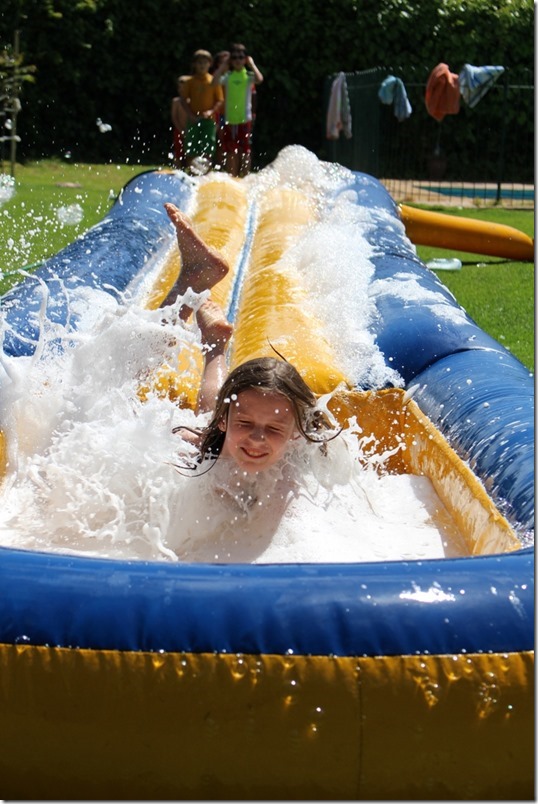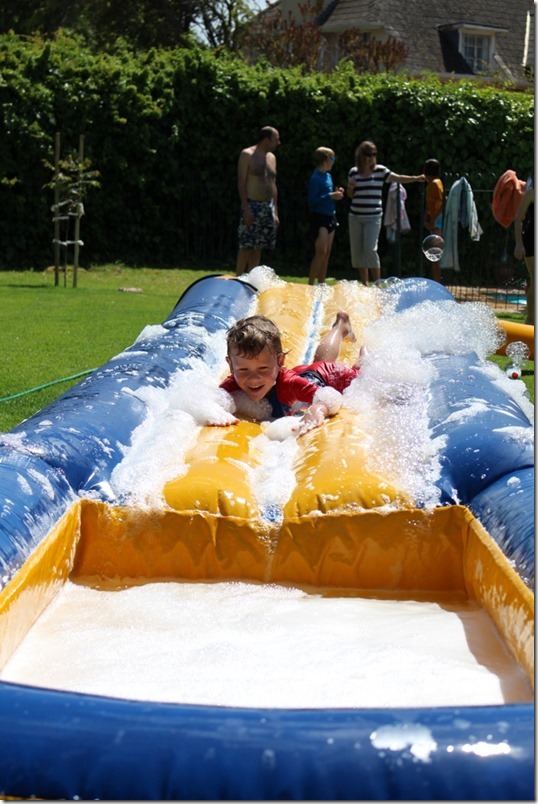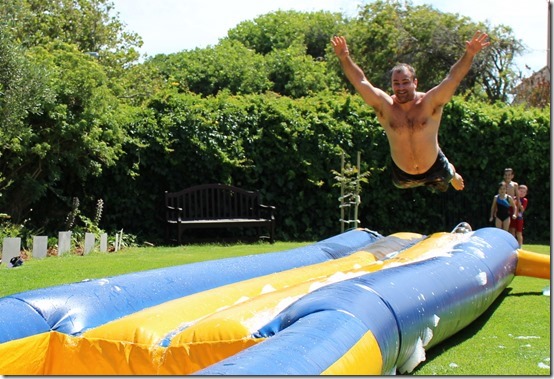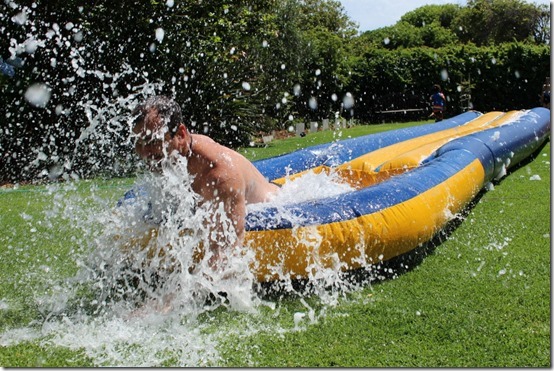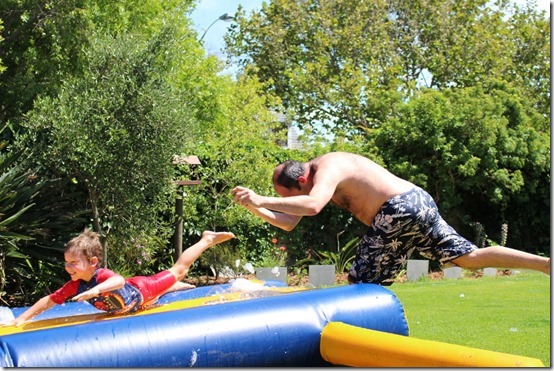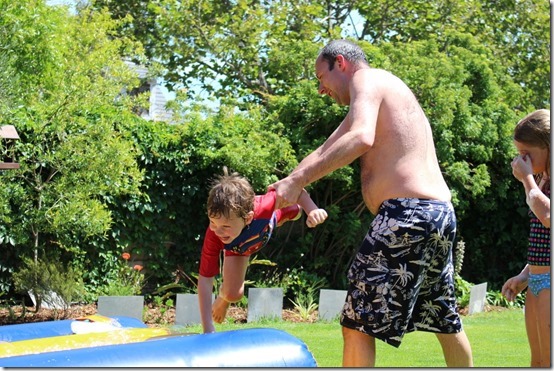 The kids performed some musical items…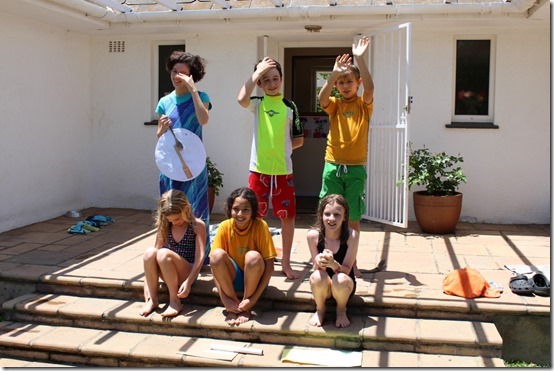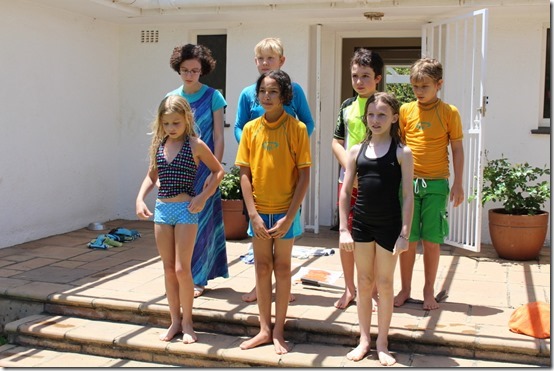 And we watched our 6th annual year-end slide show: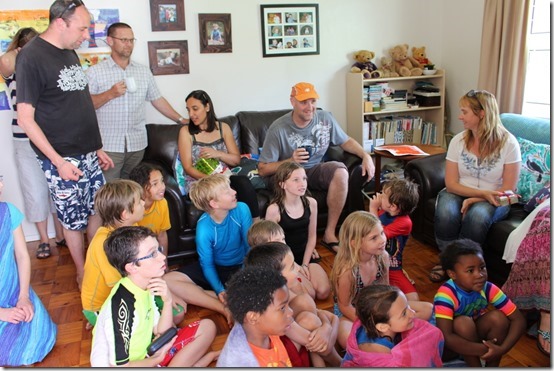 Lots of smiles and laughs!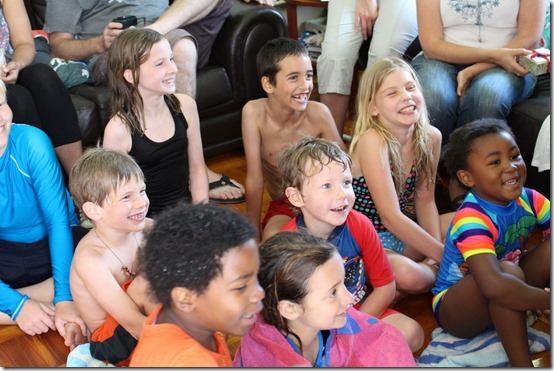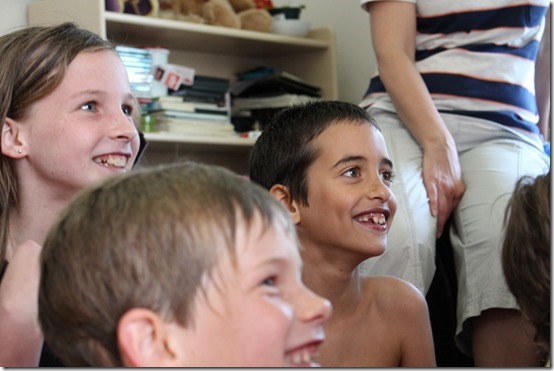 Craig's company's year end was a Gatsby Themed evening. We had fun dressing up…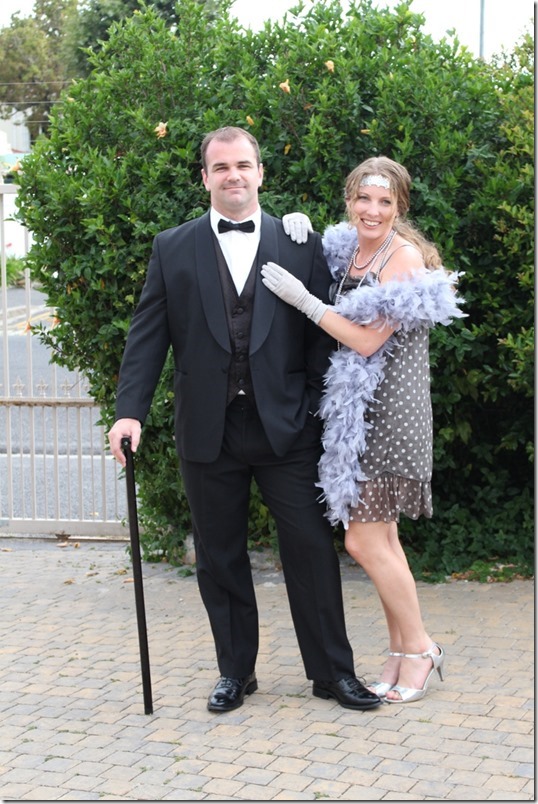 Kiera and I got to be narrators, along with Tim, for the Carol Service – we had a bit of a giggle as the narrators were all homeschool representatives in some way or another. Me as a homeschool mom, Kiera as a current homeschooler and Tim as a former homeschooler (all graduated).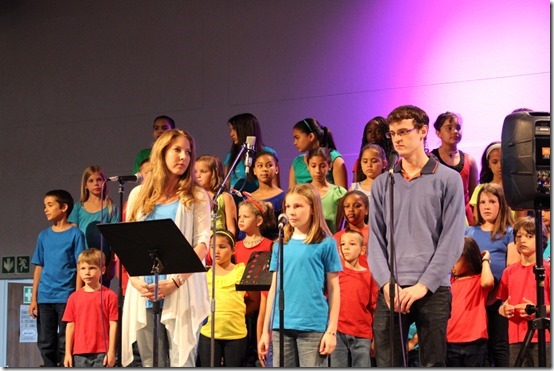 The cutest kids at the service were these three…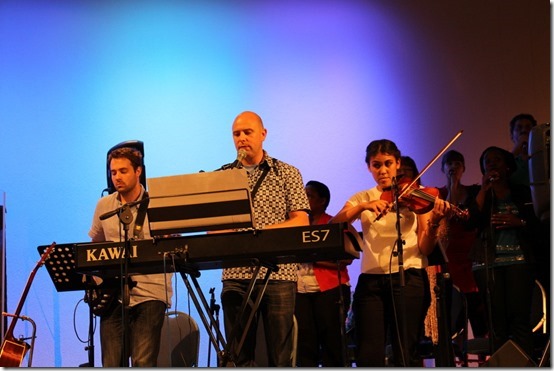 Aw! Amy S – looking like an angel.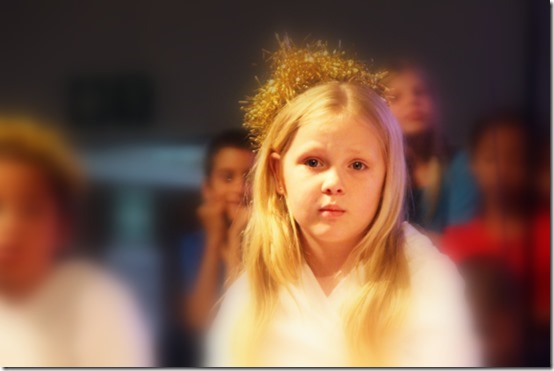 Uncle Willy's again! As always, a huge hit with the kids and family…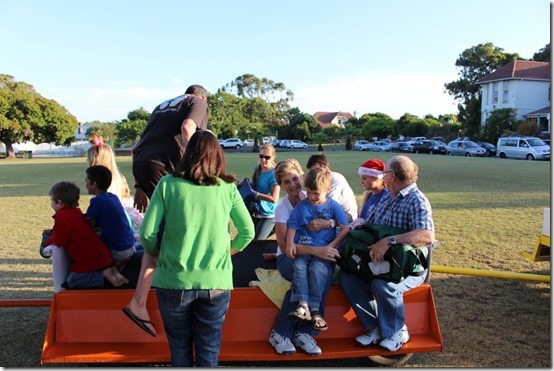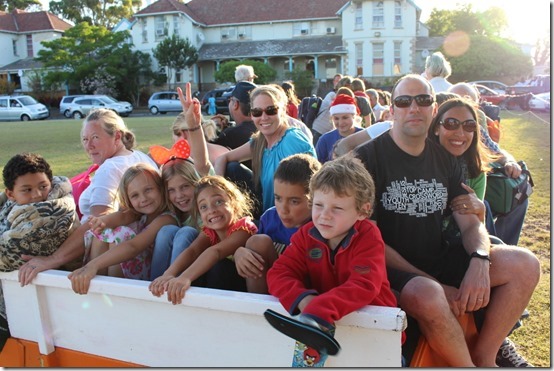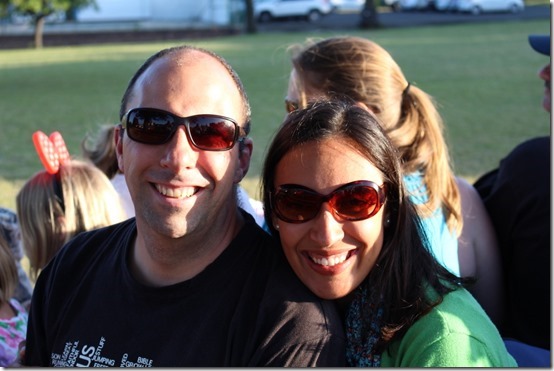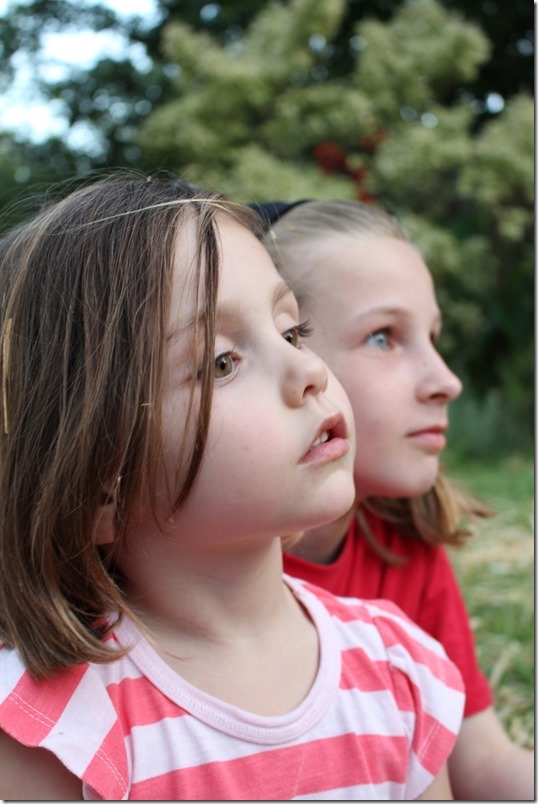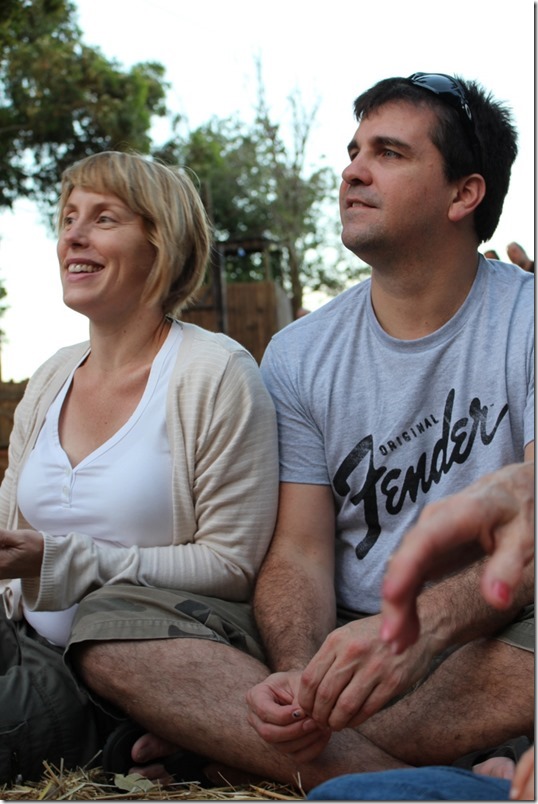 Christmas Eve saw us doing the usual – our Christmas nativity…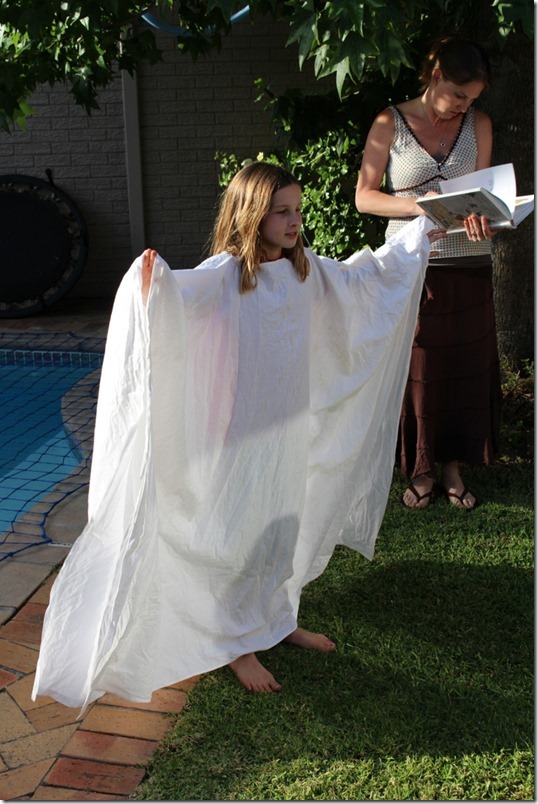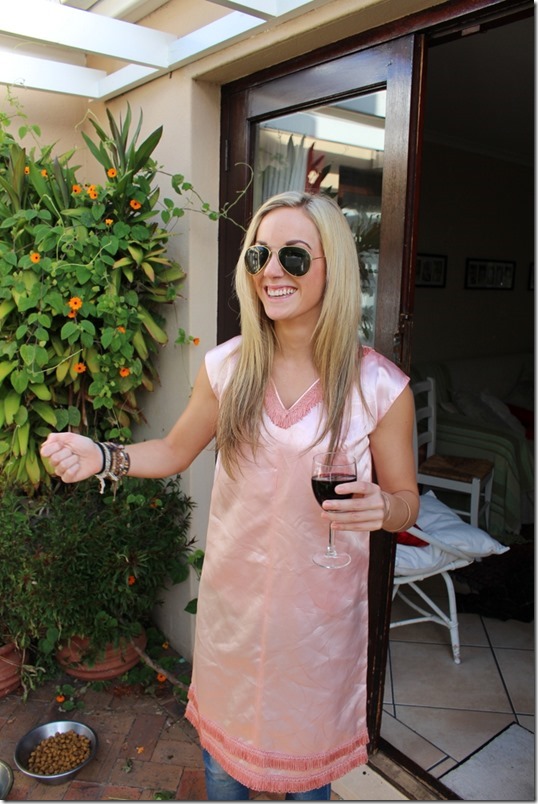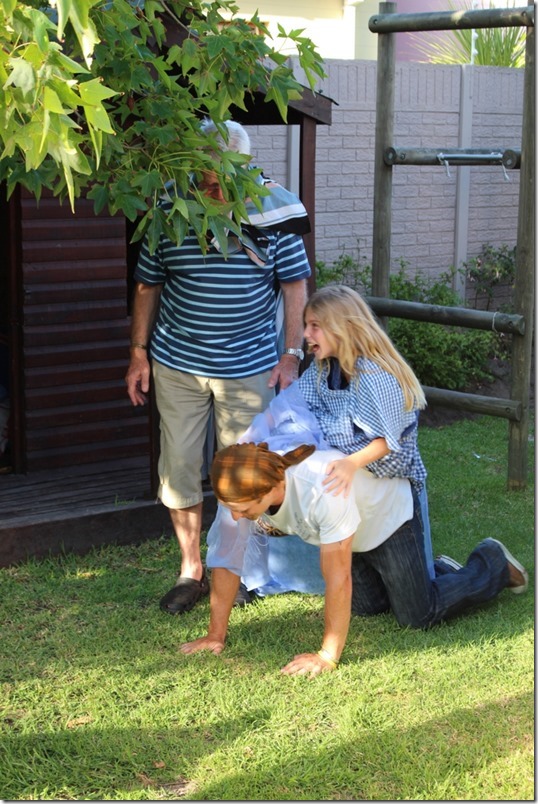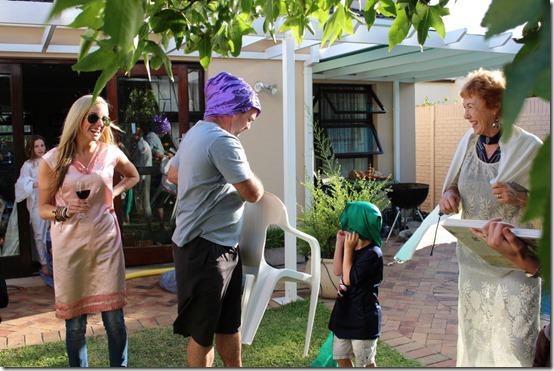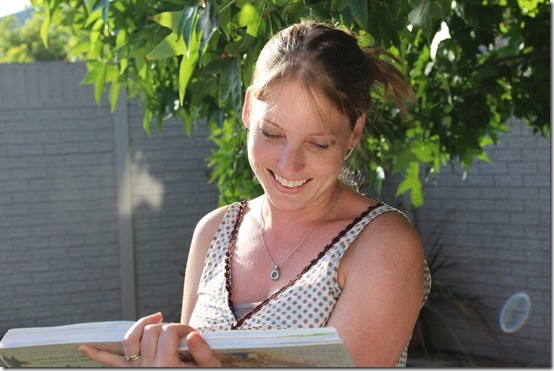 We kept things low key, with supper on our laps in the lounge and carols by candlelight there too.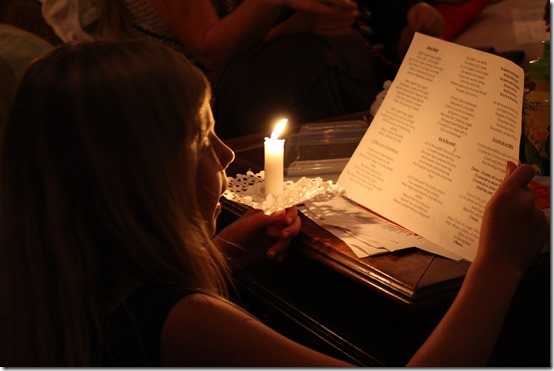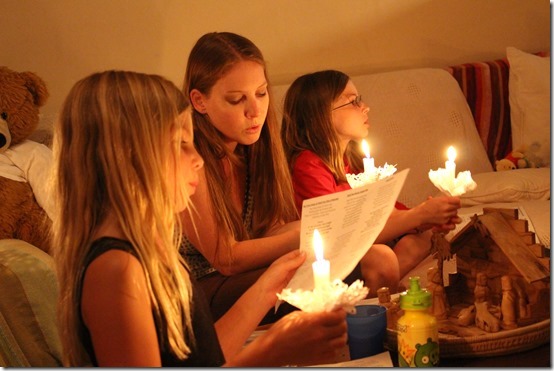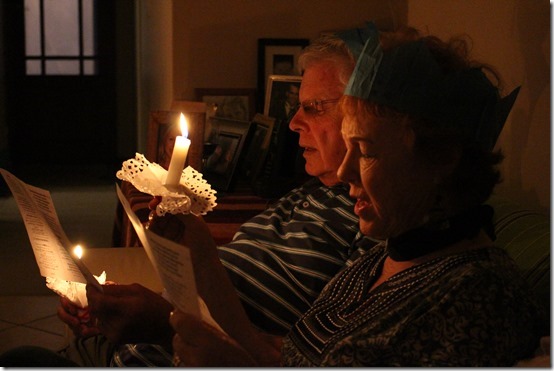 Kirsty brought her boss and friend, Simon. Funny how since I've written Seekers with the main character being Simon – well, now I seem to bump into Simons all over the place!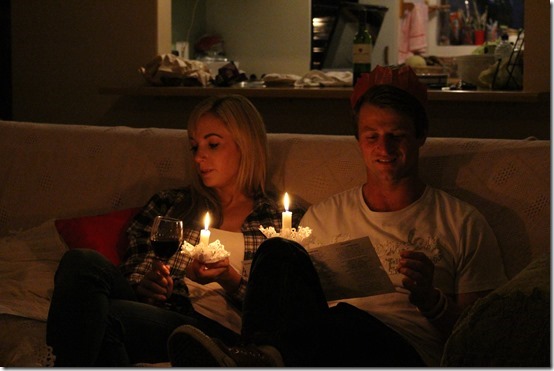 Craig was behind the camera for the above shots – and this one too.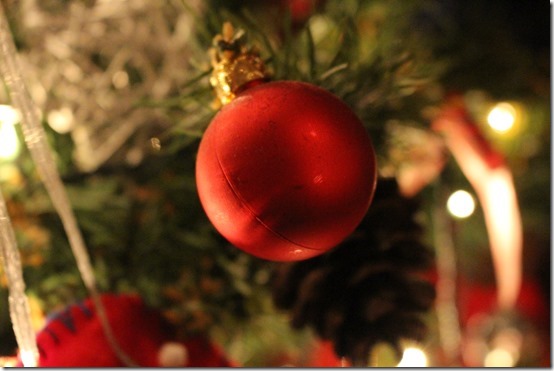 Christmas Morning – Mr Micah excited to be opening his stocking gift (filled with must-haves for the following year like school supplies and such!)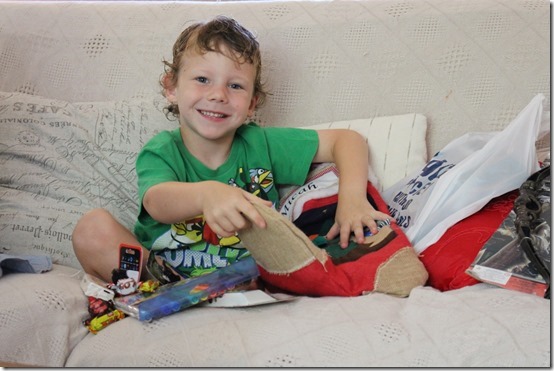 Christmas lunch at Granny and Gaa's – here Kiera chats with Gran-Gran…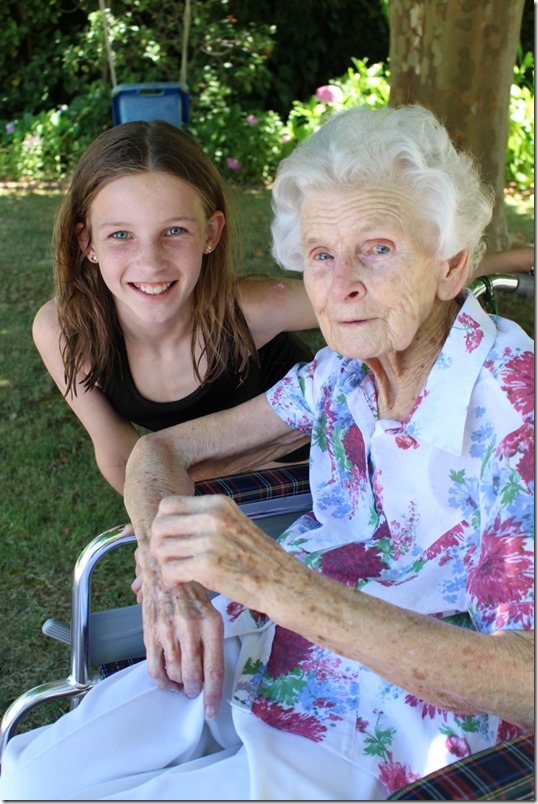 Christmas lunch! Yum yum!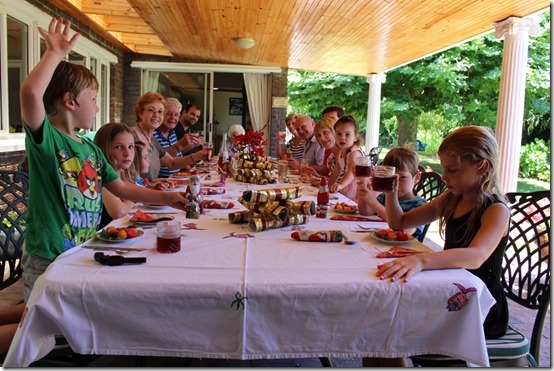 This was a delicious pudding by my mom – the perfect "christmas pudd" for a summery Christmas.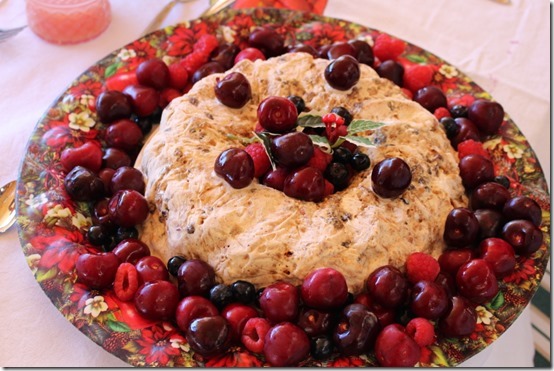 Down to Hermanus between Christmas and New Year for a short holiday – we didn't stay for New Year's like we usually do, thanks to the enormous amount of work still waiting for us at home. It was still fun, none-the-less:
The kids scored some boogie boards for Christmas from Granny Sally and Grandpa Peter, so off to the beach they went: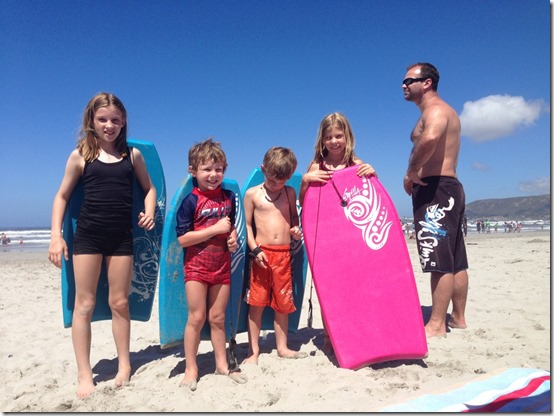 Kiera enjoyed digging herself into the sand. She's doing the splits under there – with her legs on the left and right of her body (not front to back). Ouch!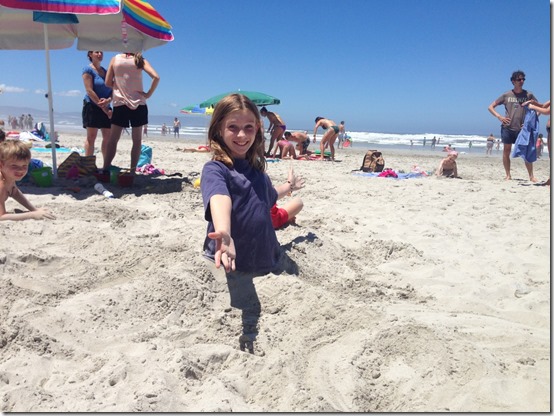 Craig made some chocolate flapjacks – yup, the man is on holiday mode when he's baking or cooking something yummy.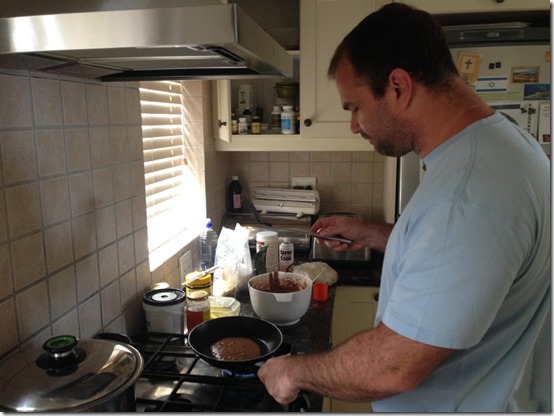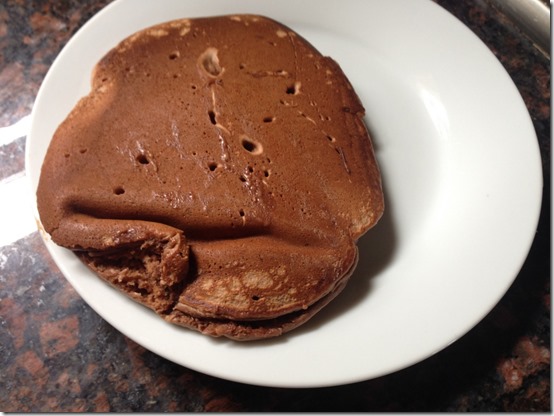 Scrabble! Can't remember who won, but it definitely wasn't me!
Katie making mince pies with Granny.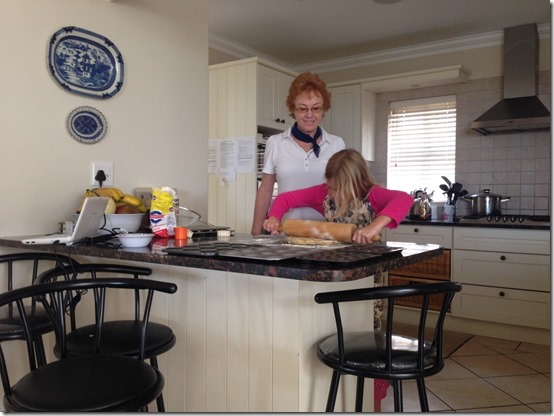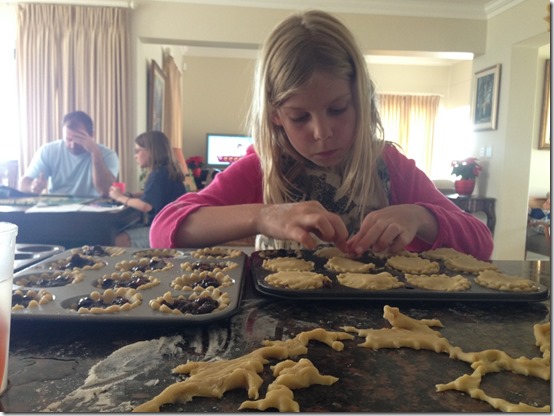 Oh – right, here's who won!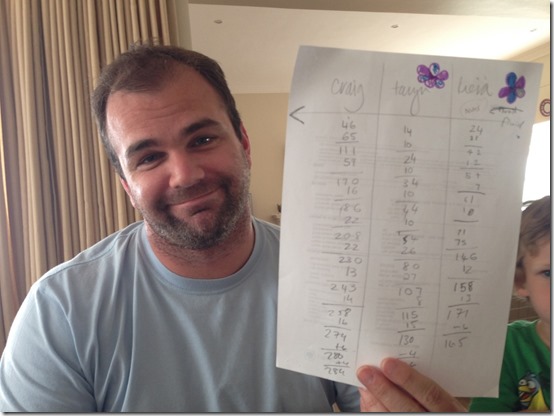 Boys wearing their Christmas socks on their heads!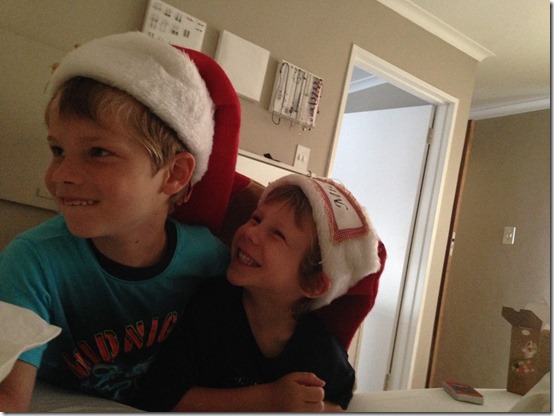 New Year's Eve was a just-us event – so much fun! I was keen for a party, but it's not fun for the kids to be dumped for the evening. So, at the last minute we chose to make the evening fun for US. And it was such fun. The kids really enjoyed it and I think it's something we should repeat in years to come, with other families too.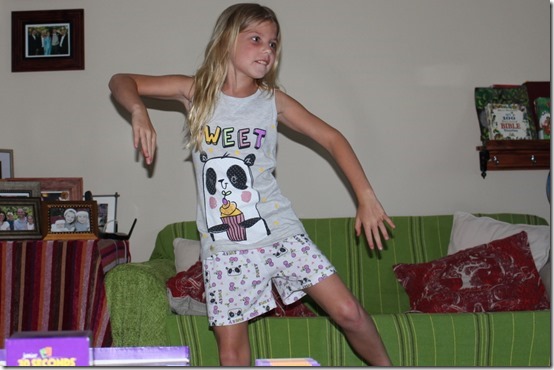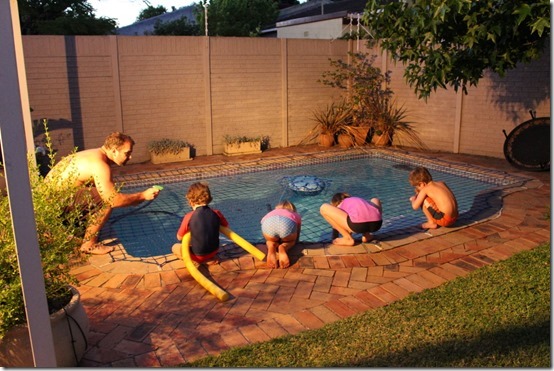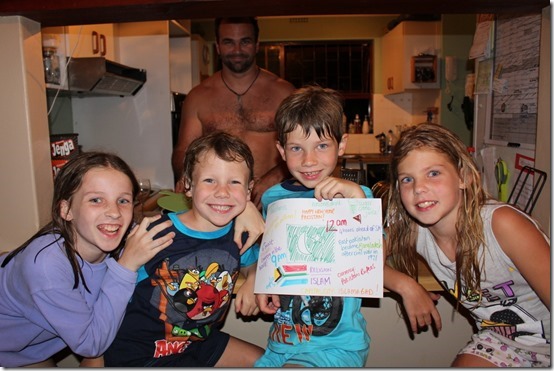 Clearly, it was much enjoyed – and a great way to end 2013!