This year's Easter weekend was a little different and a lot the same as previous years. We've added and left off, but mostly we've stuck to the same traditions of the past few years, namely: resurrection eggs leading up to the Easter weekend, a passover dinner, resurrection cookies, resurrection garden and a special hunt with the wordless book (the last this year – something new and more grown up for next year is my aim!).
We do a Messianic version of the passover meal. The Bible says that Jesus is the messiah – the ultimate "passover lamb". He gave himself up to cleanse us of our sins. Going through the passover dinner together, the symbols that point to Jesus are quite amazing. This year, we had it at our home. In the 8 years that we've done this, we've only had it at our house twice before. It was fun to use our chalkboard wall for the purpose of the passover: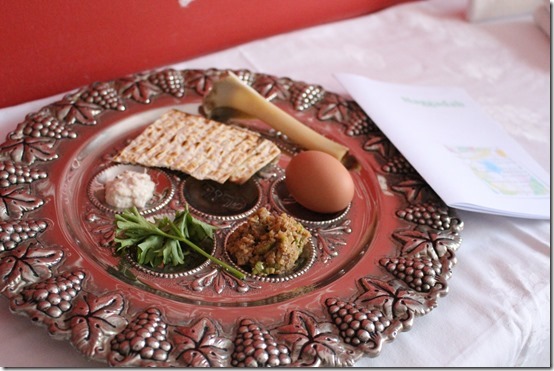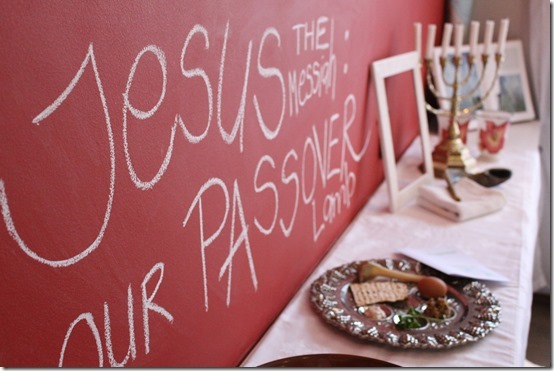 We did the usual antics and such – Craig does a great job of keeping the evening light and entertaining for the kids, but without losing the depth and meaning.
Here we all are, trying out the shofar: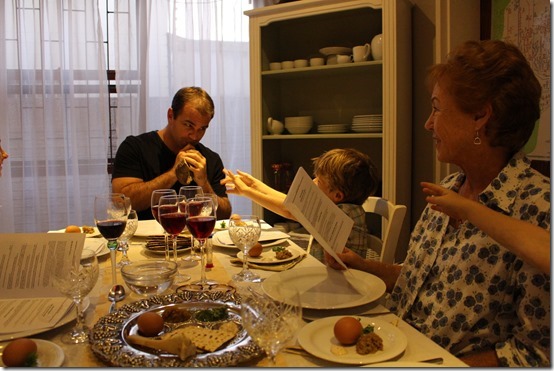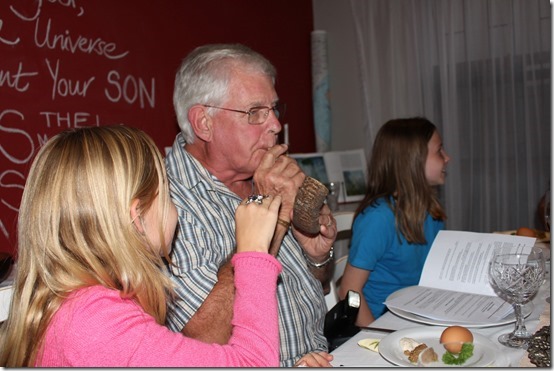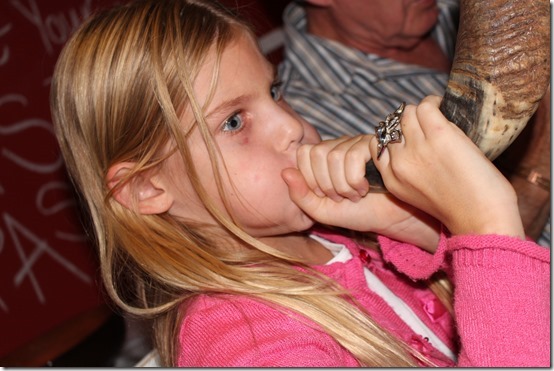 Hey – I managed to get a pretty awesome sound out of it!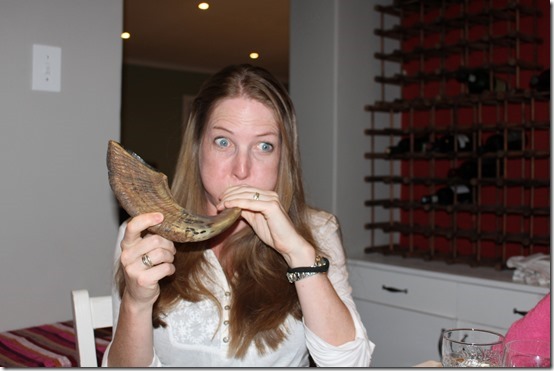 So did Micah.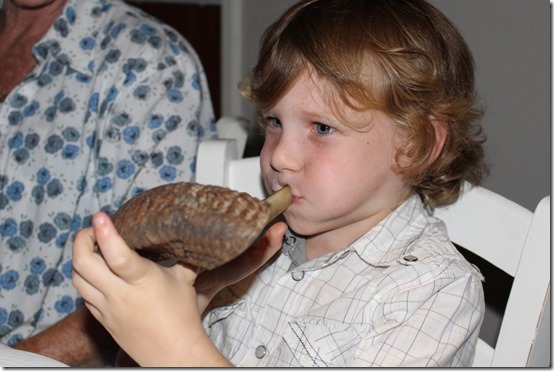 And my mom – she's the queen of the shofar in our family. And look how relaxed she looks!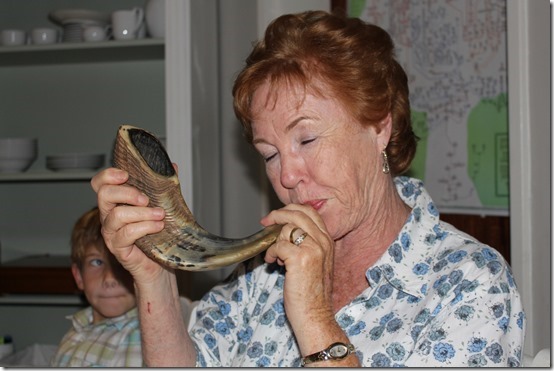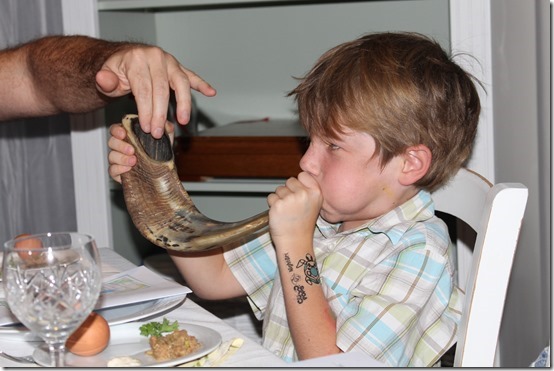 Craig got Kiera to light the candles this time – usually it is the oldest or "honoured" mother – so she felt pretty special to be the representative.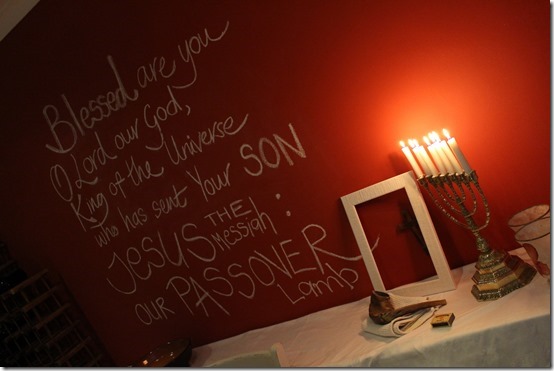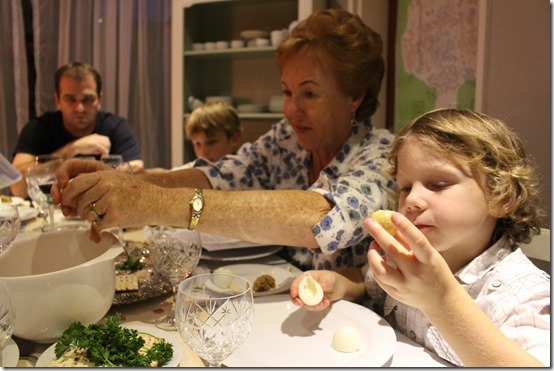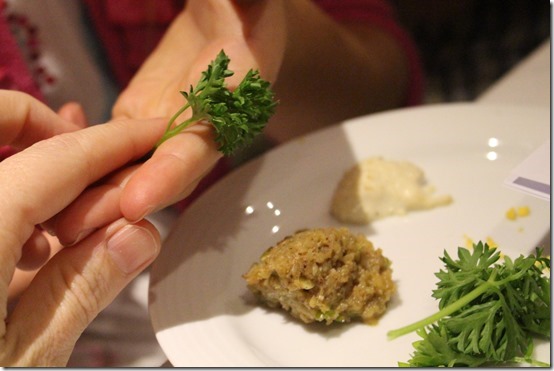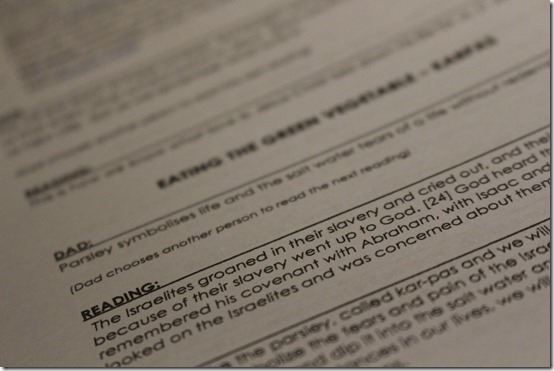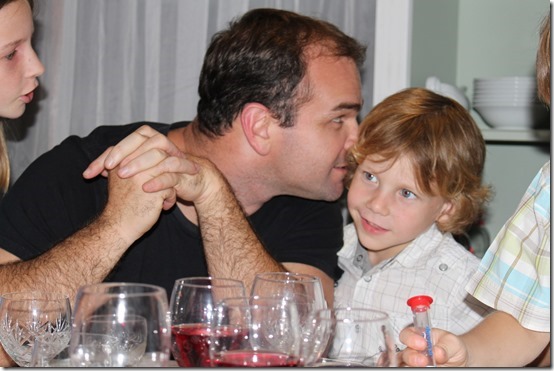 Searching for the afikomen. The kids searched hard and there was great disappointment when Kiera found it AGAIN. By the time she is 12, she is no longer a kid and so this year was her last.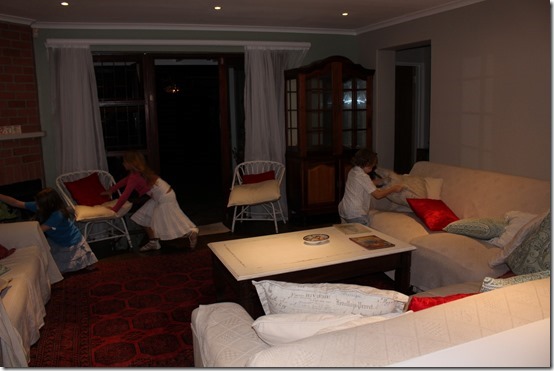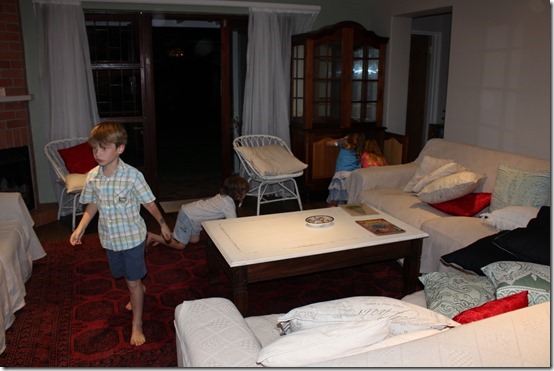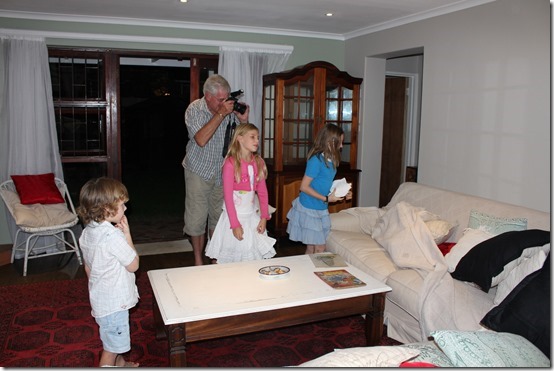 Mom had bought the kids some glow-in-the-dark eggs from woolies – so that added to the evening fun.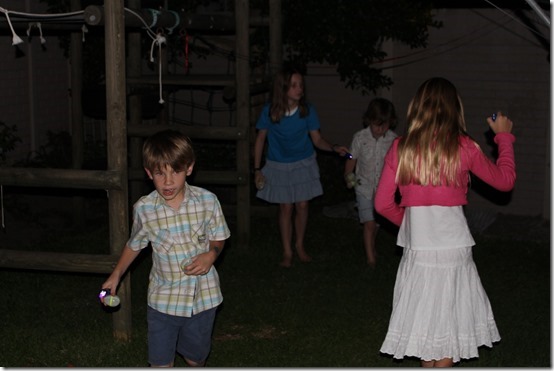 And we had a great yummy dessert thanks to Craig (and Bev for the family's recipe!) … Mango Pudding!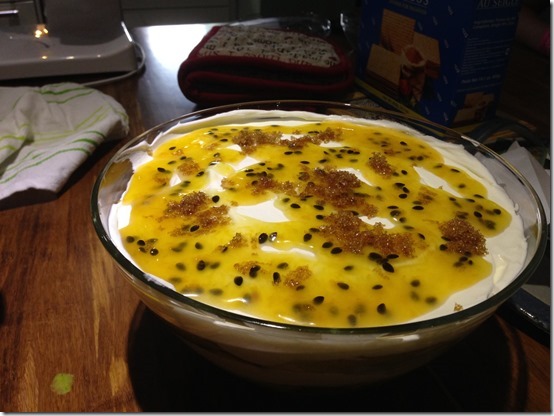 The next day, Saturday, the kids put together their resurrection garden. It's a lovely little activity that helps to illustrate the death and resurrection of Jesus. On the Saturday night, the garden has a closed tomb and is sad and alone.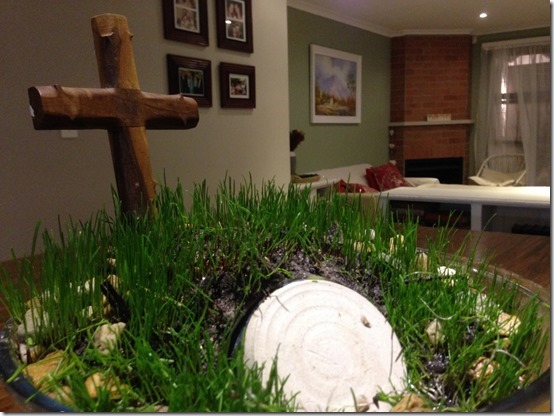 When I went to bed, I noticed that our garden had acquired a few Lego people – mourners at the cross and a guard by the tomb!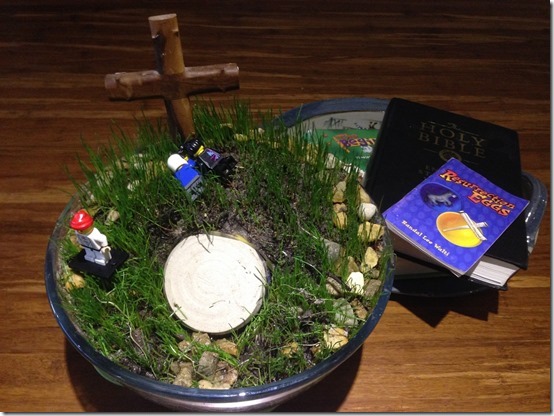 Then, the nexxt morning, the children wake up to an open tomb and flowers representing new life and the joy of the gift of Jesus!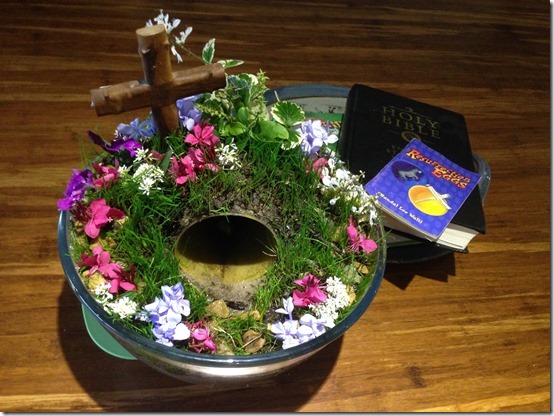 Pretty chuffed kids enjoying their breakfast on Easter Sunday.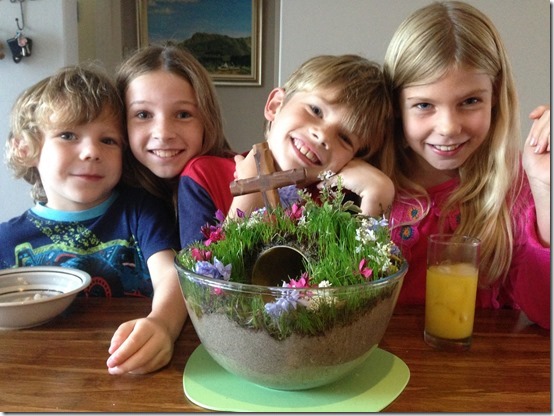 Also on the Saturday night, the kids make resurrection cookies. These little meringues tell the story of Jesus' death and resurrection. Each step in the process of the recipe is accompanied with bible verses that tell the story.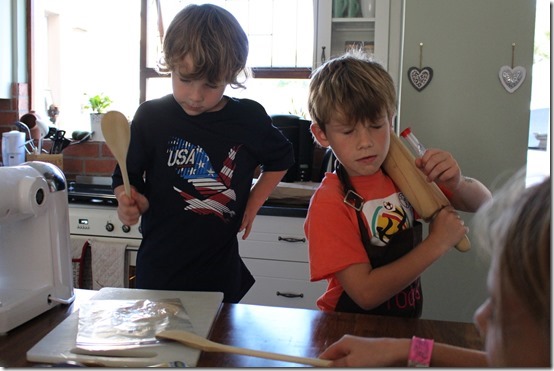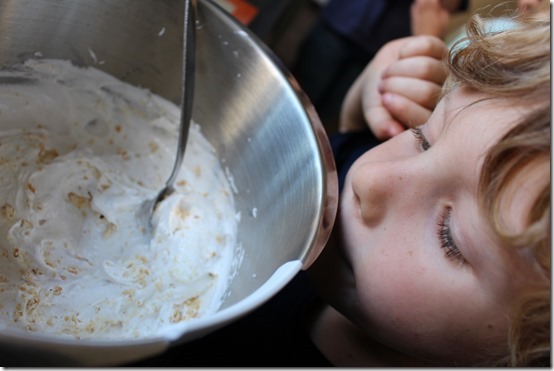 Once the mixture is in the oven, the kids "seal" the tomb with tape – not to be opened until the next day.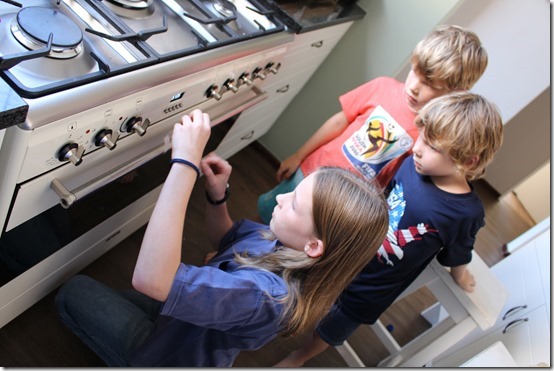 On Sunday morning, Kiera got to open the last of the Resurrection Eggs – these guys also tell the story of Jesus' death and resurrection – starting when he entered Jerusalem on a donkey.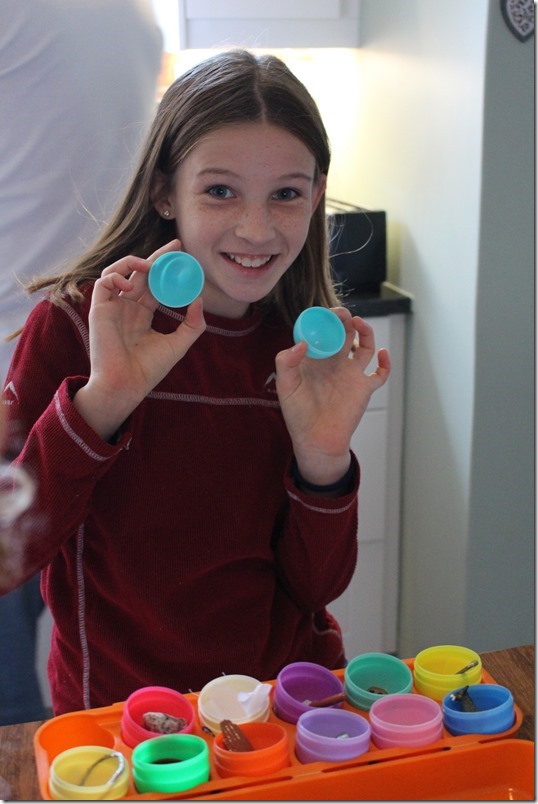 All these little traditions around Easter time may sound like overkill. Just writing about them, I'm aware of the branding of "resurrection" to just about every activity. I can imagine how overwhelming it may all seem to families who don't have these particular traditions in their home. Even I feel a tad overwhelmed just writing this all up – it certainly sounds like overkill! Yet, drop just one of these activities and I would have mutiny on my hands! The kids talked constantly of resurrection cookies and gardens and eggs and passover dinners and more for weeks coming up to Easter. Any suggestion of dropping an activity or tradition was met with a solidly negative response. Absolutely not! It makes my heart smile. Because when we came up with all these little traditions (and by 'came up', I mean 'scoured the Internet and stole all the best ideas') we wanted to establish traditions in our kids' lives that pointed to Jesus – especially around Christmas and Easter when it's so easy to surround them with gifts and mythical creatures to create excitement and hype. We want them to look fondly back on their childhood while remembering how the truths of the gospel were reinforced in some of their happiest memories. We don't have to do these things to reinforce the truth of the gospel. But, as parents, we are called biblically to teach our children and gospel to them. That can happen just about any way, with or without crafts and such! It should happen in the normal rhythm of daily life. It definitely doesn't need special occasions. In fact, I'd rather have the "normal rhythm gospel focus" with absolutely no "special occasion gospel focus" than the other way around. But a mix is good too – which is why, when special occasions do present themselves, we've chosen to mark them with these special traditions.
And, who doesn't like crunchy yummy meringues?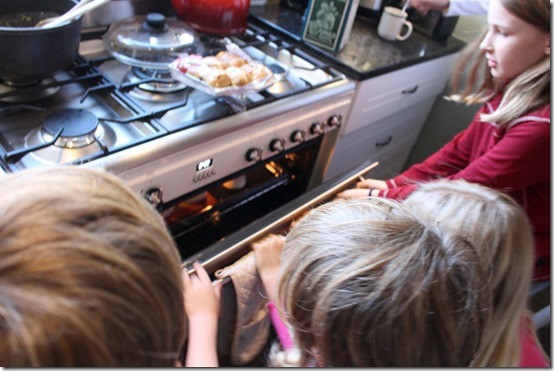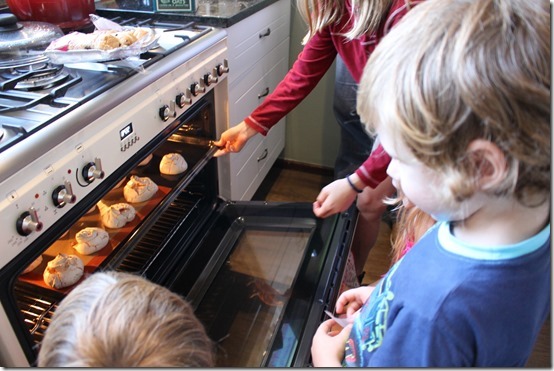 The open and empty tomb – the sweetest symbol of the sweetest gift from God!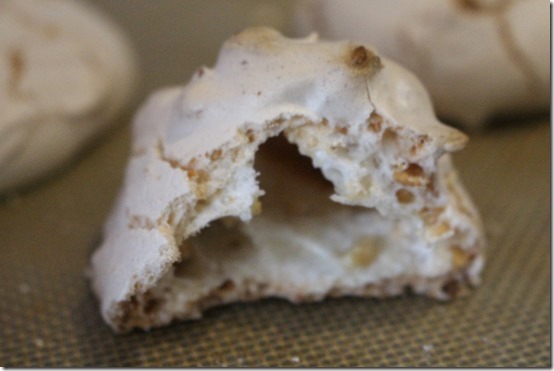 Another tradition we started about 4 years ago with Kiera we got to do again this year. When one of our children can read well enough that they're starting to read chapter books with some fluency, we give them their very own Adult Bible on Resurrection Sunday. We each write a special message to the child concerned and present it at breakfast time. Sam has been anticipating his for the past few months – and thank goodness, because I almost forgot this year! He talked about nothing much else for the weeks coming up to Easter. Forget eggs, hunts, dinners or cookies. Sam was interested only in receiving his Bible. I had no idea that this tradition had left such an impact on him – seeing his sisters receive theirs. After all, he was only 3 and then 5 when the girls got theirs. But, I am glad for his enthusiasm. My prayer is that he will faithfully read it in all his years.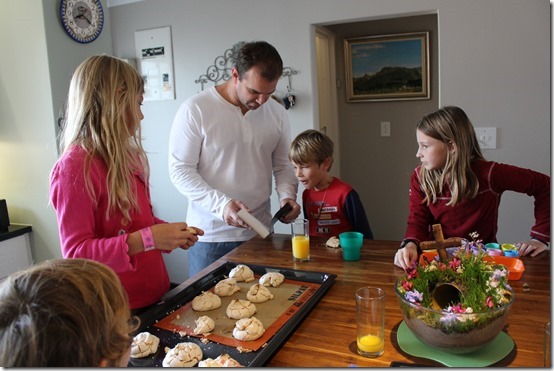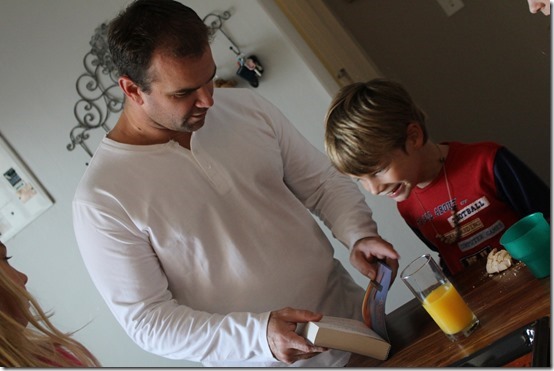 After breakfast, we did our Wordless Book treasure hunt. Usually, we do this after church or later in the afternoon, but this year we were heading to Craig's family for Sunday lunch where the hunt idea was kept low key so as not to confuse the kids with the varying views on Easter.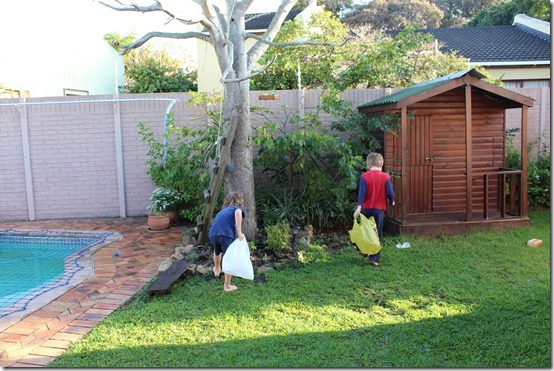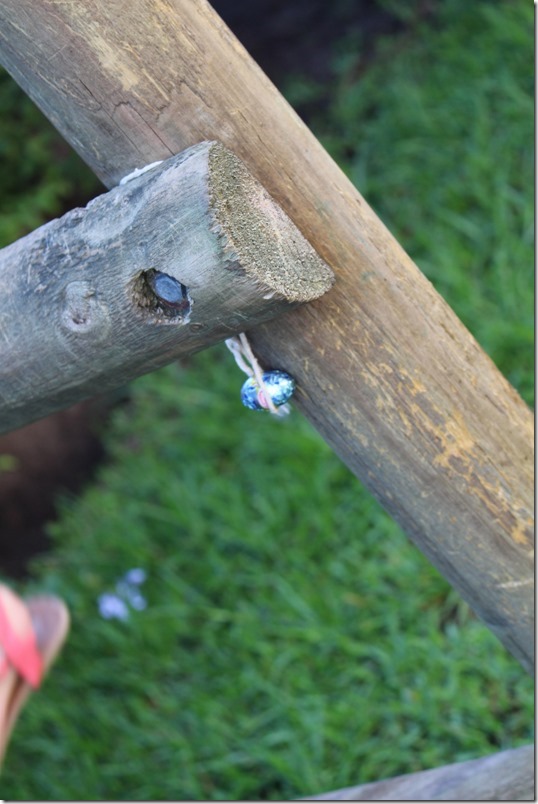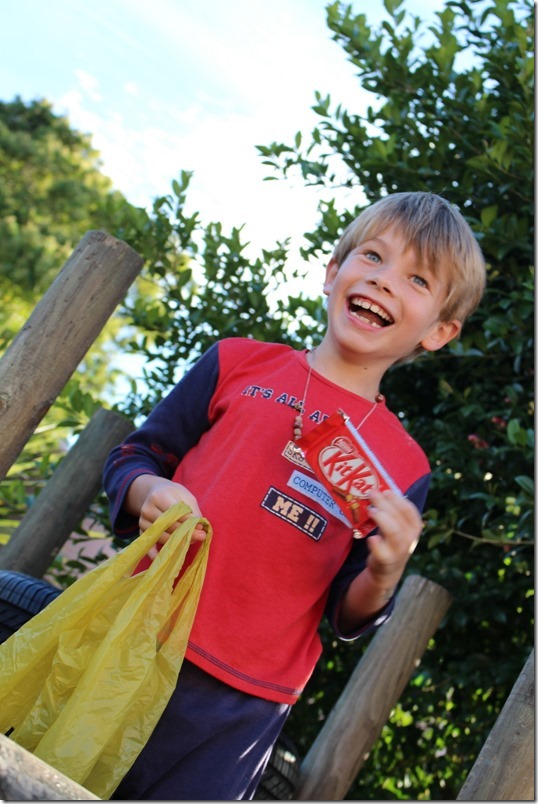 The kids found eggs and chocolate in the wordless book colours and then we went through the poem – each colour representing an aspect of the story of the world.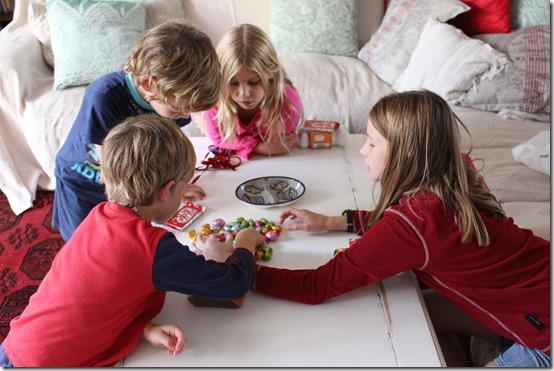 Of course, everyone loves the white eggs most!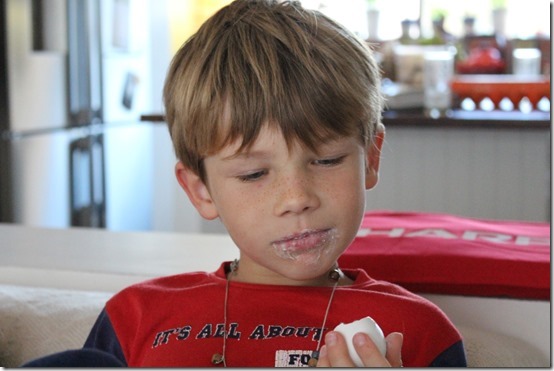 Lunch was delicious – very delicious! Cam and Bron made a wonderful lamb shwarma meal with all sorts of delicious goodies. Yum yum!
And we all got to meet the newest Hayes – little Maya, born to Murray and Ali (their third child and third daughter).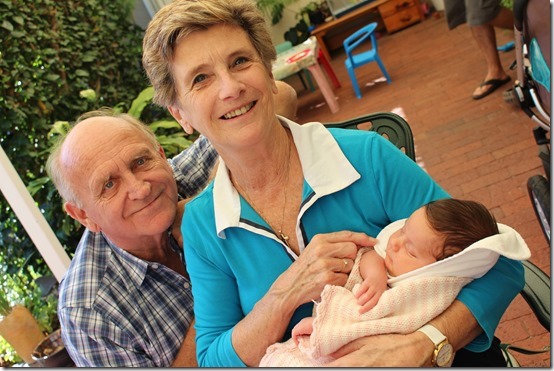 Proud grandparents!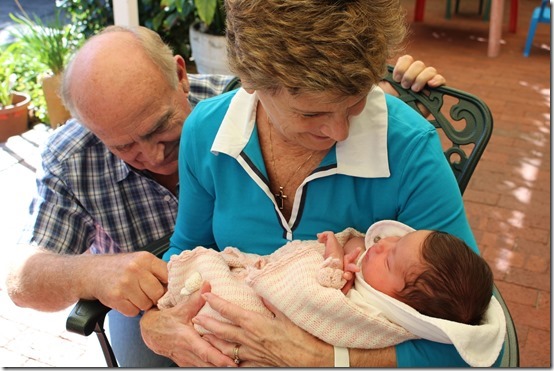 Cousins!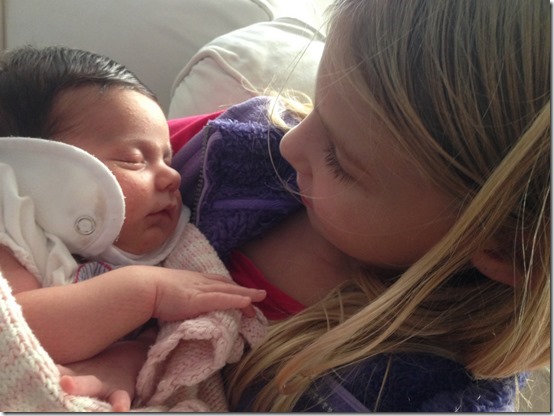 Awww! Craig holding babies always makes me all mushy inside!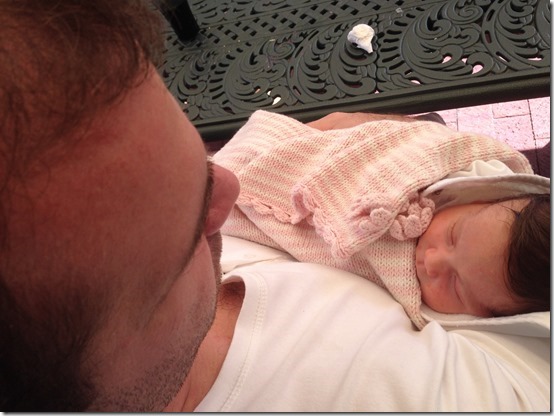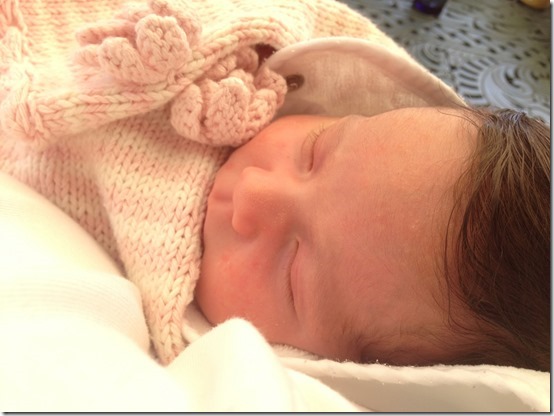 A fitting end to a wonderful weekend celebrating new birth through Jesus' saving gift of life!
For other posts on the various traditions we do around Easter time, including recipes, detailed "how to"s and other ideas, head to the Easter tagged posts (this post that you are reading will appear first – just scroll down and you'll find the rest): Easter at Hazy Days.