The following book review was first a short talk I did at the St James Women's Day Away conference, 11 May 2013.
Morning ladies,
When we look around this room, we see many reading opportunities. The Bible on your lap, the phone in your hand, the notice boards, the multi-media. In fact, if we analyse society today, we'd be blind not to recognise that people read more regularly today than they did 20 years ago. Yes, today society is reading words daily in newspapers, books, text messages, Facebook posts, internet articles and news snippets – on their computers, phones, tablets, televisions and more. But, our daily reading is no longer the deep contemplative reading of yesteryear. Our day-to-day reading is of the fast-food variety. Instead of feasting on a lovingly-prepared, well-cooked meal of excellent writings, we graze at the revolving fast-food belt of titbits and snippets.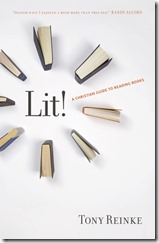 In his book Lit, Tony Reinke says that the type of reading we do today is reactionary. We read and react – we read that pithy saying on Facebook and react by reposting it on our friend's newsfeed, only to forget it moments later. He quotes journalist Nicholas Carr who complained of how his own reading habits were being influenced by the Internet. Carr said, "Once I was a scuba diver in the sea of words. Now I zip along the surface like a guy on a Jet Ski." (Lit, p.138)
Is that you? Is that bad? Should we be doing something about that?
Well, according to Tony Reinke, Christians should indeed be reading more deeply. While there is nothing inherently wrong with zipping across the sea of words like a jet-skier as we read in the short bursts typical of today's technological age, the risk of losing the ability to read more deeply is great. And it is a risk, because reading is essential to the Christian faith. Without the words of the Bible, we cannot know the gospel. Without reading His Word, we cannot know how to live in the light of the gospel. Without deeply considering the heights and depths of God's love through His words, we cannot begin to fathom it.
And while being able to read and drink from the Bible deeply is essential, being able to read all good literature is a great and worthy blessing. We jet-skier readers may have a lot of fun on the surface, but if we stay there, we will miss out on the incredible, and oftentimes life-changing, beauty deep down in the ocean of words.
But, how? If we find ourselves in the habit of surface reading, how do we change? Well, I'd like to suggest that we can change by starting with this book by Tony Reinke. Lit! A Christian Guide to Reading Books is divided into two parts. Part One focuses on the whys of reading. Part Two focuses on the hows. If you're wanting to benefit from excellent literature, but are struggling with the hows, I suggest that you buy this book and read part 2 first! If you're struggling with the whys, then start right at the very beginning.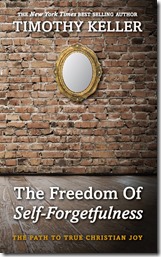 Maybe you already have determined to read more deeply, but are scared to start with something too heavy? Then this may be the book for you: The Freedom of Self-Forgetfulness by Tim Keller
It's a small booklet of only 44 pages that focuses on a chapter from Corinthians. It's written in an easy conversational style. Yet, it contains some of the richest and deepest truths. Keller sets out to show us from Paul's letter to the Corinthians what the ultimate freedom from self-obsession is. He asks a few heart-probing questions and, here, I'd like to quote:
"Friends, wouldn't you want to be a person who does not need honour – nor is afraid of it? Someone who does not lust for recognition – nor, on the other hand, is frightened to death of it? Don't you want to be the kind of person who, when they see themselves in a mirror or reflected in a shop window, does not admire what they see but does not cringe either? Wouldn't you like to be the type of person who, in their imaginary life, does not sit around fantasising about hitting self-esteem home-runs, daydreaming about successes that gives them the edge over others? Or perhaps you tend to beat yourself up and to be tormented by regrets. Wouldn't you like to be free of them? Wouldn't you like to be the skater who wins the silver, and yet is thrilled about those three triple jumps that the gold medal winner did? To love it the way you love a sunrise? Just to love the fact that it was done? For it not to matter whether it was their success or your success? Not to care if they did it or you did it? You are as happy that they did it as if you had done it yourself – because you are just so happy to see it.
You will probably say that you do not know anybody like that. But this is the possibility for you and me … This is gospel-humility, blessed self-forgetfulness. Not thinking more of myself as in modern cultures, or less of myself as in traditional cultures. Simply thinking of myself less."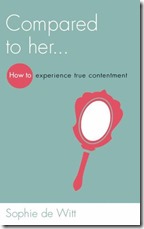 I really recommend this book to discover how one can attain this "blessed self-forgetfulness". And, while I am not reviewing this book today, I would also like to strongly recommend our own Sophie De Witt's book Compared to Her. It deals with similar themes to Keller's book, but looks specifically at how women tend to base their self-worth on how they measure up to other women. If you find yourself ever comparing yourself to other women, then that's a book to buy and read.
Questioning Evangelism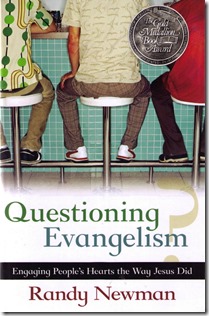 Finally, I'd like to recommend this book, Questioning Evangelism by Randy Newman. The less we think of ourselves, the more we naturally think of the gospel and how it affects others. But, if you're anything like me, starting a gospel conversation with anyone strikes fear and trembling in your heart! I've done a great job of botching many a gospel conversation in the past. Which is why I am always grateful for writers like Randy Newman who give us great tools to help us share the good news. And Randy Newman's book really does an excellent job of giving us a fresh perspective on gospel conversations. The title, Questioning Evangelism, is not suggesting that we should question whether one should evangelise. Rather it's saying that we should use questions in our evangelism. Randy Newman explains how often simply asking questions of someone very naturally leads a conversation in the direction of Jesus. He explains how each and every context is relevant. There are even chapters that take you through typical situations Christians find themselves in – like that age-old "Christians are hypocrits" accusation or the claim that God doesn't exist. So often we find these situations difficult to field, but Newman's suggested way of handling them is like a breath of fresh air.
If you ever find yourself walking away from a conversation kicking yourself for not grabbing the opportunities presented to you, this is the book to read.
So, as you contemplate your own reading today, may I encourage you to keep diving deep into great literature, including the greatest of them all: the Word of God.