This is for Laura (who asked especially

)
For a very long time, we've wanted to live in Bergvliet area – mostly because the kids' extra murals are all there and we end up driving over the bridge a hundred times a day. To be able to live close by and not battle traffic would be bliss. But, prices are a good R500k-R1mil more expensive for a much worse house. So, for now, we've decided to get our own house up to sell-standard while we wait. The future is so not certain financially and otherwise, so while we have a little bit of wriggle room in the bond, we felt that it would be wise to upgrade now. It's a "practice this thing called 'renovations' on this house, in case we ever HAVE to do it elsewhere". Turns out that with a great builder, it's really not nearly as much of a headache as people say.
Speaking of builders, I HAVE to recommend ours. Jeremy Louw and his team did an excellent job. Jeremy was fairly priced. He bent over backwards to accommodate us. He hunted down bargains. All while speaking gently to his staff, who all clearly love working for him. I would hire him again in a heartbeat and have already recommended him to all and sundry. Oh – and his "after workmanship" is superb too. We had a electrical tripping problem about a month after they were done when we were running the tumble-dryer as well as a bunch of other things. I dropped him a "not sure if this is cos of the building, but…" sms. Well, shortly after that he was at our door with Benny the friendly electrician. They spotted the problem (too many circuits on one breaker), fixed it and waved a cheery goodbye. No cost. Wow. That's service! So, yes, again – I unreservedly recommend Jeremy! Our bathroom guys were great. Really great. But, Jeremy is in a league of his own.
Now, assuming you've not run off to book Jeremy for your own work, it's on to what we actually ended up doing.
The BEFORE – as in, still living in it and things are really messy: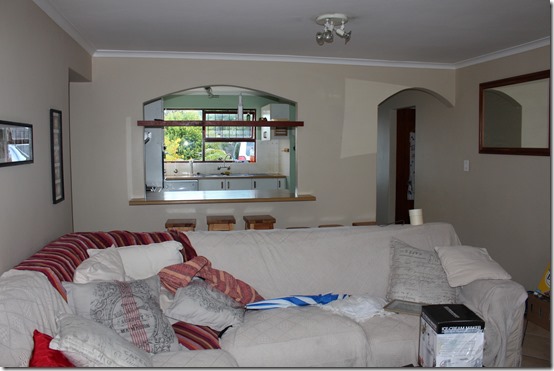 The BEFORE (Stripped) – as in everything removed except the carcuses – all ready for demolition. Mwahahahah.
The photo above is taken with my back to the photo below. Nice handy doorway to the laundry area (soon to be scullery area).
Everything is rather crazy at this point…
DURING: Demolition 101:
No more scullery/laundry area – but gross, check out the black mould. Weww.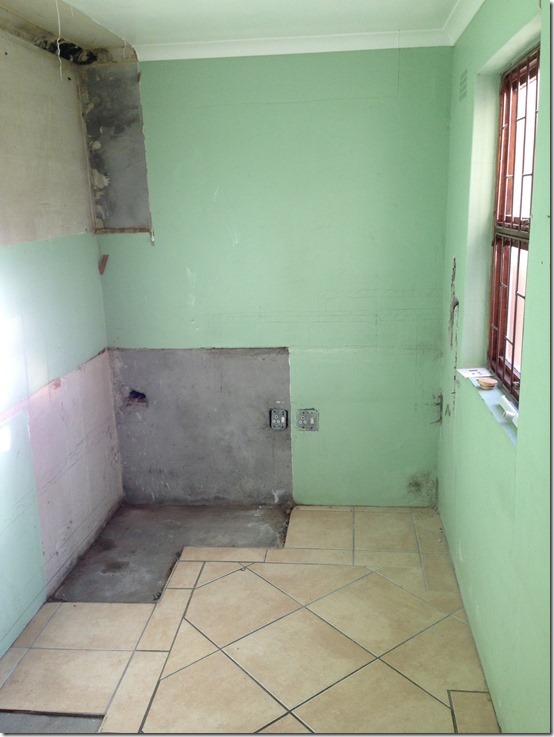 Day one was remove all the cupboards etc.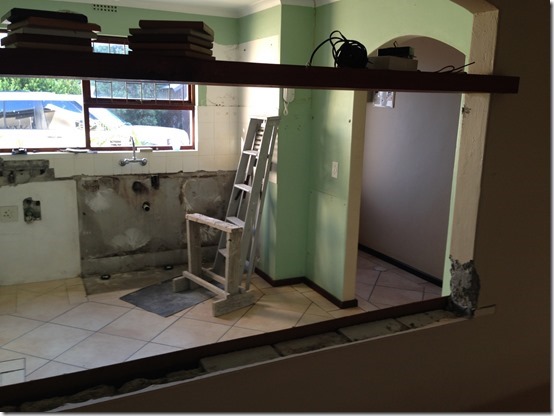 Day 2 was knock out the kitchen walls. Just about all of them! (Note: the kids and I moved to my folks' house in Hermanus for this first week, where we blissfully enjoyed school mornings and swimming afternoons. It was quite lovely and NOT dusty, a huge bonus. Craig, on the other hand, had to stay in town to work. So he came home to this each night and took photos of the progress,)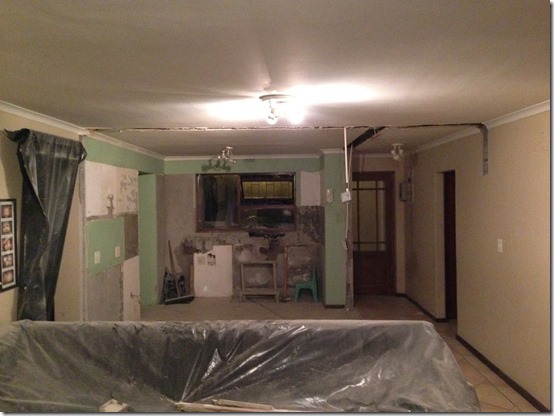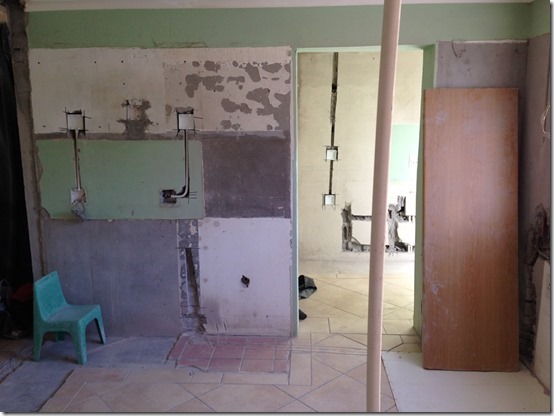 Chasing work… Now here is a good time to give you another great Jeremy Story. He kept me up-to-date with the progress each day through phone calls. One mid-morning he called and said, 'I'm afraid that I have a bit of bad news."
Now, who wants to hear that from their builder? Well, long story short. It turns out that his guys had forgot to check that all the internal doors were closed before they turned on their grinder. So, a fine layer of dust was covering our main bedroom. As in, everything. Jeremy was quite upset about the whole thing. He informed me that he'd spoken to his guys and that they would clean up as best as they could and then club together to pay Johanna extra when she came the next day.
In retrospect, I was quite happy about the bad news, because it was a pretty good indication of the integrity of the guys on the job. That's some pretty impressive service. And Craig spoke of being quite impressed with the clean up job the guys did every night. See? Can't stop singing his praises. (It helps that both my friends Renette and Ingrid also sang his praises when they did work on their homes the previous year – referral referral!)
Of course, dust is still everywhere and I am GLAD we weren't there for that first week.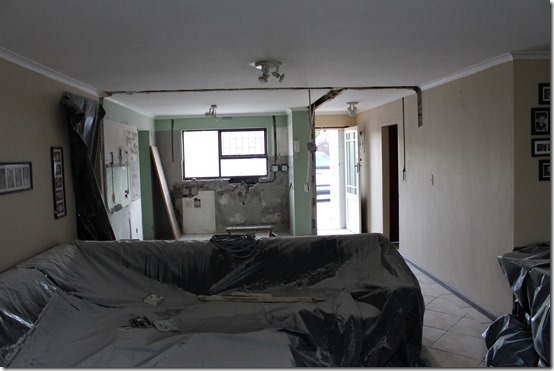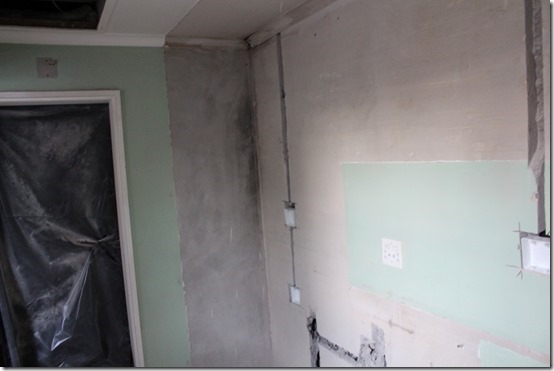 Bye bye walls and hello ceiling gap!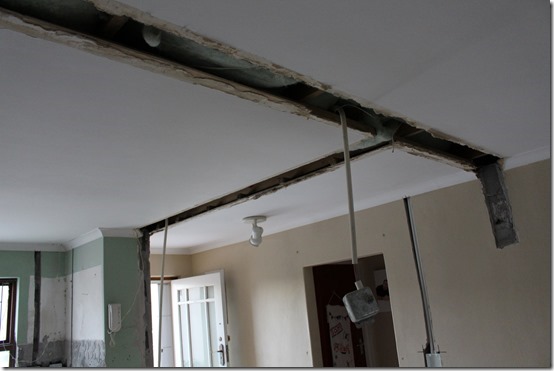 Bye bye ceiling gap!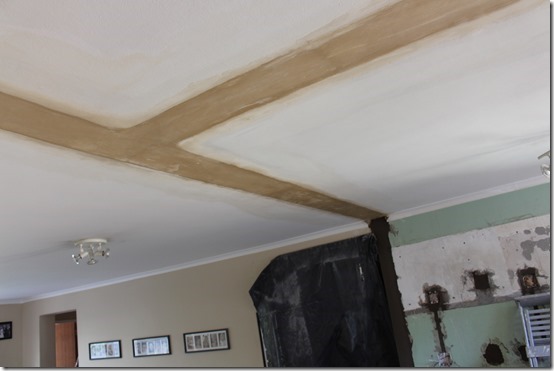 Electricals…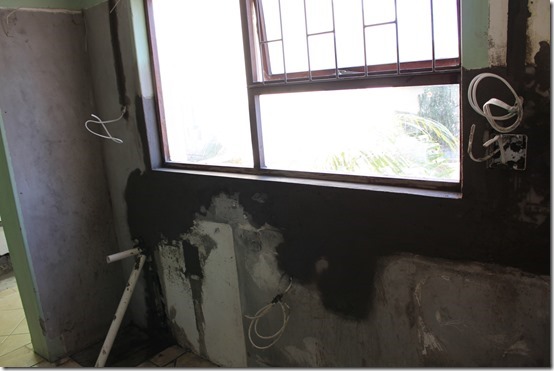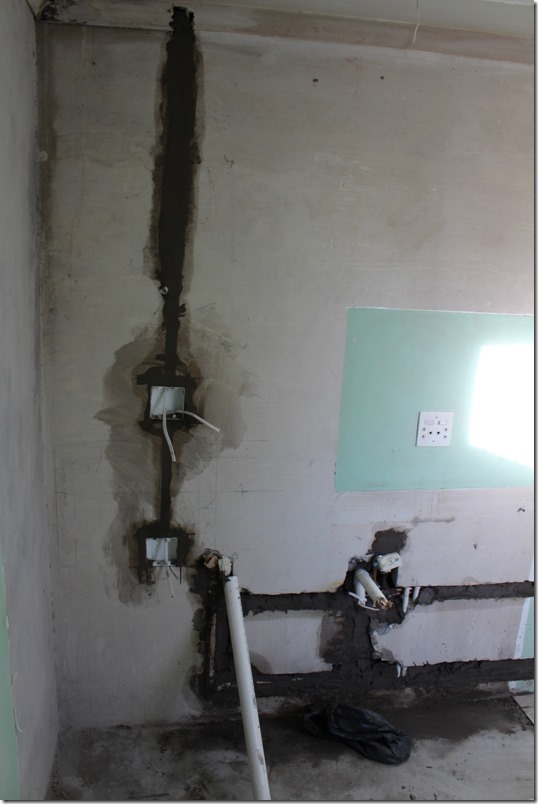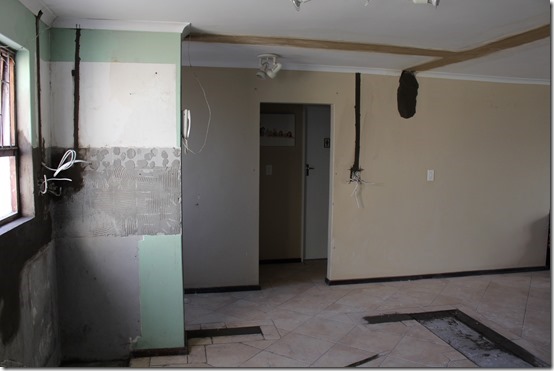 And… cupboards! This was done by Rock on Wood. We had a small hiccup or two, but nothing that wasn't sorted out pronto. Thanks to Colin and his team from Rock on Wood, we had an AWESOME design and all these little extras that Colin insisted I had to have. His refrain was "Taryn, you need joy in your life!" – "joy" being soft-closing drawers, for example. He made it all fit into our budget – that was pretty amazing in itself.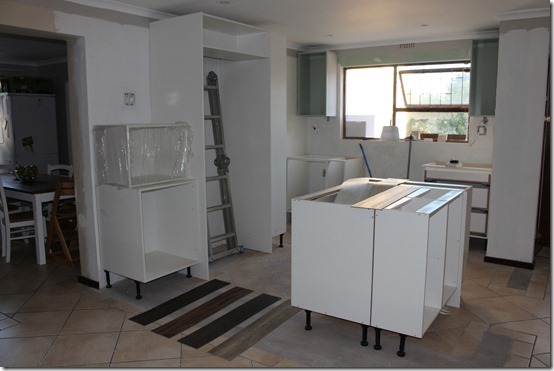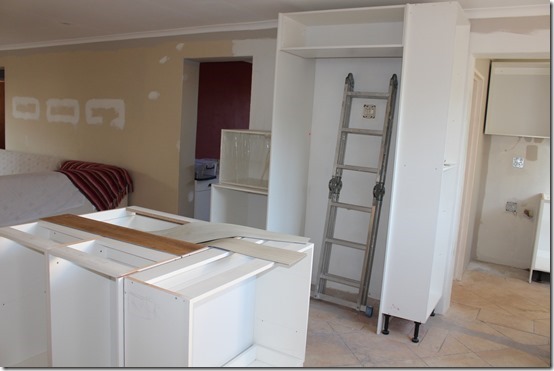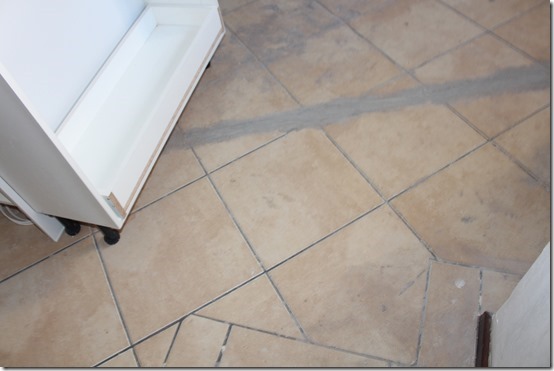 The scullery taking shape – my favourite cupboard is the corner cupboard that Colin designed for me. It fits EVERYTHING in it – vacuum, brooms, large laundry basket and all sorts of other paraphernalia. It's an awesome cupboard.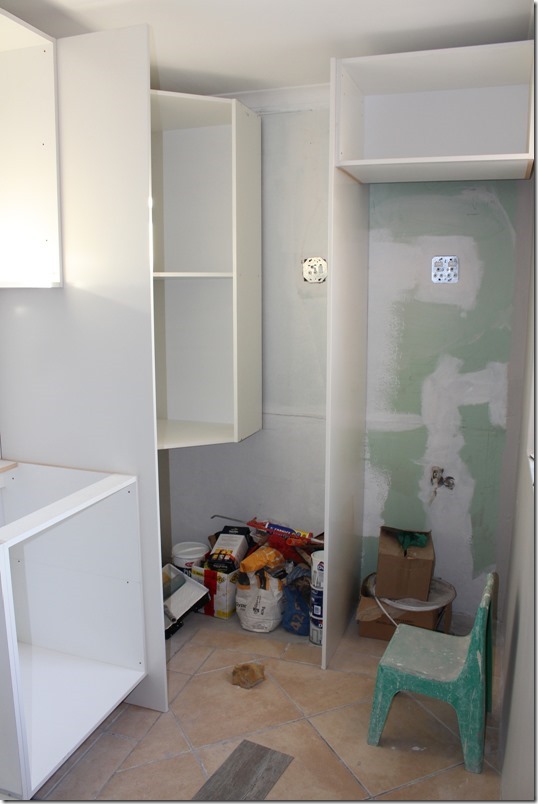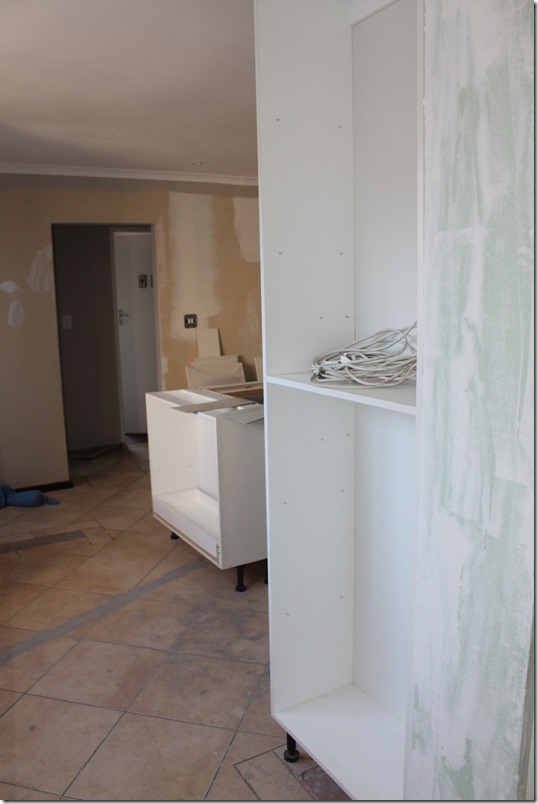 Deciding on flooring – we almost went with the light one on the left… but ended up going with the one next to it.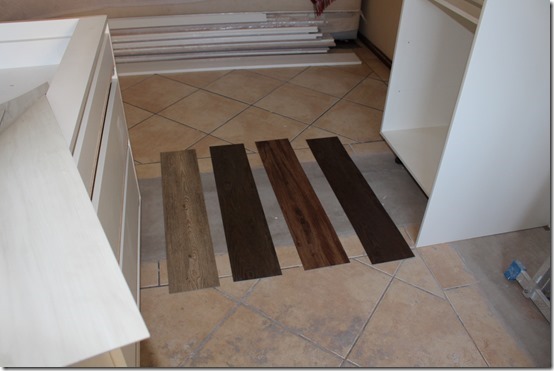 Our painter did a marvelous job – and even entertained my mad notion of making a chalkboard wall – Google told me that I could create my own chalkboard with any colour paint. 1 cup of paint to 2 tbsp of tile grout and voila – you have a chalkboard!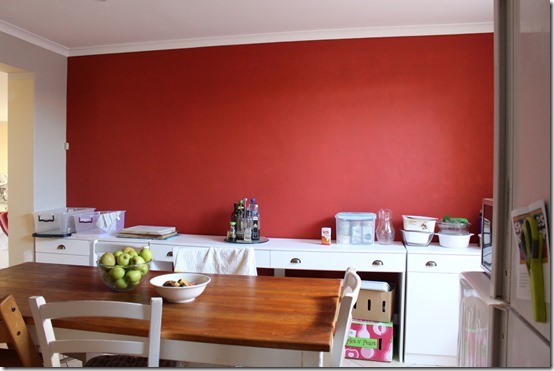 Next – time for the flooring guys. More on that in this post: Top Carpet Constantiaberg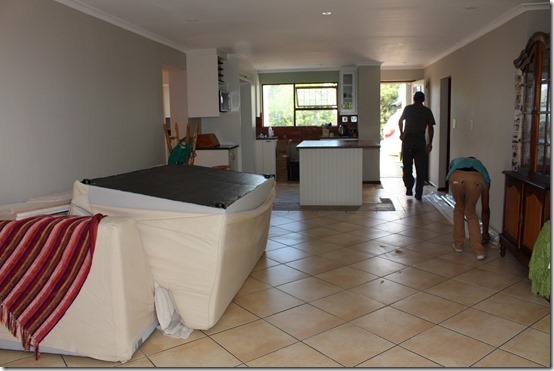 Putting it in …
And, finally – the finished product!
THE AFTER PHOTOS:
This renovation was much like the bathrooms – I had a big picture in my mind but the rest kind of evolved in the moment as and when we found stuff. So, I knew the layout and that I wanted off-white cupboards. I didn't want the popular modern, long brushed-steel handles. They're lovely, but I wanted something more cottagey.
The Colours:
Our original kitchen was green. I loved it. And after contemplating the entire paint-colour palette on every wall in Builder's Warehouse, I settled back on – green. Because a) I still love it and b) Craig really liked it too. But, we chose to keep some of the kitchen and lounge the "greige" I'd mixed from, you guessed it, "grey" and "beige".
The Scullery-cum-laundry-cum-ironing room…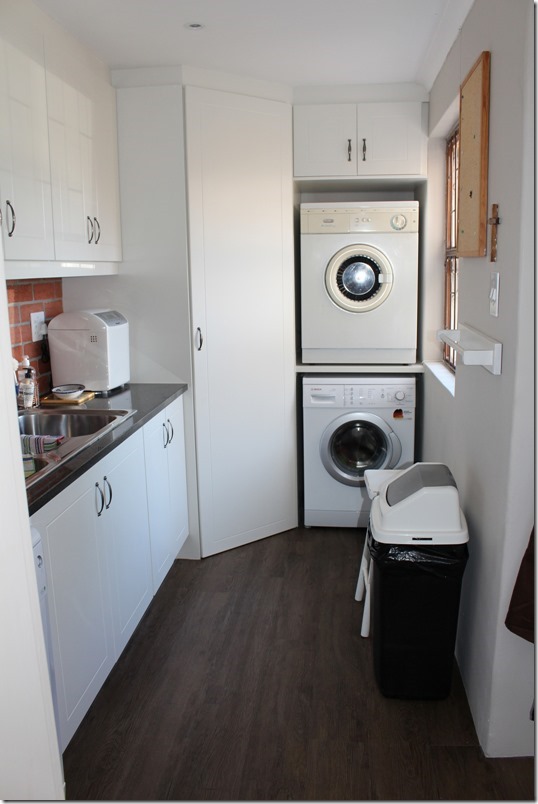 The Brick:
When trying to decide on splash-backs, I knew I wanted tiles. Rather than glass or painted wall or granite. But, the tiles I found when I searched the entire Tile Mile down were, well, blergh. I couldn't find anything I liked enough to want to put it on my wall. There were some black slate-y type of tiles that Craig and I kinda liked. Also, the "subway" tile looked quite nice. But then, in Kales Natural Stone (GREAT place with great prices, by the way) I found a sheet of tiny brick mosaics. And that's what sparked the brick tile idea. But, the tiny bricks looked a bit dumb. Never-the-less, I took them home, along with the other iffy samples we had and swung the idea by Craig. Bricks? Really? He was not convinced. I was totally convinced. It was all in my head by then. But he needed some visuals. Enter: Houzz (oh, I could spend hours there – such inspirational ideas!). Type in what you're looking for and reams and reams of ideas pop up. I found two beautiful examples of what I had in my mind and Craig went from "what?! no!" to "hmmm, maybe". By the time we found proper brick tile samples, he was convinced. And, the next thing I knew, he was ready to put it all OVER the house! Starting with the fireplace. Thankfully, we stopped there as I wasn't too keen on having it everywhere else. And thankfully he had that idea, because it really looks awesome!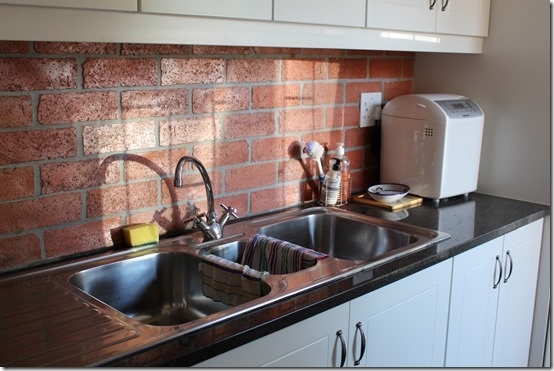 I love, love LOVE the farm-house-meets-modern-day feel. If I had my way, I would've gone MUCH more rustic, but Craig's a fitted-kitchen kinda guy and loves all things sleek, smooth and not-rustic. So, our kitchen is the perfect compromise of both our tastes. (we had plans for a pull-out bin, but, ah-hem, binned those ideas when we chose to have more cupboard space instead – so for now we use this ol' plastic bin. It works!)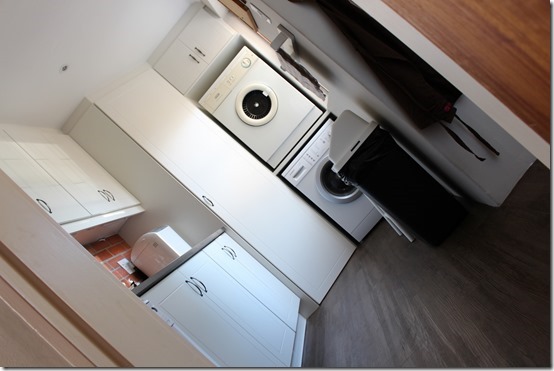 Mr Price is a winner store for all things décor – both dressy and functional. I picked up this little birdcage hook from there – love it!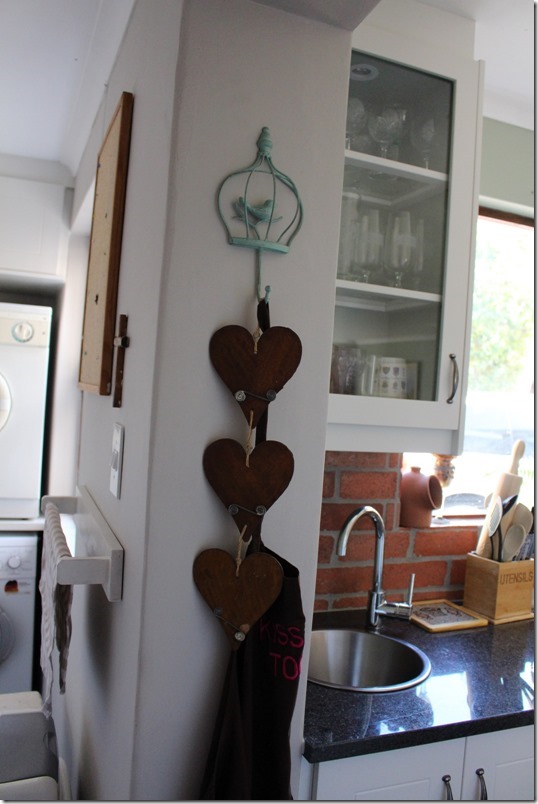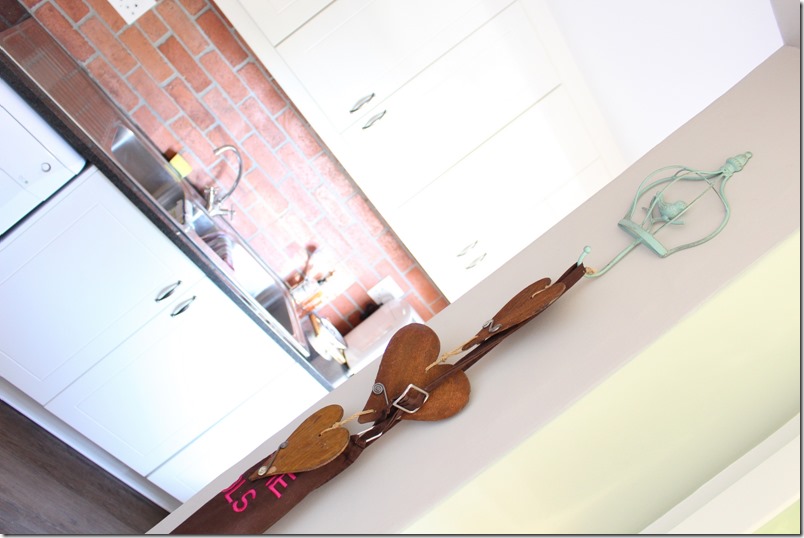 The main kitchen:
We went with the brick splash back here too. I love how authentic it looks, despite it actually being a resin brick tile that's about 7mm thick. Expertly laid by Jeremy's foreman, Tony.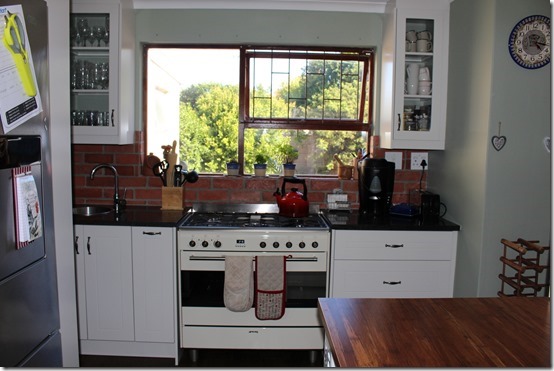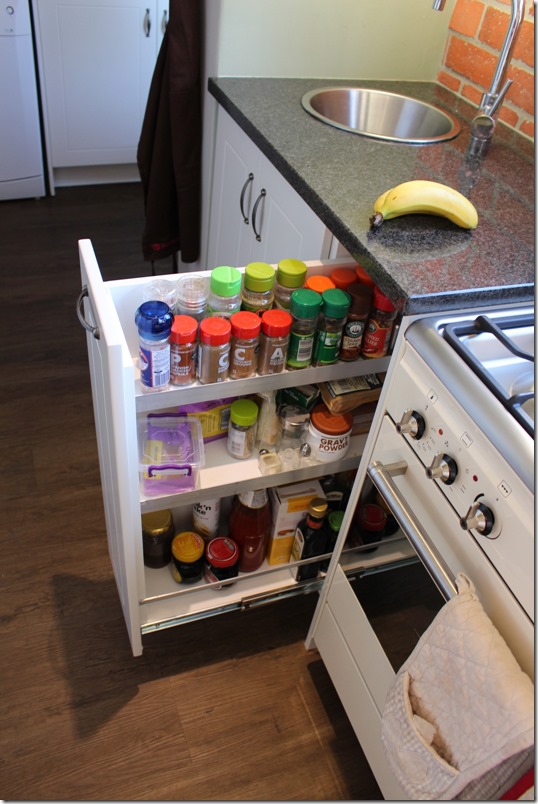 Space, glorious space!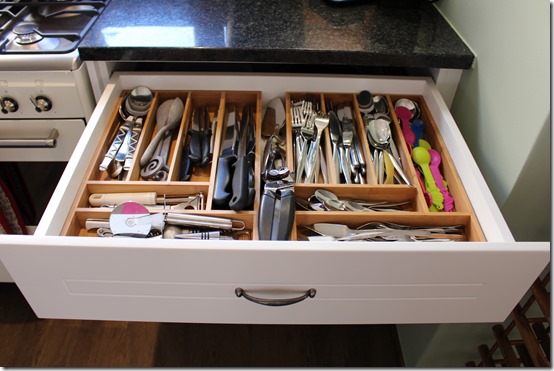 We originally had planned for the microwave to go up in the section above where it is sitting in this picture (below). But, I'm totally over the whole "kids climb onto stools to get to the microwave" thing and chose to keep it at their eye level instead. It works well, and now I keep recipe books (haha – hardly used, aside from the baking ones!) and our little ipod docking station/speaker goodie there.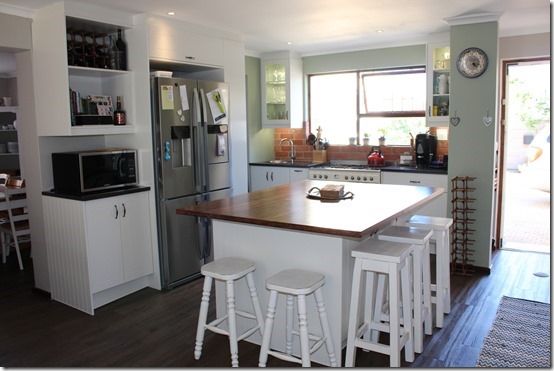 We used Rustenberg granite for all the countertops and then strand-woven bamboo for the island. The island. Oh, I love the island! It's bigger than I pictured or particularly wanted, but it's been absolutely fabulous! We've loved using it and it's been especially awesome for our Wednesday night meals with our bible study group.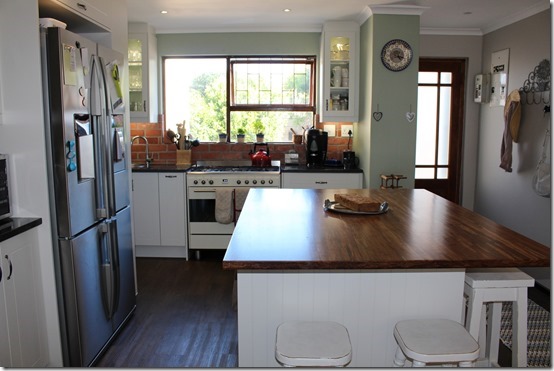 I spent quite a bit of time trying to hunt down new bar stools. But, man, they're expensive. And mostly plasticky grossness. So, I figured it would be cheaper, easier and more immediate if we just painted up our old stools.
Old stools: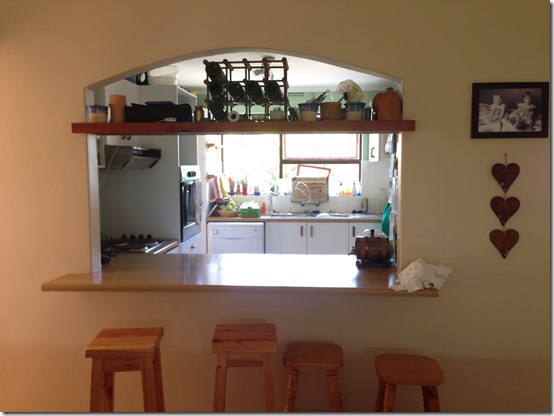 "new" stools: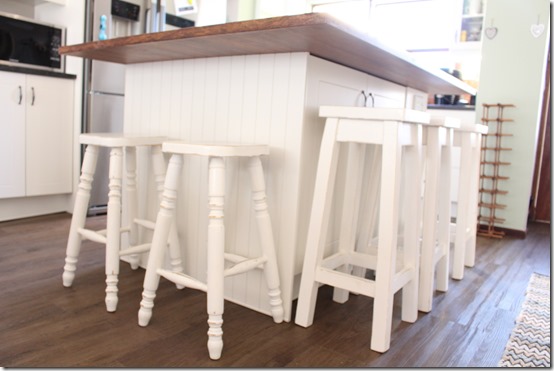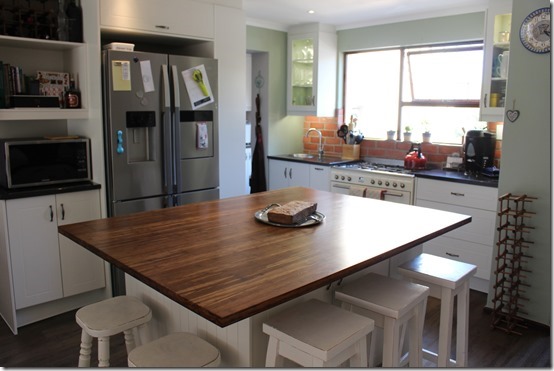 I sanded them down a bit after our painter painted them up – giving them that shabby chic look. They're already battered and a bit grey-ish on top, but it all kinda melds with the look and I love them!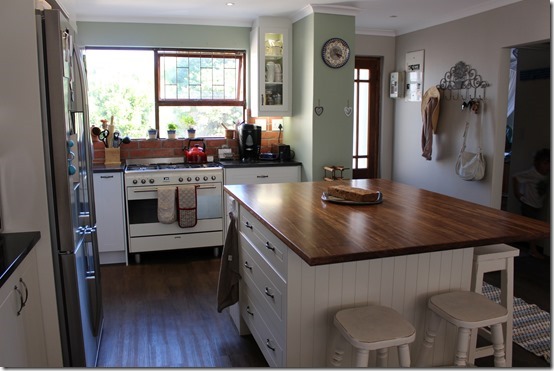 I finally have functional herbs on my window sill and I've managed to use them too – AND add a few more pots to the mix.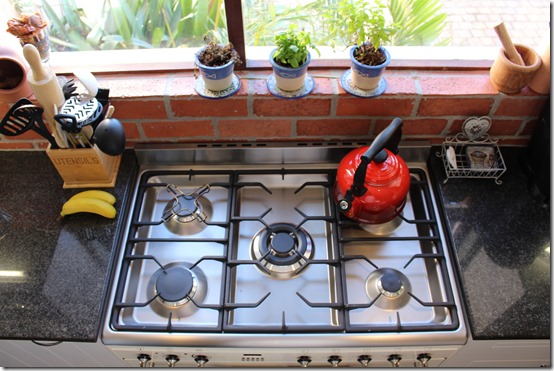 Next up – the lounge (see photos below):
Looking from the kitchen to the lounge. There is the brick-cladded fireplace area. The funny thing is that every second person who walks into our house says, "oh! I didn't know you had a fireplace!" or "did you always have a fireplace?"
The other funny thing is that the walls there are green too. Craig certainly got into his decorating and once he had suggested the brick cladding, he was off suggesting feature walls of green (lounge – to tie into the kitchen) and red (in the dining room). So, we painted the one wall green. And then, I suggested painting the wall with the windows etc green too, to give some balance to the fireplace. I like it a lot.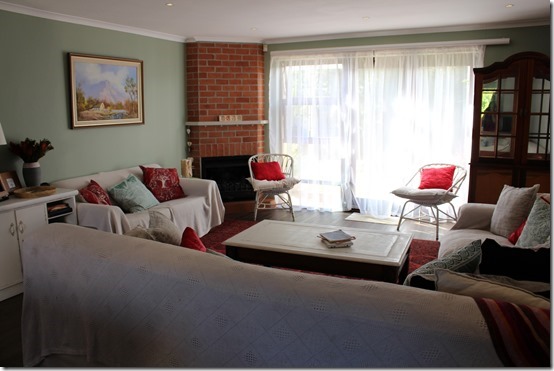 We still have to put some photos or art work or something on this blank wall. Not sure what at this stage…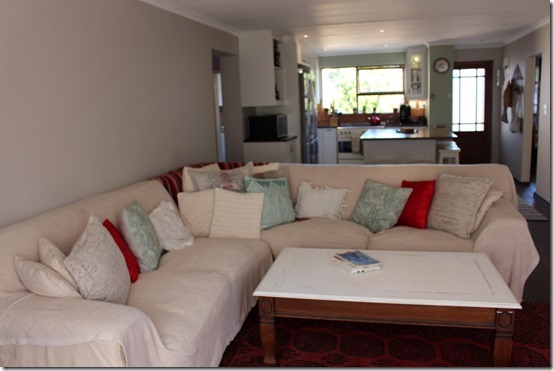 Craig's folks gave us the Henri de Rand painting on the wall many years ago. I've always loved that style and that composition. My folks have a Gabriel De Jong that is a similar composition and I used to love staring at it as a child, imaging the stories hidden in the painting. But, this painting's frame wasn't working for me. I wish I was brave enough to remove the frame completely and go raw canvas on the wall, but I'm not that brave yet. So instead, I painted the frame white:
You can see the white frame in this photo below – not a great photo, but it really does look so much better.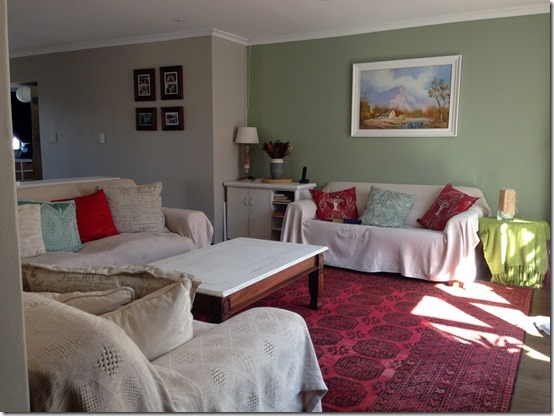 This photo below was taken for the cabinet we had made for the back of the couch. One of my bug bears is couch backs that look scruffy. And ours looked scruffy. My other bug bear is kids climbing over the couch and leaving dirty feet marks everywhere. So, this was the perfect solution. I cannot claim any originality, however – this exact unit is a copy of my friend, Debbie's. I've long-admired it and asked her if she wouldn't mind if I copied it. Thankfully, she's one of those friends who sees that as a compliment and said, "of course!" Russ from Ruba.co.za did a fabulous job of it. Thanks Russ!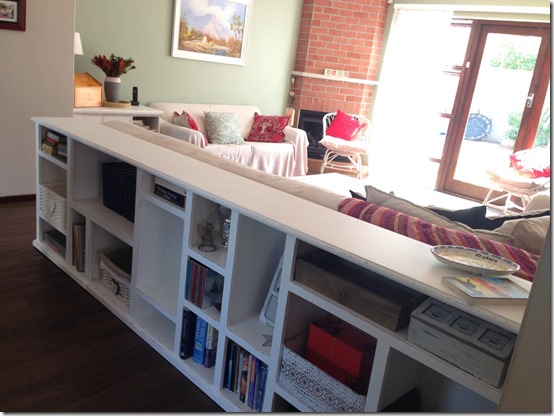 To compare – the couch before the unit arrived: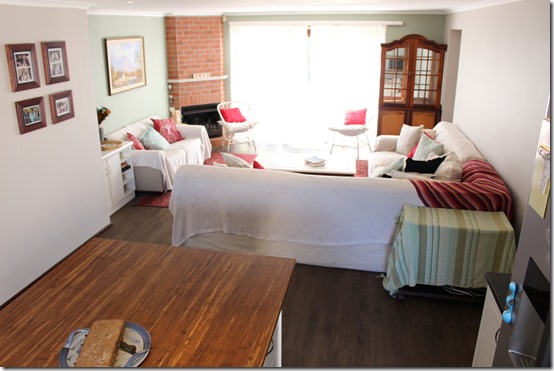 This little unit used to sit in our dining room. It was all 1970s, brown and badly scuffed. So, yes, we painted it up. Lots of painting happening here!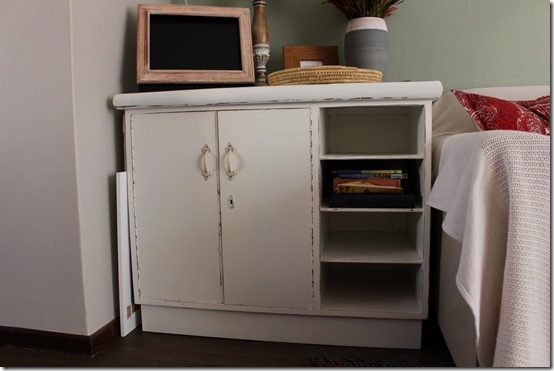 Our dining room – not quite complete, but getting there: our chalkboard got some action just before Craig and Kerry arrived: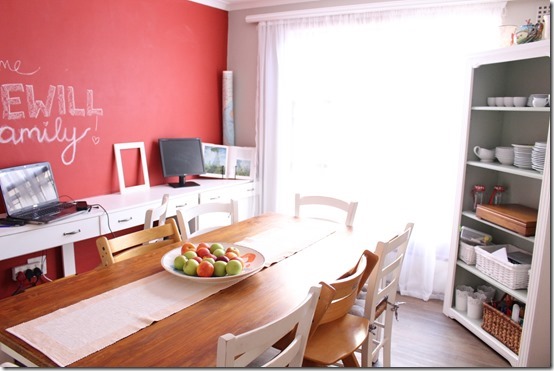 We had our corner bookshelf repainted – white on the outside and green on the inside. It looks lovely! I used the bottom two shelves for "on hand" school things and the rest of the shelves for special crockery and such. Can you tell I don't have tiny kids any more?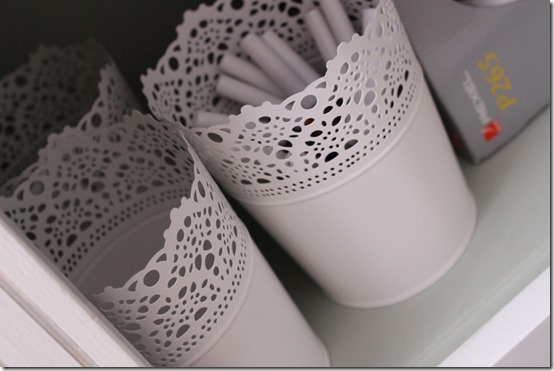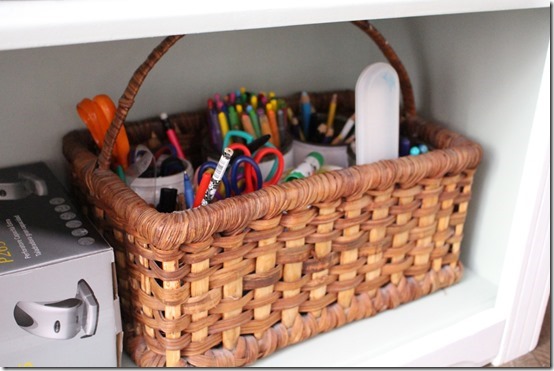 Right – there are dozens of other photos and angles, but it is now past 10pm and time to head to sleep.
Last word – we are very grateful to be able to do this renovation. It's been a ten-year-long dream to renovate the kitchen and bathrooms. Then it became a bit of a necessity as our cupboards were swollen, broken and falling apart, as was the counter-top in the scullery – shedding chunks of chipboard everywhere on a regular basis. For most of those years, we've been in no place to consider even a teeny tiny facelift. Which makes this all the more exciting. But, none-the-less, we recognise that it's a huge blessing to be able to do something like this. So we are grateful. It's been a fun, creative process and, mostly, not too stressful, as far as building projects go.