Our last day coincided with Kiera's 11th birthday. We woke up early to make sure we could do the usual morning birthday thing. Delight!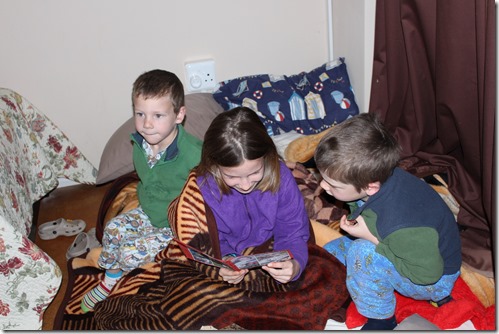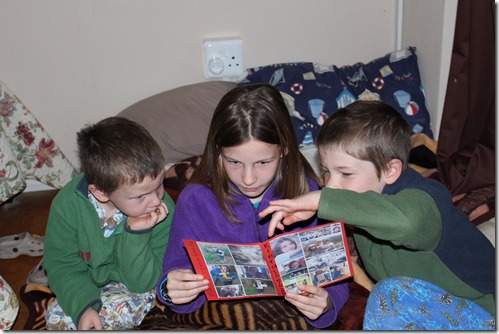 Then it was our last breakfast. Yum yum. We tucked in one last time. I do believe I gained at least 2kg in one week thanks to the delicious food!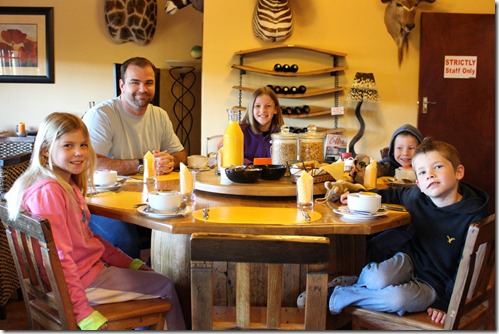 I also finally remembered to take some inside shots – now you can see all the trophy heads that freaked Kiera out initially. She got used to it though!
Eventually we were making jokes about them and everyone had a good guess as to which one contained the security camera!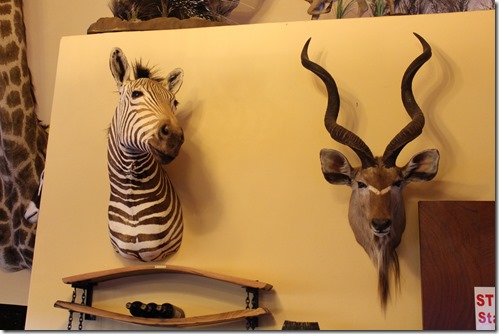 That's a giraffe skull on the table below. And giraffe bones beneath the table.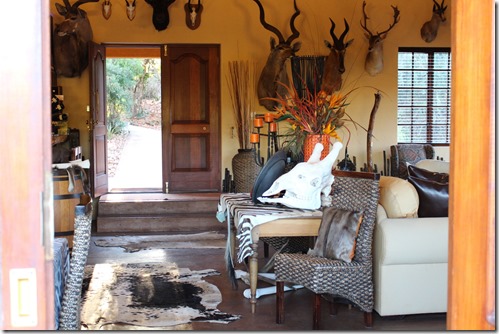 After finally saying goodbye to our wonderful hosts, we hit the road around 8:30. First stop was the Bloukrans Bungy jump bridge …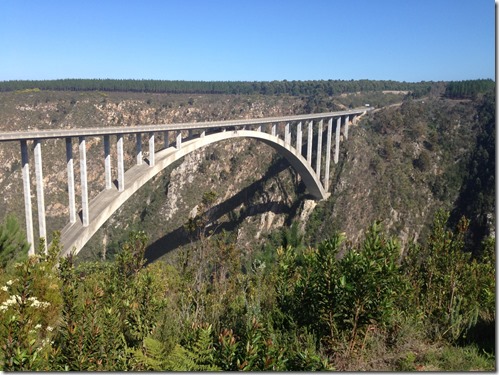 The idea was that I *may* jump off it. But, I had hurt my back the day before carrying Micah and so wasn't so sure it was a good idea. And then I took another look at the jump. Yes. Well, I chickened out. I do still want to do it, but I'm not keen on doing the walkway up to the jumping point without someone I know going with me! Next time? Maybe!
Next stop was the Wolf Sanctuary just outside of Knysna. We spent a good amount of time here with all the animals, much to the delight of my kids…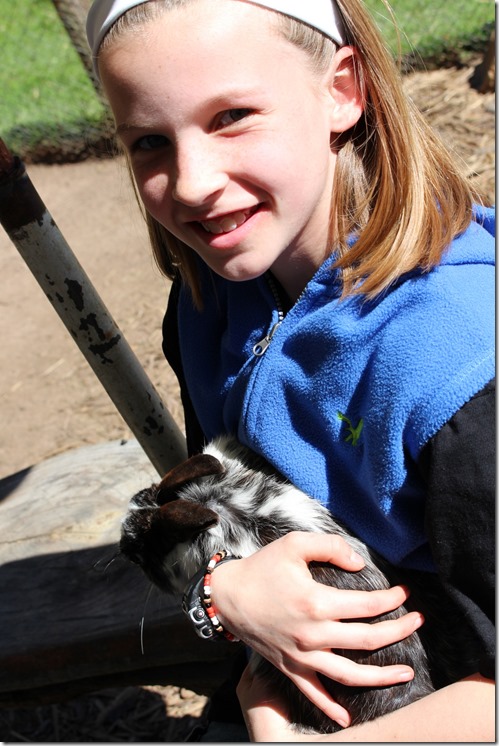 Rabbits anyone?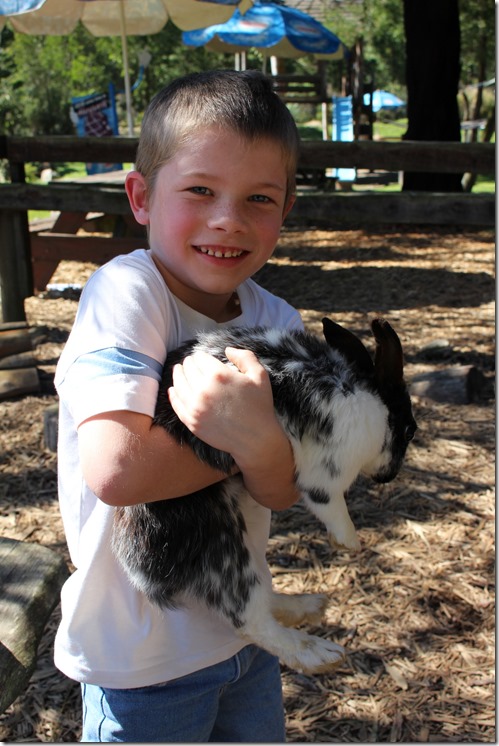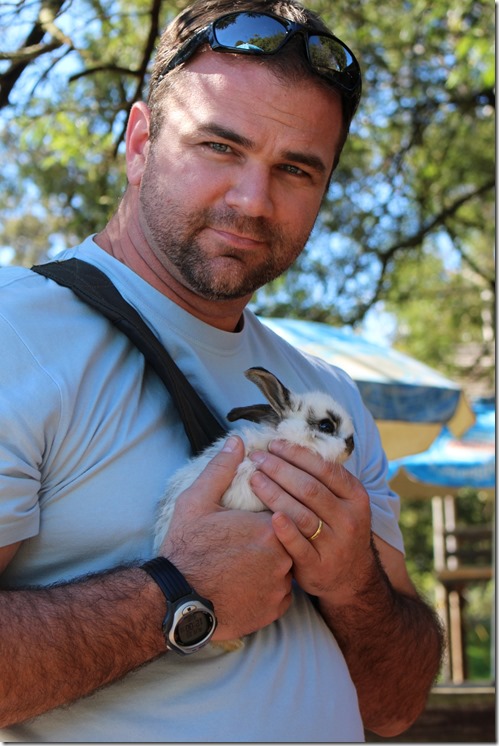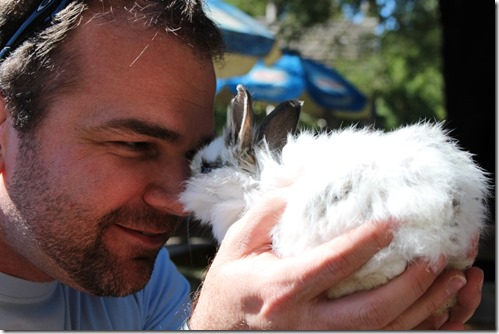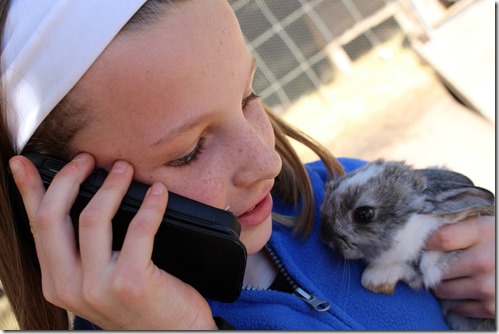 Okay, Kelly, I know you and Kai love goats, but really? They stink!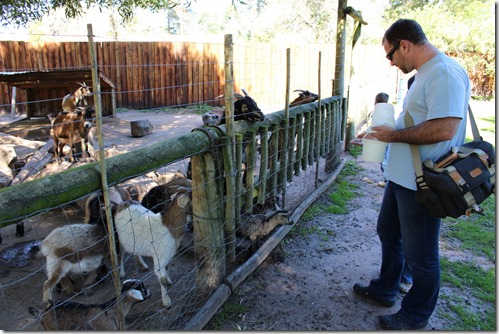 Kiera's biggest motivation to be there were the wolves of course. She lapped up all the information she could…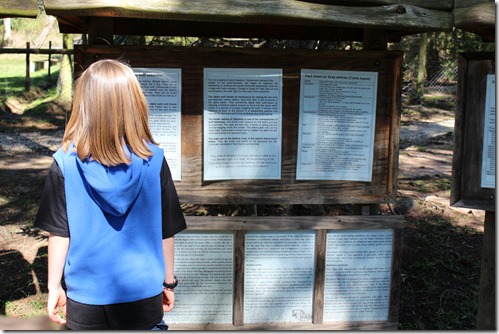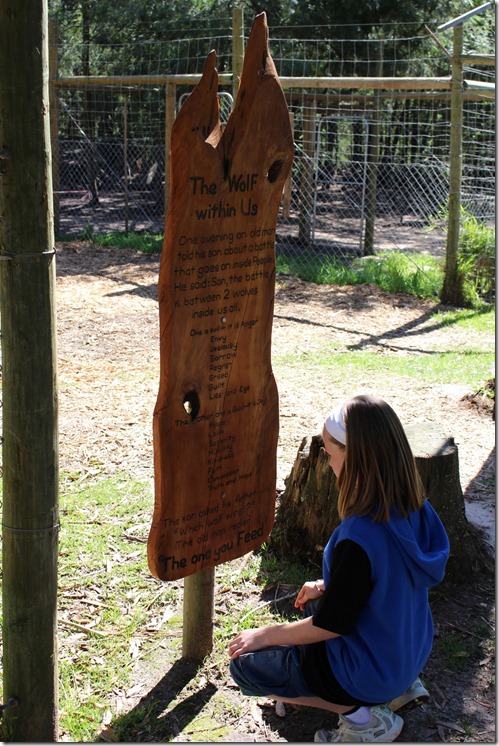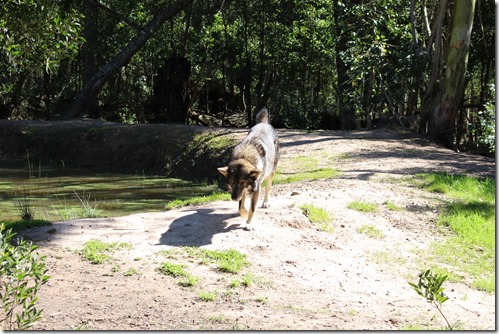 We saw loads of crazy animals – these guys looked like they needed a good brush. Although, they were doing a pretty good imitation of the 80s perm-look.
More smelly creatures!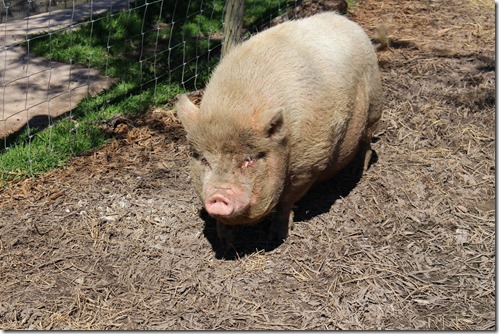 Billy goat gruff.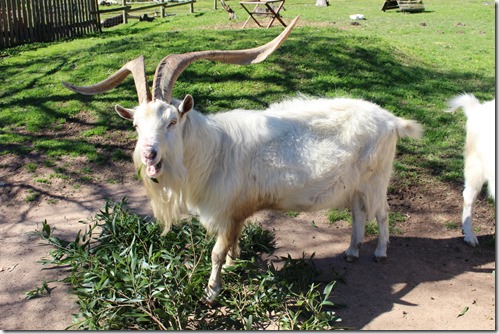 We carried on to Knysna for lunch. Part of Kiera's birthday present was the promise of an ear-piercing when we got home. So, when we walked into a jewellery store on a Sunday on the off chance that they did piercing, she didn't have the pre-piercing nerves we usually have. It was a quick decision, quick pierce and a delighted girl that left the store.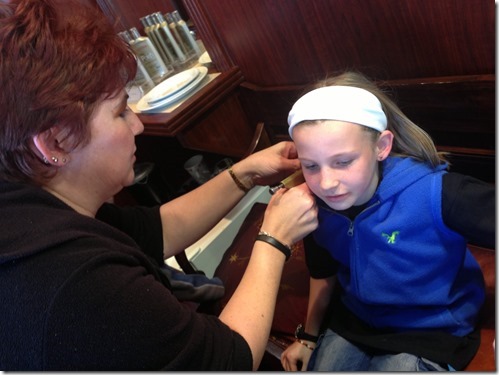 Kiera with her new purple and gold earrings. Yes, she, the self-professed Tomboy, is branching out into the world of girly colours again. Albeit it only cautiously! Purple is her new favourite colour.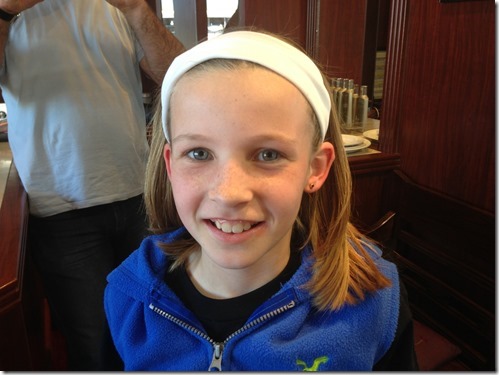 Lunch at the Knysna Quays – we treated the sushi lovers in our family to sushi. Yum yum!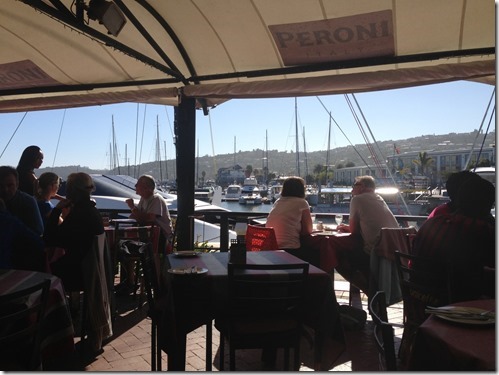 Then it was back on the road for the rest of the 6 hours home. And can I just say that I am forever indebted to audio books! We've used audio books on our longer car trips before, but this is the first time I've downloaded from Audible. We had Johanna Ward read The Secret Garden to our family on the way up and down. All 8 hours of it. It was such a beautifully-read version of the unabridged book. The kids loved it and kept asking for us to put it on (we took breaks for naps, chats and music). I love that the whole family got to hear a story together that we now refer back to from time to time. Long audio books are definitely a repeat tactic for future long car journeys. We also had a lovely long chat about my next book – with everyone contributing plot ideas. What fun!
Quite frankly, I am very happy to travel by car all over the place with my brood. Not one "are we there, yet?" Instead, mostly a cooperative, wonderful time together. Of course, a few squabbles, but mostly just good times. I highly recommend listening to audio books together. We took a friend's iPad-contraption-thingie in case we wanted to let the kids watch a movie comfortably, but we never ended up using it. I'm feeling ridiculously blissful about the journey.
We finally made it home 12 hours after we set off. The last photo for the trip was just before we all got out… Micah playing leg guitar with Kiera!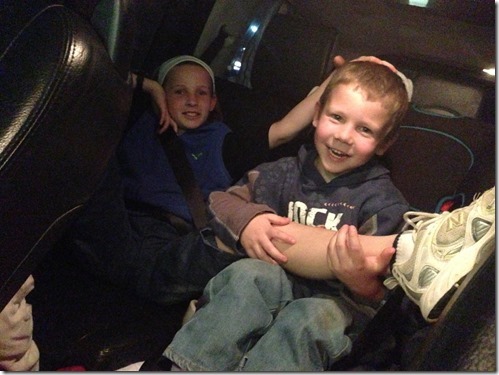 It was a wonderful family holiday. Of course, we had a moments of grumpiness, discipline and so one, but mostly it was a wonderful holiday filled with tons of learning, fun times, shared experiences and awesome memories. I remarked to Craig that I think the kids learnt more in that week than they had in any other given week in our school year. Unschooling, anyone?