The month has a bit of a whirlwind.
It's been our second month back at school. For the most part, that is going well, with a few hiccups along the way called "attitude" and "laziness" and "life" – I won't divulge what percentage represents the mother-person vs the kiddie-people. Ah-hem.
But, we've had some lovely moments – so let's dwell on those. Like lying outside in the shade of our tree, enjoying our read alouds while eating chocolate brownies. Ah!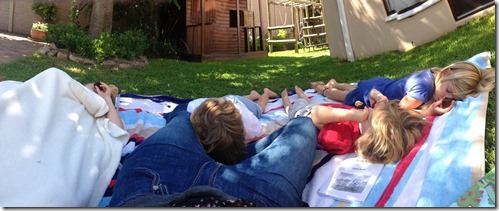 Or going on an educational outing… Since we're doing anatomy for Science this year, I figured that the girls would benefit from seeing Body World. Well, Kiera's sensitivities got the better of her a few days before and she forfeited her spot in favour of her cousin, Holly.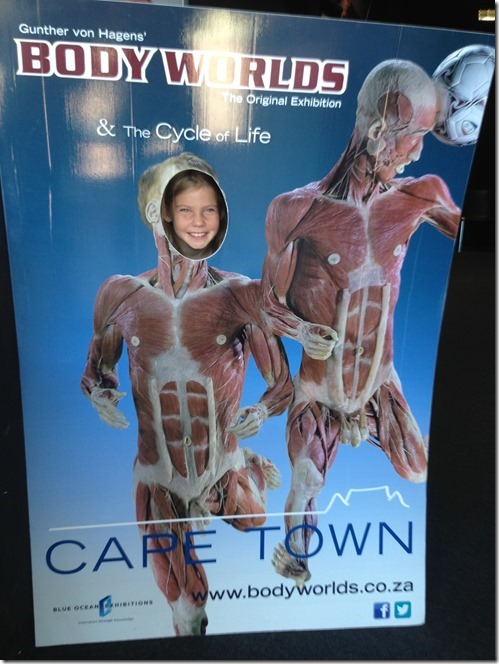 Katie and Holly had a ball and enjoyed their Kauai date with Craig and I afterwards. More on all that over at this post: Body Worlds.
We've enjoyed a family braai this March with the Hayes family. Sam looked after baby Sarah beautifully – so sweet!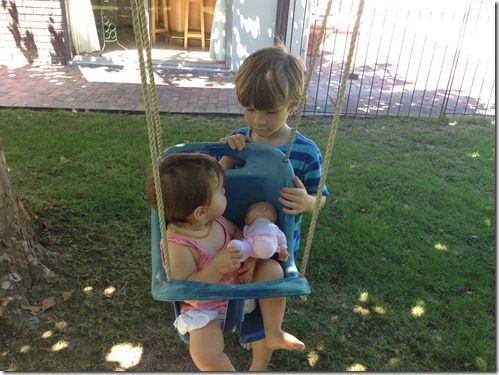 I love how she is looking at him in this photo. Too gorgeous for words.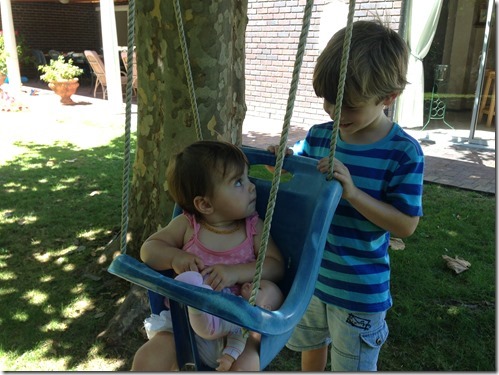 Craig resigned from his former company mid-Feb, which meant that he finished his last day mid-March. It's been a bittersweet period for him as he had a fantastic team at his previous company. It was hard saying goodbye, despite the fact that he was looking forward to the challenges ahead.
The kids were really sad! They shed a few tears and didn't want Craig to move. Funny how these things affect kids too. They have each enjoyed a birthday treat with dad at his office on the day of their birthday. And they've enjoyed visiting on other occasions. So, as a goodbye, we decided to bake up a storm of cookies to take as a goodbye.
We tripled our normal basic cookie recipe and then turned them into chocolate chip, peanut butter and double chocolate choc-chip cookies. Mmm!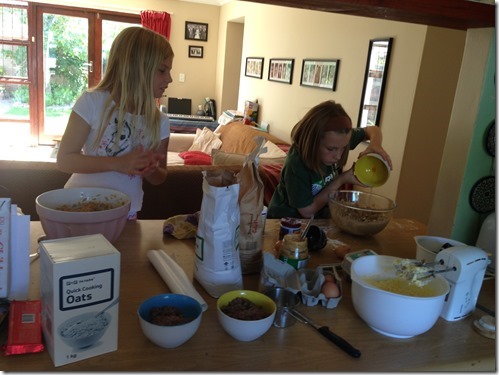 Kiera made a sweet goodbye sign with pictures of our family a-la-stick-men-style. She was going for the "my family" stick figure images that most cars in Cape Town sport on their back windows. That would account for the two light sabres in the image – being her and Sam's latest fad. No surprises – mommy Taryn has a computer in her hand!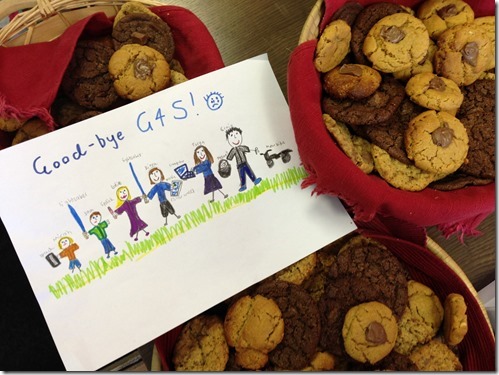 These cookies were delicious. I am NOT supposed to have sugar (health issues) but in small amounts I seem to be ok. Small amounts? Well, let's just say that it was a good thing that these were leaving our home and staying at their destination because I can't do self-control with these lurking in my kitchen!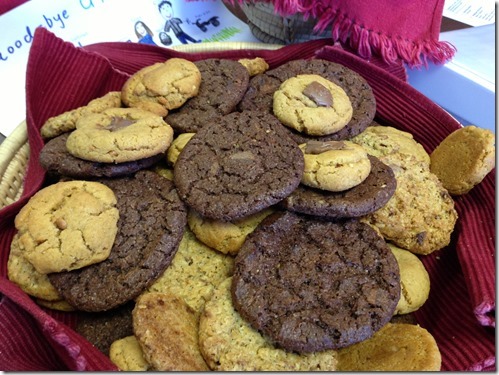 When we got there, Craig let the kids see the gun safe. His company is a security company – hence the gun safe. I took photos from a safe distance, because, really, even looking at guns in real life makes my hands go all tingly and my brow break out in a cold sweat. Terrified? Totally. Craig assured me that they were not loaded and he checked before he let them hold them, but that did nothing to calm my beating heart.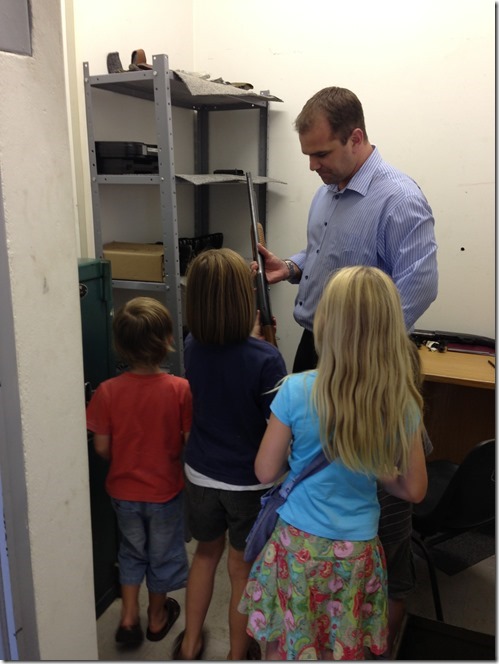 Back to safer territory – the last remaining basket of cookies in the main open area and Katie saying goodbye.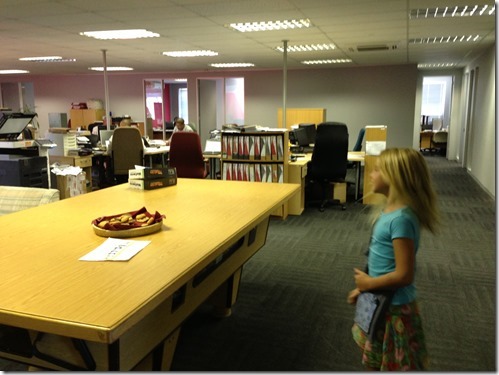 And the others saying chasing after dad with night sticks… a la Light Sabre Style.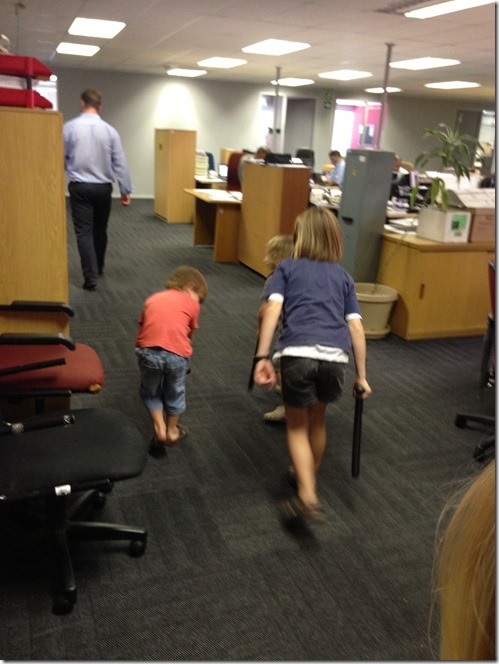 And one last time in the conference room pretending to be the "boss". For some reason, my kids equate being the boss with saying "You're fired!" on a regular basis. Seriously. I have no idea where they get this stuff from!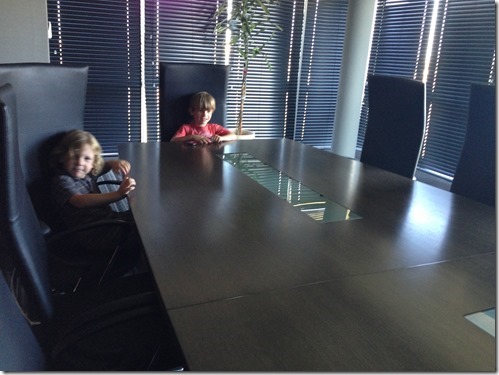 I have no pictures of Craig's new offices and job

We did get to visit, though, much to the kids' (and my) delight. Every time Craig has started a new job (this would be the fourth company group in 16 years, so he's no job-hopper!) the first while has been a bit weird for me. Suddenly, we're in an industry I don't know a thing about. I've no idea about his colleagues and employees, or even what his office looks like. It's all a big black hole that he disappears into for a day and comes home late at night, tired, yet energised by the new challenges he gets to enjoy. Seeing his premises, meeting some of his staff and getting a feel for his workplace is a big deal for me. And as it turns out, the kids too. So, we were glad when we could make a quick visit when Craig's first full week came to an end. Now we have a place in our minds when we think of daddy's workplace.
Interestingly, it reminded me of the second company group he worked for – only much much bigger. The challenges that lie ahead of Craig may well be very difficult, but deeply rewarding too. It's exactly the sort of thing that he has proved to be more than capable of handling, thanks to the Lord's grace and gifting.
Back home: Craig started reading Narnia to the kids again in the last month or so. He read the whole series to the girls some years ago, and now he's starting again – reading to everyone. They love it! And I love it – this is one of my most heart-warming images of my family – daddy reading, kids listening – enraptured. A small, but blessed moment.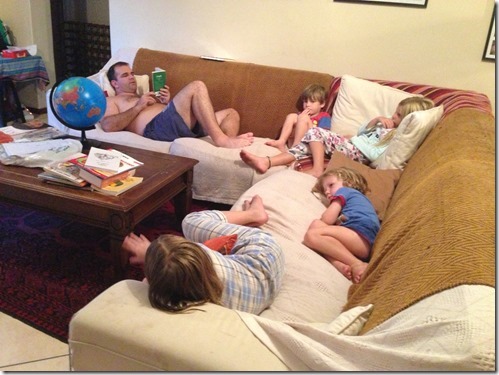 As you can see from these different-night pics, I'm not too good at clearing away our school stuff after a long day!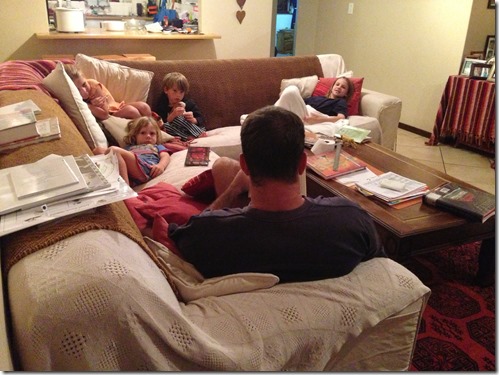 Sam finished his third reader in the I Can Read It! series by Sonlight. Joy and excitement is all his! It means that he can now move onto the "big boy" books like Cat in the Hat, Little Bear, Put me in the Zoo and other books that he's been dying to read.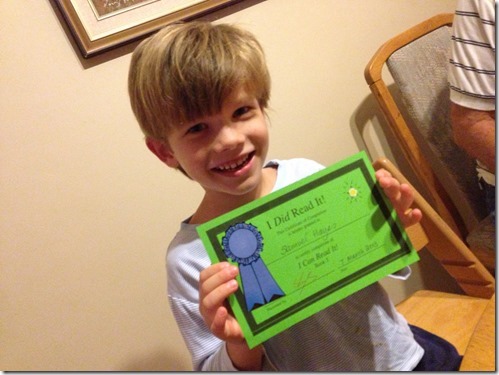 So sweet!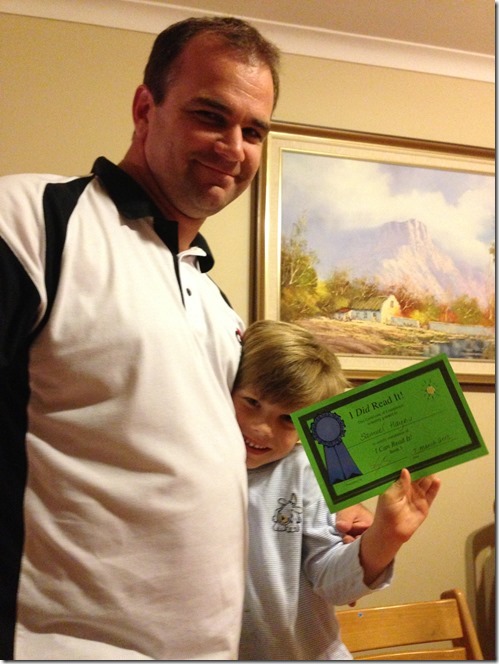 This month, I managed to find a bunch of South African books for kids. These are just a few of them (with one or two others in there too). I have not read half of them myself, but I plan to eventually!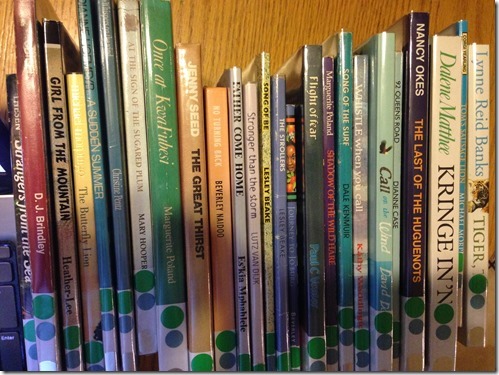 We've enjoyed another Cape Explorers outing in the pouring rain! But it was still super successful.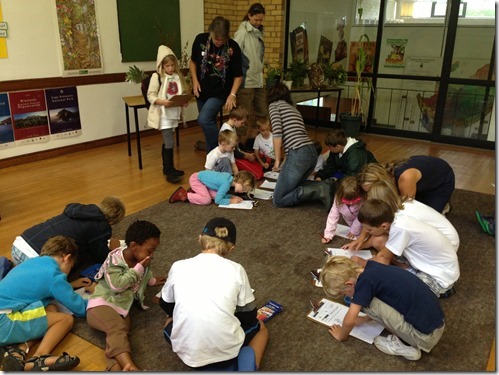 Blind fragrance trail in the rain!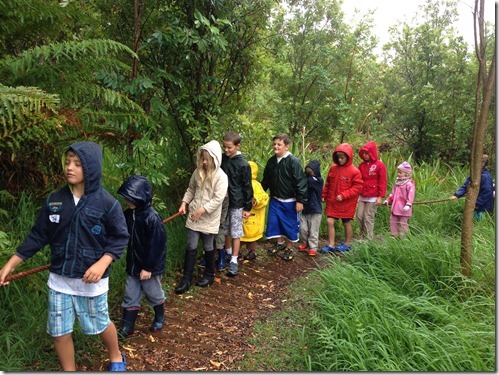 We had a mid-March breakaway thanks to Craig's between-jobs holiday. Off to Onrus we went and had a beautiful 4 1/2 days enjoying the sun, sea, surf, sand and special family time.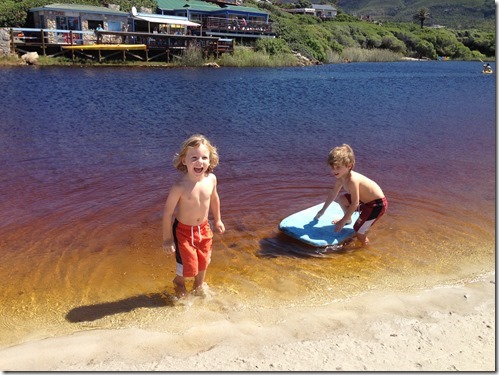 But, we also had to do a little bit of school, since I wanted to be sure that kept up the continuity.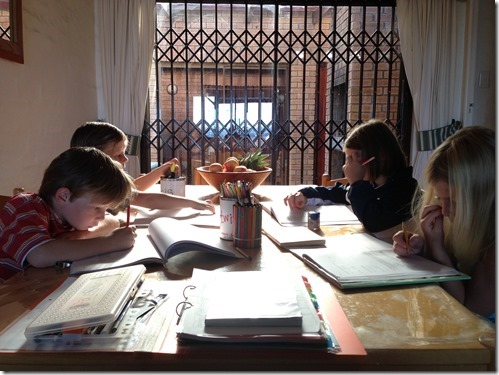 Sunsets in Onrus – ah!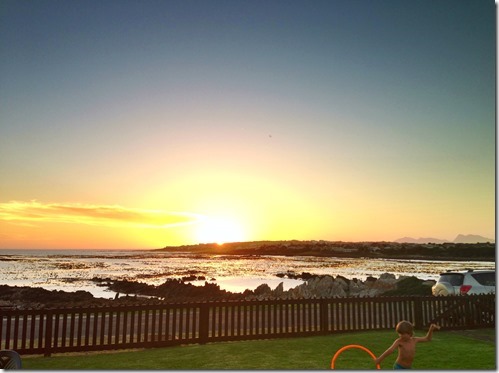 And sunset braais… double ah!

Here's Mr Sambo reading Green Eggs and Ham. He insisted on reading it from cover to cover, totally ignoring the scheduled page allocations. I'm loving his joy of reading. Too sweet!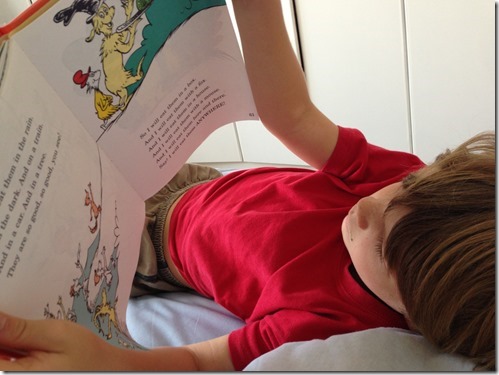 We enjoyed our first real "hike" for the year with the VB family. All the way to the Silvermine waterfall. It's not really all the way – as in, it's not that far, but it's far enough!
Three, way cool, boys…
Mr Sam managed to lose this T-shirt on the path home. Argh.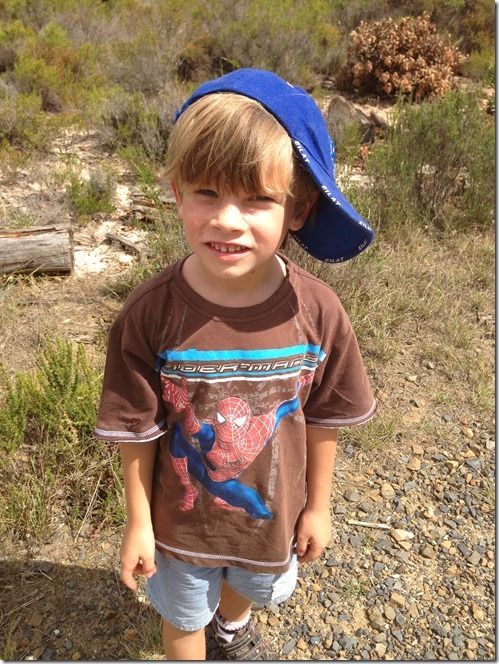 Three happy girls, glad to be re-united after a two week holiday apart.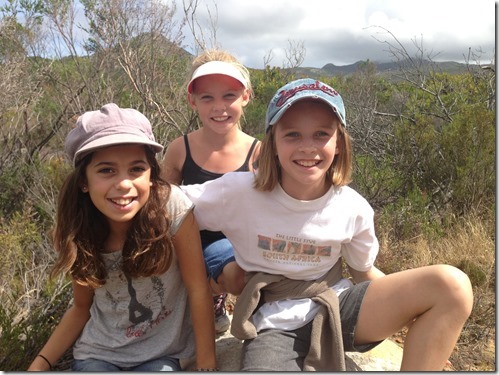 And some wildlife – we got treated with a few paddatjies at the bottom of the waterfall.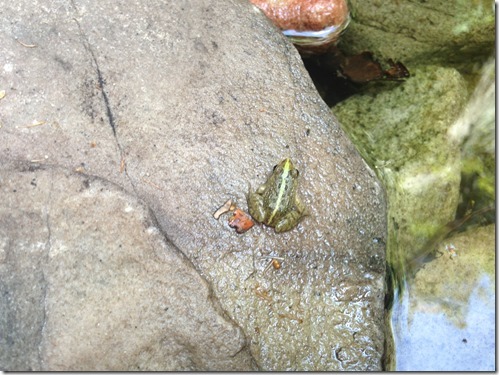 Too sweet…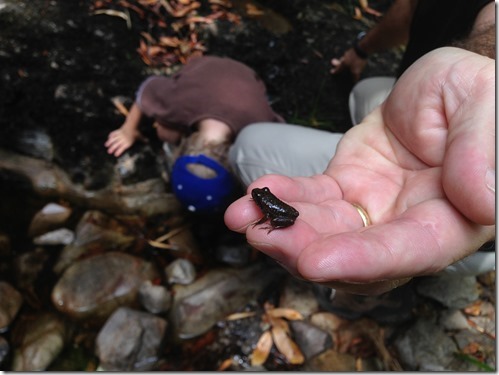 Sam and I tried to find his shirt after he lost it. All we found was this dung beetle doing his thing.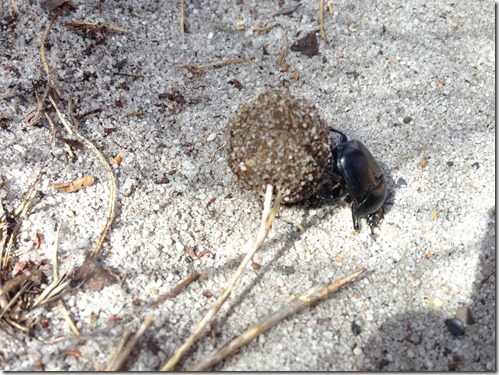 March was also the month when I buckled down to some serious yard work. Well, to be honest, I did nothing other than direct our really handy twice-monthly gardener to load up the car. It's one of those times I'm really grateful for the car's size and handle stowaway seating that folds into the floor. We managed to fill this …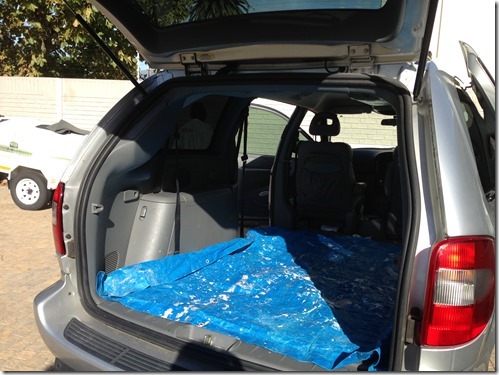 … with this. That would be ALL the visible branches and debris hanging out the car…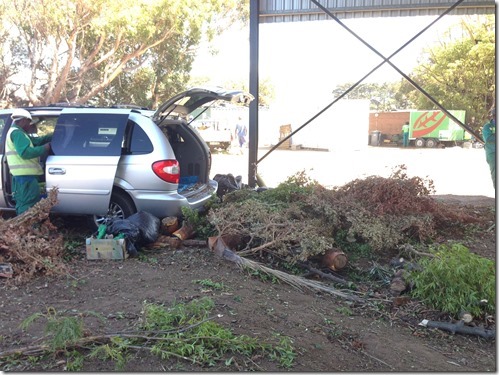 Yes, and the other stuff near the open door…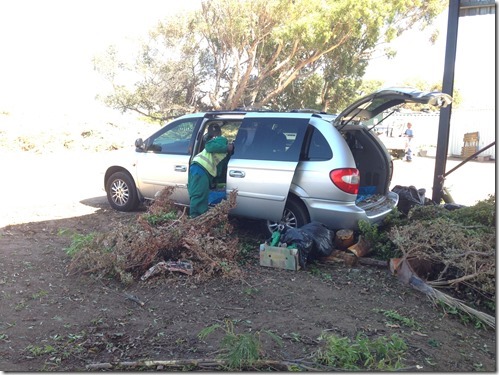 … AND all 14 black bags full of recycling.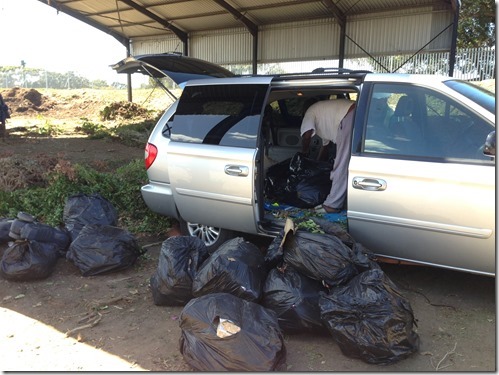 While I was handling the great-big-haul-the-junk-to-the-dump project, the kids were engaging in a little after-formal-schooling-unschooling. I came home to find Sam reading on the couch while listening to stories-on-CD and Katie giving Micah an art lesson. Too sweet!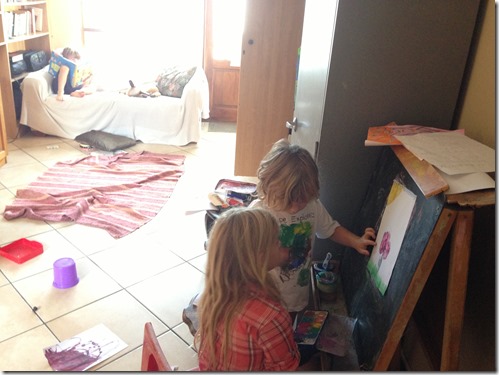 March meant that Lunch Bunch was at my house. We've started a little responsibility chart – this way the kids will get to take responsibility for the cleaning up of certain areas of the house. A great idea! Thanks Aunty Kate!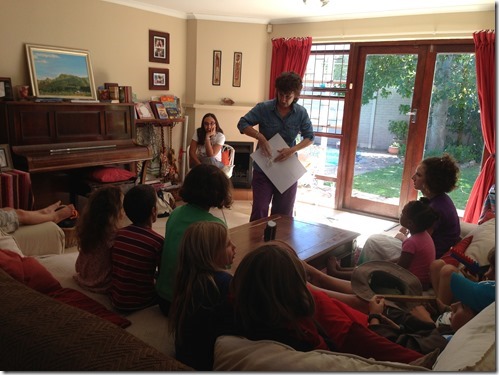 I did crafts twice this term. Being the "Xhosa teacher" (whaha!) I don't get a heavy craft load too. But, I do get to have some fun when I do do it. I let the kids make whatever creature they wanted to make out of some junk, including yoghurt containers, pipe-cleaners and various other bits and bobs. What a jol they had!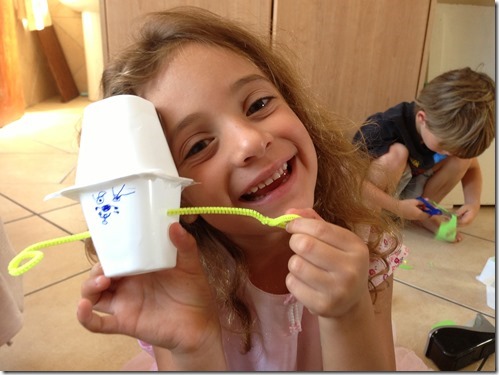 Carys did much sticky-tape mastering during this session. So sweet!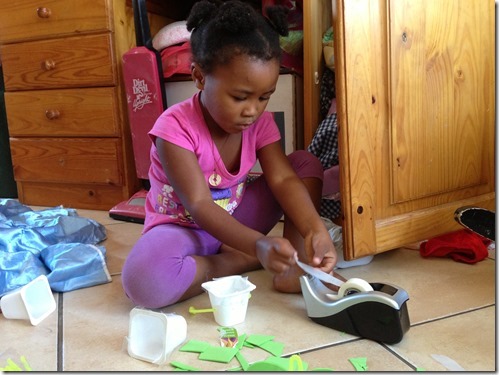 One weekend, we headed to the beach for a long walk. Well, walk turned into a bit of a cartwheel contest! Craig impressed us with his ability to still spin a handspring at the ripe old age of 38!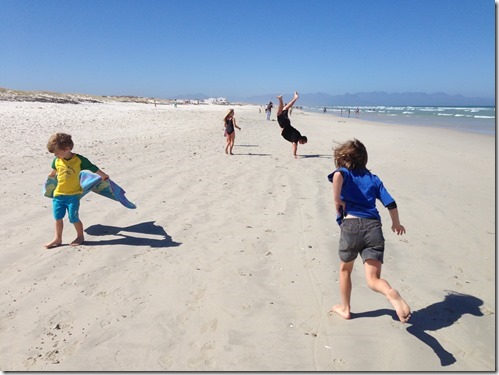 But, he kept it at the minimum, especially after I started snapping shots from my phone!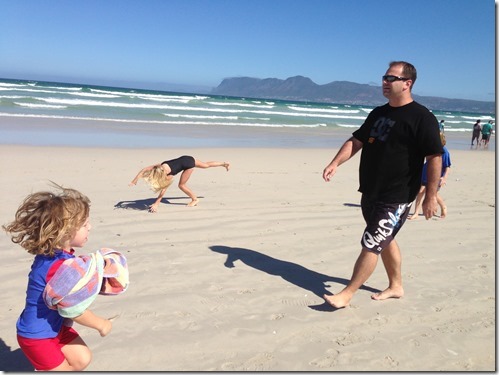 It was a beautiful day. Love it. This, by the way, is Muizenberg beach – the same beach where the characters of my book begin their journey, and the same beach that features conceptually on the front cover of my book.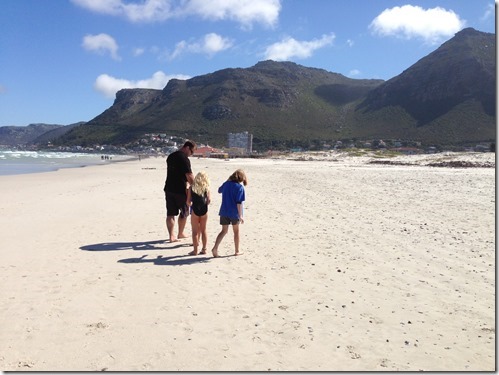 Our nature club headed out Paarl way to Babylonstoren – a beautiful farm with a garden second to none. The owners created a garden along the lines of the original company gardens. Despite the fact that we got stuck in hectic traffic and a 45 minute journey ended up taking us 2 HOURS, we still enjoyed it. I was proud of my kids for maintaining a positive attitude – not exactly a common occurrence when it comes my kids and their tolerance levels.
Four monkeys in a tree basket!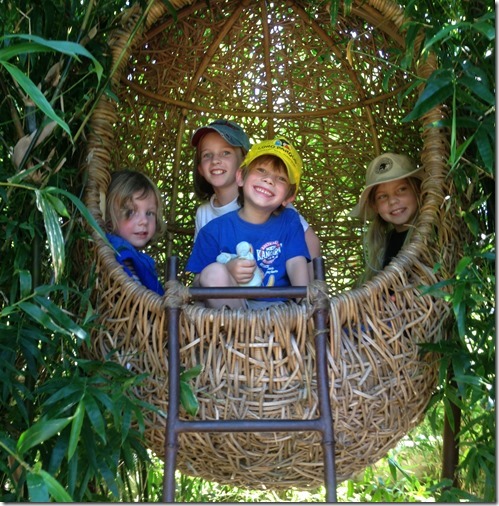 Hanging gardens of Babylon(storen)?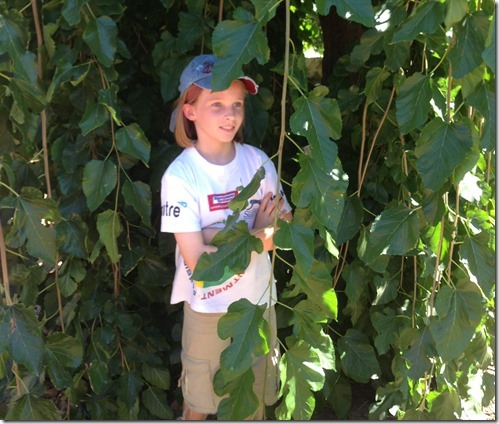 So restful…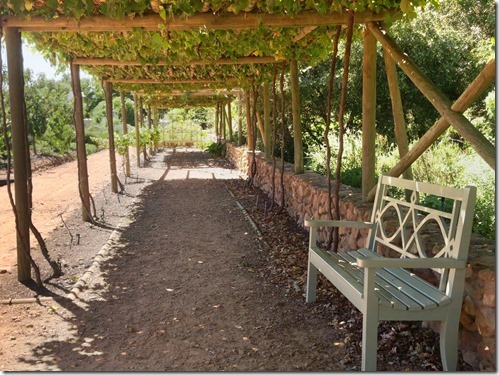 These cacti reminded me of piglet from Winnie the Pooh… Can you see it?
These ones were the Valentine's avenue of the gardens – see all the heart shapes?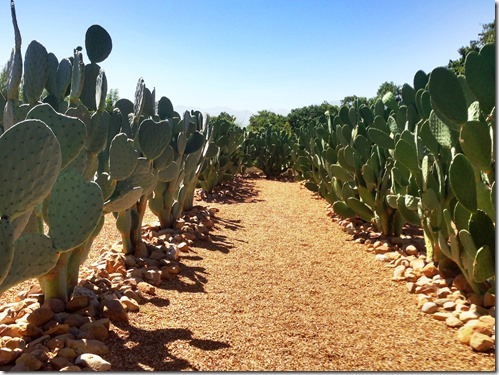 Sam and Micah enjoyed taking their shoes off and walking through the canals. Well, the canals got deeper and deeper until … THIS. What a ball!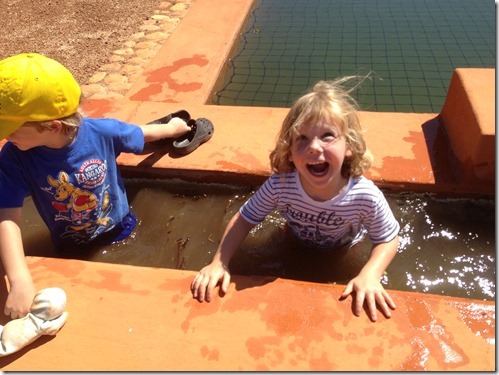 March is also when my book went to print! To think that just three months ago I was not sure whether to pursue traditional publishing or try my hand at self-publishing. God in His gracious kindness answered my desperate prayer of guidance with the gift of Naledi publishers. And now I have a 1 May release date for Seekers of the Lost Boy. It's been an exciting month indeed!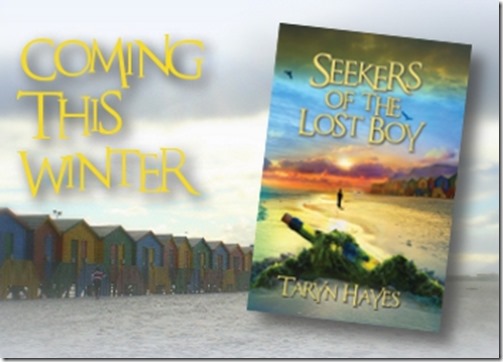 But, even with all the fun of the month, the unexpected holiday, the time with family, nothing compares with the joy of celebrating Jesus. This year, Easter falls on the last weekend of March. And this year we got to celebrate in our own home in Cape Town for the first time since 2008.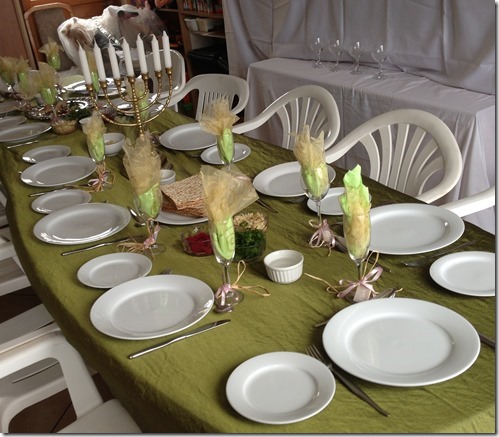 And we invited Craig's folks and the Tubbies who joined in our Passover meal fun of Friday night.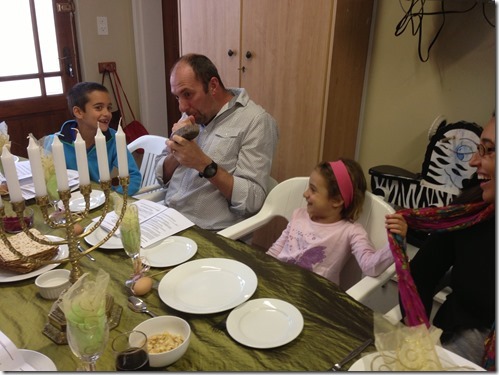 There was great hilarity and fun and games, but also great significance as we celebrated a tradition that not only spotlight's God's grace and power in saving His people from Egypt, but also how He saves the world through Jesus – the very event that is foreshadowed in the Passover itself.
The kids had an absolute ball. Their excitement was oozing out of every pore! Can you see?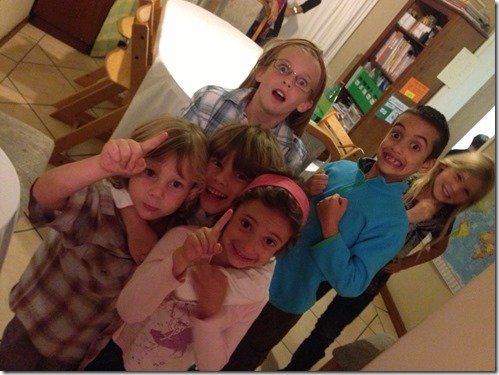 They also got the added bonus of a midnight egg hunt with UV torches and glow-in-the-dark eggs!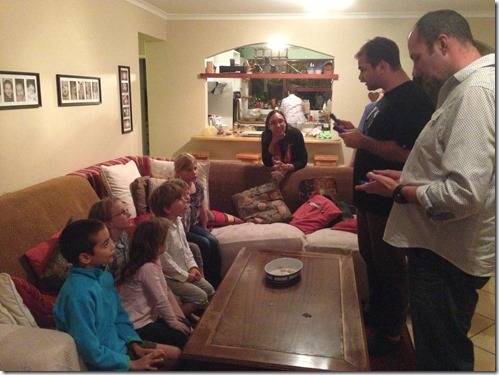 Saturday night, we enjoyed our resurrection cookie ritual: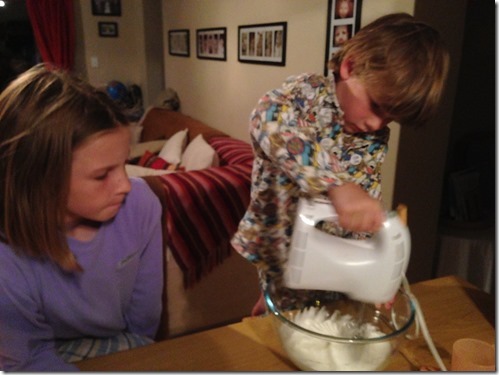 And Sunday morning we enjoyed the rest of it along with all the other celebrations that come with Resurrection Sunday: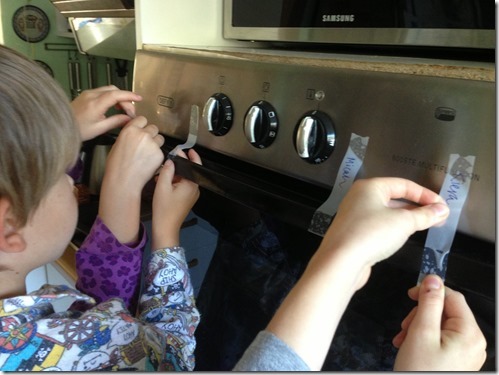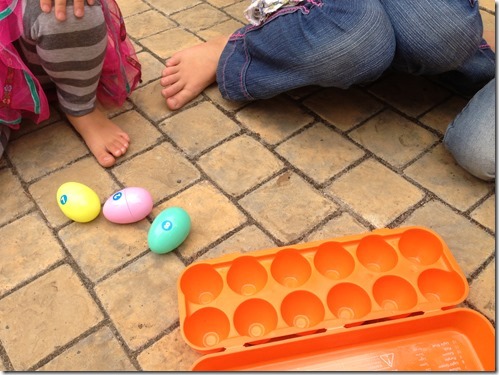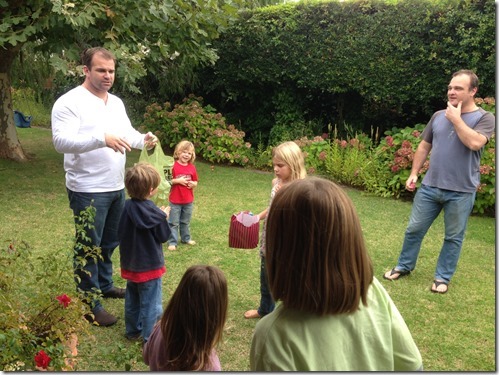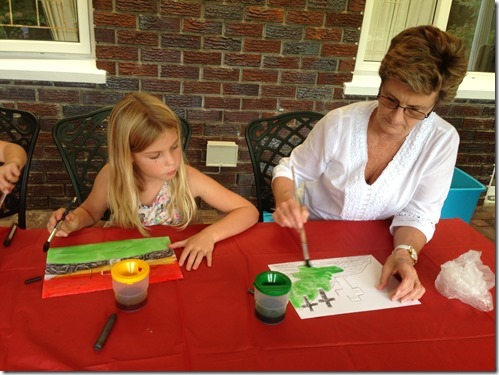 All in all, it's been a month of much to be thankful for. And what a way to end it – with a day commemorating the event that is the best gift of all: Jesus. Thank you, Lord!