Well, April began on a sad note. Saying goodbye to the Newills. Urgh. I hate goodbyes. Really, really hate goodbyes. It usually takes me at least a few days to adjust, but this time around it felt like a month had passed before I managed to emerge from the fog of sadness and loss. Even fun events were somewhat marred by the fact that we were here and they were there. Nonetheless, life does, indeed, go on and so adjustments happen and we pick up and carry on. And thank the Lord for Skype once again, even if it is too irregular for our own liking.
To help get over the sadness, we had some fun with our home educators outing group: the Cape Explorers at Acrobranch. It's a zip-lining, climbing venue of fun.
The kids had a blast: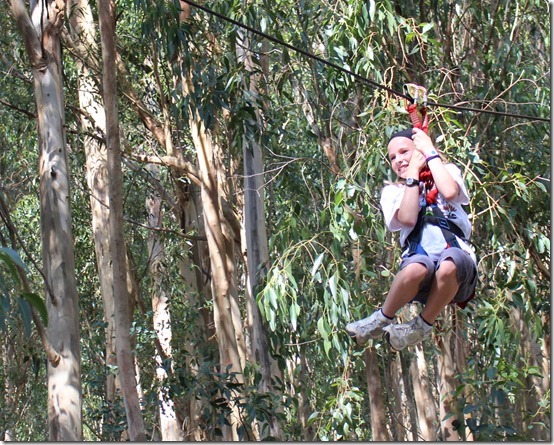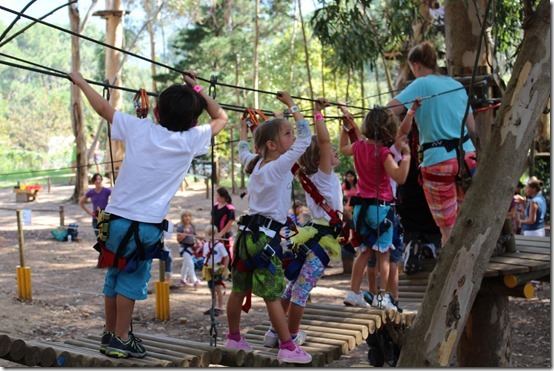 And so did the adults – like this particular adult who had lots of fun laughing at the other adults who actually climbed the trees and went down the zipline.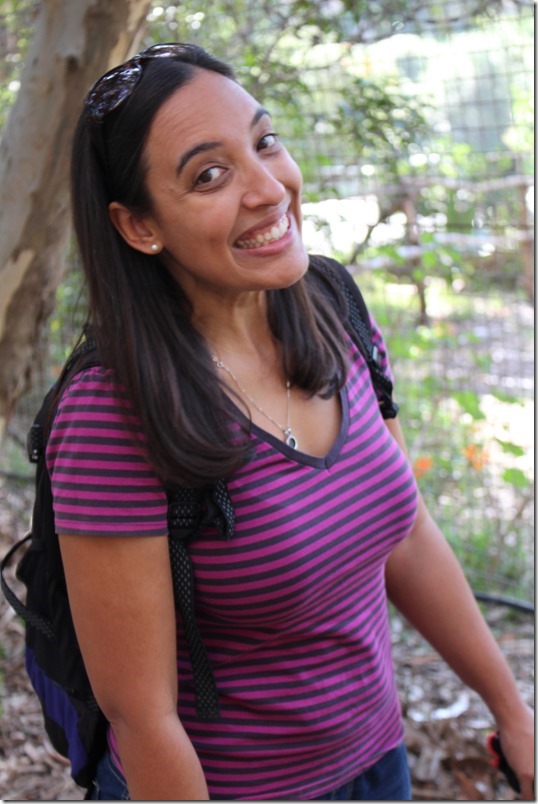 This guy received a fair bit of the lady above's laughs. That's what happens when you're the guy married to her!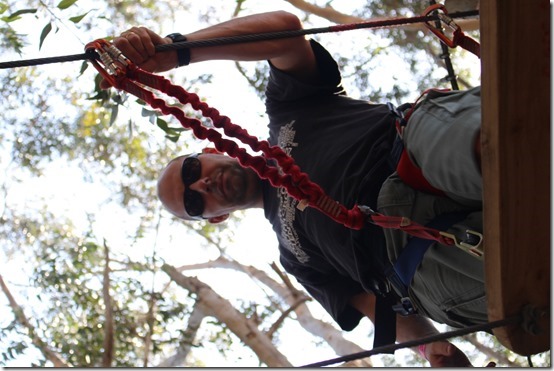 Despite the giggles, I even enjoyed all three of the levels – weehee: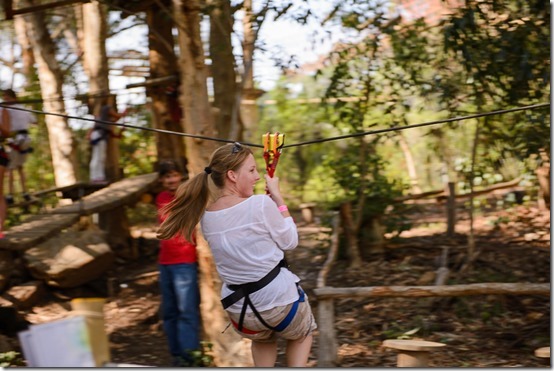 Yay!
Ingrid, the Amazon Woman – fearlessly tackling the branches in the sky!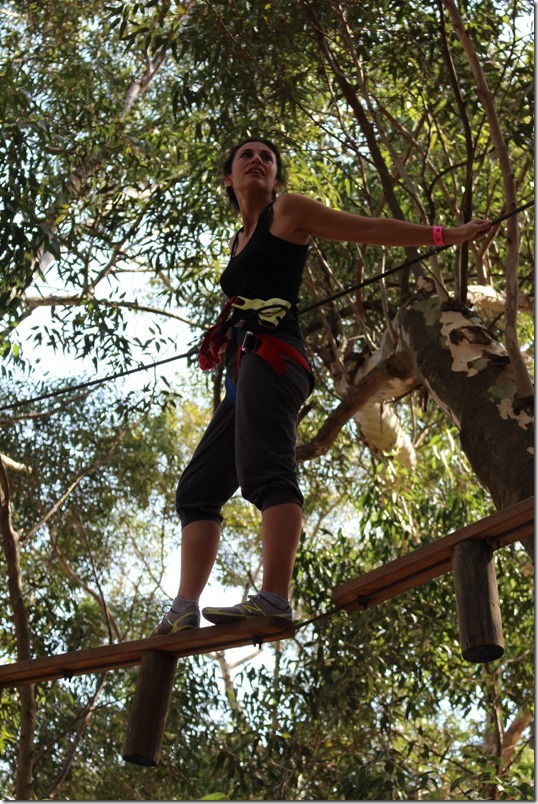 Hmmm. Here's a little friendship that is too sweet for words.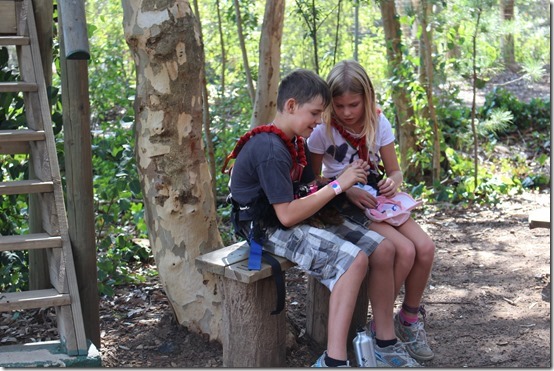 Speaking of sweet – I LOVE this one of Sam – exhilaration anyone?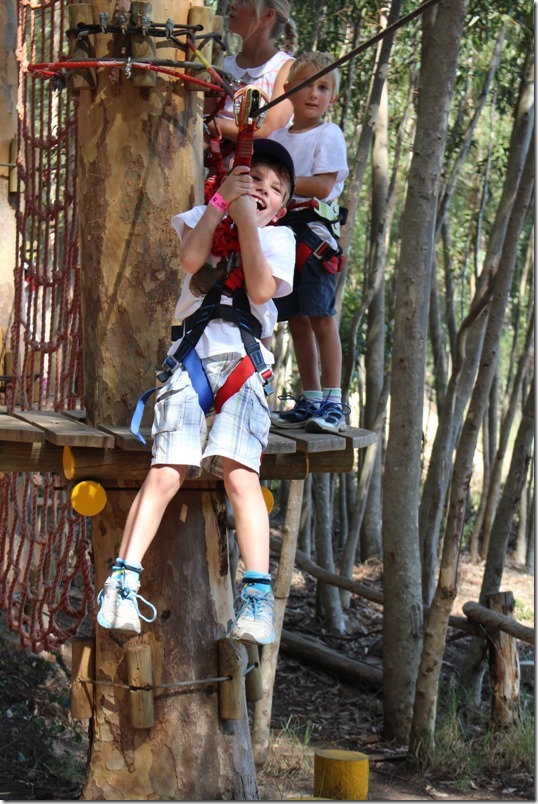 More acrobranching photos here: Cape Explorers Acrobranching – if you're interested in going, it's an awesome party venue too or team-building option. Their website: Acrobranch Constantia
April was also a time of great sunsets…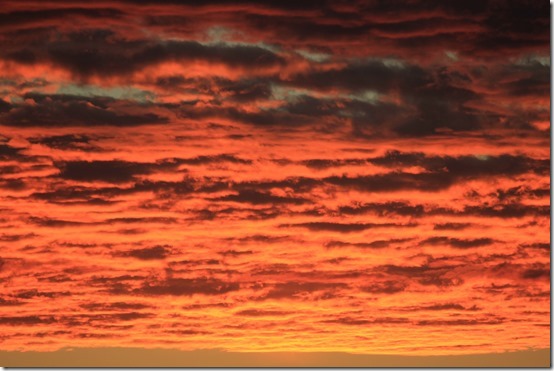 A biking party at Tokai forest – fun fun fun!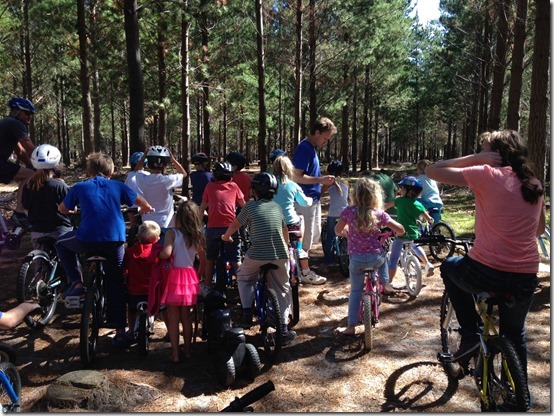 Lots of baking and cooking from the kids – these are Katie's pizzas she made from scratch. I can totally get used to leaving the house, only to come home to supper prepared from scratch and a clean kitchen to boot! Of course, it has to occur more than once before I can get used to it!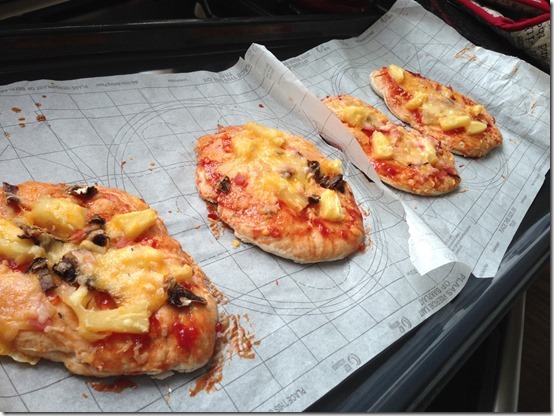 Even though the weather was colder and the sun went down earlier, April still gave us plenty of beautiful days and stunning nights. This is one of them – Llundudno for a picnic supper and fun on the beach.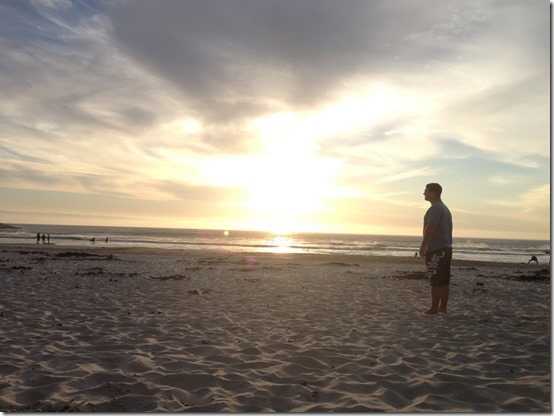 And when one does not have one's own dog, then borrowing a random dog on the beach gives the kids their doggy fix. This doggy was waiting for her master who was surfing the waves. While waiting, she entertained herself by chasing our tennis ball. Fun for all!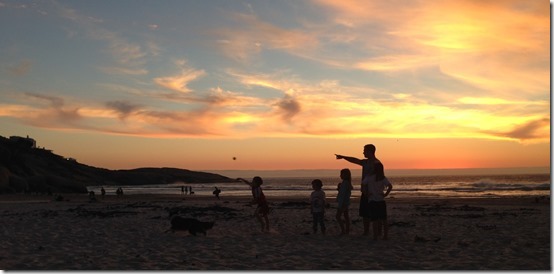 We had some dentist visits in April (and May – poor Craig broke his tooth and so had to go to the dentist after all. He has resisted for the past 5 years or so!) Mr Micah did very well. The kids scored little hourglass timers and a hygiene mask after their visit. So, when the kids were asking Craig about his visit to the dentist a couple nights ago, Micah asked with big eyes and all the seriousness of a 5-year-old, "Daddy, when you went to get your tooth fixed, did you get a timer too?" Too sweet!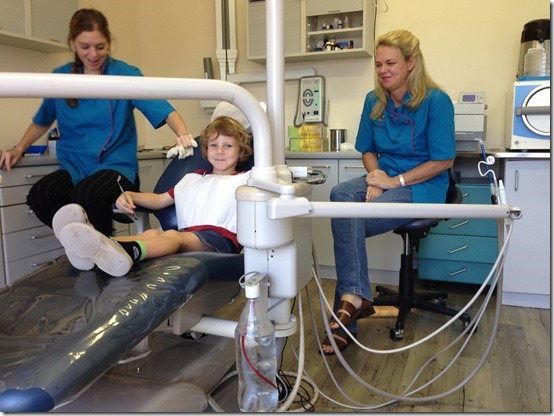 This photo was to tease my friend, Ingrid – pretending that her boys were being subjected to mistreatment by me! I got them to pretend that I was about to crash (we were in reality stopped) – just love Mattie's face!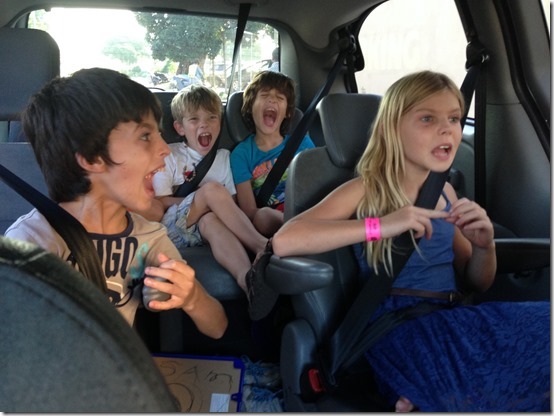 We got a bit of culture one weekend, including a orchestra experience with the Cape Philharmonic Orchestra at Artscape. It was lovely, but to be honest, I felt that it could have been a lot better.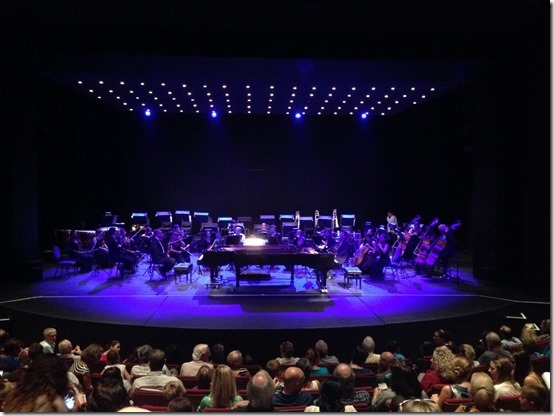 The music was stunning. Really good stuff. But, because it was geared towards children, I thought that they didn't quite hit the mark too well. They advertised in English, but then the entire first piece was the Carnival of the Animals in Afrikaans. The Carnival of the Animals is a stunning introduction to orchestral music and the roles of the various instruments, but the children missed it because their Afrikaans is still very rudimentary. Only my girls know the music well enough not to miss out too much, but the boys have only heard it a few times, so they got bored quickly. Then they played theme songs from movies that are age restricted for the majority of the audience, assuming the kids would know. Despite being beautifully played, recognition was at a bare minimum. They ended on what they thought was a high note – Bohemian Rhapsody – because, "everyone from 0-80 knows this song" – but that may have been true back in the 1990s, but kids today, unless they're well-versed in music of the ages, just do not know that song. So, again, missed the mark. Hopefully next time they will aim at explaining more about the various instruments and having fun with playing them well and badly and maybe having play-offs between the various kinds of instruments. They are talking of a next time, so hopefully there will be lots of improvement for the family audience. They really do an awesome job of the actual music though – stunning!
This is Ms Katie doing Maths outside. She's discovered that music + anything goes so much better than without music. It's amazing how much more school work she manages to accomplish when she's listening to music too.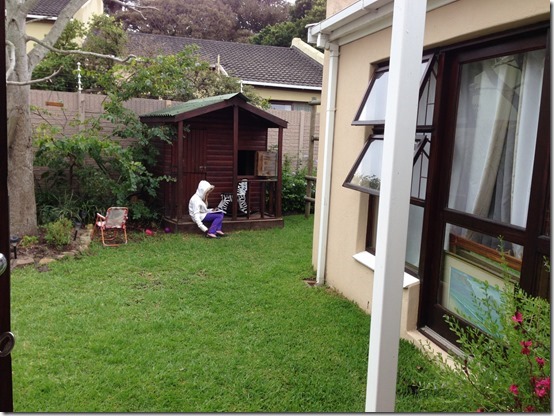 Kerry introduced us to Simply Music – a stunning piano programme. It's online and in some parts of the world, teachers train in this fashion and teach Simply Music style. Basically, it teaches kids to play beautiful pieces right from the first lesson. The method focuses on teaching chords, accompaniament and does not focus too much on reading music or recognising note names straight away. These things come with time, but the focus is primarily on playing. I loved the idea of the programme, so you can imagine my delight when just a few days later the Hip Homeschool Moms team was offered a free membership in order to review the product. I was lucky enough to get one of the memberships offered and now my kids are loving learning piano. They're doing so well too!
As with everything else that had to get back to normal after Craig and Kerry left, school, suppers, extra murals and all that had to slot back into its normal fashion. Getting back into a full school progamme was a little bumpy as it always is, but days like these made my heart sing – each of the kids were engrossed in their seatwork, while I got to make dinner at the same time and be available to them as and when they needed me. I love that. Photos like these remind me that on the harder days it's not always hard!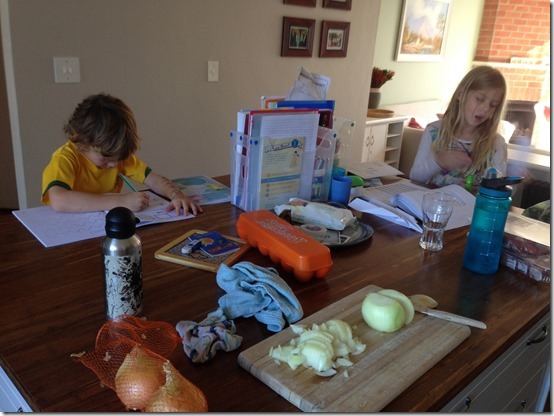 My boy – so workbook adverse – has suddenly taken to workbooks. Too sweet.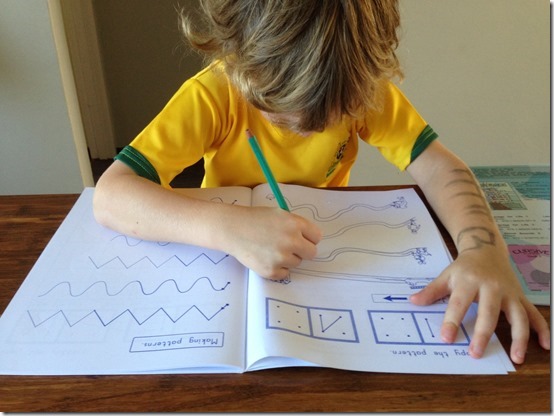 More school sweetness.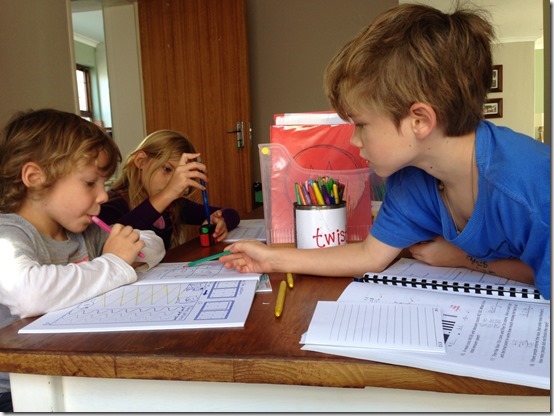 Easter was celebrated in April – with lots of fun things, including Sam getting his first Adult Bible. His delight was felt for days afterwards (and months before!).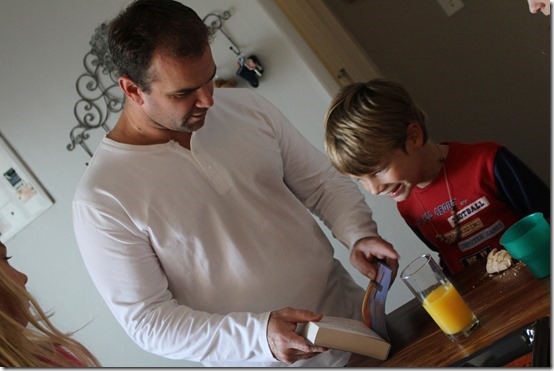 We did all our other usual traditions as well, including our traditional hunt in the morning.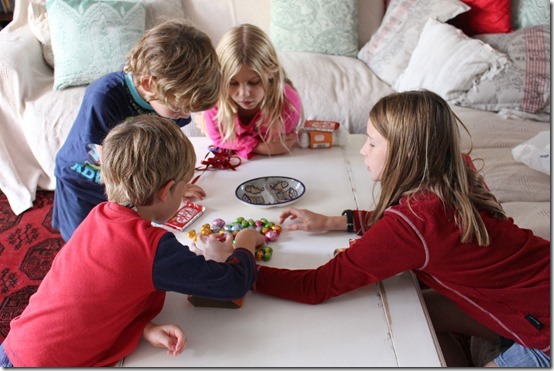 And then spent precious time with family for lunch where we all got to meet our newest niece (and grandchild for Granny and Gaa here) – Maya.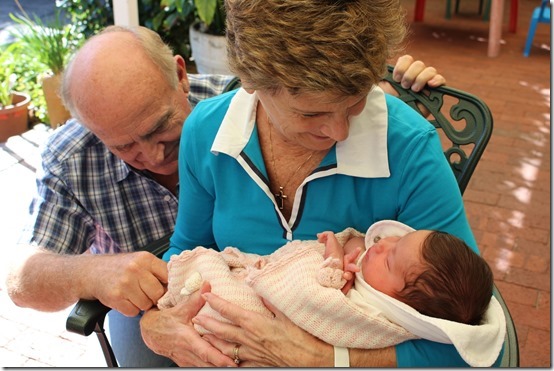 More on our Easter celebrations here: Easter 2014
Part of the reason we celebrated Easter in Cape Town this year (and not Hermanus where we have for years past) was so that I could run the Two Oceans Half Marathon. Since starting up running more consistently last May, I've been running on average about 15 kms a week. I picked that up a bit to about 20km a week when I joined the VOB running masses on a Thursday night. Lots of fun! Russel has been an awesome running buddy. By that I mean he tells me about races and then is kind enough to start the races with me, but we seldom end together. He is too fast!
We both aimed for the Two Oceans this year – his second and my first. What a wonderful experience! We started super early and it was cold! Here are just some of the runners – we were about in the middle so you can imagine that there were about as many people ahead of us too…
Russel kindly remembered to bring black bags so keep us warm – great idea, Russ! These you can then tear off and toss when you run, but they keep you warm at the start.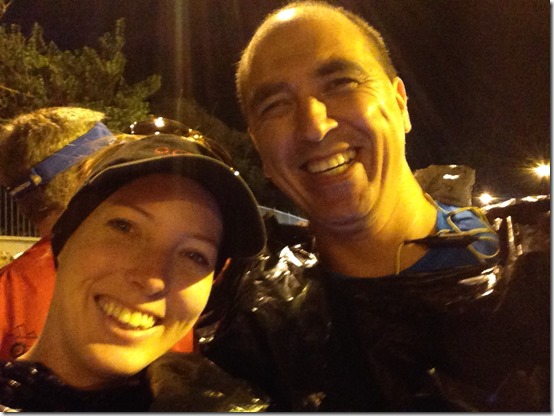 On the way we were well entertained by all sorts of groups – like the Cape Mistrels. Such fun!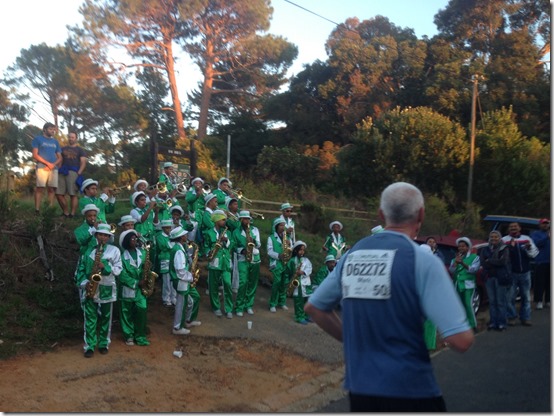 Conquering Southern Cross Drive. I did it!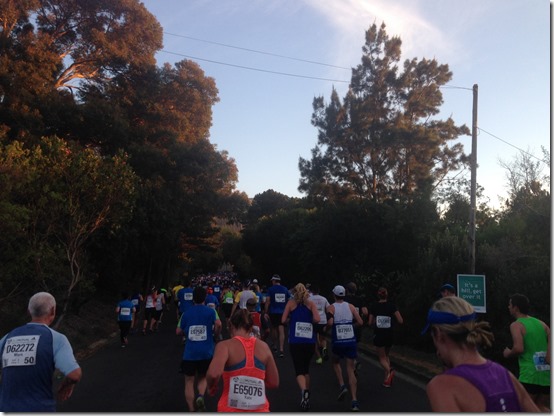 Craig and the kids got up super early to in order to cheer us on. They even managed to come to two separate spots and Craig managed to catch us on camera:
Russel, looking strong…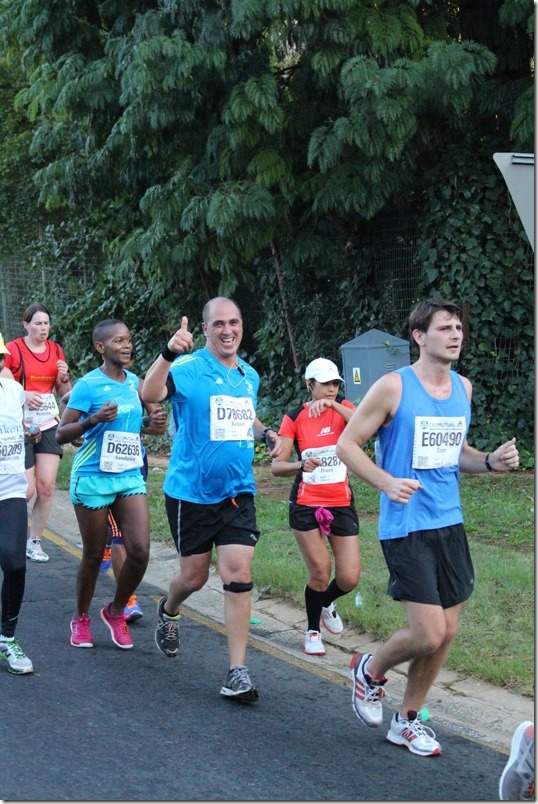 And me, red, but feeling awesome at Kirstenbosch.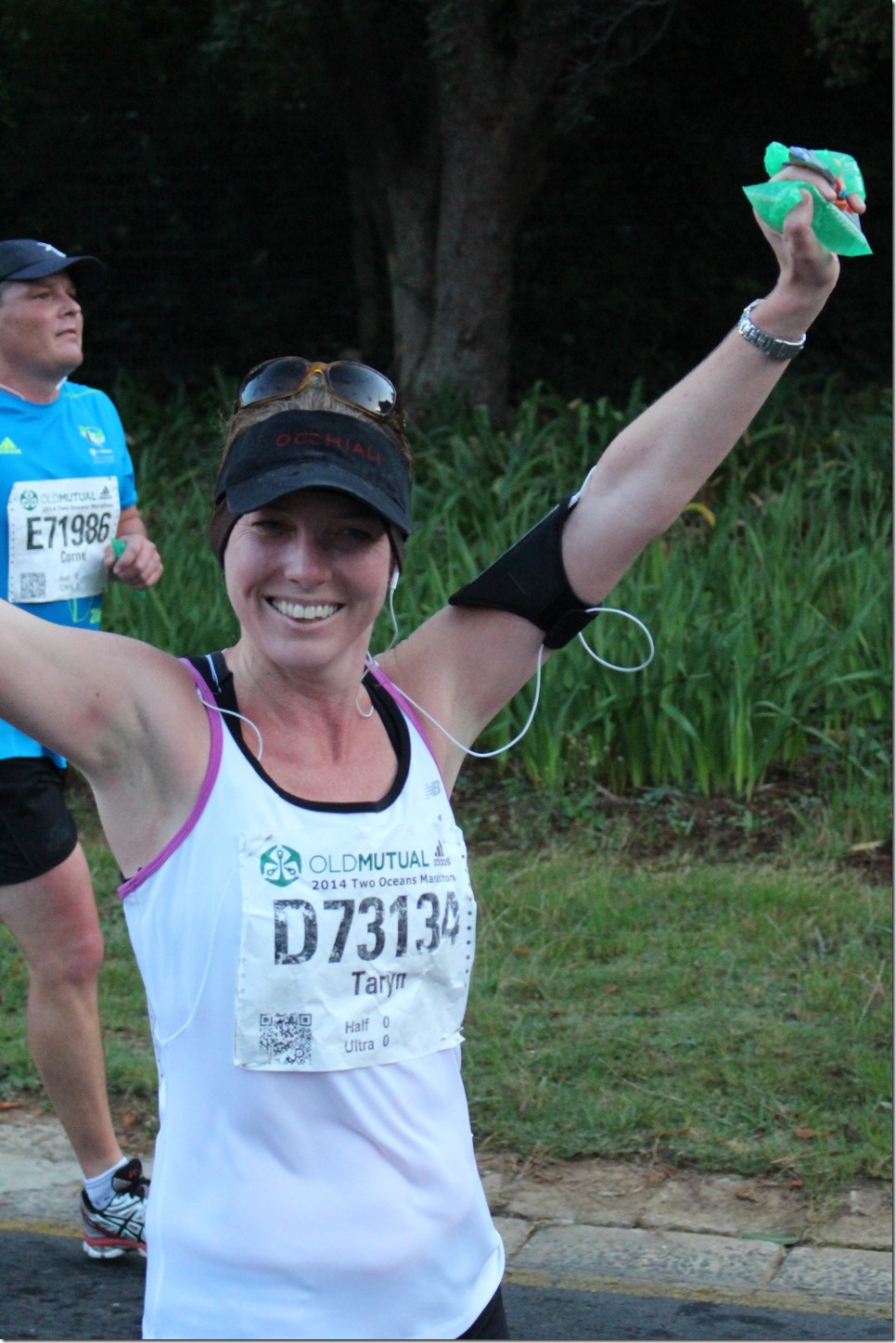 I did manage to hurt my foot in the last 1km of the race. I pulled some muscles or something. A little physio and three weeks' rest did the trick and now I am running again with no issues what so ever. My dear friend and neighbour-down-the-road, Debbie, is joining me twice a week in the mornings as a "keep us running through winter" team effort. On the other days I run, I'm hoping to push my speed up a bit. I'd love to one day break 2 hours for a half marathon. This time I did it in 2:15:13 according to my running app.
April ended on a high note for us all when Craig's colleague offered her raffle winnings to us. Their company raises funds for charity through various means. Each month a different team sector does something to raise funds. One month a prize of a weekend in the Matroosberg was on offer, plus free ziplining for 4. Alana won it, but then couldn't take up her booking, so we scored big time! We ended up having a wonderful time together in the middle of nowhere in a tiny little pondokkie of a house! Here's where we stayed: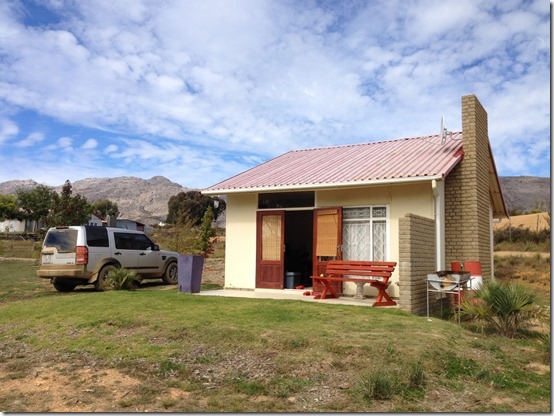 The first day, I stayed inside, recovering from a sudden bout of the runs, whilst the rest of the family went 4x4ing. What a pleasure it ended up being for everyone! I got to rest, sleep and read undisturbed and they got to have a ton of fun, bumping over roads and seeing awesome vistas like these:
The next day, we went to check out the ziplining. Even Katie, who is absolutely terrified of heights and won't even walk up or down steps that have gaps between them, had an absolute blast! It certainly helped that we had gone acrobranching, as the kids were a little more familiar with how it all worked.
All kitted up: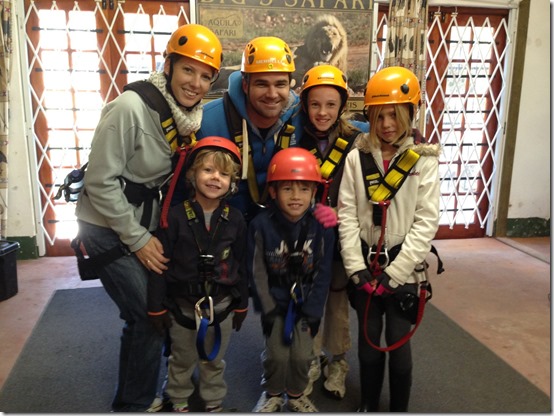 Aaahhhh! The anticipation!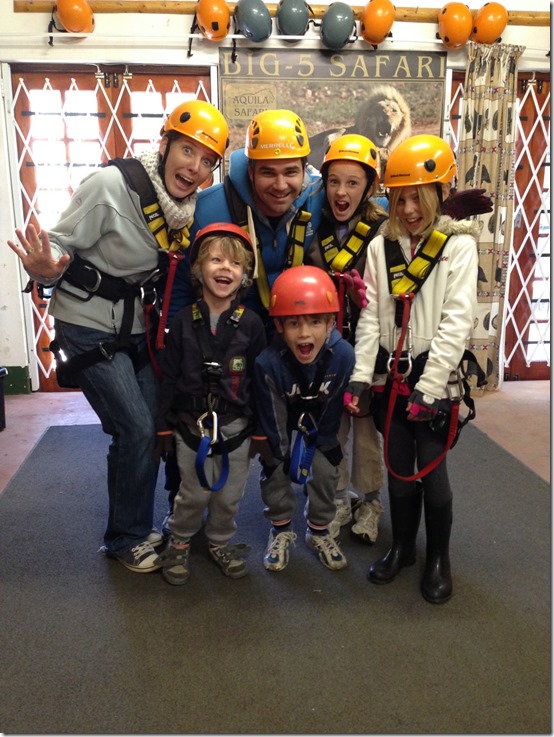 And then – the fun! Sam went with Craig, Micah with one of the guides and Katie with another. Kiera and I went on our own, except once when Craig went on his own and I went with Sam. Fun fun fun!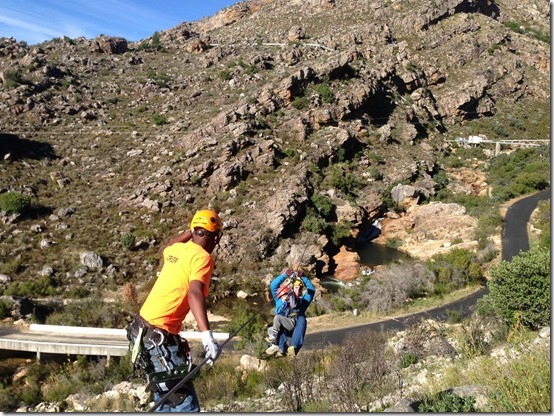 over roads, rivers and canyons we went – seven in total.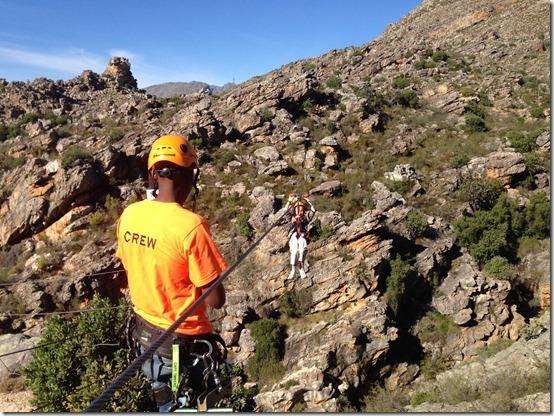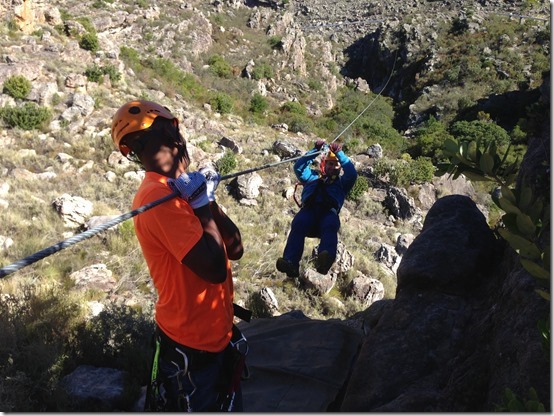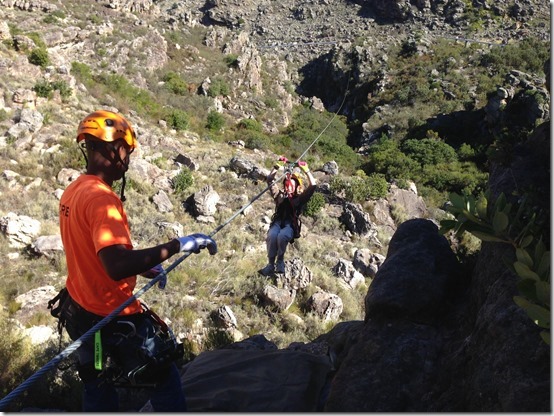 Micah was not scared at all and just flew along – he declared that next time he is going to go on his own!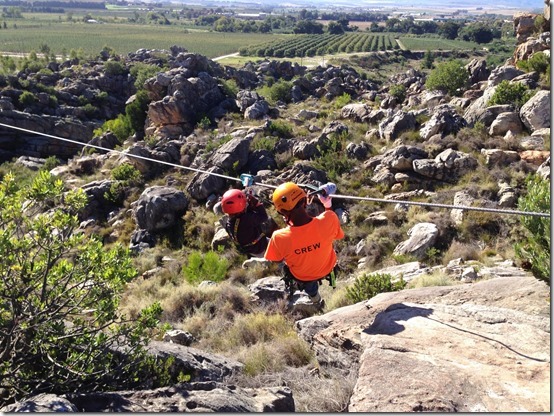 The rest of the day was lunch, rest and then more exploring – firstly of the rock pools on the farm: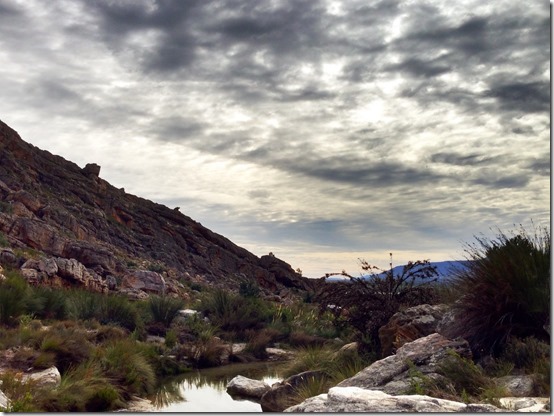 Freezing water, but crazy kids and a crazy dad still stripped down to swimwear and braved the waters: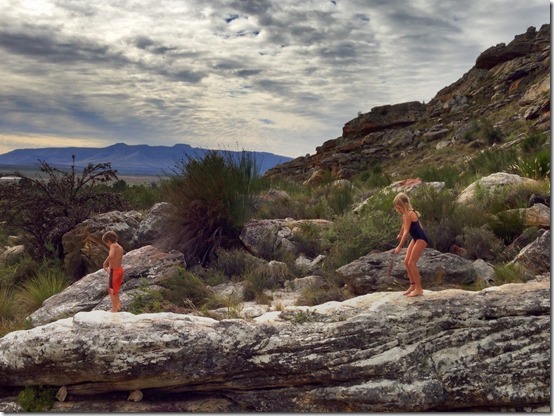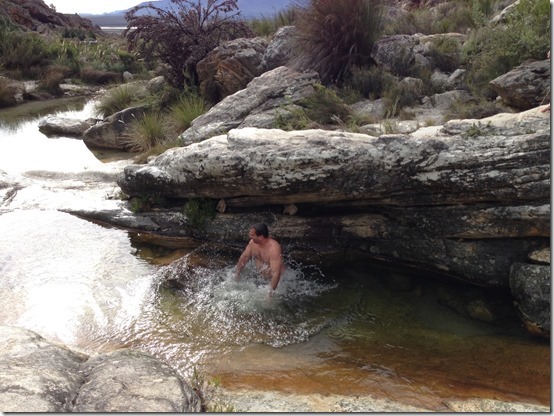 I loved the brooding look of the sky, so grabbed this photo from my phone: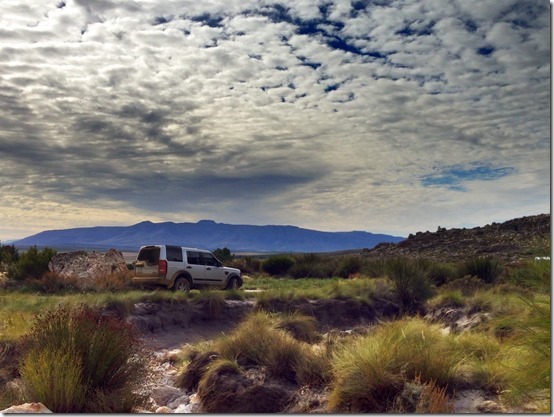 Then, home again along the rocky paths of the farm – four kids having a blast!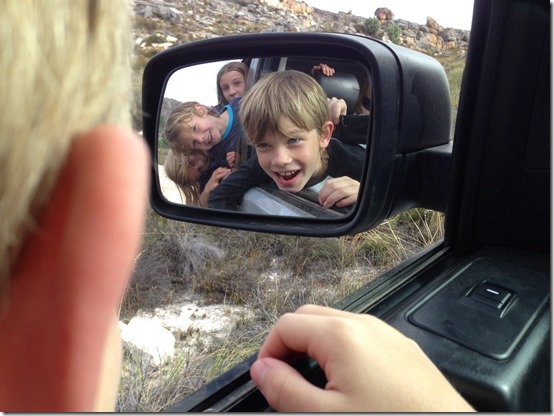 We loved all the sheep – especially the little lambs
what do you call a group of frolicking lambs like the ones below? A gambol of lambs? A stampede? No matter what, too cute!
Craig braaied in the evening, while the kids tore up and down the beautiful lake right outside our little housie.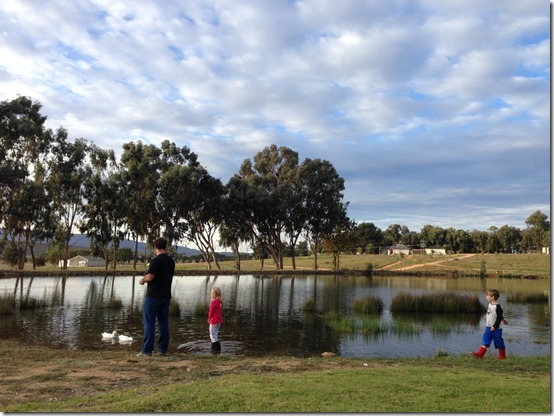 Stunning light!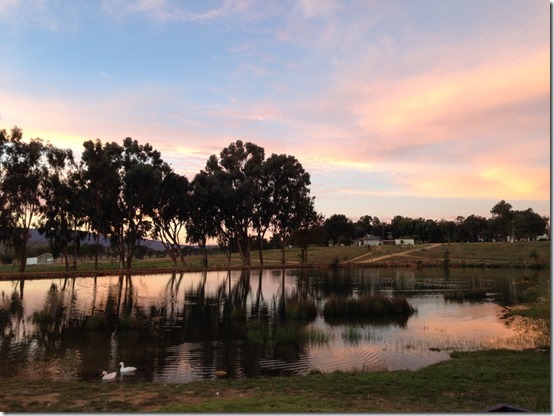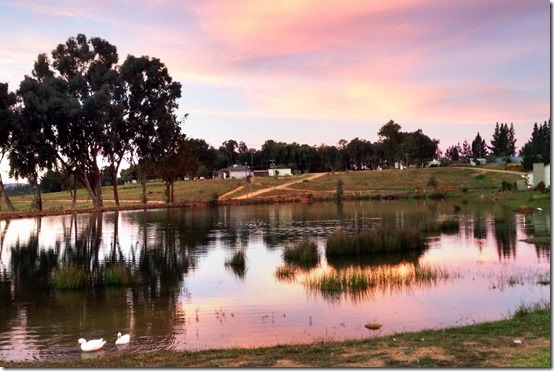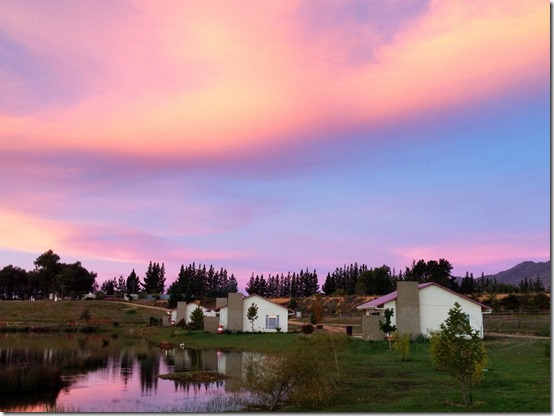 The next day, we took things slowly. The kids spent hours on the lack in the two boats they'd discovered. I actually got to relax and read on the porch. I managed to finish reading 2 1/2 books that weekend. That's a pretty impressive feat since my relaxed reading has slowed to a near stop these days! Ah! Slow living for the win!
Of course, my reading was not completely interrupted, since I was often summoned to see what four children had managed to discover, including this water beetle bug thing that was well dead and very bloated. Gross? Well, yes, but also super fascinating!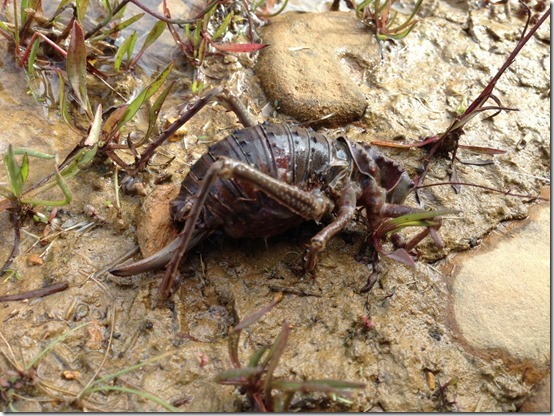 But, land was not really the kids thing in the morning, so most of the time my view was this: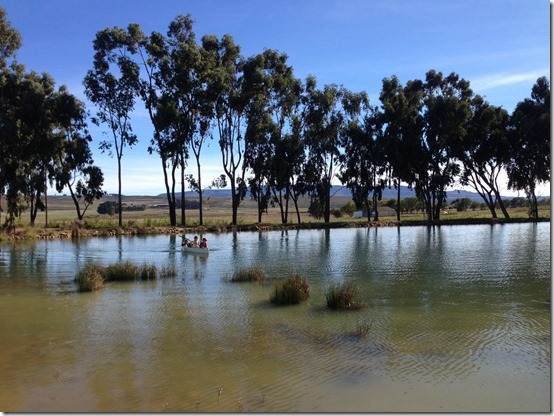 And my ears managed to pick up phrases like "able seamen, the pirates are coming!" or "quickly! to starboard! the enemy attacks!"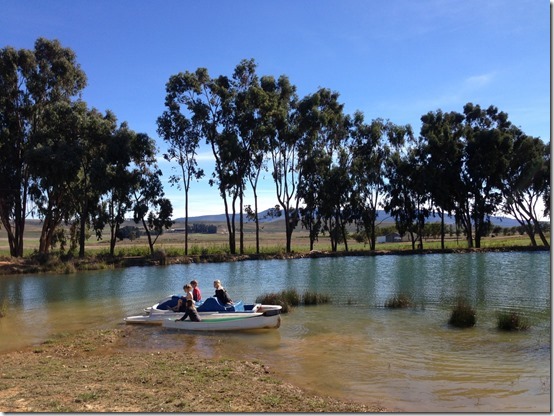 It was a fitting end to a month that began mourning the loss of extended family. How precious it is to have family and our weekend in Matroosberg was a wonderful time of remembering to count my blessings, mostly especially my own little family.
That was about it for April. We are now in May – the weather is colder, the nights darker sooner and for longer, school is swimming along, I'm running more regularly again now that my foot is healed, and new patterns are starting to take place on the home front. As I write this, I feel a sense of contentment and gratitude for all that has gone by and for all that lies ahead. Most especially, I've been intimately aware of how good God is – his blessings are the ultimate blessings because they all come with the offer of Jesus' saving grace. This Easter we were reminded of that again and I am so incredibly grateful for His love and the fact that even with family halfway across the world, we still get to dwell under his blessing and get to know that this ain't all there is. The best is yet to come!