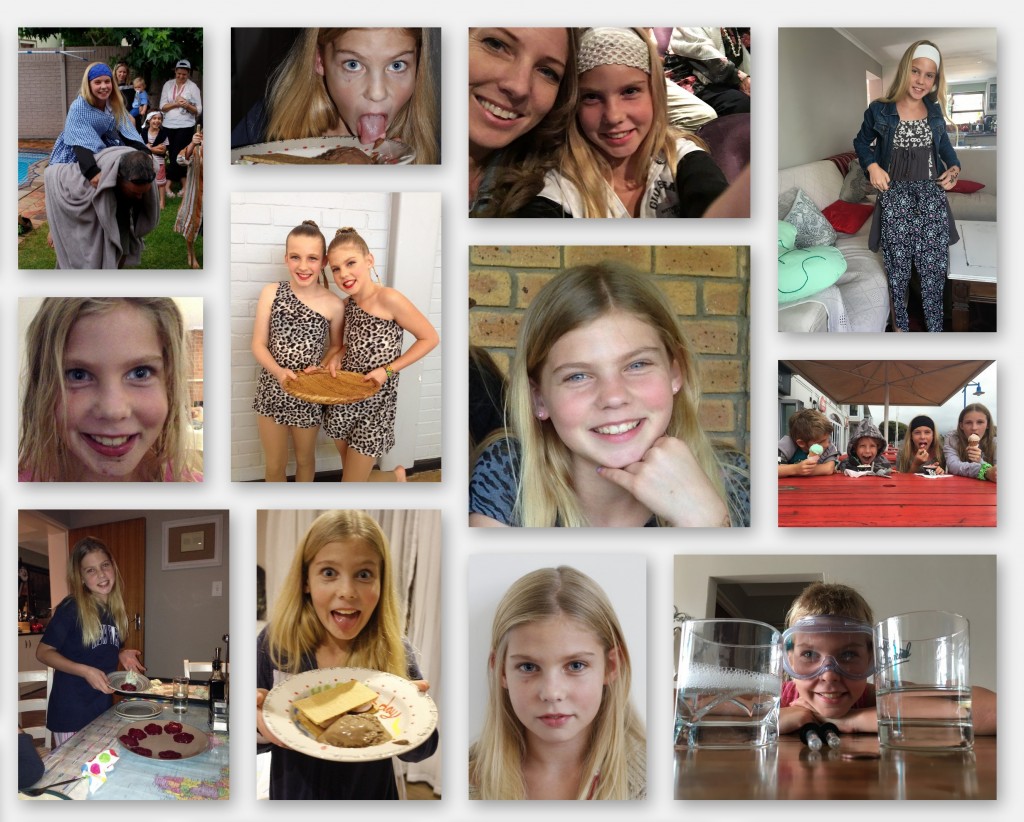 There is something about 12 that I cannot quite get my head around. I remember 12. I remember how big I was. And how big I thought I was.  I remember a level of maturity and immaturity that I'm not quite ready to attribute to my own precious Katie. And yet, even as I say that, I have flashes of memories from this past year that highlight facts I can't deny. My Katie is growing up far quicker than I am comfortable with.
There's the physical changes – she's overtaken her sister in height and suddenly she's able to fit into many of my clothes. I'm beginning to have to watch my wardrobe carefully!  Then there are those moments when I find myself having to look twice: yes, that young lady curled up on my couch is actually my 11-year-old daughter. 11 yesterday. 12 today. 18 tomorrow.
Those 18-year-old moments are like little flashes into the future. Flashes? More like buzzing shocks. Most often, they occur when she teases her dad. Her wit can catch him out these days, and her "Oh, Dad!" responses to his teasing betray a mature confidence – a future Katie – that trips me up everytime. I feel proud and bewildered and utterly amazed at these glimpses. And I love it. I love getting hints of grown-up Kates and imagining a future of coffee dates and shopping trips.
A future…. To think that just a few months ago we lived through an agonising week when the concept of "future Katie" was challenged. It feels like a million years ago, and yet just yesterday all the same. Not quite the usual birthday musings, but as I think back over that time, the memories come fast and furious. Never recorded before; perhaps now is the appropriate time….
It was a week where Katie showcased the whole of who she is in a multitude of ways. And it was a week that I remember with snapshots of vivid clarity. The look on the GP's face when he recommended an MRI for the unexplained lump on her forehead. The drama year-end celebration and the gymnastics display that we rushed to later that day – celebratory events that the kids absorbed with all the joy and excitement of those celebrating a wonderful year of accomplishment and fun. Celebratory events overshadowed with a nagging sense that not all was right. Yet, Ms Katie, unconcerned. Never one to agonise over life, she reserved her fears for the next day – the day of the MRI. Her fears? Partly for herself, for the unknown of the machine, for the results. But also? For her uncle, our radiologist. For the radiographers. For me. My little 11-year-old sweetness spent the better part of an hour in the claustrophobic innards of the MRI machine, praying. Praying for the people she loves, for the nurses, for her uncle. Her sweet, gentle, caring, compassionate self. Shortly afterwards contrasted with her feisty, don't-mess-with-me self when dye-injection became necessary. Like anyone, she shed tears of fear when she was hospitalised soon afterwards for a biopsy the next day. Those snapshots in my memory flutter down on top of another – feisty, chatty, warm and loving Katie teasing the nurses; contemplative Katie wondering what the Lord has in store for her; grumpy Katie telling the doctor off – no, I will not get an injection!  Katie, gowned up and heading into surgery, a lonely tear escaping down her cheek. Katie, returning home with a little plastered cut and a heart brimming over with emotion. Katie, sending tear-filled voice notes of thanks to friends and family who had gifted her, loved her, prayed for her.  Katie, confused at the tumultuous sea of emotion she rode for the next week. Katie asking, "why me?" and then, "why not me?"  Oof. Revisiting the memories: gut-kicking stuff.
Perhaps the most vivid of memories are the emotions that accompanied those days. Not knowing if the dreaded C-word would feature in the diagnosis. Not knowing. The hardest part of that week for us all was the not knowing – oscillating between feeling cold, desperate fear and utter, calming peace. Peace. Such an incredibly surreal feeling in the midst of such uncertainty and fear. Sharing the journey with friends and family had both Craig and I marvelling over the power of prayer. A strength we didn't expect and a certainty in Katie's ultimate future, no matter the diagnosis or outcome, carried us through the days that followed. How glorious it is to know that this world is not all there is! Even faced with the "what if" we had assurance and peace. Of course, it was not without moments of sadness and tears. But, those moments never happened without assurance, either.  The warmth of good friends and family who gathered around us, showering us with their comfort. I remember one particular moment when two friends hugged me close when the tears spilled over my kitchen island – all while Katie was carefree, life-embracing, fun-loving Katie, enjoying a Star Wars marathon with her buddies! And then, when the final diagnosis of an Eosinophilic Granuloma with potential damage to the dura meant surgery to remove part of her skull, we gathered up our courage to tell Katie. I will never forget that moment. Craig, so gently explaining to the grave little face before him the plans for the week ahead. Katie, nodding through silent tears as she took on board the magnitude of the surgery ahead. Their closeness. My heart. A constricting, breath-gasping love for them both.
And then the surgery. The hours and days following, watching our daughter slowly return to us. Those first 24 hours: the hardest. It was as if our daughter was lost to us, and all that remained was her body. No emotion of any kind passed over her face. The nurses, coming in and out, cared so deeply for their youngest ICU patient. The mothers amongst them tearing up as they made sure I was well cared for as well. And then, my Katie, slowly, slowly, returning to me. Caring, sweet, gentle Katie. Katie, whose first sentence was out of concern for me, "Mom! You haven't had much sleep. You need to eat!" Katie, who allowed herself to be the subject of the student nurse's neuro-patient exam, and then was so concerned to hear that she passed. Katie, whose smile returned. Katie, who wanted to gift her doctor and nurses with thank you bundles and spent hours planning and executing her ideas. Katie, who exuded a peace I never expected. Katie, who bounced back in a way so unexpected, the doctors marvelled at the unlikelihood. The black-eyed raccoon-like bruising that was promised? Nothing beyond a little red swelling that disappeared within 36 hours. Katie. The vessel God chose in those weeks to bring glory to His name. How incredible it was to share Jesus with others around us through this time; to hear our daughter speak through deep theological thoughts as she faced the question of "why not me?"; to be a part of the hardest questions people ever ask of themselves and to be able to know, with certainty, that this life is but a snap of the fingers and the best is yet to come. How grateful we felt, to the depth of our souls, that Jesus died on the cross for our sins so that we can be a part of the best that is yet to come. Yes, we were amazed by our young girl. But, more than that, amazed at our great God.
The six months since then have relegated those weeks to a chapter passed. Katie's growth spurt happened within weeks of surgery. School began again. She took up swimming and loves it so much, she's chosen to do club swimming and is moving up the lanes rapidly. She still creates incredible concoctions of homemade cosmetics and science experiments. She devours books of all kinds. She adores young kids and they adore her – so many seeking her out as their adopted big sister as she creates worlds of play and fun for them. Drama, singing, and dancing still fill her days and again and again she surprises and infuriates me with the raw talent she has. Surprises me, for the incredible displays of song or dance I've never quite seen around the house. Infuriates, for if she dedicated just a fraction more time to the discipline of practise, she would far exceed her own expectations! Practise – perhaps the only thing she happily practices is born out of her love for all things make-up: whether stage, special effects or just modelling the models, she will easily spend hours creating incredible combinations. The bedroom carpet stains stand testimony to that! Creating is her thing. So much so, that this year I found myself being worked out of a party-planning job. Even today, she took another aspect out of my hands by planning the food and executing the decor right down to the themed food labels! I could get used to this! But, then again, maybe I won't. Simply, because every moment of every day with these kids is a gift. Some days that is harder to remember than others. When those teenager moods swing through our home and the nasty, eye-rolling, prideful biting comments are tossed, it's hard to remember. Especially when I find myself to blame; myself the perpetrator. But, then, with Katie, apologies are readily accepted and heart-hugs follow. My precious girl – so often a real example to me. To God, I am grateful.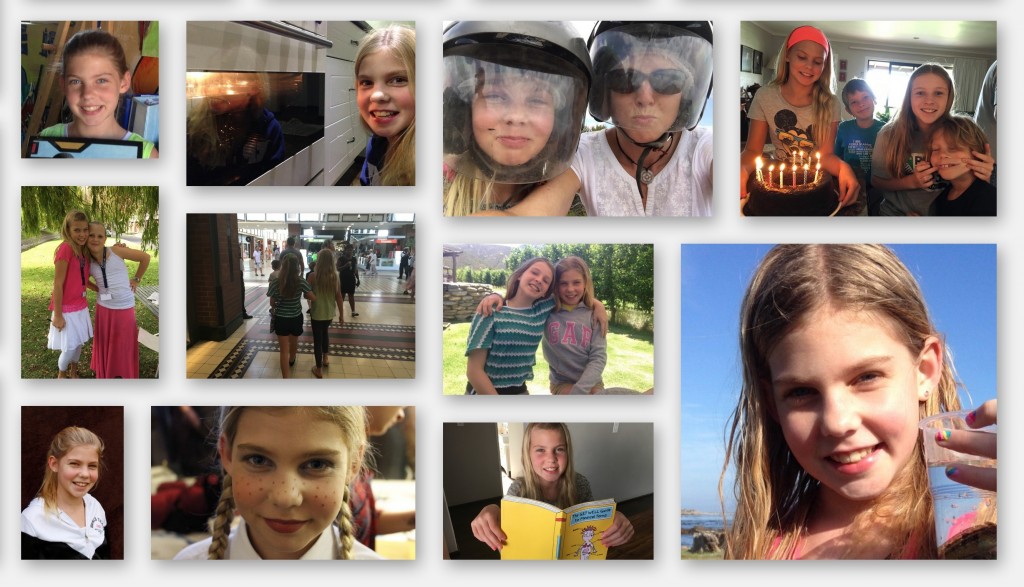 On this 12th birthday, Katie, I am so so grateful to God for these 12 years. For His love. For the woman He is growing you to be. For all the grace, kindness, gentleness, feistiness, care, wit and love you exhibit. For all that He has in store for you. We love you. Happy Birthday.