As with the past few Passovers, we celebrated this year on Good Friday. But our day began, not in Hermanus as it usually does over Easter, but in our own home and in our own home church where we heard a great sermon on the Faith. I also got to wish my big sister Happy Birthday – the last time her birthday coincided with Good Friday was 2002. That's a pretty cool day to share for your birthday!
This year, our Passover came full circle. We had our first Passover meal at our house as a family way back in 2007 when Kiera and Katie were just 2 and 4 years old!
Here's Craig and I looking way more than 6 years younger!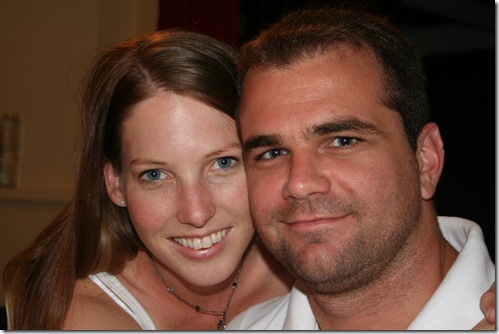 And Katie and Kiera look positively TINY in these photos…
Since then, we've done Passover every year in Hermanus. We don't get to take holidays too often, but the long Easter weekend is a brilliant opportunity to head out to Hermanus and spend holiday time with my folks. So, for the past 5 years, we've enjoyed the Passover meal at my parents house. But this year, with my folks in Israel, we decided to enjoy Passover back home in CT, which gave us an opportunity to invite others to join our table. This year Craig's folks came along as well as the Tubmans.
Being in Cape Town, also gave me an opportunity to have fun decorating the table (I didn't get into the spirit of table decor this Christmas – whatever creative desire may have been lurking around then was channelled into the Passover table!)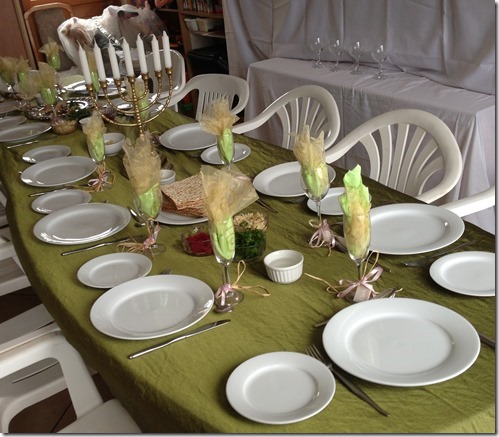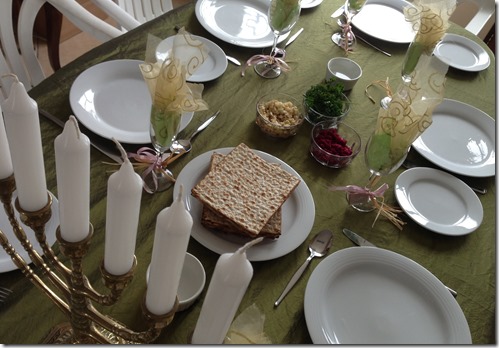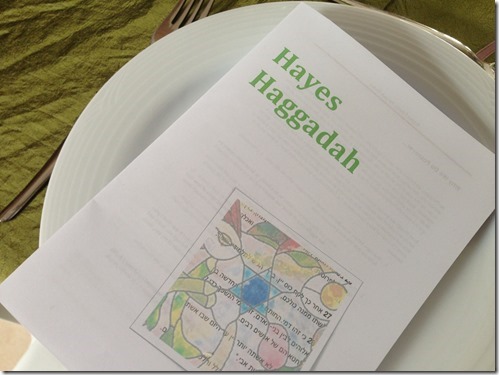 This year I included in the Haggadah (the order of and instruction of the meal) some info as to why we do Passover.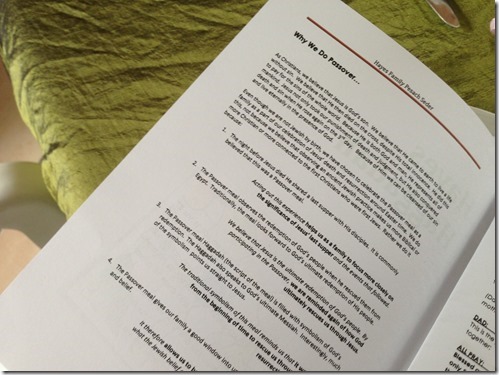 It's something I've spoken to on this blog before in previous posts about Passover. Most simply though – the Passover story is about God rescuing his people from slavery in Egypt. He uses Moses to confront Pharaoh. God does indeed rescue his people, specifically after the plague of the death of the firstborn son, when he instructs the Israelites to paint the blood of the lamb on their doorposts. In obedience to Him, the Israelites (and others) who did this would not face death in their home. Instead the angel of death would pass over their homes. The lamb that was slain for the blood on the doors was called the Passover Lamb. This story in the Bible is one of many that foreshadows Jesus. It boils down to the fact that Jesus came to earth to be the Ultimate Passover Lamb. He is referred to as such numerous times in the New Testament. And the symbolism of the traditional Passover meal as practiced by the Jews is remarkable in how it points to Jesus too. So, we like to celebrate this tradition through the eyes of the New Testament – knowing that Jesus, who also most likely shared in a Passover meal with his disciples at the last supper, fulfils everything that the Jewish Passover seder speaks to and hopes for. It's not something we feel that all Christians must do – it's certainly not mandated for Christians in the Bible. But, we've chosen to do it because it really does such a great job of highlighting the fact that God planned for the coming of His Son right from the very beginning.
As with each year, we blew the shofar (or tried to blow the thing!)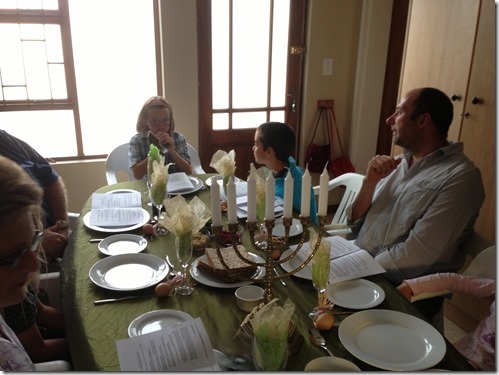 And as with every year, there were LOTS of giggles and laughs!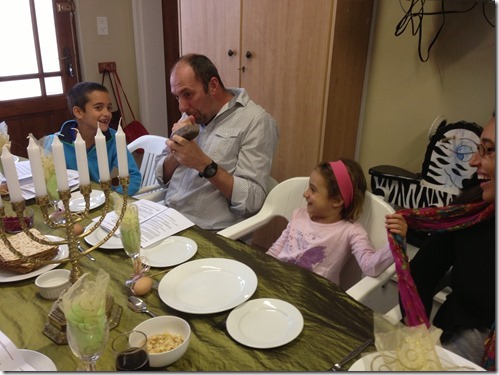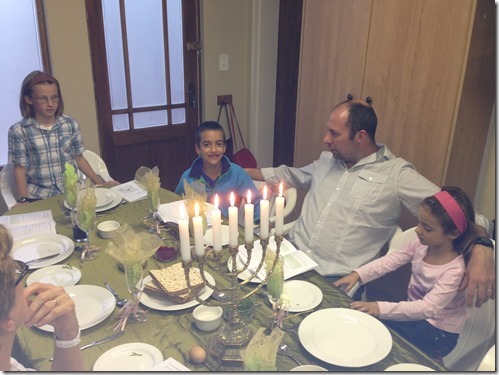 Craig once again did a great job leading us and keeping it light and fun for the kids too.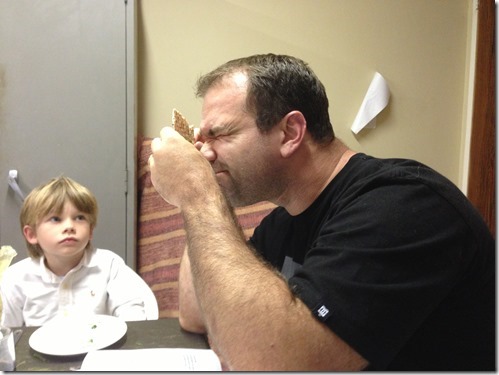 Although, you'd swear by the expression of the boys in these two photos that it was super-serious time.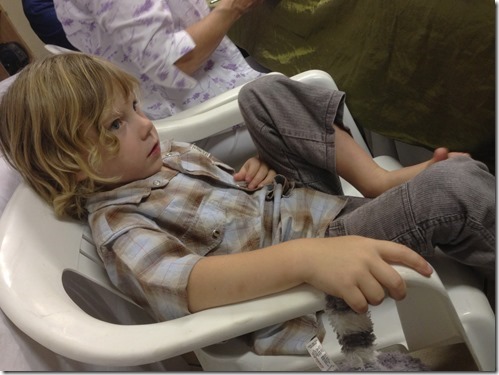 One thing that went down a treat was the matza – my kids love the stuff!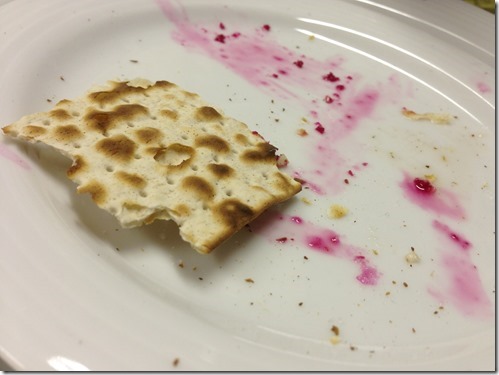 Personally, I prefer this food – yummy lamb, potato bake and veggies. I had nothing to do with any of it. I was going to do the lamb, but Craig kindly stepped in (good thing too, because it was DELICIOUS!). Bev made a yummy potato bake and Hayley brought a tray of very tasty roast veg. I can't do what she does with veg. I need lessons!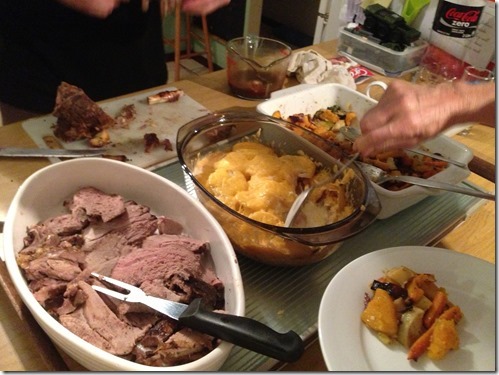 After dinner, the kids had to hunt for the "afikomen" – the middle piece of matza that represents Jesus' body. These kids were seriously hyped. Can you see?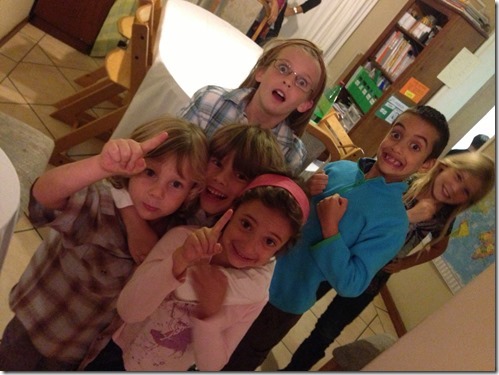 Mad dash to search happening over here! The kids went wild.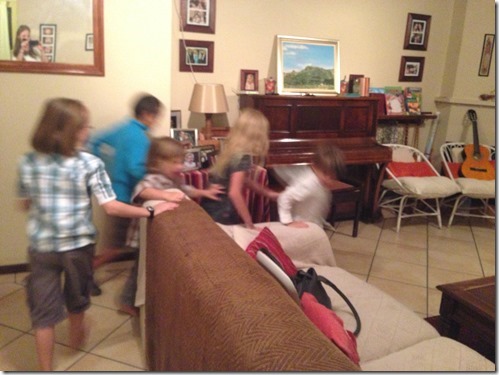 Where oh where is it?
Where?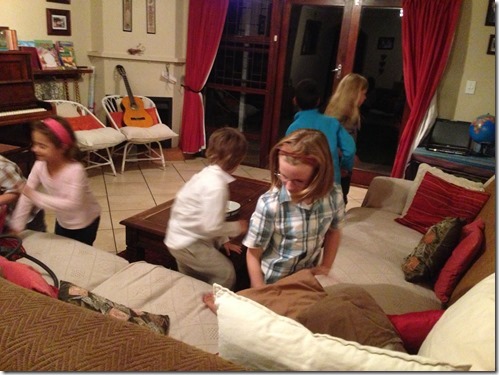 Ah! Kiera found it.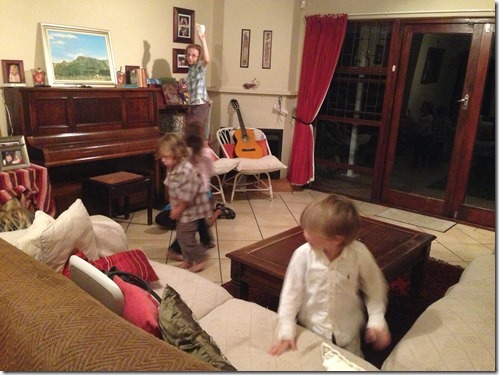 Micah was so disappointed that he didn't find it – he had a little cry. But he was soon cheerful again when his daddy started back with the programme.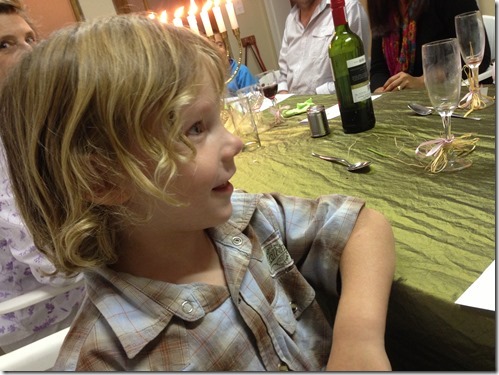 We shared in communion after that and soon our meal was over. But, the fun wasn't over for the kids. After dessert, they got to hunt for glow-in-the-dark eggs that Craig spotted at Woolies a while ago and bought for the kids.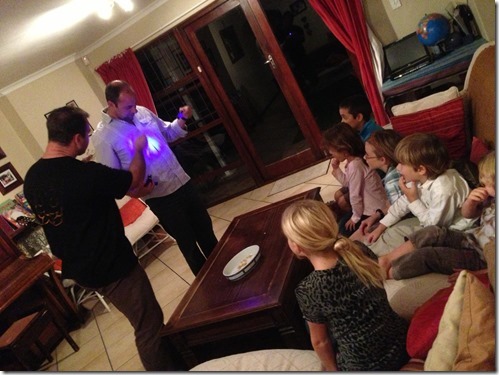 I had no idea that Ben was pulling that face until I pulled the pics off my phone! Funny little boy!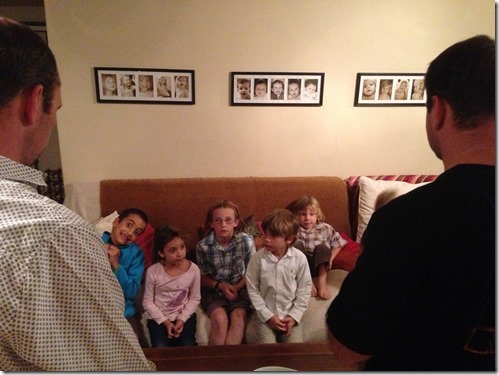 Listening so diligently, these littlies!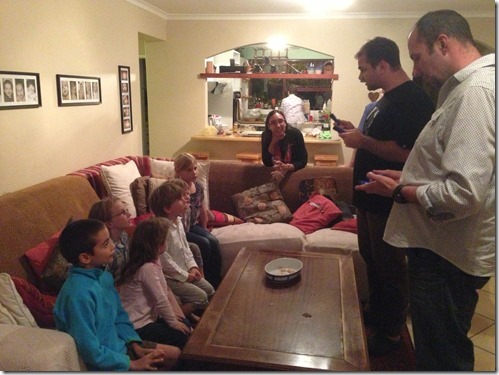 And then? Off with the hunt! Look at them. So sweet!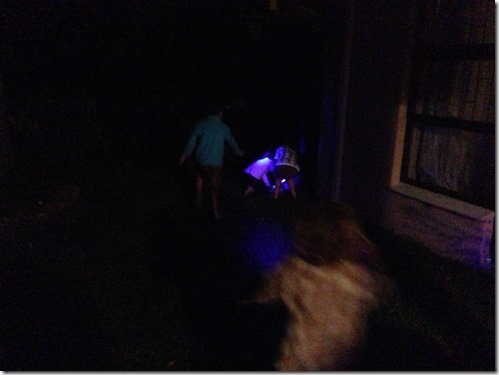 They loved the glow-in-the-dark aspect.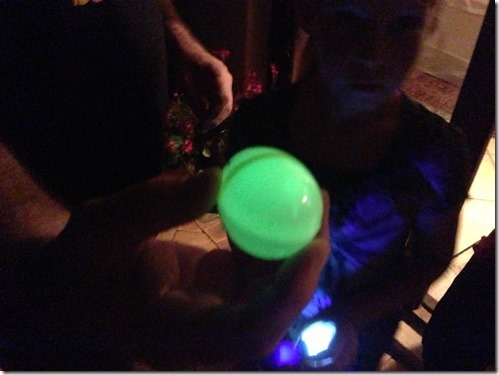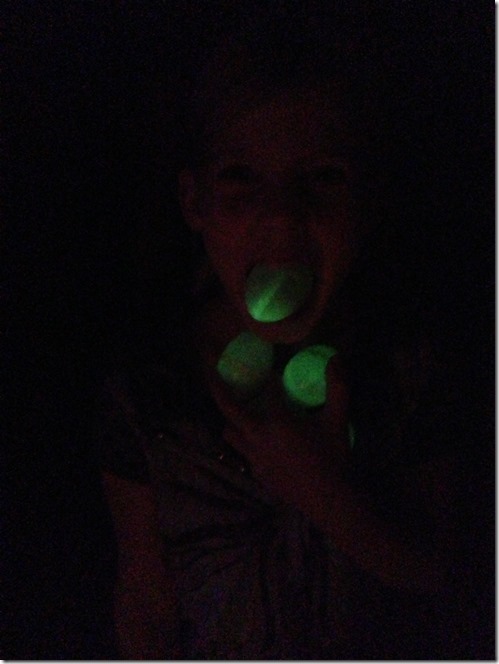 And the UV torches too!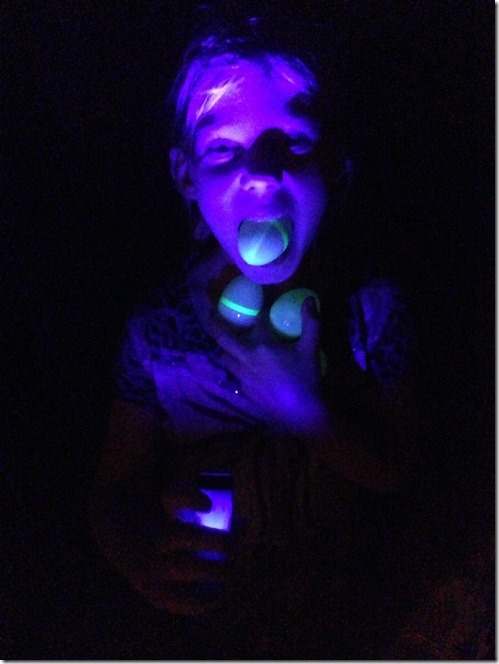 All in all, the kids and the families had a wonderful time as did we. What a beautiful evening celebrating the most significant act in history foreshadowed by one pretty amazing story of redemption.
I hope you have a blessed Easter weekend!