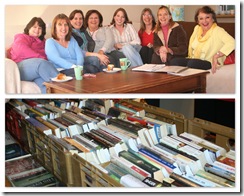 Back in 2000, I was introduced to excellent Christian novels.  Before then, I had read a couple of Christian novels, but mostly found them to be fluffy and unchallenging.  Then, Kathy Ward introduced me to Francine Rivers and the floodgates of excellent, challenging Christian fiction opened before me.  I couldn't get enough!
Around the same time, I was feeling starved for older Christian mentoring relationships.  The Lord knew my heart and, in 2001, placed me slap bang in the middle of a new book club that had started the previous year.  Kathy and her family were leaving to head back to the States after years of missionary service in Africa.  And… she offered her precious place in the book club to… me! 
I was thrilled, albeit a bit in awe of all these older, wiser women.  Or rather experienced, wiser women ;-)  It was a fantastic gift from the Lord himself, and for the past 9 years or so, I have been soaking in the wisdom and life experience of 11 wonderful women, plus a few more who have come and gone.  Even though we only see each other for a few hours once a month, those hours are precious and packed with love, learning and fellowship.  A full experience indeed.
I wrote about the blessing of this book club some time ago in another blog post.  What I wrote then, applies still today…
For 9 years I have been truly blessed to sit at the feet of godly Christian older women, month by month.  Without overtly preaching to me, each of these women have had a profound influence on me and my role as woman, wife, mother, sister, daughter and friend.  Whether it is a book they've contributed to book club; a difficult situation they've prayerfully shared; a fun experience we've all laughed about or merely the wonderful way in which they care for each other … each of these women have taught me what living – actually living – the Word looks like.  None of them are perfect, yet all of them exhibit godliness in ways that echo biblical principles.  So divorce, death, illness, matric results, empty nests and weddings have become mere stepping stones to greater love, trust and understanding of Jesus.  I thank the Lord for each of these women, their honesty and their pursuit of godliness – and for how much I have learned and grown as a Christian just by knowing them.
This month, book club was to be at my house.  It also coincided with the 10 year anniversary of our first meeting.  10 years of Redeemed Readers (as Sarah aptly named our group)!  10 years calls for a celebration!  Since book club is a low key, relaxed affair normally, I didn't want to interrupt the pace too much, but I did want to mark the moment.  So I made my banana bread and carrot cake into a 10 shape and we all enjoyed our usual tea and chat to begin with.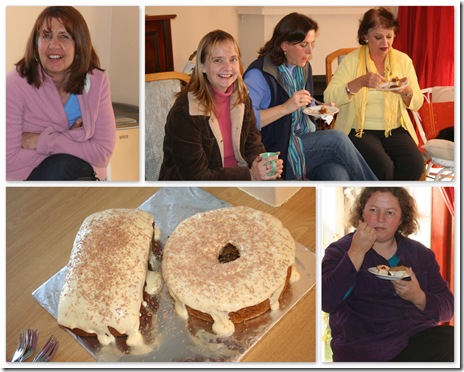 Then we played some games! :)  A simpler version of "Who am I?" was our party game for the day.  Each of us had to hold a card to our heads with the name of an author from our shared books.  Then others would give us clues as to who we could be.  Lots of laughter, deep thought, funny remarks and moments of forgetfulness followed.  It was fun!  Normally at our book club meetings, the hostess shares a devotion with the group.  This time I let everyone share a thought of thankfulness about the group.  It was such a lovely time hearing from each one of us how we first joined; what we thought and felt at the time and how blessed we have been.  For the first time, I heard how Redeemed Readers came to be – Sarah's dream a reality.  What wonderful stories of thanksgiving to bring to the Lord in prayer.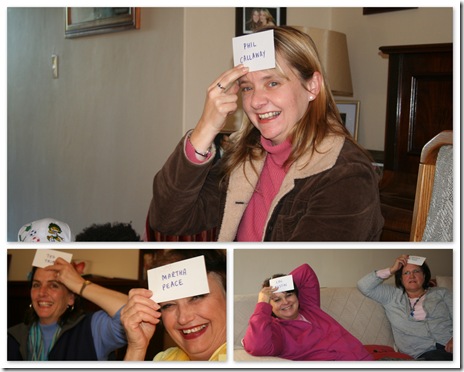 Not having a handy adult photographer around, we had to make do with Katie's trigger happy skills!  She took about a dozen pictures of the lot of us, but was moving so much that most of them came out quite blurry.  This was the best shot! :)  Not all of us are here – we're missing a few faces.  But, of the ladies in this picture, I'm the only one who hasn't been with the Redeemed Readers since the beginning.  These ladies make up the core group!  7 out of 12 original members is pretty good going!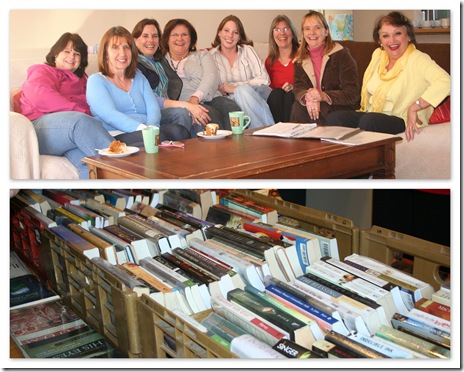 It was a lovely afternoon of shared blessing.  I hope to be able to enjoy another 10 years with these wonderful women learning from them and growing with them.  Thank you Lord for this answered prayer.