70! My daddy turned 70 this past weekend. And I still find it hard to believe. How did he jump from 40 to 70 so quickly? I still remember the surprise birthday we gave my dad for his 40th. I was only 6 at the time, but all the excitement of the subterfuge has kept that memory fresh and yet nostalgic. We've had a few other celebrations for the parentals since then – all with fun memories. And this one is one of them.
Mom organised a low-key celebration with local friends in Hermanus and a few out-of-towners. It was lovely.
Dad arrived at Skye Cottage with the Myburghs, to a crowd of waiting people.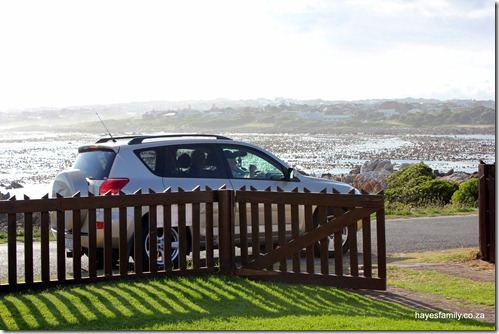 Here's a man who's bashfully enjoying every minute!
Mom had many friends helping make the party successful. Loads contributed to the pre-dinner snacks. So much so, that the snacks were more than enough to fill every tummy there. But there was still some more to come with three enormous potjies, courtesy dad's army buddy and long-time friend, Mark (see below), and my very own hubby, who made a delicious chicken potjie.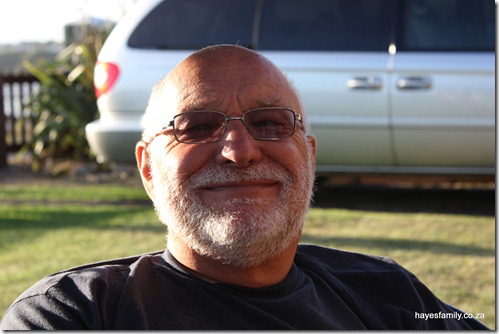 But, food wasn't the only help contributed. People cooked, cleaned, arranged, plotted and planned all day. And part of that was this sweet wall display of Dad, aka Grandpa Peter, with his 14 grandchildren. Plus some very cute photos of dad as a little boy and his famed Magnum PI-lookalike shoot.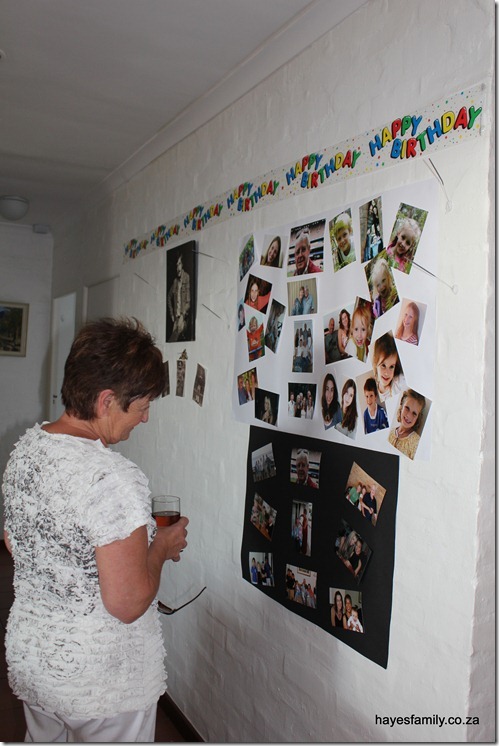 Lots of laughs from friends who have been around for years and years – many putting up with dad's stick!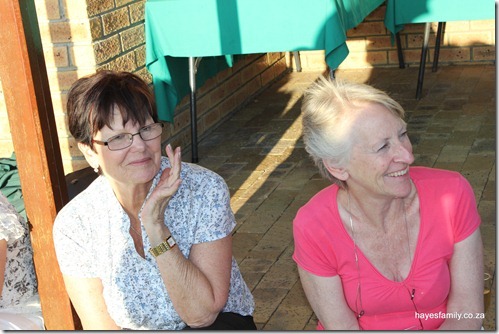 And here's a precious couple for whom I have enormous amounts of respect and love. Gems!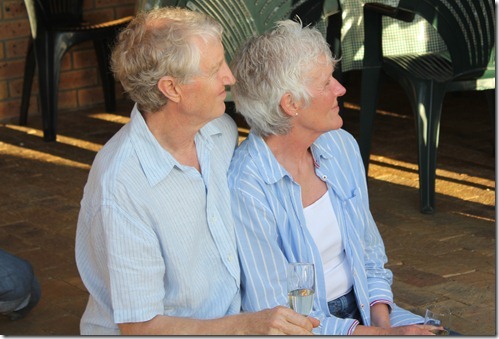 Mom made a sweet short speech, as did dad. Aren't these two a picture of sweet love?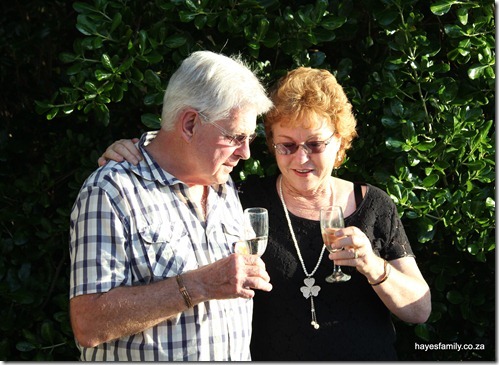 Then, Lorraine (who is the spitting image of my paternal grandmother!) gave dad a humorous gift on behalf of their bible study group.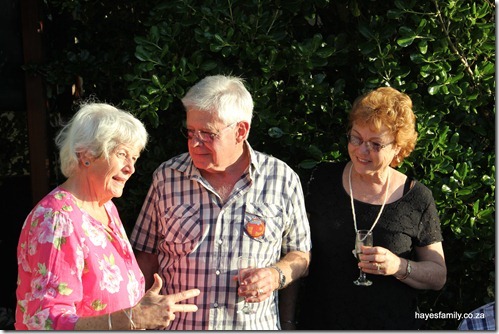 … garnering loads of laughs!
Dad got a great hiking stick. Here are mom and dad kidding around with an "old" and the "new" version of the old-man walking sticks!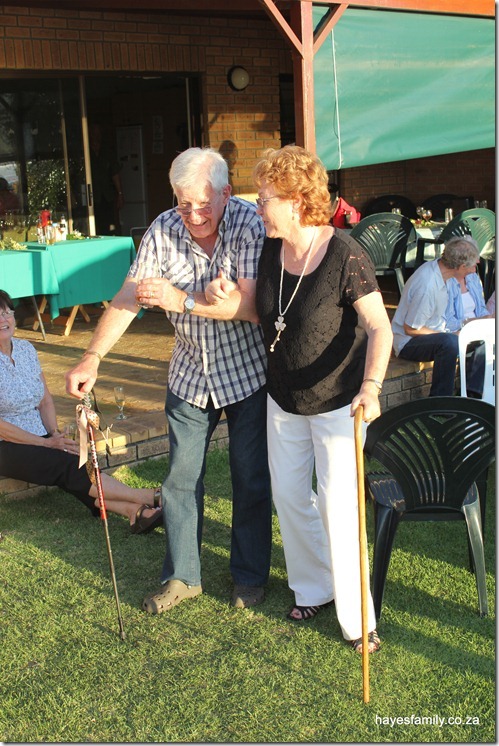 Isn't this a telling picture? Taryn yakking away, despite the monkey on my back! A great conversation with people as wise as the earth is old.
After dinner, it was time for dessert and birthday cake – with sparklers! Much to the kids' delight!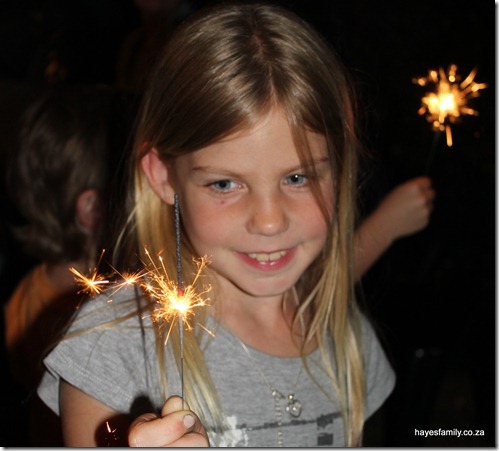 Oh, and the adults too…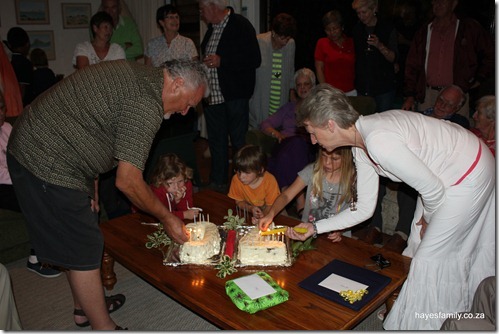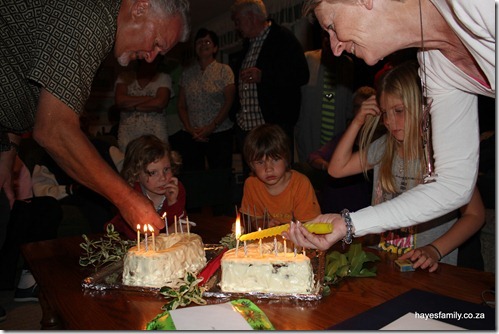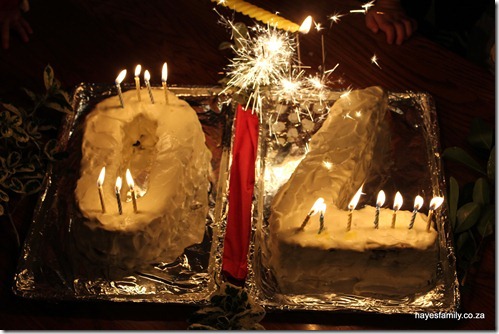 Happy Birthday Dad!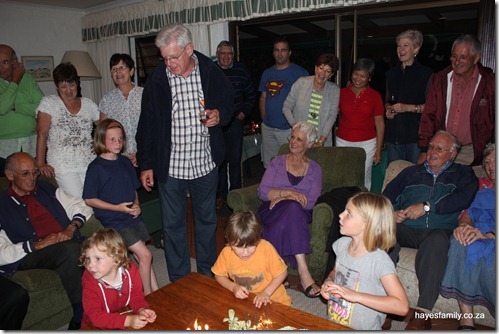 Love this photo below! Just about everyone had a piece of Shaun's delicious cake, despite the quantities of Hayes children's spit on it!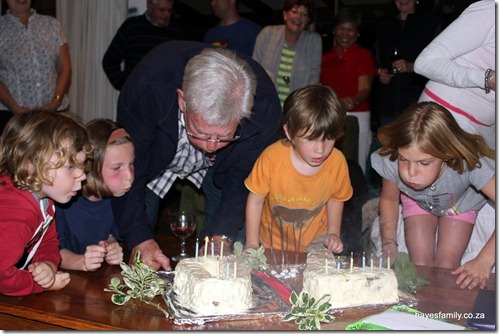 Breakfast the next morning with those who could make it – at the Milkwood.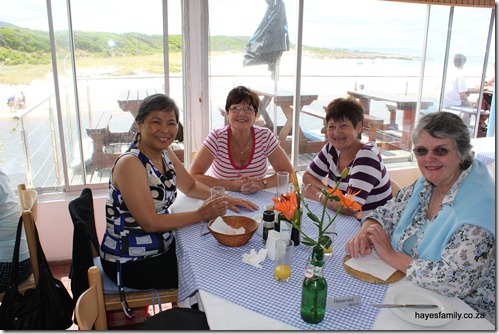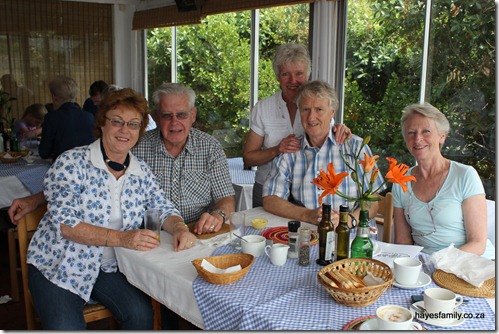 We got to enjoy the Myburghs' company. They live in the US for 5 months of every year, as their sons and grandchildren live there. So, we don't get to see them too often. But when we do, we always enjoy a great conversation or two. This time around, they got to know our kids a little better. The girls loved chatting with them and the feeling was mutual. They disappeared off on errands together and ended up talking about vikings and all sorts early in the morning, before I had even thought of surfacing! It was a good experience for me, as these past few weeks have been particularly trying – sibling fights, rudeness and other plain sinful behaviour have been manifesting in the hearts and actions of my kids. But, their time with the Myburghs didn't reflect that at all. Instead, I got to see my kids through the eyes of someone else. It's a totally new perspective and reminds me not to fret so much! Yes, they are sinful to the core, but they are also blessed with the common grace of goodwill that does shine through, despite our parenting blunders!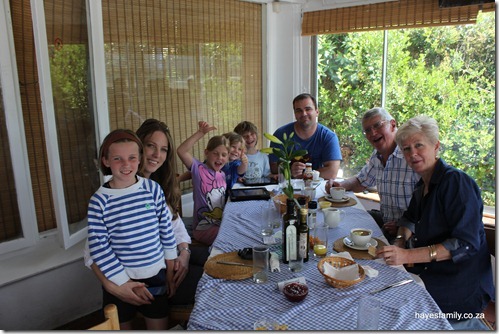 All in all, it was a lovely lovely weekend. Too short, as we had to rush home to get back in time for the carol service at St James. Kiera was singing in the choir, so we definitely couldn't miss it. It was such a lovely service, filled with great joy about the most momentous time in history. Kiera had a ball, and sang her heart out. Our friend Gerald narrated like a natural – so calm and conversational. One would've thought he'd done acting all his life! It was fun for us to see that side of him. Methinks he needs to do some more of that sort of thing! Fun fun fun!
And now? We look to time away with the extended Hayes family and then Christmas in Hermanus. But, not forgetting that 8 Dec 2012 marks a very special 70th birthday of a very special 70-year old man – my dad!