8! Finally! There are so many milestones that this number represents for our young Sambo. Between 7 and 8 he went from tiny baby teeth to big adult teeth. Short hair to long and back again. Adventurous eating, baking up a storm, hanging out with cousins, and so much more.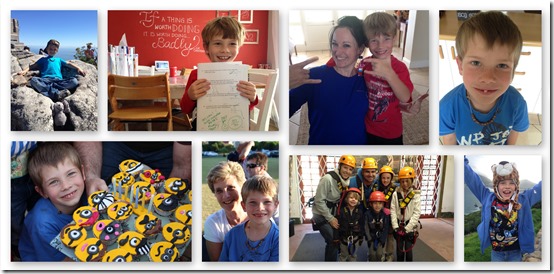 But there is also a lot that hasn't changed. Lego is still his #1 favourite hands on toy of all time. Lately, Playmobil has featured a bit too. Of course, like most boys his age who have half the chance to get onto any kind of electronic goodies, Sam loves computer games and minecraft. He only gets to play it once in a very blue moon, but loves the creativity and the exploration. Still, Lego is always first place. His favourite creations are his own multi-functional ones – nothing quite like being regaled with the intricate workings of his latest creation, along with missile launchers, machine guns and who knows what else.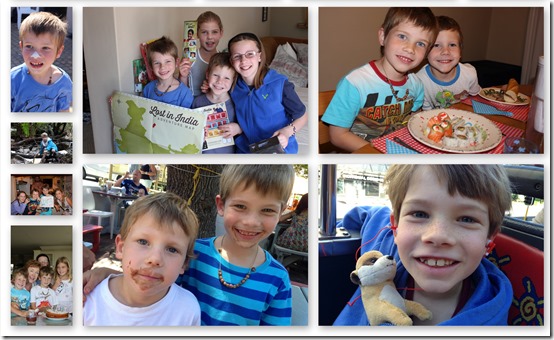 This year, Sam's schooling has taken off. He spent most of first grade hating the discipline of seatwork. This year? While he still would much rather be playing outside, with Lego or on the computer, he has upped his game big time. He now loves his grammar and phonics book, Explode the Code, loves maths and is fast catching up to his big sister in the maths department. I have pretty much chucked spelling with the kids – they do do Spelling City from time to time, but nothing too strict. Sam's spelling has vastly improved just through reading and writing emails to family. Loving that! He even took it upon himself to enter the Short Story Day Competition this year and was one of the three winners for his age category of kids 9 and under! Best of all? Afrikaans! This boy has been eavesdropping on his sister's Afrikaans lessons and asked to start doing simple Afrikaans books about half way through this year. I'm blown away with what he knows and so easily picks up. He may well be the one who just gets languages. That thrills my soul, as it's my one desired super power – to be able to understand and speak every language of the world.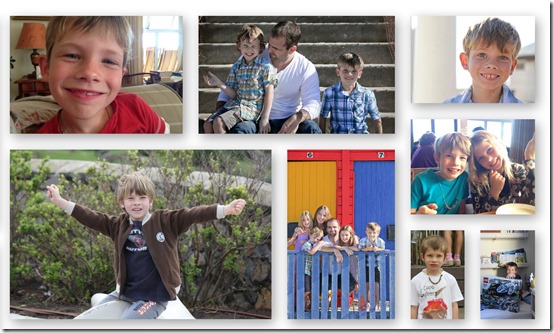 Sam is still our mischievous boy – loving pranks. I've lost count how many times he has dived out at me from behind doors or curtains. He loves drama – fully into the drama classes he has been taking this year – and fully into taking part in the kids' almost daily plays or musical numbers. Loves adventures – like zip-lining earlier this year and 4x4ing with dad. Loves creepy crawly things. We've not tested his fear of cockroaches this year, but he seems to have lost his fear of all other creepy things. Nowadays, he and his brother collect snails, spiders and stick insects for pets; happily let beetles crawl all over their hands and didn't mind the infestation of crickets we had in March this year.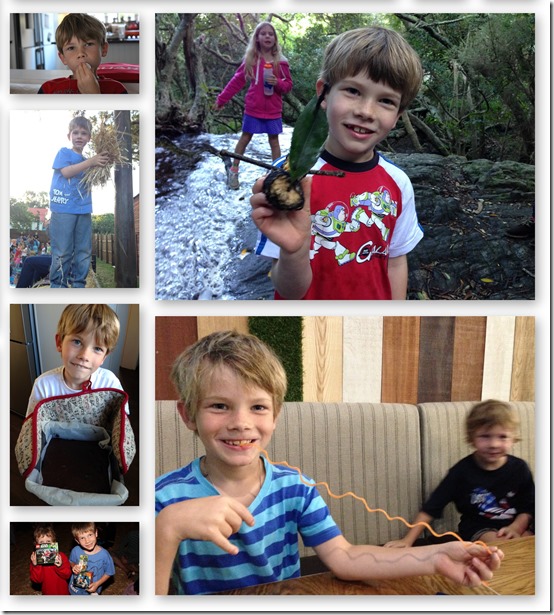 There is so much that I love about this boy. He still talks a hind leg off a donkey, telling me intricate details of his plans, thoughts, stories and ideas. I hope he always wants to share his heart with me. He is helpful and often asks how else he can help me. Of course, there are still times when he moans about having to do his share of keeping his room neat and tidy! And while he struggles in generosity in some areas of his life, there are so many times when he pours out his love for family and friends by giving away his most precious possessions. It's not uncommon to find a little homemade envelope pushed under my door, filled with his own money that he would like to share with me, or have him offer to help his sister afford something she has been saving for for ages – both of which happened in this last week. It's at a point where we have to try find the balance between encouraging his generosity and not allowing his siblings to exploit said generosity!
Mostly, I love his heart for Jesus. He is just like most other boys whose little hearts and minds are filled with things of this world as this post attests to, but he is also a little guy who thinks deeply about Jesus and comes up with incredible questions and deep desires to share the love of Jesus with others. Not a night goes by at our dinner table when Sam is not asking to be the one to say grace. I pray that his heart will continue to grow in understanding about who Jesus is and what He has done for him and that Sam's mission in life will be that which brings glory to Jesus' name as he recognises always that he is saved by grace.
Happy 8th birthday, dear Sambo. We love you so much and are so grateful to God for blessing us with the enormous privilege of being your parents.