The morning of the 3rd FINALLY arrived. Katie has been counting down the days, full of excitement at the thought of finally turning 10. We feel that 10 is pretty special and since Ms Kiera got a lovely bike for her 10th, we thought long and hard about a special gift for Ms Katie.
After much deliberation, we got her…
Cadbury's Mint Bubbly!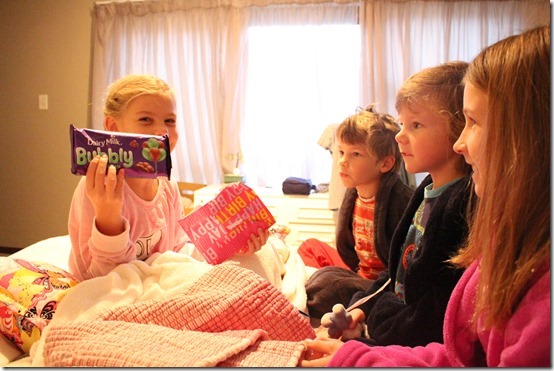 She also got a rug for her room and a tablet.
Now before my future self reads this and shrieks, "WHAT WERE YOU THINKING?" let me explain our reasoning.
We were going to get her an mp3 player. She finds it so much easier to get on with chores and schoolwork if she's listening to music (Kai?!) – her own mp3 player would facilitate that nicely. But, then we've been umming and ahhing about computers and tablets, because the kids all rely on my iPad for a lot of their educational apps like Spelling City and Maths Drills. Katie doesn't have a computer, so she has to wait to use mine or one of the netbooks in order to write emails and do research online. When we looked at mp3 options and computer options, we realised that it would be cheaper and make more sense to get a Samsung tablet for under R2k that she could use exclusively for school work, music, research and all that jazz.
Of course, we did discuss it a lot and finally decided to go with it. We loaded a special app that only allows access to pre-selected apps and presented her with the biggest surprise birthday gift ever!
Also known as a birthday contract.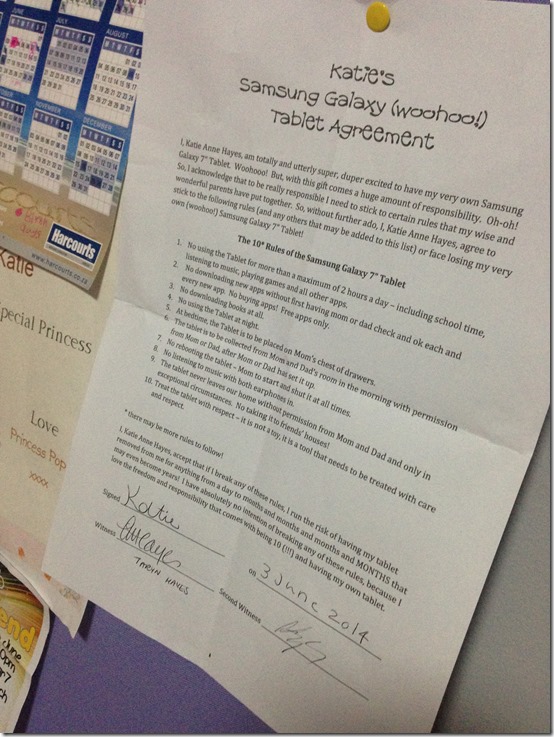 She wasn't super happy about all the rules (only 2 hours' a day max?!) but the prospect of no tablet vs limited tablet was a no-brainer. She signed.
And when her Granny and Grandpa gifted her with a cover for the tablet, she was A for away!
Selfie time with the family.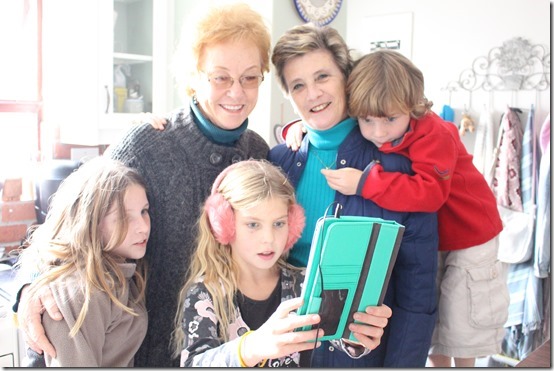 As is always the case with Ms Katie "Gadget Girl" Hayes, she has the entire thing figured out and knows all the shortcuts and is already making movies, downloading apps (with permission) and so on. The tablet is loaded with K9 web protection and she only has access to the K9 web browser – to protect her from stumbling into the shadier neighbourhoods of the Internet. And the app we've got loaded protects her from herself – not so necessary now, but a precaution that we prefer to have in place as a precedent.
Another "being 10″ bonus is that they get to taste their first coffee. I'm not big on kids and coffee, so the idea is that once in a VERY blue moon they can have. Such a blue moon that Kiera has actually never had her first coffee yet and she's almost 12. Yes, I've been delaying the 10 thing.
So, with Dad at work and unable to do his Daddy date with Katie until the weekend, and the boys at their friends' house, I got to take the girls for a coffee date.
Katie all smiles before her first coffee latté.
Yeah, not so much. Neither of the girls were particularly thrilled with the taste of coffee. Sorted!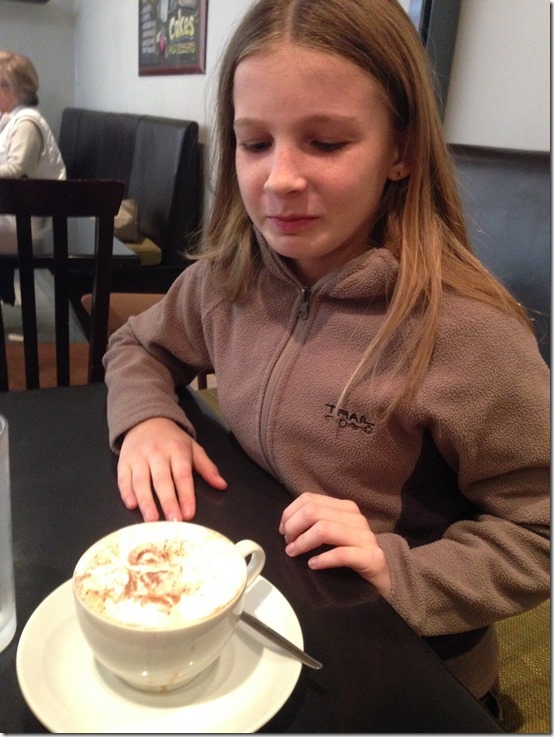 We had grandparents around for tea and cake. And then dinner was Katie's great favourite – SUSHI! Yum. Plus, mint choc ice-cream with kit-kats: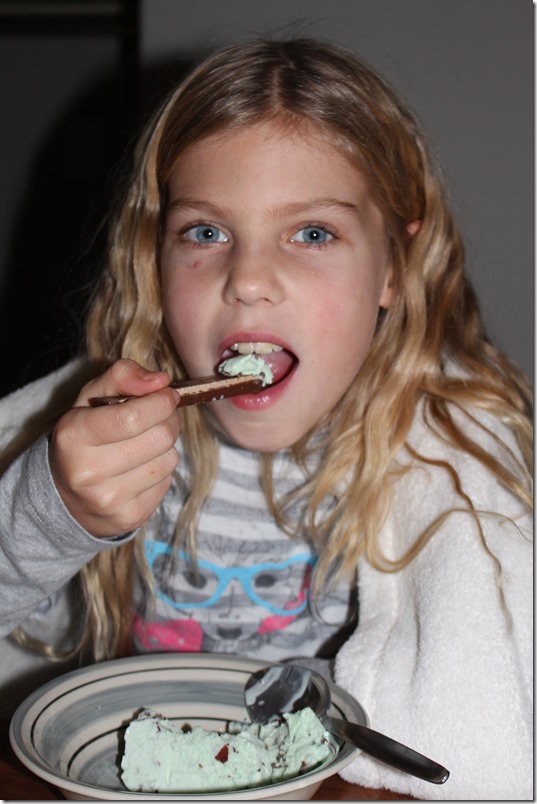 All in all, she was thrilled with all the birthday buzz! Happy 10th birthday, Kates!