It was one rainy Sunday afternoon when we hauled out this new game: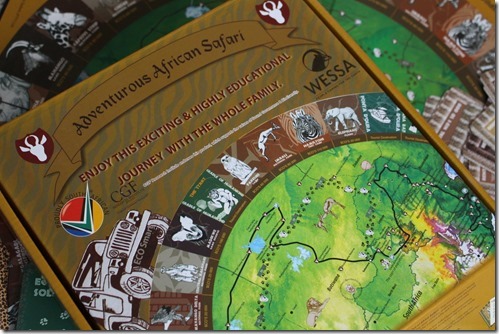 I had heard about the Adventurous African Safari via social media and was intrigued.  So, you can imagine my delight when we were given the opportunity to review the game and present a giveaway too.  Fun times!
And what a bunch of fun we had!  Lots of laughs along with lots of fake sulks as money changed hands.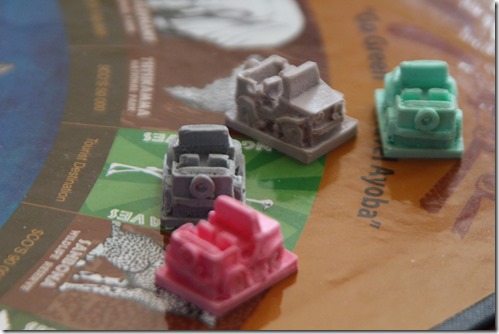 Quite simply, Adventurous African Safari is something like monopoly in that, as individuals or teams move around the board, they're able to buy property (game parks) and charge people rental for landing on their property (rental = overnight stay charge at the game park).  And like monopoly there are some question and answer cards whereby you can earn or lose money.  But from there on it gets a whole lot more interesting!  All in all, there are four streams of revenue: 1) going around the board buying game parks, 2) answering general knowledge questions based on Southern African history and geography, 3) collecting game park activities and 4) going on a 4×4 eco trail.  By the end of the game, the one who amasses the most points and eco-dollars wins.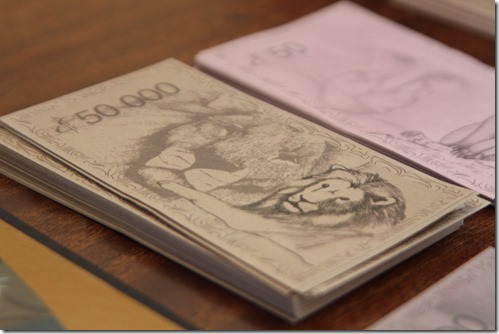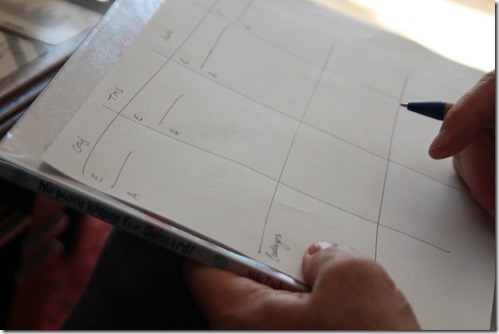 As with all reviews, it helps to focus on the pros and cons so here goes:
Pros:
In reality, one can sum up the pros of this game in three words: fun and educational.  Anyone who loves monopoly will love this game.  Anyone who hates monopoly (ah-hem, that would be me) will be glad to know that despite the similarities to monopoly, this game has much more to keep one interested.  One of the things that I don't like about monopoly is the time it takes just to get to the point where you can put houses on the property you own.  With Adventurous Safari, once you've bought a game park, you immediately reap the rewards – as soon as anyone lands on your game park, you collect rental and any fees from activities that are done at your game park.  Now that's instant gratification for ya!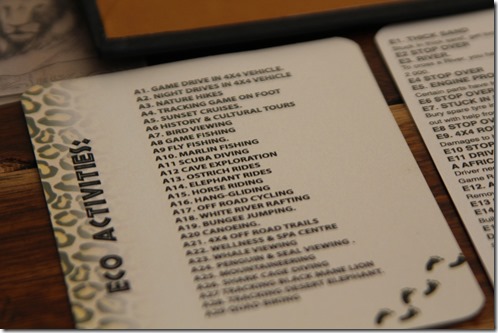 As to the educational – well, it's all wrapped up in the fun, which makes it the best kind of educational there is. For example:
It is a really fun way to learn a whole lot about ecology, geography, geo-history and much more around southern Africa.  In addition to answering the general knowledge questions of the eco-cards, each game park / property comes with an information paragraph about the part, area and other bits of interest.
The centre of the board is a map of southern Africa, including Namibia, Botswana, Zimbabwe, Mozambique and South Africa.  All the game parks and other tourist destinations are marked on the map.  By the time you've finished a game, you've learnt a whole lot about locations of places on the map – that's got to be the most fun map work we've done in a while!
I love how board games have kids doing all sorts of brain gym.  From reading aloud the game park cards to counting money, the kids really had a blast doing what is often a drag when done as a drill exercise.  The kids had to work a lot with counting in high denominations 10 000s and more.  A fair bit of addition and subtraction happened as they gave and received fees. Not to mention all the block counting.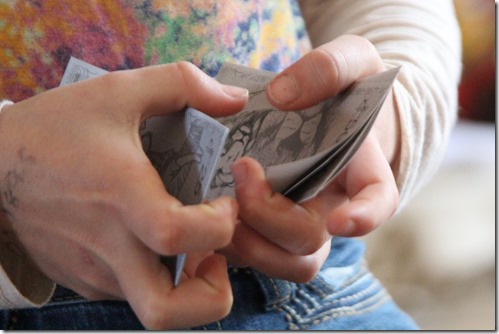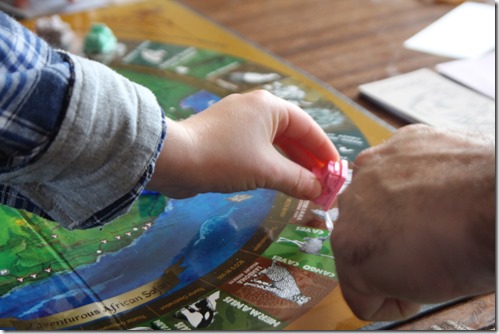 There are other pros that I think are important to mention as far as board games go.  Too often board games arrive in flimsy containers with inferior quality pieces.  This game comes in a sturdy, glossy box.  The box itself has a firm cardboard inner that holds the game pieces in place while in storage.  The board is also glossy, beautiful to look at and easy to navigate.  It is as sturdy as my old monopoly board from the 1980s!  The money and playing cards are all of excellent quality.  I love the thought that has gone into the background animal prints of the eco-cards and tourist destination / game park cards.  Even the dice that comes with the game is quality-made.  The only component of the game that seemed less-than-top-quality was the playing pieces themselves.  They're really cute little injection-moulded jeeps, but they don't quite match the quality of the rest of the game.
Cons:
I had to hand over the rules to Craig so that he could figure them out!  It took us a good half hour to get to grips with how the game is played.  I am a read-the-rules-and-play-straight-away kind of girl and I know I'm not alone.  It takes some perseverance to get the various avenues of play under one's belt.  Craig is usually super quick with these things, but even he had to read and re-read the rules before we got it all figured out!  However, having said that, the game can be played in "levels".  You don't have to play all four streams at the same time.  One can easily play the most basic revenue stream only and then build on that the next time one plays.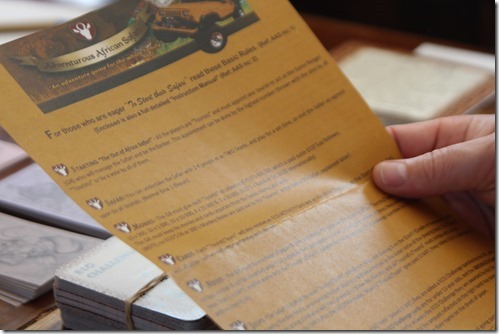 Spell check!  A detraction for us was the number of grammar mistakes and typos.  There were a couple of occasions where two different spellings were used for the same place (Namakwa and Namaqua for example).  Often the word "where" was spelled "were"; one time "cross" was mistyped as "gross" and there are a few misplaced commas and semi-colons.  As far as the game-playing goes, it doesn't affect the play itself, but it does make the product seem slightly less professional.  I imagine that this is something that will be fixed up in the next edition.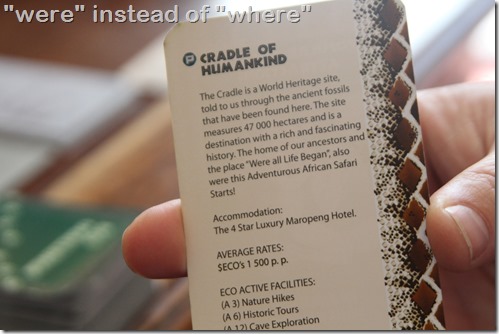 The board itself is beautiful and creative.  But the one detraction is that the place-names are written in black type on a dark background, which makes it difficult to see.  I think that if the place-names were typed in a bold white, it would stand out better and be easier to see. (Having said that, I just recently saw an image of the board online where the map itself was lighter in colour – in that case the black type stood out better, so it may just be a print-run issue).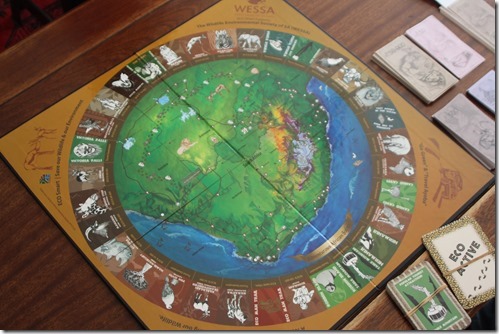 Despite these cons, I would still recommend the game.  None of the cons detract from playing the game itself.  It is far more interesting than monopoly, in my opinion, despite having a similar foundational premise.  There is so much to learn while playing it – and that is by far the most exciting part: learning while having fun is always a plus in my book!
The only one of our four kids who bailed on the game was our youngest who is 5.  The others were fully into the game, including our soon-to-be 7-year-old son.  We ended up playing for 2 hours and the winner declared the game 10 out of 10!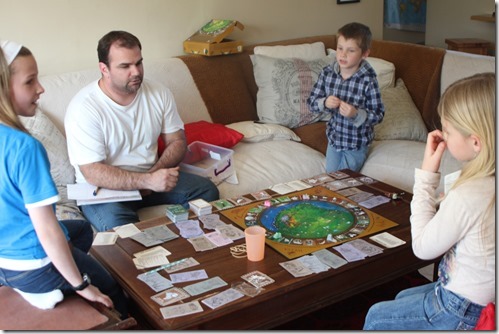 The next day, this monkey (below) and his sister took the board game out again and started playing.  They decided to try out their own variations of the rules and had a blast.  It made me realise just how versatile this game is – you can even take just the questions on the road and enjoy some Southern African-focused Q and A!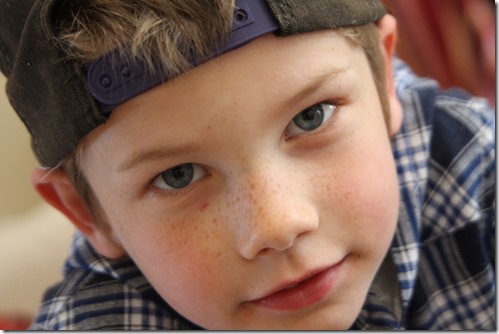 All in all, this is a wonderful game!
I've heard from the producers that they will be rolling their awesome game out in Game stores soon AND they will be developing an international version too – so keep your eyes peeled for that!
And now, for the giveaway!  Adventurous Safari is giving away one awesome board game to the winner of the giveaway.  You can enter this giveaway by sharing the following link on Facebook:
Win an awesome African Safari Board Game!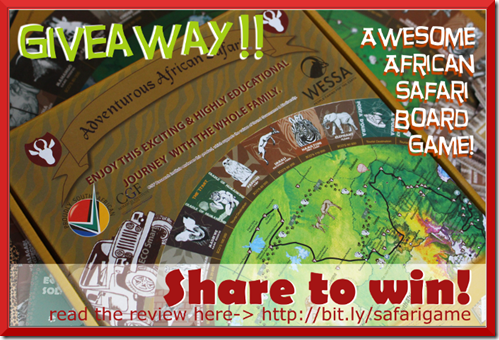 Not on Facebook?  No worries, you can ALSO enter this competition simply by leaving a comment here on the blog.  So comment away!
___
Disclosure: We were given a game for review purposes.  This review is entirely our own and honest opinion.  To find out more about Adventurous African Safari games head to their website: http://adventuroussafari.co.za