What a fun month!
We celebrated Katie's 10th birthday.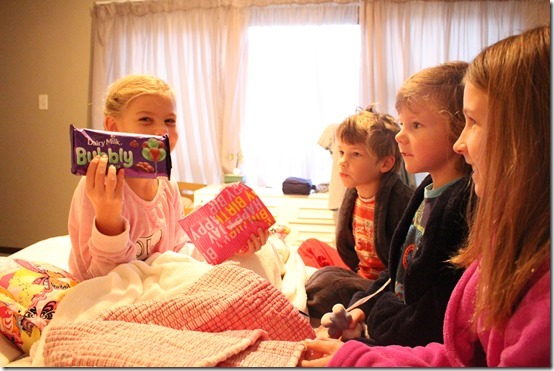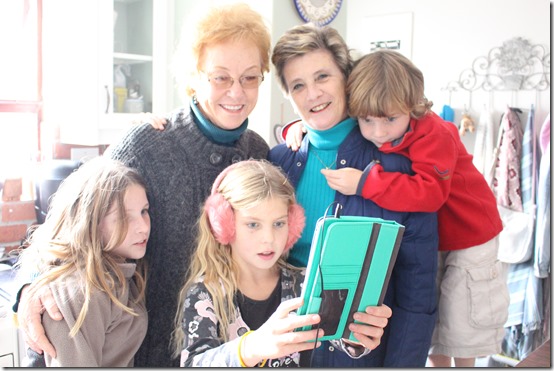 We were surprised to find that the Cape Argus homeschooling article we interviewed for ended up being a double-page "big story".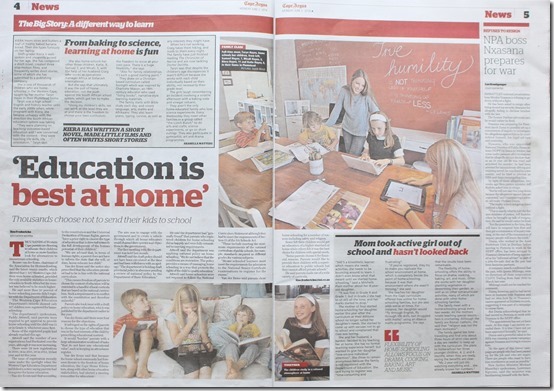 Part of me cringed because the article and photo combo made us look air-brushed and idyllic, when the truth is that while we sometimes do have awesome days that look like these, very often we have tough days too where learning is more about reigning in impatience and coping with frustration.  Anyone who has read much of this blog will know that I am very wary of projecting the "picture perfect" family.  It's an inaccurate picture and it's unkind to others who end up comparing their mess to our window dressing.  But, another part of me was relieved that the article was so very much in favour of homeschooling.  Too often mainstream media reports irresponsibly about home education, never bothering to find out what it actually entails.  This article did the opposite and highlighted many of the positives.  It was a wonderful PR piece for home education.
Of course, it was quite funny when I had the total opposite experience the following week.  When the newspaper came to interview us, the girls had been baking and cooking and their school work was finished.  The kids had all had a great morning of seatwork and everyone was relaxed.  I was dressed as I normally dressed, but a little more attention was paid to make up and such.  Fast-forward a week and … well … picture extreme cold and a broken fireplace.  Then you can imagine why it was the first time I've EVER put my fleecy dressing gown over my clothing during the day.  It really was that cold.  I also had hair in need of a wash all pulled back in a messy bun and barely any make up on.  All in all I felt frumpish, but at least I was warm.  Well, Sam inadvertently let a DA representative into the property, thinking he was the gas technician for our fireplace.  Well, the DA guy wanted to know a few political things.  We chatted in the driveway and soon, in dribs and drabs, my barefooted, raggedy-dressed children came to hang around.  Some to ask me questions about school work, some just to hang around.  And in Micah's case, we can take "hang around" quite literally – my body is his jungle gym it seems.  Eventually, Mr DA stopped, looked around at the menagerie of messy, unbrushed heads and said, "do you homeschool?"
I could only begin to imagine what he must have thought!  We really did look our worst.  I needed only a limp cigarette hanging off my lip to complete the picture of the washed-out, neglectful housewife!  Right then I was wishing that he had rather seen the newspaper article!  This was a little "too" real life for my pride!
I did have a good giggle at myself when I said goodbye and walked back into the house.  So much for being a champion for the authentic!
At least we had Cape Explorers to look forward to that week.  We did Signal Hill again and the kids had a super time.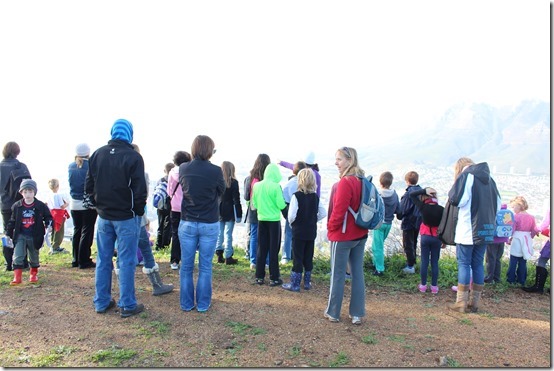 Especially since they got to see the paragliders.  That was a huge hit.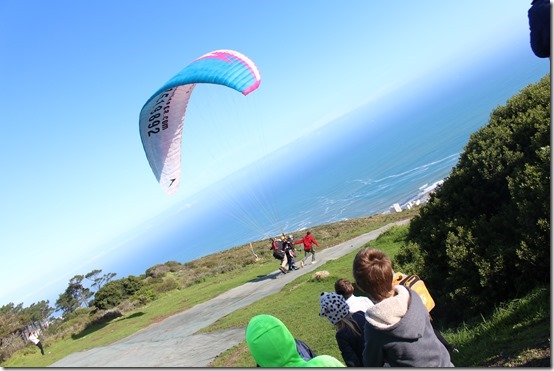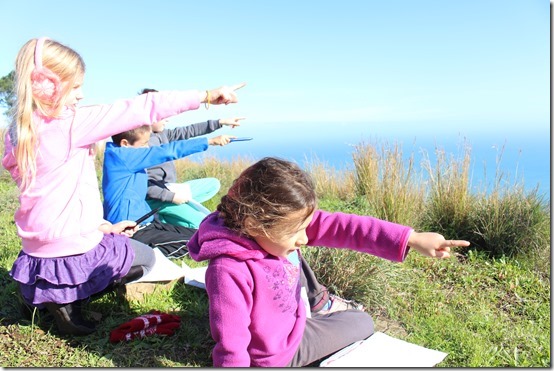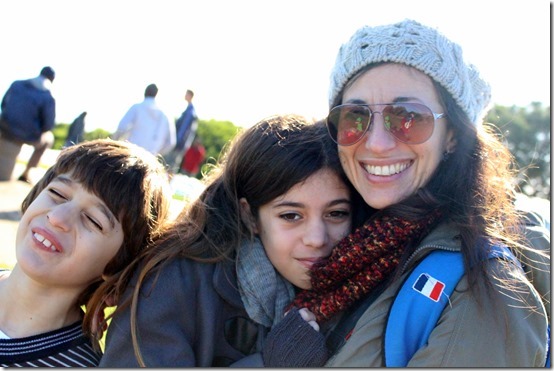 Kiera and Léa were all Matilda-ed about everything, so here they are striking a Matilda the Musical pose.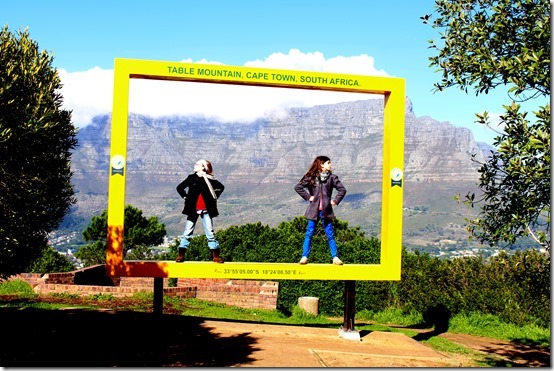 Our church had a fun family day that we got to attend on Katie's birthday weekend.  Games and activities and a lunch together with our St James families.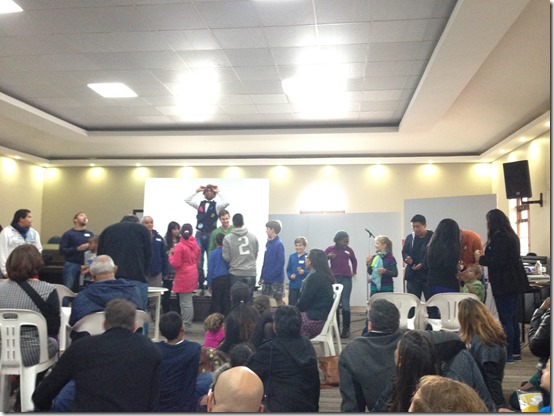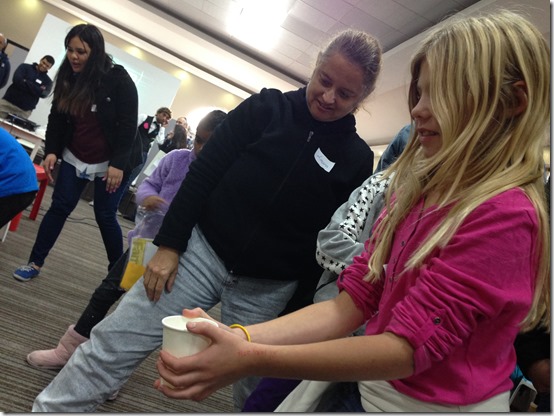 I had another bout of inspiration along the lines of functional décor.  Of course, that meant that while I did do most of the drilling, invariably Craig had to rescue me at some point.  A man with a power tool.  Mmmm.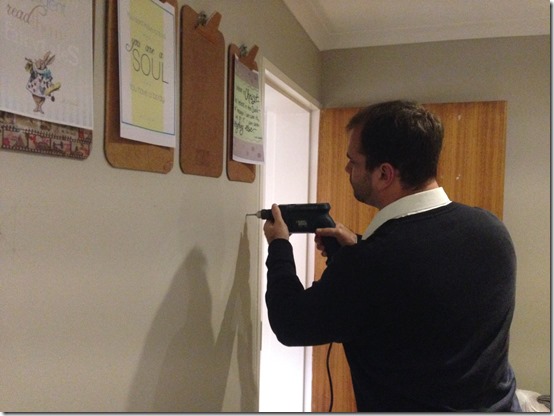 Part of the décor frenzy included painting a whole bunch of things, like this bread bin.  All the décor fun is here: Dining Room Décor Fun.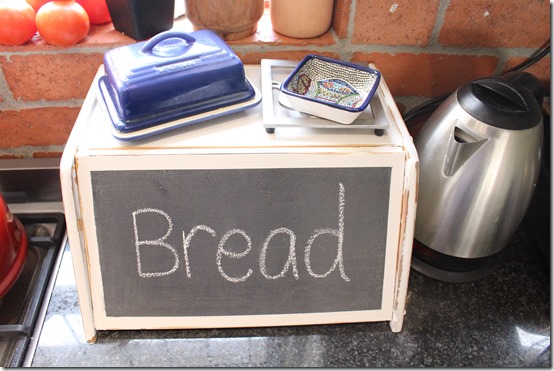 Another bit of fun I've been having is putting weekly inspirational quotes up on our dining room wall.  Like this one: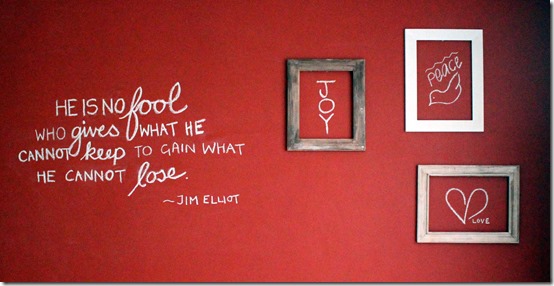 I managed a long run with a friend one early Saturday morning.  We headed out while it was still dark, but towards the end of the run, this was our view.  Lovely!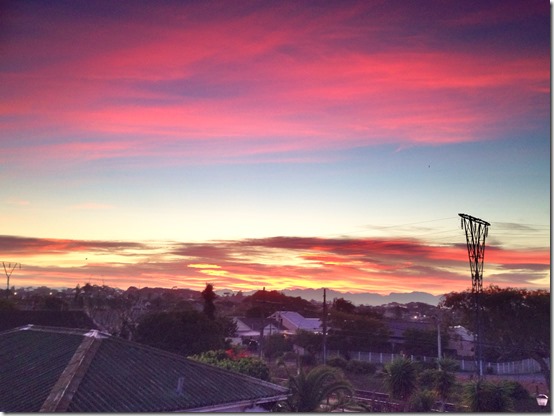 We've not helped out at Mamas and Munchkins in forever because there just seems to be constant clashes of the diary.  This month though, we could make it, so the girls joined me.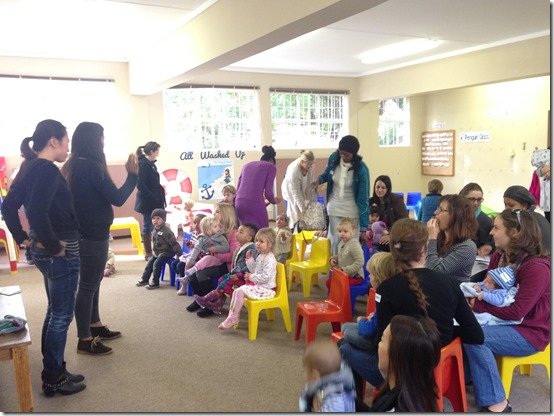 By far the most helpful of the three of us (Kiera, Katie and myself) was Katie.  I ended up chatting mostly, Kiera ended up reading mostly and Katie dived into helping with the little kids.  She absolutely loves interacting with the little kids.  What a super star!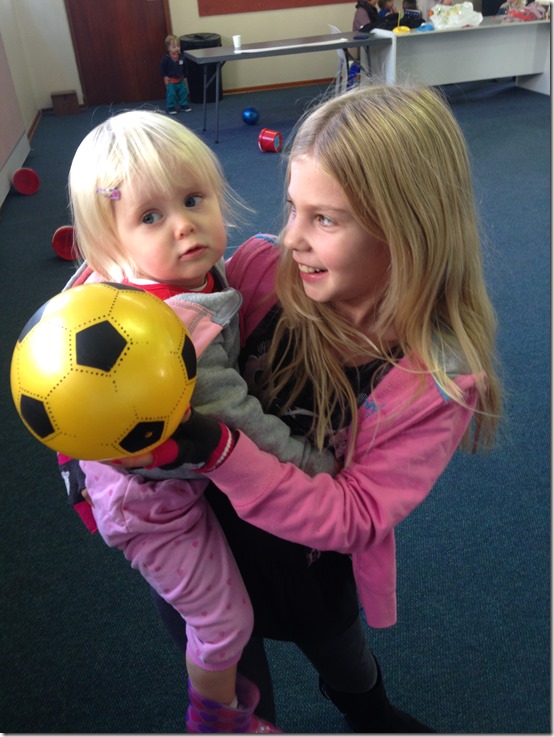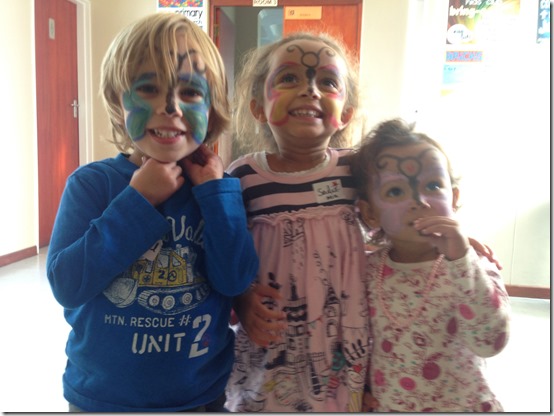 Some of these shots are randoms from my phone that I've probably shared on FB or somewhere equally vacuous.  But, this next photo is that exception called: "the best vegetarian curry I've ever eaten".  I'm posting it here to remind myself to have it more often!  Lentil Curry.  yum yum!  Even the kids like it – especially Kiera.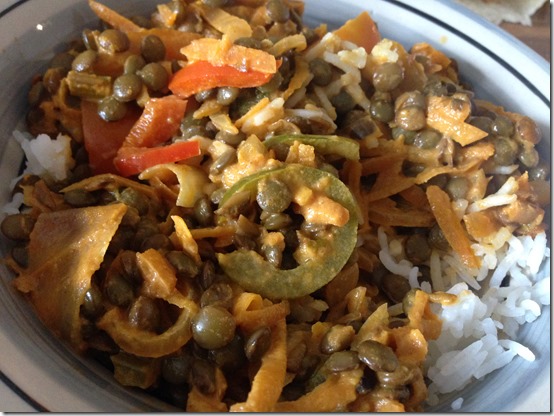 Another week; another quote: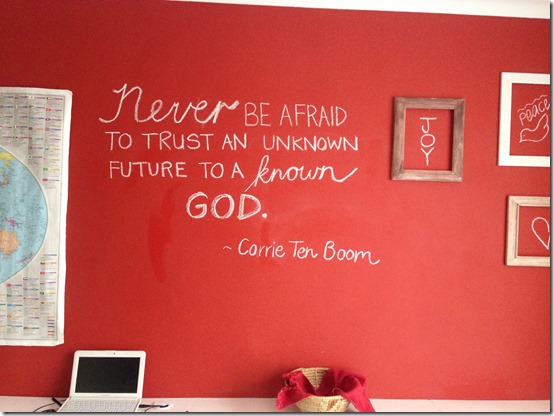 Craig's ex-colleague came for dinner one night and brought our kids some fun puzzles.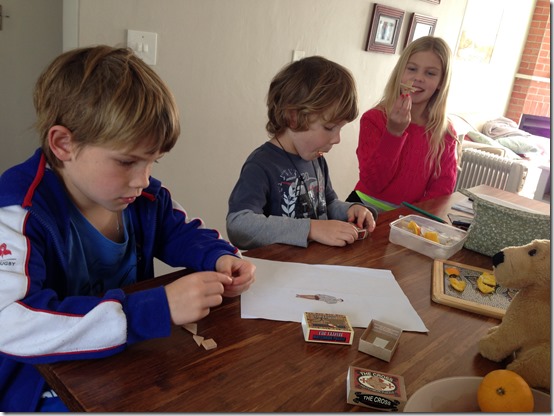 One of the things I took to painting was this frame.  I took out the glass and painted the backing board with chalkboard paint.  It now resides next to my fridge where it keeps my shopping list going.  When it's time to shop, I take a quick photo of the list and off I go.  MUCH easier than typing it into my phone or forgetting slips of paper at home.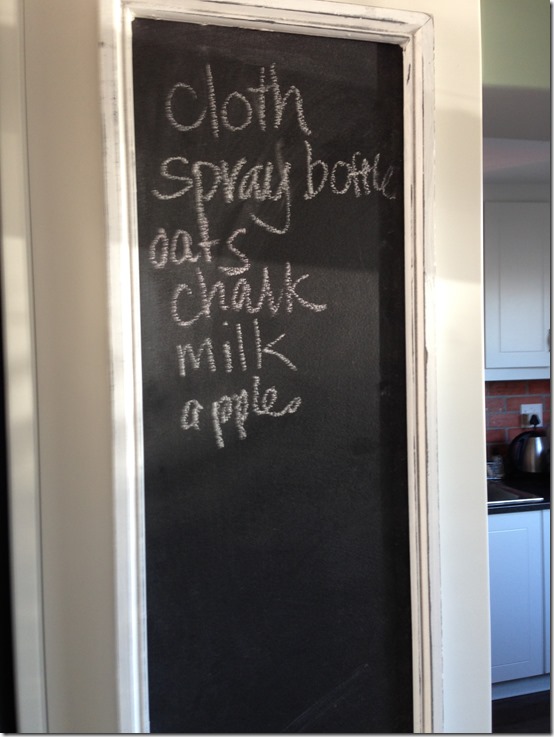 Lunch Bunch boys…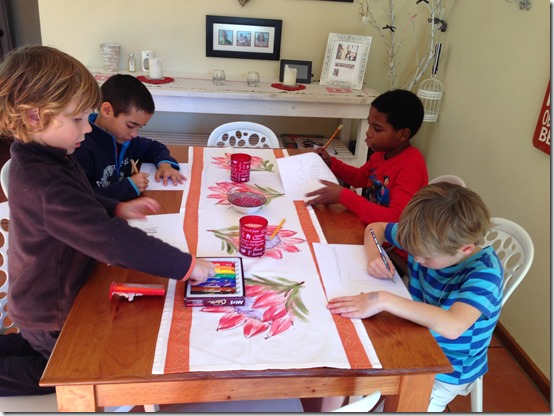 I host a support group for homeschoolers in the Western Cape via Facebook.   It's called Homeschool Western Cape and has grown to around 1300 members in the last 3 years.  I roped in a fellow homeschool mom to co-admin the group with me. Chirani and I have only met in real life a couple of times, but I've always been impressed with the way she conducts herself online – full of grace and seasoned with salt.  So she was the obvious choice. 

  Well, turns out that she is a super organiser of events too.  She asked if I would be willing to give a talk to the homeschooling community in the northern suburbs – about my book and the process.  No sooner had I said yes than she it all organised and really well too.
There's something tricky about speaking in front of groups of people about oneself.  I hate the whole celebrity-culture of our society – even the little local celebs.  Building myself up as one is not what I want to do.  Authenticity, you see. But not so much of the authenticity in a bathrobe! 

So, I arrived, sans dressing gown and with make-up.  But also with a list of some of my more embarrassing moments.  It was a fun experience and I loved meeting the women and hearing some of their incredible stories.  I really love that – love hearing the way God works in others' lives, seeing their journeys play out in the retelling, feeling their joy in the process and the maturing.  I seldom walk away from these events without feeling enriched.  So, thank you, Chirani!   And double bonus – I got to sell a few of my books AND some of the Missionary Stories.  Triple bonus?  My girls came with and handled all the sales like champs.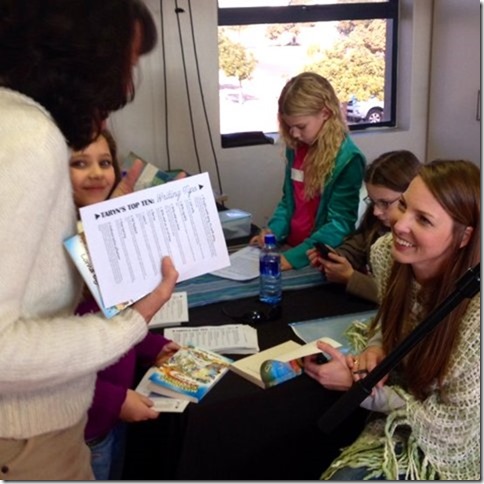 The next weekend was Father's Day and we had some fun organising that.
The kids preparing for Daddy's Day – making their cards…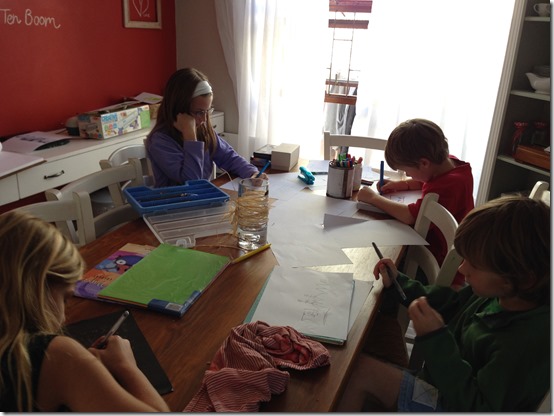 Sam decided that he wanted to bake the day before Father's Day.  It worked out quite well, since his choice of biscuit just so happens to be his daddy's favourite.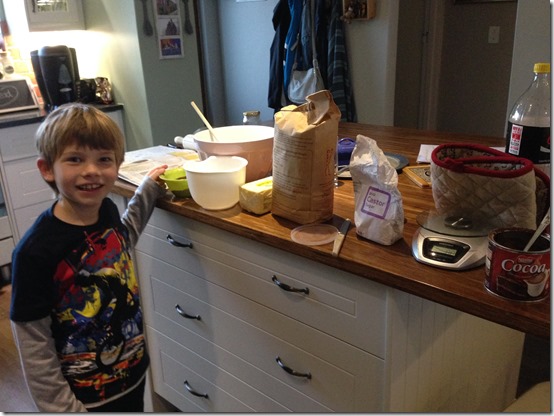 I showed him and off he went…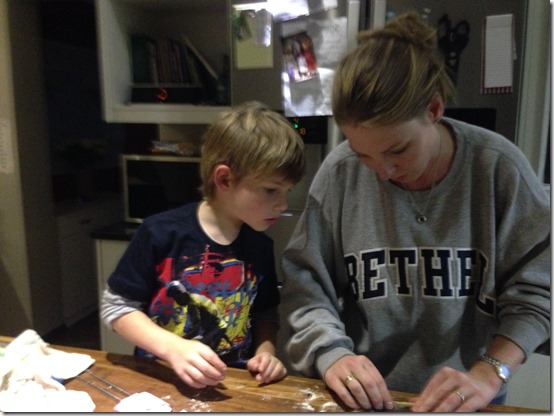 Pinwheel biscuits!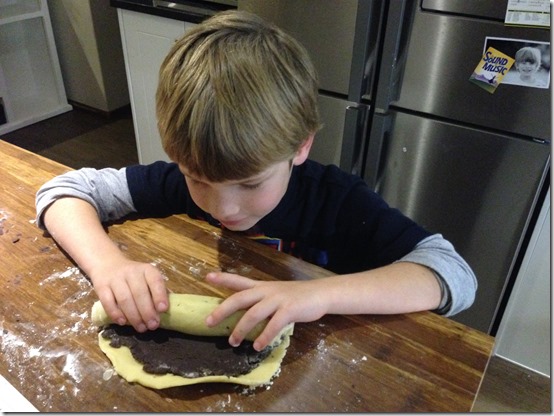 We turned some of them into owl faces…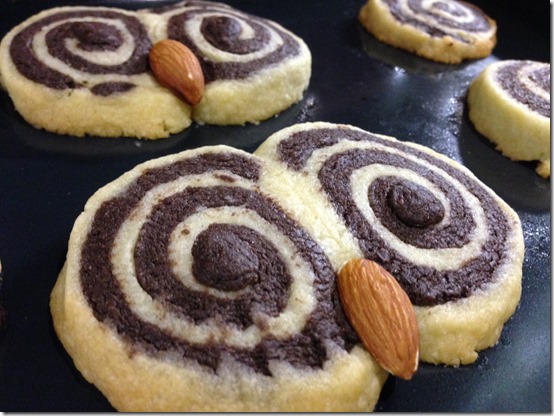 The best part for me?  Watching this dude clean up after himself!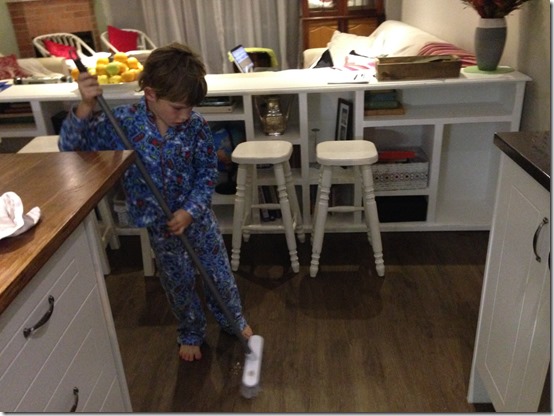 Father's Day arrived – Craig scored some home-made snoods.  So far he lives in the dark grey one.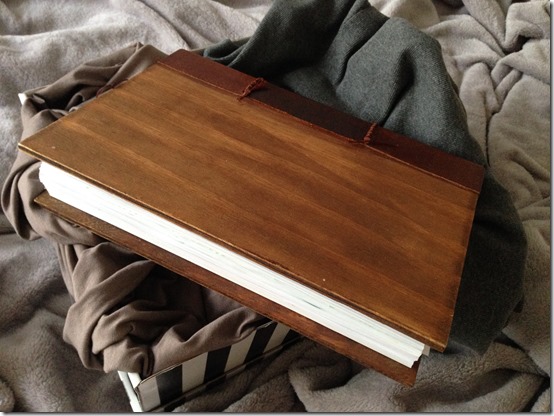 And … inside the Father's Day Book: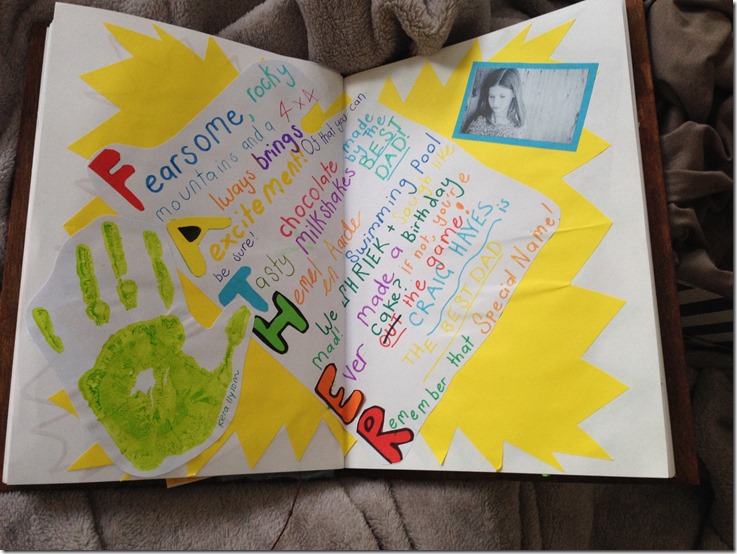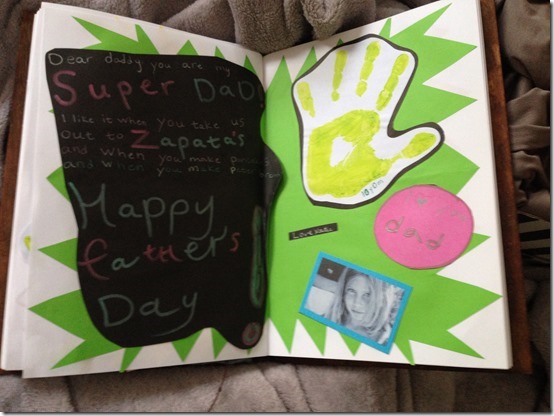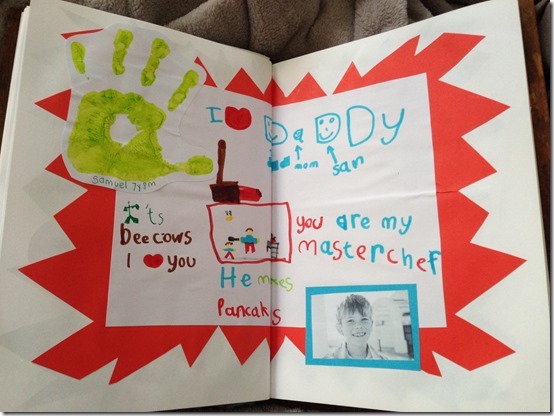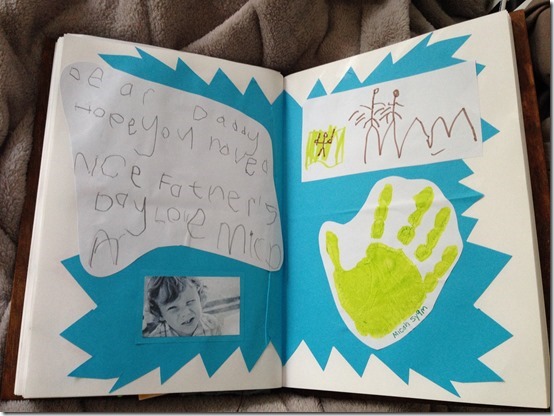 We spent Father's Day enjoying lunch with Craig's family.  That was fun and yum!
The Monday afterwards was a public holiday.  It was also rainy and cold.  So I kept on with the sewing and made Craig and I some hand/wrist warmers. Since they are the same colour, I tagged mine.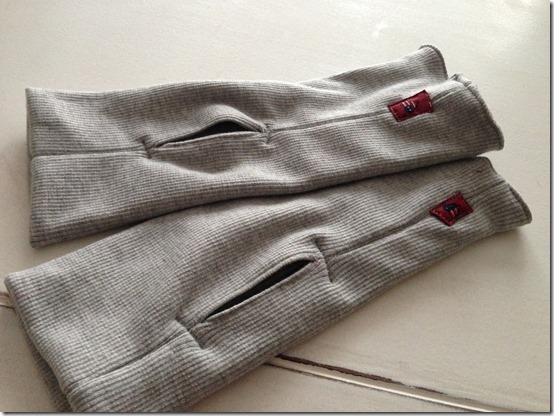 Another week.  Another wall quote: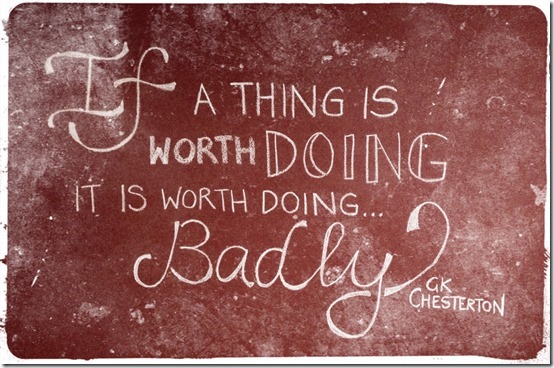 With the sewing machine out, Ms Katie dived straight in to try a few things. I need to allow her more opportunities to learn sewing.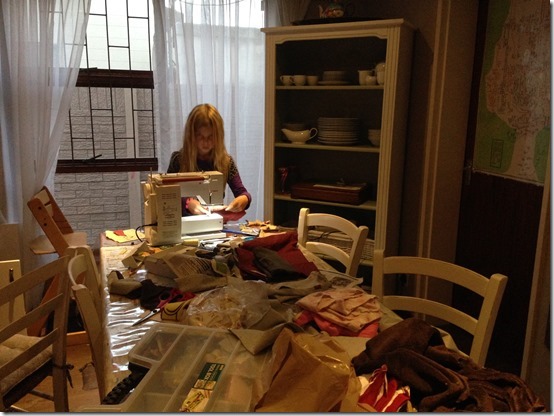 One of my favourite decisions this month was moving our wall map to our table top.  I covered the map and table with clear plastic – 2m from a roll of pvc at the fabric store.  It protects the maps, cleans the spills and works a charm.
Every night that we've eaten at the table, the conversation has picked up around the map at some point or another.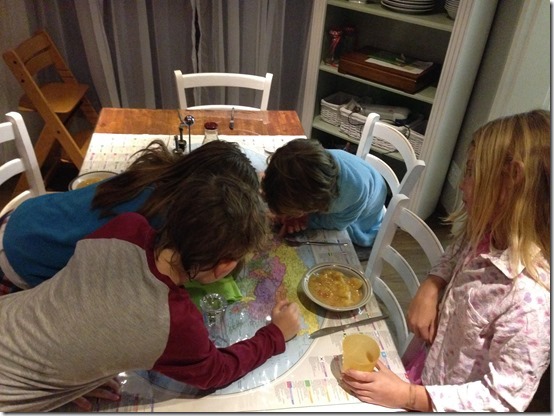 We've talked about all sorts of things, like how the Vatican is in its own city; who the Sultan of Brunei is and what countries are part of the European Union.  It's been awesome.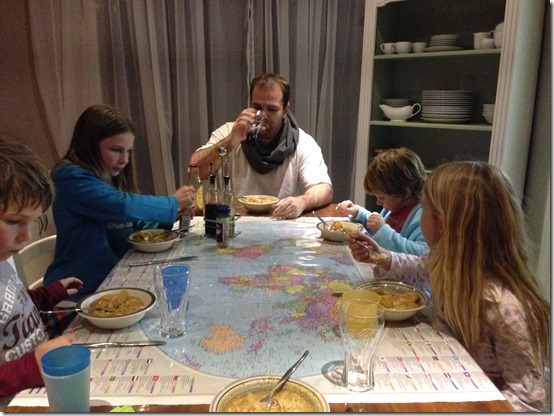 This photo for posterity – Sam loves maths and gets it really quickly, so he has whizzed through his Maths curriculum in half a year.  Here he is, posing with great delight with his last test of his Math U See Beta curriculum completed with 100%.  Delight!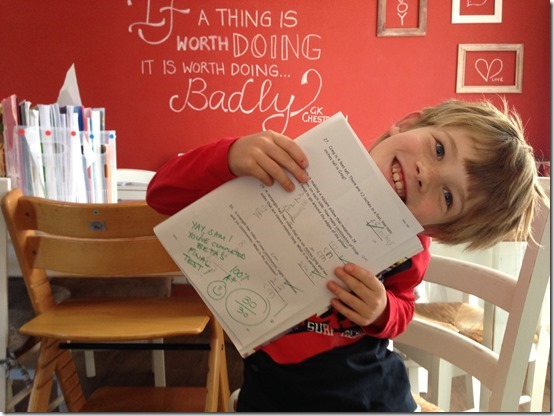 Another one of those mama-heart photos: the girls have been bonding a whole lot better over the past few weeks.  One of their new rituals is Kiera reading aloud to Katie.  Moments like these warm my heart like nothing else.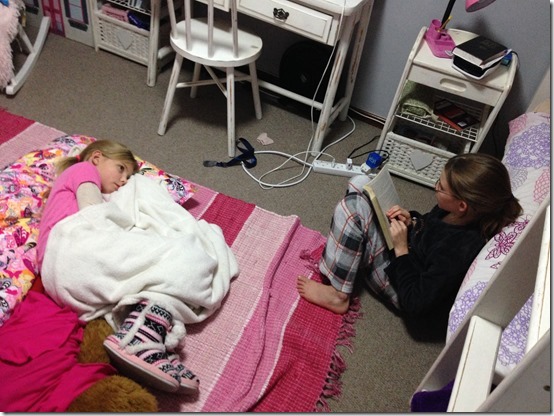 Another Cape Explorers outing of fun at Intaka Island.  We had a great time being exposed to all the amazing ways one can create eco-friendly ways of living life.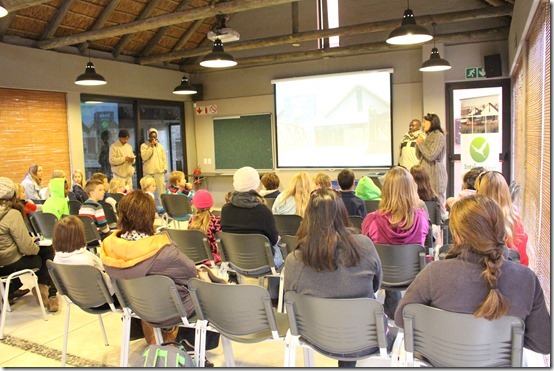 Our group went on the pontoon first.  What fun!  And double bonus is that Craig works at Century City which overlooks Intaka Island.  So he came out onto the balcony for the kids to wave to him.  A double delight for our kids.  And, for me too – that handsome man leaning on the balcony railing like a Men's Health cover is my man!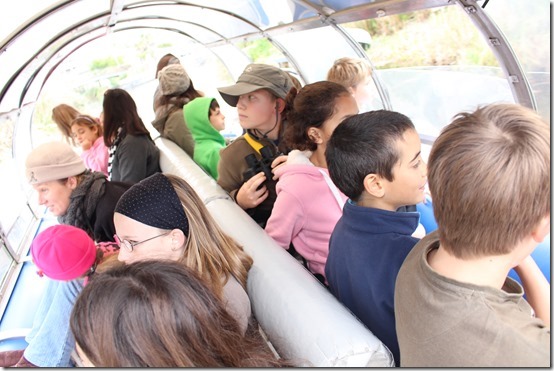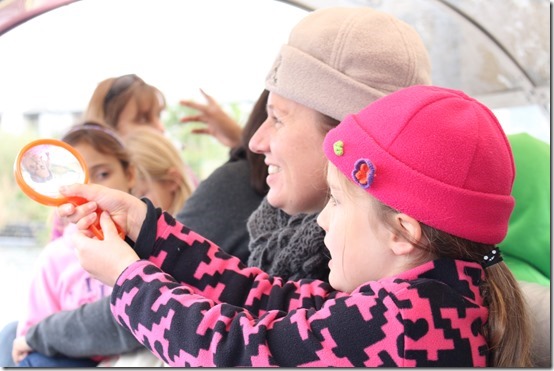 That stuff in that bottle?  Nope.  Not coke.  Try: worm pee!  Great for your plants, not so much for your glass.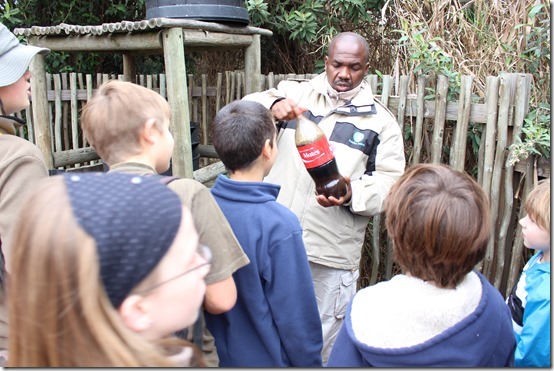 This amazing building has been built out of steel, polystyrene and concrete.  It will not burn down and insulates beautifully at a fraction of the price of bricks.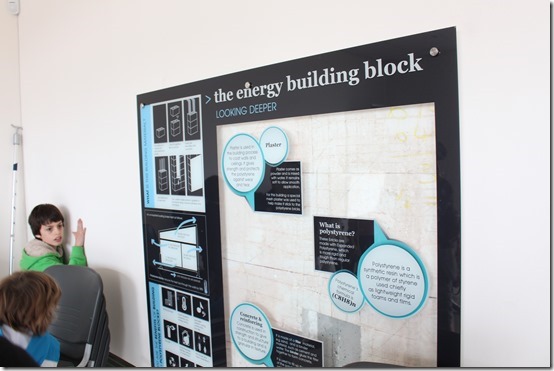 Sam creating energy.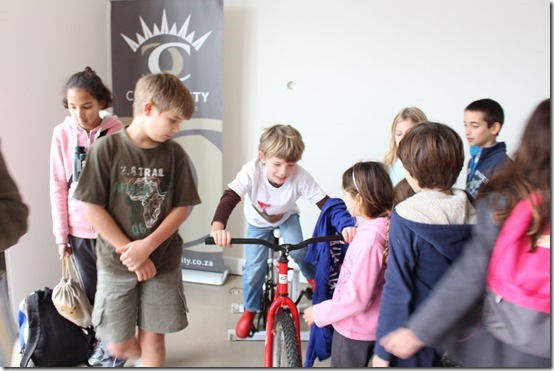 Filling out their birding sheet.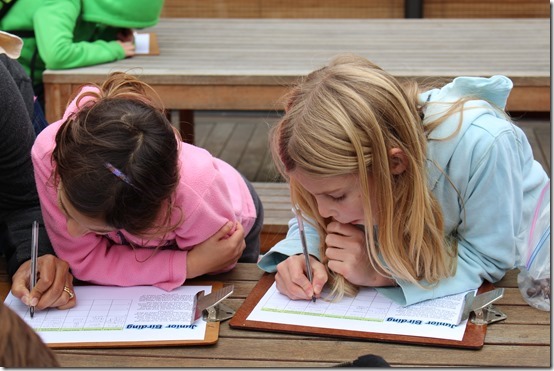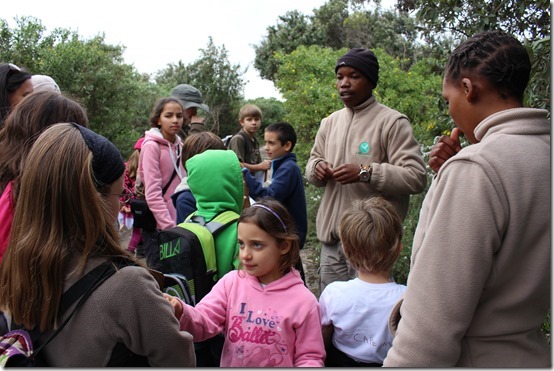 We had to leave the outing at Intaka early because Katie had her first drama Eisteddfod.  It's been quite something learning how to handle her preparation for the Eistedfodd.  She is so very different from her sister who works really hard at the things she is passionate about and spends every minute consumed by it. Katie is happy to go to practices and work with the teacher, but expecting practicing at home is crossing the line.  It's extremely frustrating and drives me batty.  Thankfully the Lord is good and intervened this time around.  I felt quite moved about it at the time and retrospectively that I wrote a separate piece about it that I will probably share elsewhere.  But, in summary, I chose to back off and allow her the space to do things the way she does things. Well, she persevered through the practices even though she was not feeling like she had made a good choice – it was hard.  Thankfully, even though it was at the last minute, the Lord gently reminded me not only to give her space but to give her unconditional love.  Well, she just blossomed when I took her aside to tell her how proud I was of how she had decided to do it and had seen it through, how much I loved her and that no matter what happened on stage, I was already so very proud of her.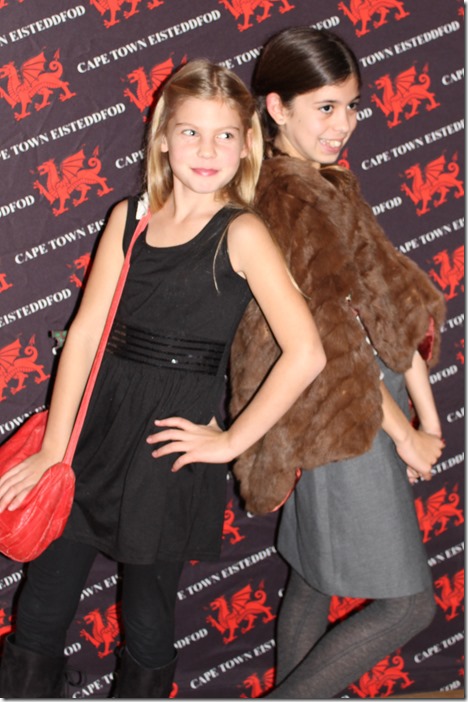 (pictured above is Katie with Lea who played Lucy Pevensie from The Lion, the Witch and the Wardrobe – Lea did brilliantly and scored a Gold Diploma)
She did a superb job!  It was rushed and not entirely fluid with some gestures that were too big for the moment, but mostly she shone like a radiant beam of joy on that stage.  She played Violet Bureaugarde from Charlie and the Chocolate Factory and she was quite convincingly that snotty, bratty, gum-chewing popular girl who deserves taking down a peg or two!  She got Honours Plus which is between 85-89% – the second highest result you can get.
Here's a link to her performance: http://youtu.be/lB0S6i2eIcI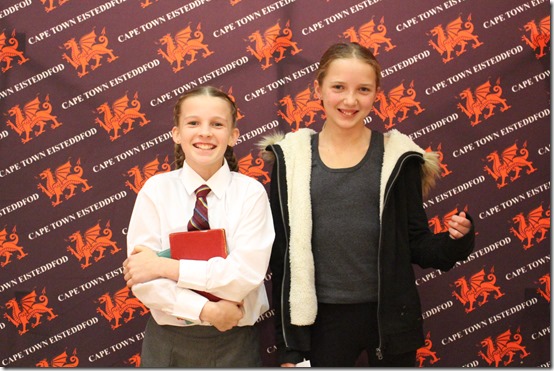 (in the pic above, Kiera is featured with another student from her drama studio)
Kiera did her piece that evening.  She also did well.  She was disappointed because she felt she hadn't done her piece as well as she could have.  In fact, she was down on herself for getting a Gold Diploma (the highest award) because she felt that she didn't deserve it.  Last year, she reasoned, her performance was better, and since she got the Gold Diploma for that, then this year's performance should have been a High Honours.  Funny girl.  She only accepted it as okay when I explained that the Gold is anything from 90-100%, but it's still a Diploma, whether she got 90 or 95 or 100%.  She handled it well though and I was proud of her for her approach to her work and for the way she has handled it since. She played Matilda from Matilda the Musical when Matilda gives a speech to the librarian about a story she has read.
Here's a link to her performance: http://youtu.be/Gr5QofA_J_A
The weekend that followed, we took the kids to be blood-typed!  We've been studying blood for our Science lessons and the kids now know all about blood types.  Naturally, the next step was to learn what theirs was.  Well, thanks to Shingi, one of our bible study members who also happens to work at the WP Blood Bank, we found out about the awareness drive happening in the month of June – a drive that including free blood-typing stations set up all over Cape Town.  So off we went.
Nervous kids: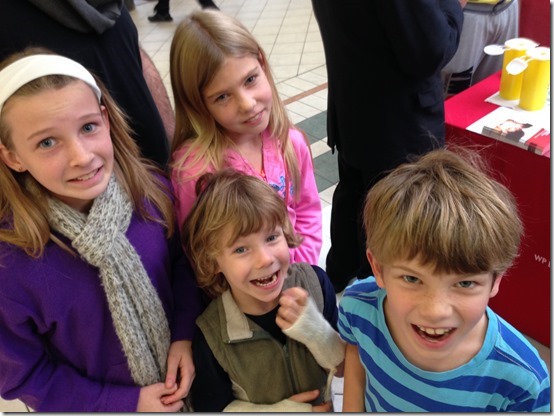 Kiera braved going first.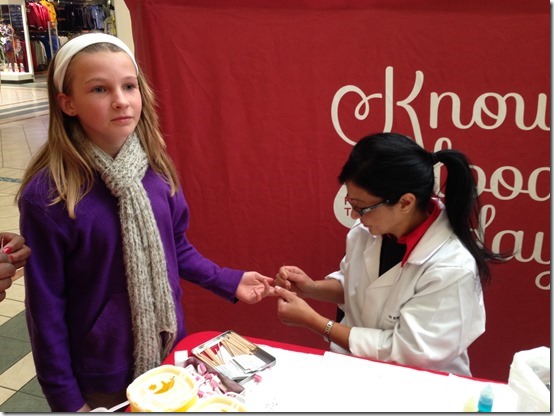 It's fascinating watching how the typing is done.  Basically, drops of blood are mixed with three different solutions.  Solution A is the A antigen. B is the B antigen and C is the Rhesus factor antigen.  If you're A, you blood will separate and do weird things as it mixes with the A solution.  Same for B.  If you're AB both solutions will react.  If you're O neither will react.  And if you have the rhesus factor, solution C will cause your blood to go all dotty like the image below.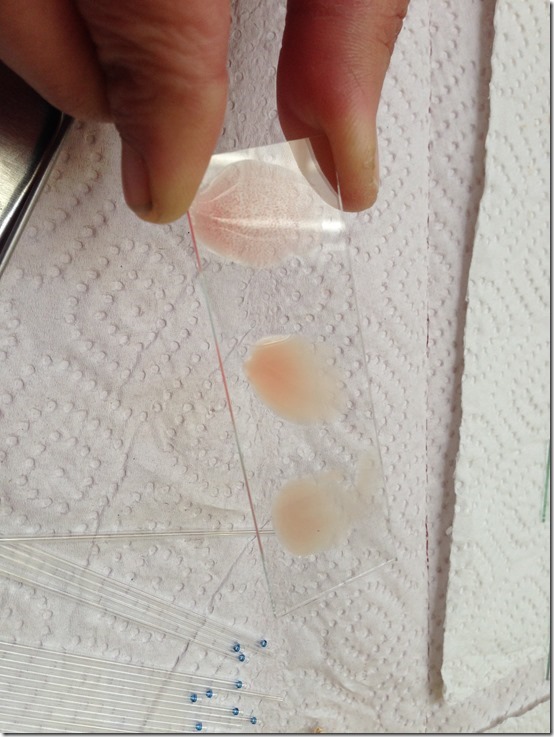 It turns out that all the kids and I are O+ while Craig is O-.  We joke that he is the only negative Ou amongst us!
All the Os!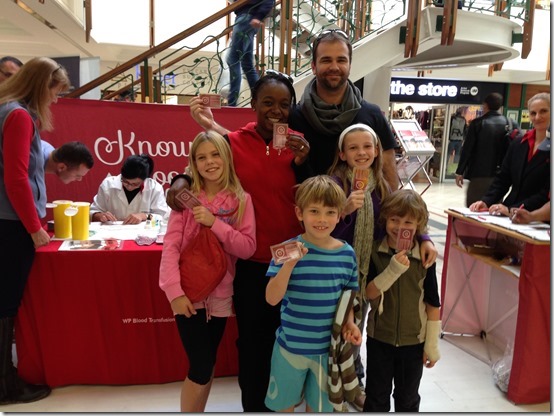 Post-typing treats!  Poor Micah admitted in the car on the way home that he had wanted to cry but that he had held it in.  Poor thing!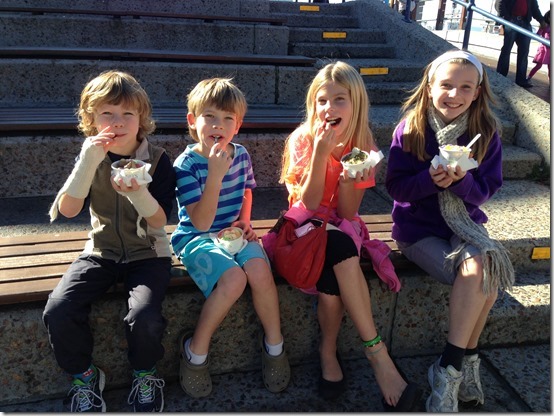 The Winter Solstice, as always, brings joy for me because it means that the days are now starting to get longer and the nights shorter. But the double bonus this year is that the next day we had a beautiful warm and sunny winter's day.  We went to the beach and had a blast!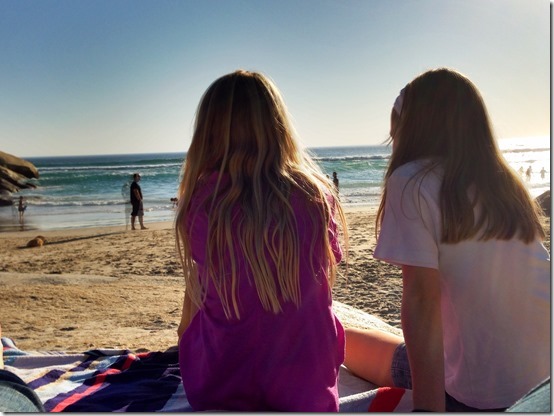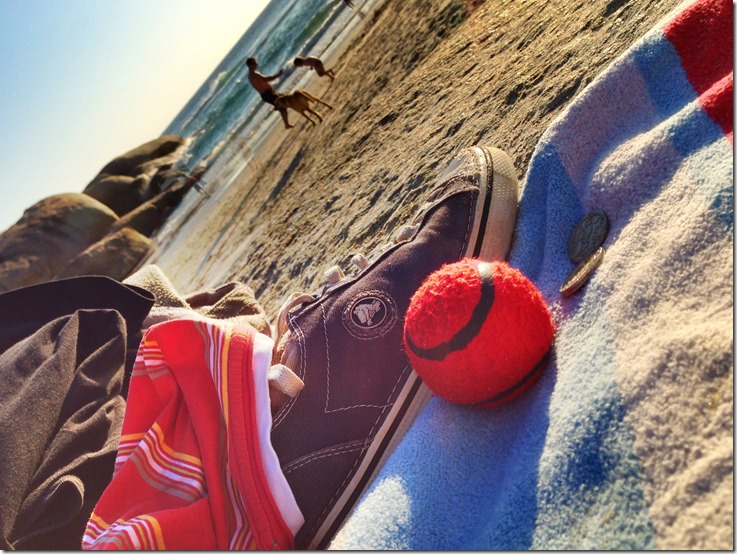 Kiera and Lea had their drama eisteddfod the next day.  They had put together a special musical duologue some months back.  The song?  "Naughty" from Matilda the Musical.  Kiera has been on a big Matilda fix since she discovered it earlier this year.  She infected her best friend with the Matilda craze by teaching her the song and the movements she had choreographed – leaning heavily on the movements from the original West End musical.  They showed their drama teacher and then next thing we knew, they had been given special permission to present it at the Cape Town Eisteddfod.  Because there is no musical theatre option, they allowed the girls to enter under the dramatic duologue section.  Katie, the sweet thing, was so excited for them that she baked a cake and marked it "K L" and "Matilda".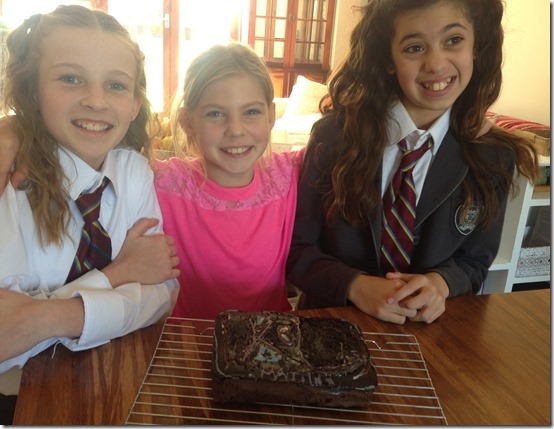 They did beautifully.  I am completely the proud mother – the performance is delightful, albeit not 100% perfect with voices that still need a lot of training, but more importantly, I'm so proud of their initiative, dedication and hard work.  They put hours of practice into it and organised their costumes (picture the irony – the homeschooling mom having to rush out and buy a school uniform as a stage costume!) and even their own props.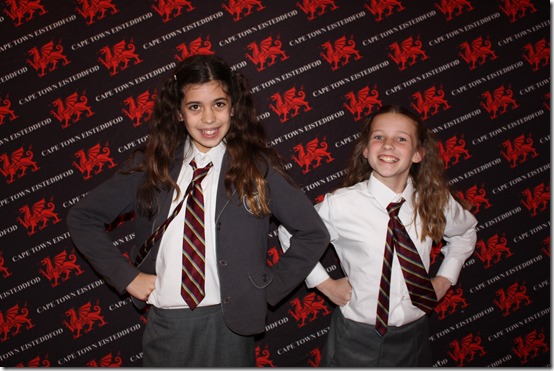 Their efforts paid off because they scored a Gold Diploma and were asked back for the finals!  That meant some mad scrambling for us as Lea was supposed to get her braces that day and Kiera was supposed to be on the road to Oudtshoorn for her gymnastics competition on the morning of the finals.  But, we managed to organise things so that the girls could enjoy the experience of doing their finals. They did not win the finals – another very well-deserving team won it for a routine about the ugly step-sisters.  The step-sister act had done a fantastic job and deserved the win.  And we were all kind of glad that our girls didn't win, because it felt a little unfair – it wouldn't seem right allowing a musical duologue to win in a category that was not made for their genre.  The adjudicator was amazing, though.  She came to find the girls after the finals and told them that they were "absolutely outstanding" and would go far if they continued doing what they are doing.
Their performance is here: http://youtu.be/zgYl904Xt_U
And here they are with some of the other students from their drama studio: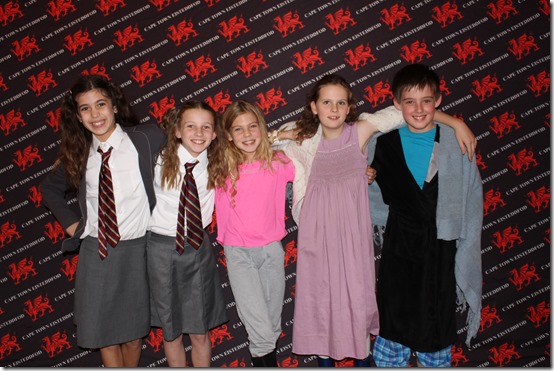 We've been rereading some of the books from Sonlight's core B and C since the boys were too young to remember them when I read them to the girls.  It's been such an enriching experience.  The girls are constantly full of exclamations: "Oh! I remember this one!  Oh! I loved this story!" And the boys keep begging for extra chapters.  Sam takes every opportunity to carry the Missionary Stories with the Millers book to whoever alights our doorstep to tell them how much he loves the book.  It's his favourite book so far and we're only halfway through.  Beautiful!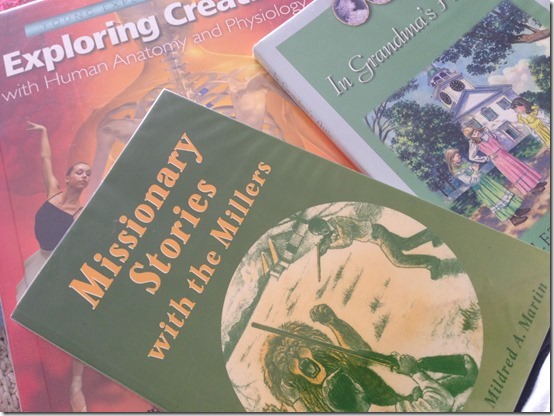 Despite the warm sun from time to time, winter has definitely not lost its impact.  It really is cold and so this is not an unusual sight in our home these winter months: Katie listens to her music while she does Maths, cleverly secreting her earbud earphones into her earmuffs.  At least she gets the work done!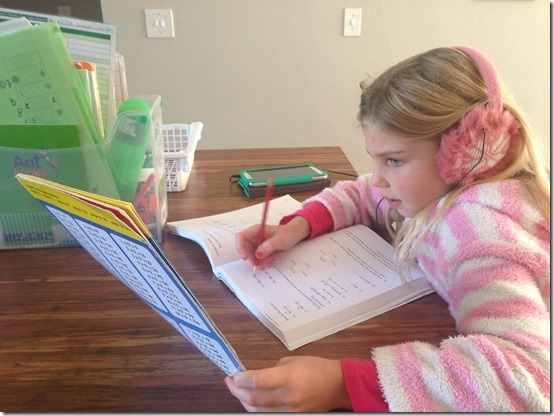 We had a thoroughly enjoyable last Lunch Bunch of the term – celebrating with our annual International Day.  This time it was Asian Day.  More on that in this post.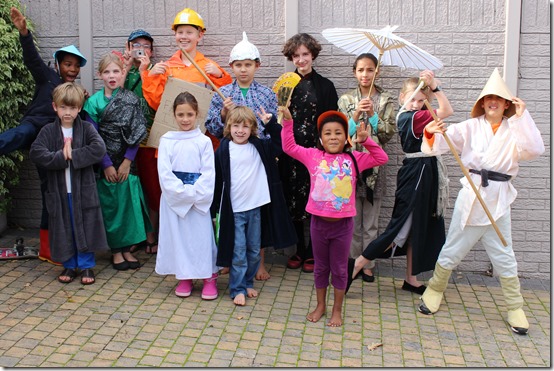 Another week and another quote.  This quote and the one before (If a thing is worth doing, it's worth doing badly) formed the backbone of the talk I gave earlier in June.  They are both inspirational sayings that have helped guide how I think and approach things.  Or should I say – how I would like, consistently, to think and approach things.  Sadly, I need them repeated in my heart and mind constantly.  Which is probably why they still remain so focal for me – I'm still learning!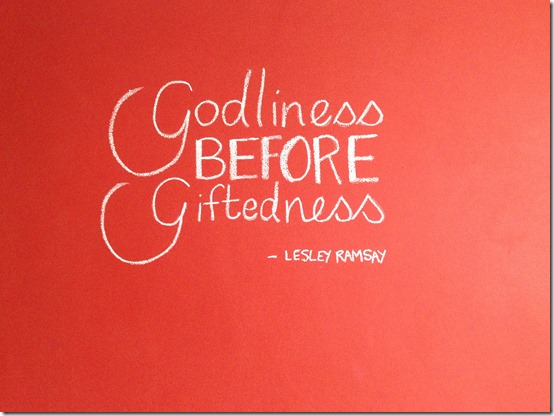 After Kiera and Lea's final experience, she came home for a quick change and hair-do.  It was almost 8pm by the time she and Craig left; Kiera with her french-plaited helmet of hairspray.  It was quite a scene – the dark, stormy night.  The bucketing rain.  And the two of my three remaining children howling like their sister and Dad had just driven off to their deaths.  Katie was missing Kiera and Micah was missing his dad.  What a night!  Of course, I didn't get to sleep until they arrived safely at midnight.  Ms. Katie ended up in my bed, and Micah and Sam ended up sharing a bed, all in the spirit of feeling loved, warm and comforted.  Katie went to sleep staring at her favourite picture of Craig and I with Kiera and her shortly after she was born.  She hates it when Kiera is not with her.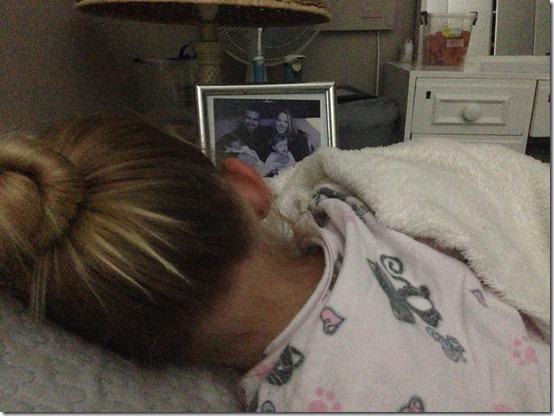 Meanwhile, the next day, Kiera had to get up bright and early for her competition.  She did well.  Not her best overall, but well none the less.  She had a big upset when she scored a full point less than what her couch and she expected.  Her performance of the floor routine, according to her coach, had been a high 8 or low 9 in total.  Kiera had felt confident about it too.  So she was super shocked when she got a 8.05  when she was expecting a 9.0.  Her coach was upset.  Another team's coach was upset. There was discussion with the judges who waved off the dramatic discrepancy with a "she lost points for being messy".  That made the coach mad, because while she accepted the technical mistakes Kiera made, she was adamant that Kiera was not messy.  Craig was watching from the sidelines, feverishly messaging me back in Cape Town.  I felt so much for my poor girl, who just barely held the tears in.  Craig took a photo of her from the sidelines, trying to hold it all together – after her shock and before she did the vault, her worst apparatus.  My prayer with her before she left and that morning before she started, when I spoke to her on Craig's phone, was "whatever happens, be sure that you're bringing glory to God."  Well, if this wasn't an opportunity to exercise that, I don't know what was!  Especially when she saw other girls do their routines and score significantly higher than her, despite all their wobbles, falls and other mistakes.  And knowing that it cost her a chance to be on the podium.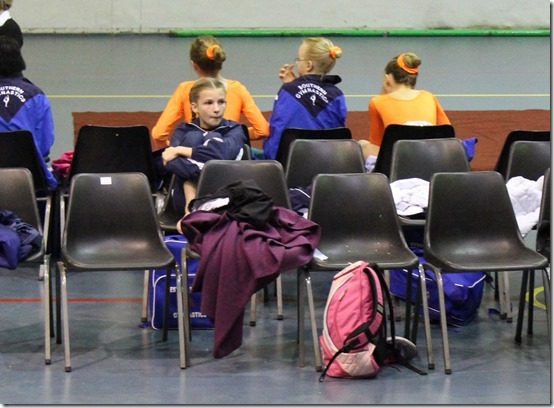 But, she did manage to make the podium for some of her individual results.  She scored a second on Beam and a third on vault!  And came home with a cool t-shirt that says "professional gymnast: do not try this at home".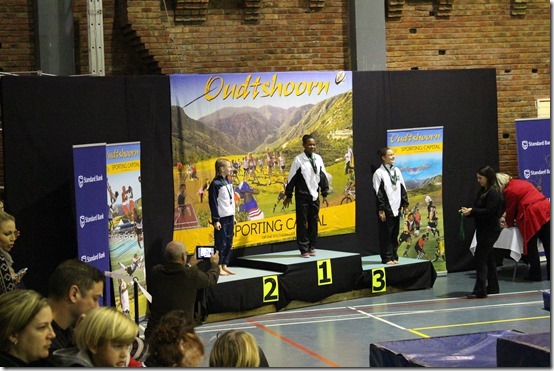 Being in Oudtshoorn, they spent the afternoon at the Cango Wildlife Ranch and enjoyed the big cats and all the other animals…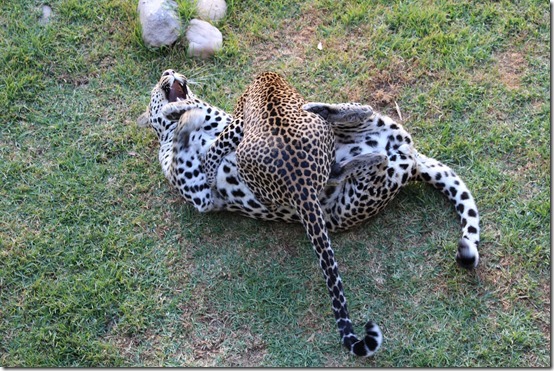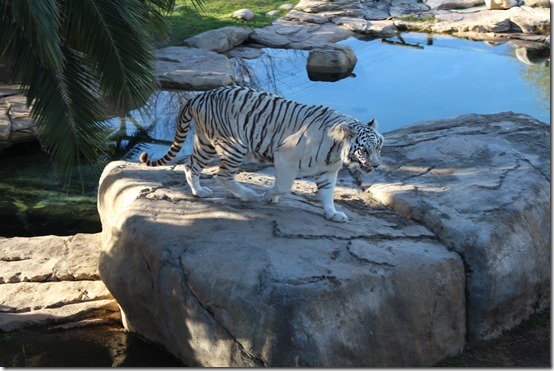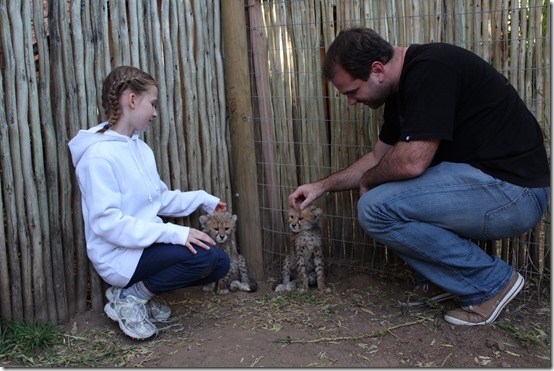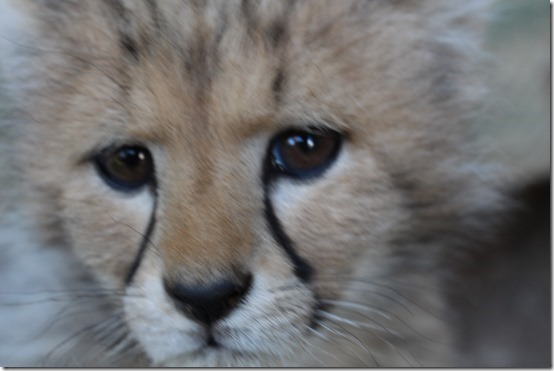 They chose to skip their Saturday plans and head home early on Saturday morning, so by the time I got home from the grocery store at lunch time, they were already home!
June ended shortly after that – we enjoyed a dinner out with family and got to pop into Gran-gran who is not doing too well.  It was quite something seeing her so confused and weak.  She did not recognise us and was not able to speak well.  We stayed for a bit, prayed for her and chatted a little bit, introducing her to the kids again.  She told me, "what a lovely husband you chose!"  I had to agree!
With June over, we head into a few weeks of school holidays which hopefully means that I will find some time to tackle book 2 of the Seekers series.  Hopefully!