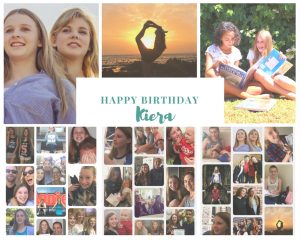 Ten years ago, one of the first posts I wrote here was the "Kiera is 5!" birthday post – starting the tradition of posting a special message to my kids each year. Today, I watched a clip of Kiera at the age of 7, along with a 1-year-old Micah and a 5-year-old Katie, all in the bath. Both these memories seem quite literally like yesterday. But they're not. And, in as short a space of time, Kiera will be in her 20s and quite possibly having children of her own. How is that even possible? While I love this current teen "age", I also feel a deep sense of mourning for the younger stages which now seemed so fleeting. And, I also feel a touch alarmed at the thought that she is now entering the same age that I was when I started dating her dad! Thankfully, she is a far more mature 15-year-old girl than I ever was (and is entirely forbidden from dating and marrying until she's 30! 😝)
So, here we are! Kiera is 15! And, in keeping with the tradition of writing to my kids in their older years, here's a letter to Kiera on her 15th birthday:
Dear Kiera,
What a year it has been to tackle these early teens! To think that this time last year, we had no idea that today we would be spending your birthday week moving into a new house, in a new country with all the familiarity of home so very far away. It has been such a huge shift in your life. And, while you've battled against it in some ways, you've also embraced the opportunity for change in ways unexpected. I've watched from the sidelines as you've forced yourself to face social situations that you don't naturally gravitate towards. I've seen your many attempts to rise above homesickness, frustration or overwhelmed feelings, choosing instead to seek the good in so many situations. You've helped behind the scenes and showed gratitude over and over. I can't count the numbers of times you've said "thank you" these past weeks, because they have been so very many. While I can't quantify your words of gratitude, I can qualify the warmth and calm it brings me. I can also say without doubt that some of my happiest moments this side of the world have been to see you smile – the delight when you get another message from a friend from home; that satisfied smile of unadulterated enjoyment when you get to dance and act again; the end-of-a-good-day grin and banter with dad. And, more recently, the laugh-out-loud smiles triggered by your real-life and online interaction with teen friends this side of the world.
And then, there's been so many other moments to rejoice over – not least of which have been the deep discussions and concerns you grapple with.  That doesn't sound like something to rejoice over, but to us it's a sign of your growth and maturity and your owning your faith as you choose to live for Christ. Coupled with the new friends you are making who share your interest in delving into God's Word with better understanding, our rejoicing is with great gratitude to God for answered prayer.
From 14 to 15 has been such a crazy time, but also such a good time. A stretching time. A time to explore new things and to grow in independence. It's been a year where you've accumulated so many great memories – of friendships, events and experiences. It's been a year you've had to tackle numerous disappointments, often with deep emotional wounds – yet, time and again you choose to "look on the bright side" or "see the lesson to learn" or "find an opportunity to love another" even while you struggled with the less attractive feelings that come with disappointment. It makes me so proud to watch you battle against bitterness, each time making that conscious choice to put things into perspective. And, even in the midst of disappointment, you've had so many good times. I think of the fun you had playing Jane Eyre and having the shared on-stage experience with your sister. The hours of Waterfront Theatre School where you got to spread your wings a bit and grow. The memories of intensive cousin time. The sweet friendship you made out of the blue and your Friday schoolwork mornings with your dear homeschooled friends – so bittersweet now that we are so far away.   And now, in Australia, I think about how much you're loving your new acro class; your vlogs and screenwriting course that have you bringing to life a story idea from years gone by. I think about the new friendships just forming. I think about the things you're looking forward to – learner's license by 16 😱; independent public transport; musical theatre opportunities galore and much more. So many good things worth enjoying!
My sweet Kiera – 15 is a crazy age to be. And while I can't quite believe you're so old (!) already, and while I am horrified how little time we have left with you in our home, I am also enormously thankful that the Lord gave us those years with you and we are so looking forward to the years that the Lord grants us together in the future. My prayer – as you know – is that all of us in this family will choose Him  first daily. I continue to pray this for you – that you will allow our Lord and Saviour to continue to mould and shape you to be more like Him every day of your life. I also pray that this year ahead will bring about opportunities to grow in Him; to rejoice in new friendships; to explore and stretch your wings just that little bit more; and to grow in character.
Happy 15th birthday, sweet girl …! Now let's celebrate!