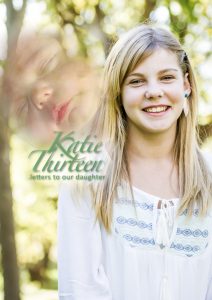 Ack! Another teenager woke up in our house on this morning of June 3rd, 2017. Now we have two! Katie is finally, finally, a teenager in the official capacity. Of all our kids, Kates is the one who was born a teen and has looked forward to teen years with as much excitement as she has for Christmas morning. Where Kiera has turned her nose up at "all things teen" – going as far as to declare her 13th birthday party to be in fierce rebellion against being a teen and thus choosing to go 'full on' kiddy-party style – Kates has embraced the teen party idea full on herself, inviting her friends over to "hang out", eat junk food and chill. Games haven't even been mentioned on her party plan. And I love it. I love that the girls are entirely themselves, with their own set of personality traits that they own with veracity. Yes, some days I wish some were with a little less veracity, but other days I'm in awe of these children that God has blessed us with.
And Katie is one such child. Wow. Looking back over the past 13 years has sent us down a tear-streaming journey of memories. How did our chubby-cheeked "Hamster Hayes" suddenly become this long-legged, beautiful teen? Really?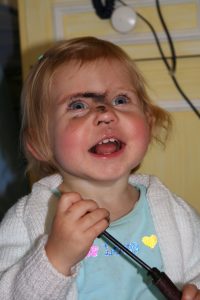 It was yesterday she was caught with her chubby fist clenched gleefully around my mascara wand, black smears all over her face (evidenced in the photo below) and tottering around in my heels. Today, she's giving me make up tips, and I'm the one borrowing her clothes! Okay, so she still totters around in my heels, but these days they fit her like a glove! Timewarp stuff.
I remember well hearing the saying, "the days are long, but the years are short" when my kids were still preschoolers and toddlers. I remember thinking that there was truth in that, but that my days felt more long than the years short. Today, I feel a desperate sense of wanting to slow it all down. Yes, those toddler years were hec.tic. Our sweet Katie-Kates knew how to pull out the stops and throw the most blood-curdling temper tantrums. Going back over the blog posts from the past 10 years, a common theme is "oh my goodness, this is hard!" From when she was a tiny tot, Kates has been our fierce, but compassionate child. Independent, but needy. Brilliant at puzzles, figuring out anything technical and hands on, picking up on the emotions of others, and yet often finding new tasks and big changes to be insurmountable and scary.  Confident in relationships, Katie has always been the one to find the child who needs extra attention and make them feel at home; she's the one all the little kids flock to, like bees to honey – the favourite cousin; the much-loved big sister figure to our church friends' littlies. She finds herself at home in just about any group of people, be it adults, teens, kids or a brand new bunch of people she's only just met. There are no pretences – just honest, fresh-faced interest in other people. It's no surprise that her friends' list for her birthday party eventually had to be cut down. Nor is it a surprise that her friends include people from all sorts of backgrounds and contexts and that she embraces them all. Even when she was undergoing an operation to remove that pesky eosinophilic granuloma from her forehead, her compassion and thoughts mostly centered on those around her. So often, her compassion has me in awe, and in shame …
We started a tradition when Kiera turned 13 of presenting our kids with a special book made up of words of wisdom from close friends and adults in that child's life. Overwhelmingly, amongst the beautiful words of wisdom, was thanks to Katie for being inclusive and caring with their children – genuinely and sacrificially caring. When I was 13, little kids were foreign creatures to me and the last thing I felt like doing was hanging out with them, never mind caring for them. I marvel at this nurturing side of my newly minted 13 year old.
Along with Katie's compassion and open friendliness comes an impulsivity that sometimes serves her well (inviting friendships) and sometimes acts as a disservice (acts of disobedience that happen almost without realising). As she grows older, she has come to be more aware of this impulsivity. Sometimes she despairs deeply over her own actions. In moments of great frustration, she will ask me why it is that she did what she did, or behaved in a particular way that she hates. Her own bewilderment with herself gives me – strangely – hope and joy. Hope because she doesn't like acting out and wants what is good. Joy, because she is able to articulate and recognise the heart of it all. There have been some prototypical tussles within herself of wanting the independence and adventure of being older. This has worked itself out in both positive and negative ways. But the positives have been awesome.
This year, Katie has ventured out to try more things that she once shied away from. She took it upon herself to do the Trinity Drama Exams, despite great fears of the exam context. She ended up scoring a high distinction and loved every minute of it. Her joy was infectious. Her confidence has grown and for the first time, she even auditioned for a role in a theatre production of Jane Eyre. The surprised delight on her face when I got the message that she was cast as Helen, young Jane's consumptive friend, is one I will never forget. Her venturing out to try new things, to push a little harder in areas where she was once too scared, to give a little more, have all been both delightful and encouraging.
Those are words that I feel many times when I look upon my daughter. Delight. Encouragement. I delight that even though she's a tall girl, almost my own height, that she still loves cuddles and hugs just as much as she did as a little girl. I am encouraged by her desire to honour and serve Jesus. And I'm encouraged when she despairs when she struggles to do both. I love her sense of humour and how she teases her dad. I am delighted when I see her playing with her brothers, or patiently helping them with school work or in the kitchen or creating art projects for them to enjoy. I am sooo encouraged when I see her tackling new things; big things; scary things and when she overcomes old fears – like heights (ziplining) and gaps in stairs (no more!). The list is long, but mostly, I am so encouraged by the growth I have seen in this precious girl of ours over the years.
As we have been thinking about the years ahead, we've felt it pressed upon ourselves to chose for Katie a special verse that will serve as a good reminder and encouragement for the complications of the teen years. It took us much prayer, consideration and thought to settle on 2 Timothy 2:22:
So flee youthful passions and pursue righteousness, faith, love, and peace, along with those who call on the Lord from a pure heart.
 Along with this verse, comes another verse that we also felt was a poignant one for Katie. That is Philippians 1:9-11:
9 

And this is my prayer: that your love may abound more and more in knowledge and depth of insight, 

10 

so that you may be able to discern what is best and may be pure and blameless for the day of Christ, 

11 

filled with the fruit of righteousness that comes through Jesus Christ—to the glory and praise of God.
When we consider the teen years and all the temptations and complications involved, coupled with our impulsive, people-loving daughter, we knew that discernment and a pursuit of righteousness are worthy attributes to look forward to. In our special letter to Kates, we highlighted the following:
The teen years often carry over "youthful passions" into the adult years. It's an ongoing act of obedience to God to pursue the things that honour Him. Not all passions are bad, however. But the ones that Paul speaks of the kind of things that we may want to pursue, but that do not bring glory to God. Paul reminds us that a far more worthy pursuit is godliness.  The traits he highlights are traits that we hope you will pursue wholeheartedly as you seek to serve and love Jesus all the days of your life.  It will take prayer, like Paul prays in Philippians 1: 9. It will take time spent in God's Word gaining knowledge and discernment. And it will take being alongside others who also call on the Lord – they are those whose hearts God makes pure, as Paul points out in 2 Timothy 2:22.
Together with the meaning of your give names (Katie Ann – Pure Grace), we pray that this ring and these verses will be a lifelong reminder of the goodness there is to be found in the pursuit of godliness. We pray that as you navigate these years ahead, with all the changes and challenges you will face, that you will continue to love others deeply, in the light of the gospel, and that you will seek to honour Jesus in all that you do. And as you do, we want you to know that we will always be here for you. No mistake is too big; no foolish decision is too weighty a burden for us not to carry alongside you. And where we may falter, Jesus never will. ALL your burdens you can take to Him.
Lastly, we want you to see these gifts – especially the ring and the chosen verses – as a symbol of our love for you and our commitment to you. We want to be parents who choose Jesus first as we walk this road of life with you. When you read this letter, look at your ring, or read your verses, we hope that you will remember our love for you and that Jesus loves you even more, especially when we fail.
Happy 13th birthday, dear Katie-Kates!  We love you hugely.
All our love, Mom and Dad