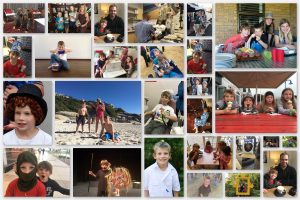 This guy! Man, oh, man! Ten has felt 100 years away if his conversation has been anything to go by. Sam has the unfortunate pleasure of being the last child to celebrate his birthday each year. It always feels like it takes forever and the wait is excruciating for poor Sam. I've long stopped wondering how many more conversations that he starts with me will begin with, "for my birthday…"
Looking over Sam's "Sam is 9!" post, I've seen such changes in him. He can still be a bit of an eeyore, but this is usually related to sibling treatment than anything else.  Last year, his pessimism seemed to dominate his actions and thoughts, but this year there has been such a positive change in him.
For example, this year he joined a cricket and soccer team. Initially he was frustrated with the kids there generally being mean and rude. He would return to the car despondent and annoyed. But, when we talked through it, we decided to pray beforehand each week and then Sam left the car with the challenge to find something to encourage at least three other kids with. Even just a "great catch!" would do. Nowadays, I see him bounding across the field and often I don't even have to ask him before he is telling me about the kids he encouraged and the great day he had playing sports.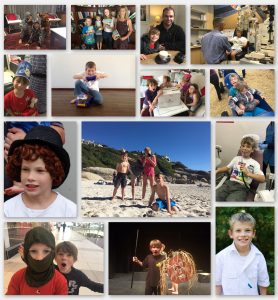 This newly kindled love of life is echoed in so many areas that it's become more normal for Sam to be bright, interested, engaging and happy than it is for him to be down in the dumps. During our read-aloud sessions, it's Sam who often jumps up to get the globe to see where our story is in the world. He pipes up more and more with interesting contributions and insights in our discussion, all while having his head buried in his latest Lego creation – some things never change, it seems!
Long hours have been spent by Sam gobbling up all he can about composting and raising a successful crop of tomatoes. Seldom does a branch, old cardboard scrap or piece of piping escape the whittle and cuts of his penknife. Lately, Bear Gryll facts pour out of him at a steady stream as he regales the stories he has been reading. If he isn't telling me the latest survival skill, he is rattling off jokes, riddles and stories he has collected from all over.
It's been quite a year of a boy growing up. I've seen a leap in maturity in this last year – a greater sense of who he is, a greater confidence, and a greater assurance.  This has been most obvious to me on the stage and amongst his friends. On stage, he has blossomed – acting up a small storm so different to the shyer, somewhat awkward 8 year old of last year. This confidence seems to have spilled over into his friendships too. He has enjoyed a couple of new natural friendships where connections have fallen into place out of shared interests.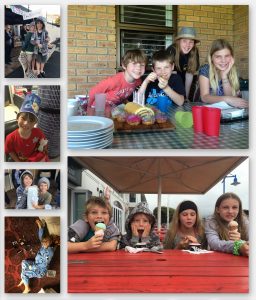 Watching the boys deep in plans for creating a business from treasure finds on the beach br
ings me such delight. The teachery side of me delights in all the learning and practising going on as they work out discounts for their proposed sales. The mama in me loves the connections and the ease in which these friendships have developed.
Even his skills are gradually being honed and where he once hated aspects of school work, he now gets on with it and sometimes even with diligence! Perhaps the biggest frustration he has had all year has been the learning of the piano. A rebellious grumpiness erupted in him each and every lesson – to the point where we've shelved it for now and will see about picking it up in the new year. But, even though he's not so keen on the piano, he absolutely loves the piano teacher and her two girls. He recently asked again if we could spend more time helping out with the Mamas and Munchkins because he loves to play with the little kids and look after them. These are the things that warm my heart – for all the academic and sporting opportunities, for all the reading, writing, skills and more that he gains, it's heart and character that matter most to me. To see snippets of this growing from a desire to serve others means the world and more to me.
Of course, it's the morning hugs, the chats with mom, the seeking out of Dad's opinion on his latest creations that reminds me that while 10 is big in some ways, it's still little in many others. I'm looking forward to what 10-year-old Sam will grow to be. But at the same time, I'm so very keen to hang onto my freckled nose, sweet boy of yesterday who still very much loves a cuddle, a chat, and to kiss me goodnight with a ritualistic kiss on each of my cheeks … and my chin, forehead, eyelids, nose and mouth!
Sambo, I'm proud of you and delighted to see where this next year will take you. My prayer is as always – that you will deepen your love, knowledge of and dependence on Jesus our Saviour. I so look forward to seeing His work in your life as you seek to serve and honour Him.