And Micah is 8!
Every year that my baby turns one year older I feel my heart constrict more tightly than I would like. On Sunday, I got to cuddle my godson – all 6 months of him. Everything about that was familiar. It was yesterday that Micah snuggled against my chest in the very same ergo… wasn't it? But, no, 7 1/2 years has passed since then and while it feels like a flash, so much has gone into these past few years in the life of Micah. And with it has been my graduation from a mom of babies and toddlers to a mom with teens, tweens and rough and tumbling loud, dirty, very physical boys.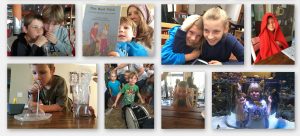 Looking back on this year in the life of Micah, I'm struck by the constants as well as the changes. Micah has always been a fierce little guy. Loves fiercely; fights fiercely. He demands hugs from everyone and can't quite get enough of the squeezes and cuddles, especially from me. Kiera, his big sister who is not the huggy type, has rationed him to one hug a day from her. Yet, still he adores her and will milk those hugs for all they're worth. Every morning, I'm not awake more longer than a few minutes before this little guy tiptoes into my room and comes to claim his morning cuddle. If I so much as dare leave the house without a goodbye hug, I will find an unhappy face and wagging finger of chastisement at my car window before I can even back out of the driveway. Even Gracie, our 6-year-old cat cannot escape his squeezing affections! But, even while he loves big, he fights big too. Impulse control is not his strong suit and it can be quite exhausting refereeing his frustrations and his sense of injustice.  While he is the youngest, he certainly treats everyone else in our family like he is equal and/or superior in every which way!  No flies on this guy! But, still, so much maturity has taken place over this past year. Remorse is more ready. And with it a better ability to articulate his frustrations.
It's a funny thing, this "growing up" business. I took part in a homeschooling talk recently as a "veteran" homeschooling momma giving advice to newbies. The other "veterans" were mommies who are further down the road than me and their advice reminded me once again that my Micah is very much a late bloomer. I started all the school-y things with my kids at a similar age to kids at school. But, Micah has never taken to it in the same way that his siblings did. I find myself oscillating between frustration and resignation. He would much rather be playing, playing, playing than ever learning to read, write or do arithmetic. Yet, in each of these fields, when he doesn't concentrate too hard on trying NOT to grasp the work, he gets the concepts and flies through them. In just the last month or so, I've watched him move from not knowing or caring how to spell anything, to suddenly being able to spell words as if second nature. I've caught him reading everyday sign posts and billboards, despite his continued insistence that he can't really read. He reads his readers with fluency, and yet, somehow there is a lack of confidence that he truly can tackle chapter books. For this guy, formalised learning is probably not the best approach. Yet, tell him a story and he is there. Ask him practical things and he will figure them out. Money? no problem. And once again I'm reminded that he quite easily fits into the 'better late than early" mould of formal learning. And, I'm the one who needs to chill! 🙂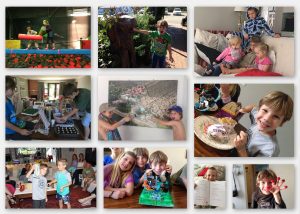 Micah's favourite things revolve around people and fun. He is fiercely loyal to his bestie, Jemma. He loves playing with his siblings and friends. He loves Lunch Bunch on Wednesdays, can't wait for drama classes each week and coming home from kids' club on a Friday night has Micah hyped up and excited from the fun and games. While he loves running around, biking and generally outdoor fun, he hasn't loved organised sports all that much. He is sensitive to unkindness (although he is happy to dish it out!) and too much boyish rudeness and mean remarks at soccer and cricket on a Friday afternoon had him determined not to take part. We put him to the test by making him fulfil his commitment for the second term. Stubborn to the core, he chose to quit even though he loved playing soccer. He would much rather play tennis with a coach he adores. Greg is the epitome of patience with smart-mouthed, excitable young boys. And Micah can't say enough about Greg.  He started drama classes and took part in his first stage play this past Sunday – nerves galore, but he loved every minute and wished he could do it all over again! This year, Micah has discovered Minecraft, Michael Jackson, and alternative parody in the form of Parry Grip. Much to our consternation. His taste in music is as eclectic as his taste in movies. Top of his music list would include pop, rock, country, metal, and rap from the last 50 decades. Movies wise? He is just as happy watching Barbie and Ever After High as he is watching typical boy-fare. Top of his list is reserved for Star Wars, however. Star Wars pretty much influences his hours of Lego play, story-telling, and gift list!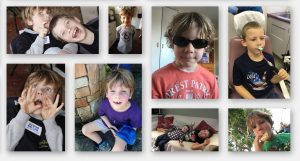 Being the youngest, I often forget that Micah missed out on many of the childhood rituals the others experienced. He doesn't remember Bible stories in bed, because he only remembers our current set up of couch time and Bible discussion. He doesn't remember many of the nursery rhymes of his baby years, because the older kids' musical tastes ruled the radio. It surprises me time and again when he comes home to tell me something he learned at church, as if he'd never heard it at home! Like we haven't read or spoken of these things with our kids time and again over the year. But, then I remember that the simpler versions of the stories of the Bible aren't read quite as much by us as they were when the older three were little. And I'm reminded how blessed I am to have other teachers in his young life to reinforce our own teaching. Best of all, is sitting with him while he reads aloud his Bible stories to me and he exclaims, "this is my favourite one!" and begins to tell me what he loves about the Bible.  He is a little guy who struggles with big emotions. But those big emotions give him a big heart. And his heart longs to see everyone safe in the arms of Jesus. I pray that this continues to be his desire, each and every day of his life. And that he will indeed act justly, love mercy and walk humbly with our God as he seeks to love and serve Jesus.