Nine! It's here! Yet, when I look back over Sam's birthday posts of the years past, it seems that our boy has barely changed. Yes, he has grown a little taller, but essentially he seems the same as ever. Still loving Lego. Still loving drama. Still loving hours playing outside. Still loving practical jokes, making up riddles and presenting me with a new Lego creation each and every morning, all while talking a hind leg off a donkey.
Yet, as is expected with another year to mature, the chatter involves deeper questions and thoughts. In many ways this has been very positive. In others, not so much.
Somewhere along the line this year, this little man has taken upon himself to view life through a bit of a pessimistic lense. It's puzzled and frustrated us often when, after a great day full of fun, his summary assessment is, "it wasn't fun, because …"  Usually the "because" is a trivial upset that lasted mere moments – hardly anything to overshadow the entire day of fun and games. Eeyore much? In talking to him about this way of thinking, it becomes clear that it's not really his desire to focus on the negative, but it seems to crop up more regularly than we would like for him.  My prayer is that it's just a imitation of one of his buddies who also does this, or perhaps just a passing phase.  So, we pray… and, we chat a lot. His little heart, when thinking of these things more closely, shows a strong desire for positive gratitude.
And we do see this desire realised more often than he sees himself.  I love his sweet love notes to me – sometimes hidden in the mail box, many times secreted next to my bedside. I love his prayers for his dad at the dinner table and late at night, especially when Dad is away on business. I love how excited he gets about small things and especially when he discovers new things. His budding interest in electronics has him spending hours creating electronic circuits with Snap Circuit and his fascination with all things Minecraft has him building virtual Lego almost as much as he does when handling the real thing. I love his enjoyment of people. Developing new friendships this year has been a rewarding experience. Yet, his interest in people extends beyond his peers and for this I am truly grateful. I love how he shows interest in older people and younger ones too. This year, his piano teacher and our friend, Laura, has brought her two little girls along during piano lesson time. Our boys can't wait to spend time with the girls, even going as far as to argue over who gets to hold baby Kaiya first! His enthusiasm for these things puts all the pessimism to rest.
For this I am grateful. But more so, I am grateful for his ability to express his feelings. This year, Sam has felt quite bothered about having discovered some swear words. Having them ricochet through his head against his will has had him beg me to pray night after night that he won't think about them. When his friendships overwhelm him, he will talk through them with me. Sometimes, I discover that the little thing that ruined an otherwise perfect afternoon was little in event but big in heartache.
I wish I can say that I am always the wise mom, generous with her time, but so often the burdens of his heart pour out just before bedtime when I'm aching to shake off some of the responsibilities of being mom. Writing this reminds me once again that while the days are long, the years are short … I don't want overwhelming regrets. So, this 10th year my prayer is that I will linger longer; listen harder and love deeper.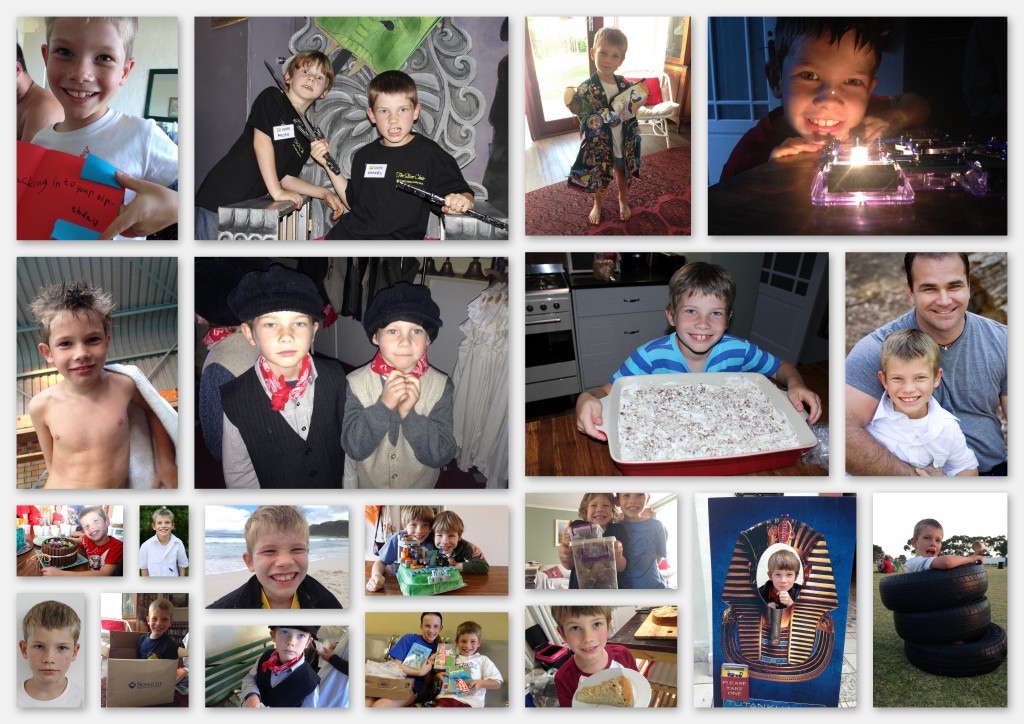 And, while I pray that the Lord works in me, I pray too that He continues to work in my little man – that he will grow to be a man after God's own heart; that he will yearn to serve Jesus with all his heart and mind and that he will choose gratitude even when the world offers a dismal picture.
But, for today, this 9th birthday, I mostly want to thank the Lord for this special boy – all his sensitivity, his enthusiasms, his joys and his worries, his love and his struggles – all that makes our Sam our special big boy whom we love so dearly.
Happy Birthday, Sam!