This boy. This little guy who burst into this world 3 days earlier than expected. This cherub who has been all feisty fun since day one. Yup, this guy is 7 years old today.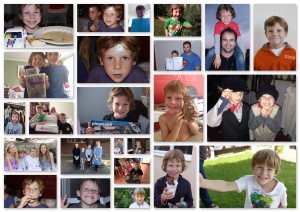 He has been counting down the days 'til his big day.  Every night he wriggles in his bed with joy and excitement and announces, "only 4 more days until my birthday, mommy!" Just a few more days and my baby is not so much of a baby anymore.
It's been quite a year for Micah. He started "school" in a more official capacity. Despite being a child who most certainly benefits more from the "better late than early" approach to formal education, he is lumped with a partially neurotic mother who has him learning formal concepts in fits and starts. Mostly, though, his leaps in learning have been in self-control. This is the guy who would bite holes into his own hands with frustration and anger as a little guy in his high chair. When he started the beginning of this year with a few too many grumpy-about-school moments, we had a chat about language and approach to learning. We talked about replacing words like "I can't do this" or "I hate this, this is dumb!" with "I'm struggling, please help me, mommy" or "I don't understand" or "I'm feeling quite tired, please can I have a break."  Nowadays, he often catches himself mid-moan and replaces it with a cheerful, "I'm struggling! Please help!" And it's starting to show – handwriting improvements and even some independent work have him striding down a road of learning I am excited to see him on. It's been a long road – reading, language, maths – all of it is not intuitive to him at this stage in his development. That's why it has been such a joy to hear his little voice insist that he reads Green Eggs and Ham in one sitting and then proceeds to read it complete with inflections and expression. It's been a joy to hear him beg me to read aloud another chapter. And then to hear him spout his knowledge of history thanks to a combination of our read-aloud history books and his current favourite DVD series, Horrible Histories, is again – great joy.
Another area of maturity for my little guy has been in the realm of responsibility. He was the epitome of shirking responsibility, using all the tricks in the book. To be completely honest, he still employs a few of them from time to time (read: disappearing acts when chores loom only to be discovered around some corner grinning with impish guilt!) But, gone are the days when he would cry and complain and feel terribly hard done by simply because he was required to muck in with his siblings and actually lift a finger! I'm fairly sure that being the fourth child and the family's baby contributed to a lengthy period of never-having-t0-do-anything in his life. But, some extra chores to help practise good attitude soon put paid to that, and now I have photographic evidence of the young guy happily doing chores – albeit butt naked! Yes, that would be Micah's favourite attire – the fresh air on his skin is all he needs. Unless, of course, anyone draws attention to his antics. Then his impish grin returns with a tinge of embarrassment and some guttural sound effects as he attempts to mow down said person.
Micah is one to know his mind and not be persuaded in any other direction. That means that often he will only do something once he is good and ready. Swimming lessons? For sure! Drama fun? No, thank-you. Not yet. Try this vegetable? No, thanks. How about this strange thing? Absolutely! And don't you forget! Feisty is perhaps too euphemistic a descriptor for this boy of ours. He is all boy – loud, brash, aggressive, physical and dirt is his friend.
To accompany his loud, large living is his equally loud, large heart. This little guy wears it all out on his sleeve. This year, Craig has had to start travelling for work again, after a two year respite. The crumpled little face each and every time Craig has to board a plane is almost too much to bear. He loves fiercely – letters with pictures and declarations of his love for us; bowl-over hugs and kisses; early morning snuggles – they are all par for the course with this guy. And we love him in return. All 7 years of rambunctious yet sensitive Micah. We pray that the years ahead will be many as we seek to keep loving him and teaching him God's ways.  Micah 6:8
Happy birthday, Micah-Moo!