The Giveaway…
Apologia Science Curriculum has kindly donated a full year's worth of science studies to the winner of this giveaway.   Apologia's Exploring Creation with Anatomy and Physiology is a dynamic "text" book of the living book variety.  Aimed at older elementary kids, it can be used for anyone from 6 – 16, making it perfect for whole family studies.  Accompanying the text is the Exploring Creation with Anatomy and Physiology Notebooking Journal – an all-in-one Charlotte Mason inspired notebooking journal that includes other recording methods such as lapbooking, copywork, crossword puzzles and much more.  Scroll down to the bottom of the page to find out how you can with both these books!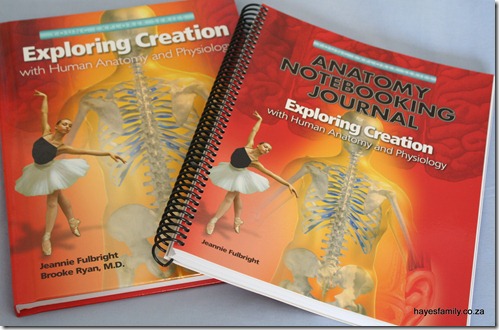 The Background…
Some years ago, my sister introduced me to Apologia – a homeschool curriculum company.  The big drawcards?  Biblical worldview.  Living book style.  Beautifully compiled.  I really liked what I read about Apologia, but we were already following Sonlight Science for my (then) little ones and we were 110% happy with it – besides, I reasoned to myself, Sonlight picks up Apologia science later on in their programme: we can always use it then.
Fast forward to 2012 – we were halfway through this year when I realised that science was fast slipping off our radar.  Plus, we needed to investigate other science options for 2013 as we plan to "take the year off" from Sonlight to do a year of intensive South African history studies.  If ever there is a year in the Hayes home to explore other curricula options it is 2013.
Some intensive nights of scouring the Internet for great science options brought me straight back to Apologia, and more specifically the kids and my favourite interest at present: the human body.  It wasn't long before I had ordered both the text and the notebooking journal from bookdepository.co.uk – gotto love free shipping!
Why we love it…
We can go at our own pace
The text is divided into 14 lessons (click here for table of contents) that cover just about everything there is to learn about the human body.  Each lesson can take as little as one week or as much as one or two months.  In fact, Apologia encourages each family to go at their own pace, stopping to do some things more in depth or to follow the family's natural learning patterns and points of interest.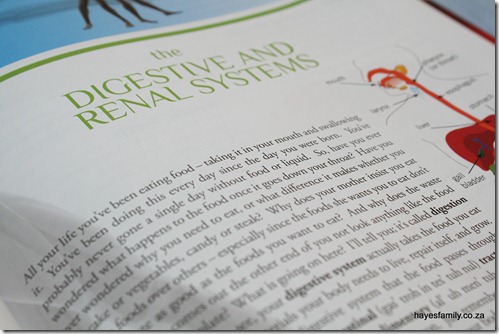 Narrative style
The entire text is written in a narrative style – perfect for reading aloud to your kids.  New vocab words are explained as a part of the narrative in a seamless and fluid manner.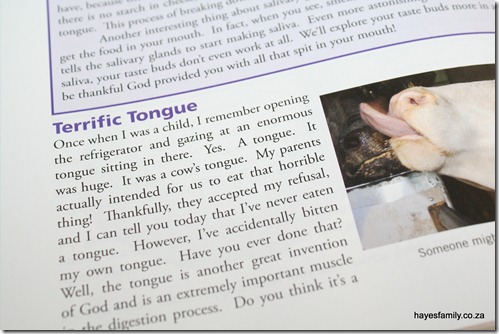 Lots of opportunities for multi-faceted learning
Throughout the book, conversational pieces are added, including funny stories, interesting ideas and suggested projects. Every chapter is peppered with "Try This" inserts that give the kids ample experiment ideas, along with a thorough list of required items – many of which are often in the home and kitchen already.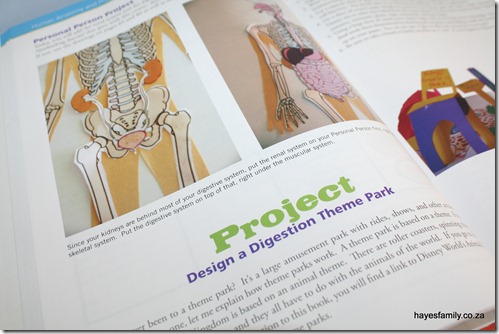 Integration with Notebooking Journals
While many homeschooling moms are adept at creating their own projects from scratch, I prefer not to!  I did that for too many years as a high school teacher. Nowadays, if I can afford it, I prefer to follow curricula resources and use holiday and other down time enjoying the kids and exploring other activities, rather than putting together extensive project ideas.  Which is why the notebooking journal that Apologia offers totally appeals to me.  A beautiful ring-bound book is stuffed with pages ready to be filled with creative learning – notebooking (writing about what one has learned), copywork, puzzles, creative projects, lapbooking ideas and much more.  by the time we complete our anatomy studies, the journal will be complete and will serve as an all-in-one project book that, I suspect, the kids will treasure for years to come.
Here is just one example from the text of a project that one can do by layering transparent pages with each system on top of each other: bones, blood vessels, muscles, organs etc.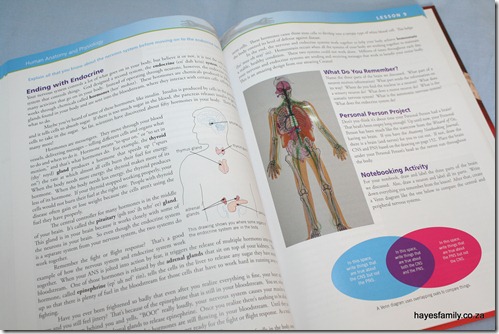 It's easy enough to print the images oneself onto a transparency, but having a notebook with all the extra goodies already printed and ready to use is a wonderful timesaver.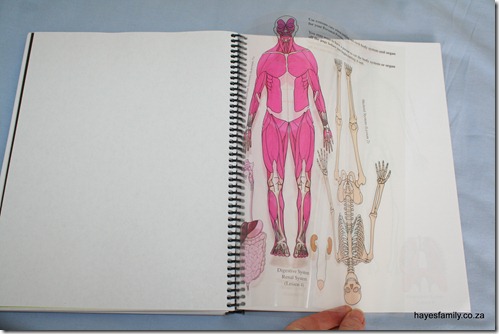 This is just one example of the project ideas included in the text and notebook – the last 1/4 of the book is filled with cut-out ready projects.  Each project has a special place in the notebook to paste it.  But, if you don't want/need to do a particular project or section, it's simple enough to leave it blank, or tear it out.
The *Junior* Notebooking Journal
Along with the Exploring Creation with Anatomy and Physiology text and regular notebooking journal, I sourced the Junior Anatomy Notebooking Journal for Katie (8). Her writing skills are spot on for her age, but her enthusiasm for writing is rock bottom. A notebooking journal would normally cast all kinds of fear in her, but this journal did something quite different. When it arrived, Katie cracked open the cover, turned the pages and oohed and ahhed over each page. Her verdict? I can't wait to start this science, mom!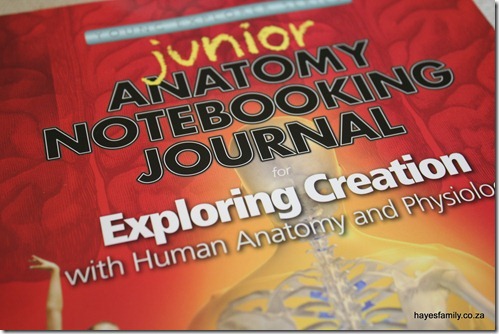 It's everything that the normal notebooking journal is but geared down to suit the younger child or the weaker writer.  It has a few more drawings and colouring-in activities.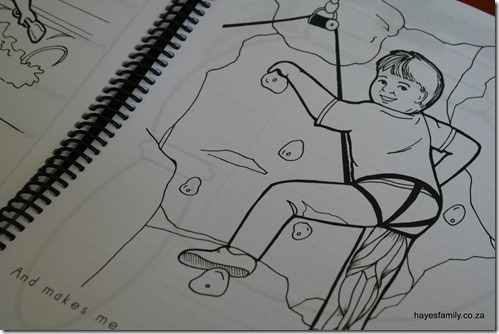 But is has less by the way of writing – for example: the first image below shows copy work options for the regular notebooking journal (print or cursive depending on the child's choice).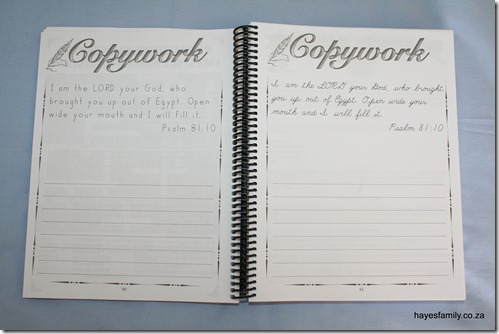 The Junior journal draws from the same text, but uses a smaller section as you can see in the image below.  It also uses the dotted middle guidelines as extra guidance for the hesitant writer.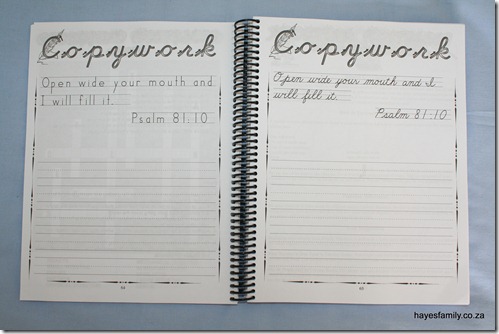 Other sections are also taken down a notch or two to allow for a younger student.  For example, the junior journal has fewer crosswords and the crosswords themselves are much simpler.  Much better suited to my Katie.
First image: regular journal.  Second image: junior journal.
Chapter summaries are a bit more visual in the Junior version – for example, this summary of the digestive system in the Junior journal focuses on labelling the teeth, along with a little section for a short summary, plus a "digestive comic" activity where the kids can tell a funny story of how the food morsel travels from plate to poop.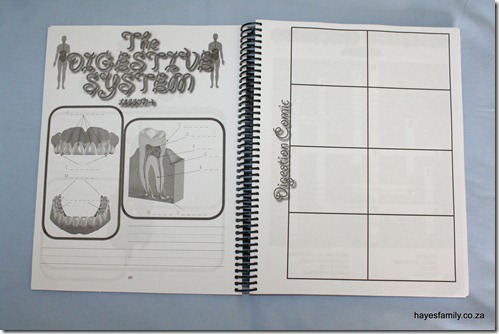 The regular journal, however, allows more room for an older student to summarise their knowledge in more detail: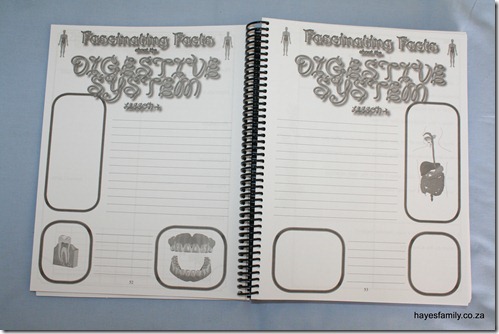 …with a few extra questions along the way – but still providing some of the fun activities such as the digestion comic: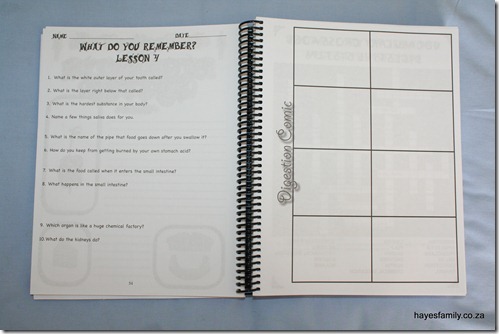 We are super excited about our science studies for the next year – and it is all thanks to Apologia!
How to win!
If this appeals to you too, why not enter our Awesome Apologia Giveaway?  Simply follow the instructions below and you can win both the Apologia Exploring Creation with Anatomy and Physiology Text and the Apologia Exploring Creation with Anatomy and Physiology Notebooking Journal.  Valued at around R500 together, this is an awesome prize!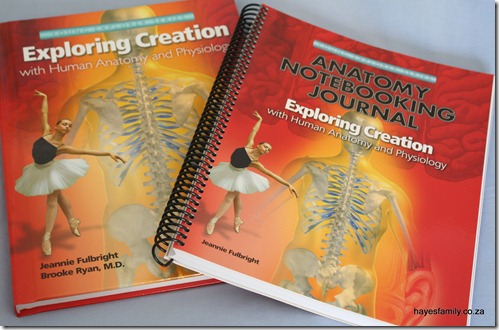 For every step you successfully complete below, your name will be entered in the draw again.  Some steps are worth more than one entry, so read the steps carefully.  You could be entered into the draw up to 12 times!
leave a comment on this blog saying why you'd love to win the Apologia Exploring Creation with Anatomy and Physiology Text and the Apologia Exploring Creation with Anatomy and Physiology Notebooking Journal.  Please make sure that you use a valid email address, otherwise I cannot contact you to tell you you've won!  No one else will see your email address – just me. Please note that if you can't see the comments section, you're probably on the home page.  To get to the post with comments, click here: Apologia Giveaway Post.  1 entry (worth 1 entries)
share this blog post with your friends on Facebook, either by clicking the Facebook link at the end of this post, or simply copying and pasting the following in your status bar on Facebook: "

Read about how you can win an awesome Apologia Exploring Creation with Anatomy and Physiology curriculum valued at R500!

http://bit.ly/Vd3azI

."  Post a new comment here saying, "I've shared on Facebook!"  (worth 2 entries)
share this blog post with your friends on Twitter.  Simply copy and paste this text and tweet it: "

@apologiaworld @taryn_hayes #hayesgiveaway Win Apologia Anatomy Curriculum worth R500!

http://bit.ly/Vd3azI

" Once you've done that, come back here and post a new comment saying "I've shared on Twitter!" (worth 2 entries)
Go to Facebook and "like" Apologia's fan page.  Once you've done that, come back and, yes, you've guessed it, comment here and say, "I've liked Apologia on Facebook!" (worth 2 entries)
Write your own blog post linking back to this blog post.  Make sure that you comment here to let me know so that I can enter you into the draw again.  (worth 5 entries)
Hurry!  Giveaway ends on Wednesday 24 October 2012!  Contest is now over.  For the winner see Friday 26 Oct 2012's post: And we have a winner!
  Want to Buy?
If you're interested in other Apologia books in the Exploring Science series, you can source them locally at the following stores:
Christian Book Discounters CBD stocks Apologia and other Christian homeschool curriculum. Anything that they don't have in stock they will order for you. Simply email nick@christianbooks.co.za with your request. They will source it for you with shipment lead time of no more than 6 weeks.

Creation Ministries Apologia product prices are available online. Special orders can be made for products not yet listed on their website, such as the Junior Notebooking Journals.

Oikos Family Ministries Apologia product prices from Oikos are available online. As yet they do not stock the Junior Notebooking Journal but this may change in future.