Finally! After the great count down (three more sleeps, two more sleeps, when is it my birthday, mama?! one more sleep!) the day dawned. Micah's 4th birthday.
Last year, the poor boy burst into rivers of tears when we called Sam out of the room to be a part of the singing procession. This year, we prepped him well. Remember, Micah, that we are going to come into your room singing happy birthday. Sam will have to come out first, but that's okay, because it means we'll soon be singing to you and bringing your pressies! So well, that before we even entered the room, Mr Micah was already squirming on his bed in a little ball of embarrassment!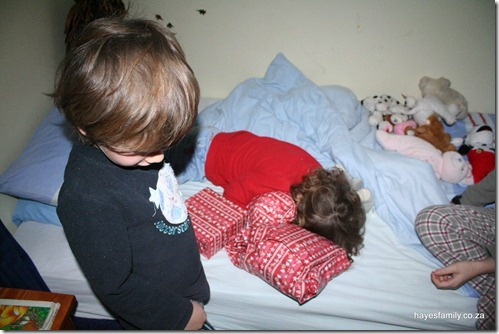 It took much persuasion to get the reluctant guy to sit up and acknowledge our presence. To be honest, it was more the presents than our presence that convinced him to sit up…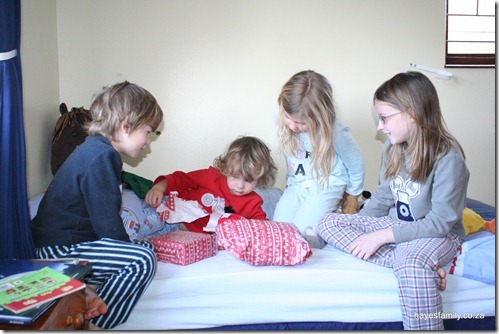 A puzzle, an angry birds backpack and an angry birds stuffed toy = one happy boy!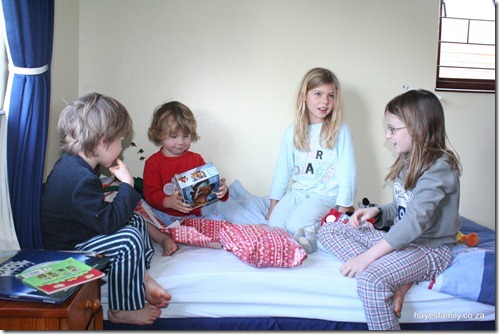 And then, just like his big sister, the search was on. He also wanted a "pedalling bike" – thankfully we had anticipated that a few months ago and found him a second hand one on Gumtree.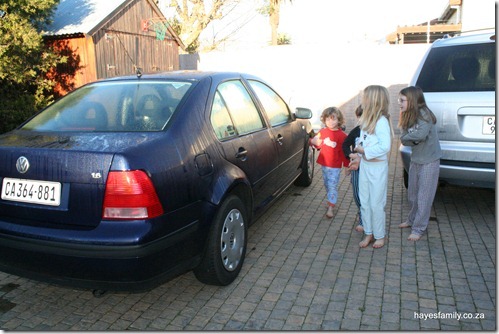 It resided in Craig's boot until the big reveal. We played hot and cold and soon, with the help of his siblings, he figured it out…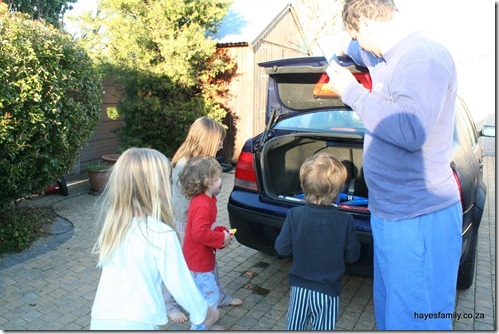 He needs some practice, but he's already showing some promise!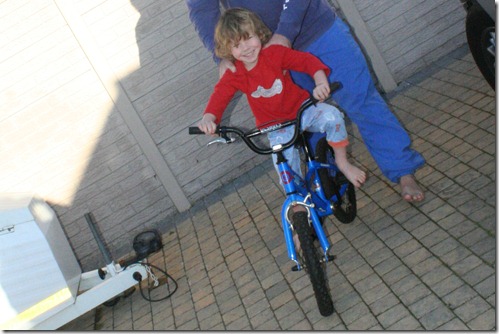 Then – Daddy Date time! This is a huge highlight in the lives of our kids. All the importance of being a Big Kid sitting in Dad's car going out alone with Daddy to have decadent things like milkshakes and pancakes.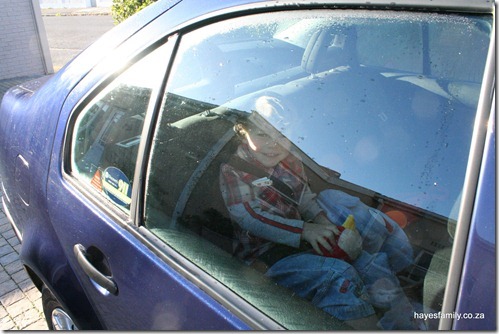 Micah's bicycle seat was too high, and we don't have the right tools for it. Which is where Gerald-to-the-rescue came in. Soon he had Micah's bike properly adjusted and Sam's too.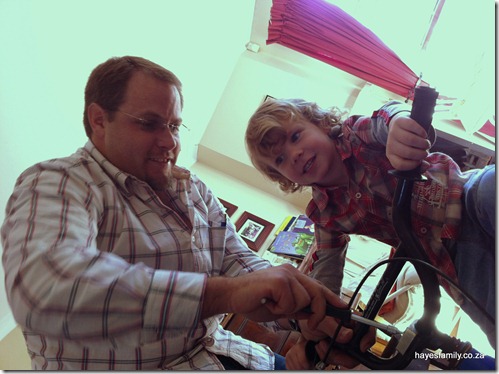 With all the excitement of the morning, the rest of the day was pretty uneventful thanks to the girls' violin lessons and Katie and Sam's gymnastics meaning that the afternoon was pretty much accounted for. But, Micah did get to play with his friend Jemma during the gymnastics lesson. And, full of self-importance, he also got to shop for his birthday dinner. Yes, another dinner of hotdogs as per special request. Despite the lack of goodness in these things, I do quite like the fact that the kids are not ordering a 5 course roast meal! Chocolate milkshake, hot dogs and chocolate ice-cream for dessert. I did slip a large green salad in there too, however!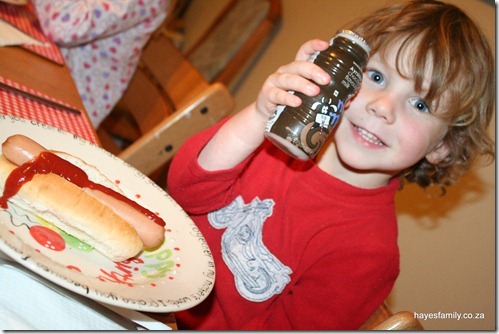 Two days later, it was Party Time. No guesses as to his theme! Micah has become obsessed with the game Angry Birds, commandeering just about every electronic device in order to play it. I must admit, it is pretty addictive – or, at the very least, fun to play. And, it made choosing a party theme dead easy when Micah announced a few months ago, "I'm having an Angry Birds party!"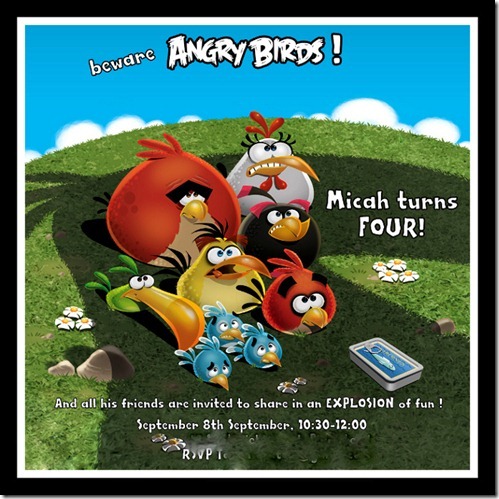 In preparation, the girls and I worked on making a paper mâché King Pig from the Angry Birds game. Using a balloon as a base, our first and second layers went on nicely, but unfortunately, the second layer hadn't quite dried when the balloon popped and the shape lost its, well, shape.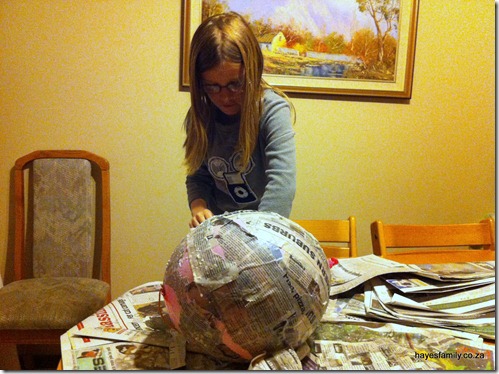 We did out best and this was the result: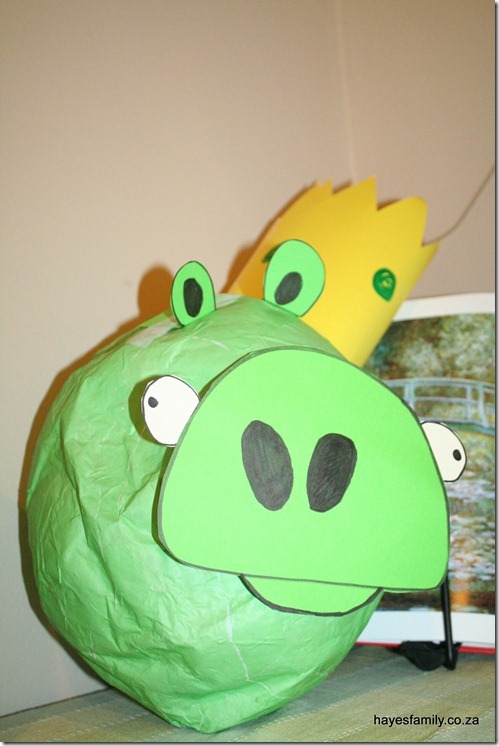 Meanwhile, Craig worked on the ice-cream cake – sneak preview below: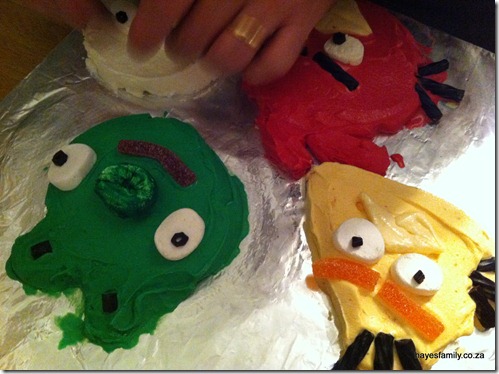 Thankfully, Saturday morning was bright and sunny. Sadly, some of our guests couldn't make it due to conflict in schedules and illness. But, of the guests that were there, lots of fun was had.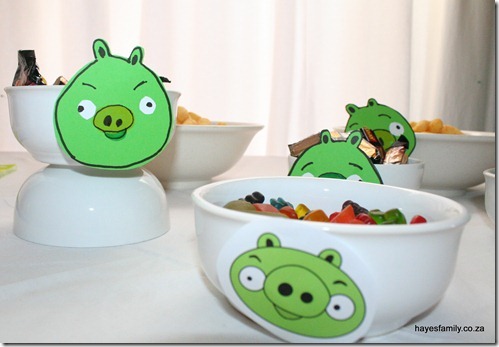 Beginning with playing Angry Birds in REAL LIFE! Craig made this awesome construction and the kids got to knock it over with coloured balls (red, blue and yellow birds). The aim? Get the pigs to roll off the table.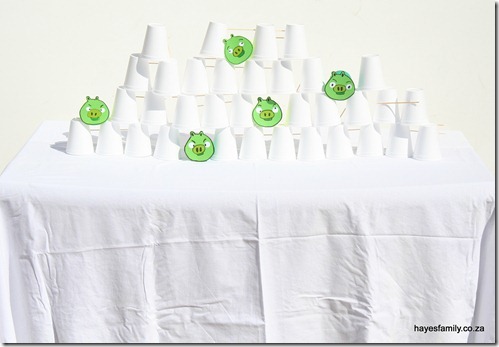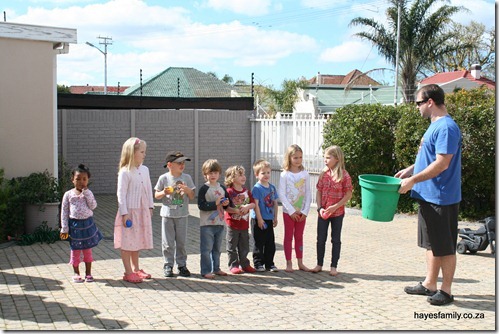 They took their roles quite seriously and gave the structure all they had. But, unfortunately, their little arms didn't quite have enough power to carry the light balls to the structure, so Craig had them all come another metre forward – and then the games really began!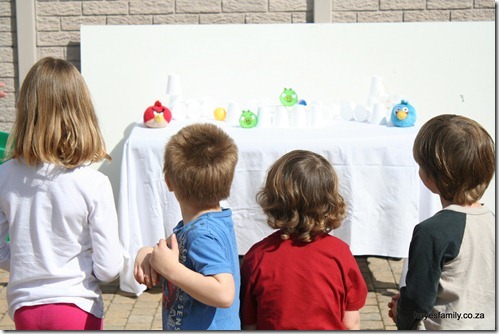 Much jubilant noise from little kids when the pigs came tumbling down!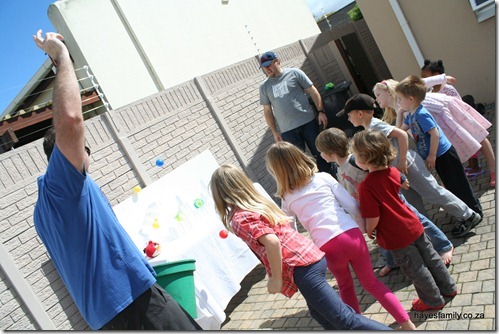 In Angry Birds, the player sometimes gets to find golden eggs which allows one to play a bonus game. The kids love the bonus games as they can score huge with just one bird. So, golden eggs had to feature in our games. Fortunately, I did still have some plastic eggs left over from a packet Kerry gave me earlier this year. And some left over gold spray paint = golden eggs!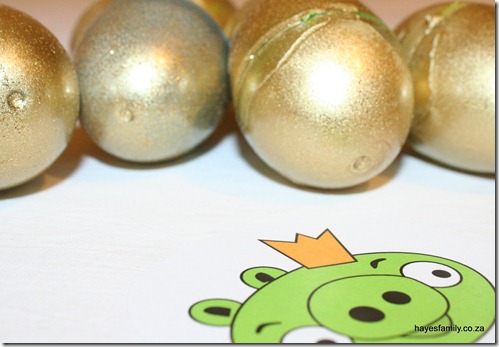 The kids got to hunt for 6 golden eggs – in each egg was a little sweet.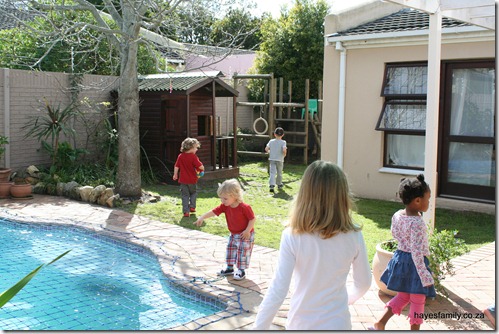 And one egg had a picture of the King Pig tucked inside with the sweetie. Once they realised that they needed to find the King Pig, the race was on.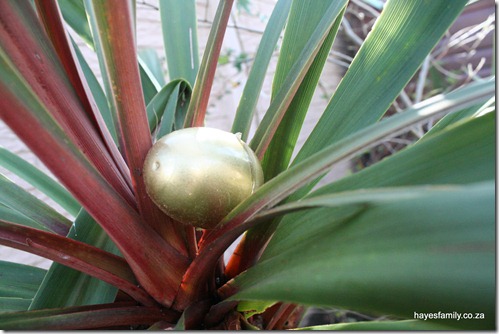 The pig! Aka Piñata…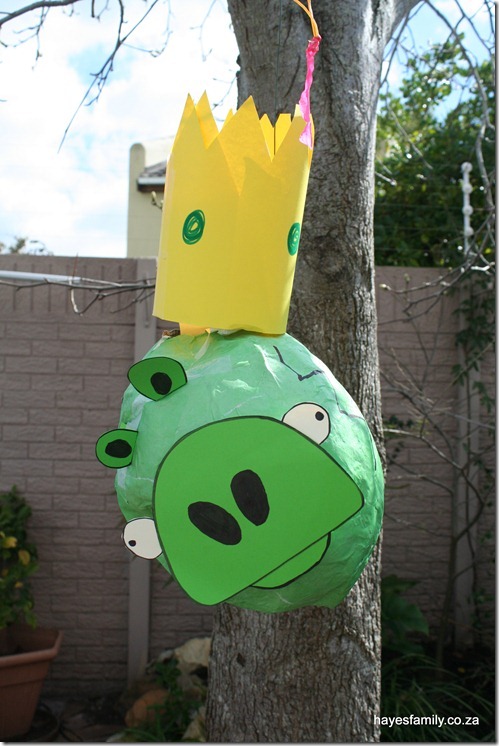 Having a go at the piñata.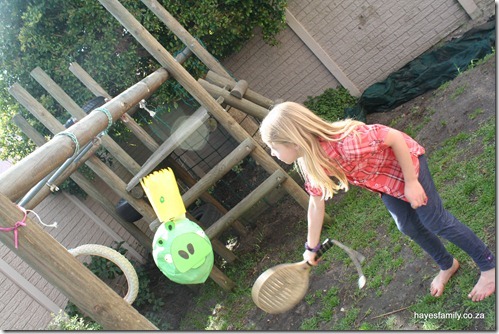 Breaking it open enough to let the sweeties tumble out…
I included a bag of party packets in the piñata so that the kids could collect their stash in it. Ingenious or lazy? lol!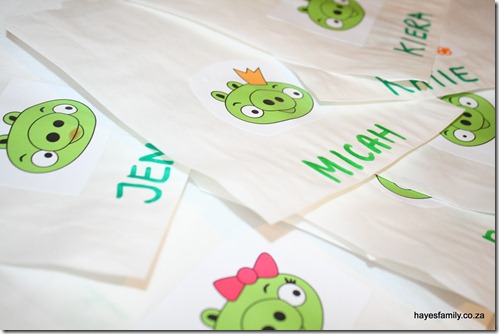 Finally – cake time! Craig's creations

Love them! He made beaks and Micah's name and age with fizzers too.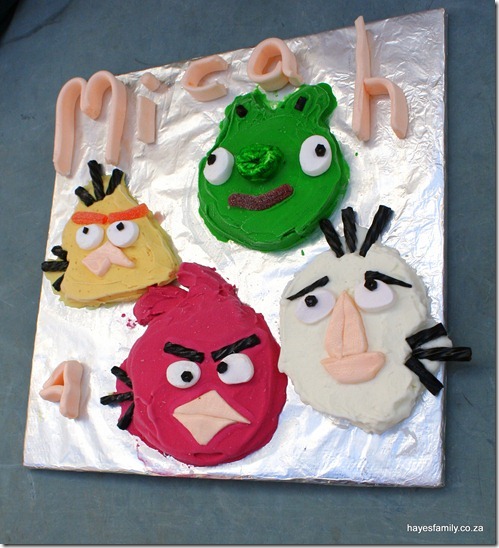 Micah slipped back into extreme embarrassment mode and was too frozen in excruciating shyness to blow his candles out. Craig and I, with a little help from his friends, managed to get them blown out and the singing started.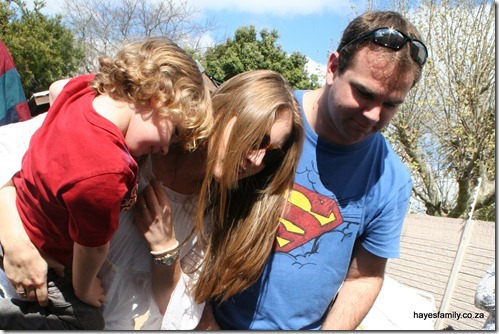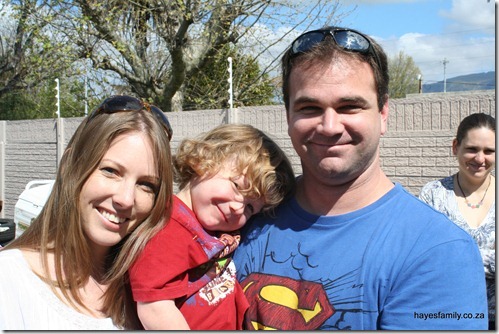 The kids all got tucked into their ice-cream, colourant saturated vanilla ice-cream!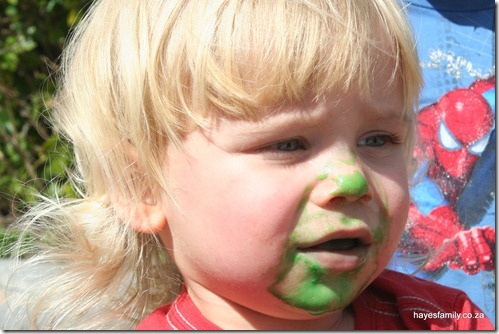 Finally, it was pressie opening time. Micah had a ball and was, thankfully, polite about his gifts – which simply means that he loved them all!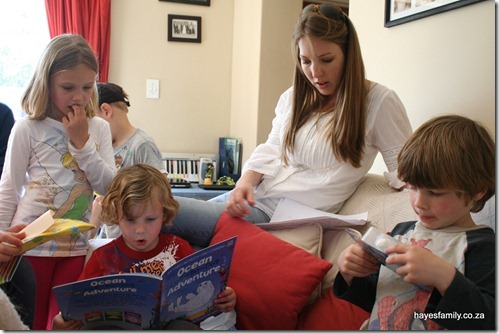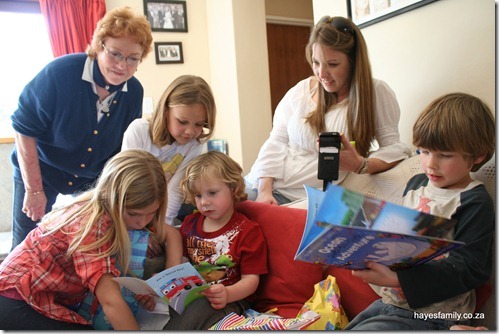 Granny Sally and Grandpa Peter got him a scooter – much to his great delight! He has wanted one for quite some time. This one is a little more stable than Katie's, perfect for the younger guy.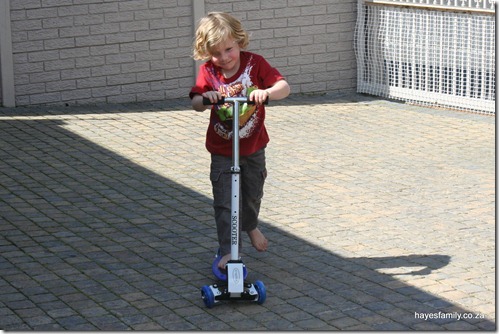 Later that afternoon, while his middle two siblings were at Caleb's party, Micah got to go on a special Granny Bev and Gaa outing – to the Build-a-Bear Workshop! He had already gone on Friday to the one at the Waterfront with Granny Bev, but it had closed down! So, they postponed the trip to Saturday afternoon. The little guy had no idea that he was going to get a Build-A-Bear. Apparently, he did his overwhelmed with shyness thing again. This little guy displays shyness or embarrassment by crawling into himself and refusing to look at anyone and do anything other than grunt and act put out by the world!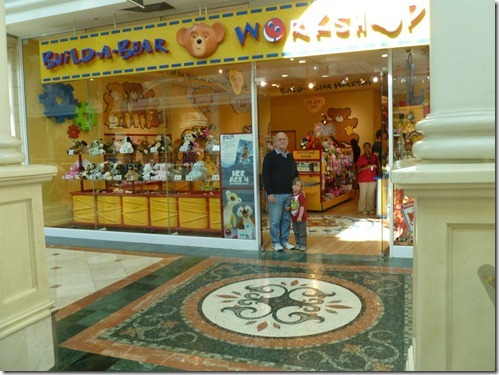 But, boy, did he love this experience! I got the full run down when I got home from Caleb's party with the kids. He loved every second.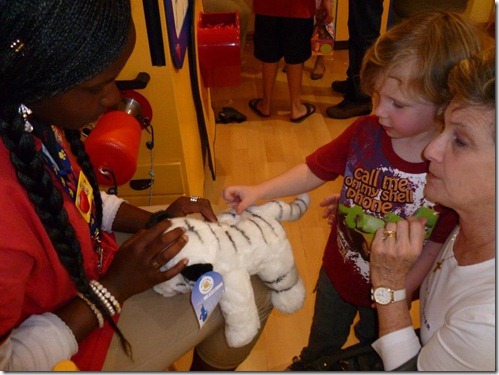 So serious – taking every step of the process very seriously, indeed!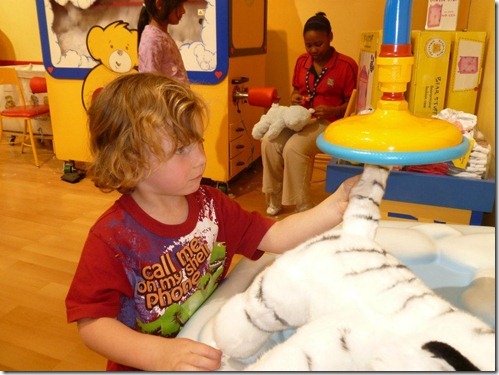 Finally, with Smarty in his fishing outfit! Too cute for words!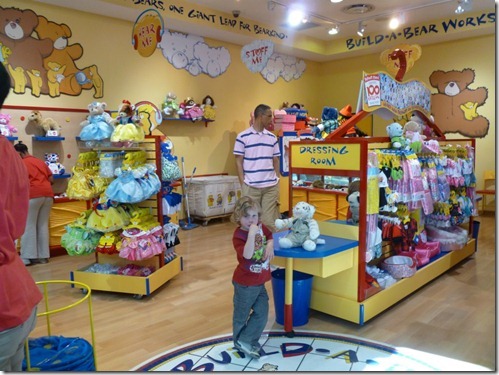 And then, off for a milkshake with Gaa and Granny. What a great day!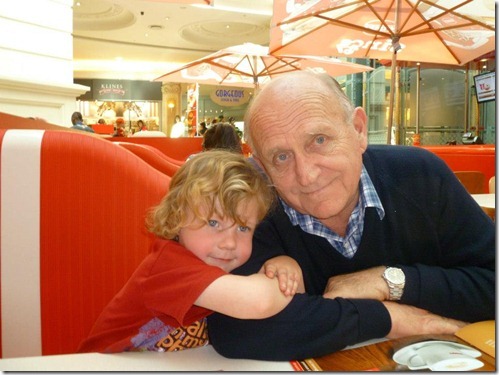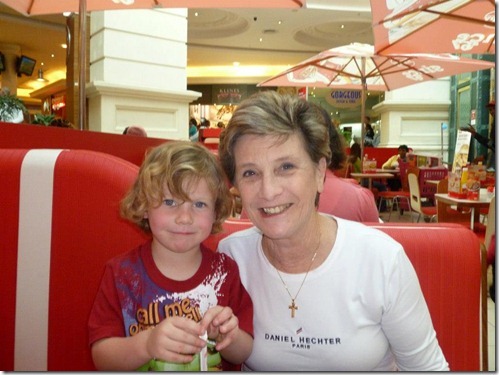 Pooped! One little exhausted guy fast asleep in the back of Granny's car!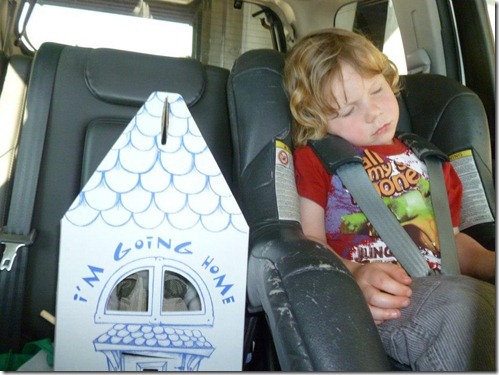 All together, one very happy 4th birthday for out littlest guy! We love you, Mikey-Moo!