In my imaginary and intentional world, I am a super organised mom. I have schedules for everything and everyone. I am never distracted; never disorganised; never divergent; never dillydallying. Our lives putter along to the contented hum of a house well run. In my imaginary world.
In my "this is really your life" world, I am forgetful, disorganised, distracted, and oftentimes, just plain lazy. I don't manage time so much as it manages me. As in, "Oh no! It's 5 to 4, I forgot I need to get Kiera to gymnastics! Quick, everyone into the car! Now now now! Quickly. No you can't take your lego model. No we don't have time for a wee. Now now now!"
It's not unusual for a day to go by when I've left a trail of half-completed tasks behind me. It's ADD of the adult variety, no doubt.
Somewhere between my imaginary world and my real world, lies a portal that I like to use from time to time, carrying bits from the world of my intentions into the world of my reality. When things are humming along a little more purposefully, it's usually because I'm actually utilising the tools of my intentional world. When things are crazy and I'm feeling a little out of control (or a lot, for that matter) it's usually because I'm not utilising those very same tools. Although, truth be told, even if I were as organised and purposeful as I intend to be, life often happens to turn it all upside down anyway. It's those times when time management is more time survival than anything else – and irony of irony, it's often the same tools that help me manage the ordinary times that then help me survive the hard times.
Remembering that they're tools only and no cure-all for the ever present issue of too-little-time-too-much-to-do, here are some of things that help me manage life here a little better – when I'm borrowing heavily from my intentional world that is! They're nothing earth-shattering or even remotely original, but they help things run a bit more smoothly here in the Hayes house.
Mornings:
I joined the Hello Mornings group last year and have kept going for what is now my third season. The group simply exists to encourage mothers who want to kick-start their days with quiet time, exercise and planning. There is no hard and fast rule about when one should be spending time in the Word. In the morning works for some. It doesn't work for everyone. Time has proven, however, that I'm a much more organised, intentional, happier mom when I wake before my kids; spend time in the Word in the morning; exercise in the morning and am ready to greet my kids before breakfast. The freedom of home schooling means that I can sleep late if I want to. It means that we can start our "school" work at 7, 8, or 9 in the mornings or even in the afternoon. But, I know that I function best, and my kids function best, if we get going at a certain time. Without a doubt, early, consistent mornings praying, reading the bible, exercising and even planning the day help my days run more smoothly. Which is why I am grateful for the ladies in my Hello Mornings group who, by checking in each morning, help keep me accountable. And, the added bonus is that we get to pray for each other in the safety of a likeminded caring context.
In a sentence?
Regular morning routines of quiet time and exercise set the tone for the day.
Sleep:
I work best at night. It's a given fact. If I could run my sleeping hours 1am-9am, I would be in heaven. But, the reality is that the rest of the family functions differently and so do our commitments during the day. I need to be up earlier and that means: going to bed earlier. It's amazing how refreshed I feel when I head to bed at 10pm. Recently I read about studies showing that the less sleep people have on average, the greater their chances of weight gain and health problems. Ok. So there is something to be said for beauty sleep is there? Note to self: get to bed early again tonight!
In a sentence?
Early to bed helps early to rise!
Meals:
I'm not a foodie. There. I said it. I'm grossly out of fashion, I know. I can admire foodies from near and far. I definitely appreciate a great meal. I love to photograph food. But hours and hours in the kitchen creating all sorts of culinary delights? No, not me. I'd rather write about it than cook it. But reality is such that I have to cook. And I prefer to do it as quickly as possible, as healthily as possible. So, when things are chugging along on my well-oiled meal-planning machine, I a) plan the week ahead and buy in everything I need on the Monday while my daughter is at drama class and b) cook most of the meals for the week on Monday night. Anything that can be frozen or kept in the fridge usually works. It takes me 30 minutes to make most casserole type meals anyway, so why not spend an extra 15 minutes and make 3 or 4 meals? After all, the kitchen is going to be a mess anyway – why not mess it up just one night instead of four? I have all the stuff out anyway and so many meals have the same base. For example, lots of meals have fried onions, greenpepper, tomato and mushroom as their base. I've made, using this base, spaghetti bolognaise, bobotie, lamb curry, and chicken casserole at the same time. Sometimes, I can make more than one meal with different bases, simply because they are easily overlapped and staggered preparation wise. For example, this week on Monday I made meatballs (and froze half of them for a go-to meal); soup; a stew (in the slow cooker which slowly cooked overnight) and a roast chicken for that night. The leftover chicken I could turn into soup or pasta and anything that wasn't eaten could be frozen. Of course, it doesn't always work out well and more often than I like, I find myself at 6pm thinking Ah! What can I make for supper! all while staring forlornly at my half-empty fridge. That's when I know I've been neglecting my time management tools!
In a sentence?
Planning meals for the week and cooking most on Monday works for me!
Calendars
I have a sieve-brain. No, scratch that—the holes of my brain are colander-sized by now. If I don't have appointments written on my fridge calendar and on my google calendar which syncs to my phone, I will forget them. A couple of years ago I created a A2 sized laminated year calendar with South African school holidays and other important info. I reprint an updated version each year – it costs me about R40, but it's worth every cent. It lives on my fridge. I mark it up with a permanent pen and it really helps keep me sane!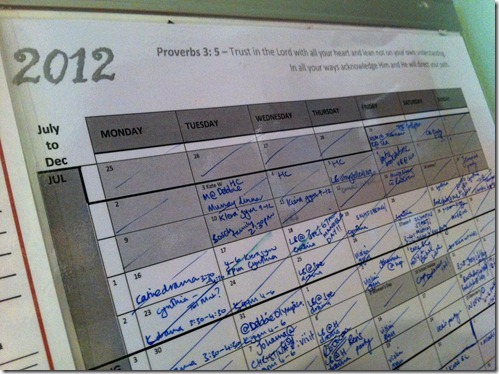 I love the "at a glance" functionality of it. If appointments are not written up on the fridge, they're in my phone. And together I usually get places on time. But… there are times I forget something or someone and feel hopelessly disorganised!
In a sentence?
Calendars and reminders keep me keeping time.
Schedules
Time management and me work best if I follow some kind of schedule. I am so incredibly distractible that, if I don't have a guide to follow, I'll be off on some tangent, flitting from thought to thought, room to room, task to task, accomplishing none and whittling away the day. I have a daughter who is exactly like me. And a couple of sons who are the masters of distraction. While spontaneity appeals to me in many spheres, it's not great for my day-to-day captaining of this schooling ship. I'm totally sympathetic to the unschooling mindset; ideally it appeals to me, big time – but boy, it would be enormous amounts of hard work for me to effectively facilitate my kids' learning! So, a weekly schedule works for me. Over the years I've managed to change it from an admin heavy monster that I first created, to a simple check list that, together with a well-structured, but still flexible curriculum (thank you Sonlight!), takes me about 10 minutes to prep once a week. Each of my (reading) kids have their own "minimum" check list per week. As long as they accomplish all the things on the list, they're free to do it in whatever order they like. Of course, I do guide and help, but it's freedom within boundaries.
I keep a master copy like this, with a section for notes for myself for each child.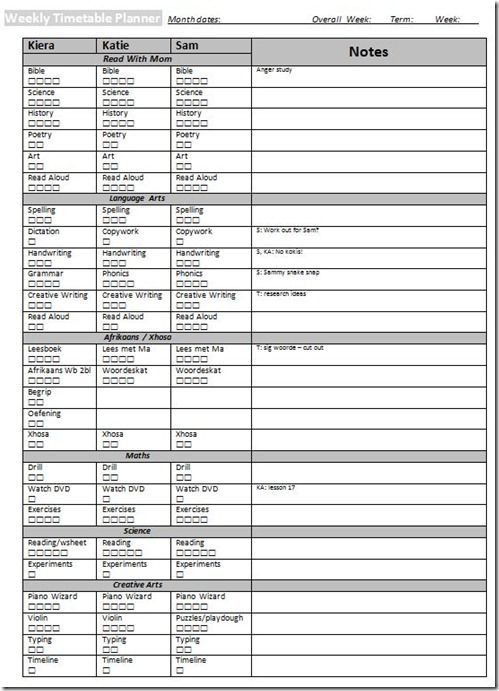 My 8-year old's schedule looks something like this. I don't expect any of these things to be done every single day. We work on a 4 day schedule with the 5th day for spill over/crafts/outings/extra work etc. I fill in the notes section with anything extra that I need her to know or I need to remind myself. At the moment, I'm mostly making up all her Language Arts stuff – so I do fill in that section quite a bit.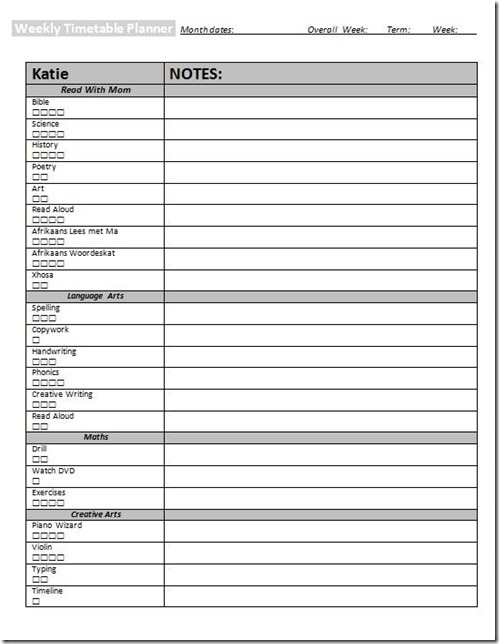 I tell you, since making this version of our weekly schedule, I've been freed up on the guilt front! So, we didn't get to maths today? That's okay – we can start with it tomorrow. As long as the boxes are ticked by the end of the week, then we're doing well. And if they're not all ticked? That's okay too – my notes will tell me what happened when. Like this past week, half the boxes were unticked and I scrawled a big "SICK KIDS" across the page. We managed lots of reading, some maths and a little language work. Probably more than they would've done at mainstream school since they were actually home sick the whole week. Looking back on the year, I can see what we did when. I know it's totally groan-worthy for the non-box tickers amongst us, but for me, it works and keeps me sane.
I also like to keep our books, stationery, workbooks etc all on the same shelf. Trial and error over the years taught me that for my kids to keep track of their own stuff, they need to have it all in one container. We used cardboard report file boxes last year, but they took a beating. This year we found these cheapie green and grey plastic boxes at Waltons and they've been a winner for keeping things organised, in one place – saving so much time otherwise spent hunting for errant books! (Which does still happen from time to time, but nearly as much as it used to!)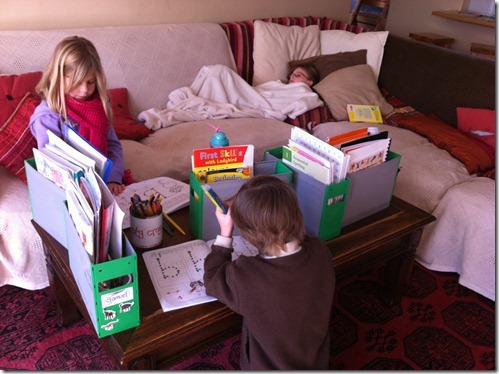 Another win for these boxes is how easy it is to take school to all parts of the house. This pic I snapped last week when the kids were all sick. We gathered in the warm lounge for stories and then those who were well enough carried on with written work, while the sickies stayed prone on the couch (or, in Micah's case, on my bed!)
In a sentence?
Organisers and schedules keep us on track.
Chores:
Due to the fact that we are blessed with a house-help godsend in the form of Johanna, our daily chores are not nearly as intense as they are for many families. If they were, I suspect I would be pounding on Fly Lady's door daily for extra tips! But, we do have chores and it helps if the kids know what they are. They each have a couple of jobs to do. Since they were little, their chores have been consistent, making tidy up time that much easier. There is nothing worse than fighting with kids to do a task when time is of the essence. My boys are still learning, so "tidy your room" doesn't quite translate into a quickly tidied room. But, the girls are now at the stage when I just have to remind them once to do their chores and they get done. After dinner clean up goes quickly and smoothly with all hands on deck. The boys pack away their own plates, the girls clear the rest of the table and clean the dining room. Kiera sweeps the floor and Katie makes sure that the kids' bathroom is clean before everyone goes to bed. Sure, they often don't clean to my level of expectation, but if I had to do all of those things on my own, it would take an extra 10 minutes. As with everything, all those extra minutes saved with everyone pitching in means 10 minutes turns into 1/2 hour and 1/2 hour into an hour. An hour extra for reading stories aloud before bedtime? Definitely worth it!
My own chores vary from day-to-day and depending on whether Johanna is with us that day or not. Some days, housework is a little more intense. It helps to pair school work with chores to take care of two things at the same time. Folding laundry can happen while supervising schoolwork. Making lunch and listening to a younger child read aloud works too.
In a sentence?
Establishing set chores for everyone means more time for fun stuff!
There are probably a million other little timesavers we employ in our home without ever thinking of them. But for now, these are a few of the biggies, that, when properly utilised, I find help me manage each day that much better. I hope they are helpful for you too.
This post features in the upcoming August 2012 SACHS Blog Carnival about Time Management. To join the carnival or visit past carnivals visit the SACHS Blogs page. We hope you enjoy browsing!