Ahhhhhhhhhhhhhhhhhhhhhhhh.
That would be the sound I made periodically throughout the 24 hours I spent with four special female friends, sans kids and husbands, in Greyton last weekend.  A sound frequently followed by the (quite possibly annoying) exclamation: "I could live here!"
It all began when Sue put the idea on the table – how about a special Lunch Bunch moms retreat to their home in Greyton?  Just a 24 hour gig – an overnighter – so that the husbands weren't overwhelmed and we didn't miss them too much. 
Of course, the rest of us jumped at the idea.  What a treat! 
And so it was.  24 glorious hours of talking, eating, laughing, talking, crying, eating, walking, talking, reading, sleeping in, talking, eating, walking and generally having the most amazing fellowship and relaxing time. 
The minute we walked into Sue and Kev's beautiful Greyton home, I felt all the stresses of the week melt away.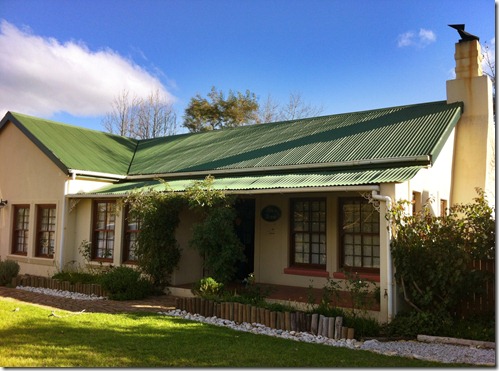 Not that my life is particularly stressful relatively speaking. But, it's the life of a wife and a mom and a homeschooling parent, so it is busy and intensely relational with little time to have uninterrupted thoughts, or carry on a deep conversation with an edifying sister in Christ. But the tranquility of Heron House and its beautiful surroundings gave us all a little breather – the space to take some time out to re-energise and enjoy each other and deepen our friendships.
Sue's backyard is typical of Greyton plots – green and seemingly never-ending. 
And Greyton itself has hardly changed in the 25 years since I was last there.  The roads are mostly untarred, country roads with vast open tracts of land.  The village is quaint and beautiful.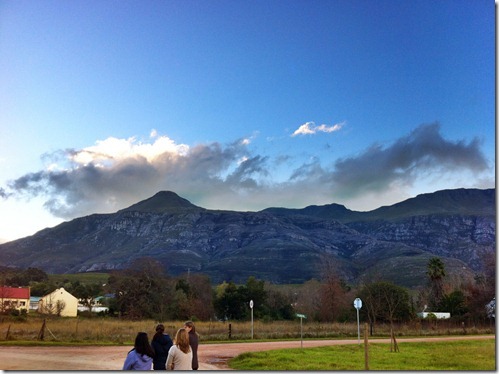 We enjoyed an evening stroll to the nearby store to buy some butter.  The landscape is just beautiful.  Perfect carefree homeschooling heaven!  Pity I love the city so much too – I could transplant my home to a place like this, provided I had a Cape Town within 20 minutes away!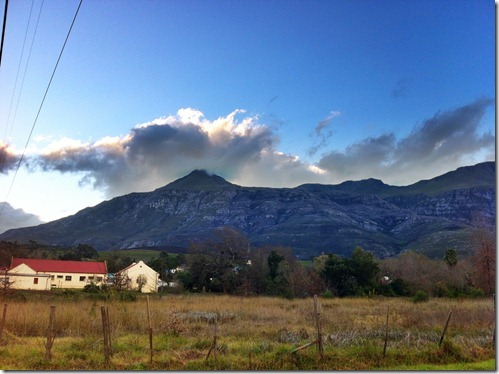 Jeanine provided us with our supper meal that night.  yum yum!  Delicious pasta.  Kate, who couldn't make it that weekend, much to all our disappointment, sent a delicious cheese and bacon bread along with us.  As yummy as it was, it was a poor substitute for our Kate!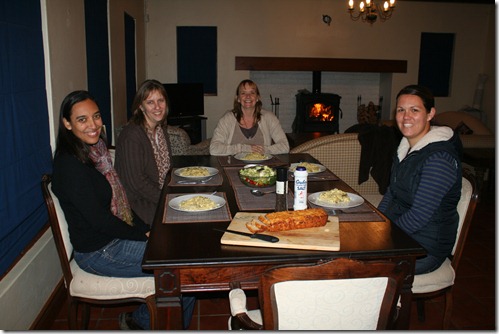 After a late night enjoying deep discussions of all kinds and shedding a good number of tears as we recounted things like the St James massacre and more, we enjoyed a sleep in the next morning and a leisurely breakfast at the Oak and Vigne restaurant.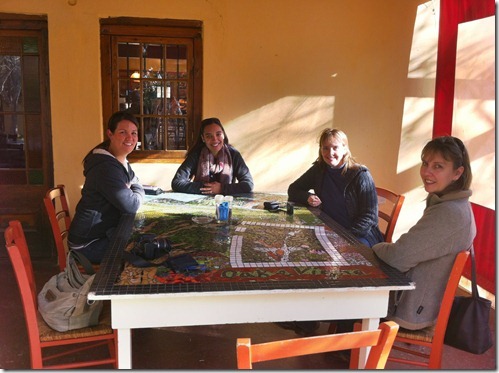 A delicious breakfast indeed – here's a shot of Jeanine's healthy breakfast…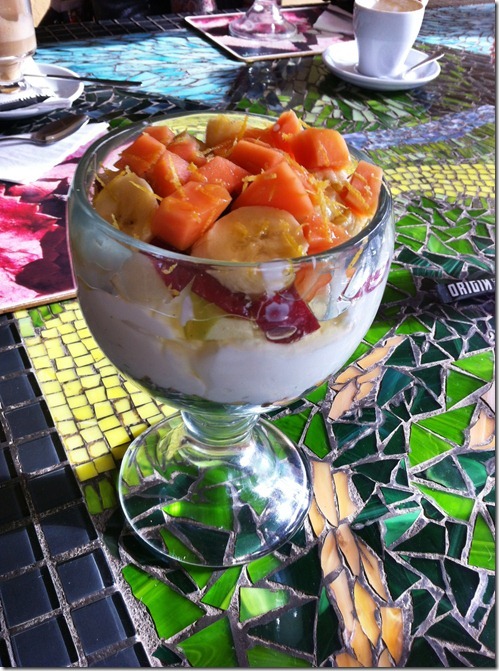 And my not so healthy breakfast…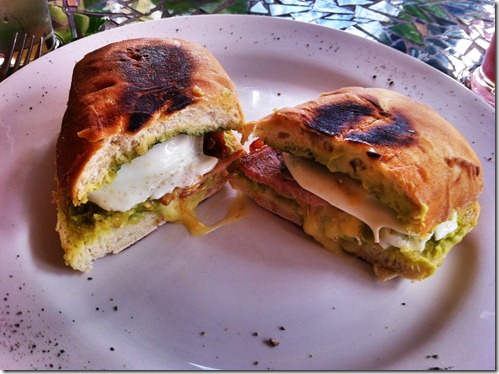 Then Sue took us on the walking tour of Greyton.  I took just a few shots, as we were all mostly deep in conversation for me to stop at every spot…
But, I did find a few things particularly interesting – including this sign.  I immediately sent it off to my dad.  You see, when my dad became a Christian when I was about my girls' age, he came to tell me.  I remember that night as clear as today.  He stood by my bedroom door one night, with the passage light streaming in from behind him, and said with a shy smile, "Tonight I went through the green door." 
I had no idea what he meant, at first.  It was an expression he had made up, meaning that he had chosen to stand up one night in church after our minister, Rev Frank Retief, had invited people to ask Jesus to be their saviour.  Those who did were invited to go through the doors at the front of the church where they would meet with staff and support members and pray and talk through their commitment to the Lord.  Dad had always been curious about what happened behind those doors and equated it with an old song with lyrics about a green door.  It's a family story now – what's behind the green door.  A visual reminder of my dad's surrender to Jesus in the middle of Greyton, like a hug from God, was just a perfect addition to a lovely day.  I still have no idea what the shop it belongs to sells or what their interpretation of the song is, but whatever it is, it holds special memories to me.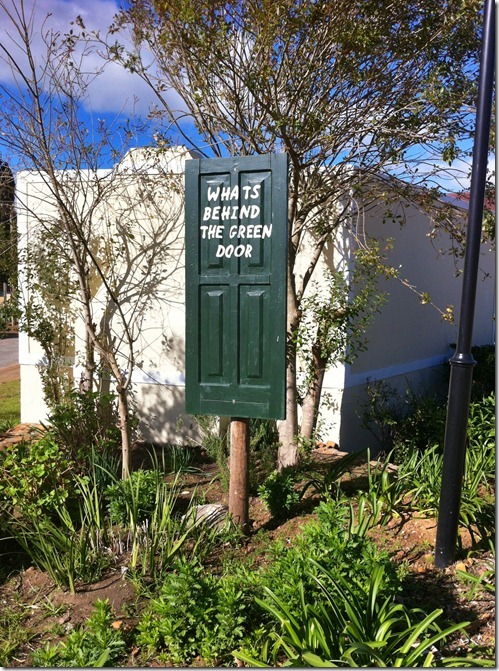 We continued our walk – and discovered that it was not uncommon to see horses in backyards and jumping arenas in another garden…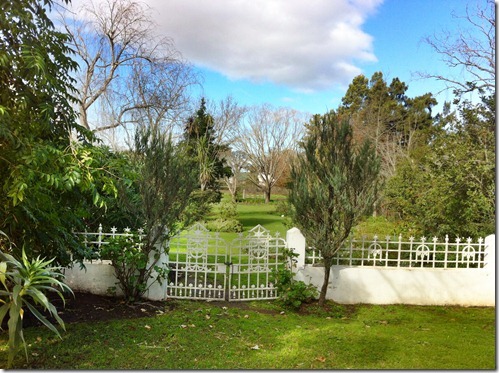 Or cows across the road from houses, roaming around on vacant land.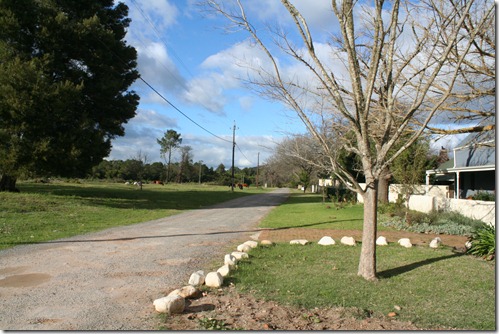 There were sad reminders of the strife of this life – like this burnt out once-thatched roof house.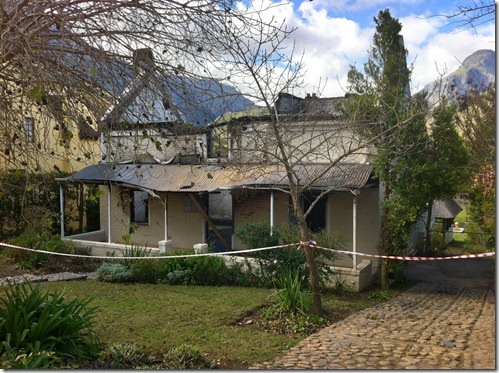 But mostly, we took in the beautiful country roads and the warm homes and breathed plenty of ooohs and aaahs as we took the long route home.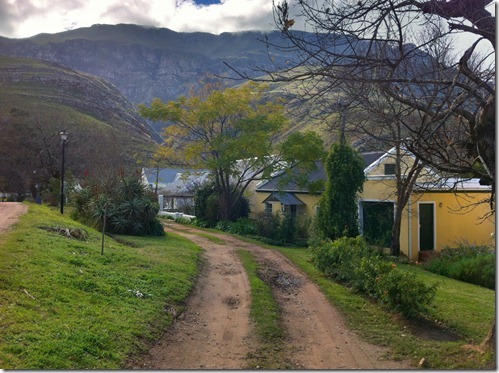 We had a little adventure of our own – crossing a river that we didn't expect – but mostly it was a relaxed amble in the beautiful countryside.  All too soon we had to head home.  But not before declaring that we had to do it again – this time perhaps a whole weekend?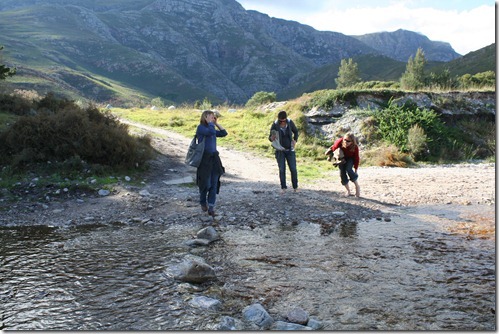 Maybe next time we will enjoy a ride down the main road on this horse and buggy, in keeping with the yesteryear tranquility of beautiful Greyton?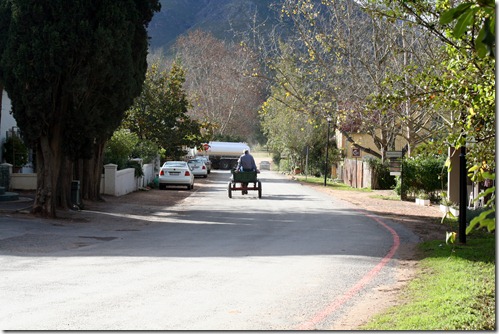 Thank you Sue for your generosity.  It was a beautiful, precious time together deepening friendships and refreshing souls.